— AMANDA PALMER & EDWARD KA-SPEL – I CAN SPIN A RAINBOW  —
*POWERED BY PATRONS*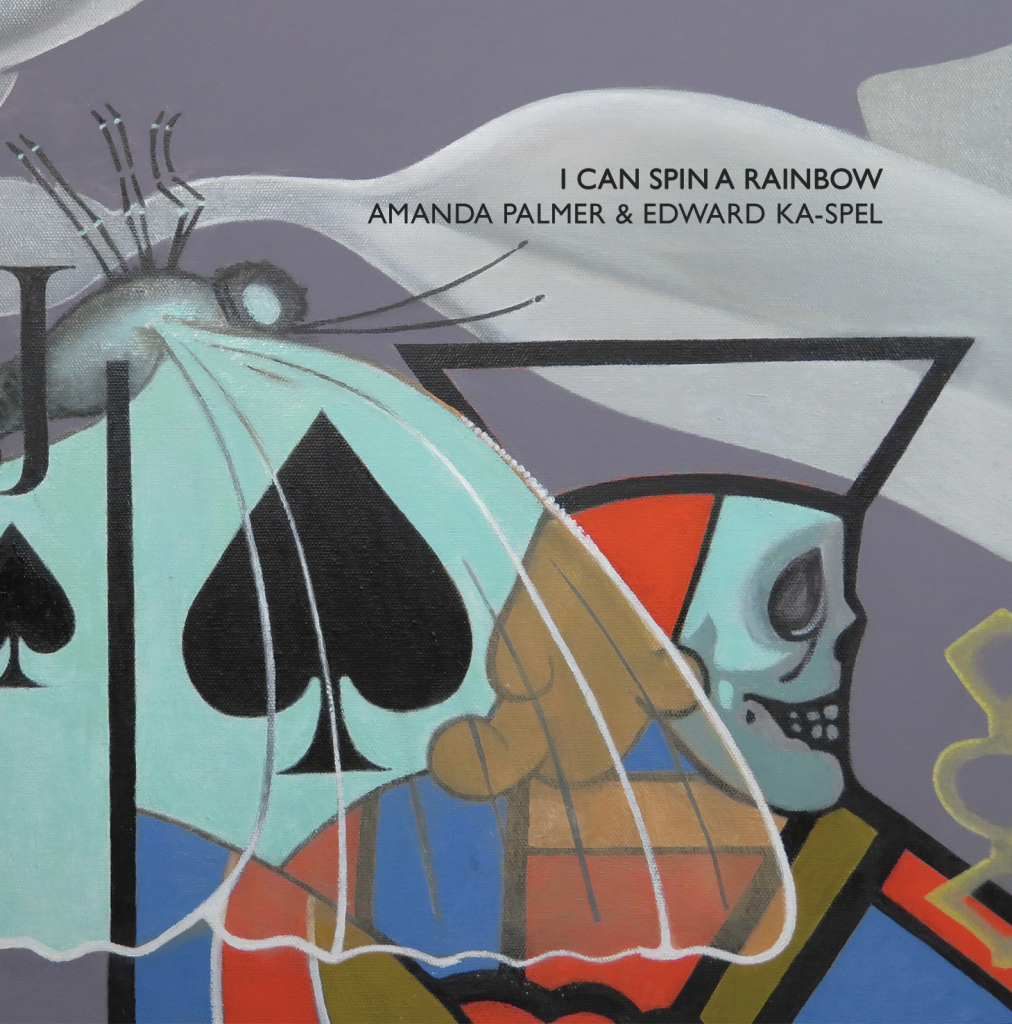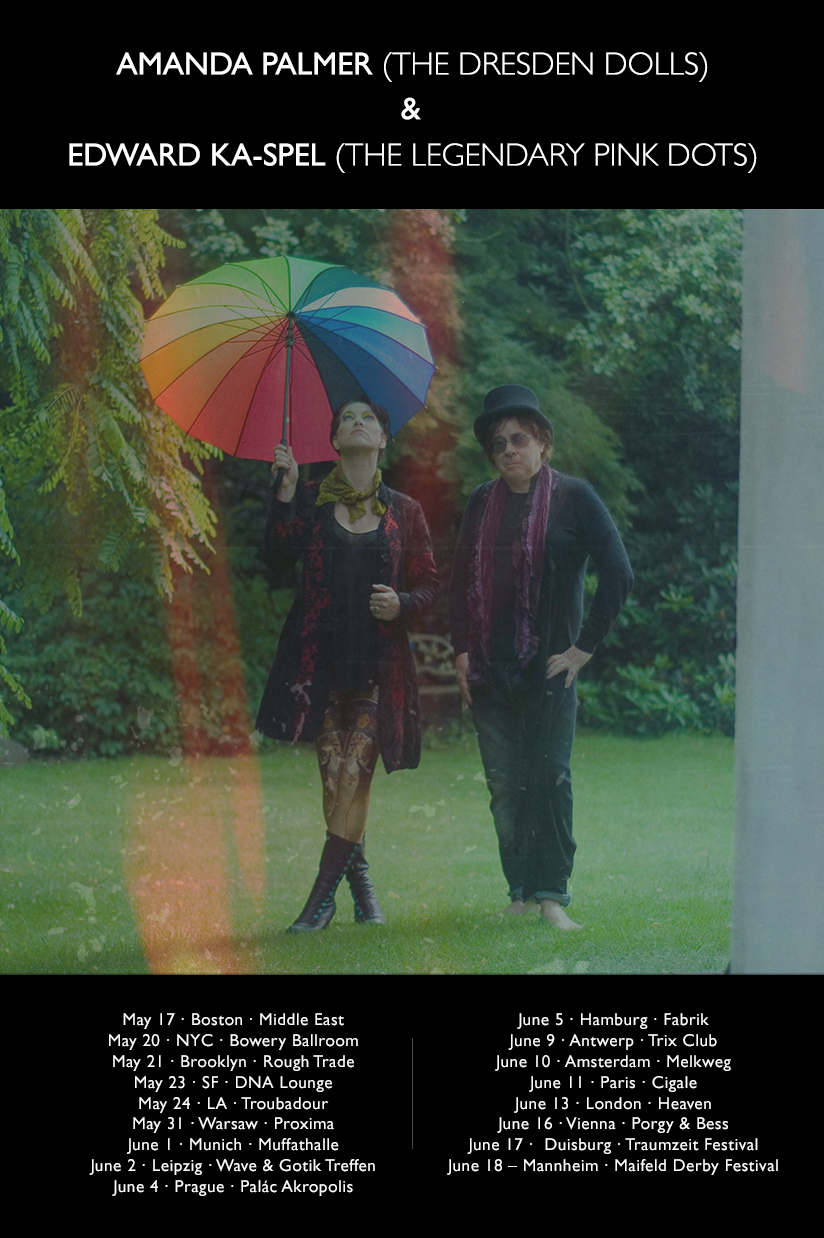 OUT May 5th, 2017
DEAR EVERYBODY -
THIS PAGE IS A WORK IN PROGRESS! as we move towards the grand dropping of the record on May 5, we'll be adding videos and information (including tour updates) bit by bit! so please check back often. on the big day when we officially "thing it" on patreon, i'll be inundating this page with the long, long story of how this record came to be, my long history and connection with edward, and many, many photos and tidbits from behind the scenes.
and now….i am incredibly proud to announce this album, which was written from scratch by me and my songwriting hero, Edward Ka-spel from The Legendary Pinks Dots. this album has taken us years to finally realize, i hope you love it as much as we loved creating it.
If you want to obtain this album DIGITALLY (and note: CDs and LPs come with free download codes!) you have several options.
1. Join the Patreon. For as little as $1/month to support all my work, you will be sent ALL THE TRACKS (including the secret 7″ tracks which won't be posted online) when the album comes out. BAM. I suggest you do this here: https://www.patreon.com/amandapalmer 
2. Pre-order the 12″ via the link as below. You'll receive two instant gratification tracks and the rest of the album digitally on May 5th as well as having some deluxe vinyl.
3. Get it via iTunes here!

PRE-ORDER ON VINYL / CD
Patron-Only! Sign-up for as little as $1 HERE to purchase the vinyl (while supplies last).
—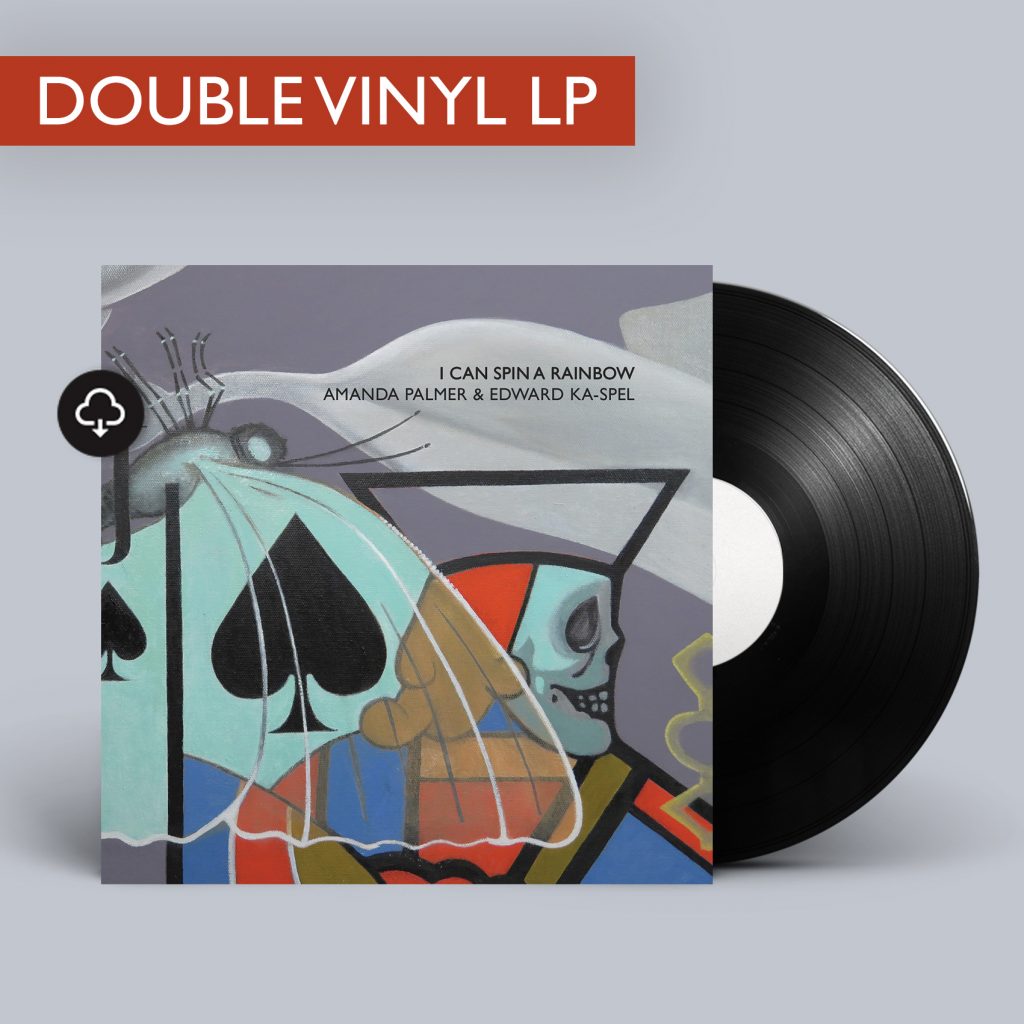 —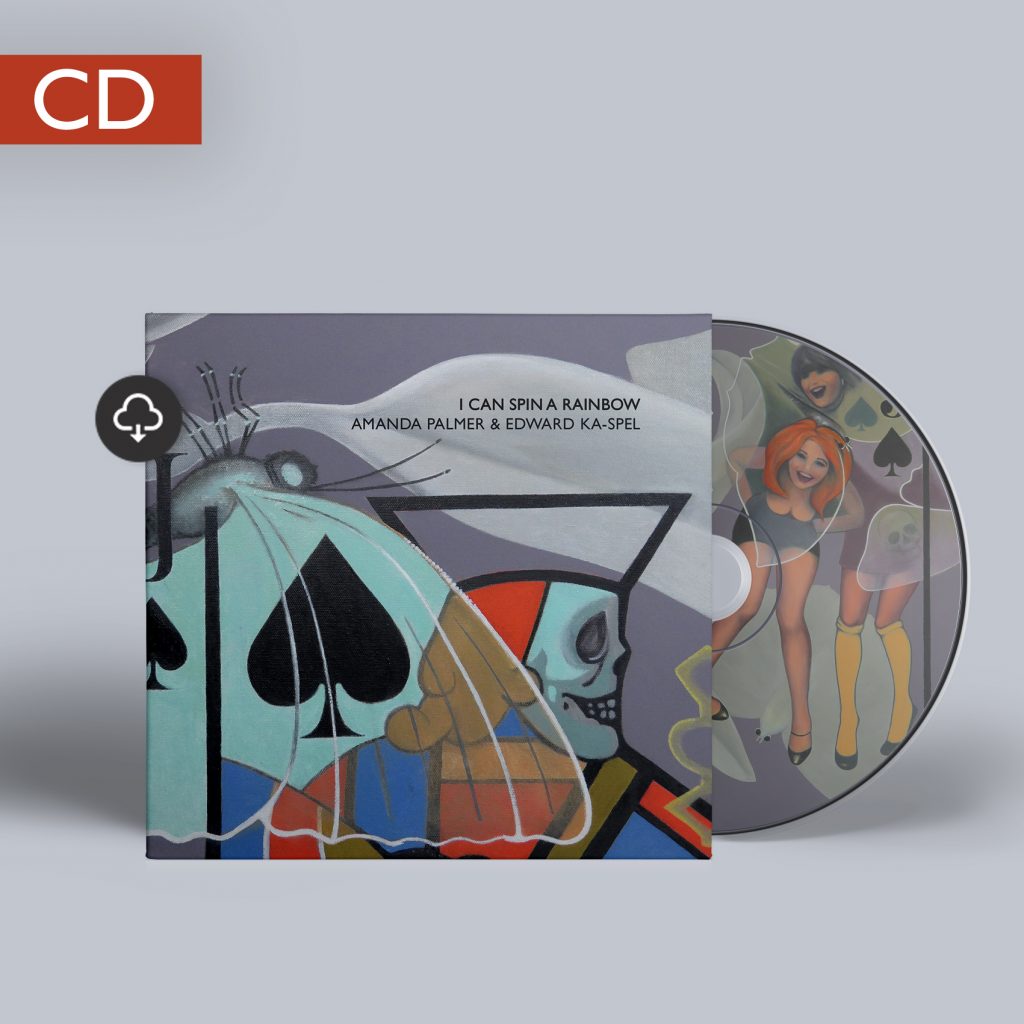 We also have a high quality 30mm pin badge, featuring "I Can Spin A Rainbow" album artwork painted by Judith Clute, available for purchase from the UK/EU store ONLY here!

BEYOND THE BEACH VIDEO
Video #1 (There is more coming!!!!!)
I'm excited to announce that there will be multiple patron-funded videos being released alongside this record! this first video, a short animation made by chiara, isn't an official Patreon Thing…this one's on us, and we hope you love it. i reached out to chiara with the entire record and asked if there were any songs that spoke to her…and she picked "beyond the beach". it's one of the shortest songs on the record, and i absolutely love what she did with it. stay tuned for more visits and please join the patreon to fund the upcoming endeavors…i cannot wait to show you what we've got up our sleeves.
You can also watch on Vimeo here!
ABOUT THE PROCESS (from Chiara Ambrosio):
"Beyond The Beach"- together with the other tracks on this majestic album- is a powerful, melancholy and enchanting evocation of life at its most fragile and beautiful. When I first listened to it, it stirred some strong, visceral and contradictory sensations in me: the dichotomy of danger/shelter, departures/arrivals, longing/belonging, familiar/estranged… overall a sense of a reversed birth, somehow an attempt to go back to a moment of grace, of purity and hope- a search for home in a world eternally shifting and eluding our grasp. In many ways it chimed deeply with all that is happening in the world at this very moment: so much sadness, loss, displacement, despair… but in the midst of it all, those small beacons of grace, light and kindness that keep pointing the way towards redemption.
And these are the images that instinctively came up as a visual counterpoint for the song:
objects scattered in the dark emptiness- a glass, shoes, a bottle, a book, a pen, a mirror, a toppled house, melted ice, a handwritten letter, drawings, an expired ticket, a newspaper, an open suitcase- all covered in thick ash…
the debris of an existence: a suggestion of interrupted travel/ migration, a failed arrival…
hands emerge from the darkness and reach into the ash that fills the suitcase…
a small puppet, plied by time, her eyes opaque- blind from having seen too much or from having been newly born.
I had been wanting to return to puppetry ever since living in Prague in the mid '00, where I studied and worked with some of the luminaries of this art form. The nature of this song, suspended somewhere between life and death, between the past and the future, offered the perfect occasion to do so. It all started with Edward Ka-Spel's broken voice proclaiming: "I have an extra hand to hold you in"… and that was that. I asked Mikey Kirkpatrick to lend his sensitive hands to the piece and in a very short space of time we brought this dream/ prayer to life.
As always, working with Amanda (and with the invaluable support of her generous Patreon members) is a rare and wonderful experience: her music is a fertile and inspiring orchard in which to sow and reap new images, and her trust in my vision gives me the space and freedom to push my own boundaries as an artist without any compromise or constraint. This is a truly rare experience.
Filmmaker:
Chiara Ambrosio is an Italian filmmaker and visual artist based in London.
Her work includes experimental documentary, stop-motion animation, and various collaborations with musicians, performance artists, composers, and writers.
This is her third collaboration with Amanda Palmer, following her animations for "Evelyn Evelyn" and "Wynken, Blynken & Nod".
Website: www.acuriousroom.com
Instagram: chiaraambrosiovisualartist
"Evelyn Evelyn" music video: https://www.youtube.com/watch?v=pixkuUL9LgU
"Wynken, Blynken & Nod" music video: https://www.youtube.com/watch?v=kFeXqRX2nN8
Puppeteer:
Mikey Kirkpatrick is a songwriter, musician and performer based in London.
He performs as Bird Radio and has released two albums on SFE/Cherry Red Records. His most recent project was "Oh, Happy England", a song-cycle based on the poetry of Walter De La Mare.
He composes original music and performs for theatre and puppetry, and has collaborated with many international companies and circus acts.
Website: www.mikeykirkpatrick.com
Twitter: @bird_radio

THE TOUR!
May 17 – The Middle East – Boston, MA – TICKETS
May 20 – Bowery Ballroom – New York, NY – SOLD OUT

May 21 – Rough Trade – Brooklyn, NY – TICKETS
May 23 – DNA Lounge – San Francisco, CA – SOLD OUT
May 24 – Troubadour – Los Angeles, CA – SOLD OUT
May 31 – Proxima – Warsaw – TICKETS
June 1 – Muffathalle – Munich – TICKETS
June 2 – Wave-Gotik-Treffen – Leipzig – TICKETS
June 4 – Palác Akropolis – Prague – SOLD OUT
June 5 – Fabrik – Hamburg – TICKETS
June 9 – Trix Club – Antwerp – TICKETS
June 10 – Melkweg – Amsterdam – TICKETS
June 11 – Cigale – Paris – TICKETS
June 13 – Heaven – London – TICKETS
June 16 – Porgy & Bess – Vienna – SOLD OUT
June 17 – Traumzeit Festival – Duisburg – TICKETS
June 18 – Maifeld Derby Festival – Mannheim – TICKETS