BRIDE-TRIPPING
— AN OFFICIAL PATRON-SUPPORTED RELEASE, APRIL 27th 2018  —
BRIDE-TRIPPING:
A PORTRAIT OF THE ARTIST AS A YOUNG WOMAN
surprise, my loves. i've been working on this project for over two years, and it's finally ready.
it's a short film culled from about 25 hours of footage taken all across america on a hi-8 camera by my friend alina simone, when we were in our early twenties.
the older i get, the less i take this shoebox of footage for granted.
it caught something usually uncatchable: a brutally honest portrait of the artist as a young man (woman, bride, whatever).
alina simone is one of my oldest friends, and when i say oldest, i mean really, really, really. this is the weird thing about getting into your forties: i introduce many of my friends nowadays as "one of my nearest and dearest old friends, michael pope", but i didn't meet pope until i was 24. he's one of my oldest friends in this Adult Life. but alina and i met when we were in grade school, and i can't think of a single other person i've stayed actual friends with that i've known THAT long. i feel like this description of her/us may conjure up some wrong fantasy. truth: alina and i did not spend every weekend at one another's houses making popcorn, having slumber parties and making slam books, we did not trade secrets about the boys we had crushes on; we had a roundabout kind of relationship that took a long time to blossom.
Here are some pictures of me & alina from about 7 or 8 years go:
we were friends when we were quite little, around 12 or 13 years old. we had a neighbor in common, ev greter, and (according to alina, i had to text her to ask) we met when "i roped them into being in a musical that never came to fruition". how little has changed.
then alina went off to a different school and i barely saw her again until she started dating my friend joshua knobe, who went to my high school (i met and befriended josh because i was arrested for shoplifting, and THAT whole story – my long friendship with josh, who's now a tenured philosophy professor at yale – is another project worth doing). the two of them became an inseparable couple (and eventually got married, and a had a child) and because alina and i HAD been friends when we were tiny, and because josh was the common link between us, we became default friends again. it was alina's idea to do the road trips, and when i said yes, i said yes because it was back in the days when i wanted to say yes to everything. but when you watch this footage, bear in mind that alina and i weren't lifelong best friends. we were two lost souls trying to find a purpose, and looking back at this footage, and talking to alina about it, i see a lot.
alina tells me that she was impressed by my "fuck everything and everyone i want to be a rock star" attitude in those days. she was an aspiring filmmaker with a hi-8 camera
and a recent art-school degree. she'd learned that you make art by capturing the things around that are interesting, and she must have thought i was interesting enough to capture. i, of course, like any arrogant artist who'd achieved nothing, thought i was the most interesting thing in the universe when i was 23 (AND WHY DID NOBODY CARE ABOUT ME?).
but i was also really starting to form a kind of antagonistic relationship with my own arrogance and ego.
like a lot of artists just starting out with a head full of ideas, i thought i was the shit and i also felt like a piece of shit for thinking i was the shit. that's a lot of heavy shit.
alina's idea was this: we would get into my volvo station wagon (i'd just bought it, used on a monthly installment plan, from my parents for $2,500), and, for a few weeks, i would perform the eight-foot bride, my street performance character, in/at/on the Weirdest Places In America We Could Find. alina was our tour manager; she scoured "roadside america", an excellent resource for Weird Places, and where she navigated, i drove. we would drive west from boston to chicago (i had a friend there, tim, who i wanted to visit anyway) and back, and then leg two would take us south from boston to florida and back. the footage from "bride-tripping" merges the two trips into one.
it's funny looking back. this was pre-smartphone and the internet was barely part of our lives. i texted alina to ask her whether she used the roadside america.
trip #1 (32 hour drive, total)
trip #2 (54 hour drive, total)
let's make this clear: we had no point.
i dunno, maybe alina had more of a point than i did.
or maybe THAT we had no point WAS the point.
i had also just graduated from university and was filled with a weird combination of existential dread and a head full of academic ideas about art, emerging from a slightly-suicidal, slightly-alcoholic, definitely-depressed tailspin that saw me spinning and stumbling through four years of pure confusion (1994-1998) during which i wrote exactly two songs in total, watched four people die (my grandmother, my grandfather, my brother, my fresh-ex-boyfriend) and smoked my university's weight in clove cigarettes and felt my life's purpose both welling up in me while simultaneously receding into a zoloft-clouded haze in the distance.
i was pretty lost.
but i was also truly excited. i finally had my life to myself after the four disorienting years of college and i knew what i wanted: to penetrate the very heart of random performance art.
and to wesleyan (my alma mater)'s extreme credit, some of the seeds that were planted while i was there started blossoming only after i escaped the cell of my dorm and the extreme unhappy mental space i was in until i graduated. since i was such a perfectionist, there was no way that i was going to fail any classes, or even receive less than a B or B- in any course, so even during my most hungover, bedridden, why-am-i-here-in-this-place-with-no-friends, i was studying hard, and i never skipped my classes. all this information was being dumped into my head even if i didn't know what to do with it. in particular (and relevant to this project) the threads and history of performance art in the 60's and 70's. happenings. art out in the world. i was introduced – through books, mostly – to ways of making theater that isn't on a stage. i knew that that's what i wanted to do, and it's still what i like doing. not that stages are bad, but we have the whole world to play with, why just make Things in the places you're expected to make them?
fast forward about fifteen years.
after i launched the patreon, i started thinking hard about the projects that i'd always wanted to do and that had no obvious source of funding or commercial, money-earning potential.
one of my first phone calls was to alina, to see if she had any interest in taking that 25 hours of footage and combing through it to make something real. she was excited to finally Do Something With It, and she went out hunting for an editor, and after looking at a crop of folks, we settled on amanda laws (i swear we aren't Nameist, amanda is really fantastic).
for two years, alina and amanda combed the footage, thought and discussed deeply, did new interviews with me, and together we considered what the best course was.
what you see here is just the tip of the iceberg (there are whole interviews and threads and themes that we didn't touch) but it makes for really interesting watching.
if you all like what you see, we could create a part two, and alina and amanda have even considered taking the old footage, following me around for a tour, and creating a sort of now-and-then montage of what it means to start from nowhere and make a life…or something like that. it's an idea we're all very excited about. so watch, comment, and tell us what you think.
to be brutally honest, a lot of this footage is hard for me to watch.
(polaroid of the bride by alina)
i see a really insecure person. i see a really excited person. i see a really free person. i see a really afraid person. i see a really upset person. i sort of see me.
but i was a pretty different person when i was 23, and i don't always like the person i see.
i cringe a lot, seeing my own abandon and self-presentation, even if i'm also charmed by it.
but that's the point of life, isn't it, beauty. we start somewhere and we go somewhere else.
i hope you love watching this…it took a hell of a lot of work and time (we went through at least a dozen drafts of just this short clip).
and as usual: none of this would have happened without the patreon. how could it have? things like this make no money.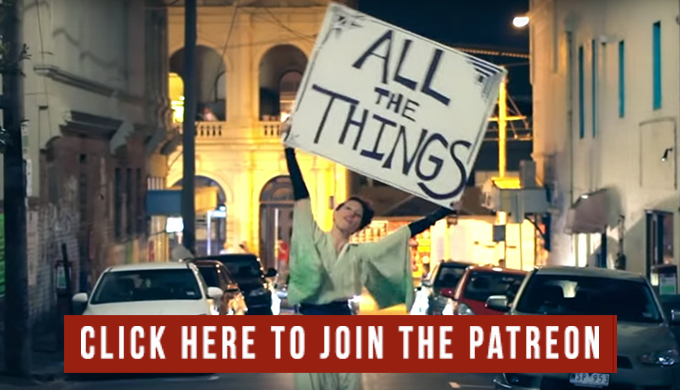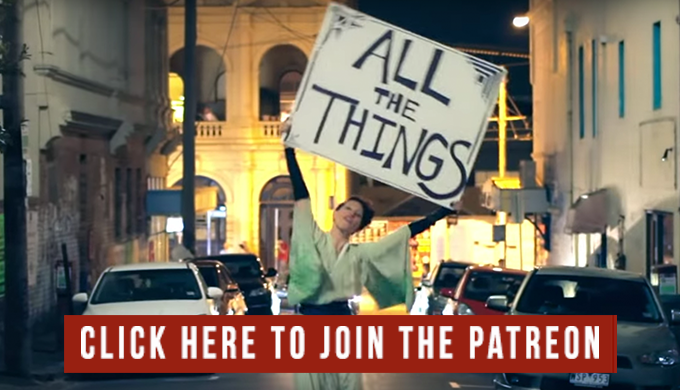 if you're one of my patrons, on behalf of me, alina and amanda….thank you. you're making it all possible.
to growing and changing and embracing the giant cosmic mess…here it is:
love,
amanda

CREDITS
a film directed by Alina Simone and Amanda Laws
edited by Amanda Laws
filmed by Alina Simone
featuring Amanda Palmer and Alina Simone

A WORD FROM ALINA SIMONE
(photo credit: matthew spencer)
This is a film I started to make many times. I would walk the streets of Brooklyn and complete a brilliant edit entirely in my mind, only to unravel when confronted with the raw footage on screen, sprawling over the two years I spent chronicling the messy, beautiful life of my childhood friend Amanda Palmer.
Then last year, Amanda suggested we take my box of tapes and do something as a Patreon project. And I told her that I couldn't — not without an editor. She sent one tweet and enter: Amanda Laws.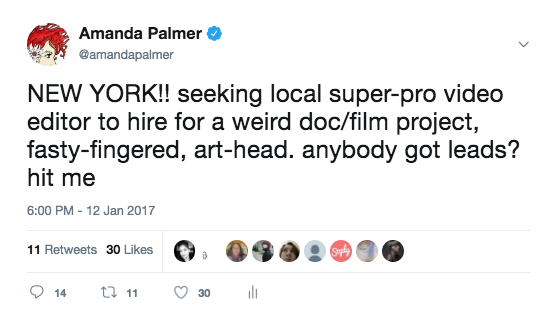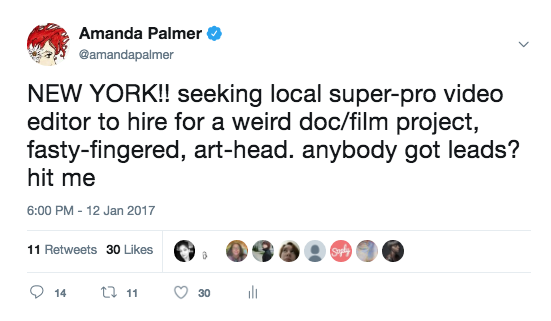 With double the Amanda power, we motored into action and the result was this beautiful, messy coming-of-age story about a girl who made a living dressing up as a bride on the street, but dreamed of a much larger stage.
You would think I would be satisfied, after 20 years in the making, to see this ghostly Hi-8 footage finally brought to life. And I am. But watching all that footage also woke me to the movies not made. The interviews with lost lovers. The birth of the Dresden Dolls. The bouncing from couch, to boyfriend, to unstable-roommate-situation, before finally arriving home at the Cloud Club. There are still stories to be told. Or one big story, about how the fake bride became a true bride, how the the clove-smoking dilettante became a world-chomping artist.
How the girl grew up.
(note from amanda: alina is also an amazing author and published a great memoir about 10 years ago called "You Must Go and Win" that included a beautiful chapter about the bride-road-trip. i've sent the whole chapter to the $5+ patrons, and you can also find the book HERE: https://www.amazon.com/You-Must-Win-Alina-Simone/dp/0865479151)
you can find out more about alina, her books and music (she's also a fantastic songwriter and singer and you should check out her music) at http://www.alinasimone.com/

A WORD FROM AMANDA LAWS:
I first met Amanda Palmer in Harvard Square as the 8 Foot Bride. I would give her dollars, and silently she would offer me flowers in return. This was essentially the sum total of our interactions until this year, almost 2 decades later. Working on this film now has been a fascinating glimpse behind the scenes of a figure whose ghostly visage was a familiar presence during my life in Boston. Even more fascinating to me is that the film is a rare portrait of an artist while still in an early stage of her development, before fame and success had been achieved and her artistic pathway carved out.
—
Amanda Laws is an independent filmmaker working in both documentary and narrative. She co-edited the highly acclaimed Cameraperson, directed by Kirsten Johnson, which premiered at Sundance 2016 and was shortlisted for an Oscar. Her most recent work includes The Hanging, directed by Geoff Feinberg, which premiered at HotDocs and IDFA in 2016. Other edit credits include The Imposter: How to Write a Banjo Concerto directed by Bela Fleck and Sascha Paladino, It Had to be You directed by Sasha Gordon, and It Was Rape by Jennifer Baumgardner. She is currently editing the feature length documentary Hard-Hatted Woman, directed by Lorien Barlow.