ICSAR Update for Clock Video
— AMANDA PALMER & EDWARD KA-SPEL – I CAN SPIN A RAINBOW  —
*POWERED BY PATRONS*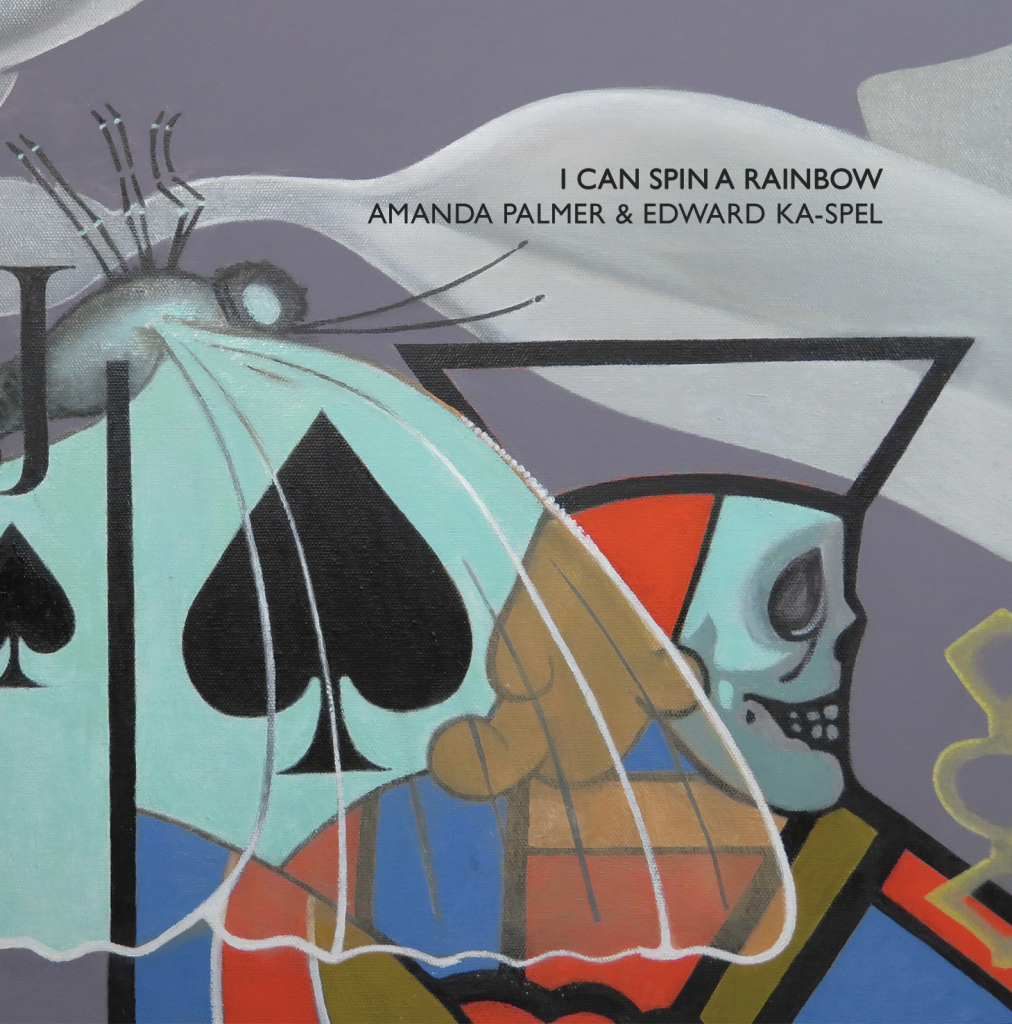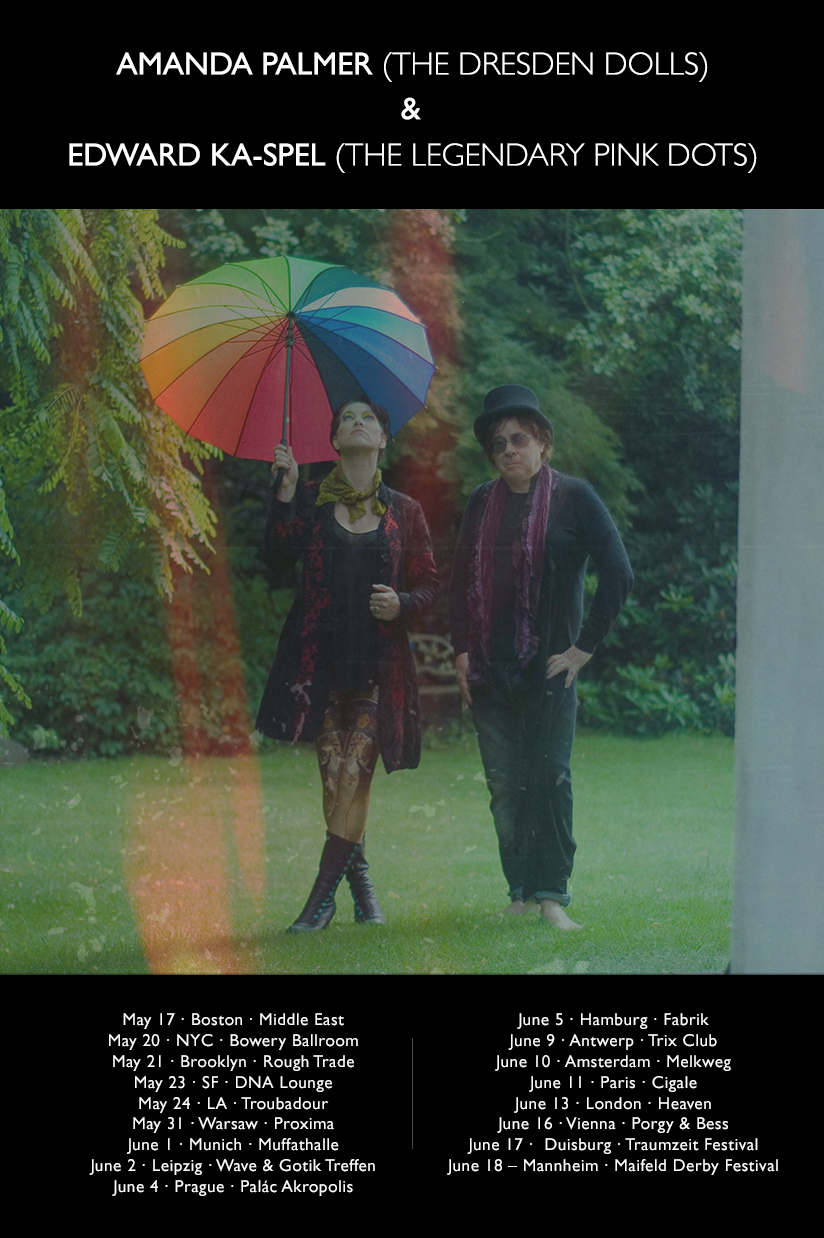 OUT May 5th, 2017
DEAR EVERYBODY –
THIS PAGE IS A WORK IN PROGRESS! as we move towards the grand dropping of the record on May 5, we'll be adding videos and information (including tour updates) bit by bit! so please check back often. on the big day when we officially "thing it" on patreon, i'll be inundating this page with the long, long story of how this record came to be, my long history and connection with edward, and many, many photos and tidbits from behind the scenes.
and now….i am incredibly proud to announce this album, which was written from scratch by me and my songwriting hero, Edward Ka-spel from The Legendary Pinks Dots. this album has taken us years to finally realize, i hope you love it as much as we loved creating it.
If you want to obtain this album DIGITALLY (and note: CDs and LPs come with free download codes!) you have several options.
1. Join the Patreon. For as little as $1/month to support all my work, you will be sent ALL THE TRACKS (including the secret 7″ tracks which won't be posted online) when the album comes out. BAM. I suggest you do this here: https://www.patreon.com/amandapalmer 
2. Pre-order the 12″ via the link as below. You'll receive two instant gratification tracks and the rest of the album digitally on May 5th as well as having some deluxe vinyl.
3. Get it via iTunes here!

PRE-ORDER ON VINYL / CD
Patron-Only! Sign-up for as little as $1 HERE to purchase the vinyl (while supplies last).
—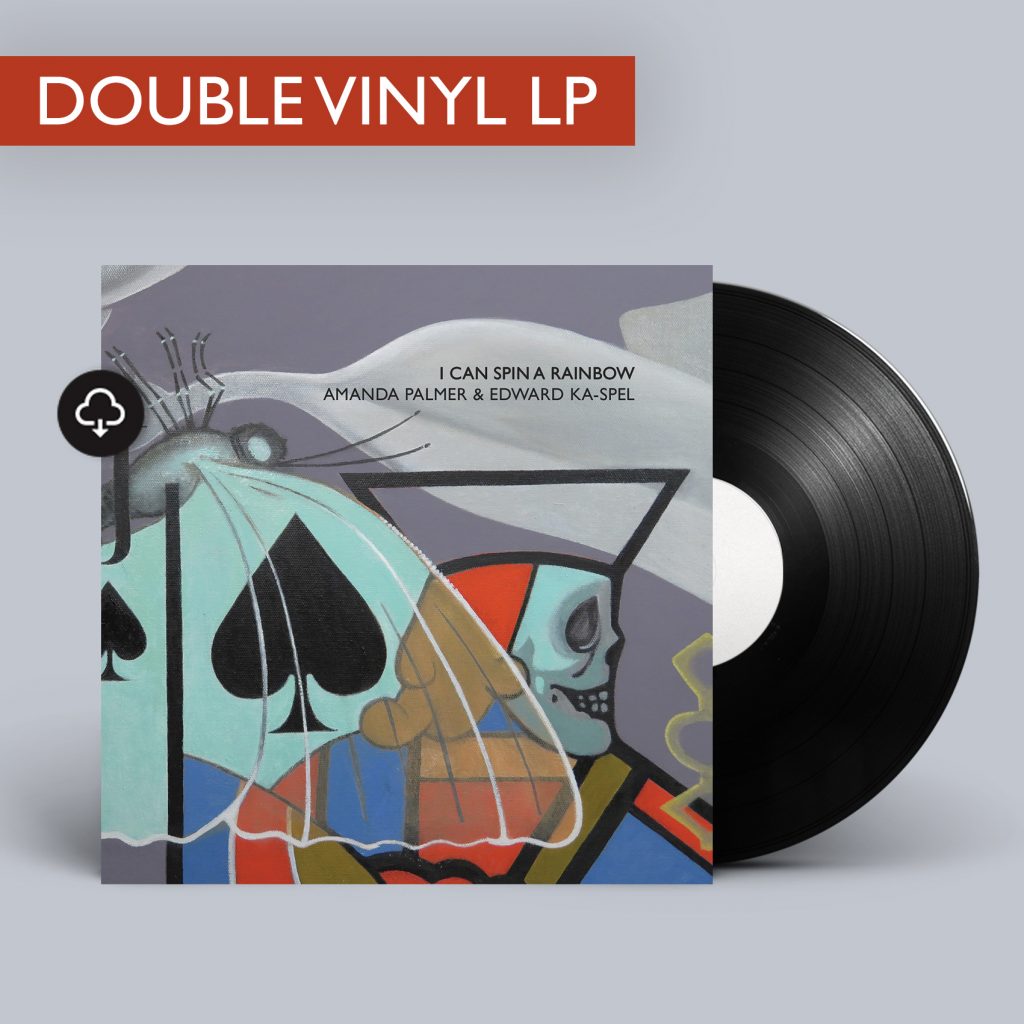 —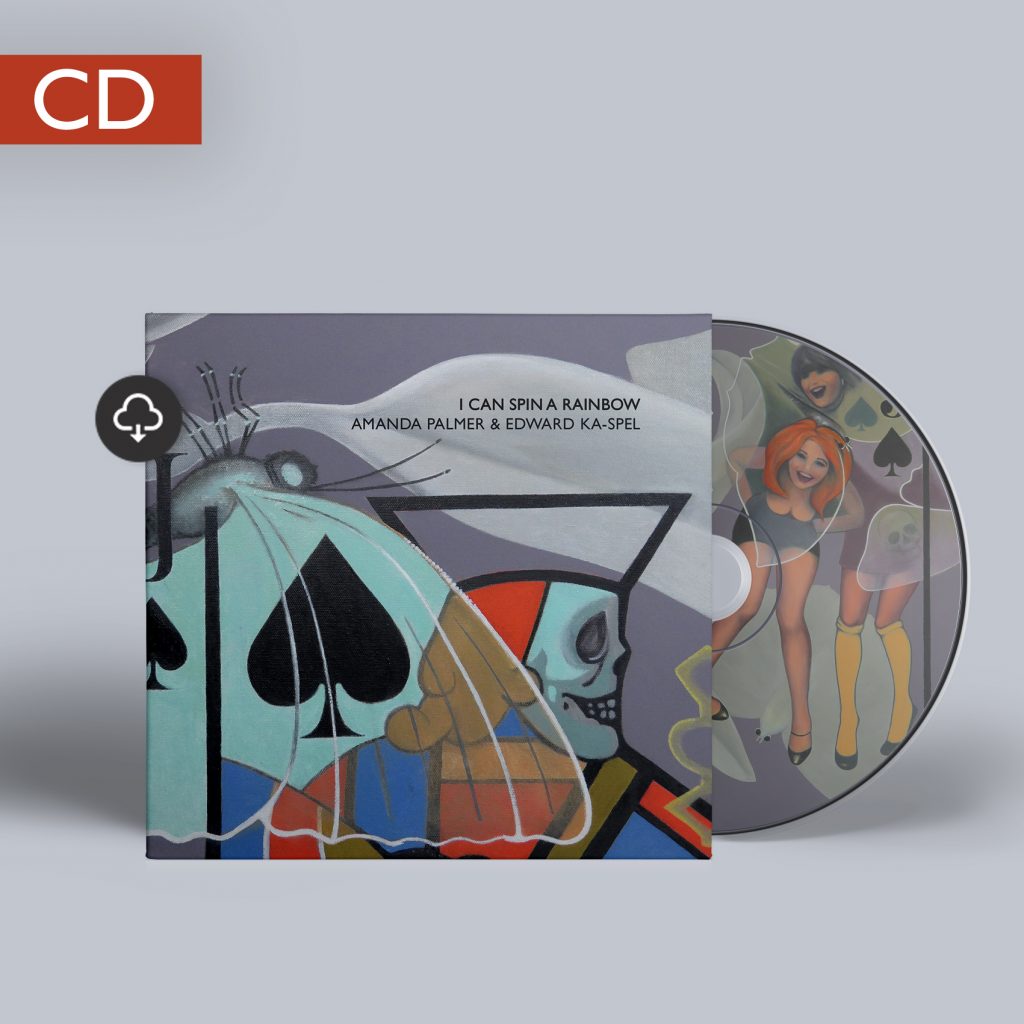 We also have a high quality 30mm pin badge, featuring "I Can Spin A Rainbow" album artwork painted by Judith Clute, available for purchase from the UK/EU store ONLY here!

BEYOND THE BEACH VIDEO
Video #1 (There is more coming!!!!!)
I'm excited to announce that there will be multiple patron-funded videos being released alongside this record! this first video, a short animation made by chiara, isn't an official Patreon Thing…this one's on us, and we hope you love it. i reached out to chiara with the entire record and asked if there were any songs that spoke to her…and she picked "beyond the beach". it's one of the shortest songs on the record, and i absolutely love what she did with it. stay tuned for more visits and please join the patreon to fund the upcoming endeavors…i cannot wait to show you what we've got up our sleeves.
You can also watch on Vimeo here!
ABOUT THE PROCESS (from Chiara Ambrosio):
"Beyond The Beach"- together with the other tracks on this majestic album- is a powerful, melancholy and enchanting evocation of life at its most fragile and beautiful. When I first listened to it, it stirred some strong, visceral and contradictory sensations in me: the dichotomy of danger/shelter, departures/arrivals, longing/belonging, familiar/estranged… overall a sense of a reversed birth, somehow an attempt to go back to a moment of grace, of purity and hope- a search for home in a world eternally shifting and eluding our grasp. In many ways it chimed deeply with all that is happening in the world at this very moment: so much sadness, loss, displacement, despair… but in the midst of it all, those small beacons of grace, light and kindness that keep pointing the way towards redemption.
And these are the images that instinctively came up as a visual counterpoint for the song:
objects scattered in the dark emptiness- a glass, shoes, a bottle, a book, a pen, a mirror, a toppled house, melted ice, a handwritten letter, drawings, an expired ticket, a newspaper, an open suitcase- all covered in thick ash…
the debris of an existence: a suggestion of interrupted travel/ migration, a failed arrival…
hands emerge from the darkness and reach into the ash that fills the suitcase…
a small puppet, plied by time, her eyes opaque- blind from having seen too much or from having been newly born.
I had been wanting to return to puppetry ever since living in Prague in the mid '00, where I studied and worked with some of the luminaries of this art form. The nature of this song, suspended somewhere between life and death, between the past and the future, offered the perfect occasion to do so. It all started with Edward Ka-Spel's broken voice proclaiming: "I have an extra hand to hold you in"… and that was that. I asked Mikey Kirkpatrick to lend his sensitive hands to the piece and in a very short space of time we brought this dream/ prayer to life.
As always, working with Amanda (and with the invaluable support of her generous Patreon members) is a rare and wonderful experience: her music is a fertile and inspiring orchard in which to sow and reap new images, and her trust in my vision gives me the space and freedom to push my own boundaries as an artist without any compromise or constraint. This is a truly rare experience.
Filmmaker:
Chiara Ambrosio is an Italian filmmaker and visual artist based in London.
Her work includes experimental documentary, stop-motion animation, and various collaborations with musicians, performance artists, composers, and writers.
This is her third collaboration with Amanda Palmer, following her animations for "Evelyn Evelyn" and "Wynken, Blynken & Nod".
Website: www.acuriousroom.com
Instagram: chiaraambrosiovisualartist
"Evelyn Evelyn" music video: https://www.youtube.com/watch?v=pixkuUL9LgU
"Wynken, Blynken & Nod" music video: https://www.youtube.com/watch?v=kFeXqRX2nN8
Puppeteer:
Mikey Kirkpatrick is a songwriter, musician and performer based in London.
He performs as Bird Radio and has released two albums on SFE/Cherry Red Records. His most recent project was "Oh, Happy England", a song-cycle based on the poetry of Walter De La Mare.
He composes original music and performs for theatre and puppetry, and has collaborated with many international companies and circus acts.
Website: www.mikeykirkpatrick.com
Twitter: @bird_radio

THE CLOCK AT THE BACK OF THE CAGE
Video #2!
A NOTE FROM AMANDA:
hallo loves. this song, "the clock at the back of the cage," is far and away my favorite on the "i can spin a rainbow" album, because it's the most painfully personal.
edward and i co-wrote this whole record together sitting in his house (in hornchurch) and in imogen's house (in havering-atte-bower)…and we took turns starting/continuing different songs. this song was penned mostly by me, with edward's magical production touches and vocals bringing it to life. i wrote it late one night on imogen's glockenspiel in the basement….and it was one of the most kismet-y moments of the whole recording process when i looked at edward the next day after playing it and singing it for him, and i said: "but….you sing this one. it will mean more to me."
we got to work and i decided to sing the chorus – to make it a duet of sorts – edward narrates, i fill in. all of the sound effects are edward's. oh, loves….listening to my most personal of lyrics coming out of edward's mouth, in That Voice (edward's voice still brings me to tears, sometimes, it's so fragile and broken, and it was the soundtrack to my teenage years)….it was like a full circle rainbow of art and pain and time.
the video came about in a similar cosmic collision. christy and luke were friends-of-friends in circus-world and this whole video process happened REALLY FAST. christy and i got together in the first place just so we could introduce our babies and talk about motherhood – she's got a little boy named tully who is just a few months younger than ash. and then art happened.
FUCKING…..YAY MOMS MAKING ART. i'm a fan.
i asked christy if she would write up something about the PAIN AND SUFFERING of making stop-animation…and there's some great production stills below, and she came back with so much of the story that i don't need to tell you much. but yes…i was dreaming up some kind of animated otherworldly video for this song when all of a sudden christy and luke plopped into my life, and happened to be perfect. so we just went with it. the result is, i think, one of the best videos to come out of AFP-land in a long time, and i'm really really proud we went for it.
stop-motion is PAINSTAKING….you can't believe the amount of work that goes into just a few seconds of what you are watching. it's why it is so important to me that you watch this ON A FULL SCREEN, AS LARGE AS POSSIBLE – you'll get so much more out of it!
i am seriously grateful to christy, luke, chris (who dropped everything to squeeze this directing job in) and ALL the behind-the-scenes assistants and helpers who made this video fly.and, because i cannot resist….here's a picture of OUR BABIES, ash and tully,  BEING CUTE TOGETHER (neil's comment: "Elf in semi-convincing human form contemplates luring a human baby off to Elfland."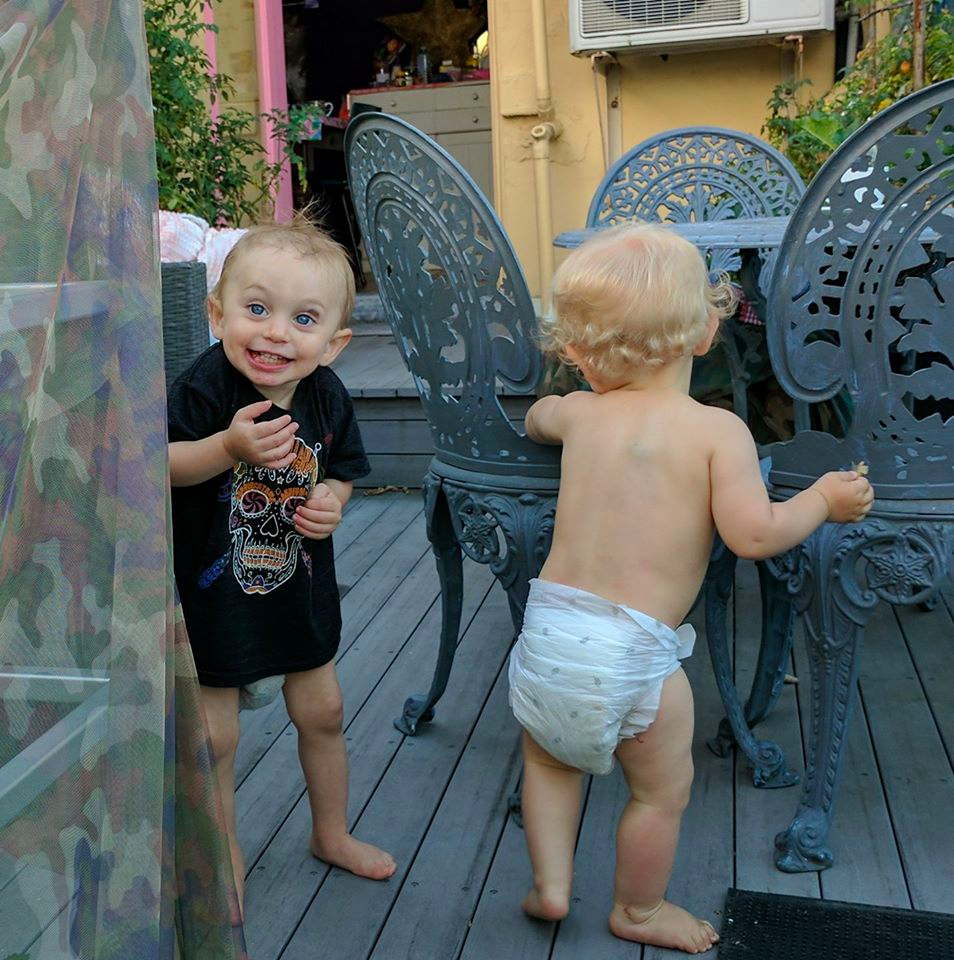 xxx
afp
ABOUT THE PROCESS
Firstly, I am a physical performer and not a writer, not a poet. I dream up things in pictures and by jumping around, but here is an attempt at some thoughts and words. It started when a few years ago our awesome housemates invited Amanda to borrow a bike while she was in Melbourne. Then in December there was an email nudge saying something to the tune of, "you both have babies, you both make things, you'll all be in the same place, so hang out!"
Luke and I live in Clunes in Regional Victoria and I wasn't planning to be in Melbourne… Luke had headed away to Sydney for work for a couple weeks in January, a few days after he left there was a bushfire really close to where we live, so I decided to head in to Melbourne. Amanda had offered for us to stay with her and one day turned into a few.
A couple months earlier Luke and I had collaborated with Chris Bennett from Underground Media on
a short promo clip for our upcoming show at Adelaide Fringe
, it was a project I was really excited about, we were about to do a season of a new show but we didn't have any footage from our first season that was good enough to use so I suggested we attempt to make a stop motion film that would give people the idea of the show.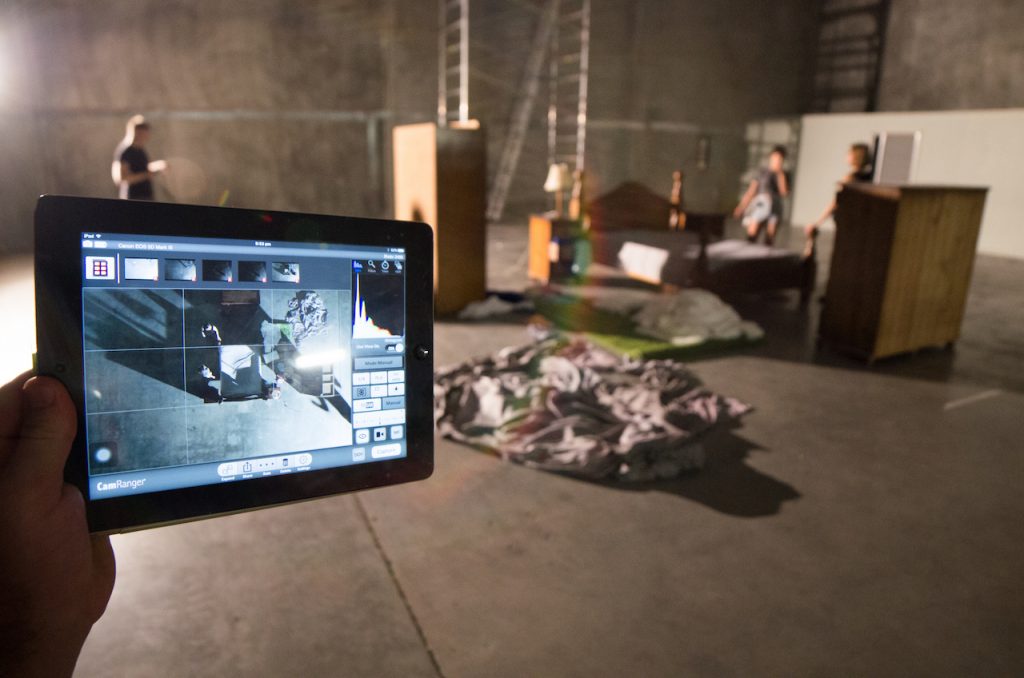 None of us had worked in stop motion before but I'd heard awesome things about Chris and asked if he wanted to give it a crack. Our friend Dan had an empty warehouse and moveable scaff tower which he let us use which meant we could film from 9 metres in the air. On the day of filming a bunch of things fell into place (read things went wrong but Chris found elegant solutions) including that by the time our babysitter had to leave we still had a massive chunk left to photograph (imagine Chris holding our baby standing under the camera taking a photo with a remote… running out of scene… handing Luke or I the baby… moving every item approximately 30 cm and then doing it all over again).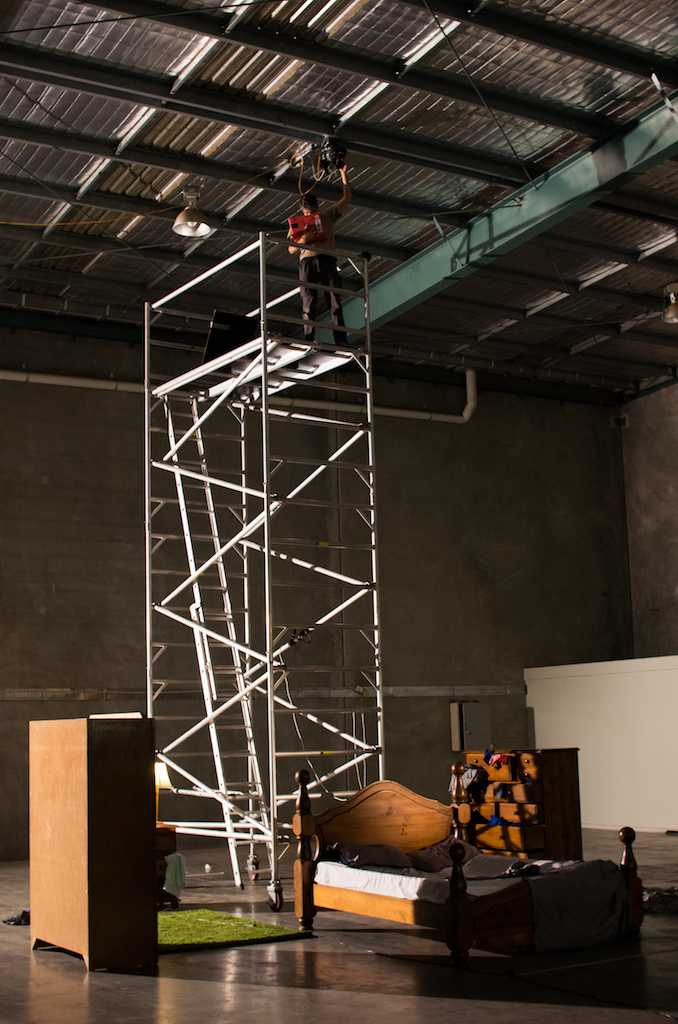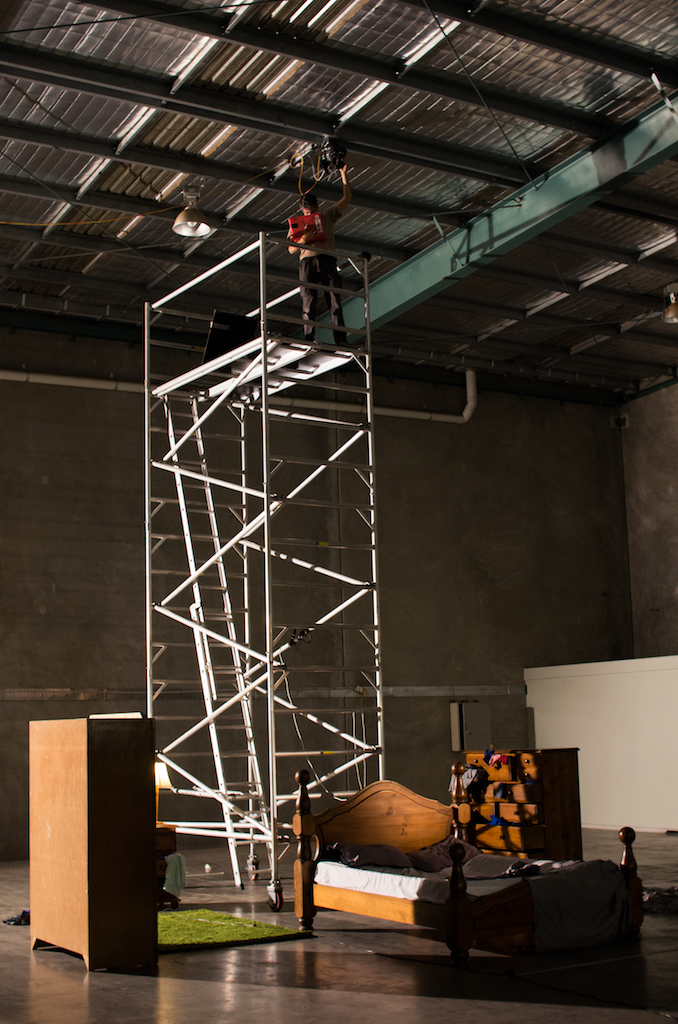 The draft of our showreel arrived in my inbox while I was sitting with Amanda watching the babes, I think I must have made some sound of happiness/relief and she asked to see it. I got a text one day while she was rehearsing at Bakehouse saying she had an idea for a simple video she needed to make and could I see if the filmmaker/space might be available.
So then there was a phone call to Chris and a picnic in the park with watermelon and a conversation on a rooftop under the stars with my baby crawling around like a wild thing because of a failed attempt to put both children in the same cot… too much excitement (I think my baby had fomo). We talked about cages and shadows and listened and re-listened. The song was so full of imagery it felt like a dreamscape.
There was a tiny window where Chris, Luke and I were all available to film and the warehouse we wanted to use had a one week window before it turned into an amazing circus training space and one of the first things they needed to do was cover the floor. We planned to film in the evenings between 8pm-2am so that we had consistent lighting (the warehouse we used has skylights) and so I could get Luke's mum to look after the babe.
We had a bunch of phone conversations and Luke, Chris and I each wrote up/drew a version of how we could see the song translated into images, we had a couple meetings at Chris's and ended up spending an entire day in lockdown in Clunes trying to piece the thing together. We had visions of creating images with tiny broken objects. I desperately wanted to use clothes to create almost pixilated images. We struggled over which ideas to let go of… We had clearly forgotten our previous conversation after the last epic stop motion adventure where we had in fact said "Lets never do stop motion again." The song danced around our heads for weeks.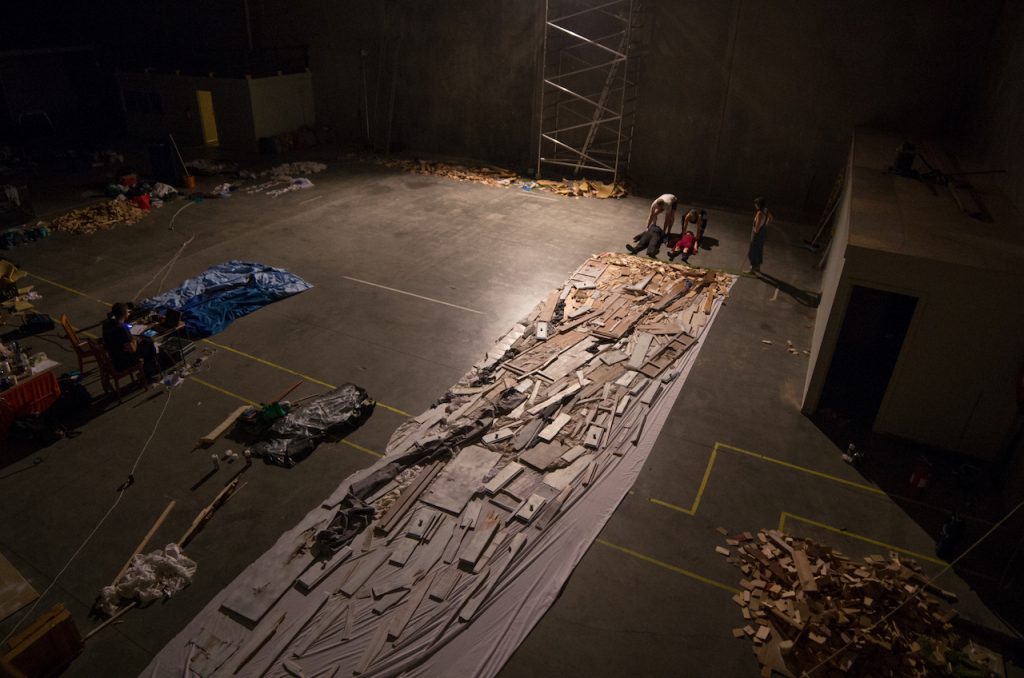 Amanda said "I just trust you". Luke and I are so used to such a long lead in for projects… imagine the thing, talk to other people about the thing, try to find a space, some money, a space to rehearse to perform, find a way to pay for costumes, build the set over long long nights while everyone else has gone home. And then there was this bizarre and beautiful situation, two months to conceive and then we were on the floor of a mostly empty warehouse in Pascoe vale.
There was something Chris said at some point, which stayed with me, "There is a kind of inherent suffering in this process." There was something slightly insane about the slowness of the work and then there were moments where we would have a break and the last 3 hours work was turned into this moving breathing thing and we grinned and slammed back sweet drinks and handfuls of chips and chocolate and kept going like some kind of surreal teenage sleepover. One night around 6 hours was spent with Luke lying on the ground where we would take breaks when he was about to lose it and would shout something along the lines of "is the timer on? Get the photo I have to move, I can't hold it".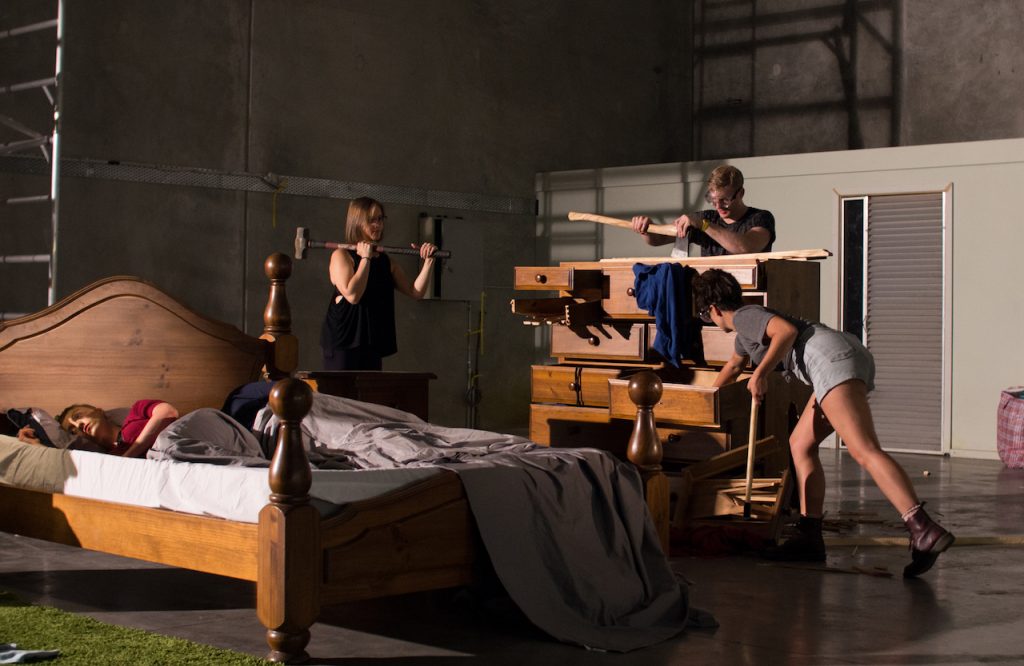 We had 5 nights, each night we broke down the scene and described to our incredible assistants "so here we want the sheets to become an elephant" or we'd half scrawl the image of a collapsing queen and say "she's falling apart, looming, not too precisely just like this picture." The planning process, Chris breaking down the 8 photographs per second to try to match up the images with key points in the song was timed so precisely but then there was the reality of moving literally thousands of pieces of broken furniture, cloth tentacles and cliffs without any real rehearsal. Luke and I were moved like mannequins around the space and then slowly piece by piece it started to become something. We moved about 10 cm each time we took a photo, some scenes took far longer than we were expecting so our solution was to have a timer on set at one minute each time it went off the assistants ran out of the frame, Chris took a photo and at times they literally ran back in and did it all again.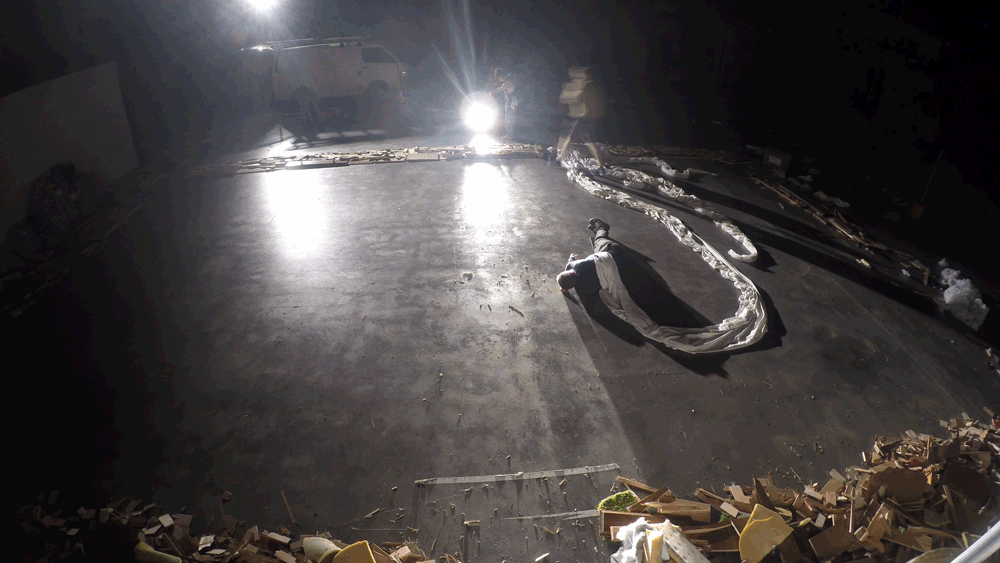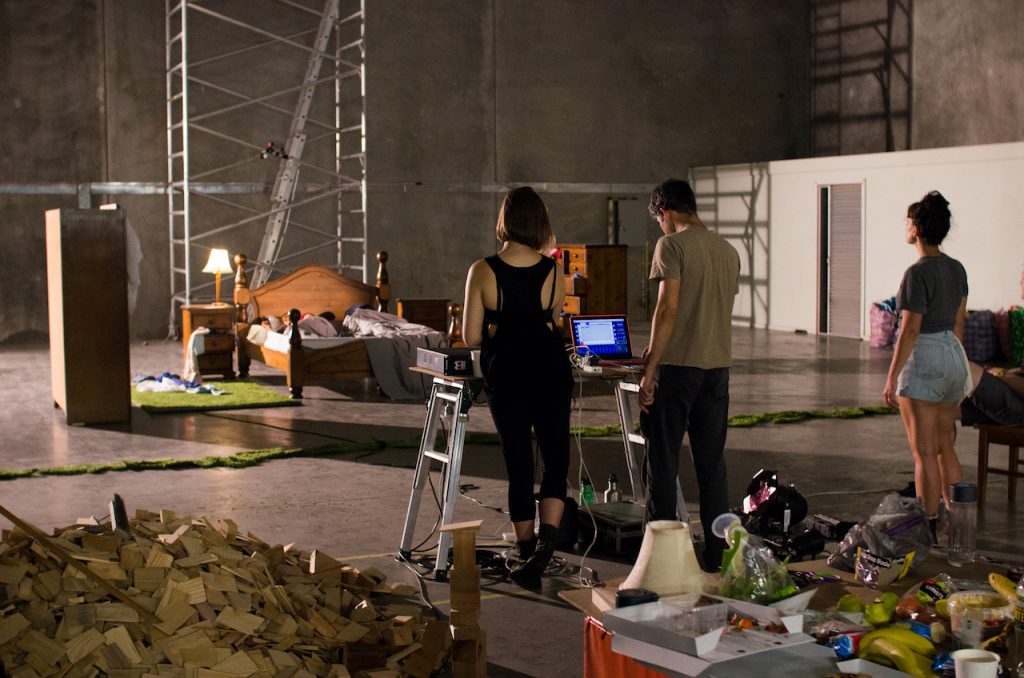 We had estimated that it would take 4 nights and had an extra night put aside as a buffer, by the 3rd night we were so far behind we had a panic meeting. The entire shoot finished at approximately 5:30am on the 5th night just before the sun started to come up. Luke and I drove back across the city to his mum's place flanked by tradie vehicles and by the time we'd had showers our baby was awake, it was a brutal and fucking spectacular project to be a part of.
Thanks so much to you Patrons for trusting Amanda to trust us, I really appreciate it.
Love,
Christy
THE CREDITS
Directed by: Christy Louise Flaws, Chris Bennett, & Luke O'Connor
Cinematography: Chris Bennett
Performed by: Christy Louise Flaws & Luke O'Connor
Artistic assistants: Amanda Sabo, Helen Turton, Ollie Versteegen
Christy Louise Flaws & Luke O'Connor are: www.askingfortrouble.com.au
Chris Bennett is: www.undergroundmedia.net.au & www.chrisbennett.net.au
Special Thanks to Dan Rabin at www.thecircusspot.com.au for the use of his venue, to Jens Altheimer for the use of his equipment, to Tim Elliott for behind the scenes photography, to Tim Elliott and Lauren Cruickshank for props and assistance, to all the people who donated clothes and fabric, and to Deborah James and Robert Murray for baby wrangling. We couldn't have done it without you.
THE LYRICS
We used to talk all the time
The blindfolded bodies you stacked in the barn
And they told you not to look behind you
The elephants walk in a line
The ringmaster takes off his hat to the queen
And she opens her mouth as they file inside
You used to tell me the hurt
The way they would strap you
In freezing white basements
And wire your heart til your hopefulness burst
The queen cannot fit through the arch
So she strips off your sisters and tells you to march
And you fall in line with your hands on your throat
The parade of paralysis starts
The ringmaster heads into town for the day
When they were just little he'd staked them in place
They're free now to roam
And they're free to run home
But they've lost the idea of escape
How they crowned you
Weighted and drowned you
How they made you numb
No bandage around you
I've found and unwound you
Now how to make you run
And the queen she is falling apart
She clutches the bannister shaking in shock
At the ugliness of her own heart
The ugliness of her own heart
I had a dream that we talked
We went to the White Cliffs and went for a walk
And I counted the times that our true loves had died
And you took my hand and looked over the side
And we saw your body down there
Getting taken away by the tide
Now they're all gone but you've stayed
The door is unlatched, but you are not afraid
There's a nice patch of straw and a comfortable cage
The door is unlatched, but you're not afraid
There's a nice patch of straw and a comfortable cage
How they crowned you
Weighted and drowned you
How they made you numb
No bandage around you
I've found and unbound you
Now how to make you run, run, run, run, run…

PRE-ORDER THE ALBUM (AGAIN)
In case you've made it alllll the way down to this section of the page and somehow missed the info about pre-ordering the album, there are three ways to make sure that you get the album on May 5th!
1. Join the Patreon. For as little as $1/month to support all my work, you will be sent ALL THE TRACKS (including the secret 7″ tracks which won't be posted online) when the album comes out. BAM. I suggest you do this here: https://www.patreon.com/amandapalmer 
2. Pre-order the 12″ via the above item links. You'll receive two instant gratification tracks and the rest of the album digitally on May 5th as well as having some deluxe vinyl.
3. Get it via iTunes here!

THE TOUR!
May 17 – The Middle East – Boston, MA – SOLD OUT

May 20 – Bowery Ballroom – New York, NY – SOLD OUT

May 21 – Rough Trade – Brooklyn, NY – SOLD OUT

May 23 – DNA Lounge – San Francisco, CA – SOLD OUT
May 24 – Troubadour – Los Angeles, CA – SOLD OUT
May 31 – Proxima – Warsaw – TICKETS
June 1 – Muffathalle – Munich – TICKETS
June 2 – Wave-Gotik-Treffen – Leipzig – TICKETS
June 4 – Palác Akropolis – Prague – SOLD OUT
June 5 – Fabrik – Hamburg – TICKETS
June 9 – Trix Club – Antwerp – TICKETS
June 10 – Melkweg – Amsterdam – TICKETS
June 11 – Cigale – Paris – TICKETS
June 13 – Heaven – London – TICKETS
June 16 – Porgy & Bess – Vienna – SOLD OUT
June 17 – Traumzeit Festival – Duisburg – TICKETS
June 18 – Maifeld Derby Festival – Mannheim – TICKETS