Amanda Palmer – "Labyrinth" from The Grinning Man
— AN OFFICIAL PATRON-SUPPORTED RELEASE, DECEMBER 18th, 2017 —
MY DEARS.
i have musical theater offering for you. light some candles, put on your leotard, sit in the dark, and enjoy.
you can stream & download the track here on bandcamp….
all my patrons received the track via email, and if you choose to download the track for a $1+, all of the proceeds are going to fund The Bristol Old Vic Young Company, a youth theatre company in the UK.
the backstory:
a few months ago, the london-based producer david adkin approached me and asked if i would add my voice to the budapest film orchestra for a musical he was about to open on the west end called "the grinning man". i am, at my core, a musical theater dork. i was raised on a diet of gilbert and sullivan and weber and rice and rogers and hammerstein.
but i also….hate most new musicals. i hate the corn and the cheese and the schmaltz of most new musicals, and so i was skeptical that this one would be any different.
i was wrong…i listened to the song with david when i was in london about a month ago, and i thought it was just….gorgeous.
and the story, immense. "the grinning man" is based on a novel by victor hugo called "l'homme qui rit" ("the man who laughs").
this is the story:
Based on Victor Hugo's novel 'The Boy Who Laughs', The Grinning Man tells the story of Grinpayne – the strange, star attraction in a small travelling freak show who's forever scarred when a mysterious assailant carved a hideous grin into his face.
When he and his family arrive in London to perform their show at the notorious Trafalgar Fair, everyone from the gutter rats to the new Queen has fallen for the handmade freak and his hideously beautiful face. But who is he really? And how did he come to be so marked? Together with an old man, a blind girl and a wolf, he has a story to tell. A tale so tragic and so strange that not even he can guess how it will end.
there's a beautiful wiki about the book and the story – and the many pieces of media thereafter:
https://en.wikipedia.org/wiki/The_Man_Who_Laughs
if you're in london, the show opens on december 18th at Trafalgar Studios, and you can get tickets HERE.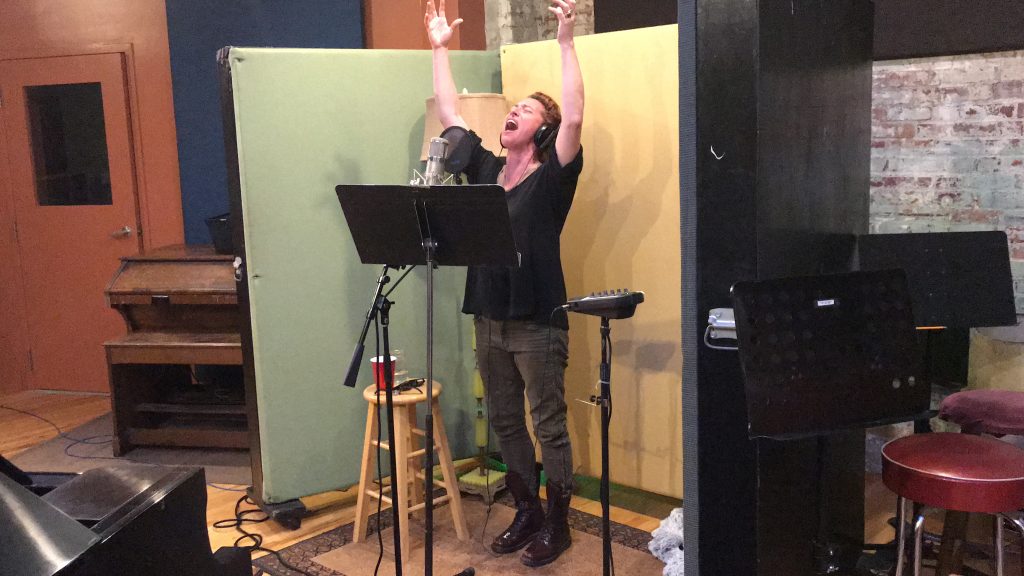 the music, as you can hear, is absolutely gorgeous, and recorded in hungary by the budapest film orchestra.
i recorded the vocals in somerville, mass, at Q Division (the same studio where i recorded "bigger on the inside" and "the thing about things") with a great engineer named james bridges (who also engineered "the ride").
here are a few little clips of the session:
the top of the song:
THE MONEY NOTE:

– A NOTE FROM THE SHOW'S PRODUCER, DAVID ADKIN –
In October last year I was invited to see the world premiere of The Grinning Man at Bristol Old Vic.
I left the theatre having laughed and cried, totally enthralled by what I had seen. It was a brilliant original, magical and inventive piece of musical theatre, and I wanted everyone to see it.
I immediately approached Bristol Old Vic exclaiming that this show must come to London and I have to be a part of it. West End impresario and producer Howard Panter, (who had enabled the show's development and supported it from a seed of an idea), made such a transfer possible, and generously enabled me to be involved.
I'm sure the fact that Amanda had to jump (or was up for jumping) into a recording studio to tackle 'Labyrinth' immediately after I played her the track over coffee, is only testament to how brilliant the music Marc and Tim have written is. I think you'll a agree that she's done a fucking awesome take on it and hope you enjoy it as much as I do. Cheers A xxx
After 11 previews, we have our official opening tonight (18 dec). The response during previews has been wild – with much laughter, many tears and standing ovations at the end of every performance… What more could we ask for?
Come see us!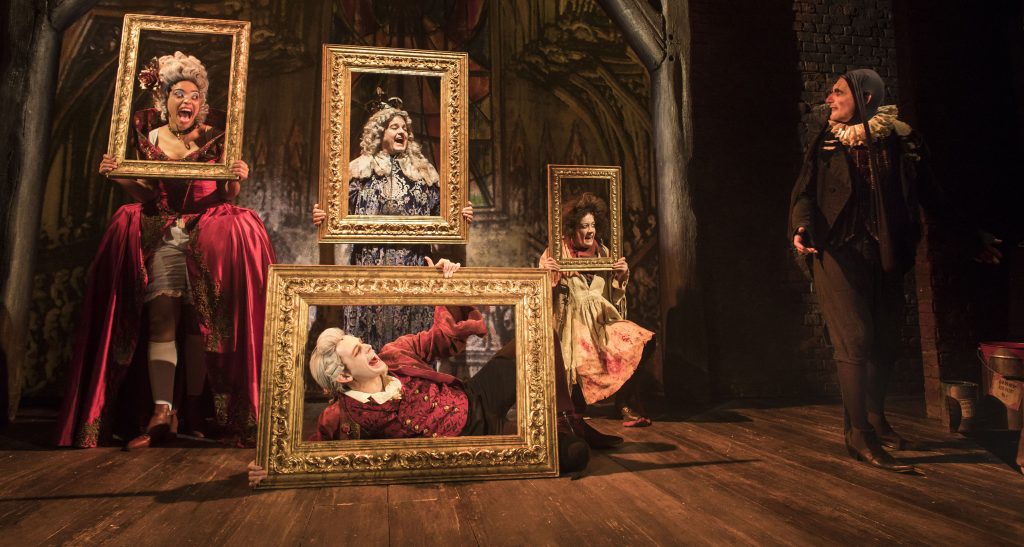 – A NOTE FROM CARL GROSE – THE WRITER AND CO-LYRICIST
HOW THE GRINNING MAN CAME TO BE
I really didn't want to read it.
The novel was thick. Heavy as a brick. And my partner was pregnant with our soon-to-be born son and I thought: I don't want to adapt this massive Victor Hugo novel into a musical. Not now. No way.
But my friends Tim and Marc, the show's brilliant composers, had found it and wanted me to read it with regards to a possible musical (actually, they had found an old movie poster of the silent movie version and, based on that alone, thought it might be worth a read).
Really hoping I'd hate it so that I could tell them categorically that the project just wasn't right for me, I started to read…
It was so right for me. Damn.
Hugo's novel is an epic journey through various human hearts, ones cracked with hope and screaming with pain. It was Gothic – which I loved. It had storms and secrets, wolves and freak shows, terrible deeds and horrible desires. It was a blood-jewelled mystery; it was a thrilling adventure. I was hooked.
And I knew how to do it. I could see the world of it. I would lose the historically accurate setting of the book and forge it anew as a kind of fairytale set in its own world – albeit one riven with modern complexities. It would be about stories, and stories within stories. It would be about human monsters and broken love and buried truths. You know. All the good stuff.
We started to work on it with our director Tom Morris. I wrote a treatment. We looked for obvious places for songs. Tim and Marc played us tunes. Tom and I told our rough story shape to his staff at Bristol Old Vic (where we made it last year). Tom thought it could be a goer. And so the writing process began. For me on script, and Tim and Marc on music. We all worked on the lyrics. Slowly, it started to come together. And then the workshops. And then rewrites. More rewrites. Son was born. More rewrites. Five (coming on six) short years breezed by, and hey presto! Here we are, in London's glittering West End! Thanks to the astonishing combined talents of some of the most brilliant actors, designers, musicians, puppeteers, stage managers and producers I know.
I can't quite believe it exists now, in the theatre, for all to see. I'm biased, but I think it's special. It certainly dares to be different. And it is what we collectively hoped it would be – a Gothic fairytale of sorts, with wicked glinting humour, great characters and some of the best damn tunes I've heard. I know they will never leave my head.
All because I read that Victor Hugo book I didn't want to read.
God, I'm so glad I did.

THE CREDITS
"Labyrinth" from the musical The Grinning Man
Vocals by Amanda Palmer
Music by Tim Phillips and Marc Teitler
Lyrics by Carl Grose, Tom Morris, Tim Phillips and Marc Teitler
Orchestrations by Tim Phillips and Marc Teitler
Arranged by Tim Phillips, Marc Teitler, and Tom Deering
Conductor: Péter Pejtsik
Sound engineer: Péter Barabás
Vocal engineer: James Bridges at Q Division
Photography & Styling: Kahn & Selesnick
Orchestra: Budapest Film Orchestra
Artwork design & lettering: Andrew Nelson from Down In The Valley Creative
Video Edit & Colour grade: Barry Nichols

THE LYRICS
The city with its dark embrace
Shows its twisted damaged face
And reflects the labyrinth of my mind
Here amongst the winding streets
Invisible I move with ease
My heart is racing and I don't know why
The crowds always used to despise me
How is it they now idolize me
They're saying the Grinning Man's opened their eyes
What is it they're seeing beneath this disguise
what was it I left behind
on that black and bitter night
its hiding in the labyrinth of my mind
everywhere I look I see
the darkness eating into me
why is it that the truths so hard to find
What if this freak that they're crowding to see
What if that monster could also change me
And even if I knew what had caused all this pain
Why in hell would I want to feel it again?
Dea said that she'd help me
She said the past could set me free
And open up the darkness in my mind
but maybe here's where I belong
confusion is a kind of home
My pain the only comfort I can find
Stories are her way of seeing
But she's not the one who needs freeing
Dea loves the tale of what happened to me
But how can she love what she can't even see
the city streets are sharp and new
what I feel now is just as true
as anything that's hidden in my mind
This letter brings a pulse of life
I recognize what she describes
Could it be true that true love isn't blind
The search for the past hasn't healed me
But somehow this letter reveals me
Could this erase the pain of my shame and disgrace
Because she sees the beauty in my broken face