Amanda Palmer – Small Hands, Small Heart
— AN OFFICIAL PATRON-SUPPORTED RELEASE, SEPTEMBER 27th, 2017  —
SMALL HANDS, SMALL HEART
dear ones…
this song was written and recorded over the course of three days (september 24, 25 and 26th) in boston, ma. thanks to my 11,000+ patrons, i dove into lock-down songwriting and studio madness and came out the other end with…this.
ALL digital proceeds from the song for one month are going to MARIAFUND.ORG, a charity working on immediate relief in puerto rico suggested to us by our friend/fan/collaborator down on the island, alfredo richner. he's an active voice in the patreon community and you may know him as the host of the puerto rico/san juan kickstarter party, and the artist who created this beautiful image back during the theatre is evil days. alfredo and i were smack in the middle of a new graphic design project for a forthcoming song of mine (a secret one) when the hurricane hit the island, leaving his surroundings in total chaos. i am so glad we can help his community, even in this small way.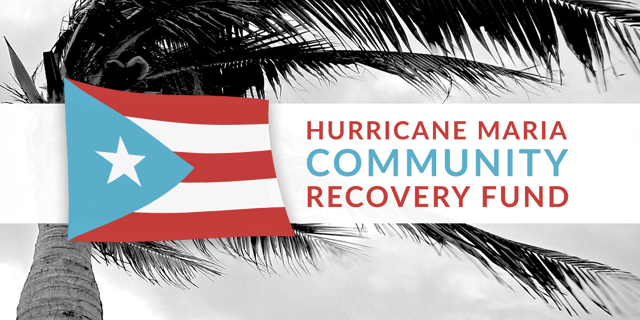 from alfredo:
Hi, world. My name is Alfredo and I'm extremely lucky to have met Amanda a few years back. She taught me the art of asking and after Hurricane Maria hit my country a week ago, I knew who to turn to for help. I don't need help. I'm one of the lucky few with a cellphone tower nearby that actually works, which keeps me in communication with loved ones, and hence sane. But my country needs help -a lot. We are currently living a humanitarian crisis. Our power grid was completely decimated, over half the country doesn't have access to clean water, and federal aid is stuck in bureaucratic limbo. Families can't get in touch with each other a week after the storm and you can sense the unrest building up as each day goes by. This is only the beginning of a tough recovery process for Puerto Rico, with damage estimates topping 20 billion dollars. And this is where you come in. Please call your representatives in government and tell them to help Puerto Rico ASAP, call your local media outlets and demand news coverage of the crisis, and if possible send your contributions to mariafund.org. Gracias por su ayuda.
p.s. My friend Debora took this picture a few weeks ago. People here are proud of saying "I live where you vacation", but we are much more than a tourist destination. And even though half of all Americans don't know it, we are your fellow citizens of the United States.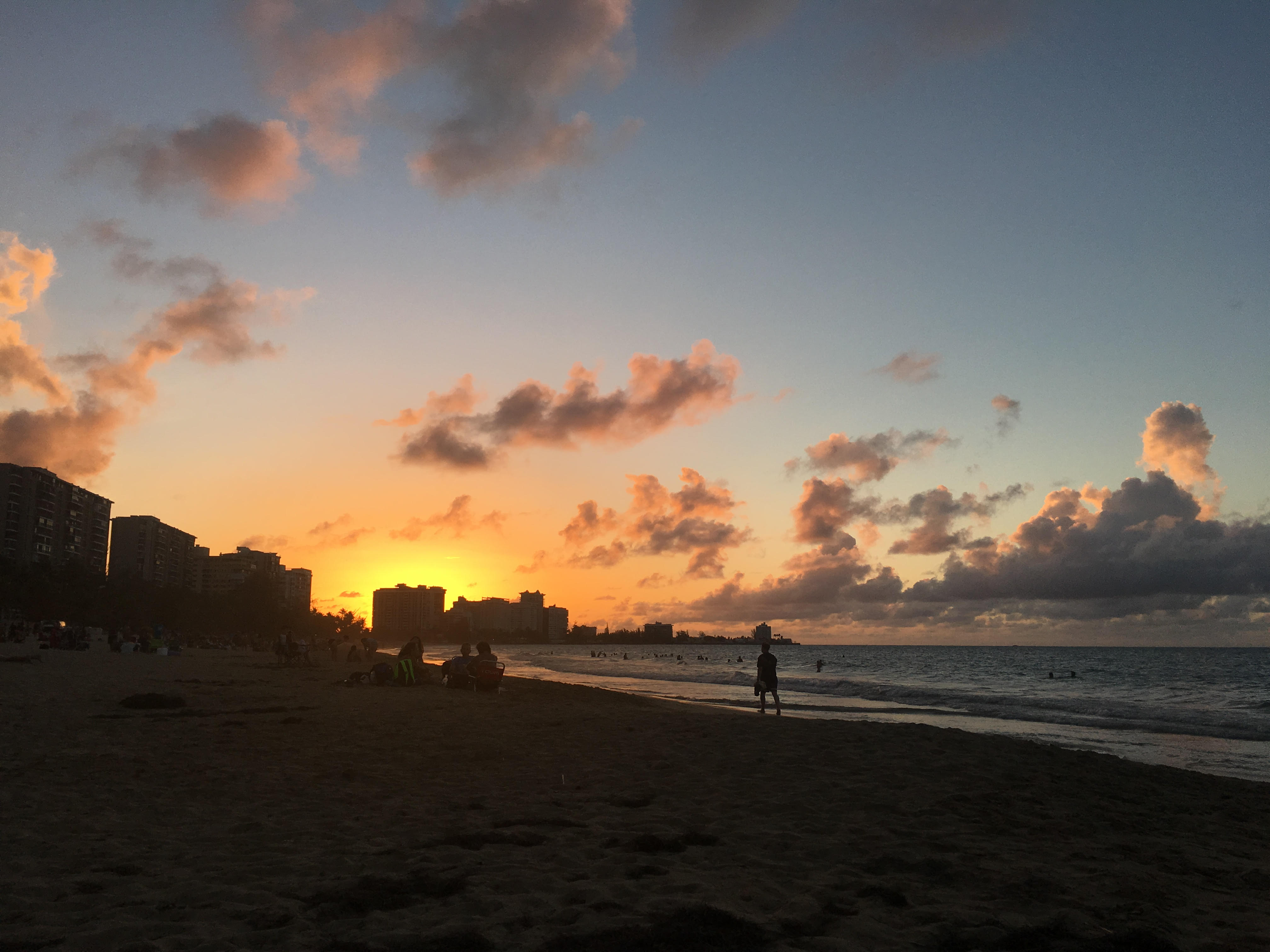 a little about about the making and recording of the song….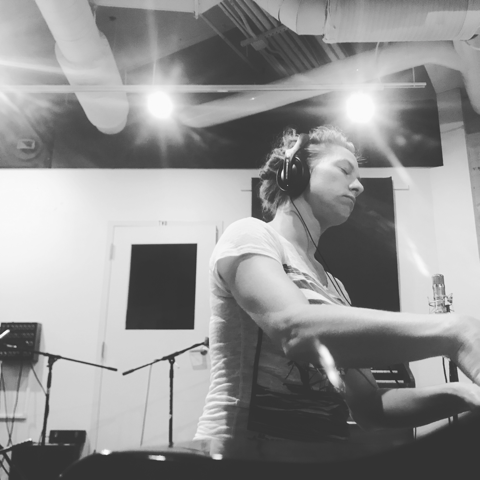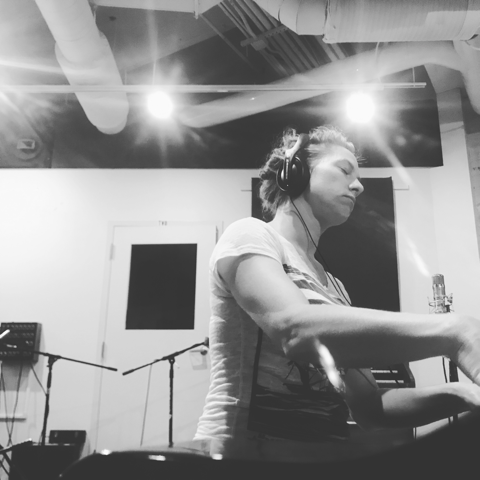 the song itself all started with this thread on my patreon in which i asked people, again, to pour their brains out a little bit so that i could sweep up their debris….and write in the wake of the spill. (this was the same way that i wrote last month's song, "drowning in the sound", and it worked so well that i'm even considering giving this kind of immediate art a name. ideas? screams of the collective unconsciousness? piñata songs? accelerated art? songs in the key of NOW?
here are some piles of paper on the floor in my apartment that transmuted into the song at the end of the day….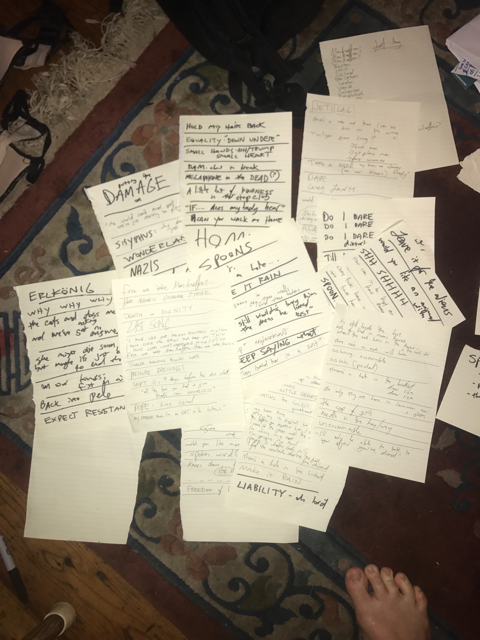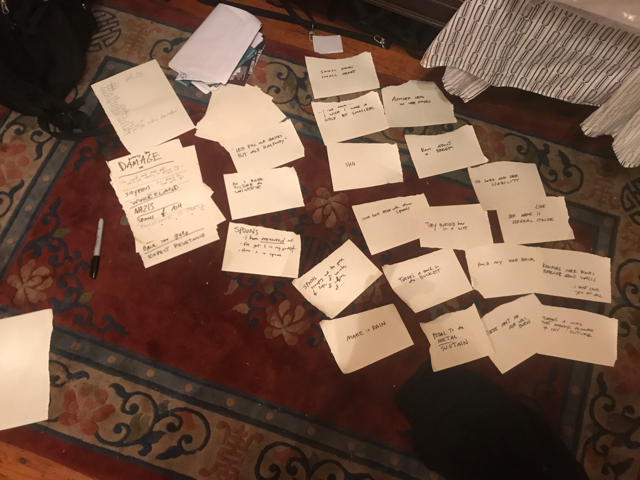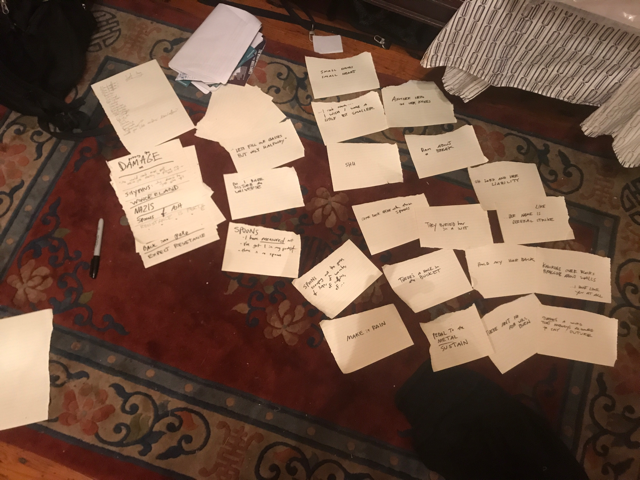 this my boston-apartment piano where i write songs naked in the middle of the night. home of pretty much the entire dresden dolls second record, who killed amanda palmer, and most of theatre is evil. she's served me well, this yamaha.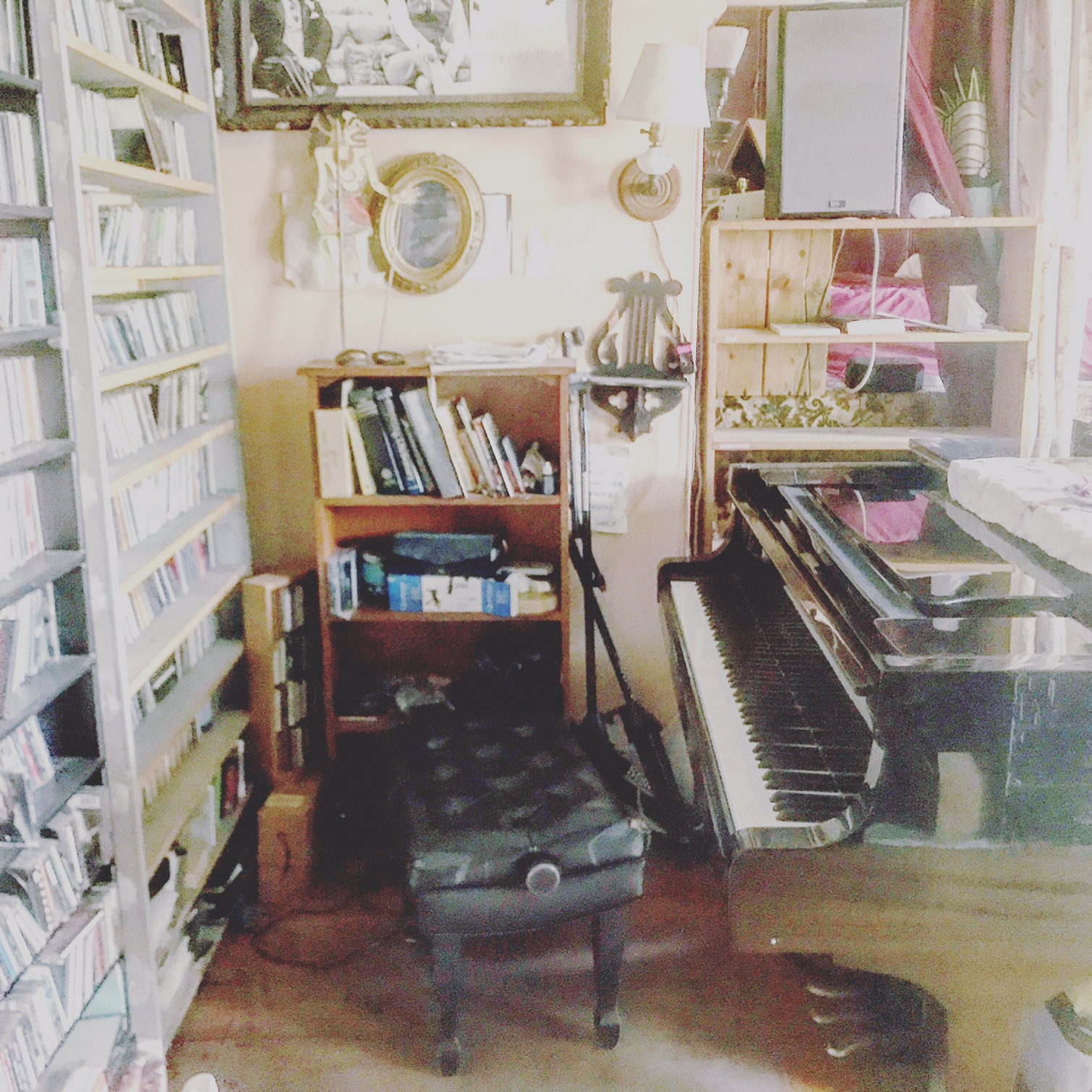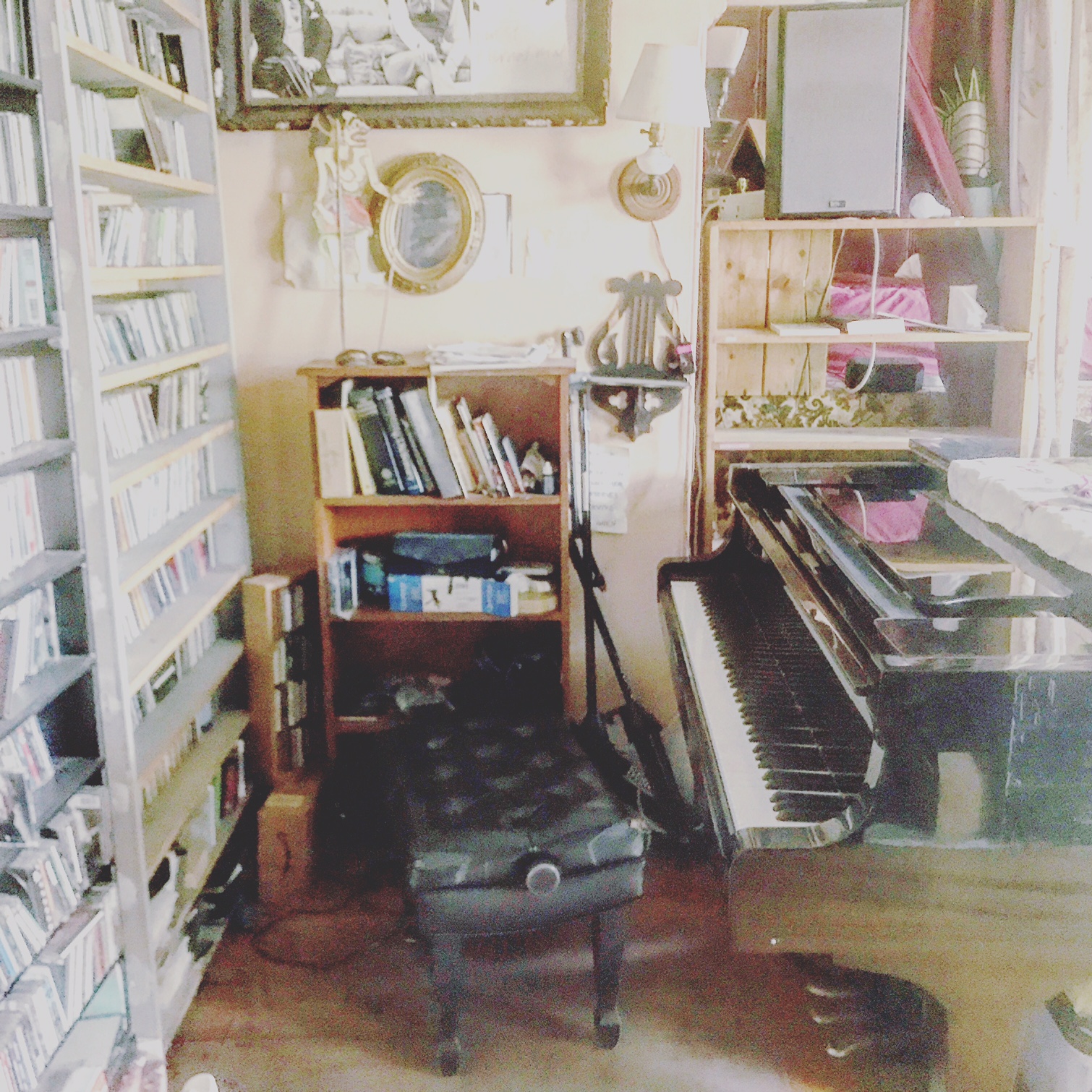 if you want to take the time to read all 600 comments in the patreon thread, you may possibly be able to untangle the threads that became the fabric of this song-sweater. too many metaphors, i know. sorry.
the song began on bass…i borrowed one (and an amp, thanks) from tristan allen, my downstairs neighbor at the cloud club who was kind enough to loan.
i had a nice time that night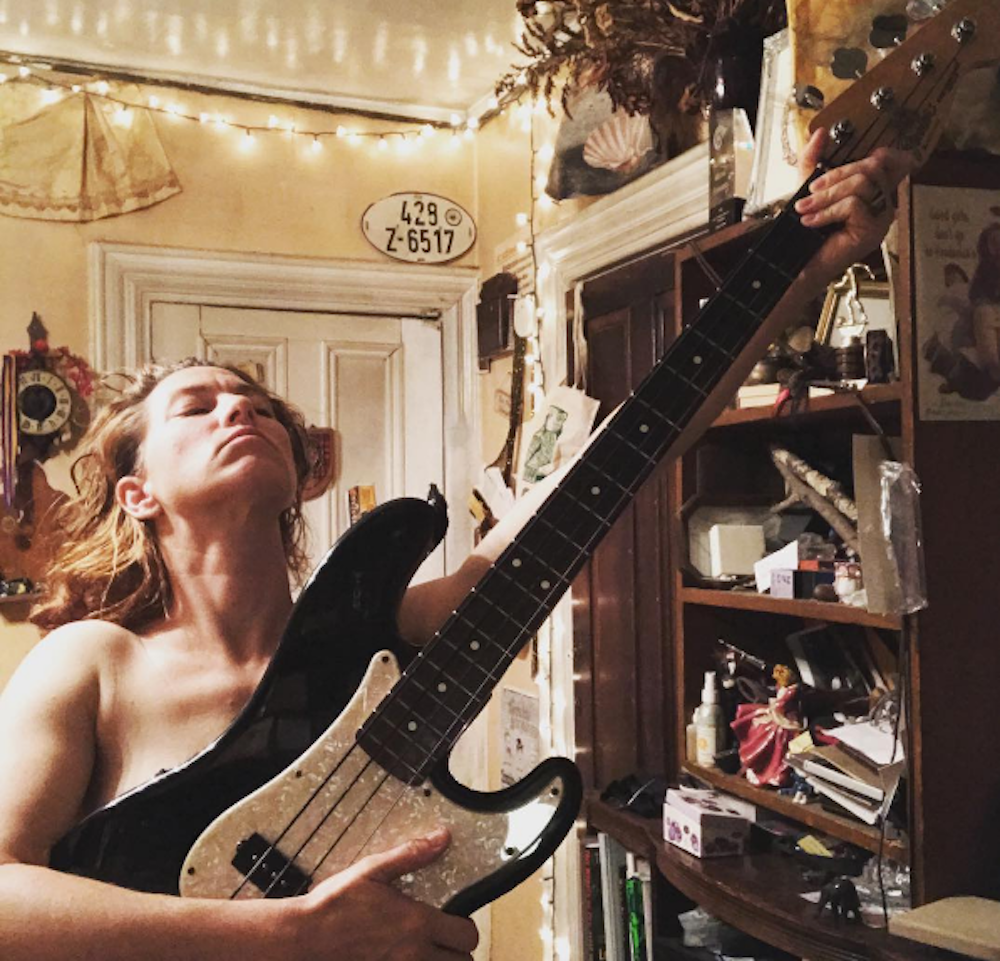 here are some pictures from the studio (Q division, in somerville, MA)….on the left is sean slade, who you may remember as the producer of "yes, virginia" by the dresden dolls. the main engineer was james bridges (on the right) :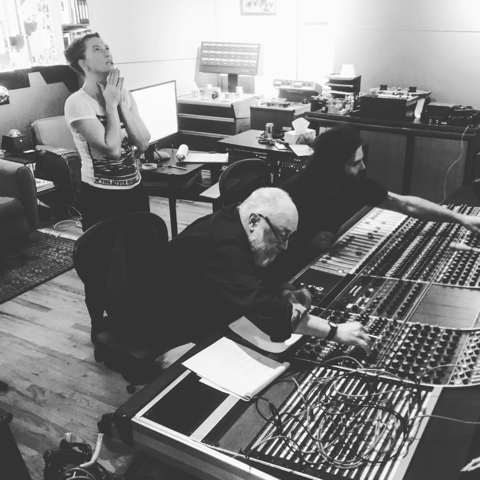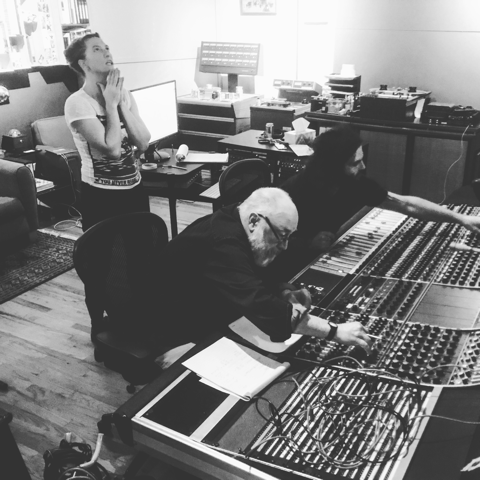 vocals, underwear: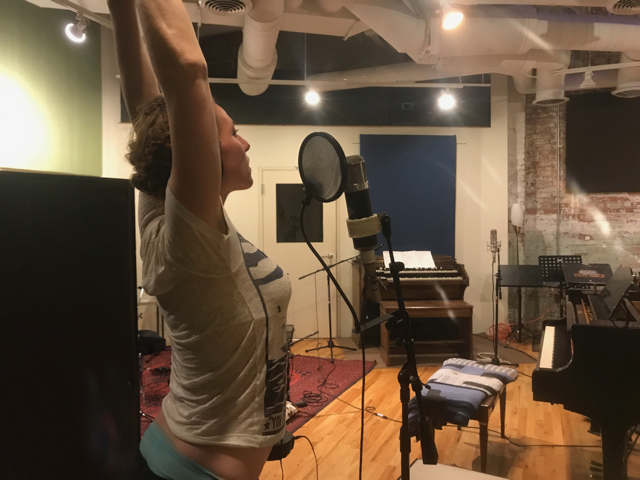 i tried to lay the actual bass down in the studio but i truly sucked, so sean slade stepped in and killed it for me.
i tried.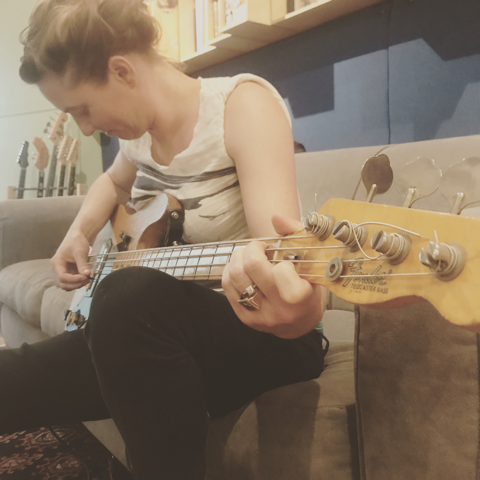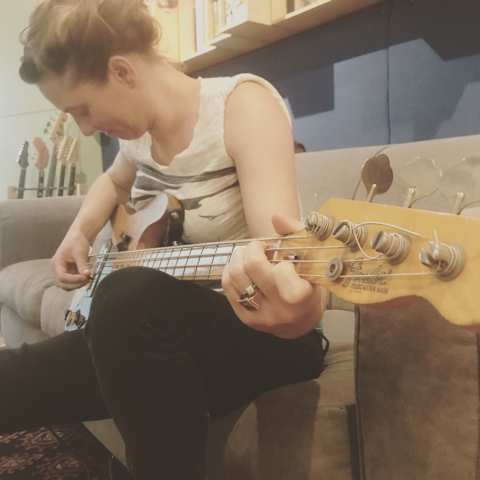 piano, underwear: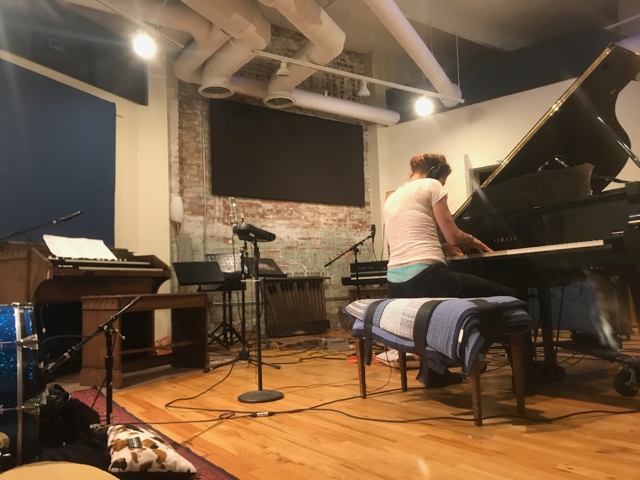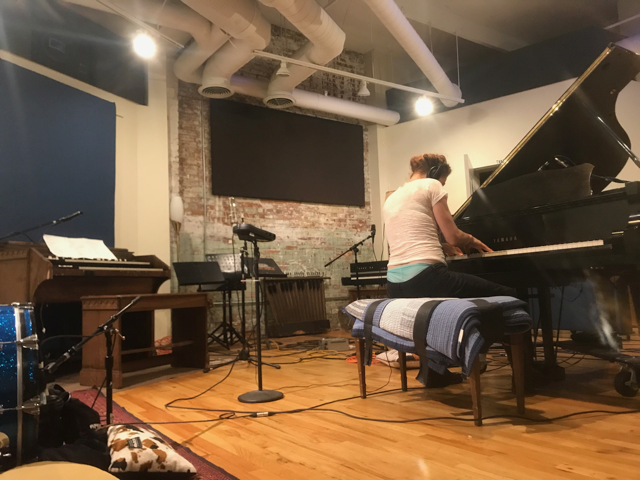 we did a ton of drum takes but nothing sounded right.
may this song grow? i don't know. probably. it wants….more loud.
i'm pretty fucking proud of it at any rate.
the night we finished the mix (last night as of this writing), i came home and poured my heart out to my patrons….who all made this possible.
(you can read that outpouring here, if you're a patron: https://www.patreon.com/posts/14571487)
SONGS FOR NOW BY THE PEOPLE OF NOW MOTHERFUCKER!!!!!!!!!
i love you
dicks forever
xx
a
ps this is lee, one apartment above me, helping to assemble the cover for the song out of ALL THE THINGS IN HIS APARTMENT.
god i love him.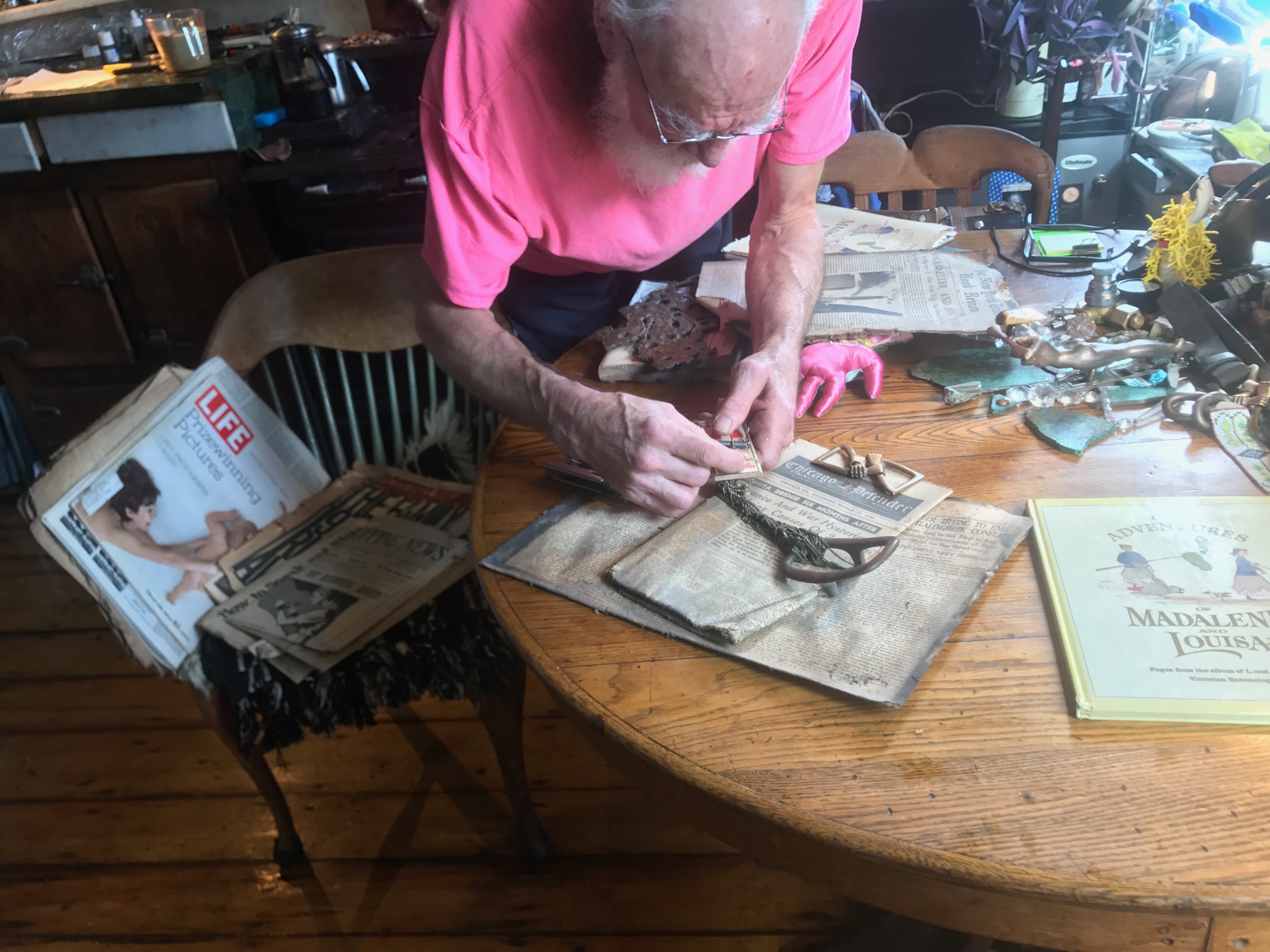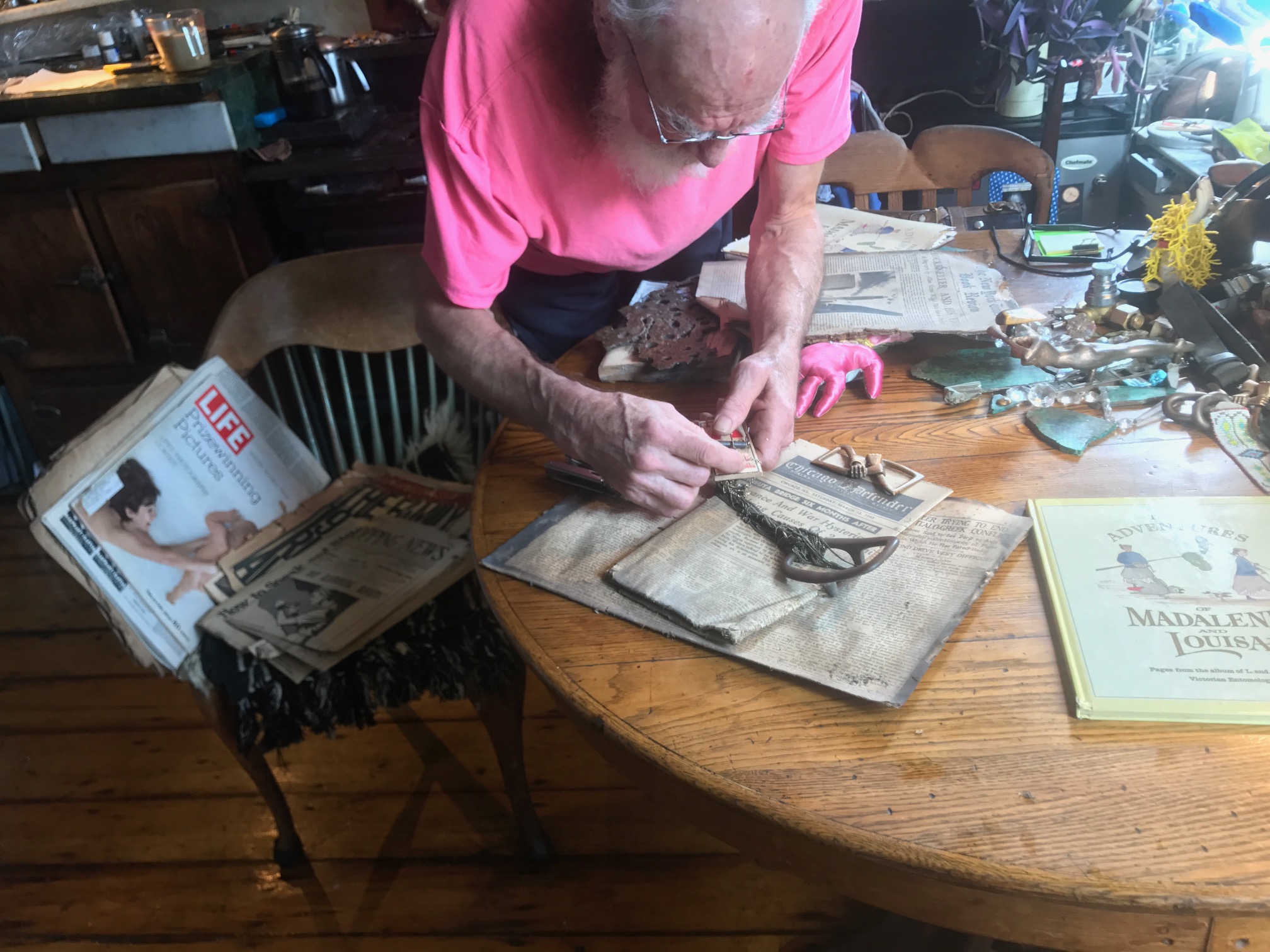 p.s. a massive thanks as usual to ALL THE PATRONS for making My Work possible, my whole kick-ass fucking team: hayley, michael, alex, jordan, nick & brittney at fame house who always turn this shit around in record time to everyone's amazement. and thanks to neil gaiman, justine, stephanie and many other assorted others in london for looking after my baby while i scrambled away to do this. i need it. this mother weeps at yer feet in gratitude.
p.s. these are some images that came through twitter & FB this morning….
Ben René (via Facebook)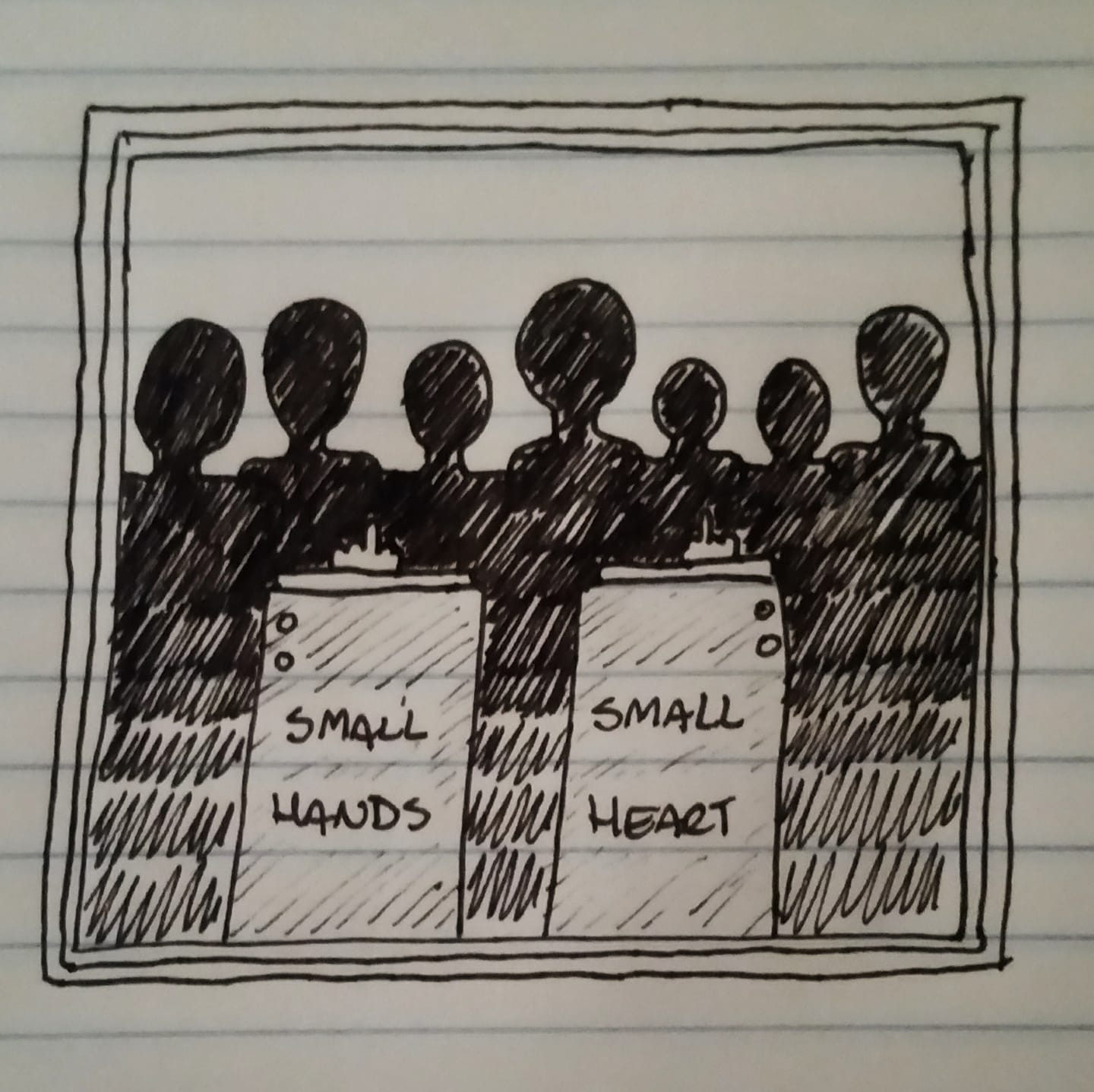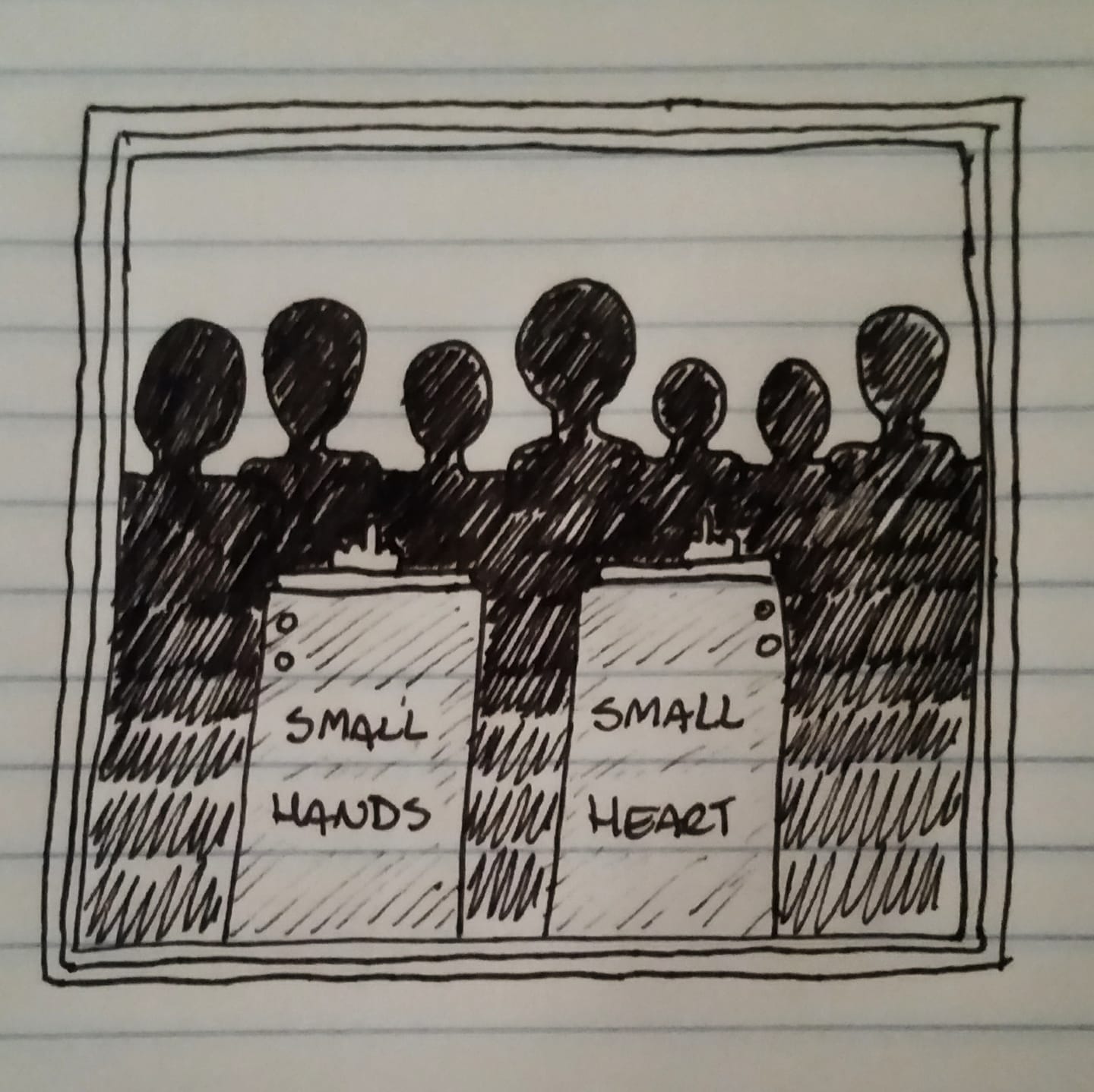 Tina Noon (via Facebook)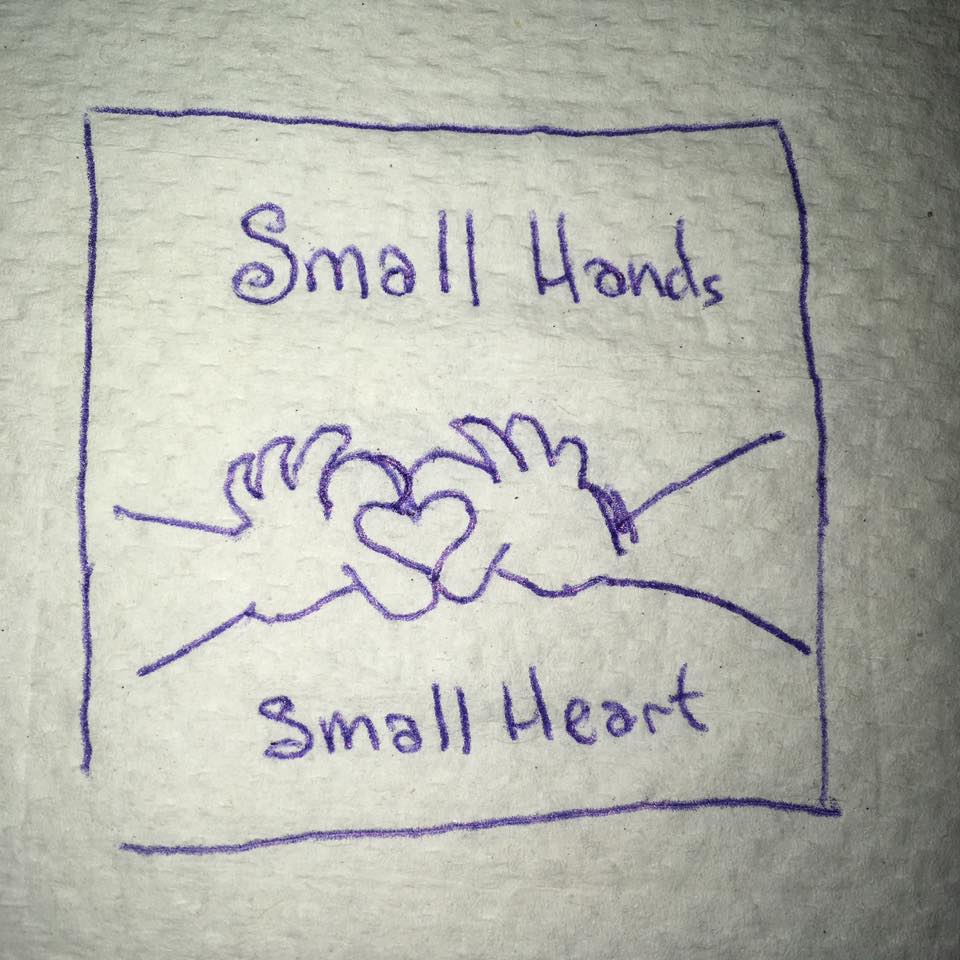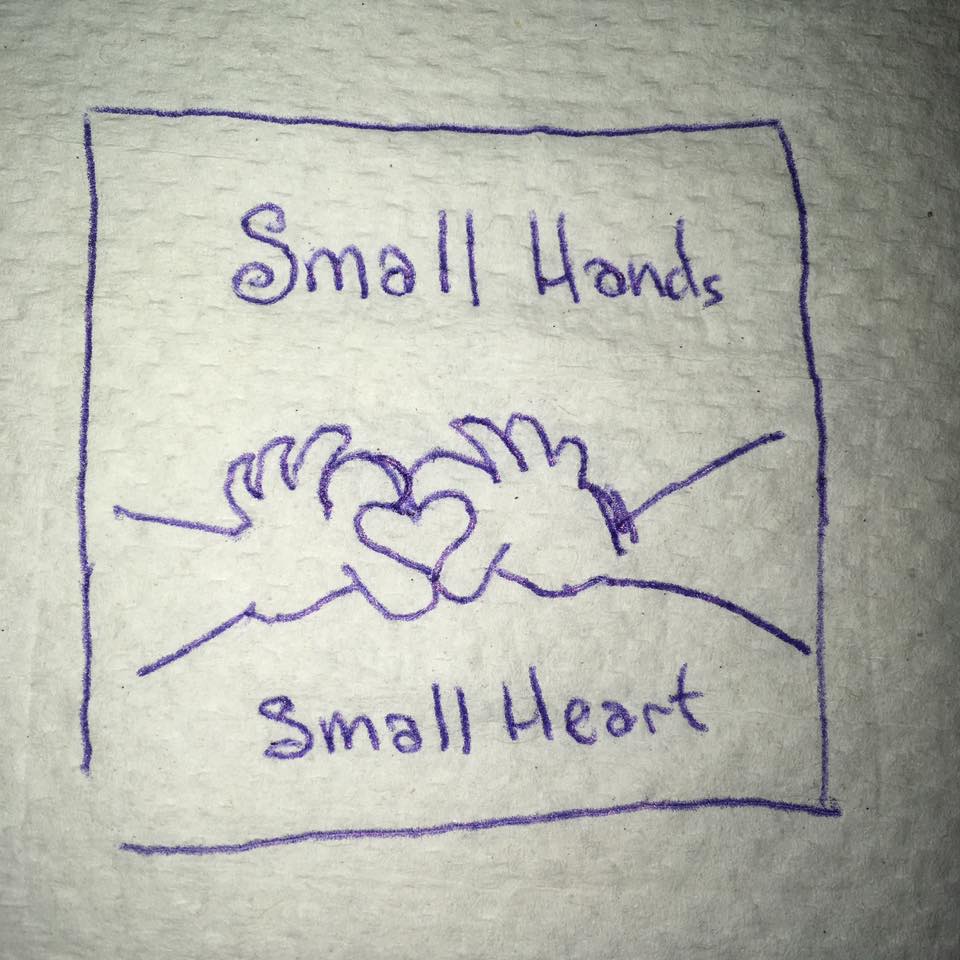 Sunshine Jacobson (via Facebook)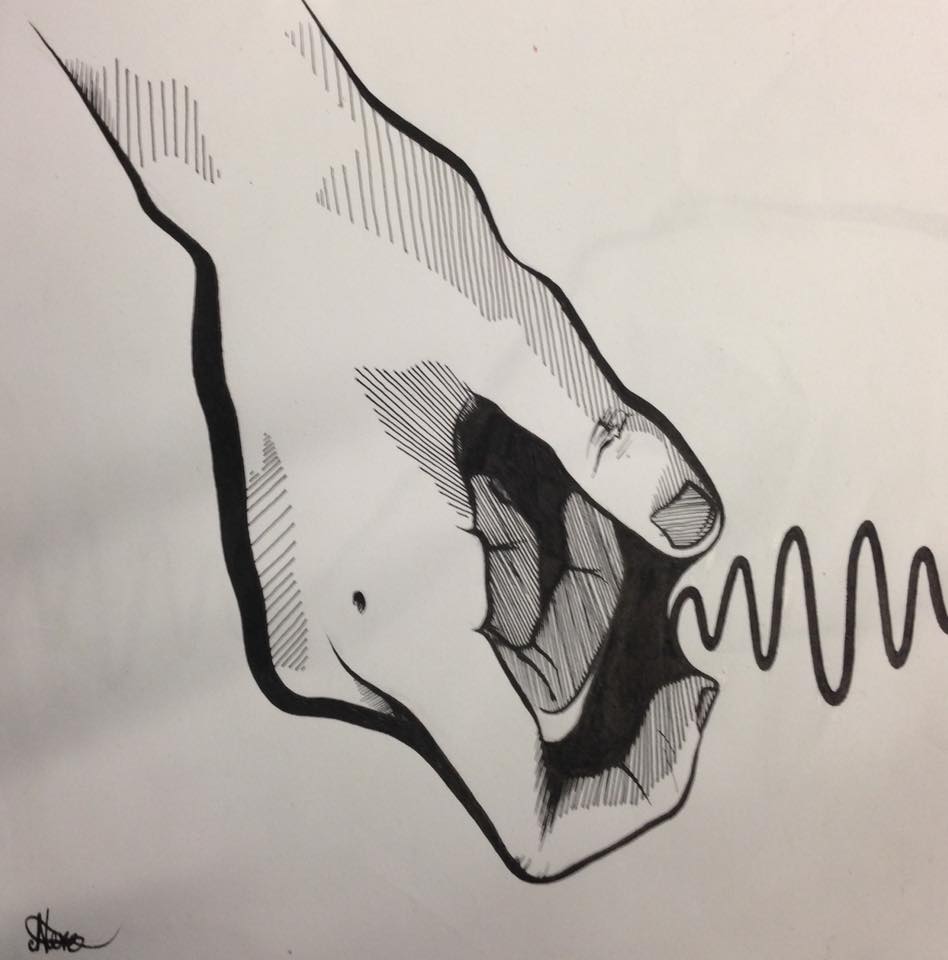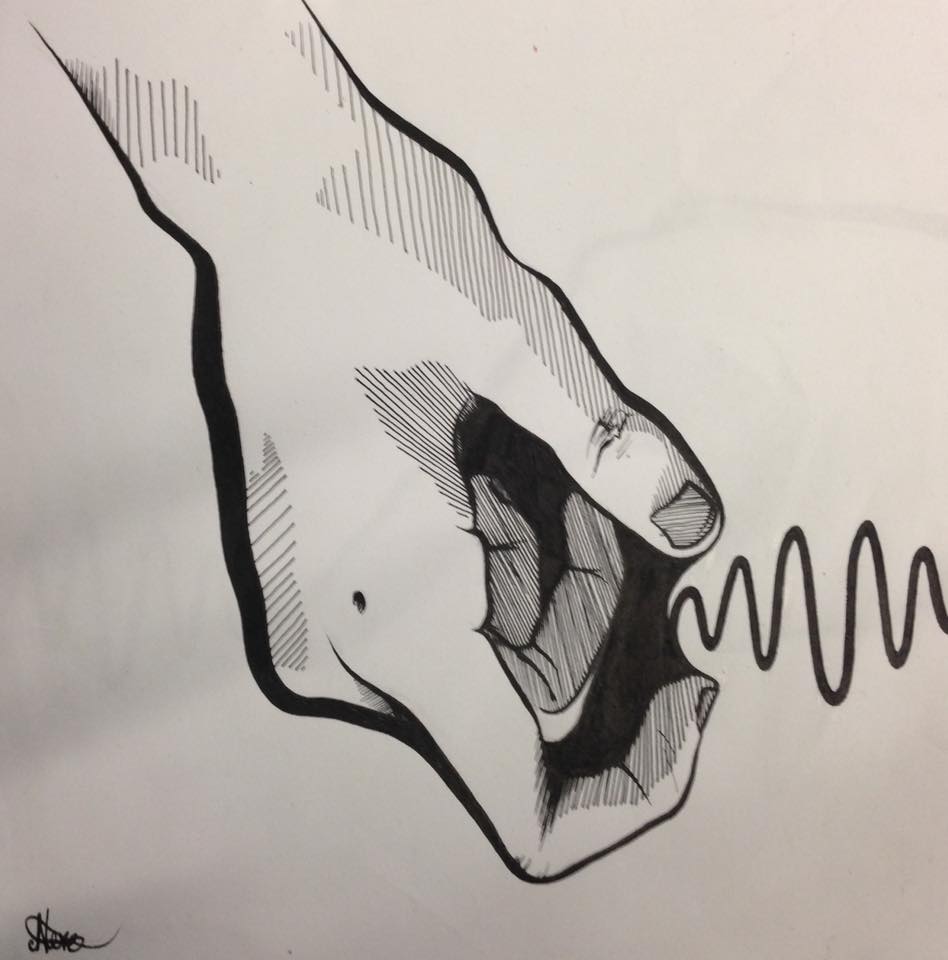 Neve Pearce (via Facebook)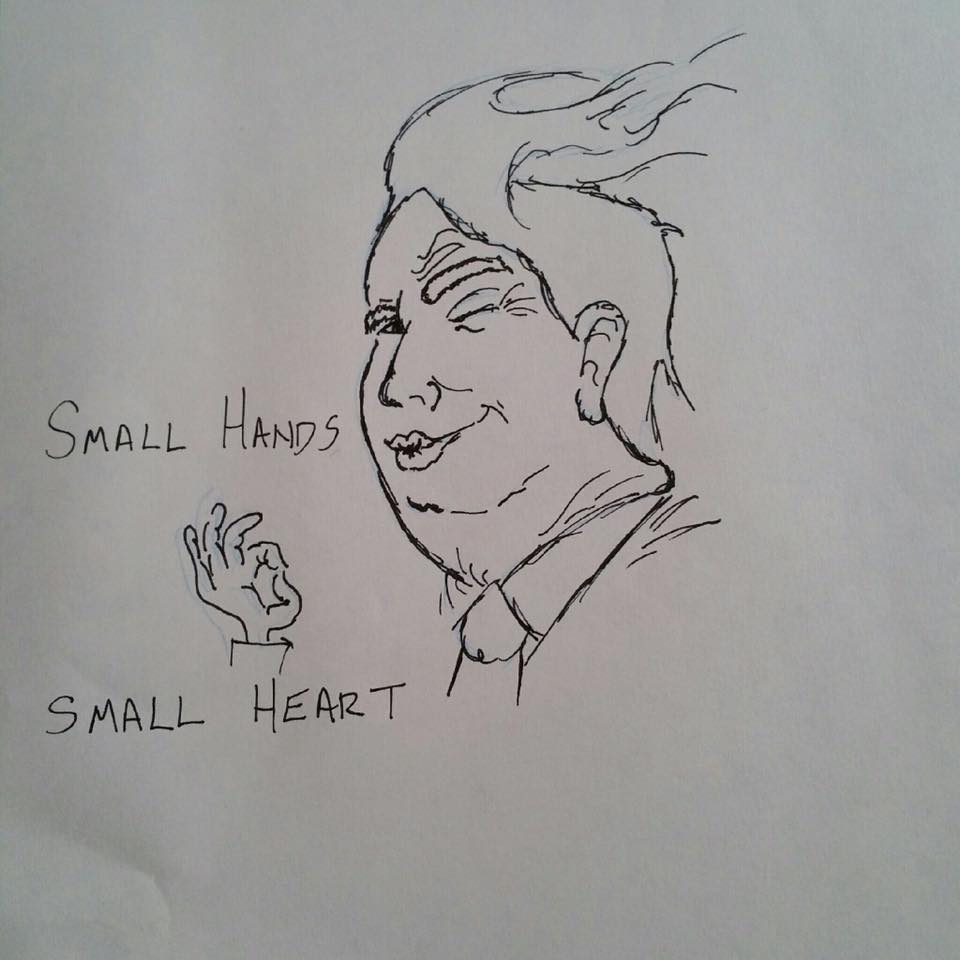 Melissa Johnson (via Facebook)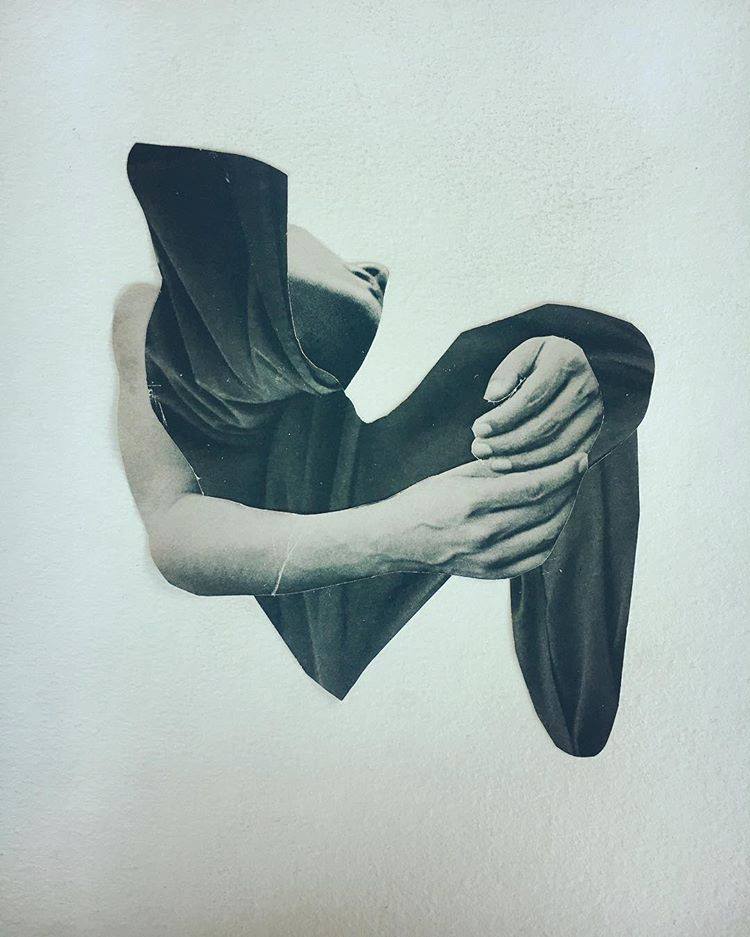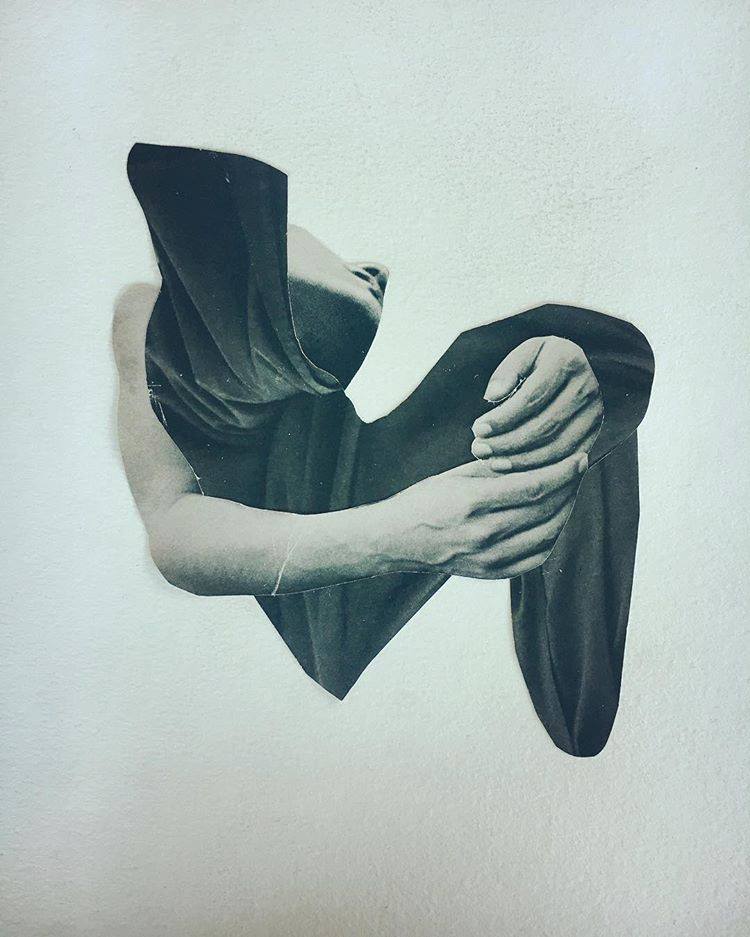 Jens Wortmann (via Facebook)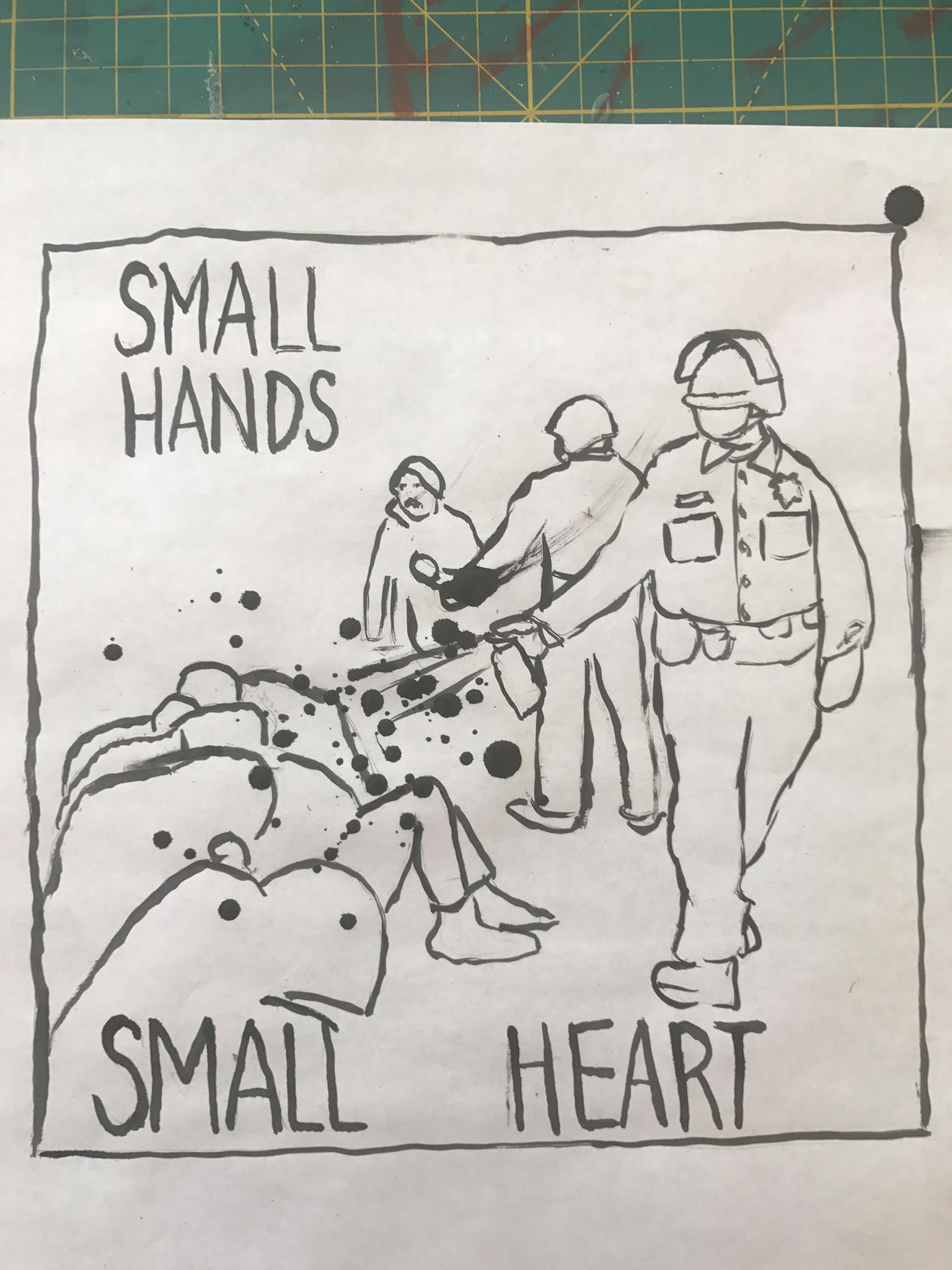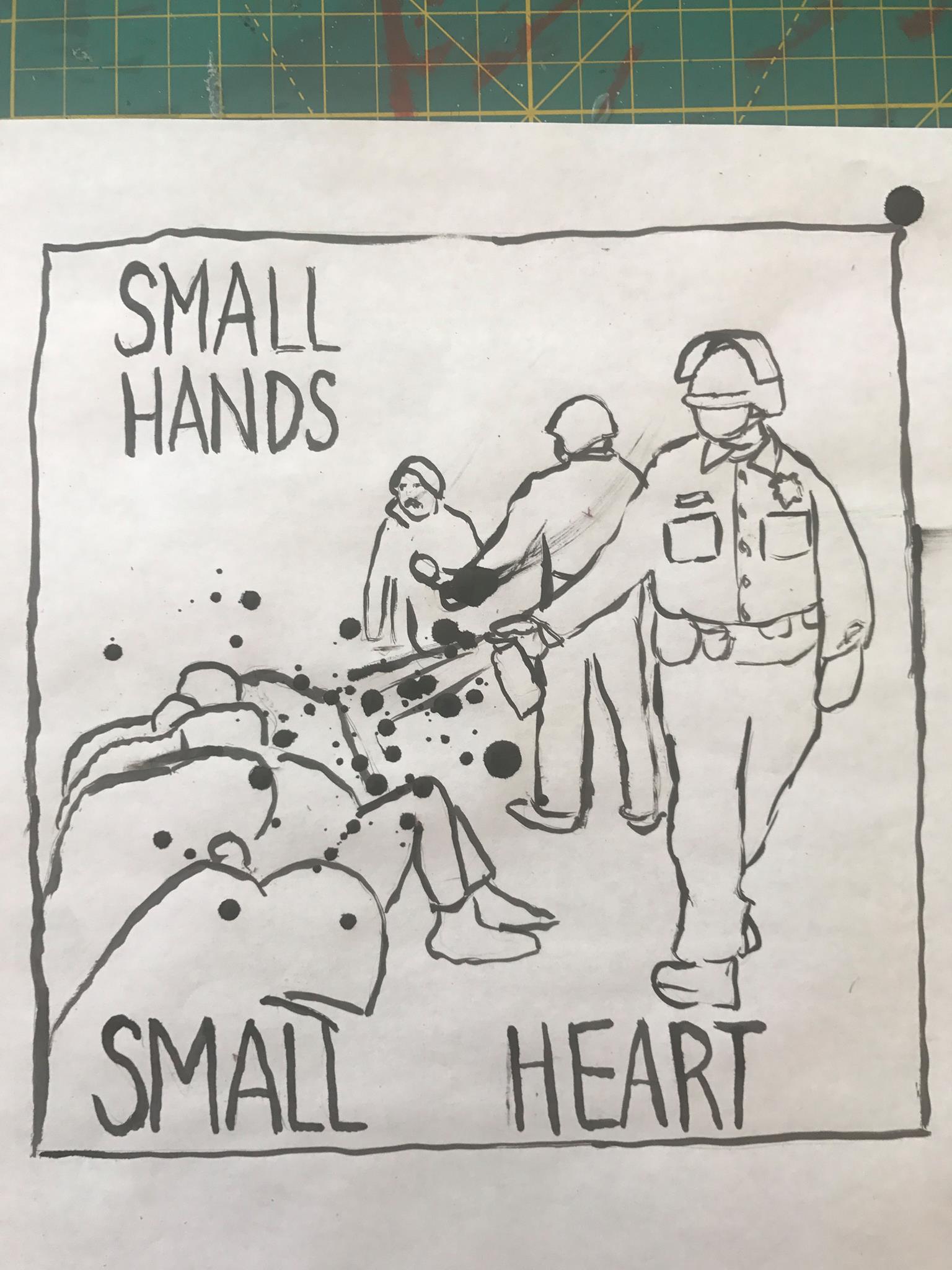 Gretchen Verplanck (via Facebook)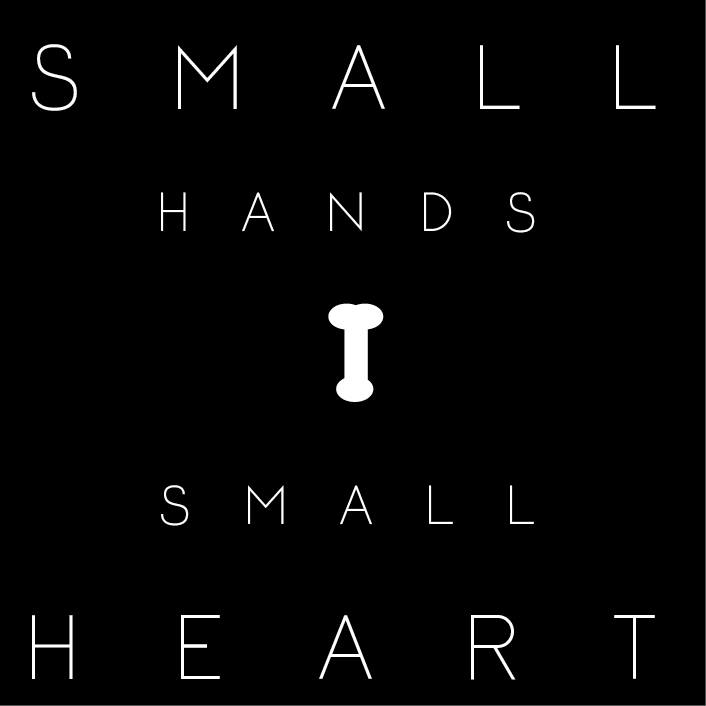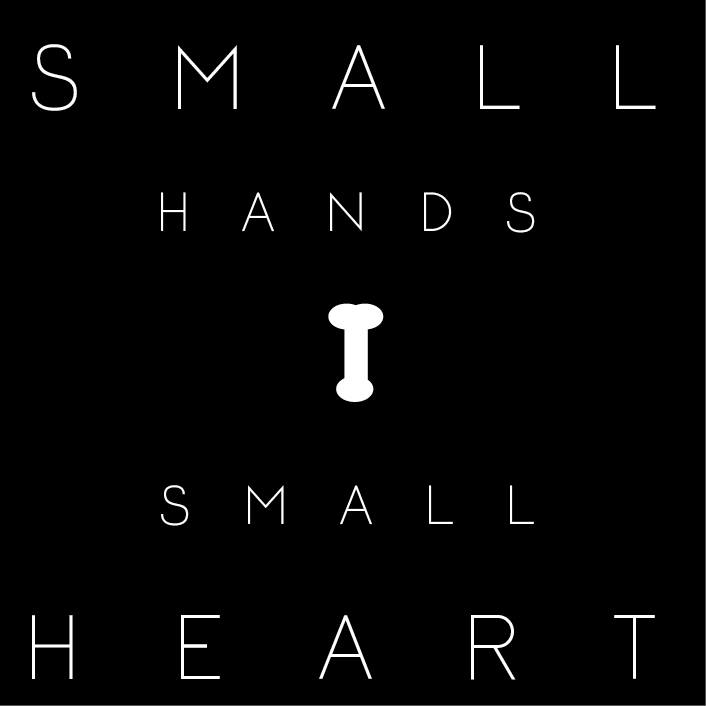 Christine Grindle (via Facebook)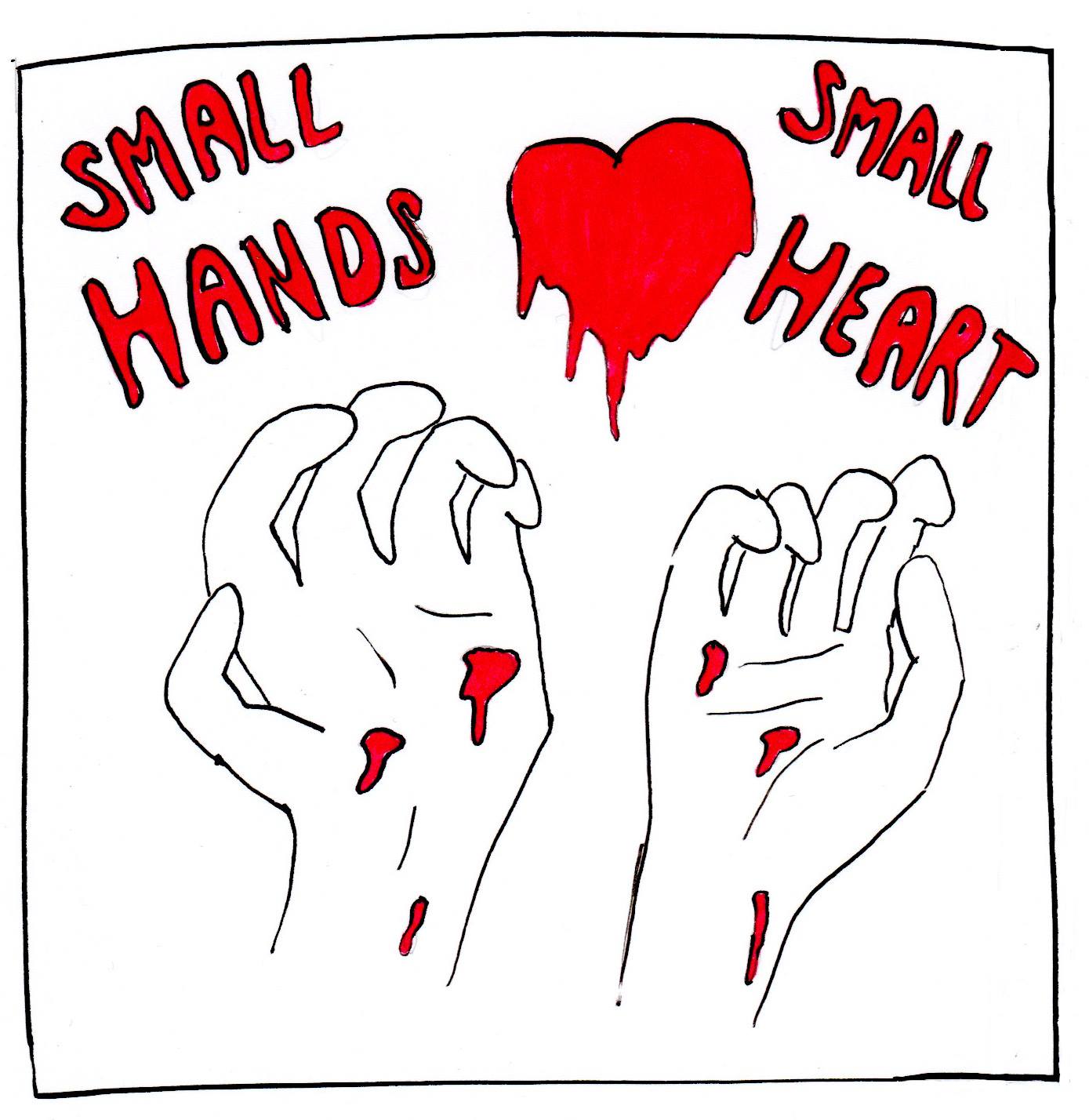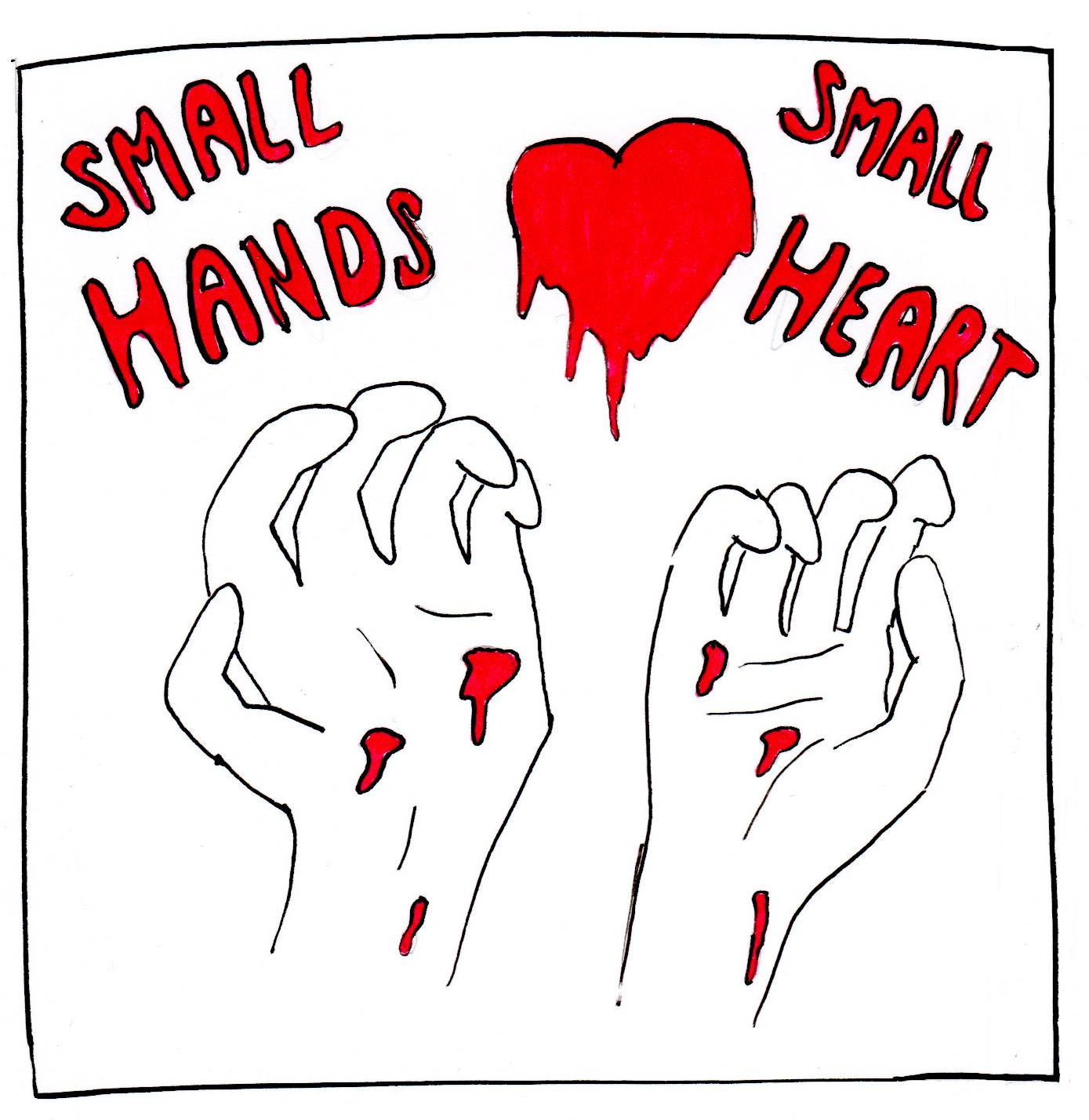 Camille Claire (via Facebook)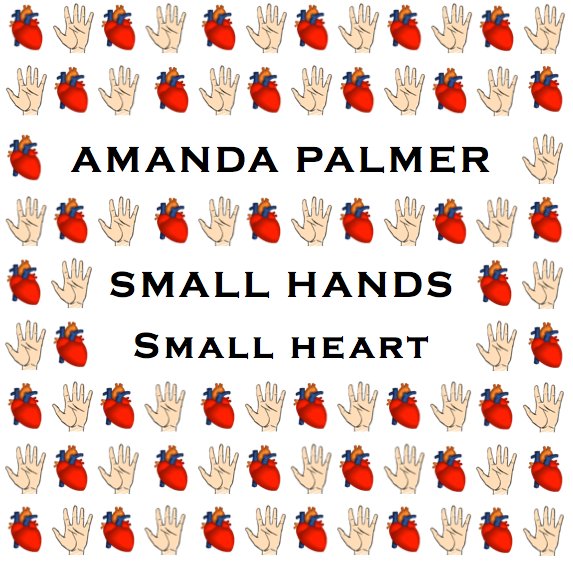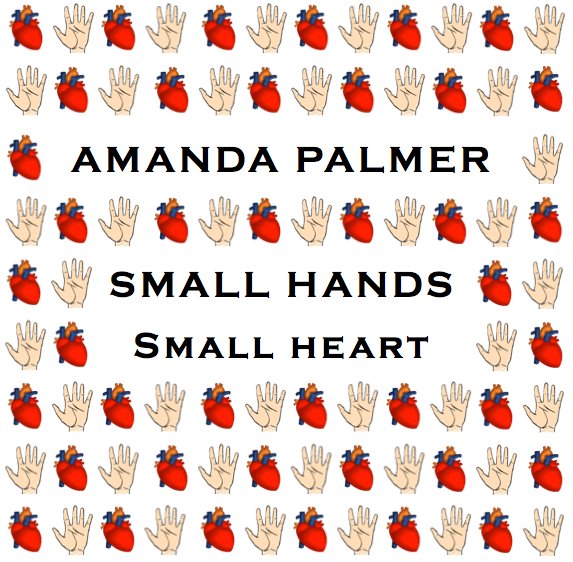 @mdebenham1 (via Twitter)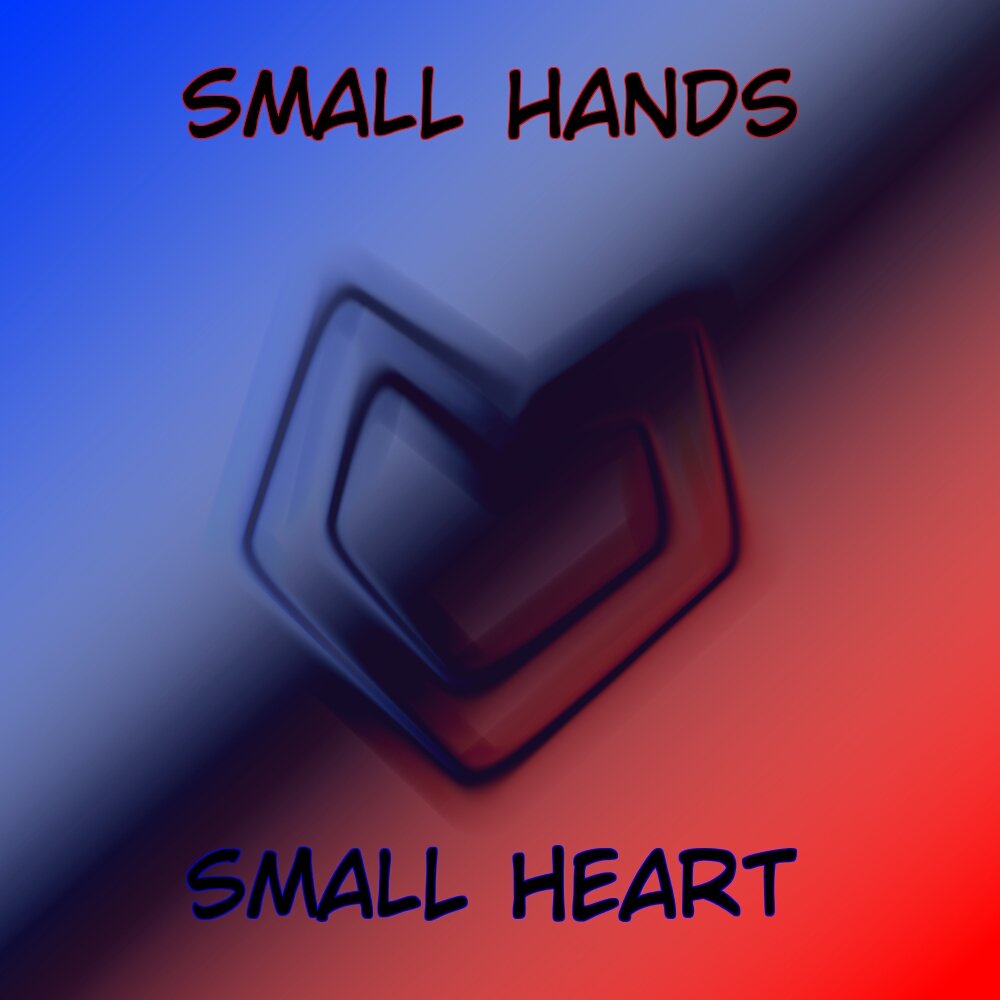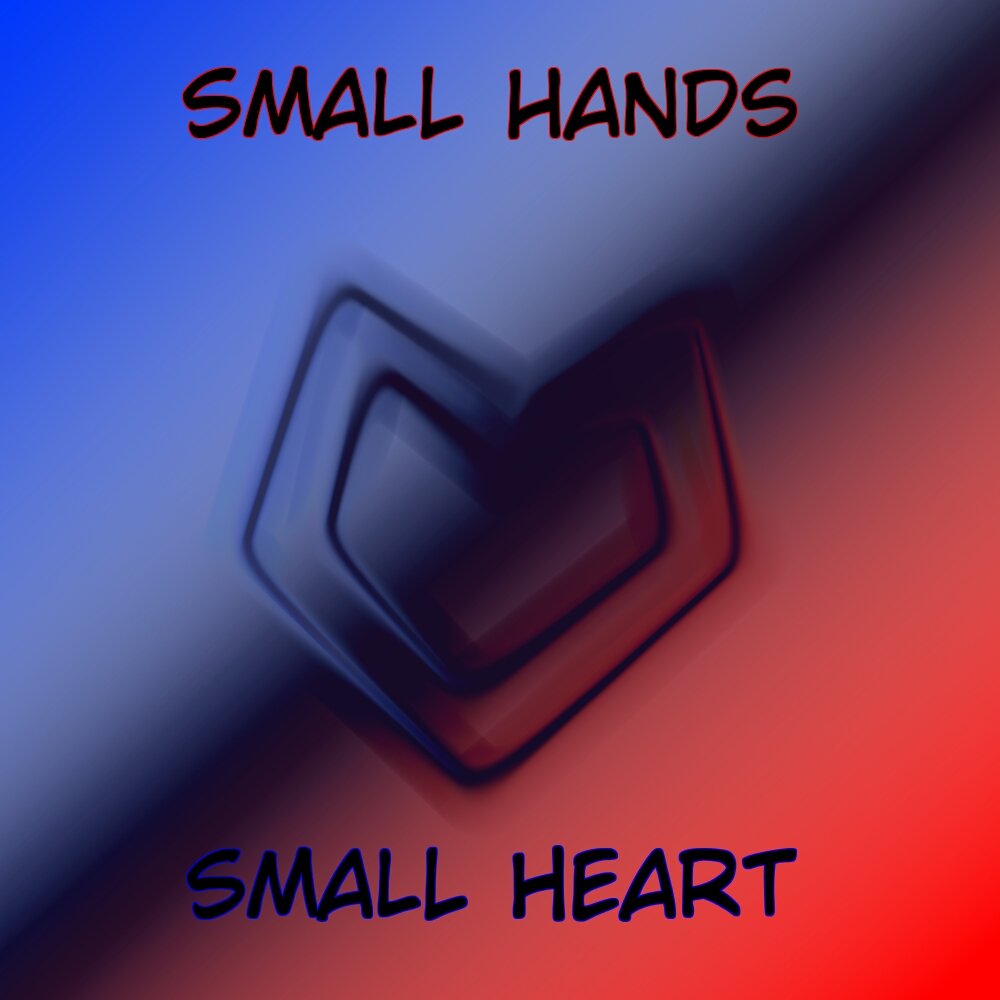 @GreenDay2224 (via Twitter)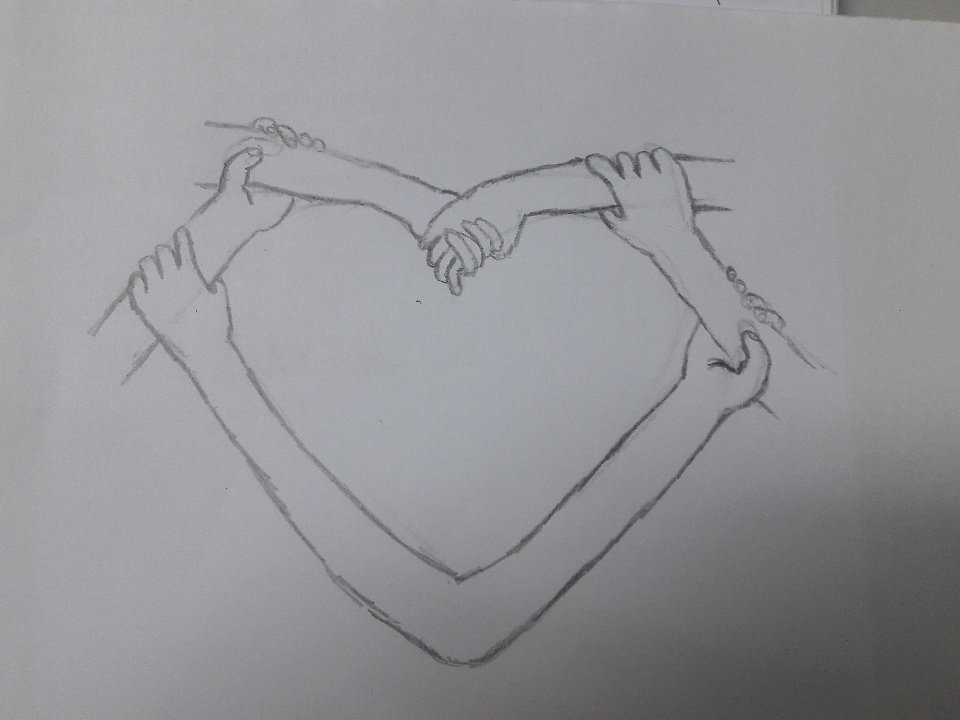 @DeweyDenouemen (via Twitter)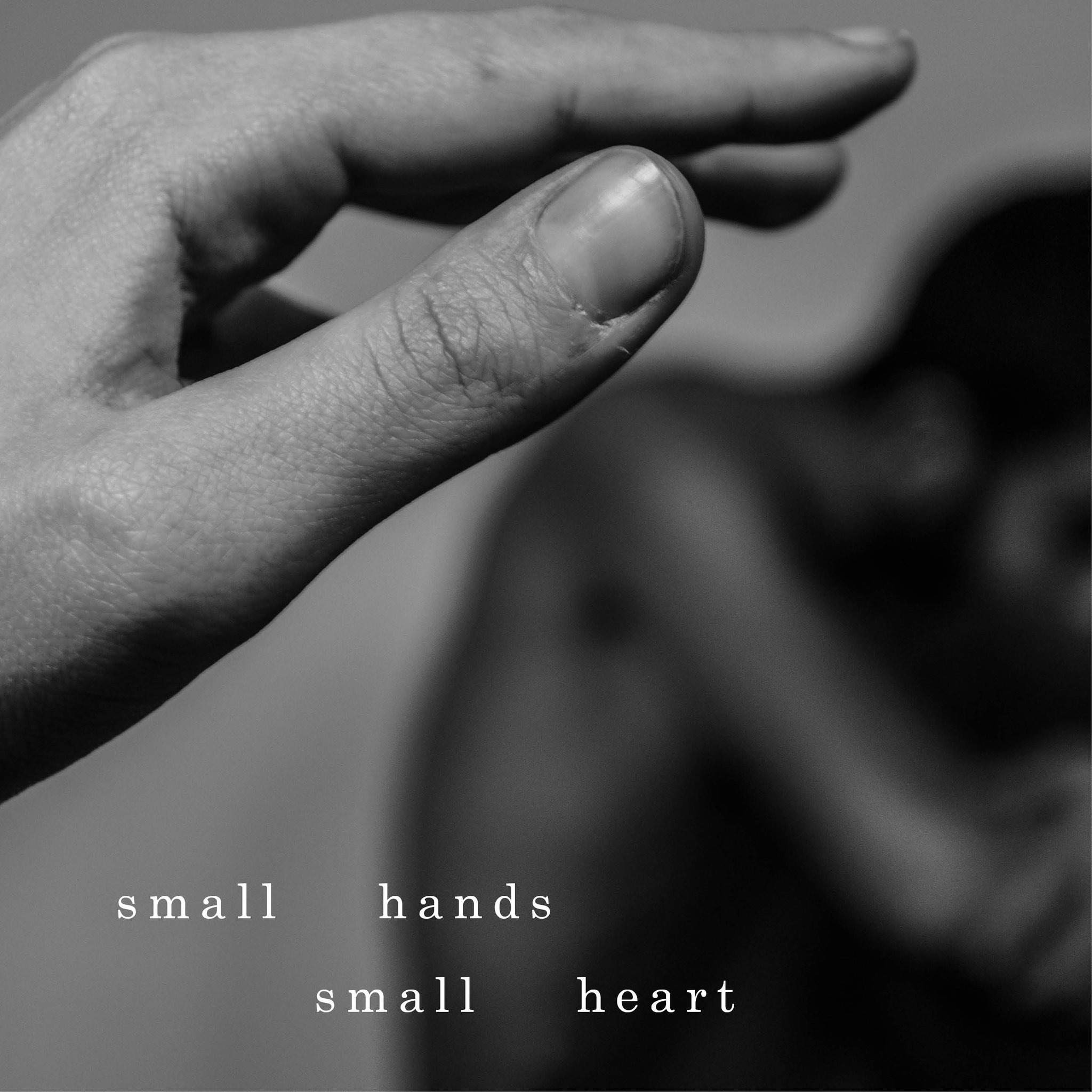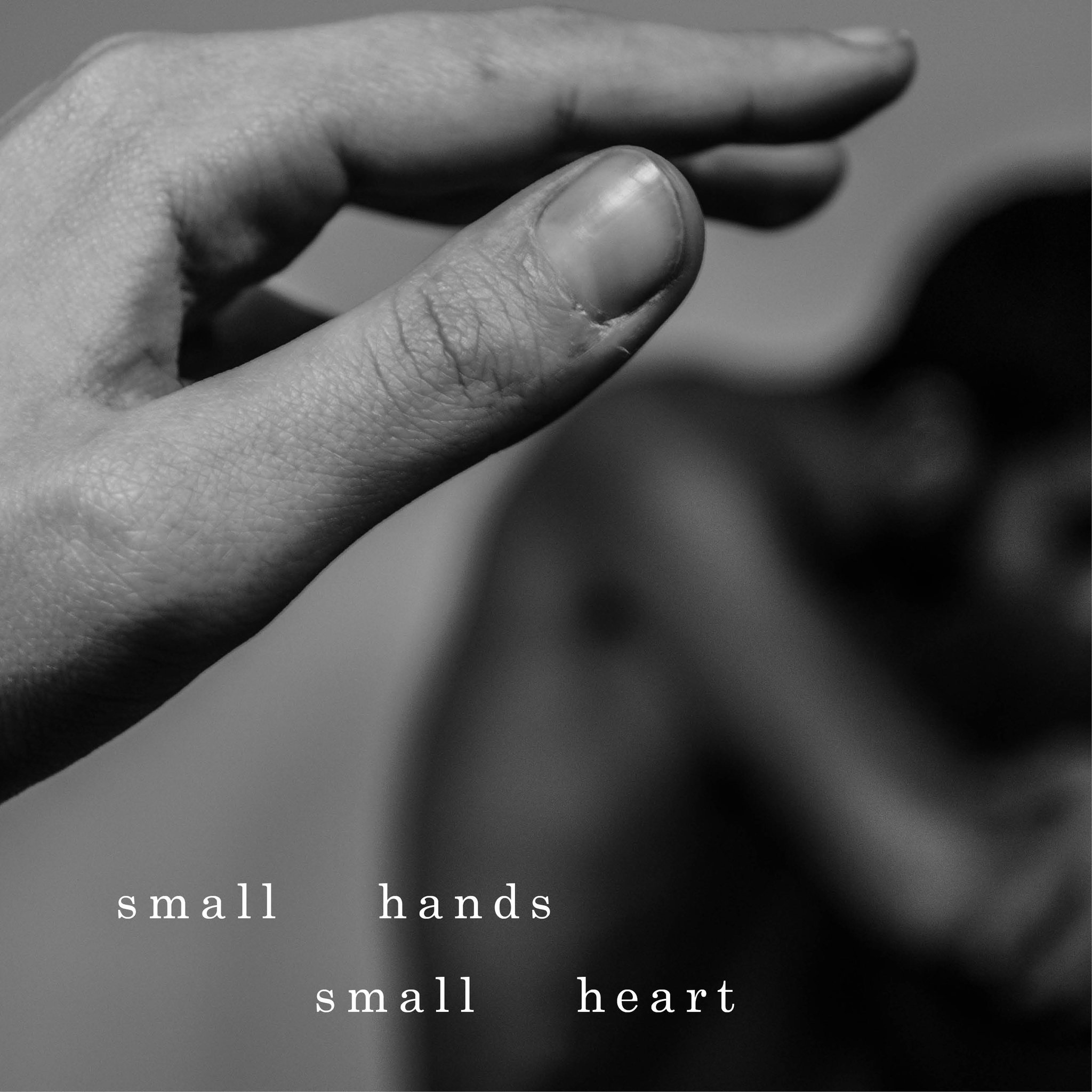 @deep_clear_sea (via Twitter)
@deep_clear_sea (via Twitter)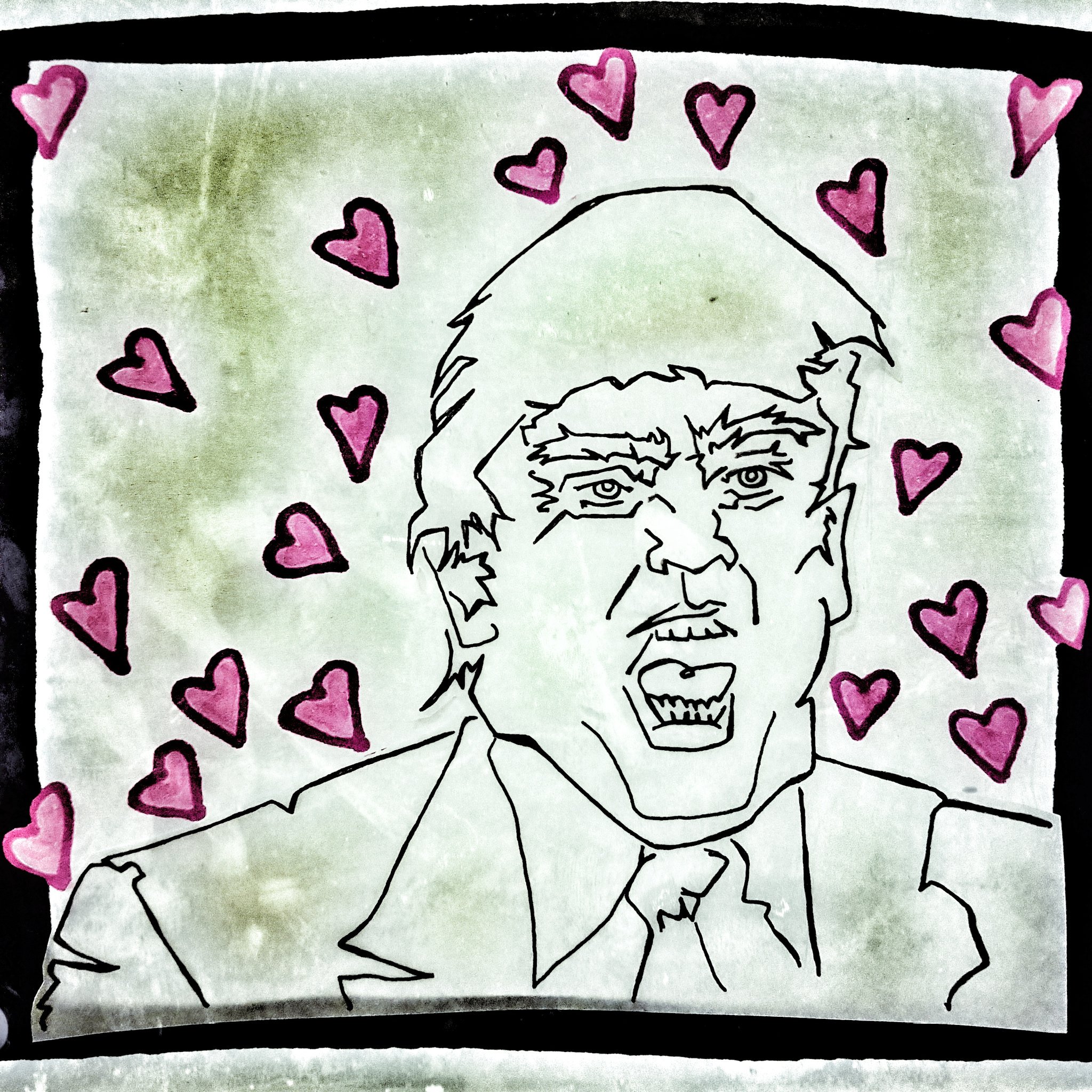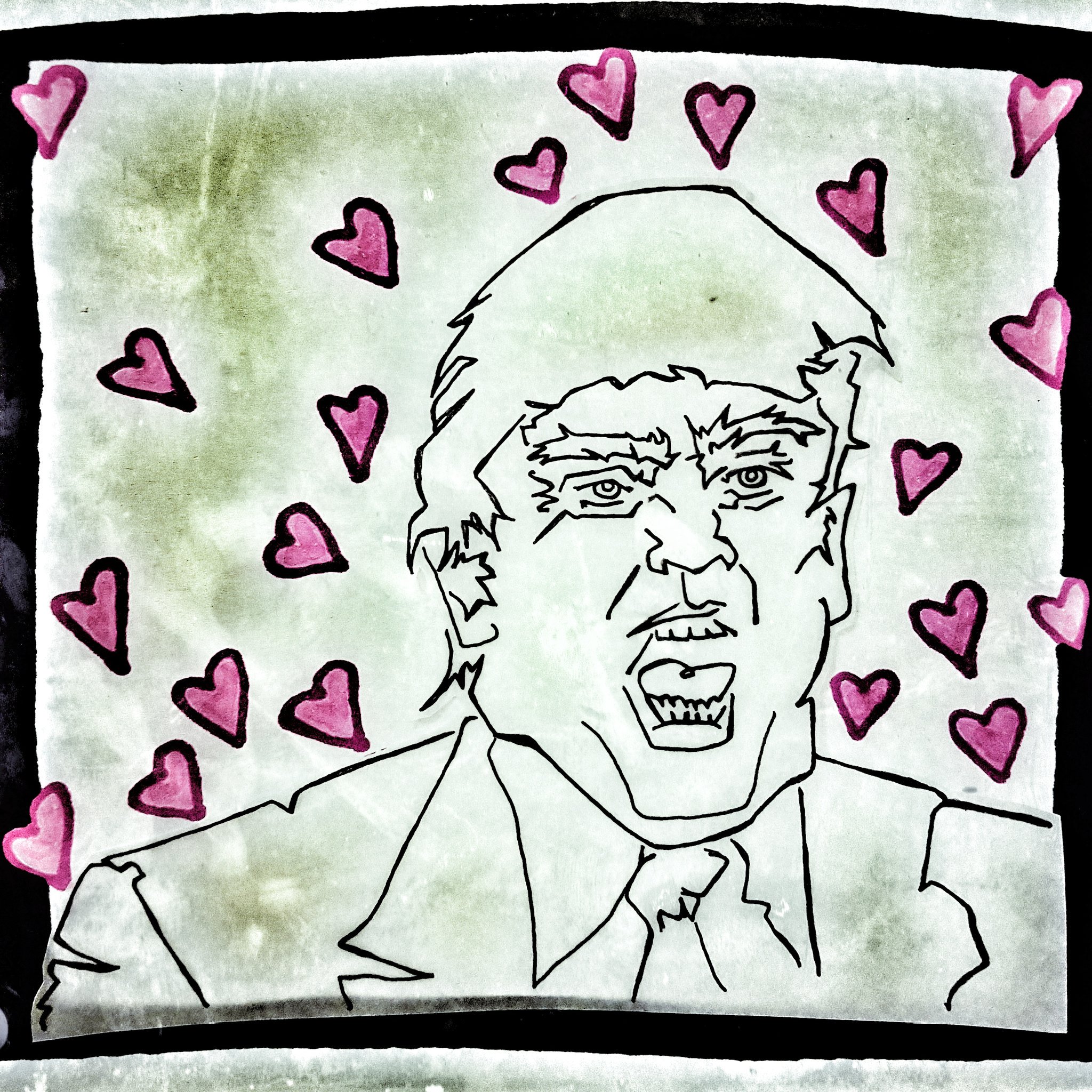 @cutewhenIdoit (via Twitter)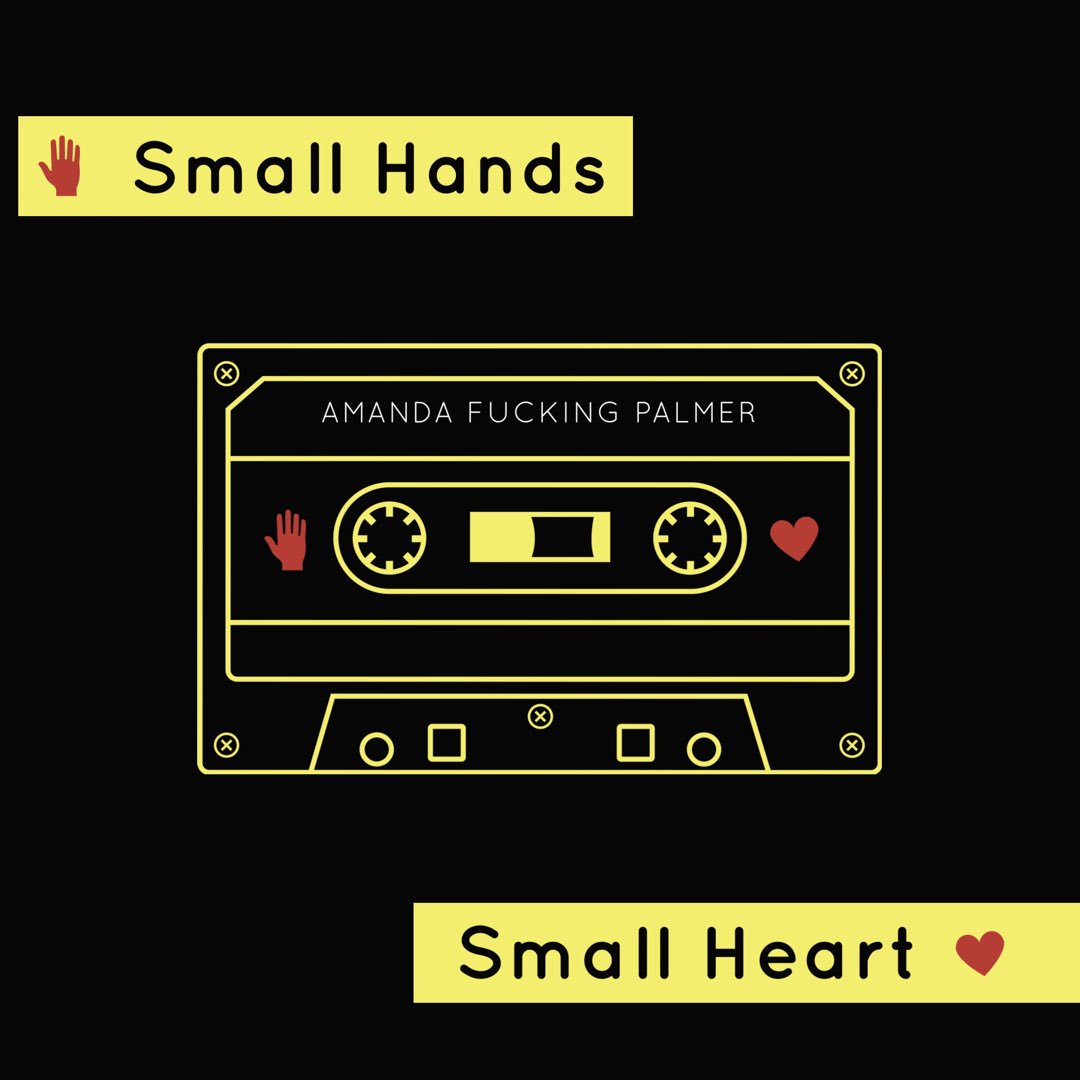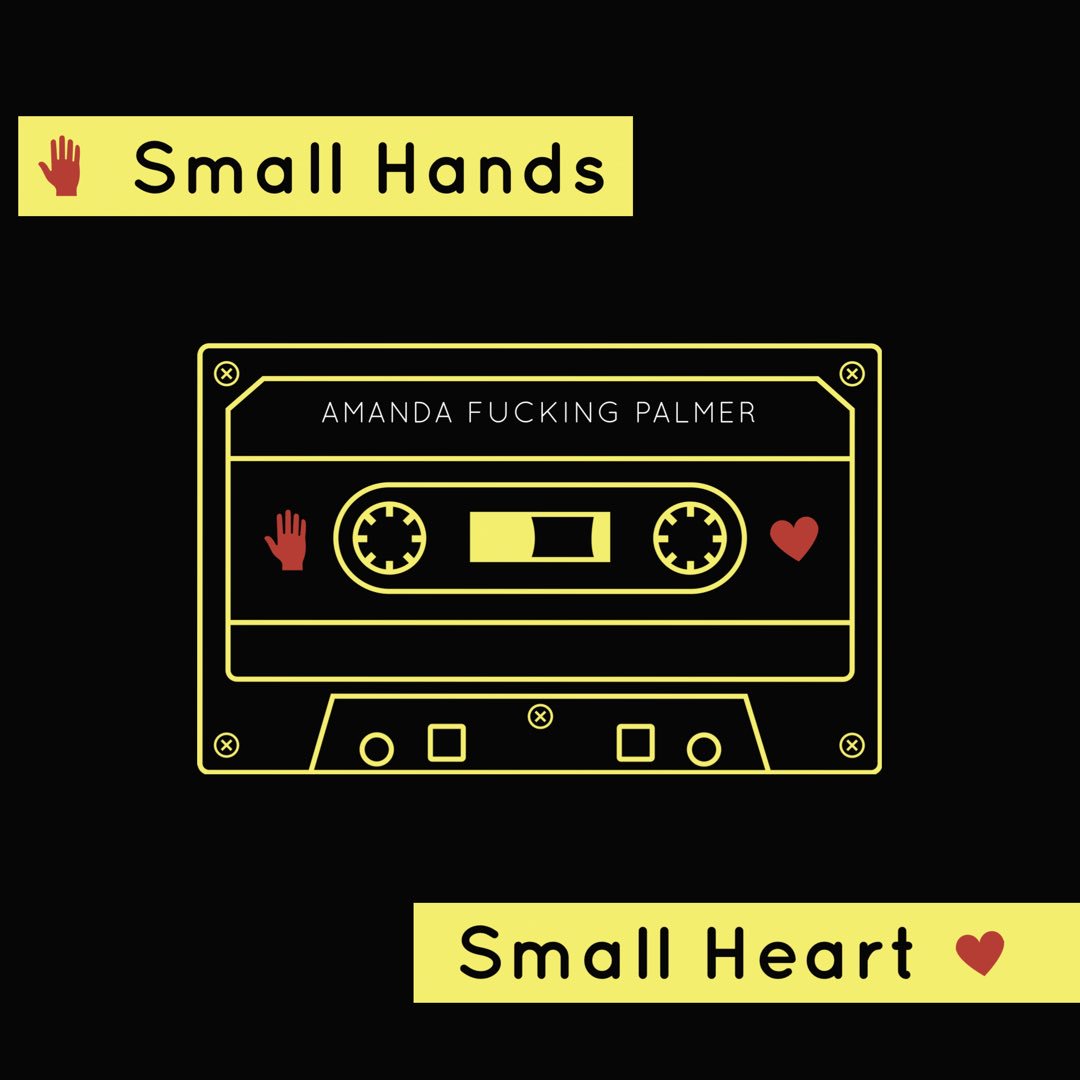 @book_astronaut (via Twitter)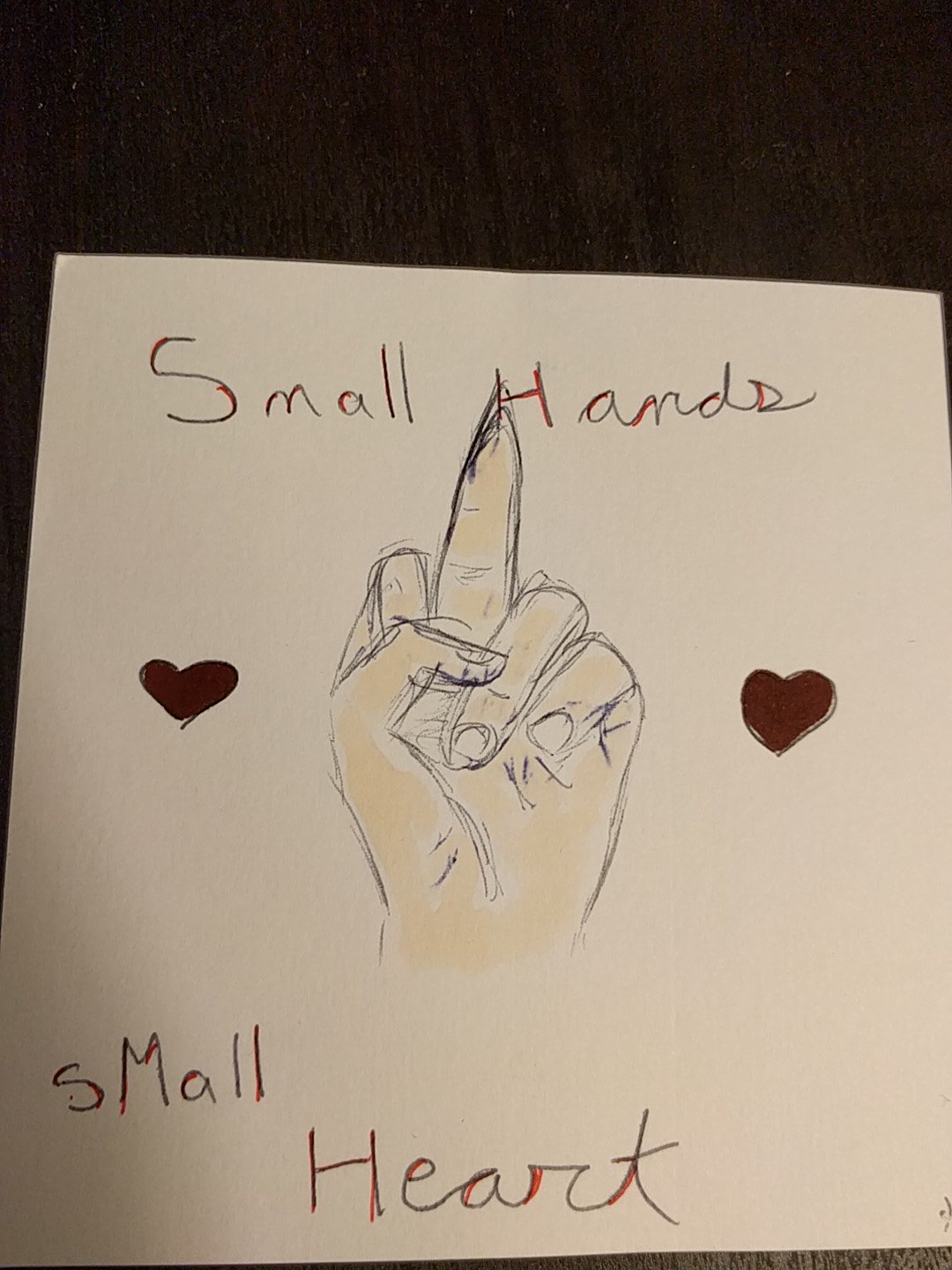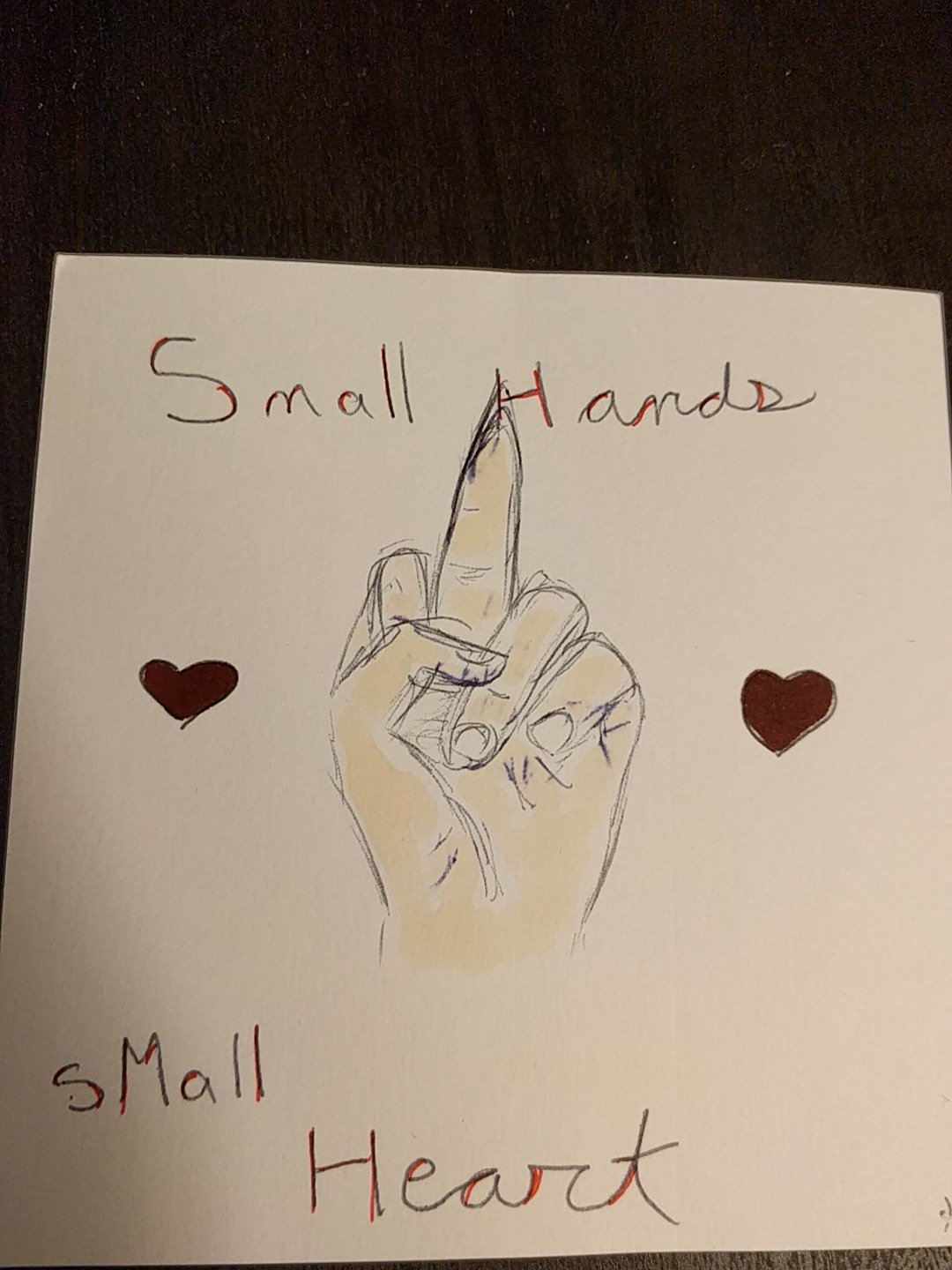 @alunarparrallel (via Twitter)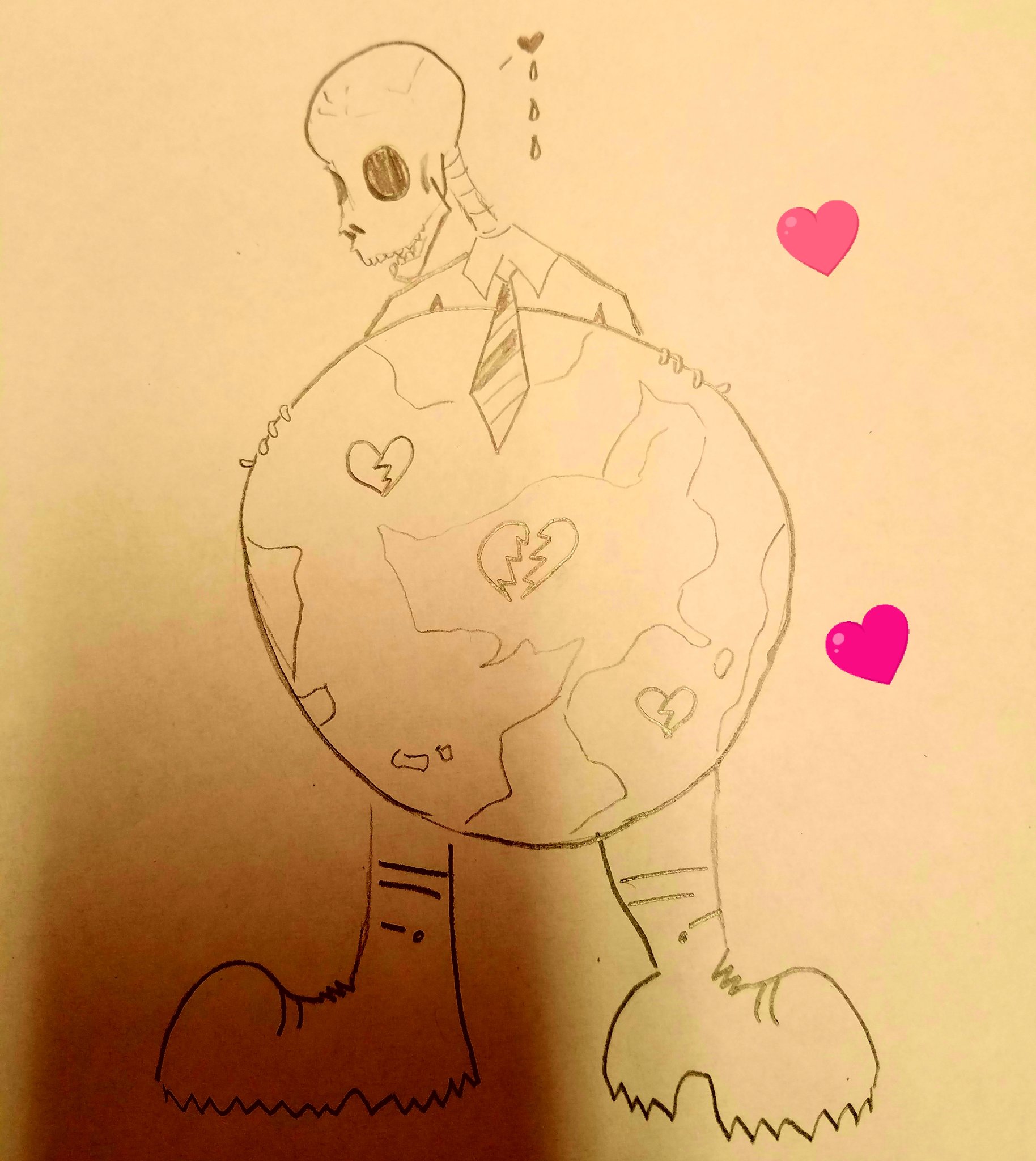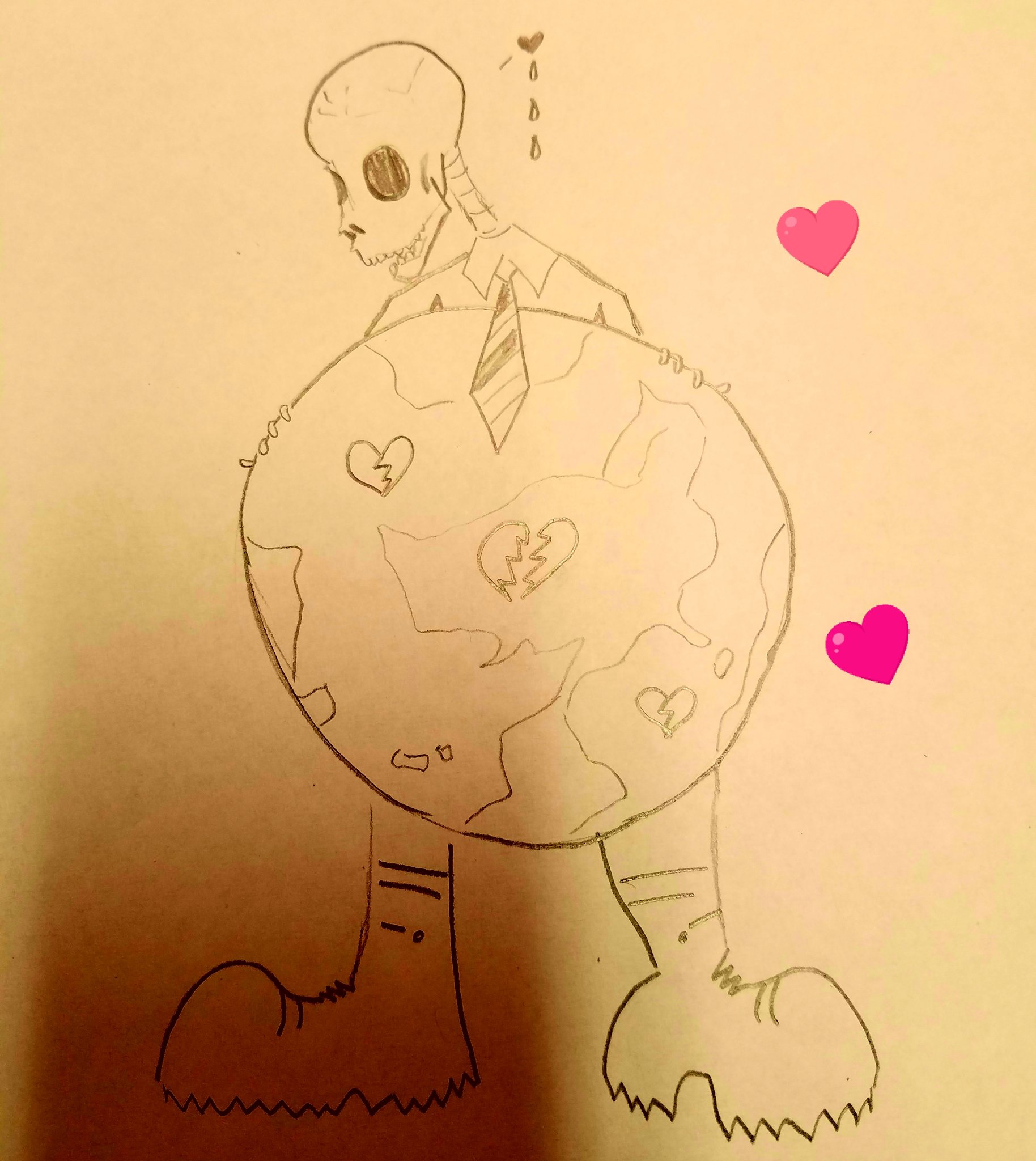 @afpfan79 (via Twitter)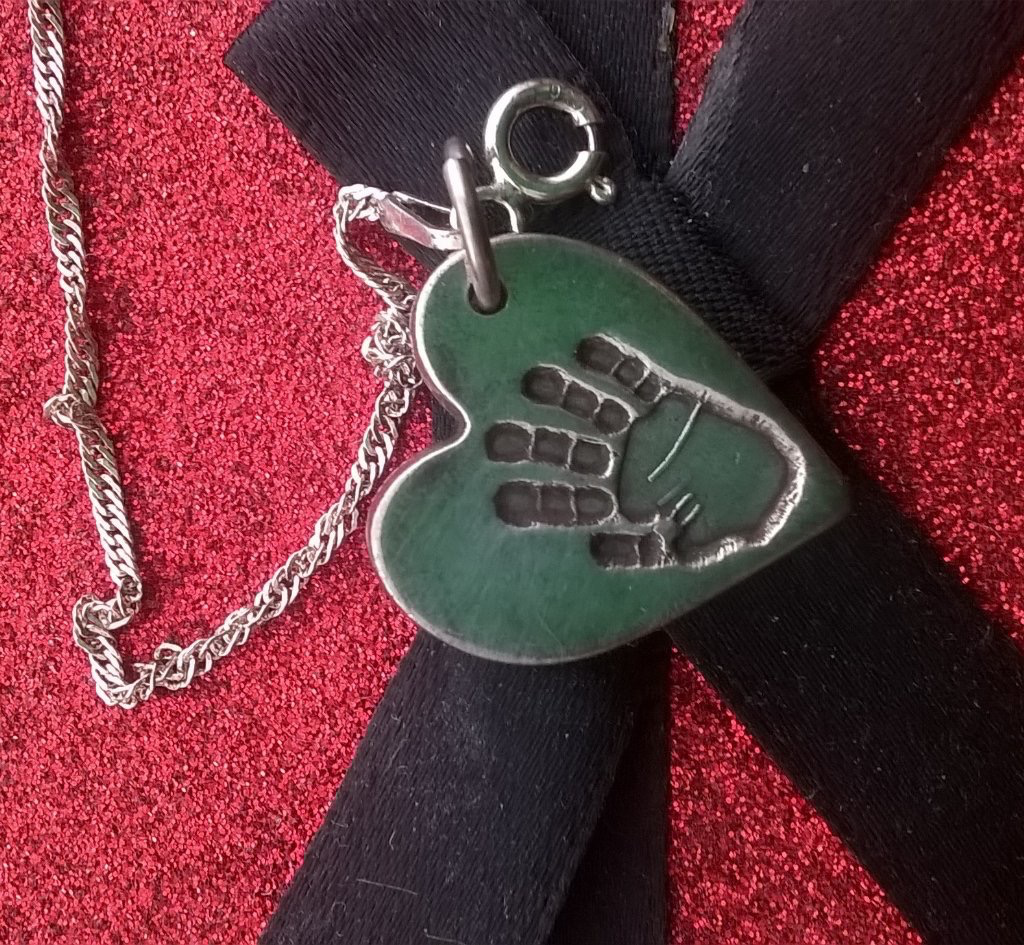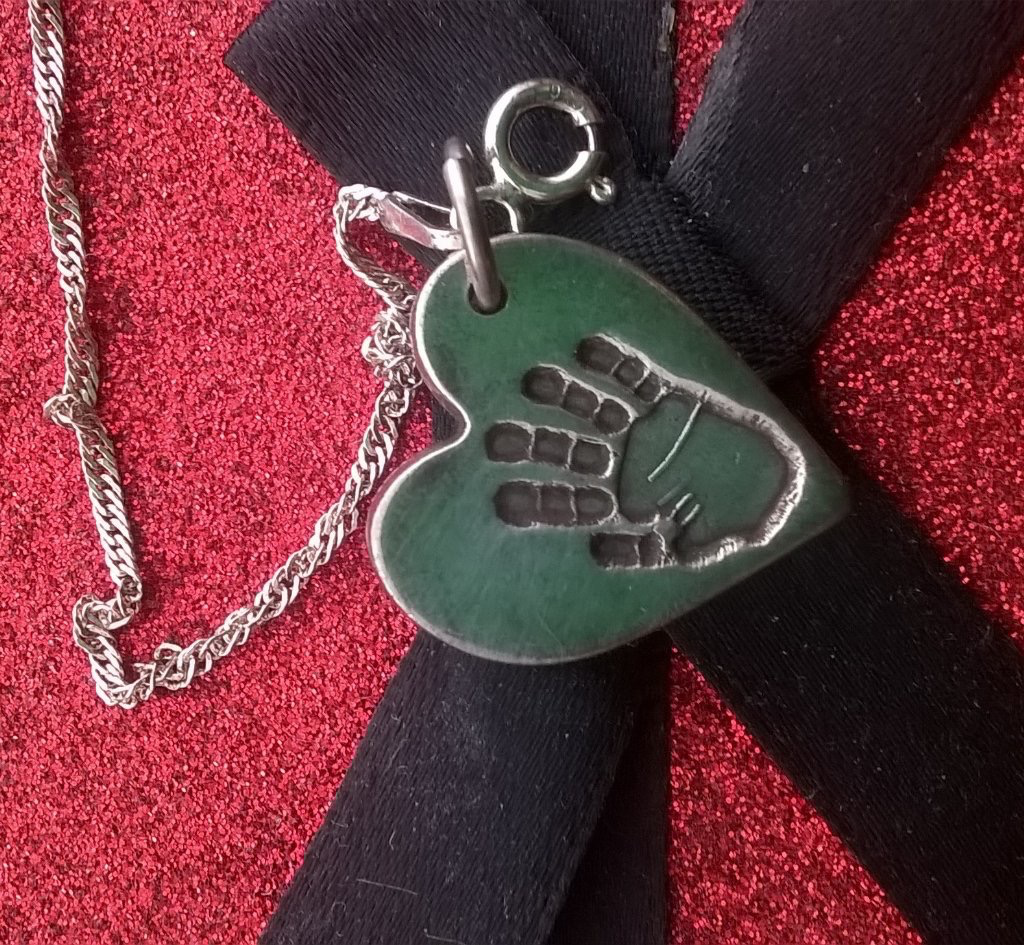 @muirsyreeta (via Twitter)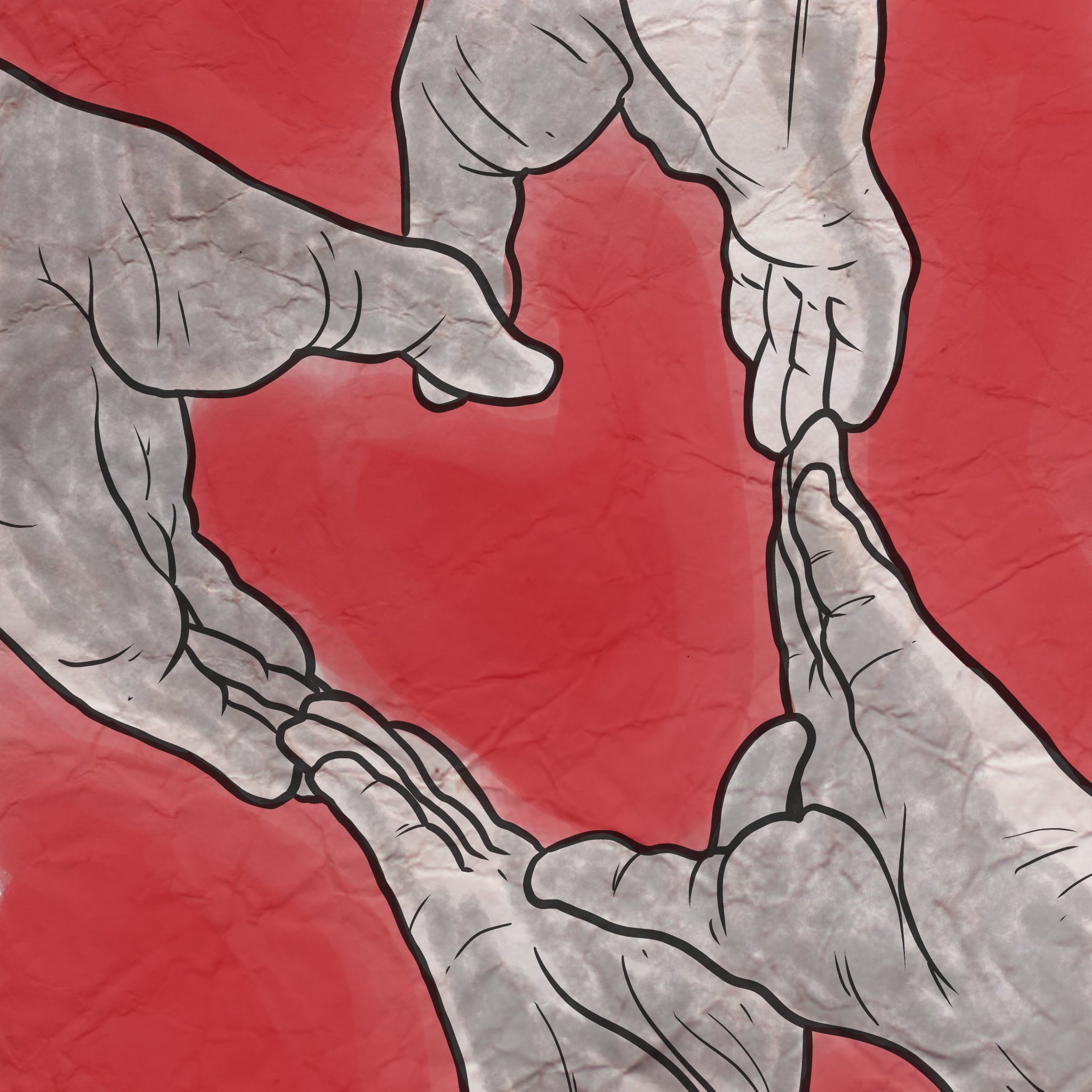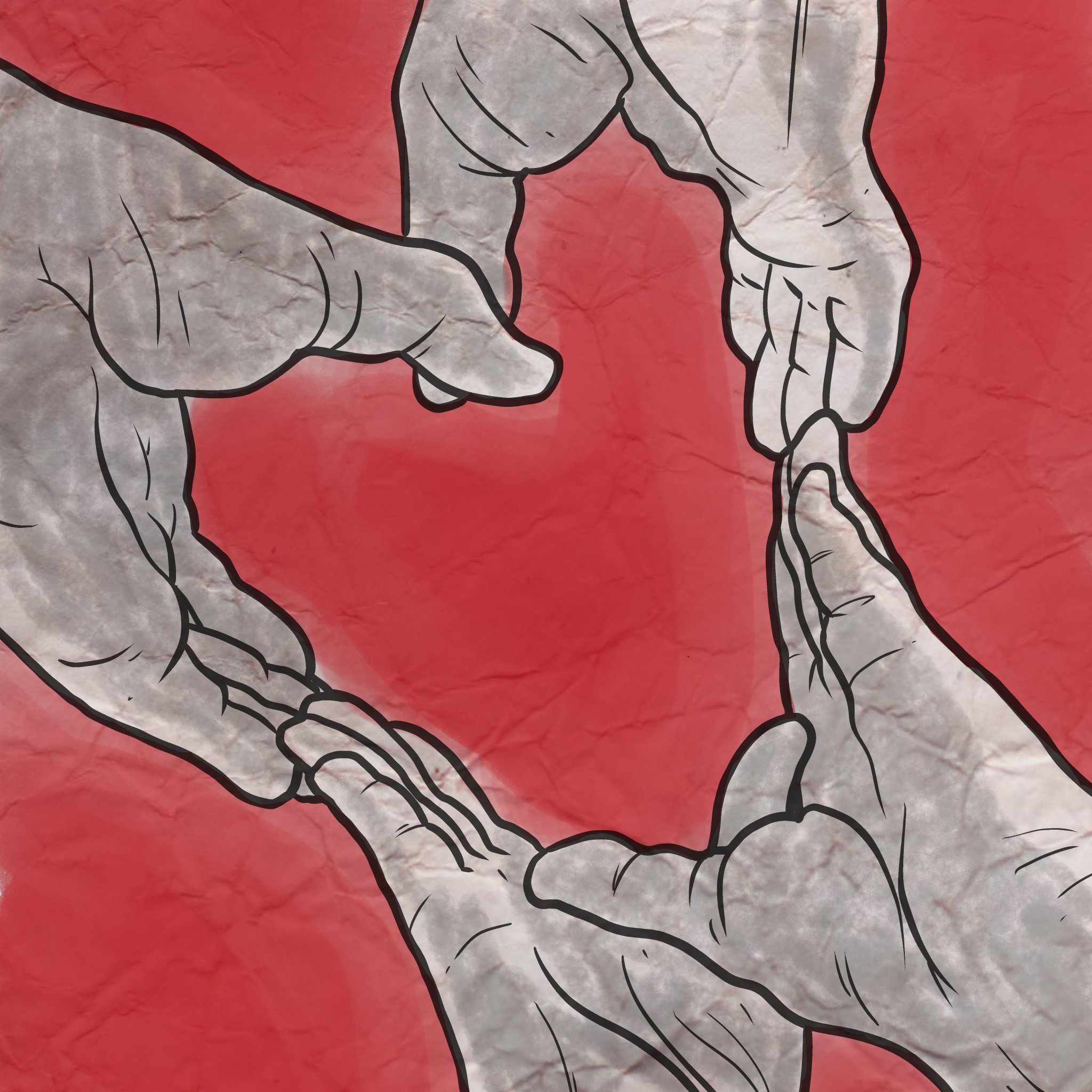 @brandonjcarr (via Twitter)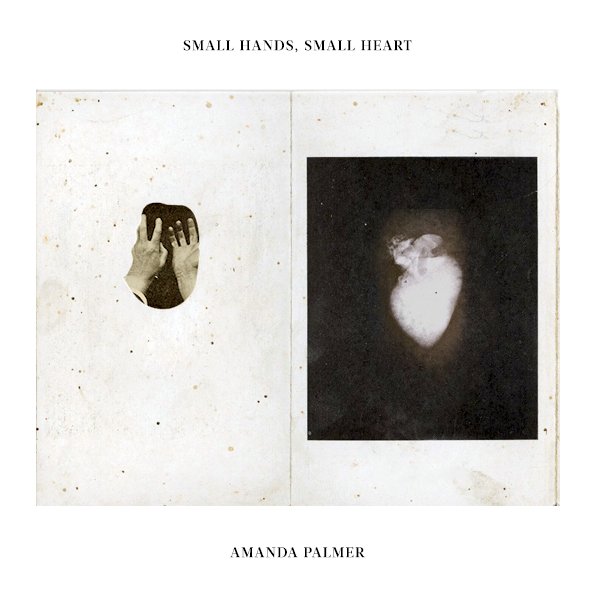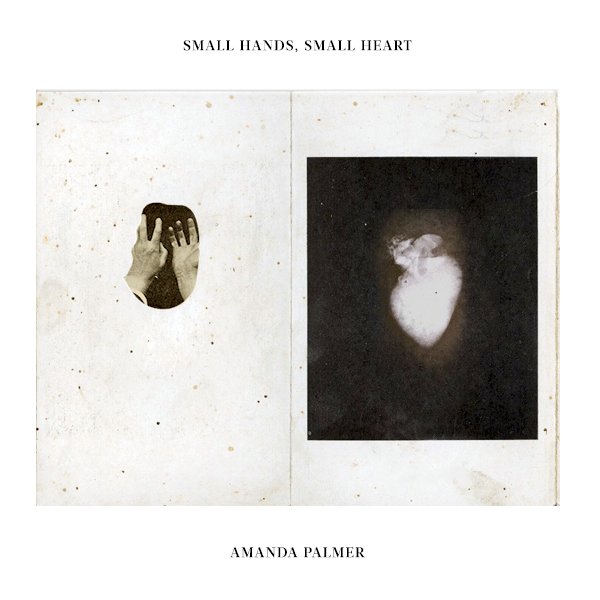 @daysandhours (via Twitter)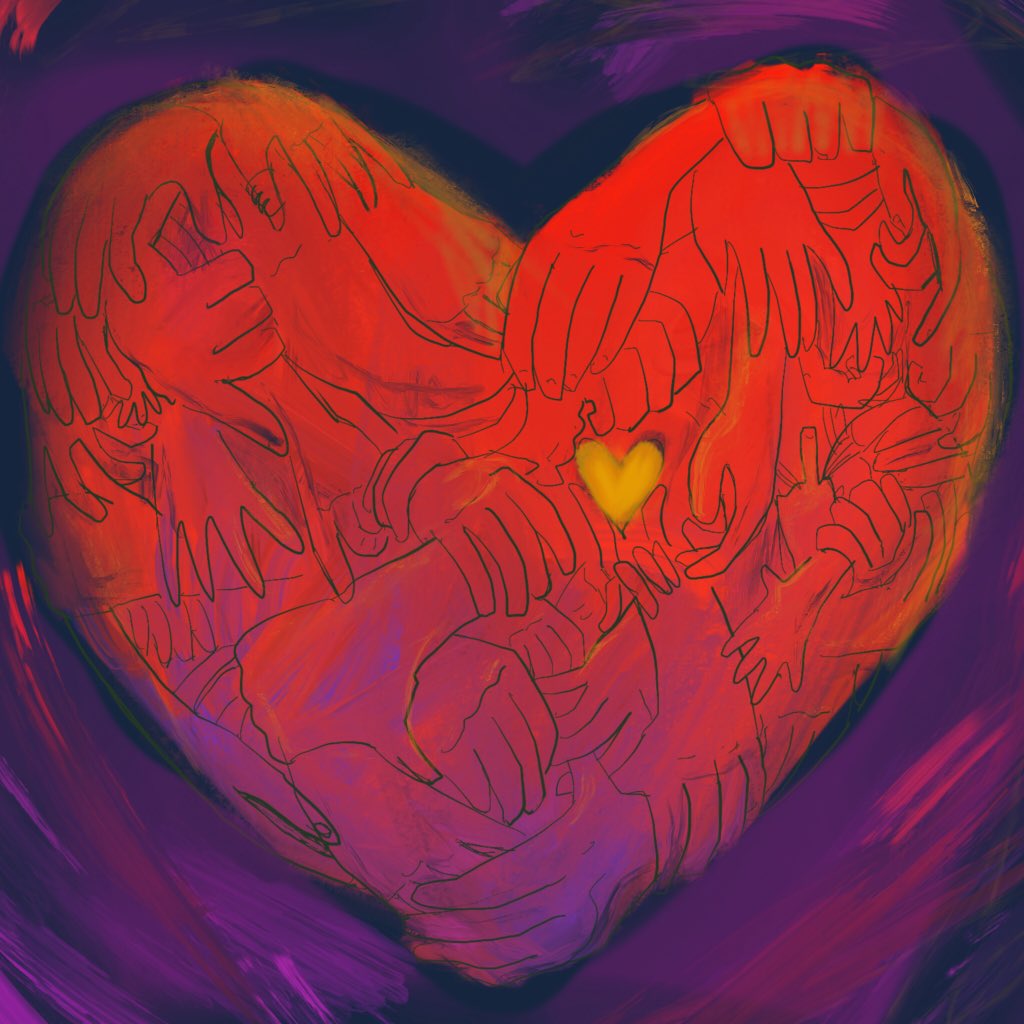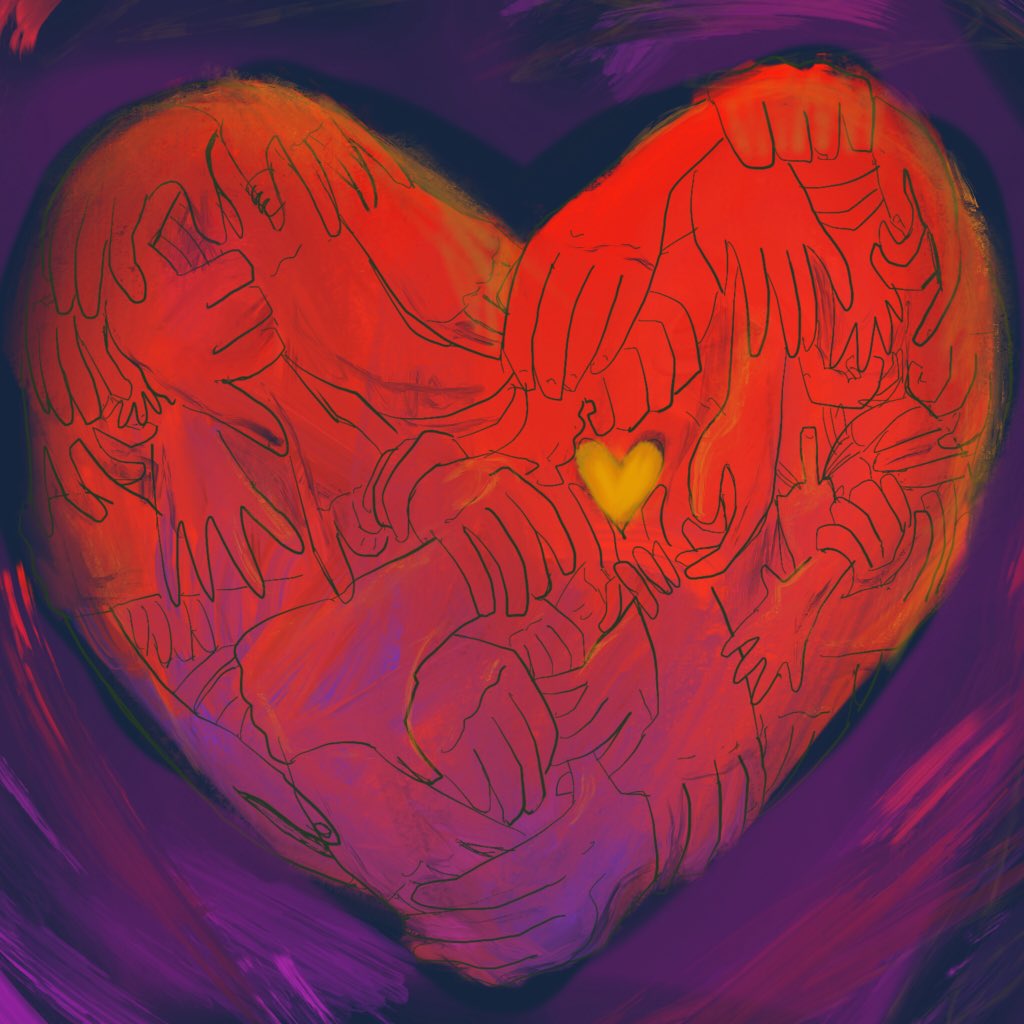 @doddx (via Twitter)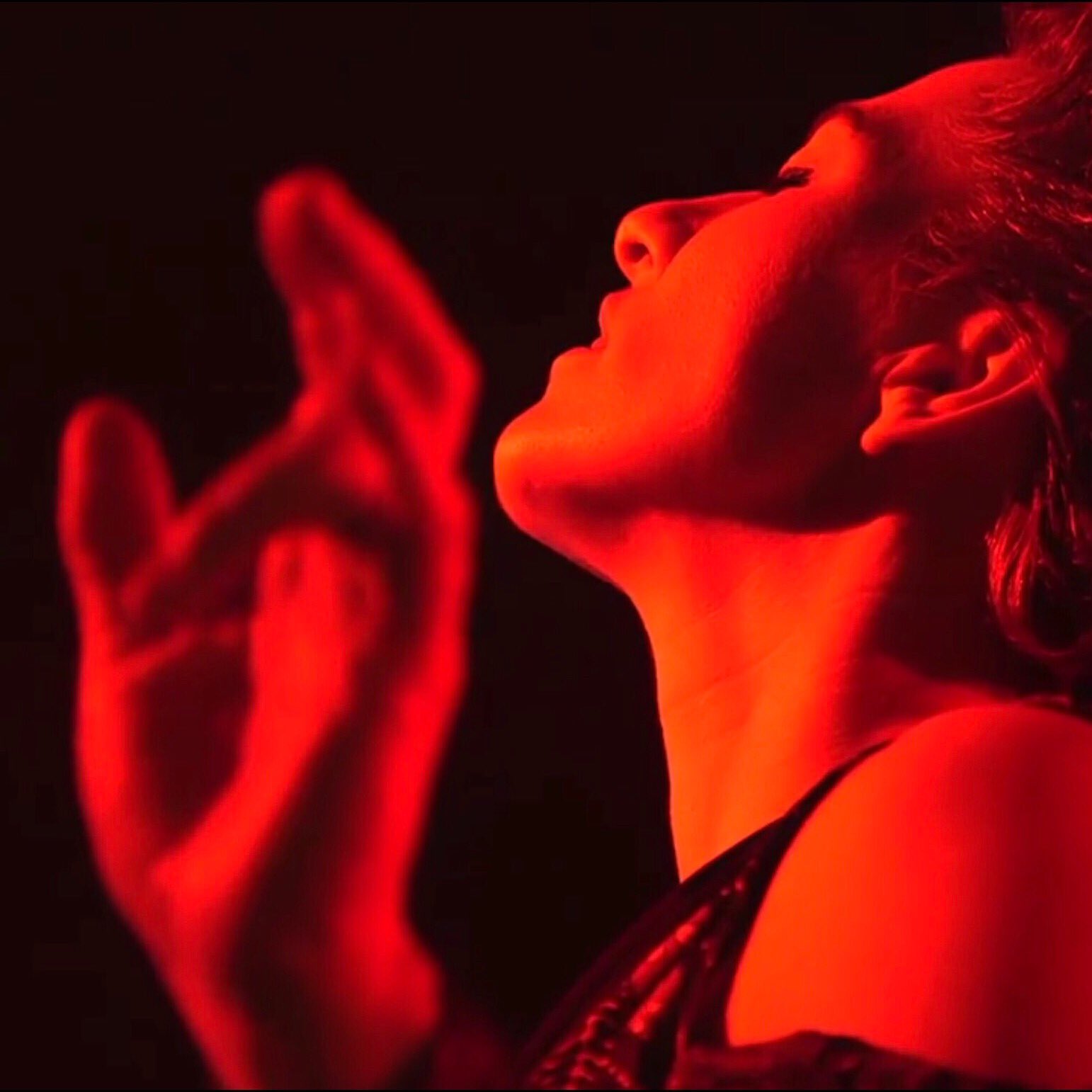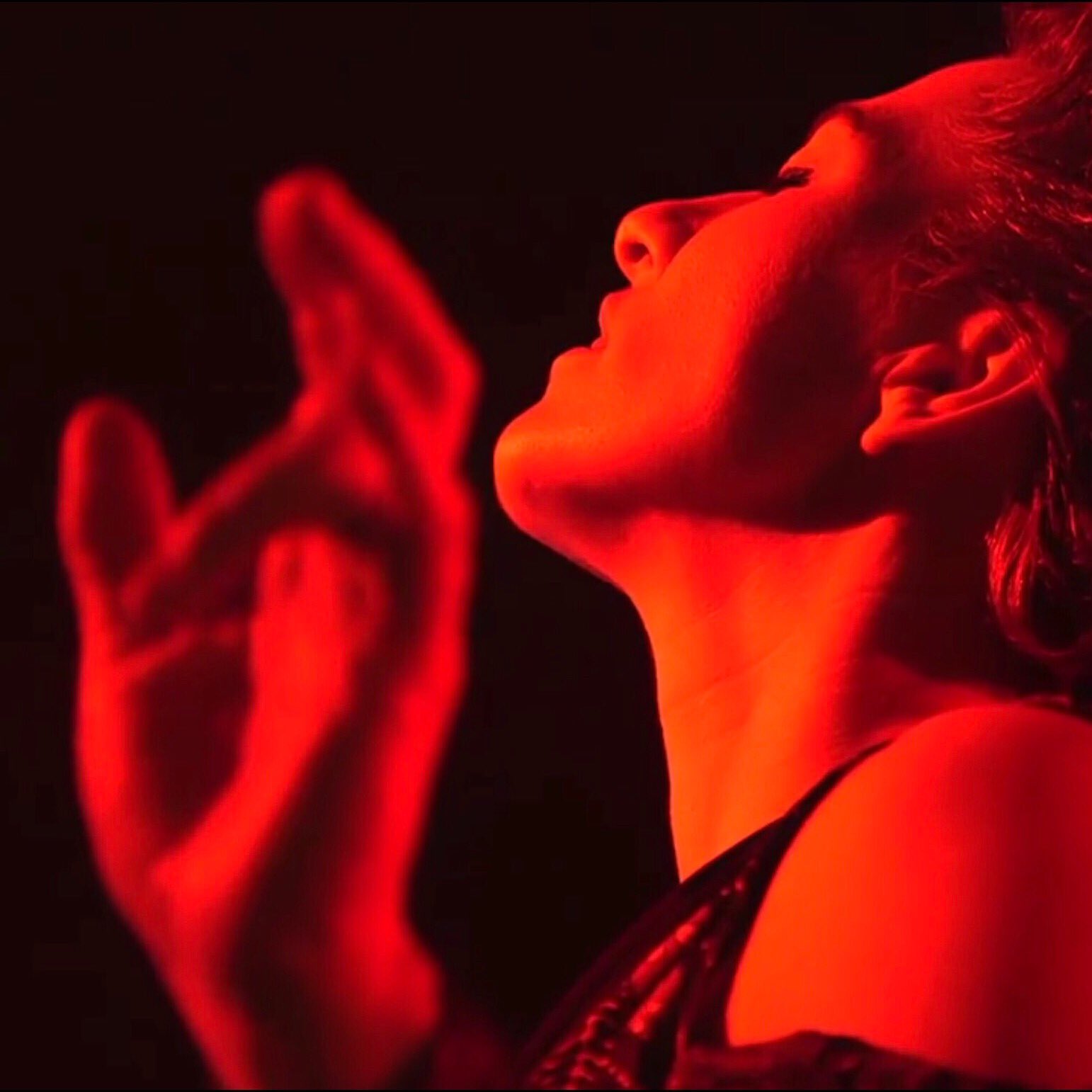 @KatjaHoisko (via Twitter)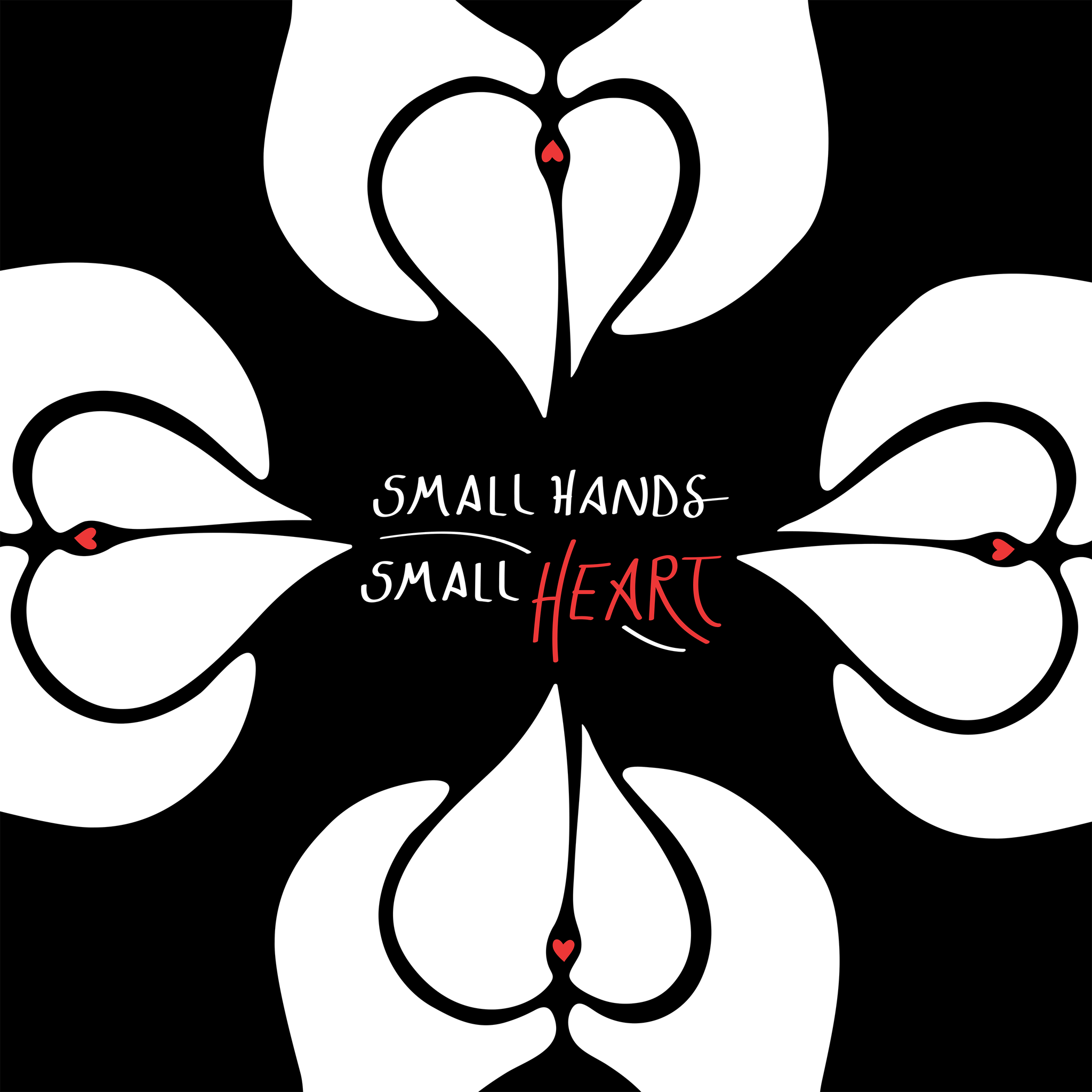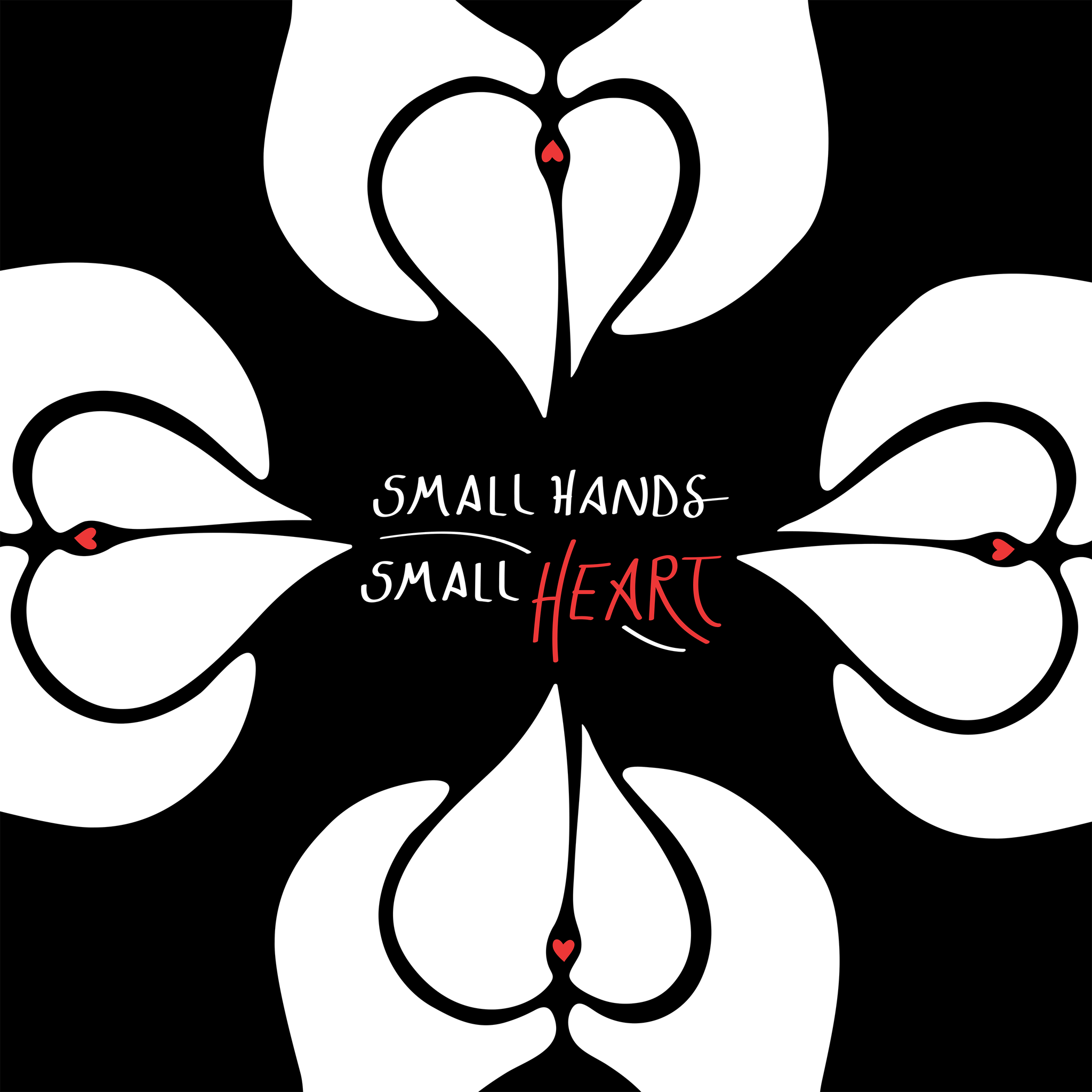 @lakiki (via Twitter)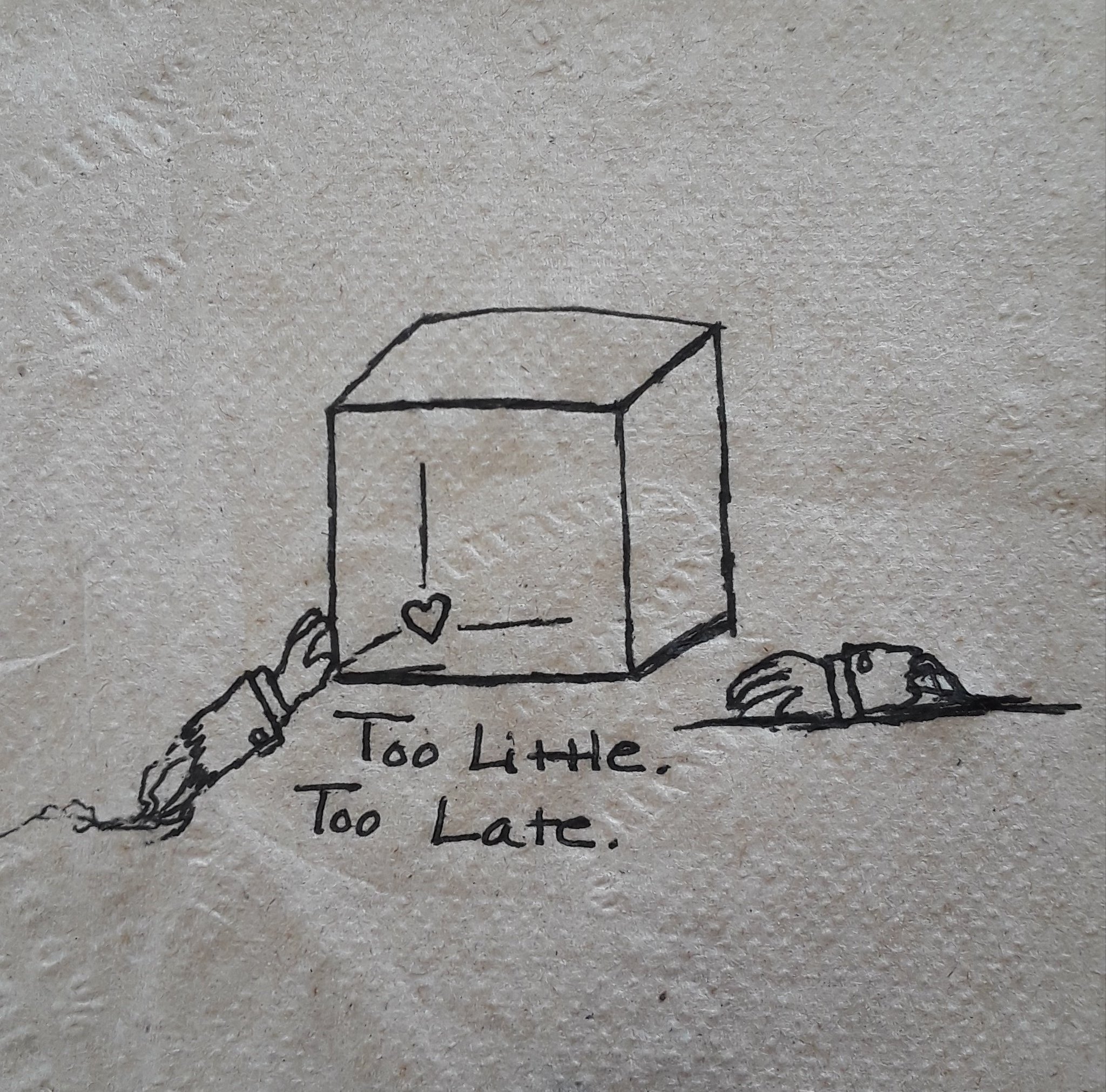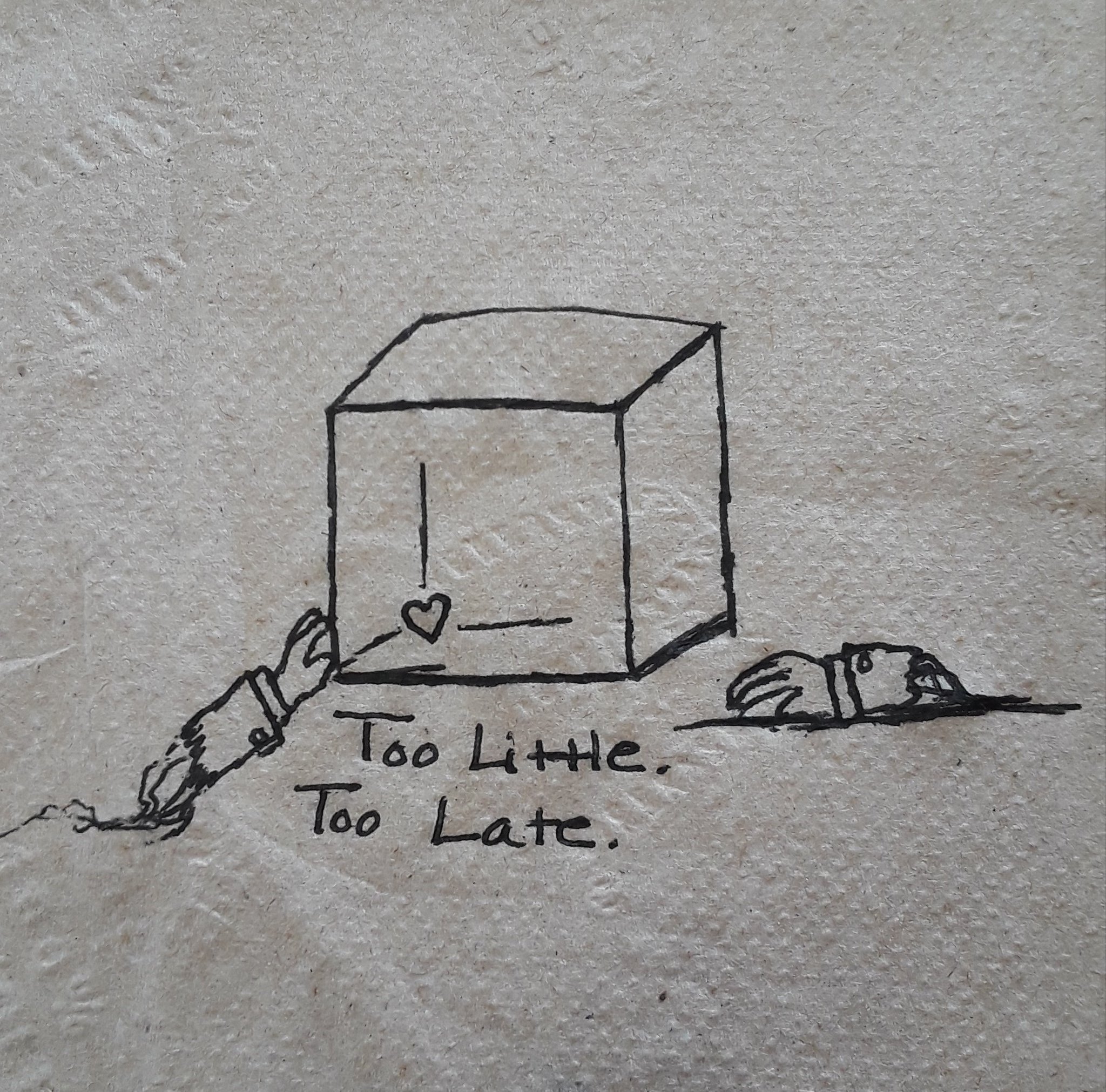 @MaeganRong (via Twitter)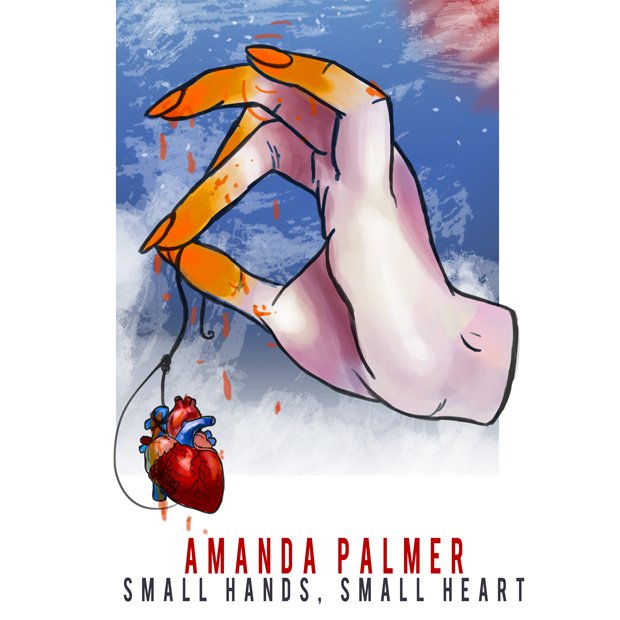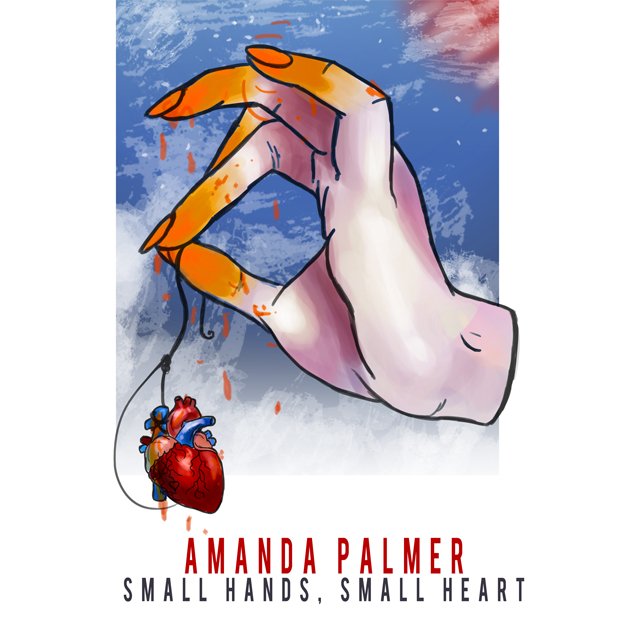 @theoevansart (via Twitter)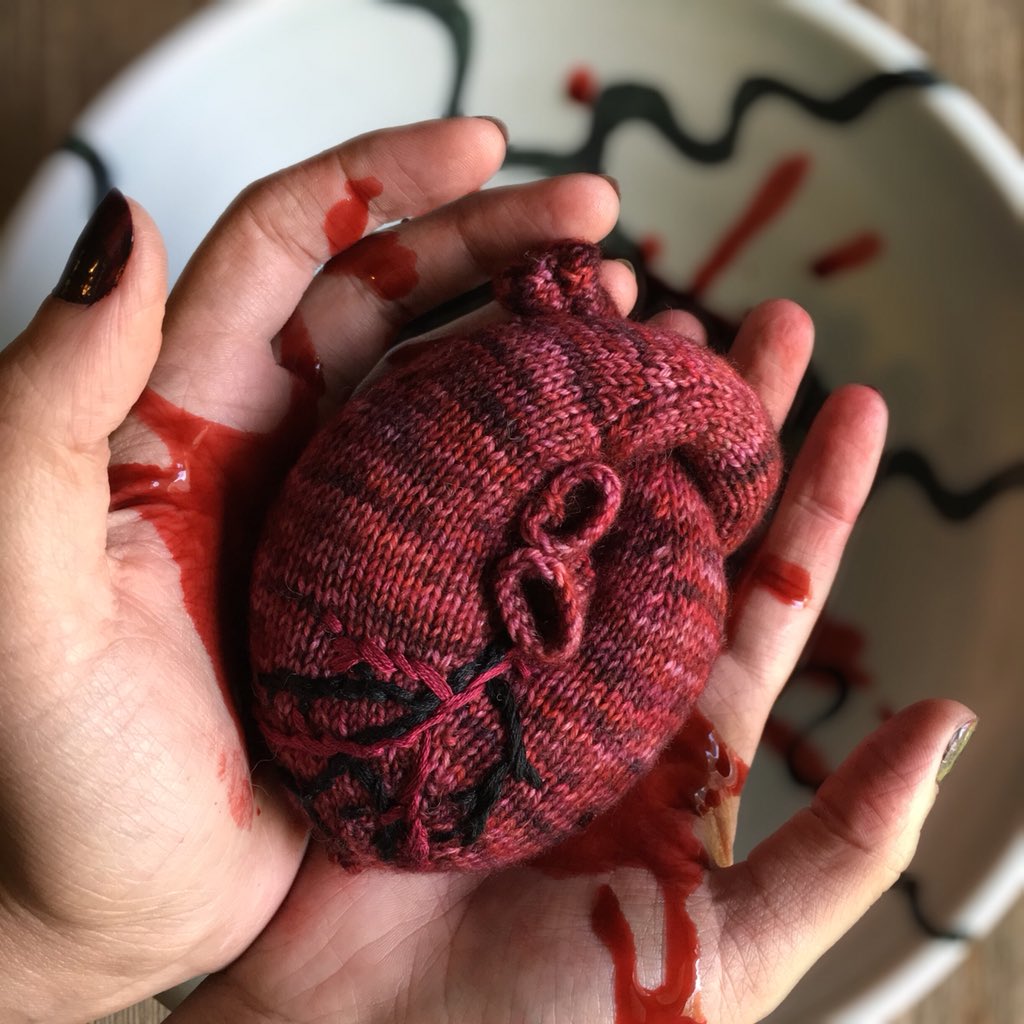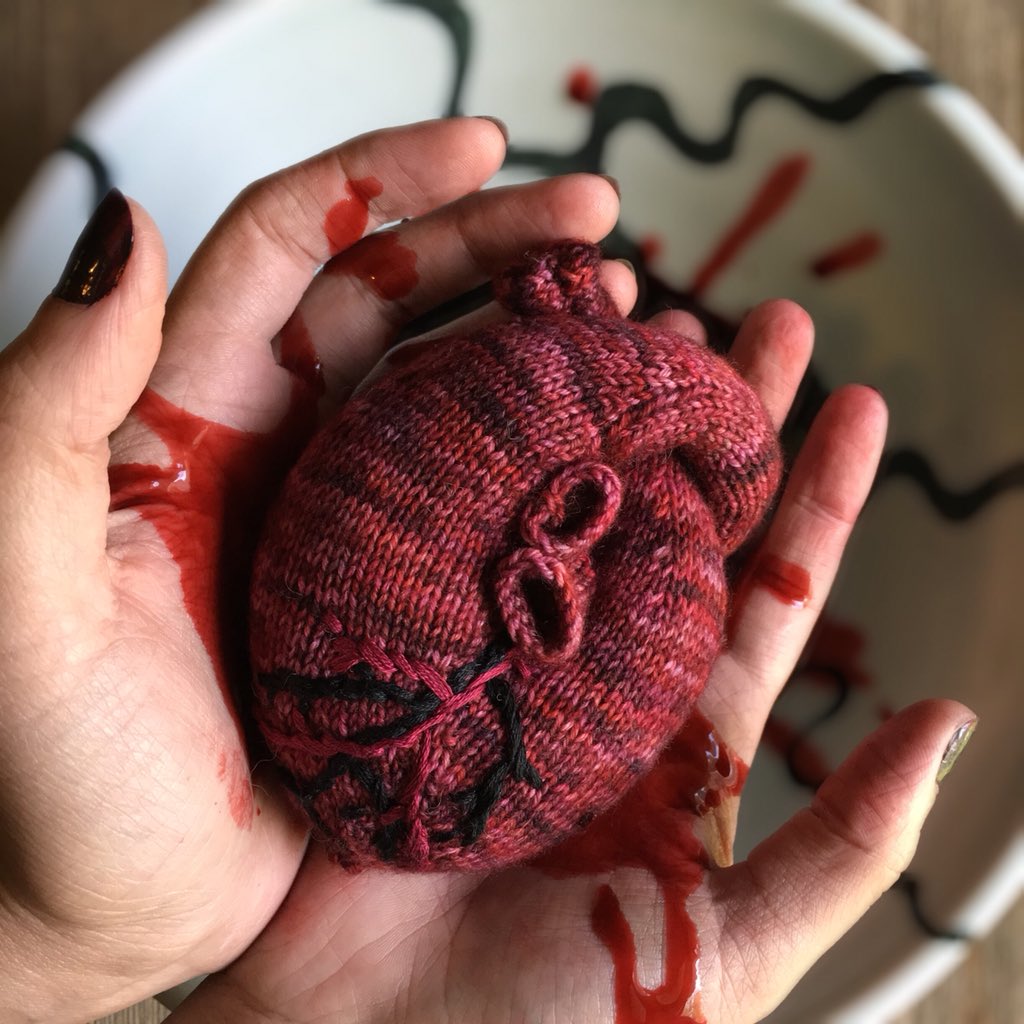 @YarnThirty (via Twitter)

-THE CREDITS-
"Small Hands, Small Heart"
music and lyrics by Amanda Palmer
amanda palmer: vocals, piano, hammond organ (and aborted bass, drum and lap percussion tracks. do i get credit for trying?)
sean slade: producer, bass guitar (and also aborted drum tracks, which were way better than my aborted ones)
engineer: james bridges @ Q division in somerville, MA
assistant engineers: dan hale (day 1), michael healey (day 2)
artwork: sculpture by lee barron, arrangement of objects & photo by amanda palmer. the chicago defender: https://en.wikipedia.org/wiki/The_Chicago_Defender

-THE LYRICS-
SMALL HANDS, SMALL HEART
small hands
small heart
the winter killed it but the summer took the fall
free world
free market's drowning islands
while we burn inside the wall
and i stopped looking
when the king put his hand over his heart
yeah i stopped looking when the
censuses stopped counting us at all
one world
six spoons
you better save them cause you're gonna need 'em soon
new heels
like knives
totally useless if you're into finding lives
and i stopped counting when they buried
my beloved in the ground
yeah, i stopped counting when they
told me that his dress was never found
they'll know we knew (they'll know we knew)
they'll know we knew (they'll know we knew)
this sick parade (this sick parade)
that's ripping through (that's ripping through)
they'll know we failed (they'll know we failed)
they won't know why (they won't know why)
but that's exactly why we've gotta keep it
all on the inside
so
let's fill our glasses up
but only halfway up
let's hear it for the band
at least what's left of them
half of them had to go
they had another show
we got some records and
we've got the radio
let's fill our glasses up
but only halfway up
let's hear it for the bride
she had to step outside
don't know when she'll be back
she got an urgent text
she's needed on the front
there's been a new attack
small hands
small heart
so small there isn't any place to put the dark
soft state
soft town
but not so soft that we can't pin them to the ground
and i stopped caring when the odds started looking pretty grim
yeah i stopped caring when i stopped to read the warning on the lid
yeah, i stopped trying when the dolphins went on trial
yeah, i stopped trying when the iceman took a submachine gun
and a bible out and he forced me down the aisle
this is your weapon
this is your mission
this is your home
should you choose to destroy it
this is your mother
this is your maker
this land is your land
now rape, baby, rape her….
big man
big mouth
so big a rising sea can't wash it out
big plans
big dick
bigger than jesus who's a loser in your book
and i stopped living when the nice man said i didn't gotta
yeah, i stopped living when i found out i could outsource it to someone
game for change from making pocketbooks for prada
i stopped worrying the minute that we got a bigger army
yeah, i stopped worrying cause who on earth would fuck with us
we got alotta oil and we sure know how to party
and we knew (they'll know we knew)
of course we knew (they'll know we knew)
this sick parade (this whole charade)
that's ripping through (that's rippng through)
they'll know we failed (they'll know we failed)
and bent the bell (and bent the bell)
but that's exactly why we've got to keep this all on the DL
so
let's fill our glasses up
but only halfway up
let's hear it for the band
at least what's left of them
half of them had to go
they had another show
we've got some records and
we got the radio
so sorry blacks and whites
so sorry reds and blues
the beatings will continue
until morale improves
go wave that flag around
but keep it halfway down
it's staying on it's knees
until the season's out