Strung Out In Heaven: A Bowie String Quartet Tribute
— AN OFFICIAL PATRON-SUPPORTED RELEASE, FEBRUARY 5, 2016 —
(cover art by Sarah Beetson)
HEADPHONES RECOMMENDED!!!
and
IF YOU LIKE IT….PLEASE SHARE THE MUSIC AND THIS PAGE.
YOU ARE THE MEDIA.
This whole project was financed by almost 7,000 supporters at patreon. More on that below…but THANK YOU to ALL the PATRONS. Your money made this happen. 
listen/purchase on Spotify, iTunes, Apple Music, TIDAL, Google Play, and Amazon!

We found out he'd died – by text from Neil's daughter – at 3 a.m. in Santa Fe.  We were visiting family, to introduce them to the newborn lying in bed beside us. A tiny fleshy reminder that Bowie, like our other friends, mentors  and heroes who've been consumed by cancer in the past few months, was just…passing through. The baby is Ash. Dust to dust. Funk to Funky.
I was talking on the phone to
Jherek
the next day talking about our arrangement for "machete", the song we'd just tracked in LA.
Bowie meant so much to both of us, growing up. and i knew that if we didn't do this NOW, we'd say it was a good idea and then find a million reasons not to get around to it.
We gave ourselves a deadline of two weeks. We made it.
Jherek put the petal to the metal, arranged a song a day, recorded his A-list string quartet in L.A. in 3.5 hours, then I spent two straight days in the studio doing vocals.
It was the longest time yet i'd been away from the baby.
My mom took care of him one day, a babysitter the next, and Neil took the night shifts.
I'm back at work. It feels right.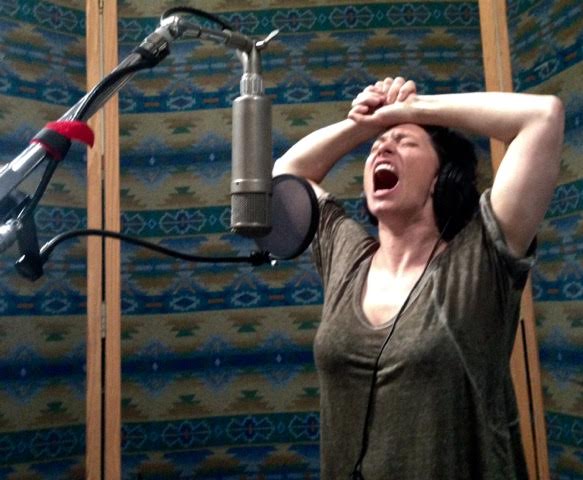 photo taken by jono manson
We invited UK indie guitarist/vocalist Anna Calvi to play and sing on "Blackstar"….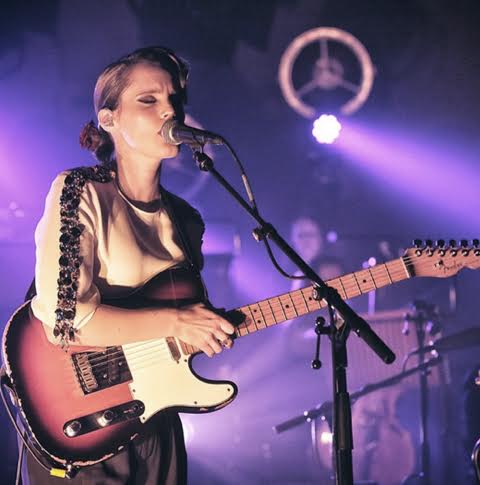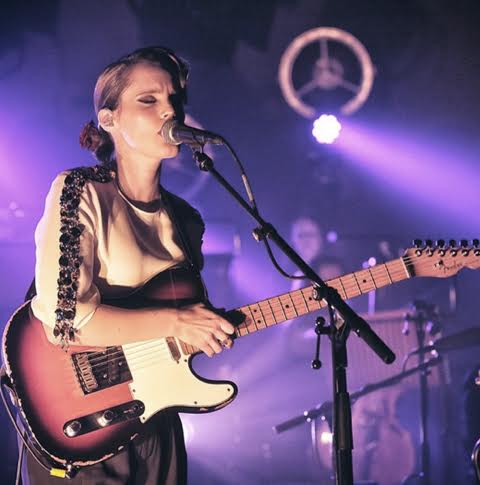 photo by Nick Pomeroy from Anna's official instagram feed.
here's Anna in the studio…
….and we invited our friend John Cameron Mitchell (of Hedwig and the Angry Inch fame) to sing on "Heroes" and "Helden" (yes…the german version)
WHO RECORDED HIS VOCALS ON IPHONE….
….and, finally, Neil did the countdown for "Space Oddity".
Do you really need a picture of Neil?
Oh ok.
Here he is doing his Adam Driver impression.

THE MUSICIANS:
Amanda Palmer – Vocals
Jherek Bischoff – Double Bass/Arrangements/Conducting
Serena McKinney​ – Violin​ 1
Alyssa Park​ – Violin 2
Ben Ullery​ – Viola
Jacob Braun – Cello
Anna Calvi – Vocals/Guitar (Blackstar)
Jono Manson – Amanda's Engineer (The Kitchen Sink)
Alex Thomas – Anna Calvi's Engineer (Bruce Grove Studio)
Chris Fogel – Jherek/Strings Engineer (Hyperion Sound / ELBO Studios)
Bryan Carrigan – Jherek/Strings Asst. Engineer (Hyperion Sound / ELBO Studios)
John Cameron Mitchell – Vocals (Heroes and Helden)
The artwork was created by artists from three continents.
We'll be posting their stories over the next few days for the patrons, then depositing them here.

from Cassandra:
I have known that David Bowie could die
since 2013.
I was working the box office of a sold
out David Bowie dance party.
I thought, "People love David Bowie."
After every shift at the box I get a shift drink and if i get off early enough I get to enjoy the party.
As I stood at the bar and watched the glitter covered crowd wiggle around I noticed there were so many different ages and none of them overpowered the other. It was a beautiful mix of 18-40 year olds dancing together.
They weren't just dancing, they were singing too.
A multi generational crowd all knew the same lyrics and they were all dancing together.
I thought, "People love David Bowie like a god."
Everyone's mouths opening and shutting and shouting all in unison got to me and I started to cry.
There might have also been glitter in my eye.
Then it occurred to me that David Bowie was not a god.
David Bowie could die.
He will die.
When I was up at three in the morning three years later I found out he did die.
The first thing I thought of was all those people dancing and singing that night and their faces when they would find out and how we need to have another dance party.
I now work at an elementary school. That Monday after his death I finished reading a book to the kindergartners about a naked mole rat and I asked if there were any questions.
One kid had his hand raised,
"What happens when you die?"
"Oh…why are you asking?"
"David Bowie died."
I guess the span of generations that David Bowie has affected is much larger than the 18-40 year olds at the club.
"Yes. Well, I don't know what happens when we die."
Then I asked the class,
"Does anyone know any David Bowie songs?"
Many hands shot up.
"Casey, is 'Rudolph the red nosed reindeer' a David Bowie song?"
"No."
Another kid was waving their hand back and forth,
"Is 'Fireworks' a David Bowie song?"
"No."
Come on, maybe the span is smaller than I thought.
Then I called on another kindergartner with their hand raised straight and high,
"This is ground Control to major tom…" and continued singing and singing
and I knew we would have plenty more dance parties.
……………
About Cassandra Long:
Cassandra Long is an unidentified artist based out of Boston. You will never see her wearing a name tag or her driver's license. Although many people have tried to point her out in a crowd by the time they get their hand up and their finger out she has ducked down on the floor. lol. I went to school and learned how to paint
and I do that sometimes still as well as make cartoons and write about stuff
that happens to me on my way to work. I live in Boston at the Cloud Club and I
am in a band called the Over Easies. I met Amanda Palmer when I was 18 with
ovarian cancer and we became friends and I love her a lot.
-or-
Cassandra Long is a visual artist,
writer, teacher, box office employee, band mate and roommate based out of Boston.
(note from amanda: you can follow casey's highly amusing tumblr here: http://cassandramarielong.tumblr…, though she isn't using it very much, and i keep trying to get her to start a patreon for her weird writing and painting and art projects.)
thank you to the whole team AFP for making this happen on breakneck schedule: especially eric, superkate, nick, alex, billh and courtney. love.