Amanda Palmer – The Mess Inside
— AN OFFICIAL PATRON-SUPPORTED RELEASE, FEBRUARY 1st, 2018 —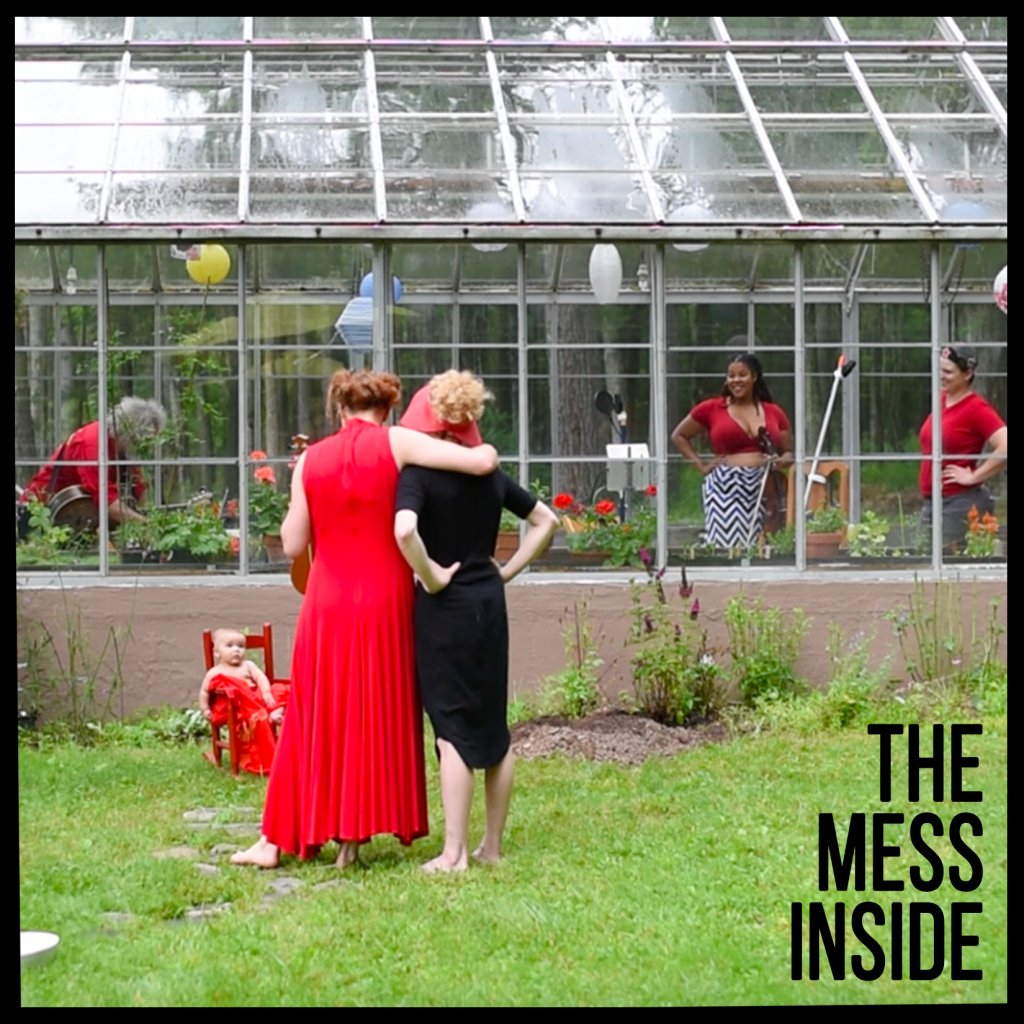 this release was made possible by over 11,000 patrons funding me with permanent micro-payments so that i can work without schedules, rules and boundaries and keep my community connected without social media. NOTE: $3+ download tier will be getting all downloads, $5+ bonus-content tier is getting a bunch of extra day-of videos in the mail (including a really beautiful candid video of coco dancing outside before we decided to make a video)…watch your inboxes.
everybody else: please join us in making More Things at
patreon.com/amandapalmer
. to all of my patrons, thank you. without you, nothing.
a note on formatting! i'm used to using center-justification with these pages and i think it's getting annoying, especially when there's a lot of text. from now on, unless y'all miss it, i'm going to move my justification to the left. no pun intended.
first of all…love from cape town, south africa. we landed here a week ago and i haven't seen outside the air bnb we rented for more than a few hours. i got really sick with a stomach bug and fever, then ash got really sick (and is still sick), then justine got sick, then michael got sick…apically everyone has gotten sick but neil. it's been a hard week. meanwhile – the release machine cranks on and i've been hauling myself to the keyboard to transmit. are you there? ok, good.
ok. here's a story.
i've been pals with the truly beautiful team who produce the "
Welcome to Nightvale
" podcast for a long time – ever since jason webley went on tour with them and discovered that they were not only fantastic podcasters, but quality humans. and as fate would turn out to have it, the whole mess of nightvale folks wound up living a stone's throw (well, more like a stone's lob…okay, about a half hour drive) away from me and neil in upstate new york. so we became friends. if you look closely in the 
"wynken, blynken and nod" video
 that i made along with 
the dad record
, you can see joseph, meg, jeffrey and jillian (all from nightvale) cameo-ing in the video, arranging a giant net of fish-books to be raised up into the balcony.
here's another story.
when i was in college, i discovered 
The Mountain Goats
 during my tenure as a DJ on wesleyan's free-form college radio station. for all the years i DJ'd there i had the graveyard shift (my show was usually from 3am-5am, and titled "shadowbox theater radio") but it was actually kind of nice, knowing nobody was listening. it was practice for all of the early dresden dolls gigs where nobody showed up but the opening bands and the bar staff. mostly, looking back, i realize just how much Indie Music of the Nineties i wound up discovering only because the CDs and records landed on the desk of the music director of 
WESU
: 
dinosaur JR, seabdoh, red house painters, the flaming lips, guided by voices
…all of these bands were unknown to me until i found them, perusing the bins at the radio station. then, in 1996, i moved to germany, and was flipping through a magazine in cologne, looking for shit to do. and i saw that the mountain goats had a show in a basement bar that resembled a cave more than a drinking establishment. it was beautiful. i remember thinking, as i sat there on a chair with about 19 other people sitting on chairs, listening to 
john darnielle
strum his guitar and sing his songs to a bunch of germans who seemed to be listening, and caring: this is what it's all about. us here in this cave. i don't remember if i talked to him that night, but in my head, i did. in my head, i told him thank you. i probably didn't. i was 20. almost twenty years later, when i was about 38, my career finally landed me at the famed newport folk festival. i was on the same stage as john, he played right before me. i got to tell him about the cave, finally. i got to see him play again, and be reminded. it's so funny. even thought i do this for a job, i still need to be reminded all the time what it's about and why we do it. honest songs, being sung by a person, to a bunch of people, in a place. it's so simple, really.
and here's another story.
when the dresden dolls were first getting started, i was in TT the bears at some random band show and this fabulous-looking guy with a huge head of floppy, curly gray hair that stood straight out from his head and this fabulous-looking woman with an outlandish neon gown and a small headdress were at the bar and i started talking to them. they were from new york, and it became clear to all of us that we needed to be friends because we had so much in common, like circuses and friends and throwing parties. that man was 
sxip shirey
 (he still composes for circuses) and the woman was larisa fuchs (she still 
throws parties
). we all became better and better friends and sxip opened up for the dresden dolls many times, and eventually came on tour with me and jason webley as part of the evelyn evelyn posse. (he also went on to form a band with brian viglione – drummer of the dolls – called 
gentlemen and assassins
). sxip loves friends and whiskey and camaraderie and love and peace and he's one of my favorite people in the world. when he called last spring and told me he was getting married, i was overjoyed for him. when he called and told me that his fiancé coco – a dancer – was pregnant, i was even more overjoyed for him. when he called and told me that coco had had a miscarriage, i mourned. i didn't get to meet coco in the flesh until a few weeks after the miscarriage, when i was back from tour and we all wound up at the same party in upstate new york. when we met each other, we knew within moments that we were destined to be sisters. it was just that sort of thing. coco and sxip came to stay at my house a few weekends later, because they needed a break from the city. i was so happy to see them. i had been lonely in upstate new york, where i didn't plan on winding up. hosting my old friend and my new friend was a flame to my soul.
sxip brought his guitar so he could play on the front porch, while drinking whiskey. it was june. and time for doing that. he was sad about his lost baby. coco was sad about their lost baby. i tried to cheer them up.
and another story.
joseph , from nightvale, is a huge fan of john's. like me, he was a fan of john's when he was younger and before anything big happened in his life. and now that he has a podcast and thousands of fans, he did what all of us want to do, which is to use the platform we wound up on to shout about the things that we love and loved. so joseph took it upon himself to create a podcast called "i only listen to the mountain goats", and part of the current concept involves a slew of artists covering songs from The Mountain Goats most beloved record "All Hail West Texas". i was honored when joseph called me up (okay, emailed, but i can't get out of the habit of saying "called me up and asked" because to me, it still sounds more romantic) and asked if i would contribute one of the songs. i re-listened to the record. goddamn it's a good record. you should listen to the whole thing. it's not the kind of music i would ever consider covering, for the same reason i think a lot of people don't cover my songs: they're so, so personal. it's like: john already did it. why would anyone else need to do it? they're perfect. but i chose "the mess inside". i was thinking i would do it over some really spare piano, maybe with a little ukulele thrown in. i would scream, it would be great. i just needed to find time to arrange the song and book a recording studio or get a friend to do the recording. i had a deadline, and i hadn't done it. it was june. coco and sxip were there for the weekend, and there were a handful of other people staying in the house: rachel jayson, my violist friend from boston and her wife clare, who's a fire fighter. they got married in our old house in cambridge. they were there with their tiny new baby boy, who rachel had heroically birthed a few months before. and hayley, who's been on team AFP for years, was up for the weekend from the city. and my brand-new assistant michael was at the house, doing catch-up work with me. when i say brand-new, i mean brand-new. i think it was his first week on the job after taking over from superkate (who's doing great, if you were wondering, she moved back down to lexington kentucky and she's bellydancing a lot so she's happy).
so there we were, all walking down the hill with all the babies to get dinner at the local saloon, and sxip said: what are you up to this coming week? and i said: i am just kind of dying in a pile of work emails and lost time and assistant switchover and almost-two-year-old and whatnot, and i have this one little project i need to knock off this week, it's a mountain goats cover, do you know the mountain goats, you don't?, oh my god the songwriting is so beautiful you should hear it, i'll play you some when we get home, maybe you and i should even do this song together, but wait you're leaving tomorrow so that doesn't give us any time, but it would have been great, but i'll play you the song anyway.
and then we had dinner, and beer, and played with the babies, and we walked back up the hill.
and when we got back into the house i played sxip the song, and we decided….fuck it. let's do it.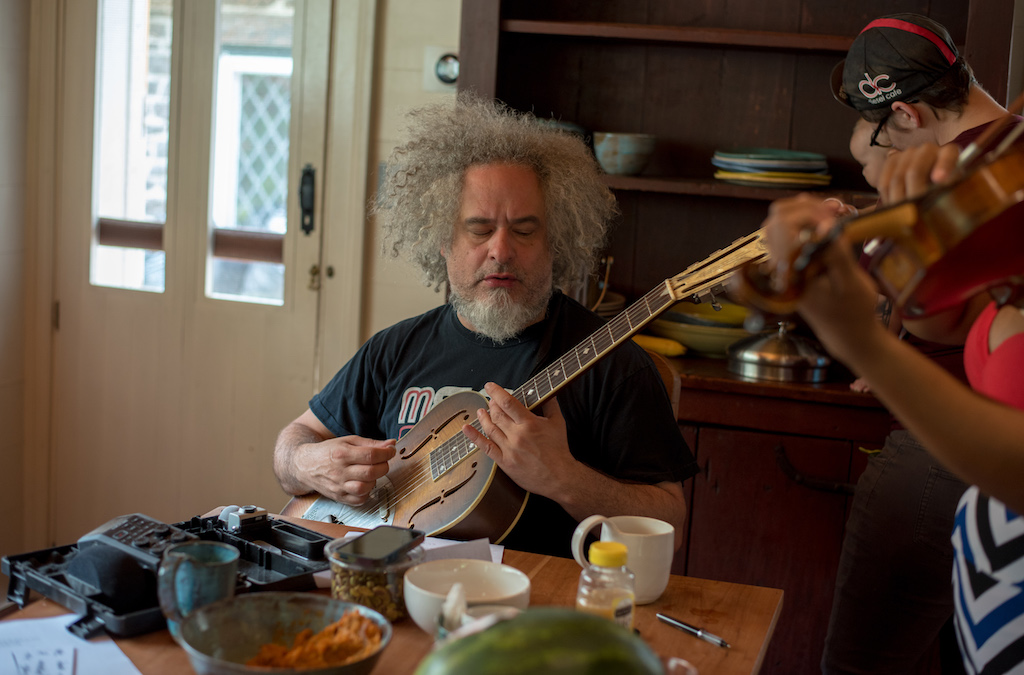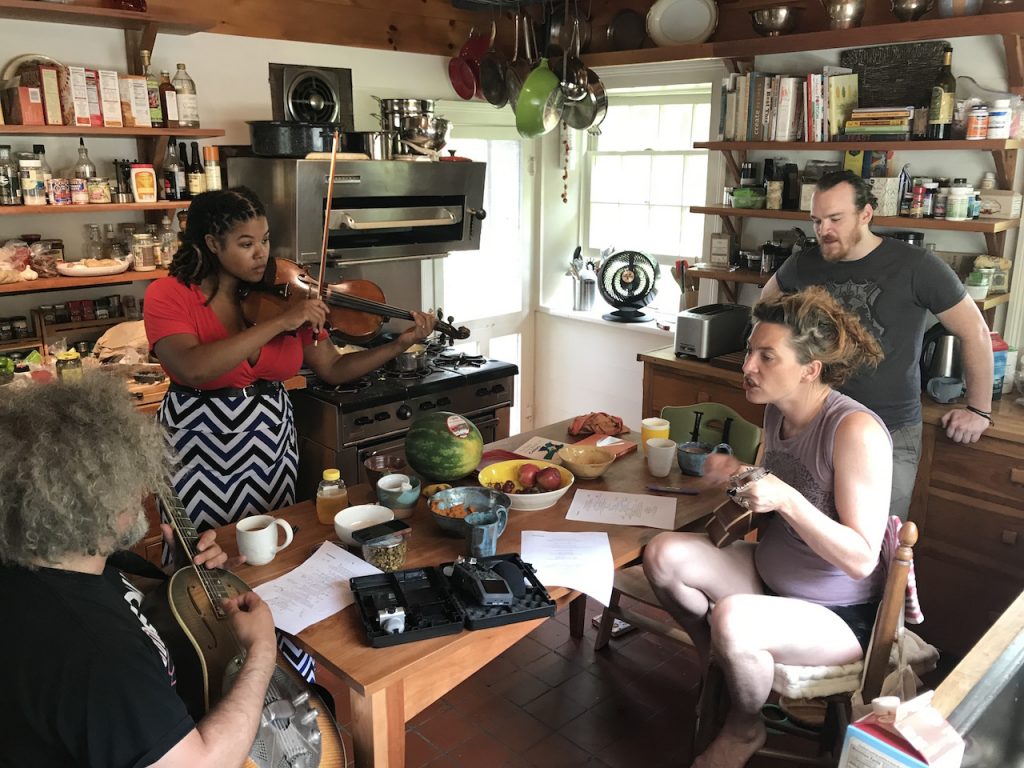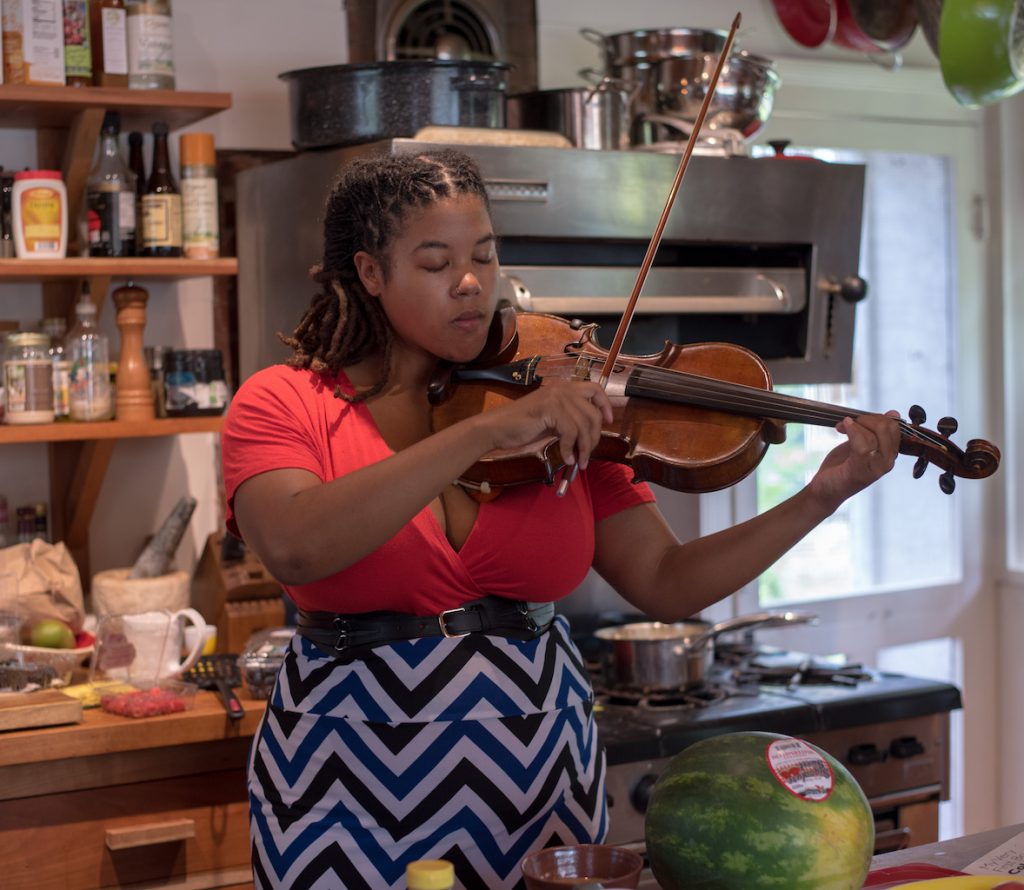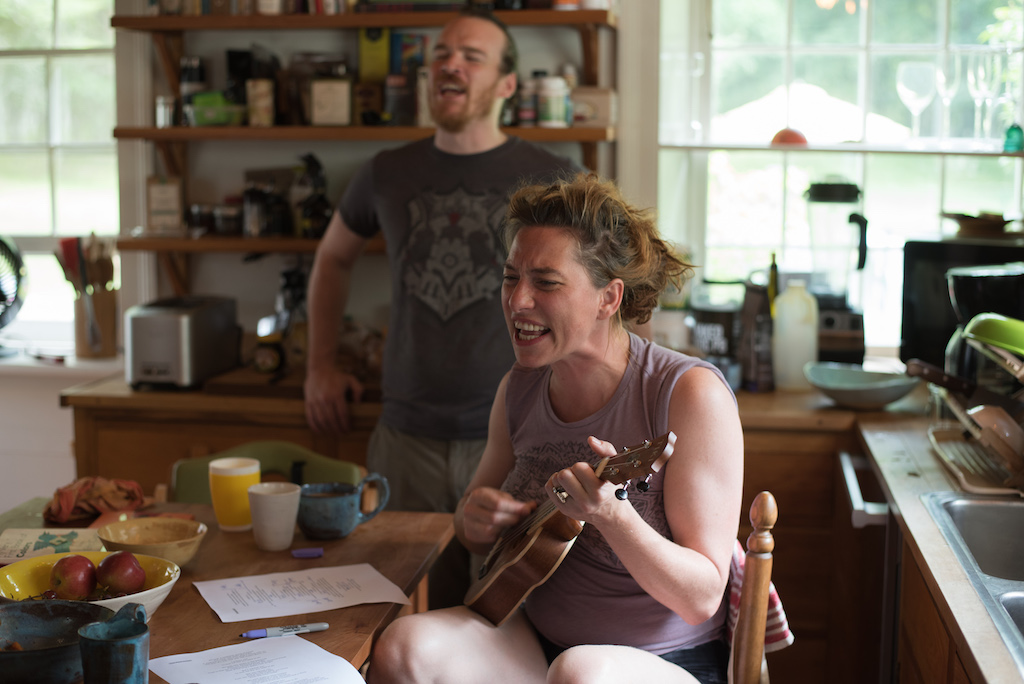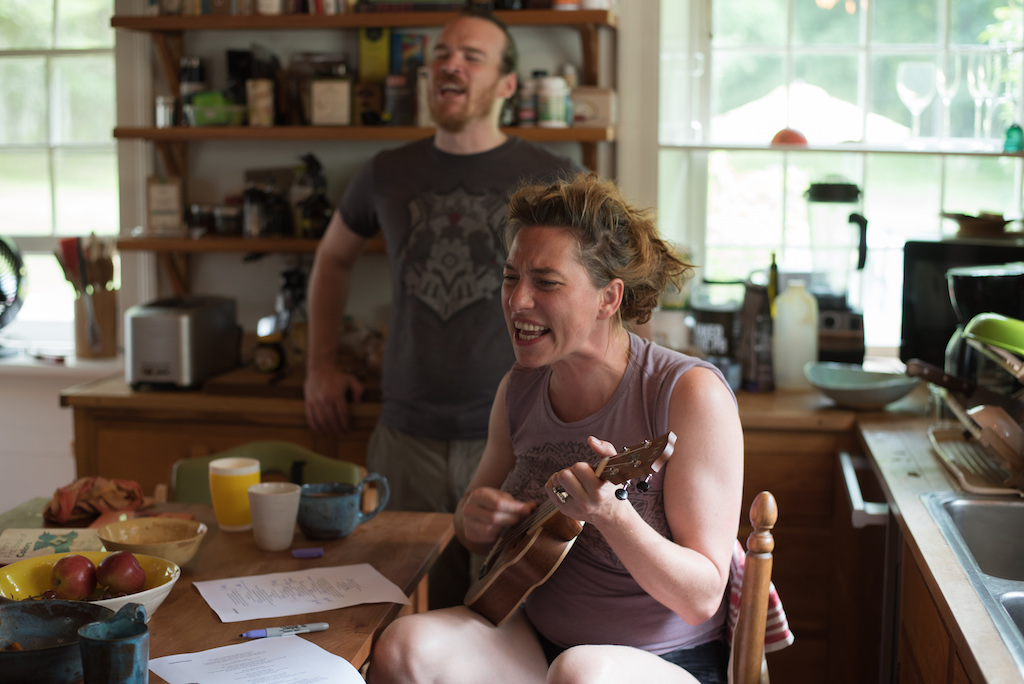 so we woke up at ass o'clock in the morning, sxip grabbed his guitar, i dragged rachel over with her viola, and we practiced "the mess inside" all morning in the kitchen. i was thinking a lot about coco and the lost baby. that mess inside. hayley and rachel's wife clare and my brand-new assistant michael (who was like: is this actually happening?) all agreed to do the back-up vocals and the handclaps. it sounded so beautiful, all of us singing the mess inside inside the kitchen. hayley is a great photographer and had her decent camera with her, and i can't remember at this point exactly how it happened, but somehow the recording of the song turned also into a video-recording of us recording the song in the abandoned greenhouse behind our house.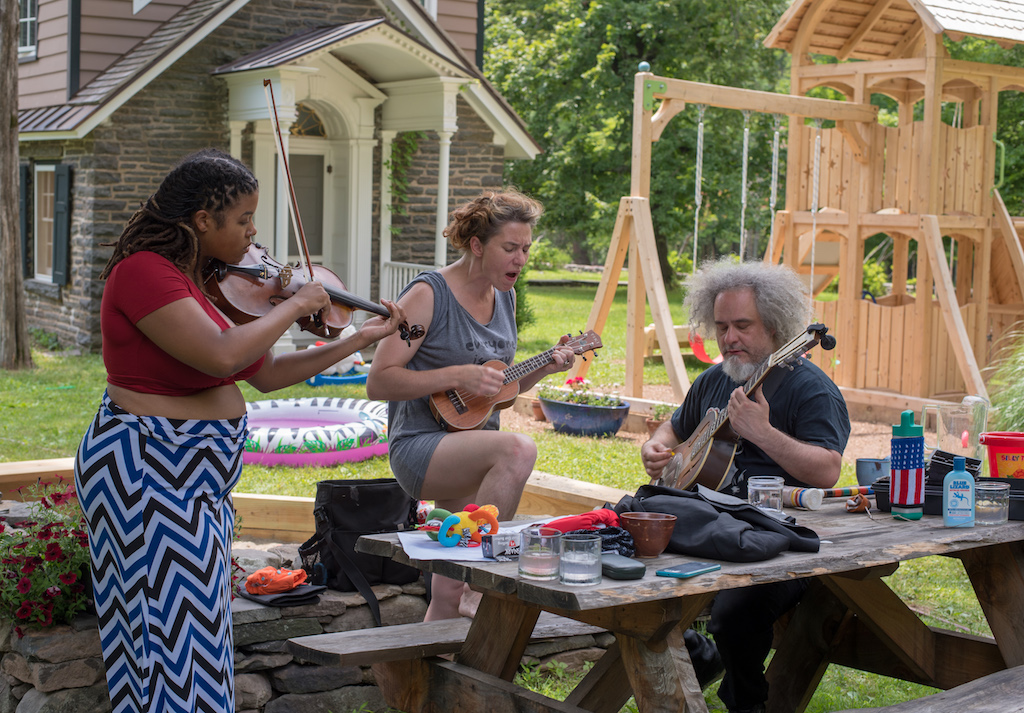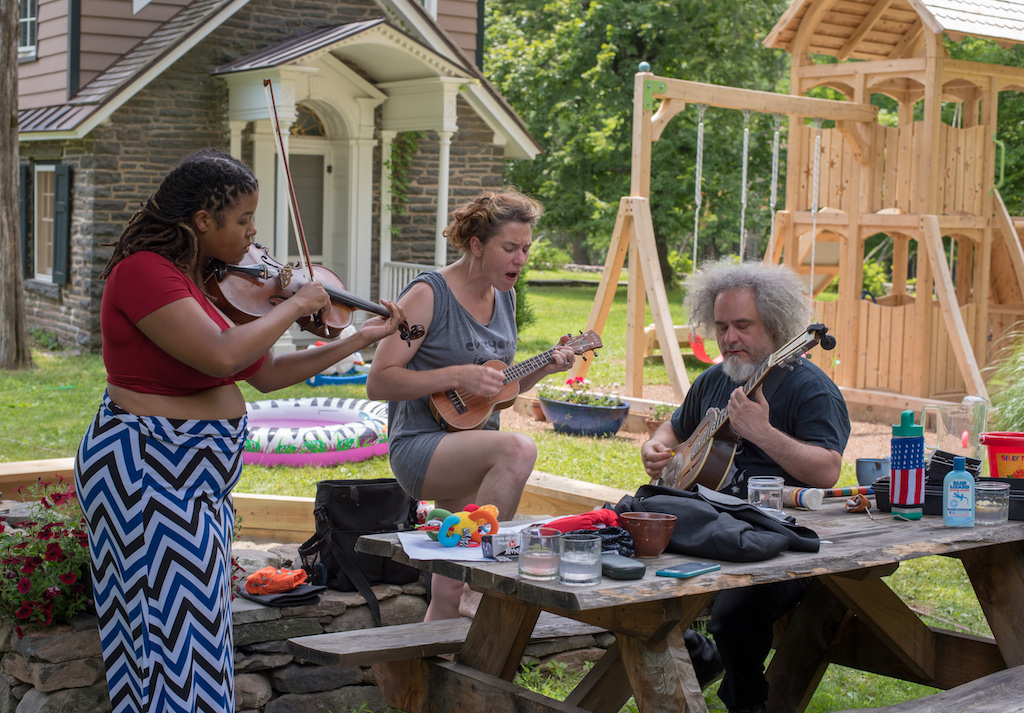 sxip set up a few simple mics and we just played and recorded, since we didn't have any time left.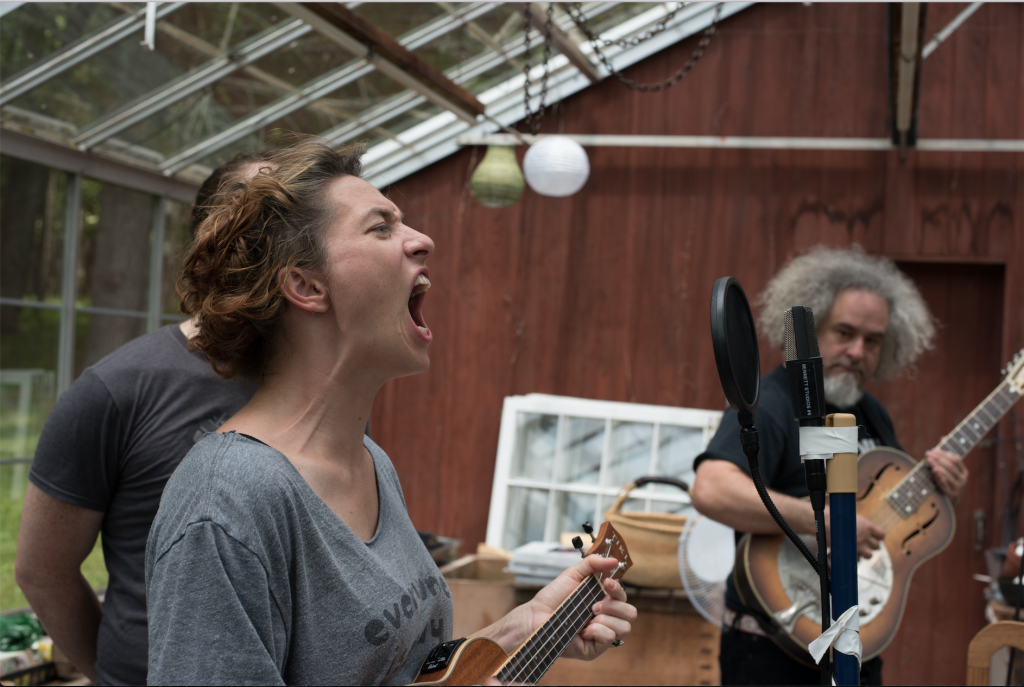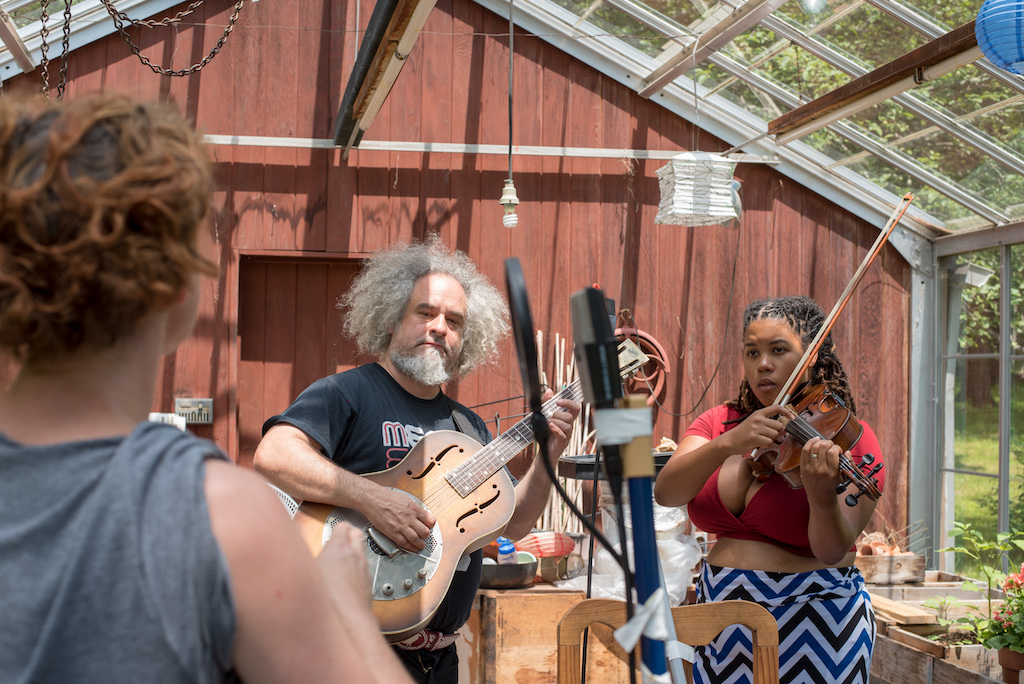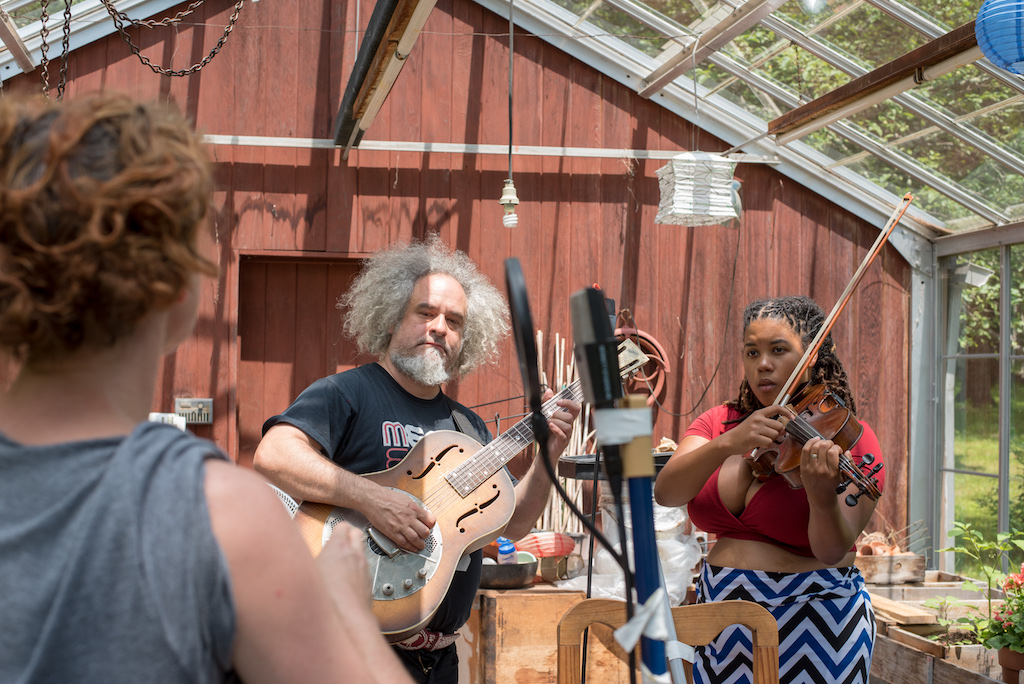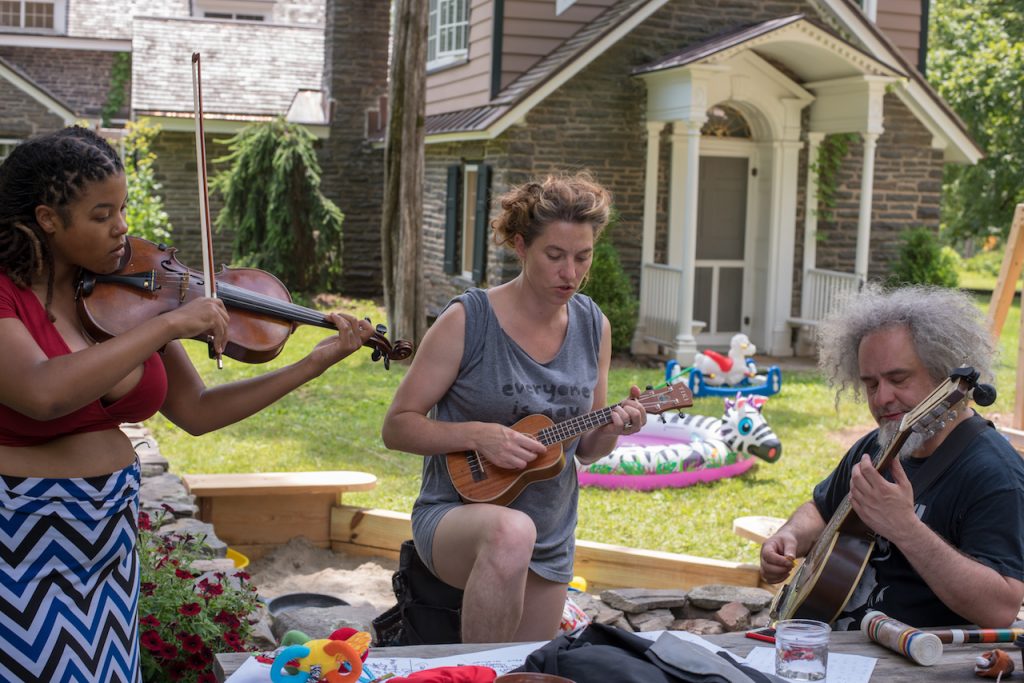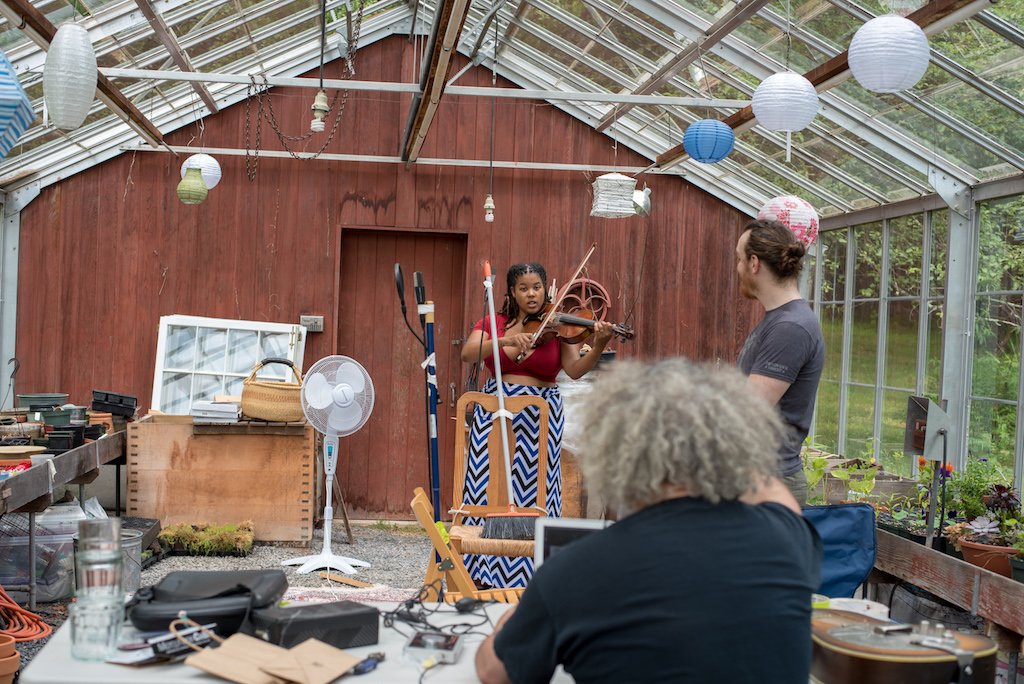 coco grabbed the rocking chair from the porch. and we played, safely under cover, while coco danced with rachel and clare's baby out in the rain.
all in all, the entire moment – from when we learned the song to when we finished the recording – took under 8 hours. we started at about 8 am in the morning and wrapped the final take of the video (we did about four takes) at around three in the afternoon. (then we sent the video off to the amazing editor amanda laws, who fixed some of the auto-focus glitches that happened because of the rain, and color-corrected it).
neil gaiman was kicking around the property hosting some bigwigs from amazon or netflix some other huge media company and at one point, they walked by the greenhouse during their massive meetings about massive TV things. i do not think we are going to get cast in season 19 of real housewives.
and then sxip and coco ran out of the house to get to wherever they had to get to that day….
and it was over.
here is one last story.
about a month later, i got pregnant. then, a few weeks ago, over christmas, i had my own miscarriage. i was three months along. coco helped take care of me. i'll talk about it more in a few days…i've been waiting to get to a place where i have the peace and the space to do so, and i've been in no-stop transit for two weeks. it was one of the most intense and profound experiences of my life: more intense than giving birth, if you can believe that. i'm just about at the point where i can write something about the whole mess of it, because it's not a simple story. be patient and send the writing muses to me, and yeah…that's why my posts were so sorrowful and cryptic for a while. it was as hard as you can imagine. on neil, too.
meanwhile, i love neil, i love my alive baby ash, i love sxip, i love coco, i love the mountain goats, i love joseph and the nightvale folks, i love michael, i love clare and rachel, i love hayley, i love making art using my patreon, i love music…
and i love you.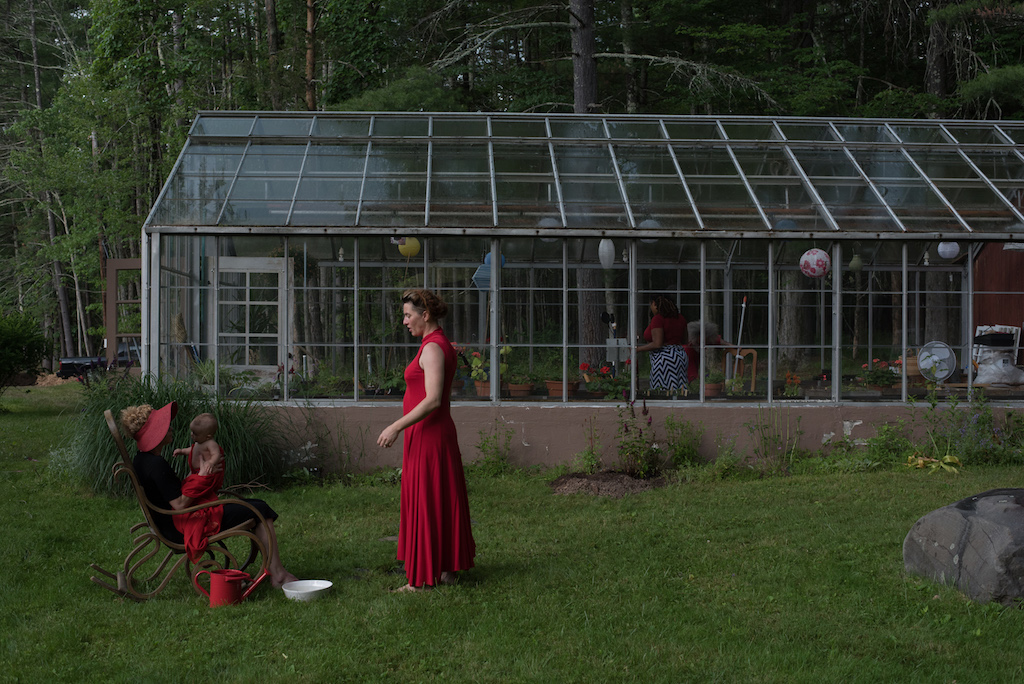 because…
you cannot run. and you cannot hide. from the wreck we made of our house. from the mess inside.
oh…and here's one more tiny story.
i just found out that rachel and clare's baby has never sat up before. this was his debut as a sitting-up person. there's something meaningful about that, and you're going to have to figure out what.
x
AFP
all photos by 
hayley rosenblum

 and here are some words from everybody else… 


COCO KAROL
Feeling like a bee smoked out of her hive, I came to Woodstock with my fiancé, now husband, Sxip Shirey, as a pit stop in our line-of-flight from a Brooklyn sublet, where a ceiling fell on my head just two weeks after I had a D&C procedure for a fetus without a heartbeat. I was emotionally and physically wrecked. Sxip and I stopped at Amanda's for a few days before driving to Montreal for the month of July, where Sxip would perform and I would pull my hair out over a piece of performance writing I had no bandwidth to complete.
The video arose out of the kind of spontaneous artistic playdate I dream of: me dancing around the house making iPhone dance videos or holding Rachel and Clare's baby; Rachel, Amanda and Sxip jamming in the kitchen; everyone getting involved in the creative process; someone saying let's make a video and it happens. and it's good.
The day was a balm to my soul—bitter sweet—a "dance to remember, dance to forget" (Eiko & Koma) kind of day. In addition to the grief of my failed pregnancy and feeling displaced in the world, the song "The Mess Inside" was one that my ex Ryan Hitchon used to play on his guitar. Ryan died suddenly in 2010. for me, his death is still an irreconcilable loss. I got to dance, and grieve, and hold a warm baby all day.
Making this video was the kind of art making that feels like the cool summer rain that fell that afternoon. It was a moment of suspension in the heat and panic of my flight path—one where I saw clearly that the smoke was really sumac. and that all would be ok.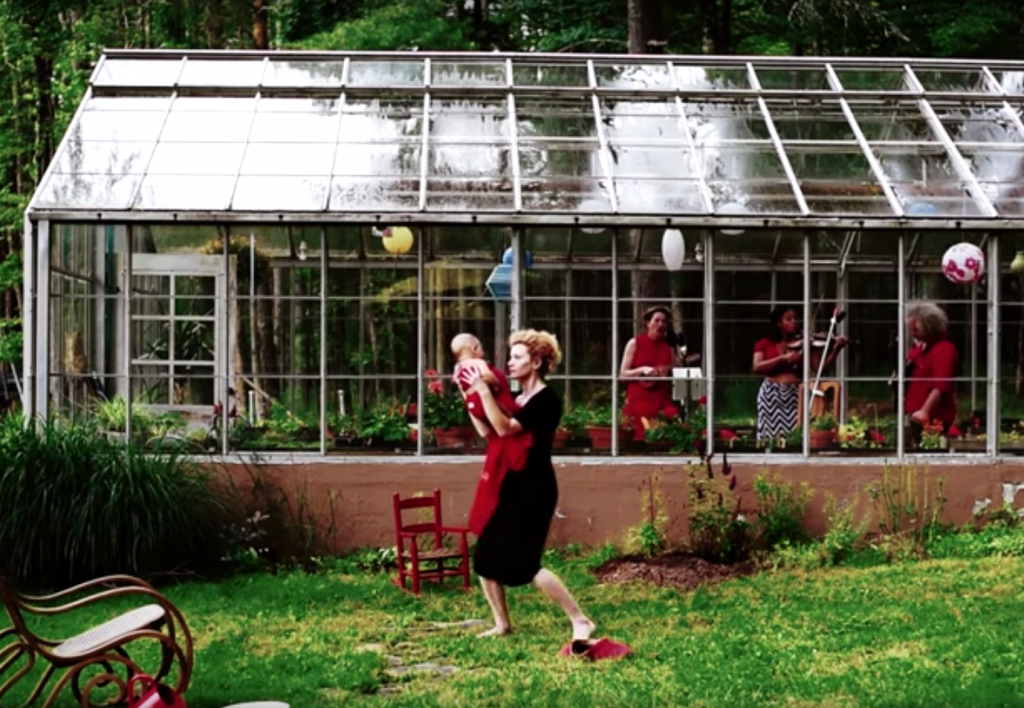 HAYLEY ROSENBLUM
I went up to Woodstock a few days before my birthday to work alongside Amanda after she just returned from the European leg of the I Can Spin A Rainbow tour. One of the many things on our to-do list was to organize time for Amanda to record a cover song for the "I Only Listen To The Mountain Goats" podcast. While we worked, we were greeted by Amanda's house guests, and extended Team AFP Family – Rachel and Clare with their baby, and Sxip and Coco. We talked about The Mountain Goats, we talked about music, we bonded. We went out to dinner to celebrate my birthday, and that's where Amanda, Sxip and Rachel started to form a plan – Sxip had recording equipment with him, they could record the track quickly with Amanda. The next morning, they sat in Amanda's kitchen and got to work.
As a photographer, I bring my camera with me whenever there's a chance to make art, and when you hang around Amanda, there is often a chance to get roped into a project. I took photographs while they arranged the song over breakfast, and some more when they nailed it down and started to rehearse outside just before a summer thunderstorm rolled in. Then, Coco, began to dance to the music, and Amanda asked if I would take some video clips on her phone to share on her social media. Why stop at low res photos, I had a professional camera that could shoot in high quality– why not do something more? That's when the idea to record a proper video emerged and we made several one-take recordings.
Sxip set up his recording equipment in the greenhouse, we used brooms for ad hoc microphone stands and everyone pitched in. Suddenly, everyone had a part. This was no longer "Amanda Palmer records a cover" this was, Amanda Palmer and her village are going to make something because we're together and we're inspired.
Clare found a ladder and some wood, and we made a makeshift camera tripod. When it started to rain we took a beach umbrella from the pool and placed it over the camera. I held my breath and kept my fingers crossed that my gear would be okay. It was okay. Between takes, I'd run to the camera rig, save our recording and wipe off any water. I'd hit record and then walked to the green house and hid. I went from fly-on-the-wall photographer, to music video producer and background extra. If you listen closely, you can hear the thunder and see the ominous clouds start to wipe away the sun.
It was exhilarating to make art with Amanda and to actually be part of it – I'm usually working behind the scenes before or after something is made, but this time Amanda invited me, Michael, and Clare to do group handclaps and background vocals. I jokingly say I got my start and promptly retired as a song hand clapper after "One Tiny Thing" by 8in8, so it's a thrill to be back in the background.




CLARE COLLAR
As a longtime Mountain Goats fan, I was supremely pleased to have been a part of this piece. This song in particular had resonated with me for years and became a bit of a mantra during some tough times in my life. I felt it quite serendipitous that Amanda landed on The Mess Inside as her cover choice. I got to revisit this song from a space of happiness and contentment, surrounded by the warmth of my family and friends, instead of alone and panicked and drunk on the floor of an apartment in Somerville.
The greenhouse was hot in a good way. It rained.
We scrambled to protect equipment and instruments and my infant son from the weather.
It was a perfect summer day.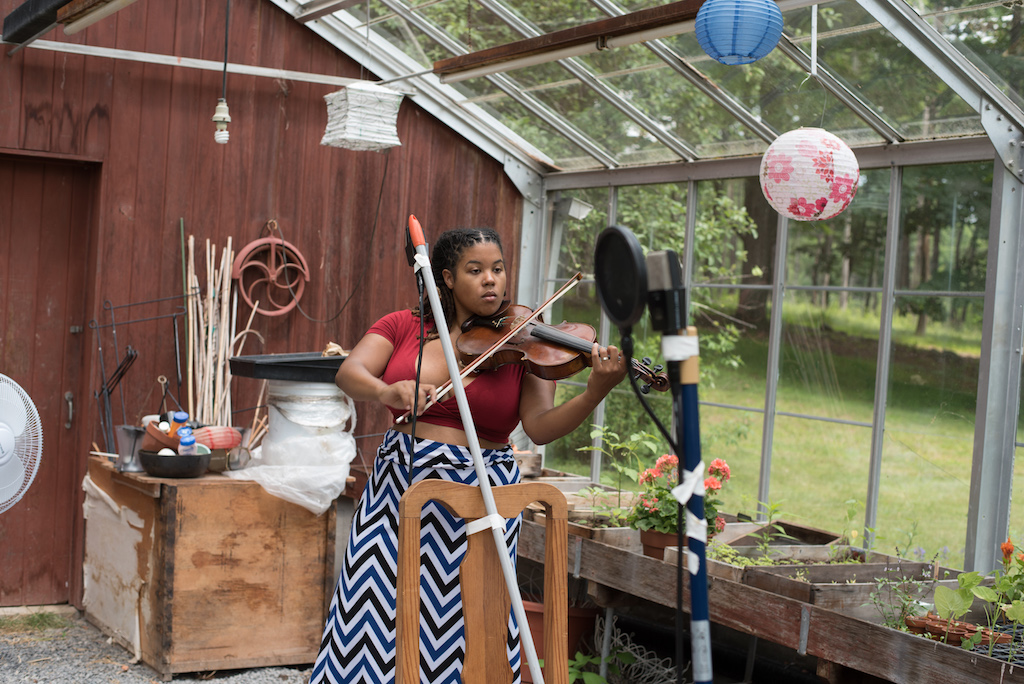 MICHAEL MCCOMISKEY 
I often get asked "What's your job like?" The role of Personal Assistant is as unique as the two people who are working together. Some people are hands off and clinical and others it's like their minds are just constantly in sync, so the question makes sense. Generally the way I answer that question is by telling the story of how this song and video were recorded.
I was at Amanda's house in the kitchen making coffee for everyone and the other guests started coming in for breakfast. Everyone was catching up, and getting acquainted with new friends, and talking about what was going on with them and, having only met these people hours before, I stood in the corner trying to soak it all in.
Then a toy piano was put on the kitchen table, a guitar was grabbed from the living room, suddenly a viola appeared, and I was sent to go grab Amanda's Ukulele. "The Mess Inside" was played over the tiny little kitchen radio about half a dozen times as I watched conversations fly back and forth about arrangements, and how to frame the bridge and how many times to sing the chorus. I felt like I was such a lucky outsider to be able to witness all of this like the proverbial fly on the wall. Suddenly, in the midst of conversation Amanda turns around looks at me and says "You sing, right?". All I could do was nod and say "Yeah?" and just like that I was no longer just an observer, I was on back-up vocals.
The next thing I know we're going from room to room to find the best acoustics, we pull out the mics but there are no mic stands so we make them out of broom handles, red shirts appear from the depths of a closet because now we're not just recording this, but we're filming it too, and there's an amazing woman creating choreography with a baby in the grass outside the greenhouse. All the while I was humming my part quietly to myself, trying to not completely freak out.
Then song was sung, the video was recorded, art was created, and all I could think was "It's my second day on the job". It's been non-stop since and I love every minute of it.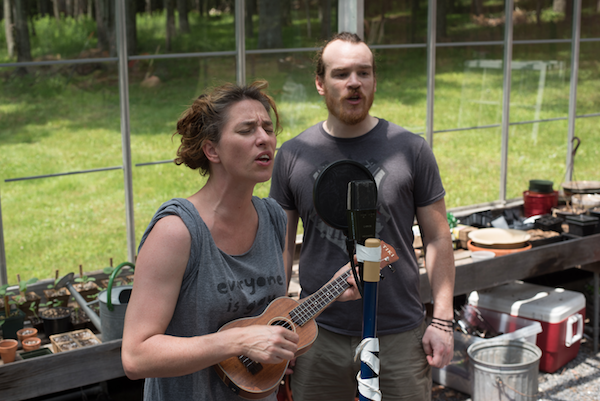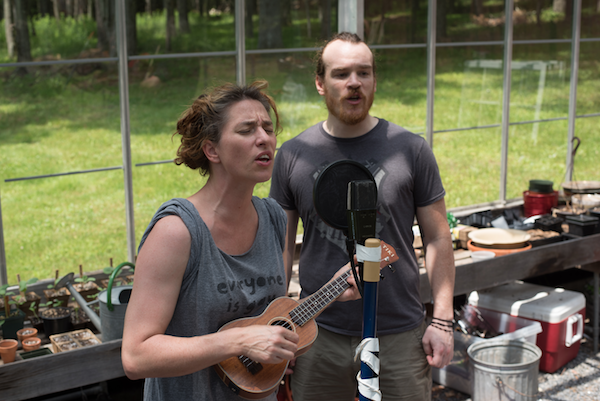 SXIP SHIREY
The making of this recording and video was pure Amanda Palmer. Coco and I, stopped by for a day, to visit Amanda, on my way up to Montreal to be the music director/composer of the circus arts show LIMBO  at the Montréal Cirque Festival. We thought we were going to have a chill day in the country, but then Amanda says. "Hey, could you record this Mountain Goats song?" and suddenly I am setting up the mics I travel with (two AKG 414s) in a green house. It was great fun. It was very immediate. The artists I love are the ones, like Amanda Palmer, who get an idea and say, "NOW, let's do it NOW".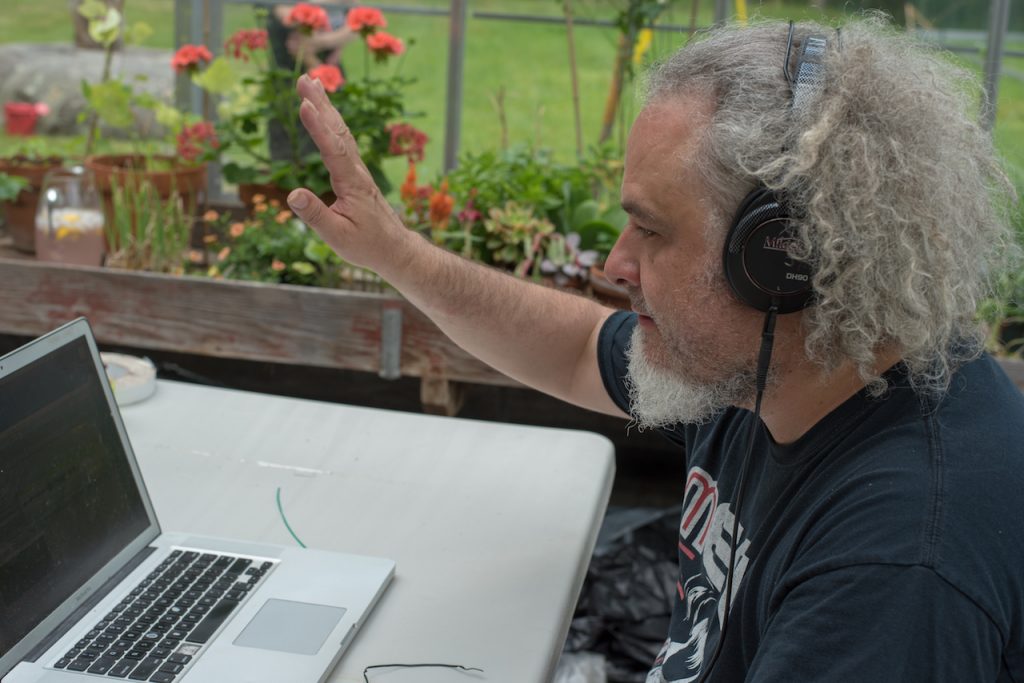 here is the video:

and here is the bandcamp link to stream / download the song.
and here is the podcast where i talk with joseph and john about the mountain goats, the song, and life:
it's episode nine, and other episodes include Andrew Bird, Dessa, Carrie Elkin, Craig Finn, Laura Jane Grace, Holy Sons, Ibibio Sound Machine, Julian Koster, Loamlands, Erin McKeown, Mothers, Nana Grizol, Eliza Rickman & Jherek Bischoff
if you want to hear other covers, including some of my other people, like jherek bischoff & eliza rickman, dessa, andrew bird, and laura jane grace, go here.

THE CREDITS
"the mess inside"
written by john darnielle
(originally performed by the mountain goats)
music arranged by amanda palmer, rachel jayson and sxip shirey
ukulele and vocals: amanda palmer
viola: rachel jayson
guitar: sxip shirey
background vocals and handclaps: michael mccomiskey, clare collar, hayley rosenblum
audio recorded by sxip shirey
audio mixed and mastered by don godwin
directed by amanda palmer and hayley rosenblum
filmed by hayley rosenblum
edited by amanda laws
staring coco karol as the dancer and Baby Jayson Collar as the baby.