April 21, 2011
$10 all-ages show tomorrow (friday) in boston @ mass art!!
real quickie for comrades in the boston-area: if you're in town TOMORROW NIGHT i'm playing a show at Mass College of Art & Design!
i've spent the whole day seeing the other performers on the bill and they BLEW be away. it was previously going to be a student-only show, but we're going to open it up to the public, first come first served! so get here early. do not miss a thing. this place is crawling with awesomeness and beautiful raw talent.
it's in a lovely little auditorium called the pozen center, where i will have been with the students for two days (i'm headed there now) to do talks about art and process, and be part of their critique. 
 
this was the installation (sculpture/space by brett sylvia, sound, sadly not included in photo, by joseph "puppy" wight) going on in the next room when we got here yesterday….

that's puppy on the far left, and the giant puppet right was roving around the room being very disturbing. sometimes i wish i'd gone to art school.
 
later in the night i learned there is a mass art student named kaleigh o'keefe heinhold who made a giant vagina installation inspired by "map of tasmania":


 
i posed with the vagina.
we just spent the last 2 hours critiquing each other's art and we're in for another 2 hours. 
i debut-ed my "friday" song on ukulele for the assembled students. 
the critique was POSITIVE.
 
the space is beautiful.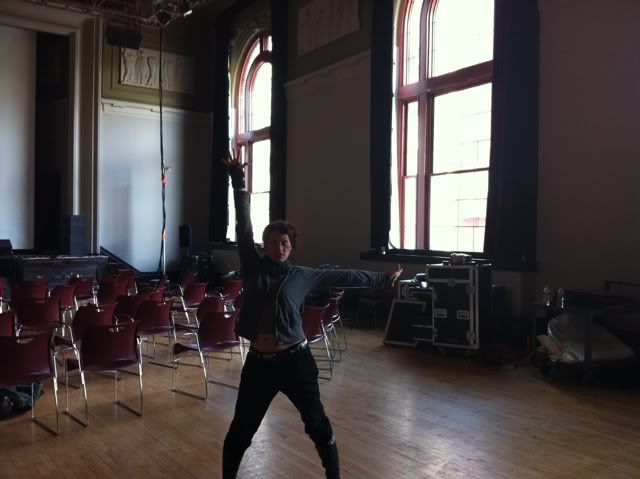 here's some critique action:

 
 
come!!!!!
 
details:
the show is $5 for mass art students and $10 for the general public. 
tickets will be available starting at 5pm. 
 
the show starts at 6:45pm with some great student talent:
Brendan Antonelli
Olga Gerysmiv
Jak Ritger
Ryan Greene
Sarah Borello
Edward Maguire
Kelsey Jarboe
Zayde Buti
and then i'll hit the stage. my friend Noah Britton, of the Best Thing Ever, will be joining me for a song or two. it's going to be a great evening!
click the poster to RSVP on facebook: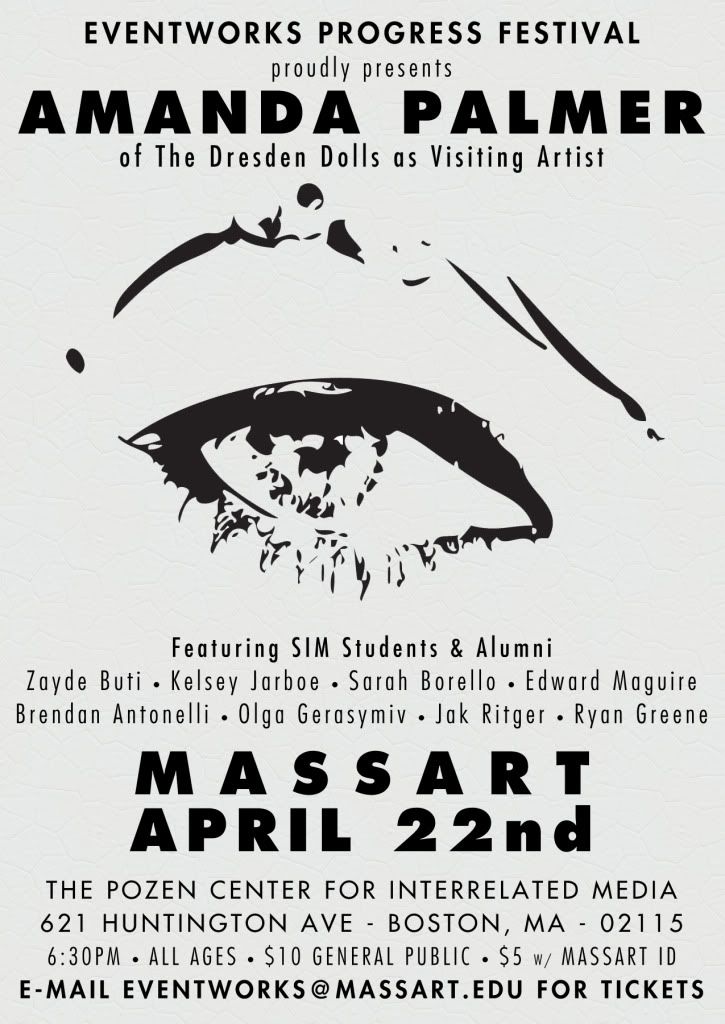 the pozen center is located on Mass Art's campus at the intersection of Tetlow St. & Evans Way.
parking's kind of a mess, but not to awful.
i suggest you take the T, the E train takes you right here (longwood stop). OR, google map that shit for yourself:
i will definitely be busting out "friday", very possibly in drag.
 
 
PLEASE COME EARLY – the space is limited to a few hundred people and there are no advance tickets: FIRST COME FIST CERVED!
 
LOVE.
afp
 
p.s. someone made me some very cool underwear: