April 28, 2007
The Art of Noga
This blog was originally posted to The Dresden Dolls Diary.
---
.
i don't know how much poetry to make out of the fact that I literally wake up in the dark every day.
it's not completely dark, i mean, i leave some lights on, but there's no windows anywhere.
i have been sleeping in the studio since it's cheaper and easier than staying in a hotel while I'm here recording.
Ben Foldses studio is like a huge church, and Im sleeping in the choir loft/where the pipe organ might be, up on a big wooden balcony. we moved a bed and a boxspring and a light up there and voila Instant Home.
there's also a little adjoining kitchen and bathroom area and this is where i make my morning tea and sit. i shower at the yoga studio. i don't make it to yoga every day. but every day is a valiant effort.
joe, the mixing engineer, shows up every morning to let the piano tuner and it's always this embarrassing joke. he and i are always the last ones in the studio at night and as he's packing up to leave and as we're talking about the next day's schedule i always proclaim i'm going to make it to 9:30 yoga in the morning. then i inevitable stay up til the wee hours doing some random thing. then he shows up again in the morning to let the piano tuner in and he sees me blearily staggering down the stairs and trying to croak hello and be social to him and the tuner. he assesses the situation, nods his head and cries out with his arm up, like a sports announcer declaring a touchdown: "NOGAAA!!!" these are what we call "Noga" days. the yoga intention was there, yes, and it was very strong. but o well fuck it. last night i stayed up til 4 finishing a brand new song. i am writing again, a lot. it's all coming back. im so fucking happy about that.
waking up to the sound of the piano tuner in the dark has become something i've actually really started to enjoy. the piano is directly beneath my loft and head so the tuner can't see me, but it's loud as hell. it's better than an alarm clock for sure. BONG BONNNNNNG. BONG BONNNNNNG. i love the sound of a piano being tuned the way i love the sound of an orchestra warming up. it's very comforting. and it's a wonderous piano, a fucking beauty. ben just got it, his new baby, its a full steinway grand from the early 1900s and it sounds like MAgic.
late nights, i sit alone in the huge studio and listen to the tracks we're working on. i youtube. i just play. just playing, i had forgotten about this. sometimes ben and i just play. last night we had a jam session in which we played Guitar Hero in the style of a cruise ship lounge band, then we had a three-way with me on tack piano, ben on the steinway, and joe on the minimoogthen ben made fun of "coin-operated boy". then i made fun of "brick". joe and i listened to the entire preview of "arena rock classics" over the playback speakers one night. i decided that every song i've written int eh past 4 months is directly derivative of "cold as ice" by foreigner. that's not such a bad sign considering foreigner did pretty well. we have been having a damn good time. i put a little youtube clip up of ben and i figuring out "runs in the family":
those papers falling off the piano were not staged! it was the Force of Rock!!!! the work is hard. being back in the studio for the first time since making the last dresden dolls record is in turns exciting and terrifying. there's much less of a clear plan, since i am putting this record out myself, with my own money and on my own schedule. ain't nobody up top telling me what to do, just the way i like it. but it also means that this thing
(ah the cafe is playing girlfriend in a coma, i love nashville)
could take 3 years if i wanted it to. this is good and bad. zoe keating, the wonderful cellist who i know through her days in rasputina and through her sister laura (our merch girl extraordinaire and now full-time management assistant)
came to lay down some tracks and we worked aroudn the clock to squeeze as much in as possible. we didn't have the arrangements prepared so we put them together on the spot and there was a lot of amanda-running-from-the-studio-room ben-running-from-the-control-room ahhhhhhh TRY THIS!!! no no no no wait, aaaaaahhhhhhGGGH try this! that's amzing! FUCK THAT! this is good ahhhhhhhhh for about 36 hours straight. we started at 9 in the morning both days, an unthinkable hour. needless to say those were Noga days.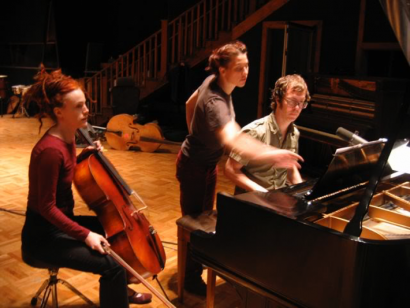 (zoe amanda and ben, photo by joe)
today was a Noga day. i got all my shit together and walked over to the yoga studio and forgot it was fucking saturday and there was no class at noon. so i went for a jog instead. i've been learning how to jog ever since getting my ass kicked by my hawaiian roommate, suz. she would jog every morning before the 12 hour yogathon and i started going with her. suz has been featured on ESPN in those fucking insane week-long extreme sports megathons that involved teams of four competing against each other in a week-long marathon that included a total of 18 hours sleep, 788 miles of running, 435 miles of rock climbing and 4895 miles of whitewater rafting. her body was of steel. her stories about that were fucking unbelievable, like the one about her teammates draggin her behind them on a leash because her feet were so oozing with sand-blisters that she couldnt feel them and she couldn't run. anyway, jogging starting to seem like Not So Bad. and i've been loving it. i put my ipod on at full blast and run up and down Music Row in nashville lip syncing aberdeen city at the top of my lungs. the cars driving by must think im either Important or Fucking Nuts. i'm both, mothafuckers.
in the "since you asked" dept:
yes i drive stickshift.
avrils new record: i am very disappointed, avril. it's no "under my skin".
the day i flew to nashville, I spent all day in a weird airtport/transit twilight zone. my flight had been cancelled the night before, so i stayed home and they booked me on a two-leg flight the next morning.
it was a sureeal Snow Day, I'd already said goodbye to Max, Becca, Lee & my whole household.
i woke up insanely early, andrew (the same one who cahsed a lot of you out the lilypad that day with the loud japanese grindcore, or whatever it was..im sure he's sorry, he had to turn over the house) made us breakfast and took me to the airport. but we got fucking lost since neither of us are intimate with the 1,901 detours of the Big Dig (it doesnt matter HOW many years you live in boston, you'll never be able to negotiate the Big Dig detours). once I finally got to the gate, I was kicked off my flight, since they'd overbooked it. mother of fuck. then they told me they could fly me direct. this was Great.
i waited for that flight. we boarded late and then sat on the tarmac for 2 hours. then we had to get off and were told to Kind Of Wait.
wind, storm, all that. i wandered around, lost and looking for information.
I finally posed as a member of the Admirals Club and was told the flight had been canceled. i hunted for my luggage, found it, and called my sister for a ride home.
i went home for two hours. i got to scare the shit out of Becca, who was in my apartment playing piano (i snuck in and went YAAAAAAAGGGGGG! and made her jump).
i ended up deciding to stay in nashville for my birthday next week instead of going early to the video shoot in LA, mostly because i've started to feel at home here. i have a little family here. ben and joe and i eat together every day, usually twice, and it seems like the recording is something we do in-between meals, not the other way around. and this is the way i like it. jared stops by. joe's wife sandra is a riot and i love her. joe, besides being one of the best engineers i know, also knows every restaurant hostess in town. we eat often and well. we've been working long hard hours but they go quickly. last night ben got fixated and wouldnt Get Satisfied with the introduction to ampersand so i played it a few dozen times and then changed it and played it a few more dozen times and after about an hour of this we said Fuck It Let's Eat. then we came back and kept going and finally we were all happy. hours and hours for that one 13 seconds.
here's ben playing it:

i like recording this way. some days are vocal days and my voice is in perfect shape and things go fast. some days i sound like shit. some days i sound like shit and that sounds strangely good. we take youtube breaks frequently. we can't work for more than a few hours without taking a youtube break. we get fixated on one video and will watch it repeatedly throughout the day. two days ago we were so hilariously fixated that we ended up sampling the youtube audio from the flash animation that we were obsessing over and put it into the track we were working on. things are getting weird.
ben has spent more time being a touring musician than a producer, but he's had a heavy hand in all of own records and he knows what he's doing. he's actually gotten more nitty into my takes than other producers might. we started with a list of about 30 songs and gradually whittled. well, honestly, it wasn't that gradual. one thing that i love about ben is that we can be totally honest with each other. so "that song sort of blows" and "this song is awesome but that song is way too gay" are legitimate criticisms. often, i will make the criticisms before he needs to and we'll simply agree. we have so much respect for one another that when we disagree, which is rare, it's a non-issue. one of us lets go and we move on. we;ve been adding instruments, laying in textures, trying to be spare but creative. we have almost 6 songs almost done.
mornings i spend lots of time at cafe coco, sitting and writing in my journal, making sense of the past few months. i was in a
(wow, they must have it on shuffle, because they just started playing girlfriend in a coma again)
bad state in the past while and i feel like i'm finally rising form the ashes. the lupus episode was rough enough, but it left the finger issue unsolved. it's still diagnosed as a cross between arthritis and tendonitis due to overuse but i've been giving it lots of care and feeding and rubbing and love and yes lots of fish oil and glucosamine and it's been staying relatively unswollen. ive been taking impeccable care of myself, hardly any smoking at all, drinking only to lubricate an already moderate sense of well-being, which is, i think, the only way to drink. last night, actually, i drank while i was writing. i was exteremly proud of myself, i had the discipline to almost completely finish a song i'd started in the afternoon and had had spinning in my head all day. we had been talking about childbirth and labor (my friend claire had a TWO-DAY marathon labor with no sleep that made suz's week in utah seem like a stroll to the bodega to buy cigarette papers) that day at lunch. everybody
(now they're playing grace by jeff buckley)
always compares songwriting to childbirth and it's true that the parallels are endless and uncanny. if we follow this metaphor, then my use of drinking lager while writing is sort of like using your breath to get through the contractions. but careful. too much beer and you lose the inspired writing zone; too much heavy breathing and you might hyperventilate and pass out on the floor and hit your head and die! then mother and baby and song all dead = bad.
today is our last day of a little tracking and comping (where we listen mercilessly to takes and decide what to use from which takes). we've made headway on about 6 songs and that's more than i thought we would have done a week ago. so i am happy. tomorrow is off and doni is taking me to the woods and we're going to practice for the show on monday: quite looking forward to this nashvegas style birthday party show and recruited all my nashville homies to play with me in a pick-up band, doni from …and you will know us by the trail of dead on drums and jared from ben's band on bass. maybe i'll even think of a name for us. theres always noah's old favorite ' victorian fourway'. my pther favorite is 'the candy coated shits'. nobody beats ad frank for best fictional band name ever (in fact, i think he was on the brink of using before he decided on Ad frank and The Fast Easy Women….this was a four-piece band of men, mind you): Ad Frank and the Gay Gayons From Planet Gay. maybe we'll be called something terribly nashville like "Amanda Palmer and The Killer Kegs". jared (the bass player) would especially like that one, since he likes beer. anyway
after the show i fly straight to LA for the "shores of california girls" video shoot, which is promising to be a ready-made surreal experience. it's a one-day, wicked-low-budget, all-volunteer cast, beach, GO! i am going to spend two full days in preparation to channel the spirit of david lee roth. i am using THIS (https://youtu.be/BKTc9VaNIiI) for inspiration. my god. what an amazing man.
while i'm at it, i might as well share the rest of our favorite youtube & audio clips from the past two weeks of studio madness:
1. the troggs tapes (about 10 minutes) – https://youtu.be/SrXfK9Osmvs this was especially relevant as i was having a kook attack about What Record Production Means. lore has it that this is the recording that INSPIRED spinal tap. it's fucking amazing, a candid studio recording of the troggs (who recorded "wild thing") arguing like only a band in the studio can. it's CLASSIC. the drummer is especially heartbreaking.
2. WARRIORS OF GENGHIS KHAN. ok, only one more i promise. speaking of spinal tap, this pre-dated it as well and is QUITE excellent: https://youtu.be/YB7DGe3paEM
and now that that's out of the way….
i got off track somewhere there but i was talking about coming back around after a rough few months. it's true. i have noticed that's an excellent space in which to write songs. when you're struggling and confused or depressed, it can be hard to focus enough to record the emotions. but once you get through to the other side there's a grace period where the reverb of those emotions can feed you while your creative energy Does the UnStuck. i'm almost 31 years old, definitely starting to seem old to teenagers. i sort of totally love it. i feel so comfortable with myself, it's hard to explain, but i really just don't worry about things the way i did when i was younger. a lot of people have said this happens to them when they hit their thirties. you just start wearing a huge, shit-eating grin because you have become Fully Yourself and have stopped trying to be anything else. but it's also about teh ingredients. you start seeing this long picture of your life Up Until Now and see patterns in the ingredients that you've put into it and what you've gotten back in return. things make sense becasue of day-to-day experience, not in theory. you're not just shooting in the dark anymore. this can also be terrifying, because the assumptions you've wanted to hold onto desperately n the same refuse to be stay acceptable (I Can Eat/Smoke/Drug However I Want And Nothing Bad Will Ever Really Happen! Every Relationship Is Fixable! Water And Sleep Are Optional! … and other popular delusions). there's just too there's just too much proof to the contrary, yer fucked, baby.
on that sobering note, i've also become less uptight about the moderation. i've seen too many cycles. seen too many promises of total abstinence broken. i know that moderate moderation actually works better than anything. i've gotten enough speeding tickets to drive relatively sanely. i've gotten excited and dissapointed about projects to put too much stake in any one thing. i've seen too many people around me have freak-attacks and death-threat temper-tantrums to be too bothered by it (or take it too personally) anymore. it always comes out in the wash. i've seen too many gloves and sunglasses get lost. i dont miss them as much when they go. i still try to hang onto them, and i'm getting better with that. but when that realization sets in ("oh well i think they're gone for good") i don't feel too sad.
or maybe it's not the age; i know a lot of uptight fucking 60-year olds.
maybe it's all the meditation and the Noga.
namaste motherfuckers
& goodnight
& may you all have a Noga day tomorrow
love
amanda