June 27, 2007
and now the weather
This blog was originally posted to The Dresden Dolls Diary.
---
and now the weather
this is the sky right now in santa fe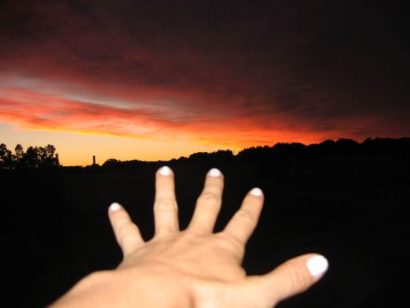 i am deliberately not paying too much attention to anything lest i implode.
coming-back-together with brian, the Drummer of The Dresden Dolls. hard.
being back on tour. hard, but not so bad.
being around famous people. weird. but good. not hard.
being in touch with people who are dealing with dead or dying relatives and friends….
interspersed with trying to figure out which direction to take with my solo record. very hard.
it's been an odd month.
i did some yoga on the strip in las vegas: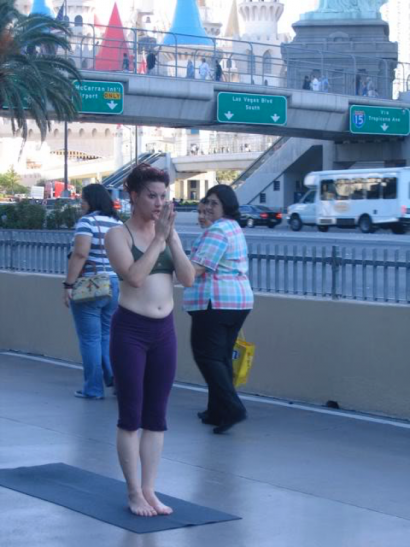 someone commented with a bunch of questions in a row.
here are the answers:
#1. Is it really weird to be meeting all those hoards of fans after shows? You and Brian were really nice, but I couldn't comprehend what that feels like. I thought for a second I stared too long at you and we made eyecontact for a nano second (I think?) and I felt REALLY creepy. Like I looked like the creepy old lady in line.
no. it's not weird. not weirder than anything else. it feels like what it looks like. imagine having a birthday party every day for an hour and you get an idea. i love when people get all emotional. it makes me feel like i'm doing something right. it makes me a little sad when people feel they have to pre-amble with "i know you hear this a million times a day, but…." or "i don't want to sound like a creepy stalker fan-boy, but….". it's like, you and me, two people talking. you do you think i am? i LOVE THIS SHIT! i also completely relate to being on the other side. when i was around 16, i waited in line to meet edward ka-spel after a legendary pink dots show at axis in boston. my heart was racing like mad and i couldn't believe i was about to be face to face with the man who had written the soundtrack to my life and who had changed my whole musical mental landscape. i breathed and breathed deeper and rehearsed what i was going to say so i wouldn't waste his time or sound like an idiot. it was my turn and i looked straight at him and said "i hope that someday i will write music as beautiful as you do." and he smiled at me and was so kind and human, and talked to me and signed my whatever. and i'll never forget that interaction, ever. so i give that back every time i meet someone. the only thing that bums me out is when people don't make eye contact and don't seem like they actually want a connection. the other day, some guy was actually ON HIS PHONE and just handed his ticket to me and brian for an autograph without stopping to look at us, talk to us, or even say hello to us. we were like, what's the point, dude?
#2. Does it creep you out to know that everybody in line is lusting after you and frothing at the mouth? Because they are. Do you block it out or embrace it?
oh, come on. well, ok, i answer truthfully. i love being loved. and if it ever gets creepy, i'll duck out the back door and go home and read a book. easy. i'd also like to think that you're not speaking for everyone. there are plenty of fans that i meet that i think have no desire to fuck me, and that's fine and dandy. it probably means they're better able to listen without being….disturbed.
#3. Where does your confidence come from? Will you write a self help book? Because I had to stop myself from saying "Hi, My name is Jen, I work for an insurance company and my life is really lame.",then burst into tears.
oh, darlin'. i don't really know how to answer that. i think my confidence comes from being very lucky growing up and being given a very large and free playground in which to grow as a person and an artist. i was never shut down very much, and when i was shut down i had a lot of supportive teachers and family and friends. but i also had to deal with a lot of shit as a teenager and i think it may surprise you to know that a lot of what confidence about isn't just having it, it's being able to APPEAR that you have it. i can't tell you how many times i've been onstage freaking out that this/that/theotherthing is fucking up but i smile and bang away as if nothing is wrong. very much like life. act as if. people will buy it. i'm more insecure than you think. i just wait until the end of the night to talk about it.
#4. Have you ever heard of The Bindlestiff Family Cirkus? I saw them perform in Cleveland last night and I thought man, it would be awesome if The Dresden Dolls went on tour with them. They are like an old school punk rocky adult circus. Check them out!
FUCK YES!!! i've been down with those guys for years. they are amazing. we've never done a proper tour together but we have shared stages. sxip shirey (www.myspace.com/sxipshirey), with whom i often tour and collborate, is a performer and composer for the Bindlestiffs.
……………………………………
we sign autographs and meet fans after every set on this tour (which started in las vegas about three weeks ago and has crisscrossed the country twice).
sometimes people come up to me shaking and crying and loving our music and i love that and i hug them. we talk to hundreds of people every night. they're there, they're real, they're listening.
i never forget that, but seeing the human face of our music community reminds me to snap the fuck out of it. sometimes i get so caught up in the void that i forget who is out there.
the media is a trick mirror.
i go through phases with how much media i consume. sometimes i'll pile it all on and buy a stack of rolling stones and magnets and spins and catch up on my pop culture to see what america is being exposed to. often when i'm flying (and i make sure i balance out all the music garbage with some Teen People and the Economist or New Yorker).
i used to read all of these music magazines wondering where my band would fit in. it's only now that i've been realizing that i may forever be exempt from the world of mainstream media, and that's given me some food for thought. i used to look at these giant national magazines and wonder why bands who had a quarter of the fans that we did were getting giant photos and articles and hype. the dolls have been together for 7 years, we've always managed to miss every bandwagon and wave of hype, and lots of the bands i remember seeing so much of a few years ago have vanished. we've never declined. we've only grown. for the number of records we've sold and the amount of fans we have, we have stayed (by no means willingly, since we always answer to the call of the press when it comes) almost completely out of the mainstream spotlight for the duration of our career. sometimes i feel grateful (who else has managed to do that? besides the string cheese incident? i suppose if i knew, then i would be disproving my own rule. if i was aware of the unknown, how would it be unknown?). sometimes i feel gypped.
there will always be people richer than you, and people poorer than you, you will always see people who seem happier and sadder than you, more and less famous than you.
the key is not to try to get on top, the key is to make peace with what you've got. madonna sits at home and stresses about god knows what. the A-list celebrities have a laundry-list of fucked-up priorities that you or i wouldn't ever want to have to grapple with and most of them don't seem to be genuinely happy. meanwhile, people all over the world pay homage at the altars of superstardom and trash-gossip. why? this has been coming up as a topic of conversation on tour. the general theory is that it's always been this way but that it's particularly disgusting right now because the larger backdrop has become so threatening in it's hopelessness. the war? over it. darfur? AIDS? over it. the fattening and overmedication of america's youth? eh. paris? lindsay? THERE'S something we can all connect about. let's talk about THAT. ok!
we determined that people can't talk about the weather anymore because it's also too depressing due to global warming.
once you can't talk about the weather you are fucked – gotta talk about lindsay.
but i look at all this and i think about myself and where i fit into it. i was just reading an interview with jack white of the white stripes, he said
"in this day and age, every band wants to say, 'come look at what we do', all the time. 'you wanna see me in my underwear? you wanna film me while i'm sleeping?' america has traded culture for entertainment and technology. how can you ever come back from that?"
i stopped and thought. if anybody wants to see me (sleeping or non) in my underwear, i'm usually happy to oblige.
so. for whatever reason, jack white and i are different. should i feel guilty about that?
but there's something more to this. jack's saying that we've traded culture for entertainment.
i don't fully buy that. entertainment IS and has been a huge and important part of culture for…ever. jack white is an entertainer. technology is culture. always has been.
technology and entertainment ARE culture, they DRIVE culture. but i understand what he's saying….i was reading an interview with Bansky and he said something to the extent of
warhol's prediction is going to warp. in the near future you're not going to be waiting for your 15 minutes of fame; you're going to be waiting for your 15 minutes of anonymity.
in youtube and myspace culture we're all mini-celebrities. but i think what jack is actually complaining about, and Banksy as well, isn't the phenomenon itself so much as the content involved. if teenagers all over the world were myspacing at the speed of light about how they could use their collective power to end hunger or stop global warming instead of swapping britney snatch-shots, would anyone be worried? hell no. we'd be ECSTATIC.
whatever it is that drives me to want to connect to people on the level that i do, it simply is that way. thinking about it seems to be pointless. i can drive myself crazy this way.
what do i want to do?
why am i making a record anyway?
if i want to videotape myself in my underwear and someone wants to watch it, don't i have the responsibility to make it a meaningful underwear-video?
should i be thinking more about what i'm doing?
like, really sitting down and trying to make some larger, more comprehensive decision about my life instead of just constantly saying "sounds good" to whatever happens to land in my path?
should i learn how to play the piano? really? should i take a year off and learn how to sing before i destroy my vocal chords because i don't know what i'm doing?
at least that way i'll have more ammunition when the underwear-video police knock on my door.
it seems to be the rule that the more talented you are, the more you can get away with. but who determines if you're talented? dead end.
cyndi lauper thoroughly destroyed her voice, went to a voice therapist, and brought it back from the dead. she steams it before and after every show.
"you could blow it amanda" she says. "start now, while you're young".
jesus christ, i'm 31. that's YOUNG???
"do it while you can" was also her advice about my choice to sport the hottt bra onstage instead of the tank top:
"when you're my age, honey, fuggedaboutit". i love her.
debbie harry also shed some enlightening perspective on my struggle over the production of the solo record.
"ah" she mused "when i made my last solo record the producer stole it, got on a plane to [guam? somewhere.] and held it for ransom."
"what did you do?"
debbie harry is very calm cool and collected.
"i paid him and got it back."
"god, i'm sorry. that blows".
i used to make all of my decisions through some sort of divine, and perhaps naive, assurance that i knew what i was doing.
on optimistic days, i take my recent faltering and ambivalence not as a sign of weakness but as a sign of growth.
on those days, being not sure of myself = evolving into a person who is open to anything.
on pessimistic days being not sure of myself = being a totally neurotic and shit-scared wuss.
highlights of the past few weeks have included rosie o'donnell falling in love with us (how awesome is she?), singing "when u were mine" onstage with cyndi lauper in boston (can die happy now, pretty much), and playing at radio city music hall (both brian and i had a moment there). brian and i also sang "rainbow connection" to cyndi backstage in texas for her birthday. she was so sweet, she actually sang along at the end. she's such a solid fucking woman, she really tries hard to tie everybody together. i hope i'm like her when i grow up.
i took some days off in chicago and spent them with good friends, which fed me. we went on a boat (thanks to stuart):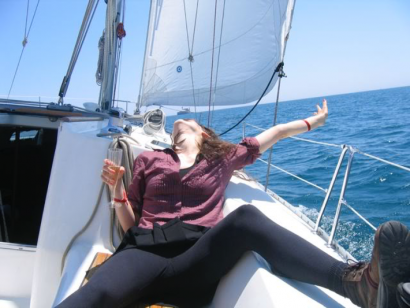 lane the triumphant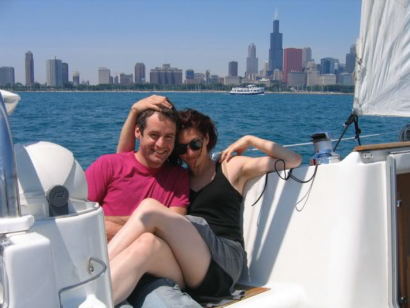 jeffers and me
………………………
from the UKULELE/PIANO DEPT:
re: the myspace covers project: i am thinking of going home early in july just to tackle this. why fucking not? i will try to make it as fast and furious as possible, with, like, a 12-hour turnaround.
yay the internet.
………………………….
from the COUTURE DEPT:
and since y'all keep asking:
the skirt came from katie kay's roommate's who run a clothing line called skin graft. they work out of their living room. i slept int eh living room. so technically the skirt and i slept together. and then, in true romantic fashion, we could never part. go see:
www.skingraftdesigns.com & http://www.myspace.com/skingraftdesigns
the black boots, sadly, are last seasons. they were made by fine fine john fluevog (www.fluevog.com) and you could try ebay (the style is roosevelt).
………………………….
here are some awesome dancing and busking musician brothers and sisters i saw in washington square park on a walk.
i bought a disc but can't find it right now so if you know them (they're local), drop a line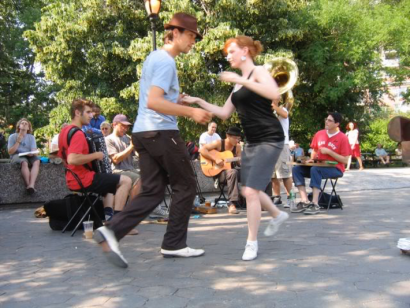 ………………………………………………………
from the VIDEO DEPT:
there's a great new clip of me playing "astronaut (a short history of nearly nothing)" at the paradise last year
gorgeous camera work and lighting. edited by the stupendous peter sand.
i love this song. it was still a bit different back then, the ending has changed since this performance….but its goood:
http://www.youtube.com/watch?v=udHpzUnoHSk
……………………………….
and here is a picture for jack white of me in my underwear,
which i coincidentally took in NYC in my hotel room long before i read his damning interview.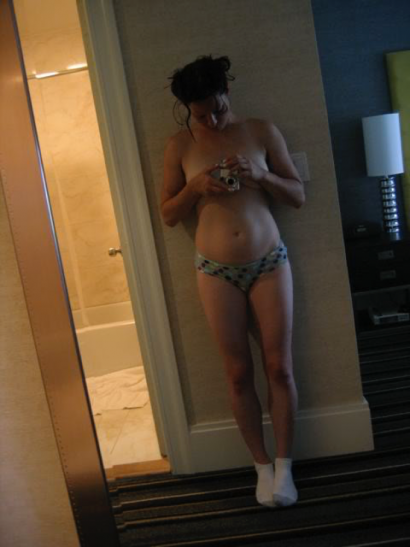 suck it jack
love
amanda
---