December 31, 2007
US tour day 3&4
This blog was originally posted to The Dresden Dolls Diary.
---
i made it through the boston show with half a voice.
i always feel so shitful (to use a meow adjective i've picked up)
when i can't sing, which is most of the time.
why does this happen?
being sick didn't help. not having a trained voice doesn't help.
i really am going out there and making shit up every night. believe
me, i do NOT have a plan nor know what i'm doing. period. i've gotten
really well-practiced at i-got-no-clue-how-to-really-do-this-well-here-
goes-nothing.
i can sort of play piano, and i can sort of sing. i've been figuring
this out as i go along. blindly hoping i'll get it right most of the
time and assuming i'll mess up approximately 27% of the time.
i completely spaced the lyrics to "girl anachronism", which we played
second, because my brain simply went haywire. its always interesting
to see what comes out of my mouth at those times.
it's not quite english, it's not quite gibberish. brian commented
that last night it sounded sort of swedish. WHATEVER IT TAKES.
the fact that the shows was still stupendous makes me realize, once
again, it ain't the tools, it's the delivery. but i almost don't want
it to be true. i don't want to be able to get away with it. i was
talking with melissa (aka meow) about this. she can do shows in
character (ie as Meow Meow) with a broken voice, no problem. whatevs.
it's cabaret, it's punk, it;s rock, there's no rules. but if she's
doing an opera gig: all bets are off. the voice has to be there or
the gig doesn't go off. what do those fucking people do?
i want an understudy.
strangely, four or five different people (all girls, actually), have
told me over the last few days of shows that i inspired them to learn
how to play piano.
that inspires ME to learn how to actually play the piano, because now
i feel guilty. it's all relative.
after the orpheum show (sold out, to our amazement….over 2300
people in our hometown….we were very excited by that) i entouraged
home because meow, lance, katie kay and all the members of the
luminescent orchestrii were staying at my house, some in beds, some
on floors. beer and wine and assorted folks found their way over and
though i should have gone straight to bed, i stayed up, drank
(resPONSIBLY, wine only and two glasses at that, i hear it kills
germs) and chatted for an hour with my brothers and sisters. was it
worth it? fuck yeah. still. i woke up with no voice. i spent the day
stuck crusted to bed in my apartment, still feeling flu-like and
unable to cope with the realities of life (like packing for the
upcoming two weeks of tour…i'll have to do that tomorrow morning).
many cups of tea later, i am still wondering if i'll have a voice for
the new york show.
if you're coming, cross your fingers. i am already plotting an
elaborate hand-drawn dresden-dolls karaoke machine and i'll have to
find someone to run it.
i took this picture outside the philadelphia show since the marquis
on south street was so pretty right at dusk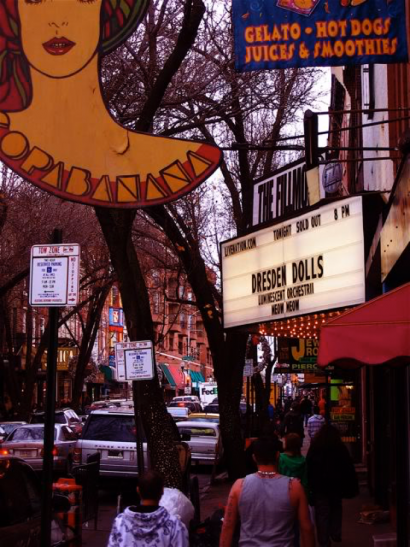 …..and as i was standing on a newspaper box making a fool of myself
trying to get the perfect shot sxip and sarah from lumii showed up in
the frame.
i ran down and said hello right after that, it was our first reunion
in a while…and sxip said that at that very moment i caught the
photo he'd been saying to sarah
"someone should get a picture of this marquis"…then they turned
around and saw mah ass.
love it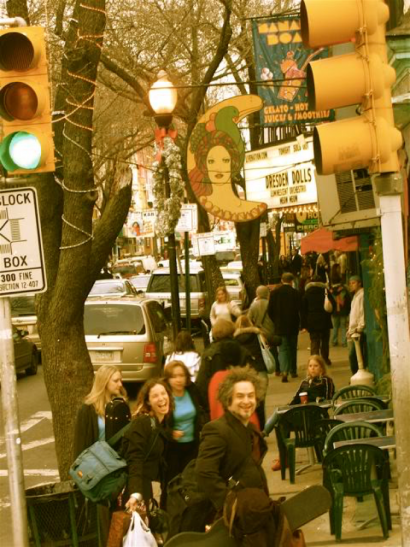 did you know you can take an online colorblind test?:
http://enchroma.com/test/instructions/
i tested normal. thank god, now i can be a pilot if i want to.
last but not least, here is a very kinky looking Evelyn Evelyn-
inspired "bondage Elephant Elephant" that showed up at the boston show: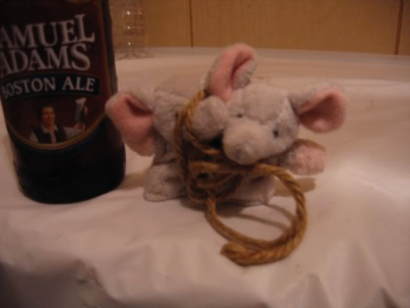 excellent.
have a safe new years….they're CRAZY out there, those fucking people.
love
a