August 1, 2008
me, neil & the children
This blog was originally posted to The Dresden Dolls Diary.
---
shot amazing photos all day.
exhausted, not ready for tour, fine.
in. love. with. life. and all it has to bring, good and bad.
in other news….
scaring children, again, amanda?
got to stop that.
neil gaiman posted this to his blog yesterday and got the following comment.
we tried to make up for it today and take some nice WHOLESOME photos on the set.
it's been an excellent week.
(well, it IS a bit of a crotch shot…..)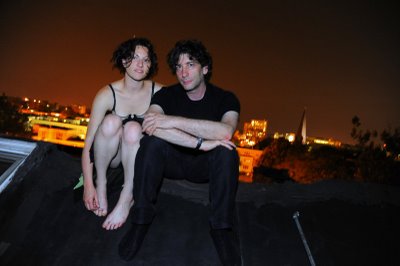 Hi Neil, is that lady wearing a slip? It looks nasty. What does Maddy (neil's 13 year old daughter, -ed.) think about that picture? My mom says it's in bad taste. LOL Patti
I think Maddy's been around film sets and photo sets enough to know that film and photo sets are fictional. That was Amanda's costume for the photo shoot on the roof that preceded the photos you saw. (Below you can see three out of six of today's costumes in pictures that, I hope, will be more reassuring and family friendly. Except possibly for the first, now I come to think of it.) Kyle is shooting a book of photographs called "Who Killed Amanda Palmer". Amanda is in all the pictures — which are a lot like scenes from movies — and I'm writing very short stories to accompany them. I'm trying to do the majority of them while I'm here, as my plate is scarily full right now, and it seemed easier and faster just to come out while many of the photos were being taken and see what was going on and write.
The photos yesterday, and the ones below, were all taken by Kyle between actual shots, because the man does not put down his camera.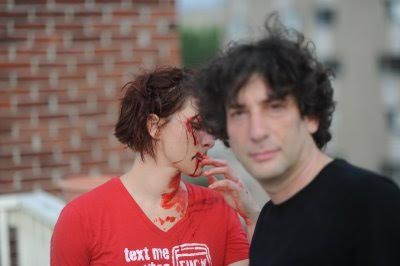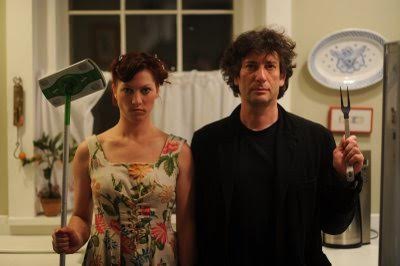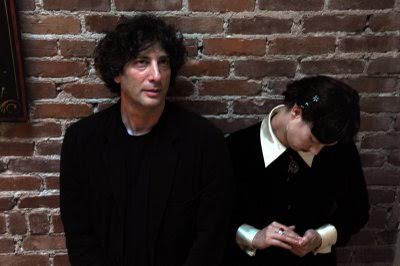 cross-posted from kyle's blog (http://kylecassidy.livejournal.com/)
me & neil downstairs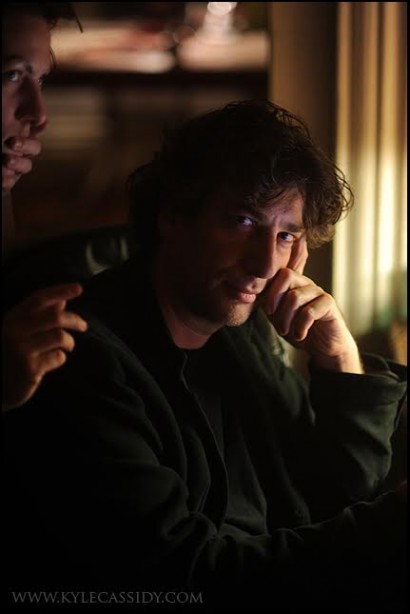 neil, me & kyle…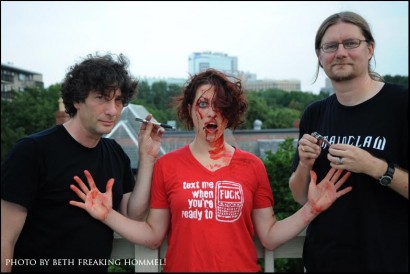 note the re-appearance of the famous "fuck me when you're ready to text" shirt.
it will be available soon from post-war trade. yay.
love
love love.
love.
love.
love
love.
x
a