December 2, 2010
while i'm hiding away….here's a ridiculously cute photo & some info
this is neil and my nephew ronan: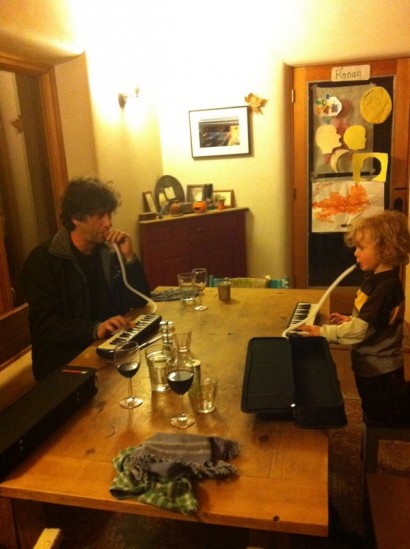 and the twitter caption contest winner IS…..
@tirosince89
, with  "Exasperated, Ronan tried – once again – to teach the silly man 'Master of Puppets'."
runners up:
"New studies show that while listening to classical music is beneficial for developing minds, inhalation has been proven to be up to 4 times as effective!" – 
@iamed2
"I see you are trying to emulate my hair. We shall settle this with a Melodica duel." – 
@cyndaelle
and an honorable mention, for it's simplicity and clarity of purpose:
p.s. we're readying a mailer full of ALL sorts of goodness, including a discount code for all orders on the newly launched WEB STORE, which is now in the caring hands of miss
@bethofalltrades
and chock full o' new dresden dolls, AFP, "cabaret" merch, and more. signed & personalized holiday cards, new shirts and hoodies…go
HERE
to sign up for the mailer, or check out the site
HERE
if you can't wait.
@PostWarTrade
's also on twitter. hurrah.
ALSO: lots of
@SModcastle
love/questions on twitter, so an update for you all….
since the show was announced, people have been asking how they could hear it. as you read this, kevin is hard at work at editing it (and readying himself for his Q&A/show in boston for THURSDAY/TONIGHT –
GO
since i can't and show him some of your amazing boston-love)…they're planning to put it up in three parts next monday-wednesday,
HERE using bandcamp
.
unlike other SModcast shows (all
HERE
/completely
FREE
), we thought it'd be nice to share this with you BUT ask that you make a charitible donation to
kevin's wayne foundation
, in return. the wayne foundation is dedicated to stopping sexual abuse against children. all in all, the downloads will cost about $3, but please don't hesitate to donate more to this awesome cause when it goes live. it'd be great if it didn't have to exist, but it does, so let's pool together and do what we can for the kids. for more info on the foundation (or to donate something NOW), visit
viewaskew.com/thewaynefoundation/
and if you're in boston/new england and can trek to the house of blues, get your tickets to see kevin (who's gonna show a teaser from his new film "red state"),
HERE
.