September 7, 2012
In My Room, live WEBCAST from NYC, and THE KILLING TYPE video…
Cross-posted to Kickstarter (with bonus content for backers-only)
_________________
lots of info and random updates from randomsville, but first, a story from last sunday…
that night, i sent this tweet:
"quick, I need this for experiment! tell me in one tweet something sad/bad that happened in your bedroom. (no humor, won't work) GO #InMyRoom"
and before going to bed:
"calling it a night. I can't believe what's technologically possible right now. i'm surprised my iphone doesnt give up & just start weeping. good night everybody, in every room. if you're reading this, you're not alone. we're here. tomorrow…who knows. another day, another room."
for three hours in between, i read every single tweet with the #InMyRoom hashtag, and they were all truly amazing. art hurts, yes…but the connection that it affords us is unparalleled. if you're curious to read them too…do. they're amazing. here it all is on my tumblr.
i know i sound like a broken record, but even if you don't follow me, GET YOURSELF ON TWITTER.
shit's getting real there, yo.
……………………….
MEANWHILE…
the record's DROPPING LIKE A HOT POTATO. it's already out in australia, it comes out on the 10th in most of europe, and the 11th in the states. germany gets it on the 14th, and france on the 24th.
based on the excited tweets (and even more exciting pictures that go along with some of them), kickstarter people ARE GETTING THEIR CDs.
BRACE POSITION.
christmas every day…
that's what this is like.
seeing people get the album we've been waiting to share for so long…
there's nothing like it.
here's just a handful of what i've seen. photos via a whole slew of people (click to enlarge/names below*):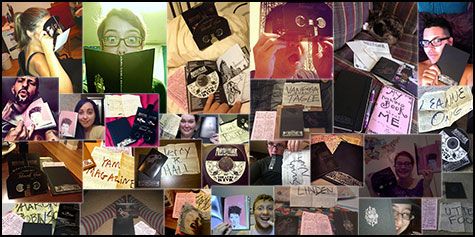 if you or someone you know wants to get a copy, it's high time, comrades.
here's a list of some suggested places to grab it and the bonus goodness they're offering (whether it be digitally, vinyl'y, or CD'ish):
– OF COURSE, as always, you have my site: direct from the source, pay what you want, and there's some bonus tracks. that's all right HERE.
– OR…you can grab a SIGNED copy on CD from Newbury Comics (US) HERE, or JB Hi-Fi (Australia) HERE.
– OR…on iTunes HERE (US), HERE (Europe) or HERE (Australia)
– OR…Amazon's got it right HERE if you wanna grab it alongside some books (or just about anything else).
– OR…last but certainly not least, there's also THIS awesome resource to find an INDEPENDENT RECORD STORE NEAR YOU that will hopefully be carrying it.
yay record stores still existing.
we're keeping a list going HERE on the shadowbox, and it SHOULD be available in all the big chain stores and whatnots that might be inhabiting your town/city/whathaveyous. if you DON'T see it somewhere you'd suspect, see if they can special order it.
let us know where you got yours.
let us know where you tried (and couldn't) get it.
and TAKE PICTURES.
tweet that shit. instagram the hell out of it. use the hashtag #TheatreIsEvil.
make it your facebook default pic.
let's make sure the internet's just a little bit more evil than usual, next week.

GASP for BREATH.
……………………….
the tour's coming, the album's coming, many awesome surprises are coming.
how about something that's HERE already, then?
THE AMAZING "KILLING TYPE" VIDEO DIRECTED BY TIM FUCKING POPE!!!!
that's right.
fuck yeah.

(click HERE to watch it if the embed gives you trouble.)
spread it when you're done, and please be sure to share your love/disgust of the clip HERE on the box.
that'll make us a happy little band (photo by Andrew Willshire):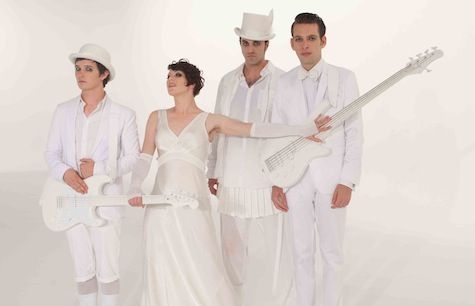 ALSO: there are some making-of photos up on facebook (taken by the marvelous Ashleigh Haddad) and NME's got a behind-the-scenes VIDEO. they gave the album 7/10 ★'s…so…show 'em some love, they're clearly allies.
speaking of videos, here's me with the whole orchestra & @slazzle (our tour documentarian, FOLLOW HER), watching a new cut from the "do it with a rockstar" video that wayne coyne directed. photo by @bardcollege student/intern noah firtel (visible in bathroom mirror. magic):


this shit looks EPIC!!!!!!
……………………….
last but certainly not least, WEBCAST ALERT!!!!!!
that's right betches, it's PARTY ON THE INTERNET time, and you're all invited!!!!!
LIVE GRAND THEFT LOVE FROM WEBSTER HALL!!!!
thanks to our friends at MailChimp, we are gonna stream our concert TUESDAY SEPTEMBER 11th on YouTube to celebrate the album release and TOUR kickoff (all dates/tix HERE – photo below by Sarah Lasley).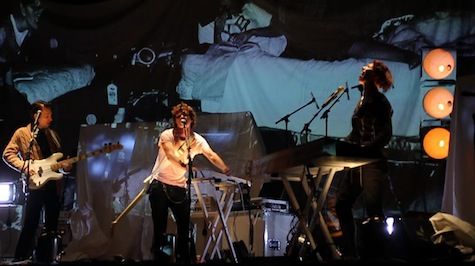 you'll be able to watch it starting at 10PM EST. AND we have a big (awesome) announcement that'll come that night, too.
RSVP here on facebook and tell yer friends about it.
if you're coming to a show this fall, this'll be a good way to get extra excited for it as we'll be playing a bunch of the new songs. and old favorites.
and surprises.
shit's gonna be off the hook.
……………………….
before i bid you adieu, i want to thank you.
if you've preordered it, or helped kickstart it, or you're telling people about it, that means the world.
if you're somewhere right now listening to it, we hope that you love it.
i hope that you love it as much as i love it, and that you share it with people.
i hope that we're going to see you out on tour somewhere (if not in the next few months, over the next few YEARS as we announce more shows)…
we're in the home stretch (or the ending of this chapter, at least), but i just wanted to say it at least one more time:
we couldn't have done this without you.
'till release day, i'm off…
we've got more surprises on the way, but until then………
…………
……
…
.
boom.
afp.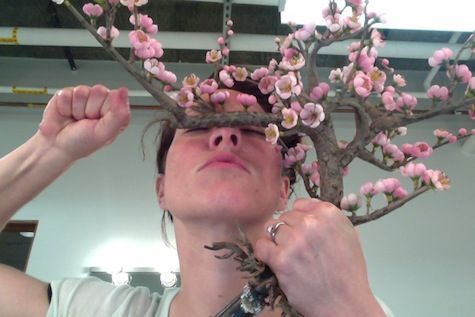 * collage contributors (in no particular order): @PCrebase, @thatboyrion, @ScottBorlick, @tragicmuse85, @cheesereader, @Thomas_Tracey, @firick, @annalisaphilip, @tyrannosaurrr, @KatInWilm, @cygnuscommittee, @mermaidpants, @badgerwrangler, @barswanian, @magNEAT0, @docktorshocker, @ococolleen, @sjh27, @razzletiger, @elianasiegal, @kendrad, @this1littlebird, @kevharb, @DavidLTharp, @LiltingLauren, and @manaolana
p.s. @serke snuck a photo of the setlist at bard the other night. SPOILERS: