September 19, 2012
what we're doing about the crowdsourced musicians. also: we charted at motherfucking #10.
hola dear comrades!!
it's been a week since my cell phone rang backstage in NYC on the opening night of the Theatre is Evil world tour. on the line was a NY times journalist I'd never spoken to. what followed has been a week-long fervid – and at times vitriolic — discourse about the nature and value of art, energy, time and money. i said in my last blog, we've clearly hit a huge cultural nerve with this whole "crowd-sourced musicians" kerfuffle. we didn't expect to hit that nerve, we did, and now we're dealing with it.
a few of them (the cowards, the trolls) threw some pretty nasty stones. but most of you brought well-articulated views, along with your personal stories and experiences. 
steve albini called me an idiot, then apologized for calling me an idiot, then called me an idiot anyway. 
a lot of my musician friends (including zoë keating, and nataly dawn from pomplamoose, who's been having her own double-edged success with kickstarter), took to their blogs to explain the eco-system of playing for reasons other than cash money. i thank every one of you who spent the the time to explain it to people. 

lots of the musicians who'd initially volunteered (even some who didn't get chosen to join us) posted really intelligent blogs defending your decisions.
as a result, we're inundated with excited offers from musicians for the rest of tour, and we're psyched. the shows so have been sick, glorious, communions of awe.
the musicians have been amazing, and generous, and brave.
this is how we be the media.
i'm sad to realize that our creative intentions of crowd-sourcing – something that i've done for years, and which has always been an in-house collaboration between the musicians and the fans, never a matter of public debate or attack – are getting lost in the noise of this controversy.
an editor tweeted me last night to PAY MY BAND. good lord.
to be clear, i have ALWAYS paid my band, who are on SALARY for the entire year (and will be next year too), even during the weeks/months we're not touring.
this sort of shit sucks to read. but truly? i'm blessed: i'm a financially successful musician working in a culture where support for musicians is in a state of terrifying flux. nobody knows this better than me and my friends, all of whom are trying to navigate their own creative ways in the murky waters of a new-digital-music-future during a recession. people see me as powerful. it is – by its nature – going to bring more attacks from the world when it disagrees with my artistic and business approaches. i doubt it'll stop anytime soon.

we're ready.
and as usual, i wouldn't want it any other way. this is the cost of being transparent.
the fact that we all have access to each other and CAN discuss this stuff in realtime is what has MADE my success possible, even if it means i'm tied to the stake every once in a while. i'll take it.
for better or for worse, this whole kerfuffle has meant i've spent the past week thinking hard about this, listening to what everyone was saying and discussing. i hear you. i see your points. me and my band have discussed it at length. and we have decided we should pay all of our guest musicians. we have the power to do it, and we're going to do it. (in fact, we started doing it three shows ago.)
my management team tweaked and reconfigured financials, pulling money from this and that other budget (mostly video) and moving it to the tour budget. 
all of the money we took out of those budgets is going to the crowd-sourced musicians fund. we are going to pay the volunteer musicians every night. even though they volunteered their time for beer, hugs, merch, free tickets, and love: we'll now also hand them cash.
i hope this does two things: i hope it makes the volunteers surprised and happy (they'll be getting some dough they had no idea was coming) and i also hope it makes our family circle feel good about speaking out.

when we handed the musicians their surprise cash backstage in new orleans the other last night, they laughed like mad and said "after ALL THAT, you're going PAY US??!!"
moreover: i feel like we accidentally put ALL of our volunteer musicians into a weird situation that they didn't bargain for….they unwittingly signed into a kerfuffle they never asked to join. all they wanted to was to hop on stage, rock out, and drink beer with us, etc.
so you all know: when this all started going down last week, jherek sent an email out to his current list volunteers telling them that we totally understood if all this controversy was weirding them out. and we gave them an opportunity to pull out, no hard feelings.
since this started, not a single musician has pulled out.
for their bravery, i also consider our payment to them a fucking thank you for standing their ground and standing in solidarity with us and our philosophy.
we're also retroactively sending a payment to the folks who've already played with us. SURPRISE!
i really appreciate those of you who came to the table and made your voices heard. despite a few of the haters who were just along for the fun, i really value your various points of view, and into conveying your thoughts – even if we don't all agree. this is how we grow. we are the media, and we are a peaceful community who communicate with each other. this is how we do it, this is how we've always done it.
and i feel good about doing this, because i feel like we're doing this together. that's the point. always.
i'd like to offer a giant especially-given-the-circumstances round of applause to all the musicians who have rocked out with us thus far:
David Fishkin, Kirk Knuffke, Sam Kulik, "Moist" Paula Henderson, Toshi Chun (and his sister, Keiko, for telling him we were looking), Austin in atlanta whose last name we don't know because you showed up so incredibly spontaneously, Ashley Shab-an-kereh, Hannah Krieger (and special thanks to Alexandra Scott for sending us EVERYONE in new orleans!), Catherine Piacente, Justin Sabe, Jessie England, Alec Spiegelman & Kelly Roberge of Ronald Reagan (Boston's Premiere 80s Pop Saxophone Duo!), Jerry Ochoa & Jo Bird & Debra Brown & Margaret Lejeuneall (all members of Two Star Symphony who have an incredible show coming up in houston this friday where they're going to be attached to heart monitors and play along to the beat of their own hearts, YES!!!!!!), David Bloom & Finnegan Shanahan &Josh Henderson & Dylan Mattingly & Mariam Parhizkar who played with us at bard and are all members of contemporaneous.org, Daniel De Jesus, Brian Fitzgerald, Timba Harris, Alex Weill, Francesco in DC, Maggie Dziekonski, Natalie Spehar & Nick Montopoli (both members of classicalrevolutiondc.org), Tim Martin, Elliot Anderson, Laura Hubbard, Omar Luiz-Lopez, Sam Craft, Jack Craff and Mary Petro. (…and if you've played with us and we missed you or your last name, tell us in the comments! there's a ton of you!!)
you guys have been BRILLIANT, every one. your support, energy, musicianship and "AMANDA WHERE'S MY FREE FUCKING BEER" & "WILL i BE TIED IN THE VENUE BASEMENT WHILE WE'RE WAITING TO GO ON??" jokes with us at the last few shows (especially under the circumstances) have kept us laughing and breathing.

thank you all for talking to us backstage every night about what's really going on, how it feels….about the shit that's important to you, and what you really think is going on here.
and a huge thank you to chad raines (@radchaines) the GTO guitarist, synthist, and horn arranger/conductor/wrangler, and to jherek bischoff (@jherekbischoff) the GTO bassist & string arranger/conductor/wrangler….they've braved this kerfuffle with ultimate CLASS.
thank you ALL for making us possible, again and again and again. onwards, onwards.
also, if you missed the news, the first week of sales of "Theatre is Evil" are IN.
we're #10 on the billboard charts.
TEN. not a typo. TEN. we're in the top ten of the motherfucking BILLBOARD CHARTS.
in with the old, out with the new, on with the new, off with the old, up with the down, down with the motherfucking up!!!!! whatever the fuck it means, we're doing some SERIOUS DAMAGE, MAN!!!!!!!!!!!!
we fucking did it together. and this is just the beginning.
here we fucking go, people…..
PROST!!!!!!!!!!!!!!!
love & everything under the sun,
AFP & GTO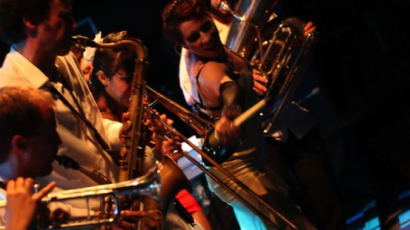 (video still by sarah lasley aka @slazzle: hannah kreiger on trumpet, alec spiegelman on sax, kelly roberge on sax, ashley shab-an-kereh on trombone, yours truly, matt "@eclectictuba" owen on tube….the other night at @tipitinas in new orleans).
p.s. many of you are asking to join up with the orchestra: YES! we're pretty set for the states and europe is coming together but we still need people in a few cities. and YES – we're about to put the call out for australia and new zealand. watch the blog, we'll be announcing protocol and tour dates very fucking soon!
p.s.s. if you're wondering how the crowdsourced musicians experiment is ACTUALLY WORKING out in realtime…..here's a video from new orleans. judge for yourself: