December 28, 2012
we can hear you having sex (& what to wear for new year's eve in NYC)
ok, first of all i'm staying with some friends in NYC and this is the selection of networks….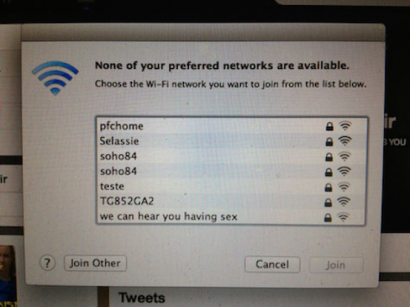 i can't tell if it's a compliment or a complaint.
……………………
here are some interconnected things.
neil's going to be one of the special guests on new year's, singing the theme song to a television show called "fireball XL5". it is a sci-fi animation from the 1960s. if only he knew – for the purposes of my blog – how symbolic this choice was. i didn't even realize how perfect it was until i started writing.
he's also going to read a now-traditional new-year's-something that he'll pen for the occasion. he always writes something wonderful. he's always with me on new year's, since i'm always playing a show somewhere or another. i don't take this for granted.
the other special guest is going to be john cameron mitchell.
yes, this special guy….a force of his own…..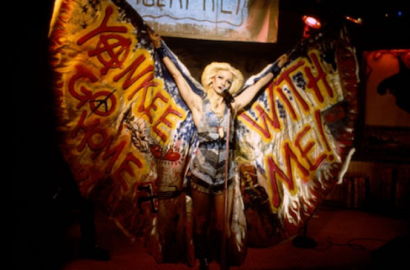 ….the co-creator (and star of) of "hedwig and the angry inch".
i won't tell you WHAT we're going to be singing together, but i can assure you it will be AWESOME.
tickets are still available (the venue is giant and fits THOUSANDS of people, we can't dream of filling it, but we're going to try).
here's where to get 'em: ticketmaster.com/event/0000492B0BE052B0
and for those of you who have bought the VIP tickets – we're trying to make your night as deluxxxe as possible. we're having some super-special merch made just for the night and you're going to get it signed by el grando orchestro along with a giant gift-bag o' weird random goodies that we've been masterminding. i'm also going to descend upon you before and after our set in your special balcony-land. don't be LATE. THERE ARE THREE (aaaghh) OPENERS, ALL AMAZING:
and
(duh)
BOSTON'S PREMIERE 80'S POP SAXOPHONE DUO…RONALD REAGAN


(photos above, top-bottom by: Brittany Brassell, Alexis Simpson, and Justin Rodgers)
everyone has surprises up their sleeves, and this show is going to be as many parts reunion as New Year's celebration. come one, come all, come to us.
………………………
and now.
i am sitting in the dark, downloading "purple rain" to my mac so i can go to bed watching it in preparation for three full days of band rehearsal with the grand theft orchestra: operation Purple Rain.
for the last few days, i've been wondering why on earth i chose to do this.
i've been defensive about it in general since this past august, when i first got the idea and excitedly announced it to a table of people (namely, the cunningham family and neil). i cleared my throat and announced with great excitement: my band will be playing the entirety of "purple rain" for new year's eve.
i was shocked when nobody applauded.
it got worse when neil gave me a blank look and said "why on earth would you do that?"
we had marriage fights about that comment for WEEKS. MONTHS.
(caveat: remember that anytime i start harping on marital problems, there'll be something redeeming.
there has to be – that's my rule. otherwise i'm just another annoying person bitching on the internet.)
so….we're still having that finicky-fight, because the comment hurt my feelings so brutally.
i maintain that the problem was two-fold. i was talking to a bunch of brits and they were all over 50 or under 30.
fuck, man. they'd missed the purple revolution of 1984. right?
and with neil…looking back, it was just a matter of misunderstanding. kind of.
honestly…he had no idea how deep the blow was.
him asking me that question was the below-the-belt equivalent of me asking him
"what on earth would you want to write BOOKS for?"
well – there is no reason, really. it's just what you're passionate about, so you do it.
right? and maybe make a living, but the funny thing is, that comes later. it SHOULD come later. sometimes, at least.
i didn't make this as a business decision.
i made this as an art decision, having no idea whether it would sell tickets or totally confuse people on new year's eve.
but it was also, when i think about it, deeper and darker than that.
if he'd asked me why on earth I was covering the entirety of, say, "21" by adele….i'd feel no pain.
but it drove home the vast, vast chasm between us.
a light went off: my husband does not love prince the way i do.
he's from another place, another time.
how could he, though?
i'll never be able to understand how deeply he loves and worships bowie.
i wasn't quite there.
if i'd announced that i was going to cover the entirety of "ziggy stardust", i have a feeling his eyes would have lit up.
what touches us deeply as teenagers sticks, and we're never touched the same way again.
and when we get older, we return there…as surely as we return to the scene of the crime, the houses we grew up in, the towns we abandoned, the stores we first made out behind. we go back. and we go back to make sense, to figure out what happened. we never know what we're going to feel, but we go, we go because we have to.
let's look deeper. it will all become clear.
when i was about 10, i got my first cassette tape.
you guessed it. "purple rain".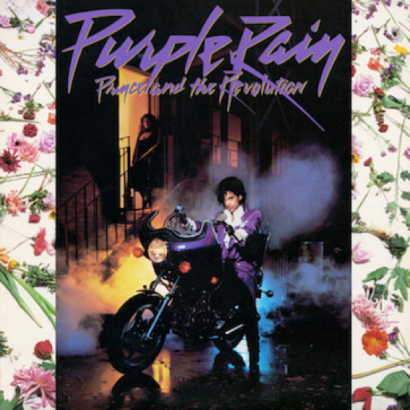 i had THIS painfully embarrassing poster of prince above my bed….

and i confess, i kissed it RITUALISTICALLY every night before going to sleep.
i do not know what compelled me to do so.
but looking at that face…how could you not? he was so androgynously CUTE.
AAAAAGGHHHHHH.
one must admit:
prince was my justin bieber.
do i sound bieberist (ageist? SOMETHINGist?) if i maintain that prince had and still has to this day more songwriting talent and creativity than this young bieber has?
truly: it matters not.
he was my you-have-to-have-one 10-year-old crush.
and the music…the music transported me.
it still does, after all these years. maybe i just picked the right idol, back then.
tons of girls in my class were listening to whatever pop schlock is now long gone, i don't know what….new edition, menudo, new kids on the block.
i just happened to strike it rich. i picked prince. he spoke to me.
he was weird.
so back to my dear husband….i don't think he knew the crushing power of his offhanded comment.
i think, honestly, that he hadn't eaten yet and was just asking a perfectly honest question.
this is how we get into trouble.
this, my friends, is marriage.
WAIT. now….the plot thickens.
it turns out that my childhood crush, unlike my husband (who is my comrade in all things internet and who has a deep and admirable grasp on all things digital and shareable) isn't really in my camp when it comes to How To Deal With Digital Content.
prince, in an interview that i read when it came out, and man, it stung:
"The Internet's completely over. I don't see why I should give my new music to iTunes or anyone else. They won't pay me an advance for it and then they get angry when they can't get it… Anyway, all these computers and digital gadgets are no good. They just fill your head with numbers and that can't be good for you."
OW.
now, i have my own doubts about the internet, phones, gadgets and what they are doing to our minds.
but one thing i know for sure…the internet isn't over. not yet. it just isn't.
from wiki:
At the 2008 Coachella Music Festival, Prince performed a cover of Radiohead's "Creep", but immediately after he forced YouTube and other sites to remove footage that fans had taken of the performance, despite Radiohead's demand for it to remain on the website.[145] Days later, YouTube reinstated the videos, while Radiohead claimed "it's our song, let people hear it." In 2009, Prince put the video of that Coachella performance on his then-official website LotusFlow3r.com.
it's not up there, i looked (but it is HERE)….
weirdly….the song becomes an accusation instead of a confession.
weird.
but prince is weird.
but we knew that.
so.
can we still love him?
love his music?
oh, hell yes.
yes, we can.
we must.
i wish neil was here right now, i'd hug him, the weirdo.
get it?
now.
where does that leave us?
……………………………………………………..
a few nights before new year's, with a headful.
you can never take anybody back with you and expect them to care, or even to understand what things meant to you.
you can't take a partner, unless they were right there with you, or close by.
you're seeing the cherished-things of your past through the filter of a teenage haze, and they're seeing things through the filter of now, today.
neil must feel this with me all the time…i wasn't a sci-fi kid, i wasn't into "dr. who", or movies, or reading fantasy books, or any of the things that delight him when they pass his nostalgia radar. he has to rely on other people for all that joy-sharing. but i can try. i do try. i at least try to see where those things touched him…and why…and that's all we can do for each other, sometimes. respect the things that delight the other, and not feel like we have to achieve any deeper understanding. the fact that those we love are feeling joy should just be enough in itself, otherwise we're loving selfishly…we have to be a part of story. you don't always have to be a part of the story. you can watch.
we do what we can: abide on the side and try to sense the significance.
and that leaves us….
i think it leaves us with some sort of deep lesson about loving things that we don't necessarily understand.
and i think prince would probably be proud.
if not?
doesn't matter.
fuck him.
the beholder can often be just as powerful and the beholdee.
let us behold and be beholden boldly.
…………………………………………………
and now.
if you're coming.
here is YOUR MISSION!!!!!!!!!!!!!!!!!!!!!!!!!!!!!!
first of all, GO AHEAD AND VIDEO!
we're expecting His Purpleness to immediately tear down any uploads.
maybe we can universally tit-roll him into confusion and upload so many prince cover songs to youtube that they simply cannot keep up.
we can at least try. the power of many phones is a large power.
and in the costume department:
WEAR FUCKING PURPLE.
formal, shiny, and military attire is very prince-y.
so is brocade, tight pants, long formal coats, and ruffled shirts.
one-sleeved things get points.
and once you've got some sort of ensemble ensembled, TWEET THAT SHIT TO ME…
@amandapalmer!!
and hashtag it with #PurpleReignNYE…
whatever i catch, i'll spread around to create more purple enthusiasm.
GO, go, GO!!!
this one just came in from Sara Jaeger (@socks626):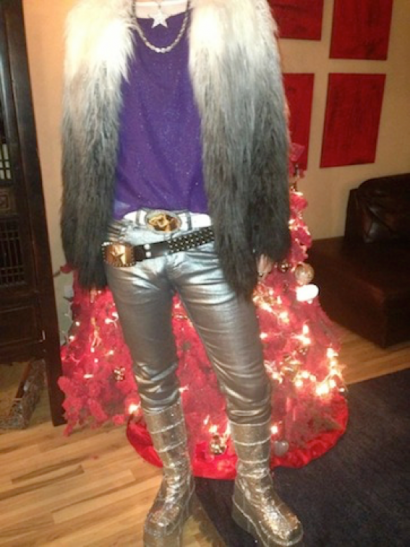 be educated by this pull-out poster from the original "purple rain" vinyl.
i owned it and it was above my wall for YEARS.
this one was just tweeted by sarah lasley, who got it for x-mas from HER AUNT.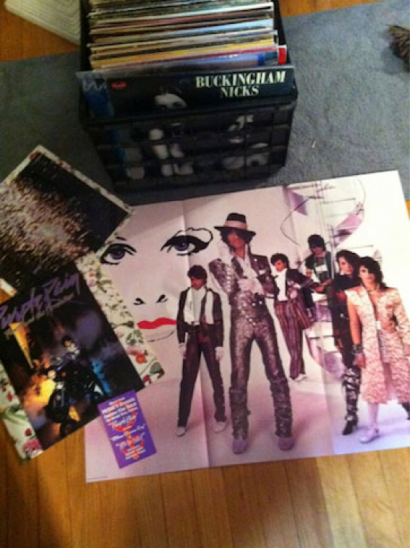 (cool aunt…)
the band tried to recreate this photo with the help of kambriel and photographer kyle cassidy….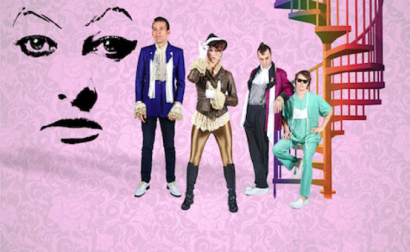 and here's some more prince-peration: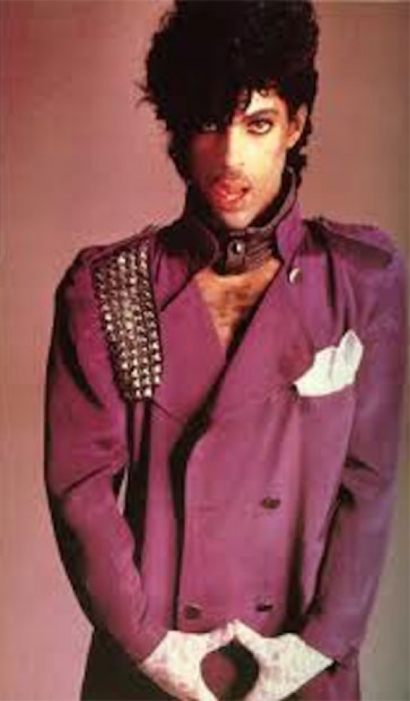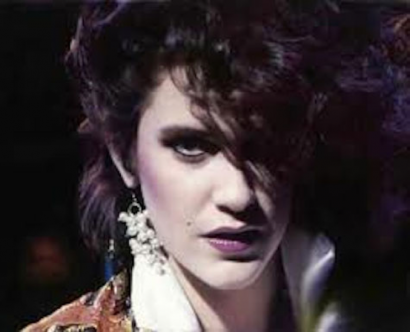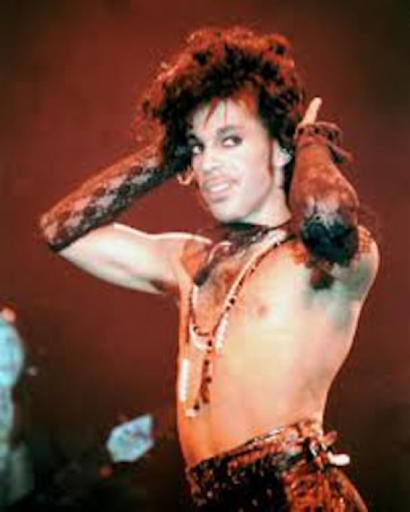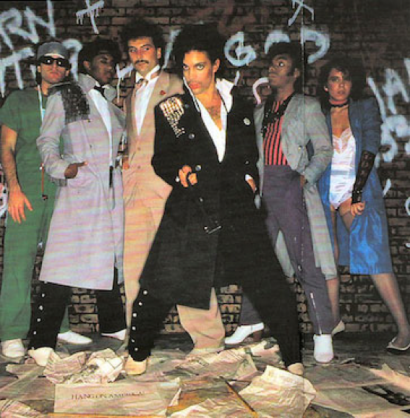 and of course, go watch this (yes, it's actually a link to myspace): myspace.com/video/p-y-t/darling-nikki-by-prince/104147181
i see lacey gloves.
i see crucifix-y beads.
IT'S DEFINITELY THE EIGHTIES.
let's not forget what else came out of that blissful year of 1984…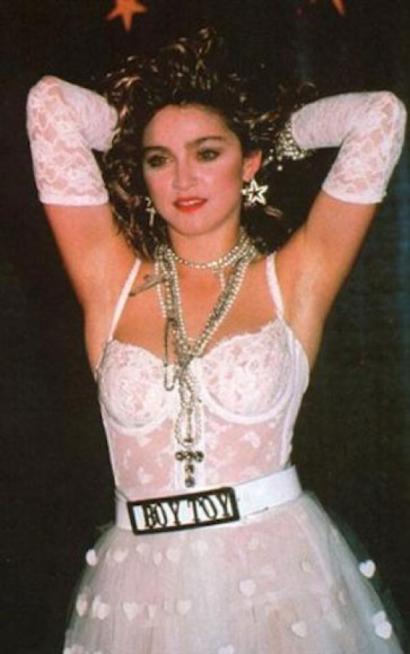 here's p-diddy.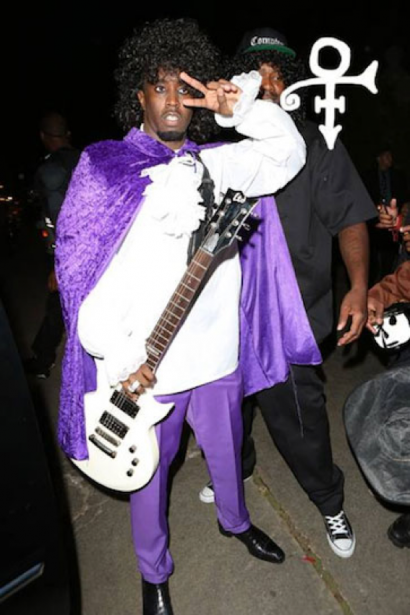 (via perezhilton.com)
i for one, have had a few special garments made for this momentous occasion.
this stunning coat was made by kambriel, and is in a box on it's way to new york for new year's….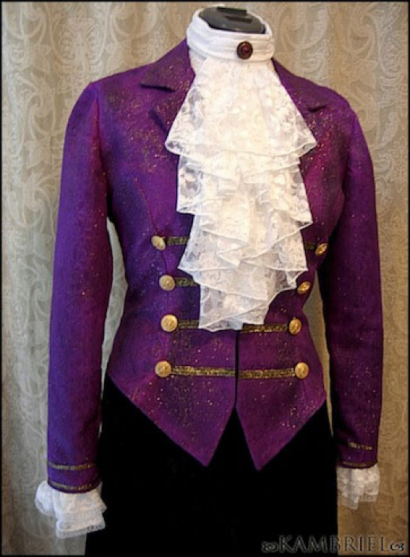 and in honor of my klaus nomi corset, here's something that louise black whipped together for me: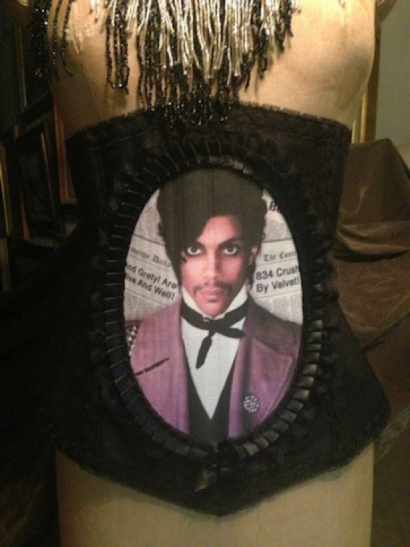 she wants to remind you all that she's having a sale over at her ETSY, and if she sells enough goods, she can BUY A TICKET TO COME TO THE NEW YEAR'S SHOW. she's on the list 🙂
also:
• bring confetti to throw at new year's. feel free to make as much confetti mess in the venue as you want, we need to sweep anyway.
• bring purple flowers to give to special strangers.
• brush up on your "purple rain" listening so you can shout along.
• if you're tweeting about the show, use the hashtag #PurpleReignNYE…
and
BRING LOVE.
see you all there.
i cannot wait.
LOVE
afp.
p.s. if you need/have tickets to swap, and/or need a ride, there are threads up at the shadowbox.