March 11, 2013
AFP at SXSW – schedule & NINJA!
IF if if you're at SXSW or in Austin, Texas, i am HERE.


this blog is a list of shit i'm doing….some events require a SXSW badge (which are indeed expensive) and some do not.
don't buy a SXSW badge just to see me: just come to one of the other gigs.
i'm going to do a q&a at the ninja-gig so if you have industry-type questions, ask me there!
HERE WE GO –
TUESDAY NIGHT March 12 @ 9pm-10:30pm
OPEN TO THE PUBLIC! tickets @ doors only.
People of Letters: MORE INFO HERE!
me and other amazing guests such as Neil Gaiman, John Sayles, Jenny Owen Youngs, Emma Swift, and Buck 65
hosting a salon-style night of wine and letters. all of the guests will be reading aloud a letter they've written on a theme for the night. i just did this in LA, and it was UNFORGETTABLE. limited space so show up EARLY.
WEDNESDAY March 13 @ 12:30pm
(SXSW badges only)
PANEL – The Anatomy of Amanda Fucking Palmer: An Inside Look
MORE INFO HERE!
THURSDAY March 14th @ 5pm!
UPDATED INFO as of March 14th!
NINJA!!!!!! ACTION!!!!!!!
i'll be playing HERE (click HERE for directions). special mystery guests very likely. the gig is FREE and open to ALL AGES. capacity is 400 (first come, first served).
for anyone who couldn't afford/didn't want a SXSW badge, or for those who just want more SXSW nerdy "what the fuck about the music business" goodness… want to open it up to your questions about, aahhhhh…fucking everything that's going on.
THIS IS THE ZEITGEIST. i'll talk, we'll talk, i'll play – word is this beautiful old theater (the scottish rite, offered up by @emily_guitar yesterday on twitter) has a grand piano.
bring questions, ideas, complaints, kids, ukuleles, glitter, friends, love!!!!!! let's do this shit.
spread the word HARD. TEXT, TWEET, CARRIER PIGEON, RSVP (here on facebook), SHARE!!! get the word out to Austin and surrounding areas. it's slightly uptown. we'll probably go until about…7ish? come.
FRIDAY March 15 – @ 11am
(SXSW badges only)
Panel: Selling Albums in a Spotify World: Non-Traditional Strategies
MORE INFO HERE!
FRIDAY – March 15 @ 5:30pm
OPEN TO THE PUBLIC! (BUT SXSW badge-holders will be prioritized if crowded)
Paste Party – Billy Bragg is also performing (and we miiiight just be playing together…)
@ Stage on Sixth
MORE INFO HERE!
HOPE TO YOU SEE YOU OUT THERE, COMRADES!!!
from under the sun,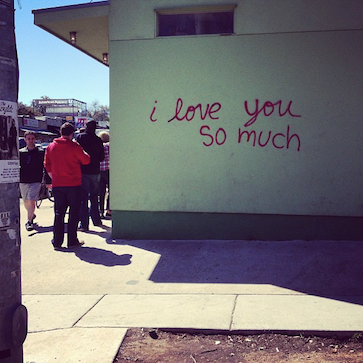 xxx
afp
p.s. neil took this photo while we were listening to kathleen hannah answer questions about her autobiographical film "the punk singer" the other night:


holy fuck, such deep resonance…
neil kept looking over at me, it was like he intuitively sensed the moments i was going to be in tears (he was usually right).
recommended watching for all fans of bikini kill, le tigre, riot grrrl, feminism, women, music, truth, and human beings sharing more than they are comfortable with.
went to a bar afterwards and talked about how hard it was, in retrospect, to grow up as a girl with a constant fear and painfully nagging habit of comparing myself to other girls, and how i still battle the habit. kathleen spoke to it loudly and gave me food for thought for weeks.
p.p.s. the film was Kickstarter'ed for about $60k. it's a revolution.