April 5, 2013
a quick note from murray's coffee shop in tivoli, NY
hola comrades…..
it's wonderful to watch the tour dates getting waved around and the shows selling – tickets in the UK are flying especially fast, hooray. if you missed the tour announcement, it's HERE.
i've been in a really strange purgatory this week…it's been wonderful to be away from real life, even though it's sort of been like vacationing to an island off an island that you're already vacationing on.
i was already feeling like life in cambridge (where neil and i are renting a house to be near anthony and plot our next life moves) was surreal. then we came out to bard so that neil could teach and i had vague fantasies about catching up on email and maybe even getting some practicing or writing done – since i'd be out of home headspace.
i have barely practiced. and i have my first solo show in ages tonight in northampton.
i did throw a pajama party for the bard students in a dimly-lit church that turned into an impromptu open mic and that healed my soul a little…


(this is rowan. i need to find her whole name and a link. anyone have one? i asked her to tweet me….but i may have missed her.)
i highly recommend checking out these folks: Mt. Washington: soundcloud.com/mtwashington (lissy played "hayloft" and ben played with her on a song later, i'll try to find it)….and i'm hunting down other links from people who played amazing things. if you can help me find them, tell me in comments.
and THIS guy blew my head right off: soundcloud.com/paulweintrob (….paul seemed unimpressed when i told him he sounded like the closest thing to jello biafra, singer of the dead kennedys, i'd ever heard. but the guy was pure punk rock with an exploding head. you have been warned.)
i've been fighting a chest infection which i thought maybe was allergies but it's not and i really only accepted that fact when i woke up this morning and my phlegm was the color of oak bark.
i saw THIS show by jack fervor & QWAN company and it blew my little head.
if you EVER get a chance to see these guys in NYC or wherever, do it. they basically did off-the-wall re-creations of popular films.
it was closest thing i've ever seen on stage to AL TV back when weird al was taking over the airwaves. no holds barred. incredible acting. just…awesome.
i went to a rehearsal of a bard production of the bacchae which is going up here in a week or so…i'm sad i'll miss the show itself, but the run-through was incredible…..

i cried without knowing why. i'm not premenstrual. i think i just miss the theater.
there are some beautiful things around here:
here's a man made of branches:


here's a little girl and a sunset: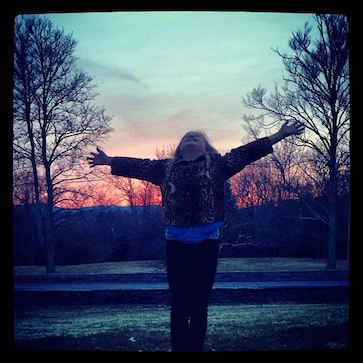 …and i wrote a new song.
i haven't written anything since "the killing type"…i've been a kind of non-stressful dry spell for songwriting.
it's a good song, maybe a great song, but it also sounds like a combination of three other songs i've written. plus there's some magnetic fields in there.
it's fine. i can still write. it's nice to remember that.
i'll play the song in all it's roughness tonight at the show in northampton. it's an old habit of mine, i know it well: i wrote before shows because i like to write for an audience.
it's an instant gratification thing. i don't want to write a song for no crowd. a show a few days away gives me a shiny reason. a show a few months away, not so shiny.
shiny.
shiny.
shiny.
xxx
AFP