April 26, 2013
"You Show Me Yours, I'll You Show You Mine": neil & amanda show films @ the historic brattle theater
hello from the fine old american northwest…
where i just delivered one of the first series of kickstarter parties in seattle, about to do one in portland, and will blog bad-ass photos when i get a sec.
AND i just bought a package of band-aids at the local QFC for the nasty blister i got on my hand from playing BIKE POLO!
i didn't even know bike polo existed. now i do. i also bumped my pelvic bone against some bike handles.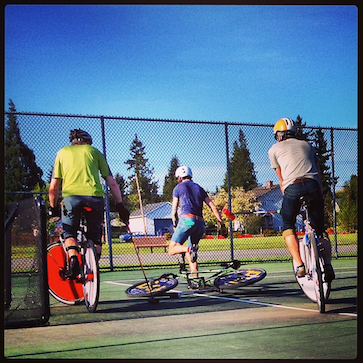 SO
most of you in boston/cambridge will already know the brattle theater, it's one of the great art house cinemas that has managed to not shut down.
i've performed there three or four times on different occasions (including a month or two ago when nick flynn was there promoting his new book, "the re-enactment")
and don't forget the fucking post-modern-ness of this moment when we parodied sesame street parody-ing "1 2 3 4" by feist:
(warning: tommy smith's bare ass cheeks & postmodernism)

that was 2008…and in my short little lifetime i've seen more movies in that wonderfully warm and worn little theater than i can count.
it's a home base and it's part of the gasping, slowing bohemian heart of harvard square as the malls and chains stores eat it alive.


the brattle folk recently ran a (successful!!) kickstarter and raised about $150,000: bit.ly/KSbrattle
(and neil and i donated ourselves to some of the upper backer levels).
now THE TIME HAS COME….
and we're going to finally do something we've been talking about for ages: SHOW EACH OTHER MOVIES AT THE BRATTLE!
so, presenting….
"You Show You Mine, I'll You Show me Yours: The Neil & Amanda Double Features"
since the beginning of our relationship, we've kept a list of movies that we wanted to show the other one, as
"WHAT?!!!?? i can't BELIEVE YOU'VE NEVER SEEM FILM XXX?!!?! HOW IS THAT EFFIN POSSIBLE"
became a recurring theme in our everyday conversations. so…we each started a list,
and the idea was that we'd block off a romantic weekend,
get some popcorn and wine,
and shut ourselves in for a marathon.
then, being us, we thought: wouldn't it be more fun to watch the movies on a big screen and invite everybody else?
so that's we're doing, and we're going to give all of the proceeds of the event to the brattle, so they can stay alive and keep being awesome.
it was HARD to narrow down the movies, since we decided, in the end, to only show each other TWO EACH, but here's what we got it down to.
---
Saturday, May 18 | RSVP on facebook
DROWNING BY NUMBERS
Introduction by Neil Gaiman
at 6:30pm | Tickets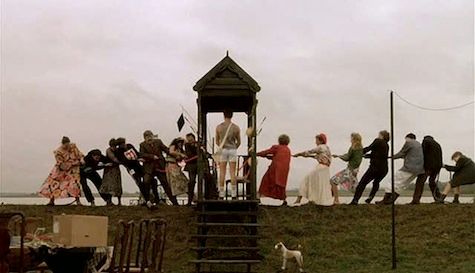 (1988) dir Peter Greenaway w/Joan Plowright, Juliet Stevenson, Joely Richardson, Bernard Hill, Jason Edwards [118 min]
Three women in the same family (all named Cissie Colpitts) each drown their troublesome husbands – and convince the local coroner to help cover up the crimes. It sounds simple but in the hands of masterful visual artist Peter Greenaway, the film becomes a baroque meditation on the nature of life and games – and the game of life.
SANTA SANGRE
Introduction by Amanda Palmer
at 9:15pm | Tickets


(1989) dir Alejandro Jodorowsky w/Axel Jodorowsky, Blanca Guerra [123 min]
Alejandro Jodorowsky's wildly unrestrained flights of cinematic psychedelia are legendary midnight movies and SANTA SANGRE is no exception. Fenix, the scion of a circus family has entered an asylum after witnessing his mother commit a heinous crime and get both her arms cut off. Eventually she secures his release and forces him to become her arms.
"This is a movie like none I have seen before, a wild kaleidoscope of images and outrages, a collision between Freud and Fellini. It contains blood and glory, saints and circuses, and unspeakable secrets of the night. And it is all wrapped up in a flamboyant parade of bold, odd, striking imagery, with Alejandro Jodorowsky as the ringmaster." – Roger Ebert
…………………
Sunday, May 19 | RSVP on facebook
IF…
Introduction by Neil Gaiman
at 6:30pm | Tickets


(1968) dir Lindsay Anderson w/Malcolm McDowell, David Wood, Richard Warwick, Christine Noonan, Rupert Webster [111 min]
Lindsay Anderson's searing excoriation of British boys school traditions features the screen debut of Malcolm McDowell.
Digital Presentation
KING OF HEARTS
Introduction by Amanda Palmer
at 9:15pm | Tickets


(1966) dir Philippe de Broca w/Alan Bates, Genevieve Bujold, Adolfo Celi, Jean-Claude Brialy [102 min]
This counter-culture cult classic screened for over five years straight in Cambridge during the late '60s and one can see why. Alan Bates plays a Scottish WWI soldier dispatched to disarm a bomb left by the retreating Germans in a French town. When he arrives he discovers that the supposedly abandoned hamlet is actually still inhabited – what he doesn't realize is that it's been taken over by the cheerful lunatics from the local asylum.
……….
Tickets for individual films are $10 general admission; $8 students, seniors, Brattle members
Double feature tickets are $15 general admission; $12 students, seniors, Brattle members
A limited number of full weekend passes are available for $30
Brattle member passes will be accepted for individual screenings at the door only.
We strongly advise that you buy tickets in advance.
ticket link: bit.ly/YouShowMe
---
feel free to dress up, come themed for the films, make strange friends. again, you can RSVP on facebook HERE (night 1) and HERE (night 2).
AND when you come, hit harvard square early and give money to the buskers, they come out like mad on the weekends.
also….
recommended bars/cafes/restaurants in the walking-around area:
• grendel's den (bar food)
• upstairs on the square (schmnacy for food, but amazing pink mirrored tigerprint cocktail bar)
• red house (get a table in the front room with the fire)
• charlie's tap (punk rock jukebox, burgers, CHIMAY! FRAMBOISE!)
• cafe algiers right upstairs from the theater has wine and good middle-eastern fare (mint coffee!!!)
• russell house tavern (oyster bar! semi fancy bistro food, sit downstairs)
and of course…
• cafe pamplona, which is a little bit of a walk, but worth it. get the gazpacho.
---
we hope you come, support the brattle, and love these films as much as we do….
i don't know about neil's picks, but "santa sangre" and "king of hearts" are two films that raised me and made me who i am.
you'll get why when you see them.
come and be with us.
we love you.
x
a
p.s. also….if you're in boston, and a writer, or want to hear me talk to a bunch of writers, i'm giving the keynote speech at the grub muse writers conference on may 4th at 7 pm.
you need to register, but its FREE! more info HERE.
….and if you missed it, i have a hella-bunch of new tour dates up all over the states, UK, europe, and australia/NZ. here: bit.ly/blog040213