October 14, 2013
all about the "evening with" album…plus some news & links from the intellectual twerking front.
hola comrades!
greetings from boston, where i took one of those pathetic tour breaks that wasn't actually a break because i basically just had time to do laundry and answer email. and now i'm getting back on a plane.
neil is already over in england (his "fortunately the milk" big-ass released party is on tuesday in london, and super-sold-out, hooray). i'll be heading there later this week to play a benefit in cambridge (UK that is) for a local non-profit arts charity called Squeaky Gate (also sold out). then we both head to the shows in tel aviv and i move on alone to do the last grand theft orchestra tour of the project. lots of the euro-dates aren't sold out yet, especially poland and hungary. tickets and dates all over europe are HERE. more personal intellectual-twerking news down below, but FIRST….all about the "evening with".
if you MISSED the mailer that came to your magical email inbox (if you're not on the email list, FIX THAT)…here's the longer story:
neil and i did a kickstarter about two years go, to sell pre-orders/pay for a tour recording of our "evening with neil gaiman and amanda palmer" tour up the west coast in fall 2011.
the kickstarter raised over $100k with about 3k backers, and we took two engineers on the road with us (many of you know jaron luksa, my veteran sound guys…he was one of them, and he brought his pal ken). they recorded every show in HIGH FIDELITY and then neil and i spent the rest of the fall and winter picking out our favorite tracks from what was probably about twenty+ hours of recordings. (that was slightly agonizing). that tour was pretty magical, and lots of unexpected things happened…including a fan of ours dying at occupy vancouver a few days before we got to town. one of the songs is dedicated to her. neil combatted his stage fright. i tried to work on my stage-control issues. we both learned to give each other space. we took questions every night from the audience and surprised ourselves, and each other, with some of the answers (so now there's a "best of 'ask neil and amanda'" on the record). mostly, we watched our fanbases merge, like a giant family wedding, and were relieved that no brawls broke out.
on the contrary, there was lots of making out.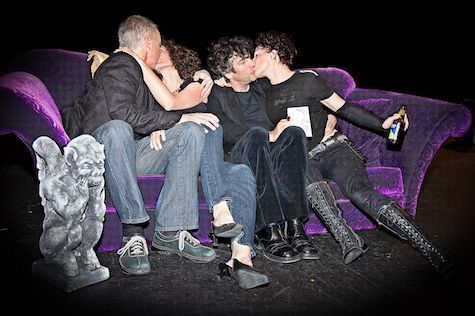 photo by mr. peterman


photo by elisa sherman


photo by anja weber


photo by elisa sherman
and this happened……


that was when someone asked us about our first kiss. no shit.
and here's a few less-kissy pictures from various shows:


photo by laura anne anderson


photo by chad elder


photo by paige k. parsons
and, as you can see from the tracklisting (below), there's a special cameo but a good friend of mine, evel…i mean, jason webley.
we wrote a song about a blanket together a few years ago and FINALLY recorded it for this tour.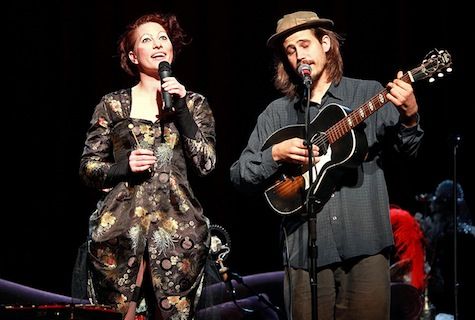 we asked our friend cynthia von buhler to make the art (it's a hand-made cut-out, and gorgeous) and we packaged the whole she-bang onto 3 CDs.
around christmas 2011 – to tide them over, since the kickstarter backers were waiting for their discs (it took a WHILE) – we sent everybody a digital collection of material that didn't make the final cut. it was called "a prelude to an evening with…"
here's the variant cover (still cynthia's art, adapted by @indeciSEAN):


and then eventually everybody got their discs in the mail and everybody was pretty happy, so yay.
this was the original artwork on that first kickstarter-edition: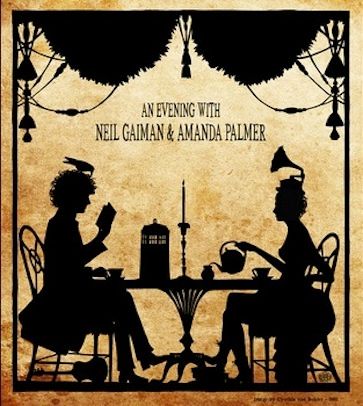 then we didn't do anything…..we didn't release it online to the public or put it on sale in stores….no iTunes, no bandcamp, no topspin, no nothin. we wanted the kickstarter backers to enjoy it and i was already in the full throes of preparing "Theatre is Evil". so we waited.
NOW – or, well, next month – is the moment we've picked (ta da) to release it to the general public…ALMOST the same tracklisting, but all-new packaging (so that the kickstarter edition stays super-special).
we also made VINYL. the whole album would have taken up (gulp) 6 sides, so we pared our favorites down even further and condensed everything onto two records.
this is the NEW packaging:


we also thought long and hard about what kind of merch to offer along with the album – since we know you love good merch, and christmas is coming.
we picked things we'd give each other and our friends and families: moleskine jounrals (blank, of course, cuz fuck lines), teapots & tea towels, mugs, and fuzzy velvet posters. we tried to bundle things in such a way that made the ordering pretty simple. the pre-sale of these bundles will end around november 1st. some of these items will make it to the webstore, but some may not – it all depends on order quantities. here's the "super deluxe" bundle with all this awesomeness:


SO, your best bet is to order NOW before halloween night…all orders placed during this period will definitely arrive in time for the holidays.
(while we're on the topic: all orders made from the webstore by december 1st SHOULD also be good for holiday delivery, but we can't control international customs so…)
i deliberately chose songs for this tour that i HADN'T ever released but was aching to…songs like "dear old house", "gaga, palmer, madonna", "i want you but i don't need you", and "look mummy no hands" have been huge live favorites but didn't quite fit on "Theatre is Evil" so they were burning a hole in my pocket. i consider these the official versions.
there'll be plenty more noise on the socials to remind you, and i DO hope you all pre-order, but if you're holding out for any reason…
on november 19th, the album should be available in stores (more on where as we get details) and online in the usual spots (bandcamp, amazon, iTunes, etc.)
we'll have the ENTIRE digital collection (the three disc's-worth and the "prelude" EP – over 5 HOURS of material) up on my webstore for $10+
if you *ARE* one of the 3k kickstarter backers, WE THANK YOU SO MUCH for making this project possible. we wouldn't have done it without you.
and if you want to help the cause and push the album forward, write some thoughts/reviews about it all (you've had it for a while, you're entitled) down in the comments (or anywhere on the web) to help us, please. and include the pre-order link – bit.ly/EveningWithPreOrder – anywhere you are talking up the record.
here's the final track listing:
Disc 1: NEIL SOLO
1 – My Last Landlady
2 – The Rhyme Maidens
3 – The Day The Saucers Came
4 – Feminine Endings
5 – The Winter Gardens
6 – In Relig Odhráin
7 – The View From The Cheap Seats
8 – I Will Write In Words Of Fire
9 – The Man Who Forgot Ray Bradbury
10 – Making A Chair
11 – 100 Words
Disc 2: AMANDA AND NEIL
1 – Margaret Cho Introduces the Show
2 – Makin' Whoopee
3 – (Introduction to "The Problem With Saints")
4 – The Problem With Saints
5 – Jump (for Jeremy Geidt)
6 – Ask Neil And Amanda
7 – (Introduction to "Broken Heart Stew")
8 – Broken Heart Stew (by Amanda)
9 – Poem for Amanda (by Neil)
10 – Poem for Neil (by Amanda)
11 – Electric Blanket (a duet, feat. Amanda Palmer & Jason Webley)
12 – Psycho
13 – (Introduction to I Google You)
14 – I Google You
Disc 3: AMANDA SOLO
1 – I Want You, But I Don't Need You
2 – (Introduction to "Dear Old House")
3 – Dear Old House
4 – (Introduction to "Gaga, Palmer, Madonna: A Polemic")
5 – Gaga, Palmer, Madonna: A Polemic
6 – (Introduction to "Judy Blume")
7 – Judy Blume
8 – I Don't Care Much (with Lance Horne)
9 – Map Of Tasmania
10 – (Introduction to "Do You Swear To Tell The Truth, The Whole Truth & Nothing But The Truth So Help Your Black Ass")
11 – Do You Swear To Tell The Truth, The Whole Truth & Nothing But The Truth So Help Your Black Ass
12 – (Introduction to "I Will Follow You Into The Dark")
13 – I Will Follow You Into The Dark (for Ashlie Gough)
14 – Look Mummy, No Hands
15 – Ukulele Anthem
Bonus: A PRELUDE TO AN EVENING WITH… (which is available with the digital)
1 – Intro
2 – Ampersand
3 – Runs in the Family
4 – Shoggoth's Old Peculiar
5 – Blake Says
6 – Forbidden Brides of the Faceless Slaves in the Secret House of the Night of Dread Desire
7 – Do You Swear To Tell The Truth, The Whole Truth & Nothing But The Truth So Help Your Black Ass
8 – Zombies and Shy People
9 – Drinking With John Wilmot, 2nd Earl of Rochester
10 – Making Mixtapes
11 – Everyone Should Have a Hobby That Could Kill Them
12 – It Was All Going So Well
13 – On-Stage Dating Service
YOU CAN ORDER HERE.
AGAIN, ORDER BY NOVEMBER 1st FOR THE XMAS DEADLINE!!!!!!!!!
if you have any questions not covered here, eric's being a dear and helping out HERE on the forum.
also, do us a solid: ONCE YOU ORDER, share the joy & link, spread the word! please? make friends jealous of velvet posters!
BONUS for OZ/NZ: @POSstore has 1 of 10 LIMITED EDT 7″ vinyl that you have a chance at winning…more info at bit.ly/AFP7inch
OH!! and ONE MORE LAST THING!!
NEW YORK (and surrounding areas): to celebrate the release of the record, we've added a (second) EVENING WITH NEIL & ME show on FRIDAY NOVEMBER 22nd at town hall (since the first night sold out super-quick). there ARE still tickets available, but they're moving fast. you can grab yours HERE. it's gonna be a fun couple o' nights.
ok.
exhale.
MEANWHILE in REAL LIFE:
things have been going at an interesting intellectual clip since i posted that sinead letter, and the best thing to spring out of miley's twerk-gate has been an unprecedented amount of discussion in the old-media news and online about MUSIC and FEMINISM. this weekend i took part in a round table discussion on BBC4 about work, music and gender equality (leave it to the brits, them's a smart bunch). a few of the other amazing guests? kathleen hannah (bikini kill/le tigre/julie ruin) and laura mayberry, the singer from chvrches who just wrote THIS fantastic piece in the guardian after getting ambushed by online trolls. when she talks about sitting on the toilet backstage and reading the hateful comments on her phone, i related and wanted to hug her. one of the problems of new age of pocket-love-hate-technology right there.
you can listen to the bbc4 roundtable HERE.
the host was lauren laverne (@laurenlaverne) and the whole collection of guests were: @charlottechurch, @kathleenhanna, @AnnieMac, lauren mayberry (of @chvrches), annie nightingale (@aanightingale), and me (@amandapalmer)
UND
i spent the better part of the last week agonizing over a 2,100-word article that russell brand invited me to write for his guest-edited issue of the new statesman, which is a super-smart political/cultural magazine in the UK. i can't reveal the other writers/artists involved (hint: they're awesome) but i'm STOKED AS FUCK for this issue to come out, and i'll share all links online. i said yes to writing the article somehow thinking that i'd done many things like it before, and then realized that was bullshit. i've blogged. i'd never written a long piece for a legitimate magazine. i froze, crumbled, wrote, rewrote, and enslaved my husband and at least five other friends into being my editors. it'll be out in about two weeks. pray for me. also, if this 2,100-work piece caused me so much agony and made me consider smoking again: HOW THE FUCK AM I GOING TO WRITE A BOOK?
speaking of the book, i've written NOTHING. i forgive myself hard; i've been touring and traveling. the current plan is to hole up in australia for the better part of the winter and write it in melbourne, where the coffee is better. i SEE YOU, melbourne. don't distract me, you fuckers. i know all about you and your tantalizing offers of free vegan bread and anarchist bike rallies. my only plans are to write, go to yoga, and then sorrowfully, drunkenly pore over my pitiful day's writing by candlelight at night in various watering holes, pretending i'm as cool as charles bukowski. if you see me, just RUN. or throw electronic cigarettes at me and run.
also, if you haven't seen RUSSELL BRAND DOING THIS, drop everything and watch. i wanted to stand up and applaud the fucking screen. THANK CHRIST someone is doing this shit, someone needs to…"russell brand on morning joe":

and if you're curious, he wrote an editorial about the appearance HERE for the guardian.
right. off to research more history of the israeli–palestinian conflict.
love,
AFP