November 5, 2013
i interview kat robichaud from The Voice (she's a fan and competing tonight, info within)
(please note: if you came here from this blog and you want to vote…voting info (how-to stuff) is towards the end. ALSO: Kat's Voice Voting number has changed from 4 to 7 for this round!)
quicky quick quick one from backstage in warsaw, where we just KILLED IT.
(i still owe you endless blogs about tel aviv, the last round of house parties, and more. i'm fucking slammed on the road. forgive me)
we literally just got off stage. chad got markered by the polish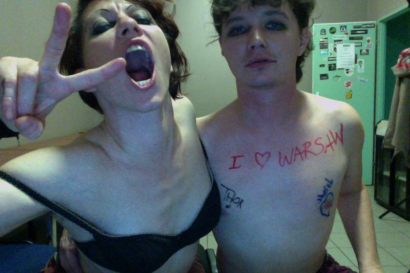 but this one is good and worth pissing off the venue people who are desperately trying to clear us out of backstage…..
story:
two days ago on twitter i saw someone named kat robichaud chatting with someone about how she was a fan.
she's a contestant on the american TV show "The Voice" right now.
i know nothing about TV in general. i never follow it, i never watch it. really, never.
i hear what i hear through the internet and through occasional youtube clips.
i googled her and saw her performance on The Voice and thought she was fucking fantastic.
and my first thought was: please don't let her be eaten by yet another one of these uber-negative evil-competitive tv shows.
i wrote to her on twitter, told her that i thought her performance was stellar, and wishing her luck in the world of evil media, and we starting chatting.
she seems genuinely awesome. she's a dolls fan, and a doctor who fan.
and she maintains that she's actually having a great time on the show. she asked if i would plug her appearance tonight – it's elimination time.
eh? ok.
i told her that i'd plug the show if she would let me interview her. so here we go…and she's on in JUST A FEW HOURS.
i wish i could tune in and watch her, but i'll be on a bus with no internet driving from warsaw to krakow.
how awesome is the internet?
for visual: here's kat on the voice….and here's the clip i saw. she's owning it.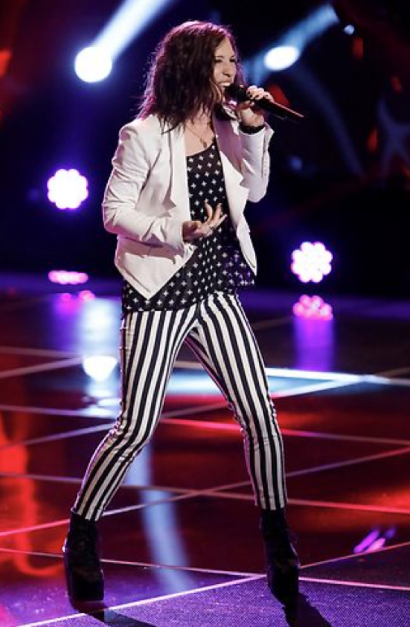 und das interview:
afp:
hey kat. so…i was totally impressed by your performance on the voice. i am totally un-educated about reality/music/tv shows and assume they're all the devil.
but you assure me the voice isn't, and jherek, my trustable bassist, says he was chatting with some musicians about how the voice was actually pretty cool.
what makes the voice different from say, american idol or x factor or all those other ones? i assumed they were all the same and generally evil.
kat:
The show is amazing with the kindest people working for it. I have never been a number, always a person. They take great care to paint you in the best light. My experience has been amazing. They're so supportive and I've become a better singer from the show.
but how do you feel about music as competition? you're a pro and you've been touring for years, but don't you worry that "competitive" shows and this weird environment of elimination, etc, can be crushing for an emerging artist? talk to me. i've seen a few clips of american idol and the extreme meanness of the judges and how they deliberately break the egos of young artists, and i just shut it off in disgust….it seems like the opposite of what the world needs…
Yeah, and that's why I've waited until now to do a show like this. The Voice is the anti Idol. They don't put you in front of a camera until you've passed several auditions and tons of practice. The coaches are all very kind. They have great constructive criticism. I didn't want to go on a show like this for the longest time because I felt like it would be a rat race, but it's been a great experience and I honestly have no regrets. Thus is the only show I've ever tried out for. Other people on the show have tried out for other shows and said it was a nightmare. I know what it's like to struggle to get people to come to your show and struggle to get people to follow you. The show is a great jumping off point, but you really have to hit the ground running when it's over and be ready with new music. Otherwise I think time lapses and you leave people's minds.
that's really interesting. i hope all those connections stick. now….since you you were in a touring band for years and now are tasting the impending possibility of real mainstream success, how are you keeping your head on straight? surely you're smart enough to look around and know that mainstream success is a slippery slope if you're not careful. how are you going to protect yourself from the evils of the machine you know may be waiting on the other side of the wall to chew you up and spit you out?
None of it is real to me so far. I don't think it's hit me. I still watch my followers on twitter as I would count the people walking in or not walking into our shows in the past. The great thing about The Voice is most of the contestants are working musicians like me. They write their own music like me and they are extremely talented. We're forming friendships and making connections that I hope will carry into working together in the future. I don't know what's going to happen after the show, but I don't want to force anything. I've forced creativity and forced a lot if things over the years, and I really need to make sure that what I'm doing musically and in my life is making me happy. My dream would be to work with you, Amanda. You are my inspiration. Even if working together meant you painting my body whilst I'm hanging upside down above a fire pit. And gay males dancers keep spinning me.
you cannot lose with gay male dancers spinning you. :: that's a perfect point about forcing creativity and so forth. it always leaves you totally fucked to force art. and you're on for a collaboration. the next time we're in the same city, it's PAINT TIME. ok, last stupid question….miley vs sinead. throw down your opinion in 1,000 words or less.
PASS. Haha. Ummm Sinead? Because her controversy actually stood for something.
OKFINE. but…..bonus points: gaga vs madonna. any angle. GO.
I'm an 80s baby and grew up idolizing Madonna, so I love her and her catalogue of music. But Gaga writes her own music and plays the hell out of that piano. Eh, love them both.
aw, me too. me and all my female musician friends cannot ever let go of our love of madonna. it's embedded in the hardware. OK….it's time. good luck……
I absolutely adore you. Thank you for taking time out of your fabulously busy schedule to support little old me. I love you. I had an interview with US Weekly and the guy interviewing me, Brody, asked me who my inspiration was for music. I said your name and he FREAKED, saying he was a huge fan, too. We fangirled. It was adorable. you are so incredibly kind for helping! I know you're busy. I have so much love for you. I'm hugging you with all my limbs from LA.
Tell Neil I love the Doctor Who episodes that he's has written. 🙂
i love you too. i'll tell neil.
ok ok ok good luck, girl. you're on in a couple hours.
stay strong and no matter what happens, you're a fucking star. fuck everything else.
….
now
people…..
HERE'S THE TV/VOTING info if you want to see how her shit plays out.
mind you, i endorse none of this fundamentally (some of these rules, etc make my anti-mass-media bones twinge, but i'm sharing it for kat. who cares.)
the show is on NBC at 8est (7 central)
voting is "currently closed" as of posting this about half an hour before 8EST but the site says it will open up in approximately 3-3 1/2 hours. maybe by the time you're reading this it's already open, even.
you have to vote in this round by 11am EST 6 Nov 2013.
you can vote in these ways:
1. By phone to 1-877-5-KEEP-04 up to 10 times per phone line
2. NBC website 10 times per email address – vote at bit.ly/KatOnTheVoice (again, this will be live soon)
3. Facebook app allows 10 votes per FB account
4. Text message (Sprint users only) 10 times per # Text 4 to 8642
5. MOST IMPORTANTLY iTUNES. each download (of the song she sings that tonight/future nights) counts as 1 vote. and kat says "IF MY SONG REACHES THE TOP 10 on the iTUNES OVERALL CHARTS, MY iTUNES DOWNLOAD VOTES ARE MULTIPLIED 5 TIMES!"
also, she's @katrowbeeshow on The Voice. if i don't manage to stay up til 4am here in poland i'll check in first thing in the morning.
and below…. a few more photos, i asked kat to send some over. bam bam bam
the end
this was fun.
and thanks to @indecisean for getting this blog up lickity split in time for the show.
x
x
a