December 22, 2013
sharing the cosmic cold sore: a meditation on life, death, and art (and anthony's new book)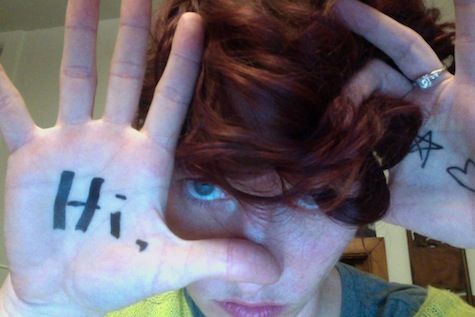 a lot of you have been asking – on the road and on twitter – about anthony and how he's doing.
if you missed the drama…i'll catch you up, briefly:
i just finished the long, long tour (for Theatre is Evil, the infamous kickstarter record) which was supposed to have ended this past summer but was postponed because anthony, my best friend, was facing nasty cancer (a rare kind of leukemia) and i wanted to stay with him when he went through treatment. i wrote a long blog about it HERE (which in turn links to another part of the story, HERE), and as i traveled through europe and australia doing the make-up shows, a lot of journalists (and fans) asked me how anthony was faring.
here's the update: he's in remission. he's alive. he's okay. for now. and for now is all we've ever got. but the good news is that every month he stays in remission, he gets further from death's doorstep. they're now telling him he's got a 60% chance of staying cancer-free.
if my recent dances around cancer, life, death, bombings, controversy, and other travails have taught me anything (or solidified what i already knew), it's this: you never know what's coming, there are no permanent fixes, and we are all going to die.
in the past year, while this has all been going down, people dropped off left and right.
anthony's beloved mother-in-law, pat, just died. laura, his wife and pat's daughter, has looked like a hero to me – from the outside, at least – as she's shouldered the death of the mother and the near-death of a husband. also, their dog, piper, is old. he's going to die. what can you do?
becca died. she was incredibly young, and nobody understood. neil and i became a little closer with her father, bob, and her mom, linda. then, a few weeks ago, linda died. bob has lost his daughter and his wife. they had no other children. bob is cleaning out the house and came by our house in cambridge yesterday, to gift me a box of gloves that belonged to becca's grandmother…linda's mother. i slipped one on my hand and it fit like…a glove. i hugged bob and looked at his eyes to see if i could understand anything. what can you say to someone who's just lost his whole household, his whole family? what can you do?
a few months ago, i was at gigi's house. she's my old french teacher, and one of my favorite people. she helped raise me as a teenager, along with my beloved latin teacher, doc fiveash. they were a couple back then, and i ate my lunches in their empty classrooms; we'd sit there, a strange family of three, doc with his smartfood popcorn and gigi with her bag of carrots. fuck french and latin, in those hours i'd absorb the instruction of real life, the language of dealing with the world. they treated me like a peer. i loved them both so much. when i was 17 and pregnant, i quietly wept through one of doc's mythology lectures; he was cheerfully explaining the patterns in world myth and religion in which holy goddesses immaculately concieve and give birth to saviors after being pregnant for longer than the usual term. it was doc who saw my face when the bell rang, put on his leather jacket, skipped his next class, walked me to the woods next to the school and held me in his arms when i told him, through racking sobs, about my upcoming abortion.
doc got cancer, suddenly, while anthony was just coming out of the woods this spring. i was at gigi's house in my old hometown a few months ago, we were chatting over tea in the backyard as the phone suddenly rang and it was doc's sister. he was leaving the hospital, going into hospice, he was going to die for sure. what can you do? i took gigi for a walk and got in my car to drive back to cambridge, i called sean to see why my blog hadn't posted yet, and he told me his grandmother had just died. i told him about doc, and i gave him the day off. i sighed. i looked at the sky.
i decided to go visit my sick friend jeremy geidt on the way home. fate was having a field day. jeremy had died suddenly, an hour or so before i got to the house. i saw him there in his favorite armchair, held his cold, dead hand and felt lucky to be able to say goodbye. i watched the cops come and the funeral home people put his body into a bag and then onto a stretcher and then into the back of a long black car. people jogging down the street stopped and watched with curiosity. jeremy's irish catholic nurse, geraldine, stood beside me on the street, crossing herself. we wept. we held hands.
i found myself wishing i had some kind of ritual, some kind of sign i could make as this dead body passed me. i didn't have one. i could go upstairs, i could call neil, and i did. neil wept too. he loved jeremy. then what? i left his house, i went to yoga. waiting for class to start, i was approached by a purple-haired girl at the bookstore. i was trying to make sense of this day in my journal. she asked me if i was amanda palmer. she could play me a song on her new ukulele, she'd just learned how to play five days before. i said yes. she played me a song. i told her my friend died, and i played her a song, and before i could ask her any questions about herself, she ran away, saying she had to catch a train to maine. i watched her run. what can you do?
you make art, you make art, you make art.
anthony and i have been teaching this to each other for many years.
neil teaches me, and i teach him back.
i feel like this is our job, this thing we do for each other, a constant reminder, a ritual, the closest thing i have to a religion.
as people, as artists, as fellow-sufferers on the short-long road from birth to death, whether we've driving down the middle on the autopilot of convention, zig-zagging in the side-ditches of poetry or trying to hovercraft above the road in a frantic fit of outsider experimentation…we're all headed the same way and we all feel the same pains.
and we make art, we make art, we make art as a way of relating to our fellow travelers, the ones close by our sides, the ones we've accidentally trod upon, the ones who've been lost in a cloud of hack-inducing dust kicked up by someone's massive pickup truck, peeling away into the sunset ahead of us, it's bed loaded with all your old journals, your half-eaten sandwiches, every toothbrush you've left in every hotel. whatever. you connect, you lose sight, you don't stop flailing around, trying to grab a hand that will pull you forward on the road, or a hand that will yank you back, stop you from running too fast, stop you from running after the truck packed with your precious belongings, stop you and remind you to breathe. the art we show each other is the disaster victim and and the red cross all at once: not just a cry for help but but also signal, a call and a response: our black and white flag above the brown dustcloud. we find each other. we remind each other.
right before anthony got sick, i tried to convince him to publish the dark and twisted memoir-short-stories he'd been writing for years. he did, and i believe in weird things, like the vital power of having an art project to steal your focus away from dying. so anthony survived, i am sure, because he had a book to publish. when he went into remission, "lunatic heroes" came out. i wrote the introduction. a lot of you read it, and a lot of you became his fans, his supporters, his listeners as he took a hesitant road trip around the area to read in bookshops and share his stories.
he didn't need too much encouragement from me to publish the follow-up collection, which just came out (more details below), but he did need my support. if you get what i mean. for this one, well, he decided to go darker, to share the stories that were too eyebrow-raising, too personal, too "difficult" to share in the first round. he talks about his deeper fears, his long-time fetishes, he lifts the rug up harder than most people in his world feel comfortable with. or so he worried.
and he was worried.
what would THE COMMUNITY THINK? his parents were dead, so, well…no worries there. but the rest? his work colleagues and co-writers in the psychology world? his wife? his patients? we talked a lot about this over the last year. i encouraged him, to the best of my ability, to give no fuck.
i felt like i was a half-decent mentor in this area….after all, i told him, you'll never have more haters than me. i'll always win. he pondered this in his heart.
but: he's also seen the positive effect of over-sharing your soul, through the lens of my career, where he gets to peek intimately. plenty of people can't stand me, but i've also made true, hard, friends, deep friends, art friends. i've found and created a community around me because i overshare, because i try to write songs about the darkest, craziest, most personal parts of myself. that community (and i'm talking to you, hi) has become, in part, his community. he ate some of the fruits of my own labor, connecting with you all. you tasted nice.
he decided to publish the book, and he didn't hold back on any story. he shared it all. i'm really proud of him.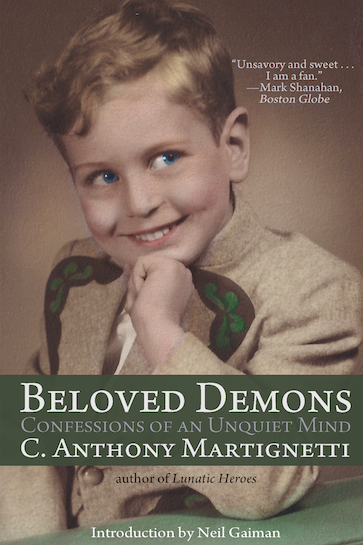 neil wrote the introduction to this volume, which is called "beloved demons: confessions of an unquiet mind". len tower, one of my favorite people and a long-time fan from the boston area, emailed neil to tell him he think it's the best thing he ever wrote. he could be right. be that as it may, i think it's one of the most honest writings i've seen neil crank out, one of the most personal. it's about love, and mortality, and friendship, and how things change and grow. it's about our marriage. it's about the circle. it's pretty beautiful.
so, i hope you read it. i feel like anthony's story is my story, and now, in a weird way, your story.
from what i've heard on the road, people have been sending him things throughout his recovery: healing vibes, letters, socks (?!), songs, books, a nice pen (sent to him from down south), chocolate, and giant sculptures of amassed origami peace cranes. you guys amaze me, because your love has flowed right past me and into the hearts of those i love. and…without getting too deep on you here, i think that's when love feels real, when it goes through you and beyond you, when it works through you. it says a lot about you as a fanbase – about what we've built. i mean, i wasn't expecting you guys to lambast and crucify me when i postponed a tour, you're a pretty understanding lot – but i wasn't expecting an outpouring of generosity in its stead. i am so fucking lucky. we all are.
i'm about to go into my own period of writing, i've signed a book contract of my own, and i can't help but to see this all as a continuum.
anthony helped me for years when i was growing up, he cracked me open and gave me the stable base that made it possible for me to attack my own psyche and share truthfully, to challenge my own fears, and to love deeply. i feel like i returned that gift by encouraging and helping him to write and self-publish this book – the one he was afraid to.
and now, as i settle down for a very frightening writing project (i've never written a whole book before, believe me, i'm terrified), i'm going to draw inspiration right back out of his lungs – like those feisty greeks gods and mortals doc taught me about when i was a wee bairn. AND i'm going to plant my hungry art-mouth right on neil gaiman's face and suck the divine force out of him, too: i'm going to gulp magic air from the brave plummet he took in writing and publishing "ocean" – i saw him, he was shit scared. and he did it anyway.
we make art, we make art, we pass the cosmic creative cold sore back and forth through the kiss of life, never to fully heal, never fully resuscitated, but always, always, always in love…never sure who the next breath is going to come from, or where it's going to take us.
what can you do? you're going to die anyway.
ENJOY.
---
and now, a word from dr. anthony (i affectionally call him "clown-fucker") himself. he has a fear of clowns.
i thought it might be nice for him to write straight to you.
………………..
Amanda asked me to write something for her to post on her blog. Here it is:
To begin, I feel so grateful to all of you, all of her fans (and Neil's), who have supported me through this grave, shocking and upsetting illness. I remember feeling that, if good vibes and wishes were healing in any cosmic way, I would be saved. I am doing well and, though not out of the woods, am in an ever widening clearing. Thank you, all of you, eternally. Also, thank you for buying Lunatic Heroes. It was the project I did in the midst of a lot of suffering and loss (loss of hearing, eyesight, balance and more). Your acceptance of it and responses and reviews meant so very, very much to me. Again, thank you all.
This new book, available now: Beloved Demons: Confessions of an Unquiet Mind, is deeper, more raw and revealing, and is centered on adult, rather than primarily experiences from my youth, as in Lunatic Heroes. In Beloved Demons I take my pants not just down, but off and run around the street hanging a rat in the public square. Essentially, I have pilloried myself, hanged by my own hand and yet, I feel safe and secure in the knowledge that you will still be there, accepting and understanding me. I apologize for any of the unintended offenses there may be in the book. I mean no harm. I mean to be known so that I can feel connected to you, in relationship with you, as I have felt since Lunatic Heroes came out a year ago.
Amanda says she'll add her own words to this and somebody, more clever than I am, will insert links to the book and the launch and any other important stuff. I hope to see many of you in Cambridge on Dec 29th and I hope you like Beloved Demons and that you feel free to tell me your secrets when all is said and done.
Love, Anthony
---
so, the details…
the book is available HERE if you're an amazon-freak.
but better, you can support an independent bookstore HERE (porter square books, the same shop that released and shipped neil's last book, "the ocean at the end of the lane" (amazon / UK link). they're really, really nice people in cambridge.)
neil and i are going to be joining anthony in a book launch on december 29th, 4 pm at porter square books. it's a teeny place and only fits about 80 people, so please come on time. we'll be happy to see you there. (click the poster below for more info)


a few more…
anthony's twitter: twitter.com/DRAMARTIGNETTI
anthony's facebook: facebook.com/camstories
he's also got two more readings (on the 11th and 18th of january) with Souled Out Artists, a group he's in with BOGARTTTT. they're also in lexington.
and…
caveat emptor.
and if you like his book, don't flatter him too much.
it'll go to his goddam head.
if i don't blog before xmas, have a good one. but who knows, i might hit you again.
love
AFP
p.s. here's a shot of me and anthony, after he read a piece from the new book at the red star webcast a few months ago. yes, indeed. he's pretty alive.


p.p.s.
gigi and doc.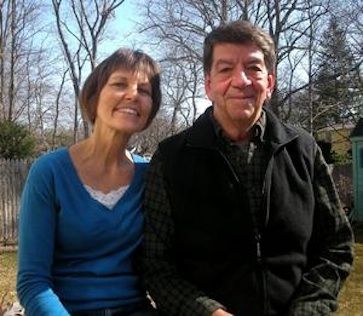 becca.


sean's grandmother:


…with sean and magic (the cat)


jeremy.


anthony, getting treatment.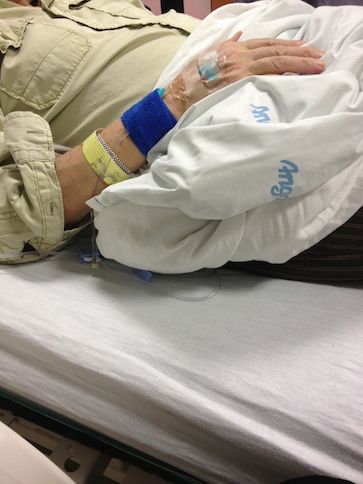 feet.


the point of it all…?