February 16, 2014
MORE BOOK HELP, this time: street performing & busking stories…
hola comrades
before book: HOLY SHIT I WENT TO SEE BRUCE SPRINGSTEEN LAST NIGHT AND HE BLEW MY MIND. why did nobody tell me???
i expected it to be a run-of-the-mill okay rock show. but the guy is an entertainer of the highest order: he's heartfelt royalty. he and the e street band played to 25,000 australians and the soccer arena felt like a church. he carried himself with such…i dunno: STATELINESS.
and a bonus: EDDIE VEDDER CAME ON STAGE AND GUESTED with bruce for "darkness on the edge of town." i'll be seeing mr. vedder play his own show in mebourne here this week. the world, it ensmallens!!
just…all around, mind blown. it also made me want to throw the entire idea of this fucking book out the fucking window.
WHAT AM I DOING WRITING A BOOK?
I'M A SONGWRITER.
he made me want to write. i wanted to get back to the piano, i missed my band, i missed being on stage, i wanted to write a whole musical about my experience growing up in the psycho-superficial dark-light suburban yards and alleys of lexington massachusetts and i wanted to tell stories as simple and honest as bruce springsteen and mine that part of my soul.
i got slightly panicky for like 15 minutes.
then i was like
eh whatever i'm writing a book.
so here i am, the next day, writing a book.
hi.
and make no mistake: i am cranking, no, CRANKING, on this motherfucking book.
i've been averaging 4-5k words per day and piling everything into one gigantic pile of doom and am terrified of the editing process. but one thing is now certain: this book is going to be a more bad-ass fucking book of a book.
it may just not be done in time.
please don't tell the publisher that. they will freak out.
(BTW, if you want to get an email from me when we have the date locked and start pre-orders and whatnot, make sure you're on my mailing list!!!)
anyway.
thank you ALL so much for all the input – my brain is eating it up and it's INSANELY HELPFUL. keep it coming. i love you.
here's todays BOOK HELP plea:
i'm writing in, around, and through the subject of busking and street performing.
as most of you know i spent about five years of my life as a living statue –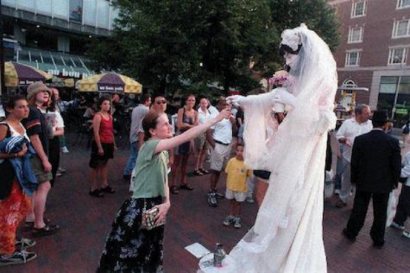 …and that included hanging out with a bunch of buskers (statues, musicians, and jugglers, mostly, but also some other crazy randoms) and i learned a LOT from them about performance, business, money, and love…some of which i'm only realizing as i sit here to meditate on it and write it all down.
**if you KNOW any street performers/buskers, please SEND THIS their way**
if you ARE a street performer…what did you learn? what was your act, how did you collect money? what did you use for a hat? how did you feel connected with the world around you? what was fucked up? how did it work? GIVE ME GOOD STORIES.
and if you're an outsider: TELL ME: stories. memories. reflections. when was the first time you saw a street performer? the last? what kinds have you seen – anything bizarre/amazing/wrong/crazy/good/bad? where? did you ever have an emotional experience? a weird/memorable exchange? did a performer ever give you anything? did you ever give a performer anything besides money? think think think deeply and SHARE WITH THE CLASS.
if you're from a culture outside of US/UK, etc: what are the RULES in your culture around street performing…for instance: my friend went to busk in japan and told me it's akin to "begging" there, it's seen as really shameful (unless you're a foreigner/american…they give you a pass)…in cuba i've been told they have government FUNDING for buskers. wow.
everybody:
TELL ME EVERYTHING YOU KNOW.
and if you see me in a cafe in melbourne, wave hello. that's me. i'm writing a book.
x
a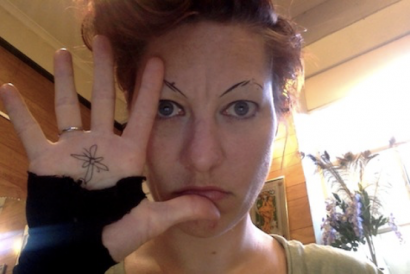 p.s. after i finish this fucking book i'm going to make some music. it's starting to explode down there, i tell you.
---
peoples! this is legalese stating that i CAN USE YOUR COMMENTS, or portions of your comments – in the book, freely, and you won't come suing me. you'll be seeing it at the bottom of every blog where i'm asking for comments that i might use in the book. don't be scared.
By submitting information and/or comments to amandapalmer.net/category/blog/ or amandapalmer.net/blog/ (hereinafter referred to as "AFP's Blog"), you grant AFP's Blog a perpetual, royalty-free license to use, reproduce, modify, publish, distribute, and otherwise exercise all copyright and publicity rights with respect to that information and/or comment at its sole discretion, throughout the world, including storing it on AFP's Blog servers and incorporating it in other works in any media now known or later developed including, without limitation, published books. If you do not wish to grant AFP's Blog these rights, it is suggested that you do not submit information to this website. APF's Blog reserves the right to select, edit and arrange submissions, and to remove information from the AFP's Blog and website at any time at its sole discretion. You further agree and acknowledge that submitting information and/or comments to AFP's Blog does not entitle you to receive any compensation, credit or approval rights. You understand that AFP's Blog has the right but not the obligation to use your comment.