June 13, 2014
FREE #MayDayPAC WEBCAST w/ ME & LARRY LESIG…MONDAY 6/16 8pm!
it's a #MayDayPAC party on the internet, comrades!!
earlier this month, i posted a blog about the amazing THING that larry lessig is doing. he's a harvard law professor, TED speaker, lover, writer, and passionate citizen and now you can add "helping hand in creating a PEOPLE-POWERED superPAC to end all superPACS" to that list.
this monday at 8pm EST (or use this to find out when that is for you), i'm going to be ONLINE and in conversation with larry, taking questions, and talking about culture, politics, nudity, and #MayDayPAC. or maybe not nudity. or maybe. whatever the topic, you submit questions starting NOW at our host wizeo's event page, plus we'll be scanning the feed and #RockMayDay hashtag.
tune in and witness…improv.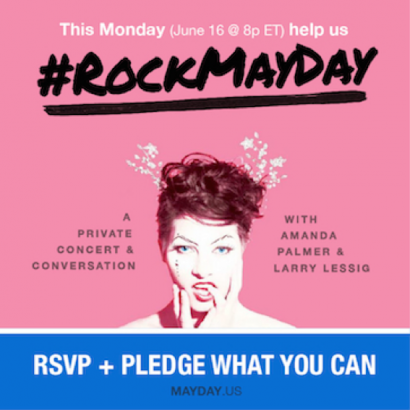 i just asked larry to send us some recommended reading BEFORE we all get together for this webcast, and here 'tis: a thorough editorial on medium.com (which also manages to be interesting and helpful understanding a lot of usually-maybe-hard-to-understand stuff). here are a few choice quotes:
Imagine you're a candidate running for political office. Your finance director gives you a choice. You can either try to raise at total of $100,000 from a thousand people, or you can try to raise $100,000 from one person. (Under federal law, no one can actually give a candidate a contribution of $100,000 [yet], but you'll soon see why that detail doesn't matter for the argument I'm making here.)
Which would you do? Which strategy would you select?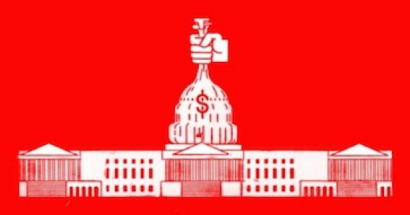 In a single line, the problem is this: We have outsourced a critical stage in the election process — the funding of political campaigns — to the tiniest fraction of the 1 percent. That outsourcing, in turn, has radically weakened our representative democracy, by making our representatives dependent on a group that in no way represents us.
SuperPACs, Bayh said, have produced a distinct dynamic — one generated by fear.
The single greatest fear of any incumbent is that thirty days before an election, some anonymously funded SuperPAC will drop $1 million against him. When that happens, there's little the incumbent can do.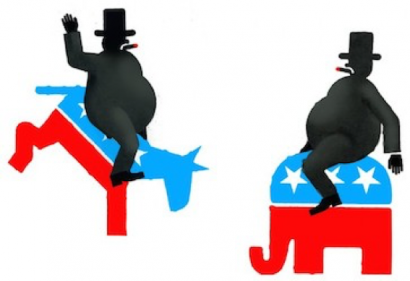 The Framers didn't give us a "democracy." They gave us "a Republic." By "a Republic," they meant a "representative democracy." That representative democracy, however, was divided. Even if "the People" were to be the ultimate authority, in the sense that we are the sovereign, the different institutions that the Constitution created were meant to be differently tied to the People.
Whether or not members of Congress ever engage in any quid pro quo bribery, at an institutional level, our Congress is corrupt. We have allowed an influence to be inserted into the legislative process that steers the legislative process away from its intended dependence: on the People alone.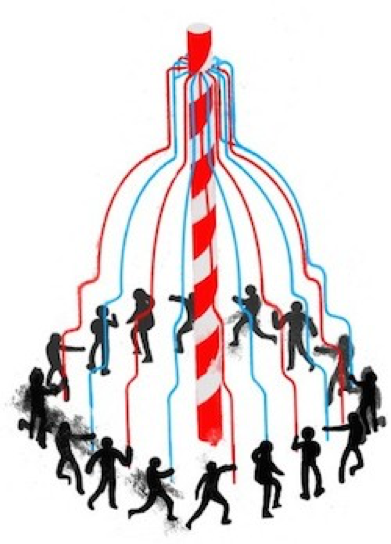 We have a Congress that is dependent on "the People" and dependent on "its Funders." It is therefore not surprising that its funders benefit from that dependence. It is, however, depressing that we, the People, don't.
and as he says at one point in there…
We need to find a way to fix that.
here's another shorter article from larry's recommended reading, over on the daily beast.
and lastly, from larry himself:
The idea is to kickstart a SuperPAC big enough to make it possible to win a Congress committed to fundamental reform by 2016. Government has failed us. More than 90% of Americans link that failure to the influence of money in politics.
Yet the politicians ignore this influence. While America founders, they spend endless time with their funders.
These funders hold our democracy hostage. We want to pay the ransom, and get it back. Or at least we're going to try.
---
larry is one of my heroes…i feel very honored to be able to help him signal boost a project that will hopefully make a huge real change in US politics. please save the date and share the news. and RSVP/share on facebook if you're on there and don't mind amplifying our voice by clicking "i'm going".
remember: this is about all of us. a people-powered superPAC to end all superPACs.
LET'S DO THIS.
xx
a
p.s. if you want to follow the conversation, check out the hashtags #MayDayPAC and #RockMayDay (for the webcast itself)…i'll be tweeting and FB'ing the link right before we go live as a reminder to join in.