August 20, 2014
TA DA! THE ART OF ASKING has a COVER. (warning: contains NSFW behind-the-scenes nakedness)
hola dears
greetings from the woods. i'll get to the bizarre story of what i'm doing in the woods for the next few months after i deal with book madness.
gimme a couple days. i'm also overflowing with fucking email and work having not been behind my desk properly for OH ABOUT SIX MONTHS and the pile-up is exxxtreme.
but fuck it all my book is fucking DONE and it's really good and i am still in some weird spinning postpartum book haze where i float between feeling relieved and happy and totally empty inside. i asked a friend of mine who writes REAL books about this feeling and he said: yes, that's why i can't stop writing books. so books are crack, basically. that's nice to know. i cannot imagine trying to write another book at the moment. i'd rather get slammed in the face repeatedly by a two-by-four. maybe that's the fog talking. who knows.
anyway
HERE IS THE COVER. i think it's beautiful.


how did the cover come to be? long story long…i did a photo shoot a few months ago in new york (i tweeted from it, here it was):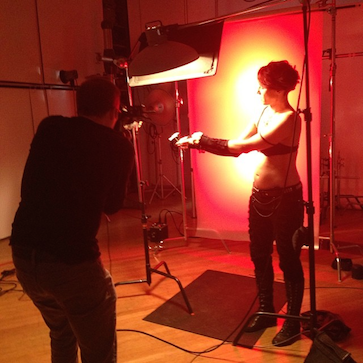 …but even though some of the images were good, they weren't great. while i was on the last leg of marathon-book-editing in san diego, i tried to think of who i knew in the area who would be down for a last minute shoot, and called allan amato. i knew him from doing photos like THIS (with only a few seconds before taking the stage at kevin smith's smodcastle):


…or this one of me and himself:


he's good. right?
i had the idea in my head that i could get a bunch of people/volunteers to show up at the shoot and paint or marker the book title onto my back, and that could somehow produce a great crowd-sourced looking book cover.
i phoned allan up, told him my idea, and it turned out that he was coincidentally throwing a PAINTING PARTY at his loft in LA a few days later.
NO SHIT, i said.
and thus our plan was born. allan was working on making exquisite corpse artworks using a ton of painter/comic friends of his, including dear david mack, for a kickstarter that CLOSES in just a few hours later TODAY, actually. as of writing this, it's fully funded to the tune of $76k, with 756 backers.
we merged our concepts and his painting-party morphed into an amanda-painting party as well, with all of the artists (david, stephanie, jim, miho, soey, jon, satine, jason, christine, jim, and zac) taking a crack at lettering my body with the title. while they were all incredible, the one that wound up being used was by jason shawn alexander…it was the money shot fo shiz…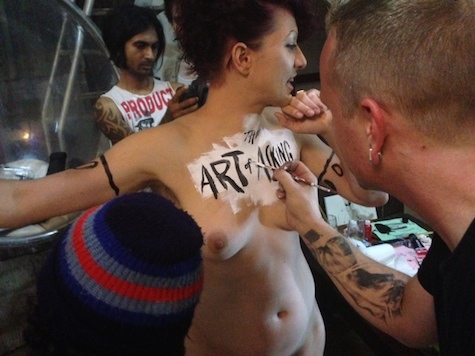 and a cover was born.
if you're wondering about how all the rest of them looked, DO NOT DESPAIR. i think allan and i are going to cook up some revealing of the awesomeness of the other paint-jobs and maybe even (gasp) release some alt-copies of The Art of Asking with various covers. all depends what's possible.
i still don't have a date for when you guys will be able to order the signed book, but the PRE-ORDER of the unsigned book is ON:
• POWELL'S
• PORTER SQUARE BOOKS
• BARNES & NOBLE (hardcover/NOOKbook/audiobook)
• BOOKS-A-MILLION (hardcover/audiobook)
• ITUNES (currently iBook only)
you can also use INDIEBOUND to find an indie bookstore near you (ones with book-books and e-books and audiobooks and surely other such types of books i am forgetting)!!! (and since people often ask, indiebound is in the UK now too, but i can't attest to how helpful that version will be)
i'll be saying a lot more about the pre-ordering of the book over the next few weeks and trying to keep you all in the loop. if you're not onnit, please join the email list and stay tuned.
and here's some shots of the painting party at allan's…
moral?
if you are shooting a book cover
I HIGHLY RECOMMEND DOING IT WHILE DRINKING WITH A BUNCH OF ARTISTS AT A LOFT IN LA.
VERY SATISFYING.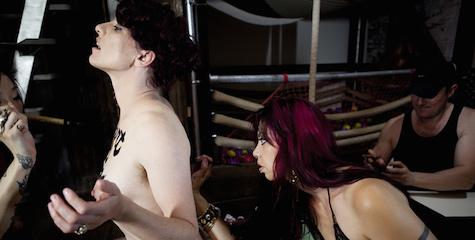 ALL HANDS ON DECK…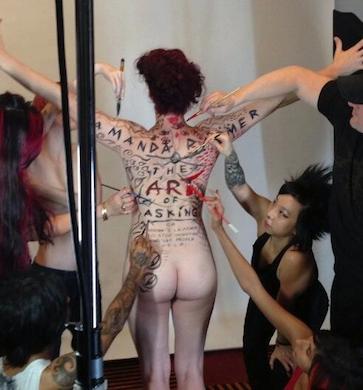 david mack lettering/sketches…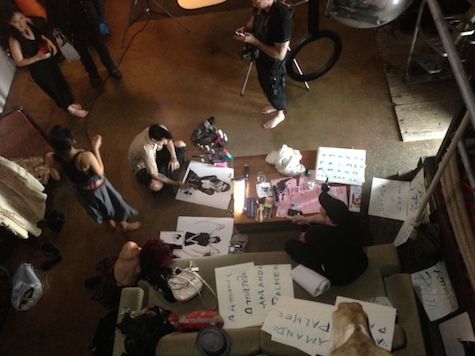 MY LIFE IS TERRIBLE (various states of getting drawed on…)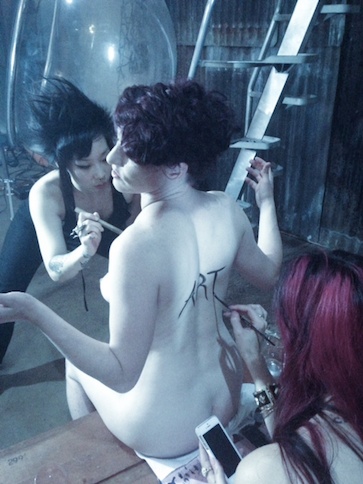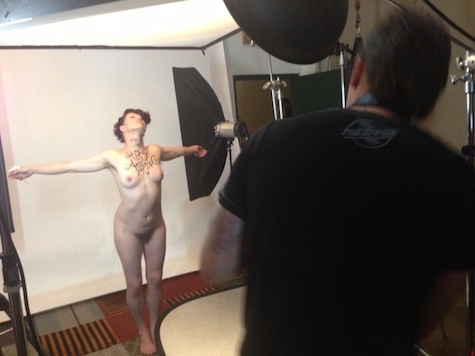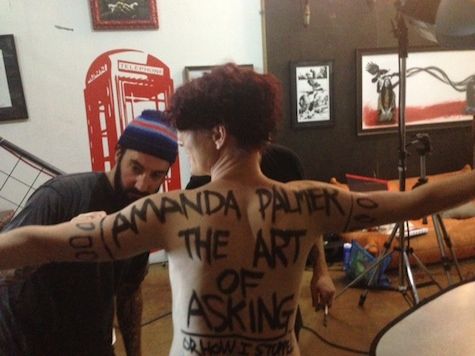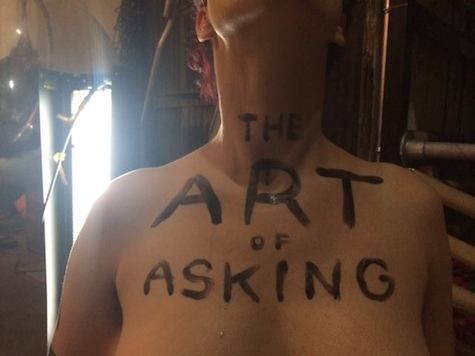 hair and make-up…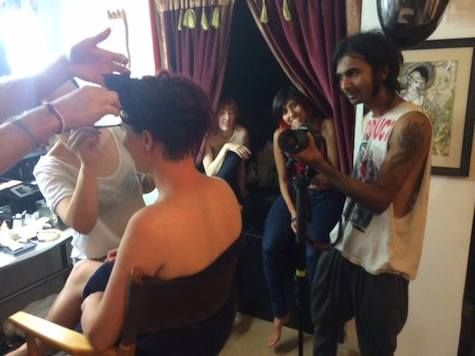 roman dirge, creator of lenore the cute little deal girl, throat-lettering…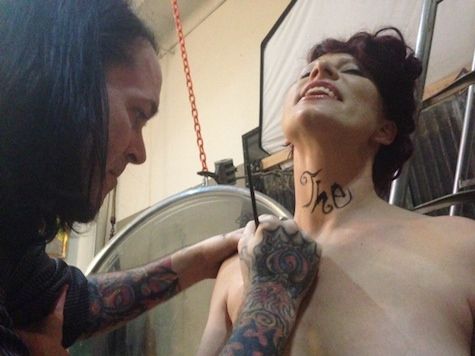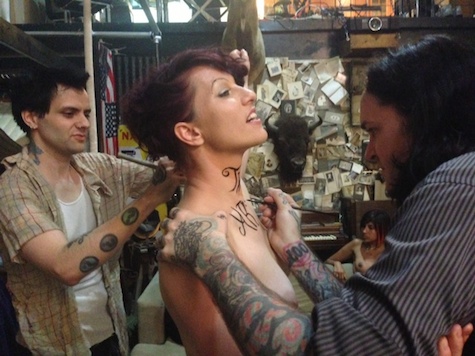 BAM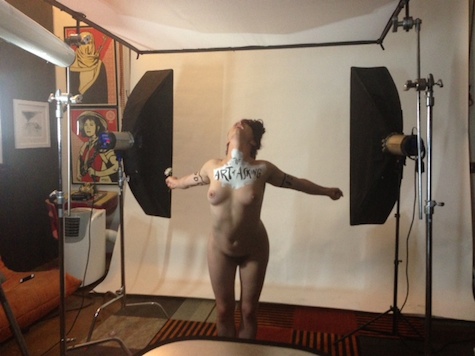 the post-painting come-down…after i scrawled all over a photo of neil…


everybody (all the artists) and that's allan with the thing sticking into his cheek 🙂


the end (for now).
MORE SOON (including BOOK SIGNING-TOUR STUFF).
so…EMAIL LIST.
LOVE.
xxx
x