December 24, 2014
MY END OF YEAR BOOK BARRAGE
HAPPY HOLDAY MADNESS SEASON comrades.
i'll write you a longer deeper letter tonight about all the feelings.
there are a lot.
we had a sudden death in our friend circle last night, anthony is stuck in the hospital over christmas, and we are going to visit newly born twins today.
things don't stop life and deathing, that's for sure.
but for a moment, i'm putting that letter on hold.
so we can talk BOOKS, mofos.
this is not your average "best of 2014" list.
this is different kind of list…it's a list of books i read (or re-read) this year,
some of which didn't come out anywhere CLOSE to 2014. plus, some books
i've got on my to-read list.
i've been meaning to post this list for a long time – but i got too sucked into book-land.
so to motivate myself, i am going to describe these books pretty impressionistically,
and give them a HAIKU that represents their essence.
and before i go on: a big thanks to sean francis (@indecisean) for helping me put this blog together and gathering all the links,
and a big year-end thank you to ALL the help sean has given me this year in blog-land. you're sui generis, mr. francis.
everybody:
let me of course remind you to buy these books, if possible, at your local independents.
use indiebound (or indiebound uk) to find out which stores have what titles.
if you're ordering ONLINE – and if you don't wanna use amazon – order from places like porter square books or powell's or harvard book store.
they're fighting the good fight.
so here we go:
in no particular order
notable books i
READ/RE-READ
(btw, images for all of the books link to goodreads…there, you'll find more info, links to buy, reviews, etc)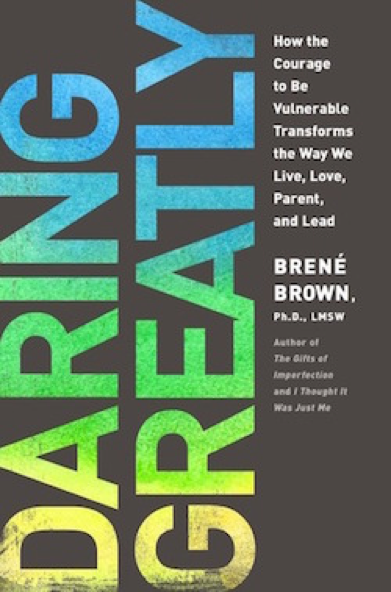 DARING GREATLY: how the courage to be vulnerable transforms the way we live… – brené brown
if you've read my book already, you're already sick of me talking about brené's book.
i picked it up RIGHT before flying to australia to write "the art of asking" and i was floored when i started reading: brené and i had WRITTEN THE SAME FUCKING BOOK, except that hers was (thank christ) took an academic
approach. but it's a manifesto about vulnerability, shame, and what we do to ourselves. i clutched this book a
few times in harsh situations this year when i needed reminders not to beat myself up about hard, hard decisions
i was making. it's like a bible of self-forgiveness, without any new-age-sugar-coating. like "the power of now" a few years ago
i would seriously recommend this book to any human being. i've already gifted multiple copies. and if you missed it, brené also wrote the introduction (and a beautiful one at that) for my book. so fuck yeah, brené.
haiku!:
why are you burning
with shame and degradation
when you could feel love?
–––––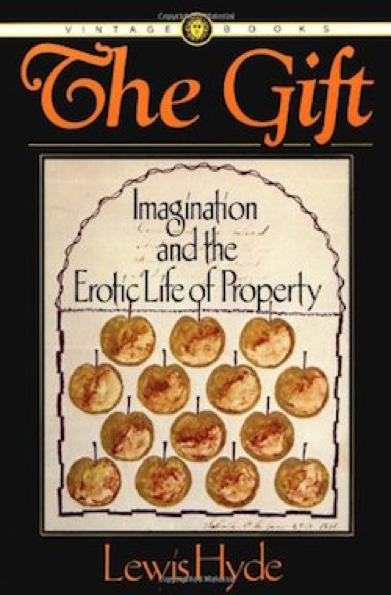 THE GIFT: imagination and the erotic life of property – lewis hyde
i kept this book in my backpack this entire year, and plowed through it chapter by chapter, marking pages; treating it a little bit like a "asking" bible.
it's a book unlike any other – and it provided me some direct inspiration for "the art of asking". like brené's book, i quote this fucker multiple times in "the art of asking" – and i kind of wished i could have a portal into my reader's brains and insist that this book be read as a kind of a primer before reading mine, because lewis lays out all the academic and cultural research for WHY it is that art works when it is regarded as "a gift that must stay in circulation". it's a fascinating read about human beings, how we exchange, why we exchange art, and deep, deep considerations that helped me make much more sense about crowdfunding,
digital, art and the human heart. highly highly recommended for artists and those who work in the non-profit sector…
the art: the artist
gifts are talents: and objects
that must move to work
–––––
FUNEMPLOYED: life as an australian artist – justin heazlewood
i've been meaning to blog about justin's book for ages and putting it off.
one important thing to point out is that it's HIGHLY aimed at australians, so i'd recommend it in this order
-australian musicians
-artists and musicians everywhere
-everybody
justin is a HILARIOUS and self-deprecating writer/musician who has been through the wringer of the business –
he writes parody-style songs and funny-but-dark songs about all manner of things (you may be familiar with his "so hungover" clip which makes fun of melbourne hipsters better than anything ever) and has struggled, for years, to make ends meet.
remember my recent blog about jack conte's medium? well, imagine a whole book like that. justin lays bare the whole ugly truth of what it's like to try to make rent as an artist: from relying on family loans or gifts, to going on the dole, to taking boring day jobs…
it's a mish-mash of really fucking funny stories and a manifesto for how to survive the inevitable depressions.
perfect for artists who have been at it for years and want to read the story of someone who's telling it like it fucking is.
it's best to order it direct from his website.
being an artist
is a really bizarre job
wherever you live
–––––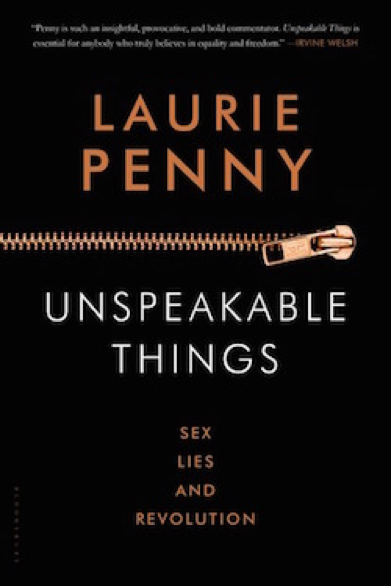 UNSPEAKABLE THINGS: sex, lies and revolution – laurie penny
i've been following laurie's writing for a while – mostly articles. i always want more.
this book made me fist-pump to nobody as i read it in melissa's basement. it made me want to punch society in the face.
it made me ashamed that my own book was not more passionate. it made me mad. it made me really, really mad. in the best ways.
feminism is pretty much fucked
six steps forward and five steps back
fuck these fucking high heels
–––––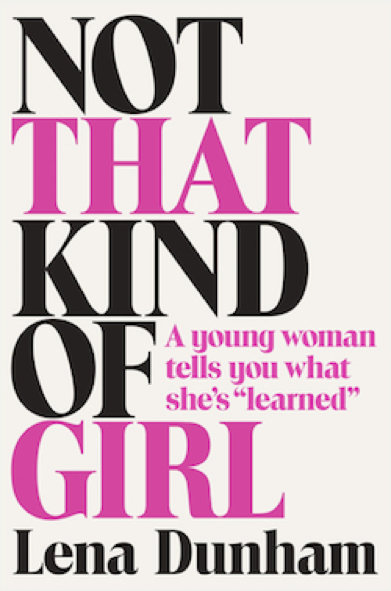 NOT THAT KIND OF GIRL: a young woman tells you what she's "learned" – lena dunham
i read it in a two-night sitting because i'm totally fascinated by lena's life and story and the media's obsession with her.
i think lena's a great fucking writer, and i think her stories are hilarious. the only disappointing thing about the book was that she didn't go deeply into the things that *I* wanna know about lena dunham: how she deals with her life nowadays, the true sorrows and conflicts that are tearing it her now, versus the conflicts of her youth (some of which were so so pitch-perfect: i particularly loved her visit back to her old college campus. i've had the exact experience, and her monologue felt like something lifted out of my own head). i felt her careful crafting and i wish she'd taken more risks. there was stuff that she should've cut (the list of diet foods wasn't worth the read to get to the punchline, and stuff).
i felt her fending off her critics in the editing. i wanted her to let her guard down more.
i wish i'd done the same in my book, though, and reading other books i find myself kicking myself going WHY WHY WHY WHY WASNT I MORE HONEST??
WHY DID I LET MYSELF EDIT ME? WHY DIDNT I THROW MORE TURTH AT THE WALL? FUCK I HAVE FAILED COMPLETELY so maybe i just can't stand myself and i'm seeing Lena in the Mirror. my new wave band is going to be called Lena in the Mirror.
you're damned if you do
and you are damned if you don't
damn, lena dunham
–––––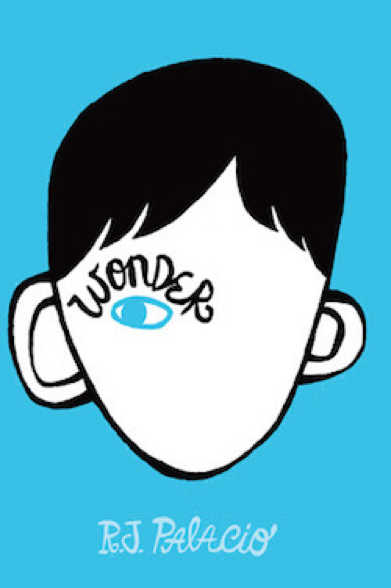 WONDER – R.J. palacio
i was given this book by my literary agent, merrilee, who know me well enough to know i'd love it. she was right: i loved it.
it follows various voice-perspectives bookended by the protagonist narrator who's a deeply medically disfigured 10 yr old boy.
it's a young adult book about life and vanity and empathy, and it's a page-turner. it doesn't need much signal boost from me, because i noticed it was on the bestseller list allllll year, but it was outside of my world and i didn't collide into it, so i'm telling you, if you missed it: it's a quick read and a perfect pass-on to anyone from ages 8-and-up.
since we are humans
it is easy to forget
that we are humans
–––––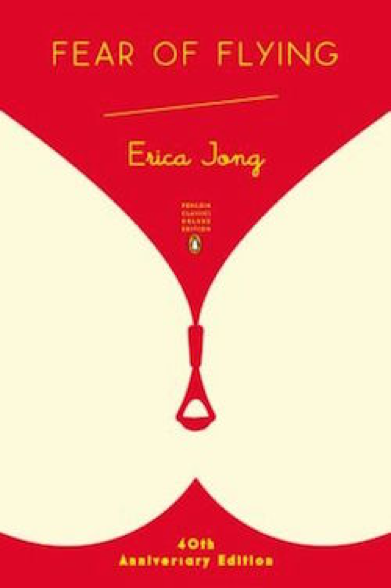 FEAR OF FLYING – erica jong
i hadn't heard of erica jong until this year, and i couldn't believe that i hadn't. this book was apparently a classic that everybody and their mother and daughter had read and i just managed to miss it, miss it, miss it. i was lucky enough to be invited to a dinner with erica and her husband this year, and so grabbed the book to do my research. and HOLY FUCK, WHAT A GREAT BOOK. it's the bubbling inner-neurotic-non-stop-monologue of a 30ish-year old woman in the early seventies – and it's unapologetically honest to the point of making me depressed about my own book (note: that's a theme here). the only problem with this book is that, upon finishing, i got deeply depressed that it was published FORTY FUCKING YEARS AGO (note: the "classic" 40th anniversary penguin edition is the one you want: the cover art is so fucking awesome) and feminism?society?culture? seems to have backslid so drastically in certain departments that i just want to give up and drink gin all day.
in the seventies
erica laid it all out
what the fuck happened
–––––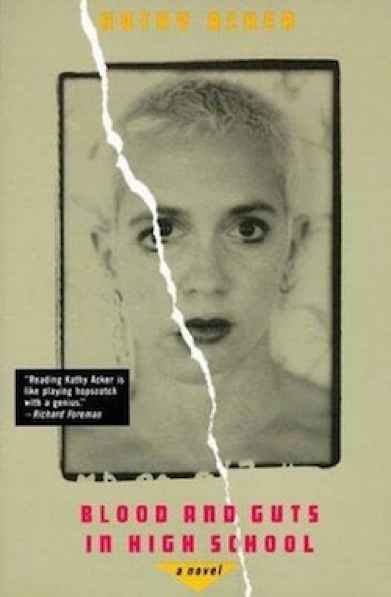 BLOOD AND GUTS IN HIGH SCHOOL – kathy acker
neil loves kathy acker. neil knew kathy acker. neil loved kathy acker.
neil spoke so beautifully of kathy acker and her books and her self and her fuck-it-all attitude that i finally read one of kathy acker's books.
and nothing in the world ever made me want to write more than reading "blood…". so when i started in on my own book, i used it, like a lighter lighting a fire under my own ass.
this book is not for the faint of heart. it's brutal – it's stark raving emotion.
sometimes you read words
and you feel your brain burning
from the inside out
–––––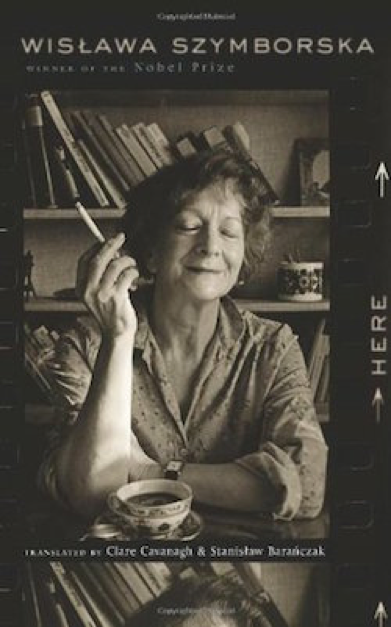 HERE (a collection of poems) – wislawa szymborska
everybody should read a book or two of poetry a year.
reading poetry is not like reading a book, or an article, or an email. you cannot attack it for information, or plot, or to get to the end.
one of the best things anybody ever said to me, offhand, was that they were reading more poetry and treating it like chocolate.
nowadays, when i sit down with a book of poems, i flip open at random, and i just read ONE. i read it really slowly. i eat it. eat the poetry.
poems nom nom
nom nom nom nom nom nom nom
nom nom nom poems
–––––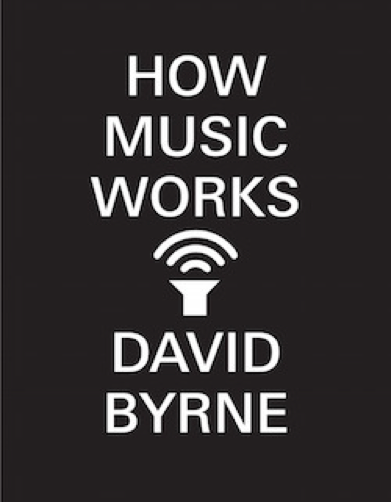 HOW MUSIC WORKS – david byrne
david byrne gets dorky about all sorts of things relating to music. totally worth a read whether you agree with him about the future of digital or not. and
if you're a fan of his, some nice insights into the mind of performing vs writing, fame and consequence, etc etc.
sometimes we forget
that sounds and space go beyond
shit on our ipods
–––––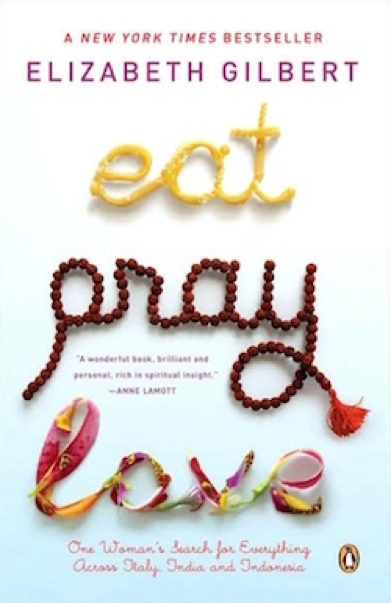 EAT, PRAY, LOVE – elizabeth gilbert
fuck the haters. it's a bad-ass classic. liz and this book get a lot of grief, i think, because the nerve the book struck is one that nobody is comfortable with.
i'm not ashamed to say i re-read the entire thing to keep liz's honest story-telling voice in my head while i wrote this past winter. it helped and inspired me
to stay honest.
(and if you didn't read the follow-up, committed, which "bombed" according to liz's amazing TED talk, read it. i thought it was brilliant. it didn't strike as wide a chord, which was probably why it didn't sell nearly as well. but i spoke straight to me, my marriage, my fears of marriage, my fears about life, domesticity, family, neil, and everything. so consider this a recommendation to freaked-out females in their 30s.)
life creates zeitgeists
and there's no shame in eating
the zetigeist du jour
–––––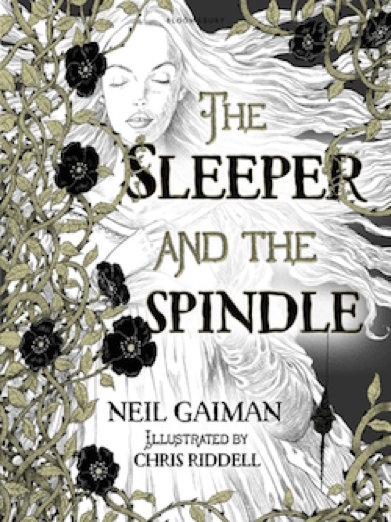 THE SLEEPER AND THE SPINDLE – neil gaiman
neil's new one. a gorgeous mish-up-mash of fairy tales in classic-gaiman-style (with artwork so beautiful, it's ridic, by chris riddell). i mean, c'mon…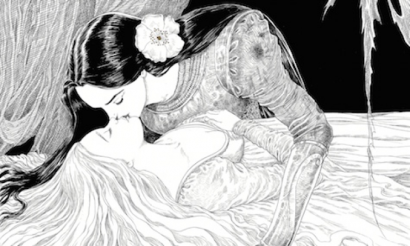 i'm so proud of my fucking husband. and i get even prouder when i like his book.
just because he's neil
doesn't mean i have to like
all his fucking books
–––––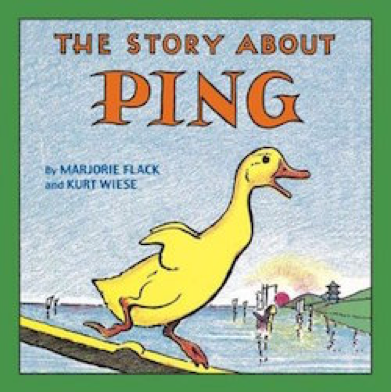 THE STORY ABOUT PING (a picture book) – marjorie flack & kurt wiese
my sweet mom re-bought me this one, from my youth, and man, it still makes me cry.
for children of all ages.
ping is a small duck
who gets lost on a river
ALL THE FUCKING FEELS.
---
CURRENTLY READING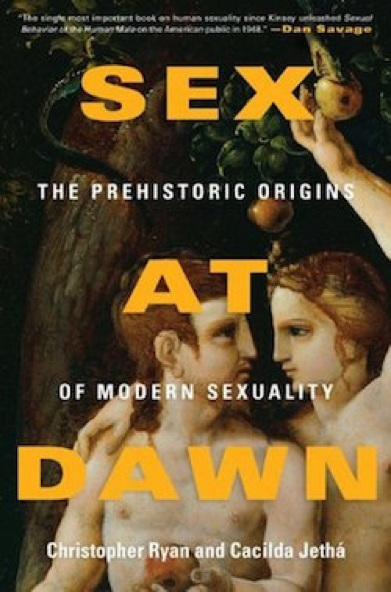 SEX AT DAWN: the prehistoric origins of modern sexuality – christopher ryan & cacilda jethá
as someone in an open marriage, this one's been landing in my lap for a while i've been meaning to read this for AGES.
it's as fascinating as people told me – and bending my brain in a predictable way. any time i read books uncovering the truths underlying cultural assumptions about sex, marriage and coupling (see: liz's gilbert's second book, above) i find myself lots in a hall of mirrors regarding why i bothered to get married in the first place, when there weren't any truly logical reasons apart from cultural approval from our fellow puritans.
i have a good angst-fest for a while, consider taking neil up on his offer to get divorced and go back to dating like normal artists, and then think it'd just be too much bother and explaining and whatever why not be zen about the whole thing instead of thinking i'm a pox on progress.
highly recommended for anyone wondering what the fuck is up with their sex life / relationships. which is pretty much everyone.
people like to fuck
just like all those bonobos
teach us, o great apes
–––––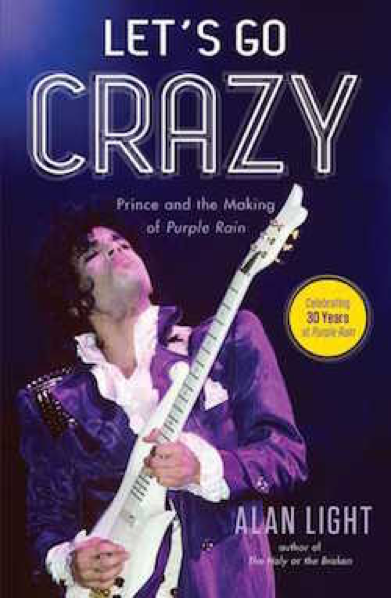 LET'S GO CRAZY: prince and the making of purple rain – alan light
A BOOK ABOUT PURPLE RAIN BY ALAN LIGHT. NEED I SAY MORE?
–––––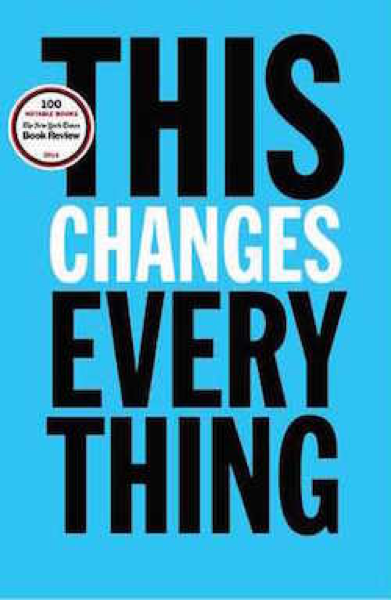 THIS CHANGES EVERYTHING: capitalism vs. the climate – naomi klein
the minute i saw that naomi was going to write about climate change (in THIS incredible article for the new statesman), i got on board. naomi's pretty polarizing and given everything i've learned through watching and experience in the past couple years, a lot of it comes from the fact that she writes about the stuff she writes about and sports a vajayjay. if you read "no logo" or "shock doctrine" you know her deal: she fucking cares, she's passionate, she RESEARCHES, she marches forth with no holds barres in her books. naomi spends the first chapter working through what most everybody i know is working through: HOW THE FUCK DO I EVEN START DEALING WITH CLIMATE CHANGE WITHOUT TOTALLY LOSING HOPE IN EVERYDAY LIFE. i'm about 50 pages in, and it's a fucking roller coaster. she joins al gore and co in the figures we will hopefully look back upon and thank for sounding the alarm. if you don't want to read this book, because fear, exactly. read it anyway. just read it.
---
TO-READ
…and on the top of my ever-expanding list of stuff i need to get to…(i can't be fucked writing haikus so you'll just have to wait until next year…)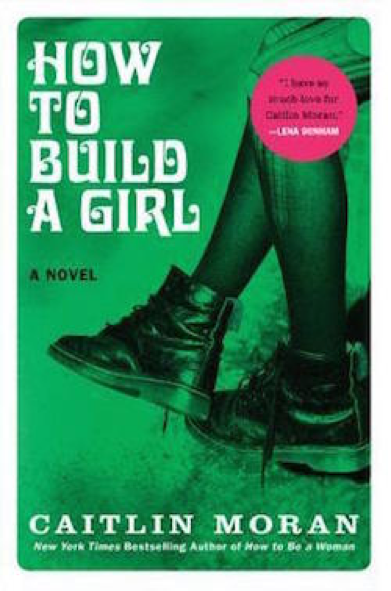 HOW TO BUILD A GIRL – caitlin moran
i bought at least a dozen copies of "how to be a woman" and this is caitlin's new one, a work of fiction. have a copy and cannot fucking wait to read.
–––––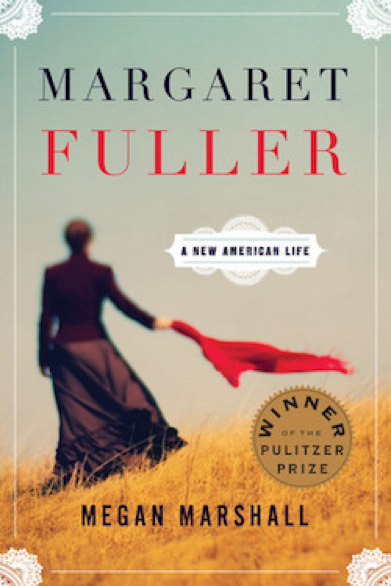 MARGARET FULLER: a new american life – megan marshall
I heard an interview with the author – thanks again NPR! – and was totally fascinated. anyone who hung hardcore with and boffed that many transcendentalists is a must-read.
–––––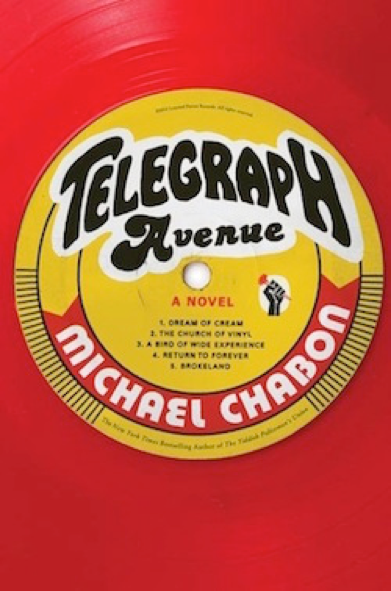 TELEGRAPH AVENUE – michael chabon
i skipped through the first few pages and can tell this one is probably going to speak to my inner indie musician.
–––––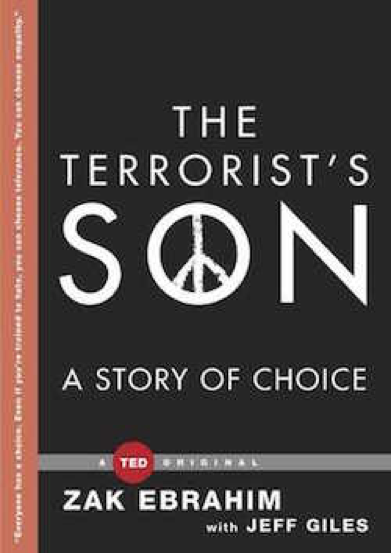 THE TERRORIST'S SON: a story of choice – zak ebrahim
I ran into Zak because of TED and a few other coincidences and got to chat with him about this book and the fall out in his life – it went right on the pile.
–––––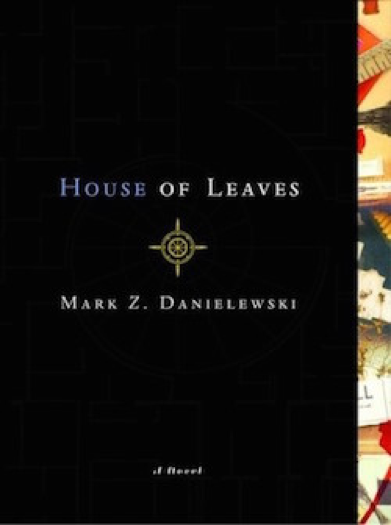 HOUSE OF LEAVES – mark z. danielewski
i have been given 5 (five, V, count 'em, five) copies of this book by people at signing lines on tours throughout the years. it is hard to own five copies of a book and not think that you should read it. shush, don't tell me how good it is. i get it. five people have given it to me. i'll read it. shush.
–––––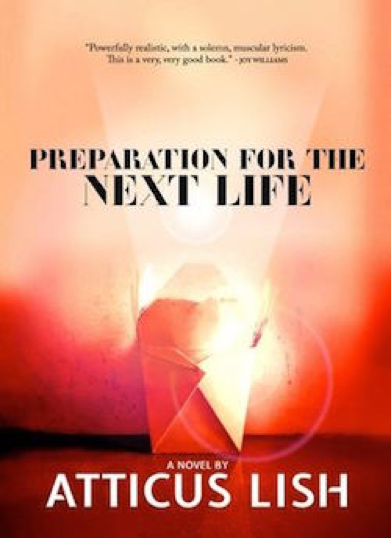 PREPARATION FOR THE NEXT LIFE – atticus lish
i heard an incredible interview with atticus on NPR a couple weeks ago and was sold. bam.
–––––
THE FICTIONAL WOMAN – tara moss
tara and i got to hang out in australia last year and i put her book at the top of my list for reading when i was heading back to oz (which i now am). the reviews on it are wonderful and she's a fantastic twitterer, so i'm pretty convinced i'm going to love this book.
–––––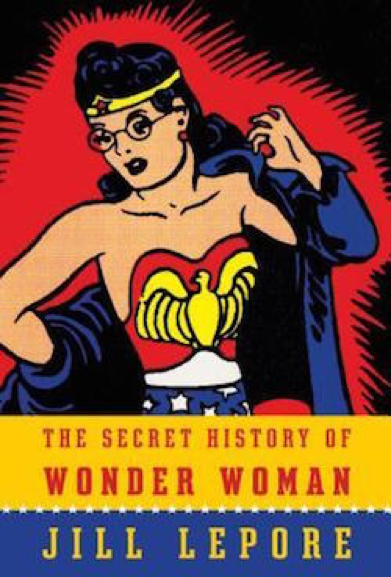 THE SECRET HISTORY OF WONDER WOMAN – jill lepore
i picked this up at a bookshop in upstate new york and after 5 minutes of thumbing through it, i was hooked. bam, on the list.
–––––
and last but not least…
IN THE UNLIKELY EVENT – judy blume (coming june 2nd, 2015)
…because oh my god yes. her first book in ten years. it's coming.
---
PHEW. done.
now…YOU!
why else do you think i did this, mofos?
PLEASE SHARE IN THE COMMENTS BELOW WHAT YOU'VE BEEN READING AND LOVING…
whether it's old, new, this year, or from 1895. share, share, share!!!
please include links and links to reviews, anything you wanna share with me and the rest of the class, we're here.
and please link back to this blog if and when you share – flag me down on twitter, FB, etc.
LONG LIVE BOOKS
BOOKS ARE THE FUCKING BEST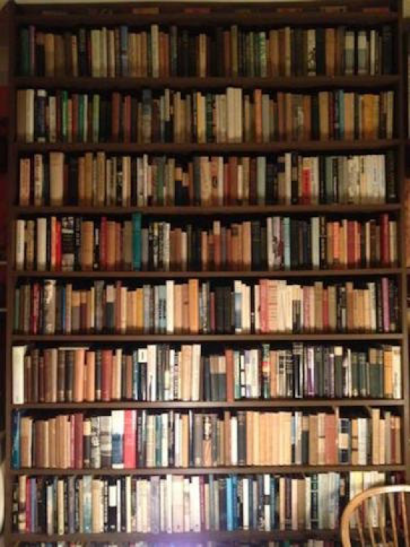 love
afp
(p.s. that photo was taken a few years ago in the kitchen of john and judith clute, and it's still my most popular tumblr post to date. that fact fills me with hope for the universe…)