April 19, 2010
AFP & CO.= 1, VOLCANIC ASH CLOUD = 0 !!!
WE SLAYED DUBLIN!!!!!!!!!!!!!!!!!!!!!!!!!!!!!
we managed to borrow (by twittering): two tripods, a DV camera, more kazoos, and firewire cables. then, the club has landed us a projector to make jason's face HUGE:
(screen-grab stolen from about an hour and a half into the webcast)but before the show (which will probably get its own blog), we must go BACK…
let's rewind, about twelve hours or so………..
————
…i woke up in dublin, in a girls purple bedroom covered with amanda palmer posters.
<3
i got myself moving, by doing some yoga, using her stuffed bunny as a yoga block: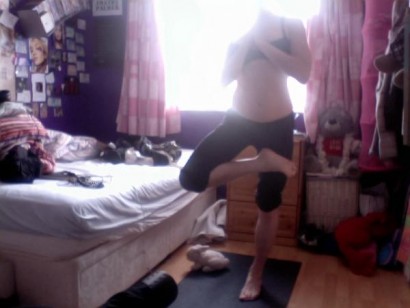 meanwhile, georgia from bitter ruin was downstairs learning "delilah" for the show tonight.
after yoga, neil, jason, sxip and i worked (over e-mail), on a song we debuted tonight called "FUCK THE ASHCLOUD"…ben from bitter ruin played guitar (he learned it fucking QUICK). it's an awesome song, and i'm sorry to those of you who only got to see the first half (before the angry volcano god thwarted the last few MINUTES of our hours-long webcast) but BEHOLD THE POWERS OF YOUTUBE:
strange to think that just a few days ago, i was potentially going at this alone…and then yesterday, the van pulled up to the house and out poured the crew. qua?
as you know, the crew was SUPPOSED to be me, jason and sxip (who make up the stage show) and eric (our tour manager) and zea (who's vending merch through most of the tour). they're ALL still stuck in boston/new york due to the THE FUCKING ASH CLOUD.
so instead the crew of stragglers is me, sven (@tvsven, the nice friend of zoe keatings from belgium, who offered to drive our van the one leg from belgium to scotland and fly back is now FULL-TIME tour manager and made special VOLCANIC tour laminates, that say "EVELYN EVELYN EUROPEAN TOUR 2010: FUCK THE ASHCLOUD")…checkit: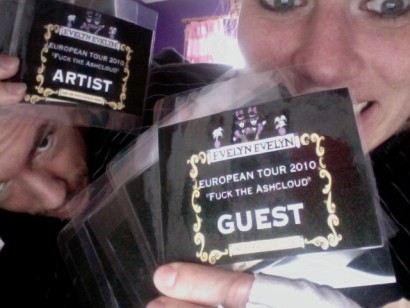 also on board is the aforementioned bitter ruin (@bitterruin)…they're the band from brighton who offered (over twitter) to drive up to glasgow and support, and then hopped in the van to support us in dublin too, because…WHY NOT? they're awesome. never hurts to share your van and your crash-space with utter strangers////and while we're at it, let's pick up a random fan!!
done: we found kaitlin (@kaitlin_graham) a brisbane chick who's been living in scotland for the last few months. she just quit her job as an au pair (she has no brothers and sisters and offered to be an au pair to FIVE CHILDREN. she lasted 4 weeks, amazingly) and was going to fly to the dublin show, but obviously the flight got cancelled.
so we offered her a ride.
so i went from being alone to having a crew of zero to a crew of 4 in under 24 hours. ROCK AND ROLL VOLCANO!
now,
maybe we can sort through this madness via picture…..let's back up…
(again? yes. okay. this is getting wonky with all of this time-jumpingness, hope you can follow)
the night before the glasgow show (was it only two nights ago?) me & sven, a then-lonely crew of two, stayed with the wonderful cunninghams, my favorite scottish family ON EARTH.
below are them and many friends who joined for lunch….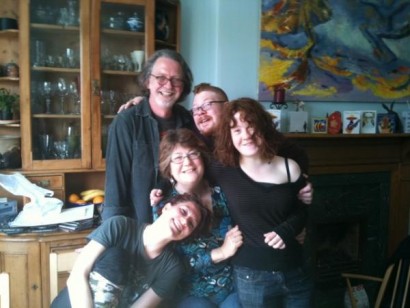 love…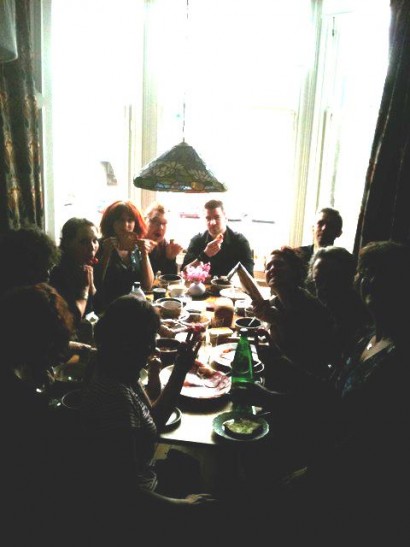 sam (with the fauxhauk, and that's his sister rosie, and mum & dad mary and chris, the amazing dentist who once fixed my tooth for free after i broke it beatboxing drunk with reggie watts) has his own band called "edward and the itch" and so they all jumped into the van to glasgow with us and opened up with 4 songs, because he's rad like that. bitter ruin played second support.
the glasgow show was a beautiful MESS of epic proportions.
i've never done anything like it in my life, but i like that my LIFE is such now that i can get away with it.
well…almost get away with it.
a few people twittered me to tell me they were so unimpressed at all the madness and unplanned-ness on stage that they left.
but the people who stayed were in heaven, seemingly, and most people after the show told me it was the best show they'd ever been to.
different strokes, for sure. me? i love the mess.
we beamed jason in via skype. then, with a second computer (sven's….thanks sven) we webcast'd on ustream….spending ages on stage trying to work out the technical glitches.
then, with jason on PIANO IN MY APARTMENT IN BOSTON (where he'd been stuck), i did a SPEED-THROUGH of the entire show, playing every character, with the two members of bitter ruin standing in as the twins at the piano, and pulling random fans up into the audience to help out. jason and i tried to play most of the songs together. some failed miserably and some were incredible. the feed was difficult, every time jason started playing too loud in my apartment he would clip and if i played too loud in the club in glasgow his piano would vanish. but it was fascinating to even try it without having planned any of it.
i picked somebody from the audience re-draw the entire puppet show (sorry, didn't catch your name love), and people contributed cowboy hats, twix, feathers, a purse and other random props to the stage to make the show work.
it was sloppy as fuck, but we DID it, and managed to not go over club curfew (almost).
in order to webcast, by the way, i picked volunteers in the audience to "crowd-surf" my mac through the first few rows.
the wisest thing i've ever done, for sure.
it miraculously survived it's journey just fine….
THE WHOLE SHOW is archived at my ustream, go check it out, it must be seen to be believed….
here
here
and here
&
here are some pix, stolen from these two flickr streams…….
http://www.flickr.com/photos/chrisdonia/sets/72157623878426594/
http://www.flickr.com/photos/satanpolaroid/tags/amandapalmer/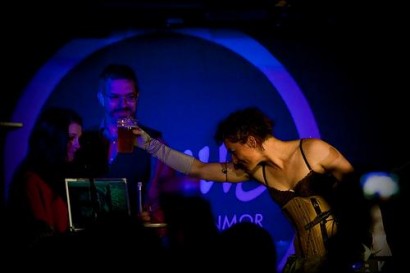 (can you spot the jason webley on the webcast? hint: he's wearing a wig:)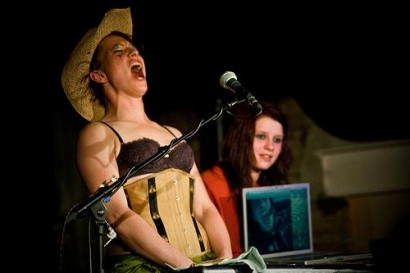 satan polaroid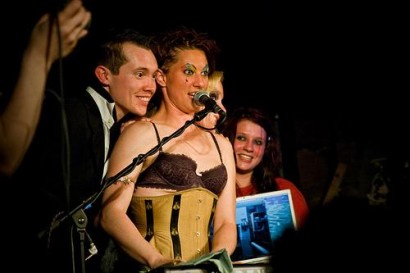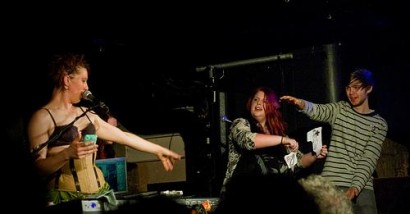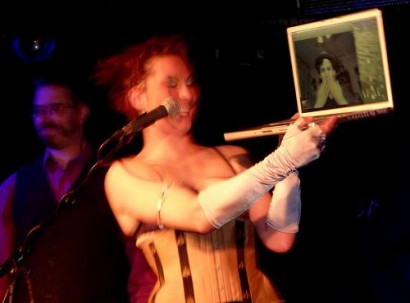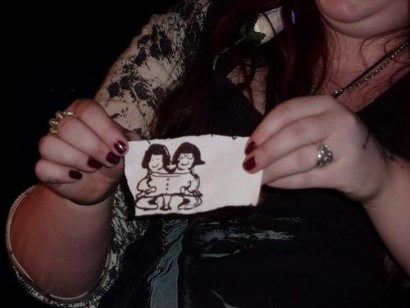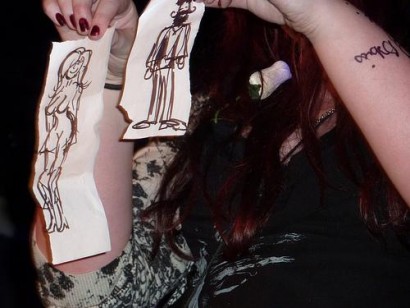 as themselves: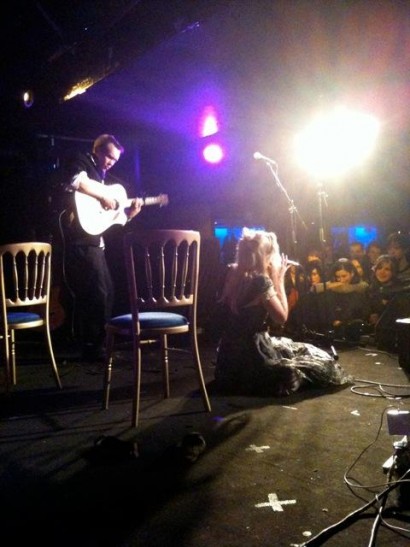 as evelyn-evelyn stand-ins, & tim-curry-from-"clue"-theme-music players!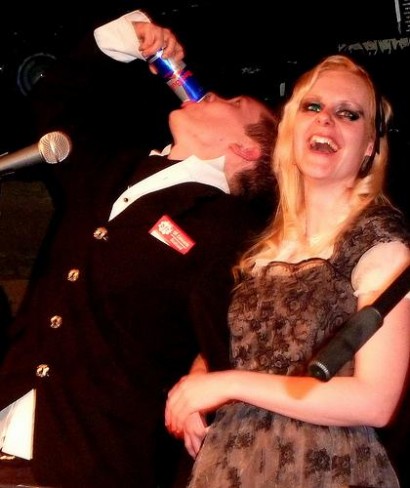 the crowd: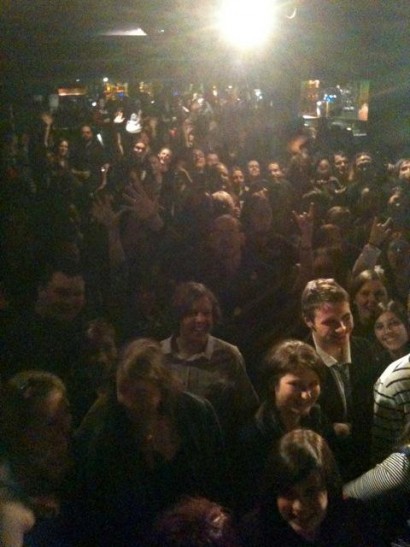 some random scottish man i bumped into in the elevator…apparently there was a wedding on the 3rd floor of the venue: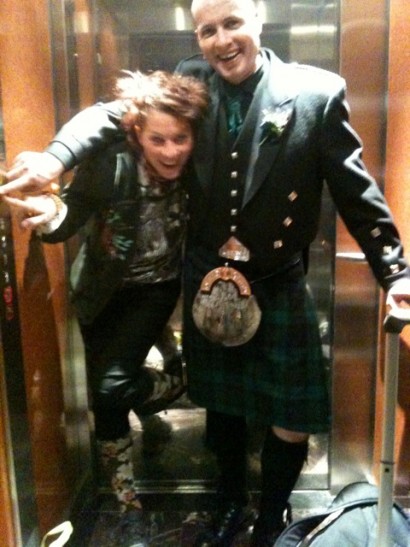 georgia from bitter ruin climbing the 4th staricase to nick's apartment, where we all slept: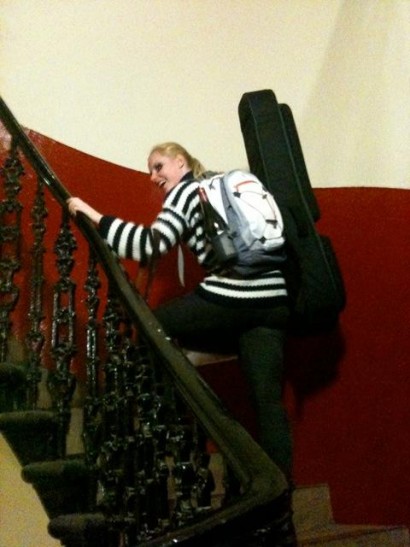 nicks' apartment…from l to r: sven my random tour manager, kaitlin our random fan straggler from oz, bitter ruin, nick….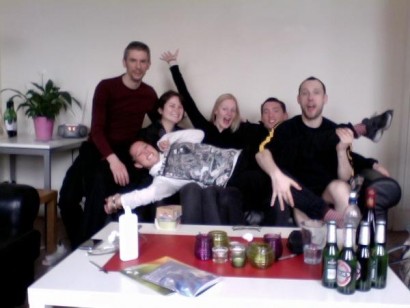 katie, making my bed for the night (she bunked with her 6-year old sister, ailbhe):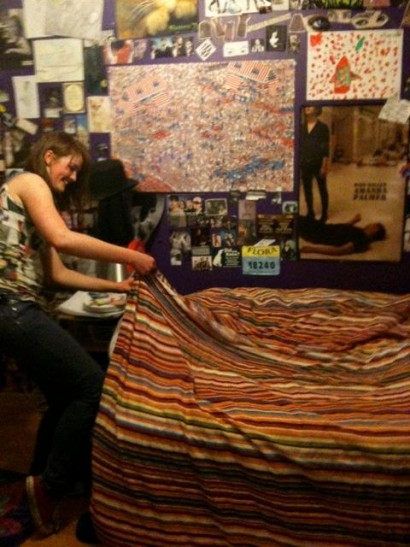 the whole family mess of us: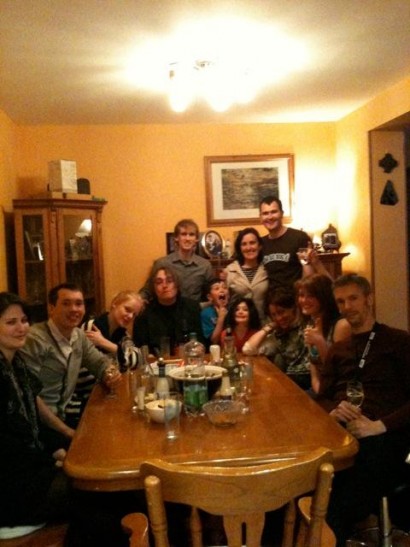 katie's VOLCANO CAKE: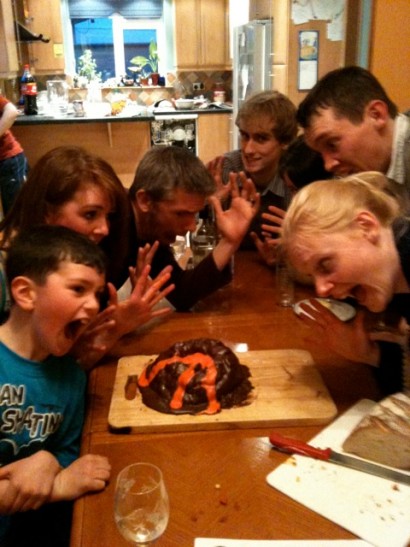 and the highlight of the night….katie's 8-yr old brotehr tiernana playing "hallelujah" on guitar: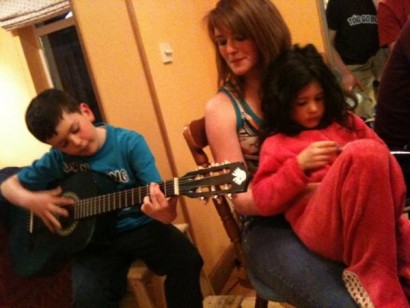 katie's mom caught it and kati'e posted to youtube….

….keep an eye out for the volcano cake (almost demolished).
we stayed up and had a mac party, prepared tonight's webcast by twittering to borrow a camera, tripods, and firewire cables, and wrote a song about the ash cloud on guitar and piano….THEN went to bed.
well, everyone else went to bed. i stayed up skyping with neil, and then, while jetlagged for a few hours, listend to the new radiohead mixes for the covers record.
they're sounding amazing.
and that brings you to this morning……..where i woke up in dublin, in a girls purple bedroom covered with amanda palmer posters.
full. circle. baby.and what does this all whittle down to (removing webcasts and video camera and delayed flights and  volcanos from the equation)?
NOTHING IS IMPOSSIBLE IF YOU ASK FOR HELP.
xxxx
AFP
p.s…heard that melissa auf der maur (@xmadmx), along with gazillions of other musicians, is also stranded on euro-tour due to the fucking ash cloud. she is ROCK and HITCHHIKED to her gig ! her blog: http://xmadmx.com/blog/
p.p.s…..before leaving for the venue earlier, i got 2 minutes of quality trampoline time in with tiernan and his friend karl rice, damien rice's little cousin.
daily exercise = CHECK.