July 29, 2019
AFP talks with LINGUA IGNOTA podcast {official thing}
(public post)
"It just blows my mind how much people hate women, how much the world hates women and how crushing it is to have more and more information and proof to that out there in the world….So I feel a great sense of responsibility in surviving with other women, like frantically trying to keep control of our fucking bodies." 
-Lingua Ignota/Kristin Hayter, in Revolver Mag: https://www.revolvermag.com/music/biblical-wrath-lingua-ignota
HALLO LOVES.
SURPRISE.
it's another beta-podcast for you! and this one is….well, it's pretty goddamn beautiful. and inspiring.
you may have noticed in the last few months i'm leaking little beta-podcasts….
here are the others:
-a few months ago i released a patron-only podcast of my discussion with neuroscientist david eagleman titled "the speed of the art and the speed of the heart",
-a few weeks ago i released a legitimate adventure in DC with laurie penny at the white house correspondents dinner, and right at the end of the tour i released this: notorious abortionist: a conversation with dr. leah torres.
here's another. my podcast producer (fannie cohen) and i are really starting to get into the groove of WHAT this podcast is going to be like, sound like, feel like. i am getting ideas left and right about how to conduct interviews to make them better and deeper, and i'm also getting a lot of ideas about what we can do with YOU – THE PATRONS – once we get our wits about us. i am thinking that spaces for members of the public to share their personal thoughts/stories/reactions is going to be a really important part of this whole undertaking. i'm just not sure yet how we do that.
so…..for now….here's a beta-episode of my new interview with LINGUA IGNOTA.
this one is PUBLIC!
and…
why?
why? why am i putting this podcast out now instead of in september or october when the podcast actually launches.
BECAUSE HER RECORD JUST CAME OUT LAST WEEK, SHE IS TOURING, AND I WANT TO HELP HER and because THIS IS MY PODCAST AND MY PATREON AND I CAN DO WHATEVER THE FUCK I WANNA DO so there! hooray!!!!
i so rarely find new artists who really deeply speak to me. the last time i fell in love with a new record and put it on repeat, it was Lorde's "Pure Heroine".
this artist is not like that artist.
this artist is more like a throwback to the stuff i was listening to in high school mixed in with my new artistic no-holds-barred approach to feminism and songwriting…
i've been describing her to friends as a cross between diamanda galás and the japanese noise artist merzbow.
i talk a little bit about HOW i met kristin (aka lingua ignota) in the intro to the podcast itself….it's a beautiful story of a friend knowing me well.
(thanks, cormac bride).
………….
my touring show for THERE WILL BE NO INTERMISSION does not have any support acts, you may have noticed. why? it's long and intense and openers just didn't….fit. in any way.
but….i "had" to have one for my church performance at sxsw, it's just part of how that goes.
BOOM…..there was only one act i wanted.
so i invited lingua ignota to open the show for me and thank christ she was free and said yes.
if you were there, you saw god with me.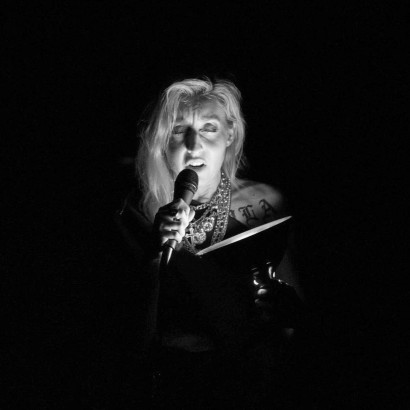 (photo by hayley rosenblum)
in the few hours before the show, we recorded a conversation in a tiny hotel room across the street, hoping to get away from the loud circus that is sxsw.
you can see some clips of this in the (for now, patron-only) documentary i'm working on that covers my time throughout the week at SXSW, filmed by jessica gardner. (i encourage you to re-watch it, starting at about 55mins in as you'll see some parts of our conversation and some clips of her live performance.)
here we are in our shitty hotel room!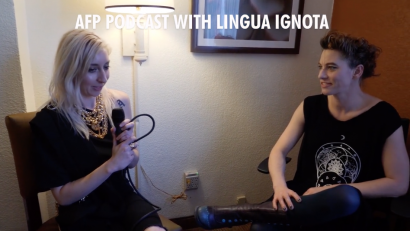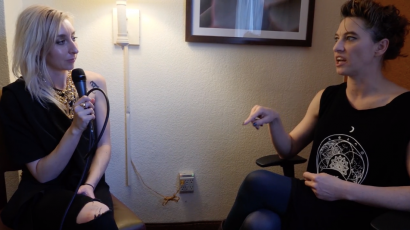 and here's kristin on stage that night….crushing souls…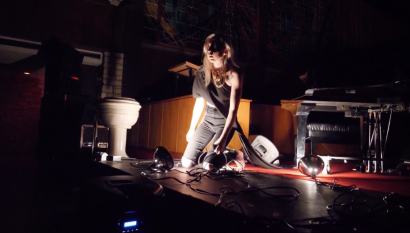 she's such a force.
GODDAMIT.
listen. the reason i wanted to do a podcast was to do more than just tweet and link other artist's work. i want to do more than just share new york times articles and spout my own opinion about things. i want to hand my microphone over to other thinkers, other women, other artists, and i want to bring you all with me. i have a feeling that the more i do this, the better i'll get at it.
i admit it.
i want to be the punk oprah.
………..
if you have any feedback about the quality of the podcast and the editing whatsoever, this is a great place for it. comments, please, we are reading.
…………………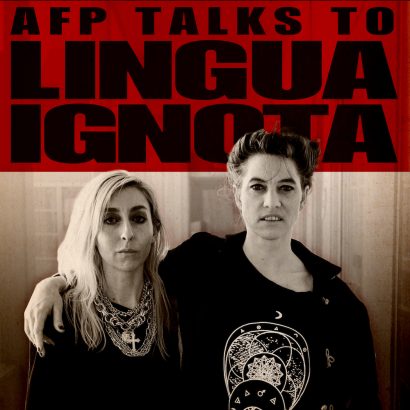 LISTEN TO THE PODCAST:
stream on soundcloud:
https://soundcloud.com/amandapalmer/afp-talks-to-lingua-ignota/s-NwjeY

or if youtube is more your jam, you can stream it there too:
https://www.youtube.com/watch?v=busR948qeNU&feature=youtu.be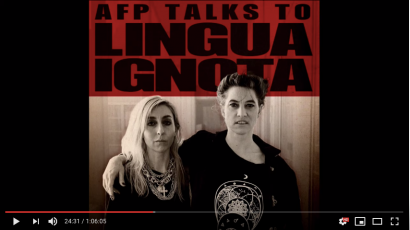 ……………..
SHARE THIS EVERYWHERE!!!!!!!!!
DON'T FORGET – THIS IS THE ONLY WAY THIS PODCAST IS BEING RELEASED!!!!! SHARE OR IT DOES NOT TRAVEL. use the soundcloud link, the youtube link, or link to this post. there are a ton of great text quotes from the podcast itself if you wanna cut and paste and slap up on twitter, fb, etc.
BE THE MEDIA.
WE ARE THE MEDIA.
WE ARE THE MEDEA.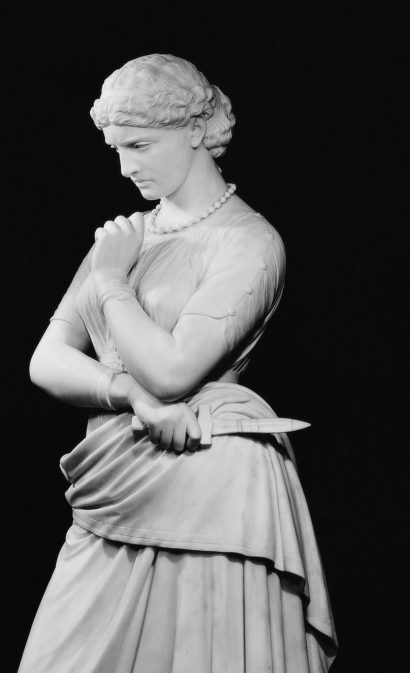 ……………
get it?
………….
$3+ download patrons standby, your download is coming shortly. and, as a bonus, HOORAY!!!!!!!!!!!!, every patron is going to get a download of "DO YOU DOUBT ME TRAITOR", a track from Lingua Ignota's new album, CALIGULA. thanks kristin, for being game to do that.
……
more……
LINGUA IGNOTA'S NEW ALBUM, CALIGULA just came out earlier this month. thus the early podcast outtage: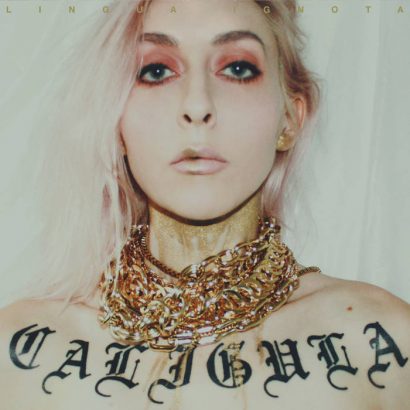 you can listen, stream, download, buy the whole album here, on Lingua Ignota's bandcamp:
https://linguaignota.bandcamp.com/album/caligula
I DO WARN YOU.
IT IS NOT EASY LISTENING.
IT IS NOT FUCKING COFFEE SHOP MUSIC.
DEPENDING WHAT KIND OF FUCKING COFFEE SHOP YOU LIKE.
IT IS NOT CALMING YOGA MUSIC.
UNLESS YOU ARE BLEEDING AND ALONE AND DOING YOGA. THEN MAYBE YOU WILL BE CALMED.
KEEP YOUR EARS OPEN AND YOUR EYES WIDE.
………………….
deeper dive:
the album has gotten some stellar reviews and some great articles written,
like this one from LOUDER where kristin shares a track by track guide to each song on the album:
https://www.loudersound.com/features/lingua-ignotas-track-by-track-guide-to-new-album-caligula
"Particularly for this record, I took a really weird approach to the songwriting," she says. "Most of the songs started out [only using my] voice and piano, just to have chord progressions and structure. Sometimes I use no lyrics to establish a vocal line. But then a lot of it [the material] was then taken and totally deconstructed; the record kind of moves moment by moment, as opposed to song by song."
more….. her interview in treble magazine:
https://www.treblezine.com/lingua-ignota-interview-deconstruction-depravity/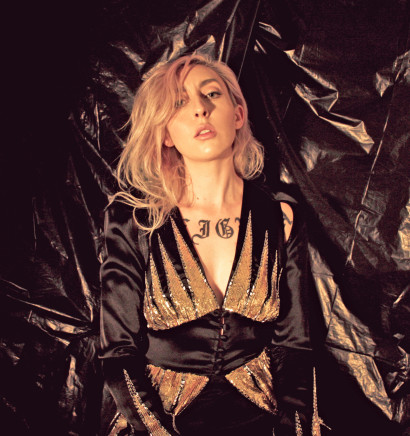 …………..
the guardian gave caligula four stars:
https://www.theguardian.com/music/2019/jul/19/lingua-ignota-caligula-review-profound-lore-kristin-hayter
…and as fate would have it that issue came out the DAY i landed in scotland last week and i nabbed a paper copy (and, like a proud mom, got to send her a picture of it…right next to fellow weirdo-friend wayne coyne):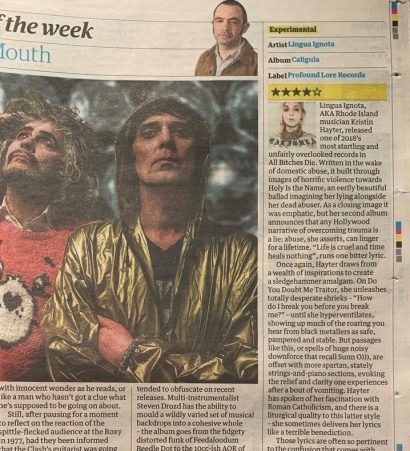 ………..
DO YOU WANT TO SEE HER LIVE.
FUCK YES YOU DO.
here is some performance footage of "woe to all" (from ALL BITCHES DIE) – the song that got me hooked:
https://www.youtube.com/watch?v=8Nqdqh2oSV0
….great footage of an entire concert she played in brooklyn up on youtube, dive in…
https://www.youtube.com/watch?v=dKd6oUalc0Y
……
here are her tour dates:
https://linguaignota.net/shows
September 9 Chicago, IL @ Empty Bottle
September 10 Detroit, MI @ Deluxx Fluxx
September 11 Toronto, ON @ Baby G
September 12 Montreal, QC @ La Vitrola
September 13 Providence, RI @ The Columbus Theater w/ The Body
September 14 Hudson, NY @ Basilica Soundscape
September 15 Brooklyn, NY @ Public Records
September 17 Philadelphia, PA @ PhilMOCA
September 27 Amsterdam, NL @ de Brakke Grond *
September 28 Amsterdam, NL @ Paradiso *
October 7 Krakow, PL @ Unsound Festival
November 8 Austin, TX @ LEVITATION / Empire
November 25 Los Angeles, CA @ Zebulon
November 26 San Francisco, CA @ Bottom of the Hill
* w/ Amenra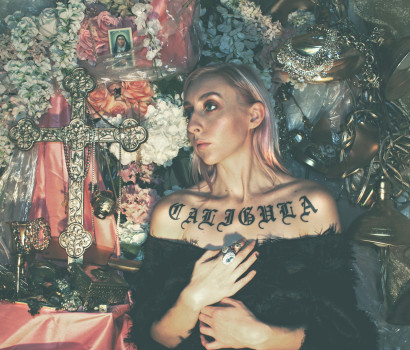 ……….
LAST BUT NOT LEAST….
here are some words for y'all, from kristin herself:
Given the privilege to open for her at SXSW, I watched Amanda Palmer from the balcony of a church as she deftly waded through narratives of loss, by turns moving her audience to laughter or tears for over 2.5 hours, enthralled. This person, I kept thinking to myself, is a true fucking master — how is she doing this, how is she holding all of us this way. Earlier in the day I had spoken with Amanda about many things related to our experiences of making music, including being dismissed and the different ways we use language to discuss trauma. Being a woman making confrontational work is a lonely business, and it seems that to take up space is a radical act. Even the way Amanda moved through the church, claiming it, was special.

I think about both of our albums that came out this year, hers — the cutting, incisive, masterful There Will Be No Intermission, and mine — the diabolical, unhinged CALIGULA. They are very, very different but alike in significant ways: they are both gigantic and completely engulf the space women are traditionally given, they both challenge and call out to the listener, they are both about fighting to be seen and heard, giving expression to that which seems unbearable and unspeakable. It seems like now is the time for people like us to make work like this.

Amanda's compassion, empathy, and absolute mastery of her craft has imparted a strength to me that I cannot quite describe, but I carry it with me today and all days, and after meeting her I understood that I was not so alone. I am intensely grateful for her support and kindness, for our conversation, and for the opportunity to play music with her.
DAMMIT. NOW I AM CRYING AND SILENTLY SCREAMING.
thanks kristin, i'm grateful for you, for this, for us, for all the voices of love and joy and pain and rage that refuse to be silenced.
EVERYBODY, ENJOY.
xxxxxx
AFP
………..
CREDITS:

WOE TO ALL WHO DO NOT LISTEN TO LINGUA IGNOTA
recorded by jessica gardner in austin, tx
additional recording by alistair george at canon gate studios
produced by FannieCo.
cover photograph by hayley rosenblum
cover art design by andrew nelson
FEATURED SONGS (in order of their appearance):
"Faithful Servant Friend of Christ" by Lingua Ignota
"Bottomfeeder" by Amanda Palmer & The Grand Theft Orchestra
Excerpts from "Woe To All (On The Day Of My Wrath)" by Lingua Ignota
for more on lingua ignota: http://linguaignota.net
for more on amanda palmer: http://amandapalmer.net
……..
FUN EXTRA?
HERE ARE OUR TIME-CODED SHOW NOTES + QUOTES
00:20 – "Faithful Servant Friend of Christ" by Lingua Ignota
05:21 – AFP on how she first discovered Lingua's music through her friend and musician Cormac Bride
07:00 – Excerpts from "Woe To All (On The Day Of My Wrath) " by Lingua Ignota
09:55 – AFP describes Lingua Ignota as a cross between Merzbow and Diamanda Galas
16:00 – At Brown University, Kristin's Masters thesis on Digital Language Arts is titled "Burn Everything, Trust No One, Kill Yourself" which was algorithmically assisted using a Markov chain.
16:55 – To build the source material for her thesis, "I started culling together all of this language from the internet, and from liner notes, and from lyrics, from genres of extreme music that kind of mythologized misogyny." – Kristin
18:30 – Kristin on her thesis: "I don't want this to be something that has to be archived, I want this to be something that people have to deal with."
19:00 – Some of Kristin's inspiration that comes from Igor Stravinsky's "The Rite of Spring"
22:45 – "In my other way, in my genre, I've picked something kind of extreme. Like, my stuff is definitely not for everyone and if you find confessional stuff confrontational, you're going to find this really confrontational." – AFP
24:20 – "There is only so much you can do with interpretation, there is only so much of yourself you can put into interpreting someone else's music. And I eventually fell out of that and went to art school." – Kristin
24:30 – "Coming to this work, I wanted it to be confrontational and to explore the ideas of gender-based violence in a way that wasn't traditionally feminist. The work is not informed by any kind of Feminist school of thought, feminist theory, or—and I don't really think about feminism at all when I make the work. I think about misogyny and hatred of women. And the attitudes espoused there. And about re-contextualizing and flipping the attitude instead." – Kristin
29:30 – "My philosophy about art and this kind of stuff is that it's all got to be allowed. Whether or not you serve it up with a giant context condiment buffet that isn't what art ever has been and isn't what art should turn into." – AFP
28:45 – AFP on rethinking female artists like Toni Amos and Ani DiFranco. Her feelings around being compared to them and competing with them. And the framing around female-lead musicians as not as cool as the guys.
32:33 – "I wanted to be the kind of artist that my older boyfriend might actually one day stand up and say this is the thing. She can be up there with Current 93 and Swans and Coil like she belongs to the canon." – AFP
35:00 – A discussion about having literal lyrics and if that makes you uncool.
45:47 – "I tend to specifically choose environments that maybe have more hostility in them to sing my most soul-baring songs." – Kristin
47:10 – "I do think it's really important to create that space and to make it okay for women to ask for things that facilitate making raw and important work. A lot of us are scared to do it and there is no environment in which to do it that feels okay. I mean, it's literally like you do it in a place that feels fucking terrible all the time." – Kristin
50:56 – "I feel it's my goal to instill fear in people who have done harm in the room… and to make people understand who don't, or who don't care. And then to honor people who have shared my experiences. So I want to do all that at once. And I feel like if I don't do that, I fail." – Kristin
52:10 – "One of my favorite things is when the sound guy comes back and is like, 'that was fucking gnarly, that was the scariest thing I've ever seen!' It's happened a few times and I'm always looking for that response." – Kristin
55:00 – On the environment in which you create, how to control it.
1:03:35 – "No one told me just play a blues jam, you'll get the same levels, you don't have to sing about your rape at sound check." – AFP
xx
a
——THE NEVER-ENDING AS ALWAYS———
1. if you're a patron, please click through to comment on this post. at the very least, if you've read it, indicate that by using the heart symbol.
2. see All the Things i've made so far on patreon: http://amandapalmer.net/patreon-things
3. join the official AFP-patron facebook group: https://www.facebook.com/groups/afpland
4. new to my music and TOTALLY OVERWHELMED? TAKE A WALK THROUGH AMANDALANDA….we made a basic list of my greatest hits n stuff on this lovely page: http://amandalanda.amandapalmer.net/
5. general AFP/patreon-related questions? ask away, someone will answer: patronhelp@amandapalmer.net
AMANDA PALMER TOUR DATES:
Wed Sep 4 – Netherlands – Amsterdam – Meervaart
Fri Sep 6 – Germany – Berlin – Admiralspalast
Wed Sep 11 – Germany – Munich – Kongressaal
Fri Sep 13 – Germany – Offenbach – Capitol
Sat Sep 14 – Austria – Vienna – Konzerthaus
Sun Sep 15 – Austria – Graz – Stefaniensaal
Wed Sep 18 – Germany – Stuttgart – Theaterhaus
Thu Sep 19 – Germany – Essen – Colosseum
Fri Sep 20 – Belgium – Antwerp – De Roma
Tue Sep 24 – Germany – Hamburg – Laeiszhalle
We Sep 25 – Germany – Leipzig – Haus Auensee
Thu Sep 26 – Czech Republic – Prague – Hybernia
Fri Sep 27 – Luxembourg  – Luxembourg – Conservatoire
Sat Sep 28 – France – Paris – Bataclan
Fri Oct 11 – Denmark – Copenhagen – Bremen Teater
Sat Oct 12 – Sweden – Stockholm – Södra Teatern (SOLD OUT)
Wed Oct 16 – UK – Bexhill – De La Warr Pavilion
Sat Oct 19 – UK – Cardiff – St David's Hall
Sun Oct 20 – UK – Cambridge – Corn Exchange
Wed Oct 23 – Ireland – Cork – Opera House
Thu Oct 24 – Ireland – Dublin – National Concert Hall
Sat Oct 26 – Ireland – Belfast – Ulster Hall
Sun Oct 27 – Ireland – Limerick – University Hall
Frin Nov 1 – UK – Dunfermline – Carnegie Hall
Sat Nov 2 – UK – Glasgow – City Halls
Sun Nov 3 – UK – Manchester – Albert Hall
Mon Nov 4 – UK – York – Opera House
Thu Nov 7 – UK – Newcastle – Tyne Theatre
Sun Nov 24 – Portugal – Braga – Theatro Circo
Thu Dec 5 – UK – London – Union Chapel (SOLD OUT)
Fri Dec 6 – UK – London – Union Chapel (SOLD OUT)
Fri Dec 13th – UK – London Union Chapel (ALMOST SOLD OUT)