September 16, 2019
ash is four today
(public post)
hallo loves
anthony david karl palmer gaiman, aka ash, is 4 years old today.
pictured here: the men i love and pianos, 2015 + 2019.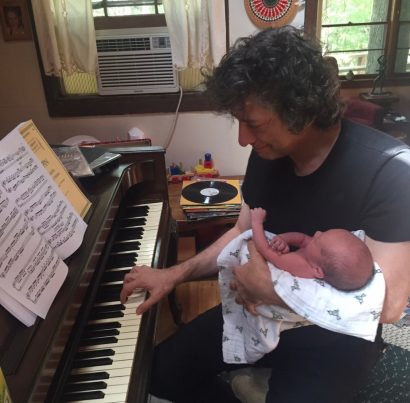 this is ash just a few days after he was born down at the farm in tennessee, in the arms of babydaddy neil, who was trying to lull him with lou reed's "walk on the wild side" (one of the two songs he knows on piano – the other one is "science fiction double feature" from rocky horror)…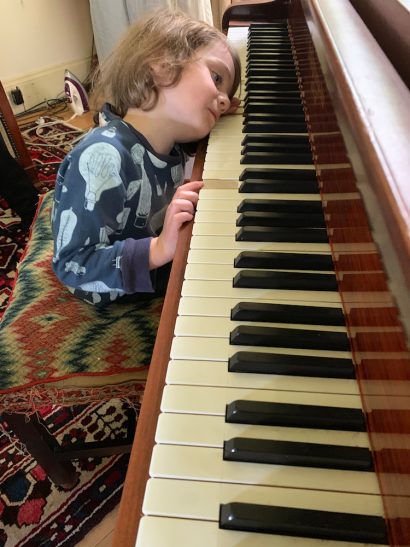 and this ash a few days ago at the wedding we attended in northern scotland, playing the piano with his chin (whatever works). this was the day ash composed his first song (it was about a fox who ran into the woods. then he followed it up with a song about a scary snake).
happy birthday, ash.
i love you, i love your dad, i love music, and i can't wait to hear what else you make.
home to london for the birthday day then back to tour in germany tomorrow.
this patron-based system and ash were born only a few months apart.
i love how these two families will always intertwine, and i love how real it all feels. you all have seen me through some seriously intense life-times. it's a two-way street. i see you all, too.
thank you all for being a part of my logical family.
especially because i am mid-tour and fresh off an emotional stage in graz last night … i am just goddamn overflowing with gratitude today.
love to all of you, to whatever choices you've made, and to wherever and whoever you are
right
now
xx
a
——THE NEVER-ENDING AS ALWAYS———
1. if you're a patron, please click through to comment on this post. at the very least, if you've read it, indicate that by using the heart symbol.
2. see All the Things i've made so far on patreon: http://amandapalmer.net/patreon-things
3. join the official AFP-patron facebook group: https://www.facebook.com/groups/afpland
4. new to my music and TOTALLY OVERWHELMED? TAKE A WALK THROUGH AMANDALANDA….we made a basic list of my greatest hits n stuff (at least up until a few years ago, this desperately needs updating) on this lovely page: http://amandalanda.amandapalmer.net/
5. general AFP/patreon-related questions? ask away, someone will answer: patronhelp@amandapalmer.net
TOUR DATES
Wed Sep 18 – Germany – Stuttgart – Theaterhaus
Thu Sep 19 – Germany – Essen – Colosseum
Fri Sep 20 – Belgium – Antwerp – De Roma
Tue Sep 24 – Germany – Hamburg – Laeiszhalle
We Sep 25 – Germany – Leipzig – Haus Auensee
Thu Sep 26 – Czech Republic – Prague – Hybernia
Fri Sep 27 – Luxembourg  – Luxembourg – Conservatoire
Sat Sep 28 – France – Paris – Bataclan
Fri Oct 11 – Denmark – Copenhagen – Bremen Teater
Sat Oct 12 – Sweden – Stockholm – Södra Teatern (SOLD OUT)
Wed Oct 16 – UK – Bexhill – De La Warr Pavilion
Sat Oct 19 – UK – Cardiff – St David's Hall
Sun Oct 20 – UK – Cambridge – Corn Exchange
Wed Oct 23 – Ireland – Cork – Opera House
Thu Oct 24 – Ireland – Dublin – National Concert Hall
Sat Oct 26 – Ireland – Belfast – Ulster Hall
Sun Oct 27 – Ireland – Limerick – Univeristy Hall
Frin Nov 1 – UK – Dunfermline – Carnegie Hall
Sat Nov 2 – UK – Glasgow – City Halls
Sun Nov 3 – UK – Manchester – Albert Hall
Mon Nov 4 – UK – York – Opera House
Thu Nov 7 – UK – Newcastle – Tyne Theatre
Sun Nov 24 – Portugal – Braga – Theatro Circo
Thu Dec 5 – UK – London – Union Chapel (SOLD OUT)
Fri Dec 6 – UK – London – Union Chapel (SOLD OUT)
Fri Dec 13th – UK – London – Union Chapel (SOLD OUT)
Sat Dec 14th – UK – London – Union Chapel
ALL TICKETS https://nointermission.amandapalmer.net