May 13, 2013
Ondi Timoner & A Total Disruption: Last Call For Kickstarter Backers!
This past March, AFP crossed paths with filmmaker/documentarian Ondi Timoner ("DIG!", "We Live in Public") at Austin's SXSW.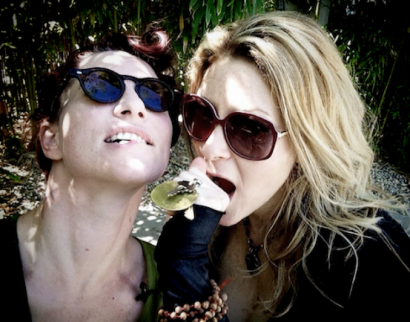 The two became allies quickly, and Ondi shot some concert and interview footage of Amanda while they began brainstorming a collaborative effort (more on that here in the blog, "HOW TO CROWDSOURCE A SXSW SHOWCASE & PANEL IN UNDER 24 HOURS"). Within a few weeks, a Kickstarter was launched – "A Total Disruption: Ondi Timoner's Portal For Innovators" – to raise funding for a series in which Amanda will be heavily involved. That means from content (like this through rewards themselves, if you're a fan of AFP, you should be paying attention!
As of posting this news item, the Kickstarter has just over 24 hours to go. Though it's currently at 754 backers and has surpassed its goal, as Amanda said in her newest blog: "The more funding she gets, more coverage she'll be able to give to this year ahead, as she trails behind me with her camera slung around her shoulder like a weapon of mass information."
You can find more information from Amanda here on the blog, or directly at kck.st/ATotalDisruption