September 12, 2019
the "drowning in the sound" video documentary {official Thing}
(public post)
HALLO comrades.
greetings from germany, where i am slogging/tripping/crying/cathart-ing along on the THERE WILL BE NO INTERMISSION tour….munich last night, offenbach tomorrow night, and in-between, WHY NOT RELEASE A DOCUMENTARY?
it's about 20 minutes long and includes interviews (with me, coco and pope), footage of rehearsals in NYC, and tons of really fascinating stuff about the process of making a video so….ahem….WET. i've watched it four times now and i'm still not bored.
a lot of footage from the dancers' amazing performances landed on the cutting room floor, and it's nice that a lot of that found a home here.
WATCH IT ON YOUTUBE:
https://www.youtube.com/watch?v=hOxNCRGxOUI&feature=youtu.be
…..
and if you haven't yet seen the music video for DROWNING IN THE SOUND, watch that first:
https://www.youtube.com/watch?v=70ApTTyKpdg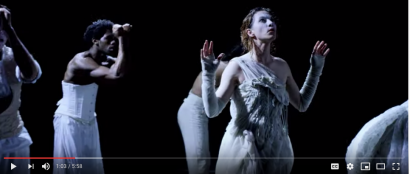 ………….
a word about this documentary, and patreon, and art, and life.
when michael pope and i sat down with coco karol to cook up the concept for this video, i knew one thing for sure. it was going to be fucking expensive. i've also been around the rodeo enough times to know that we were probably going to go over budget…so even if the price tag on the video was $65k, it'd probably end up costing more like $90k (which it did). why? shit ALWAYS HAPPENS. props and plans wind up not working. emergency fixes are needed. budgets just weren't right. edits take longer. time costs money. and so forth.
this is one of the most interesting things about this patreon, and i've been thinking about it more and more.
it's so incredibly trust-based, to the point where it's almost absurd, except that it's the opposite of absurd.
when i was on a label, i was simply given a video budget. plug and play. here's your video budget! your video will cost $13,500, because that's the number on the line in the budget where it says: "video budget"
our video budget, from roadrunner records, for "coin-operated boy" was (i believe), $50k. the biggest one we were ever given, by far. it's funny: it didn't matter what the artistic concept of the video was….because a video can cost $500 (or less, if you wanna run around on a beach, film it on an iphone and have no production) or $7,000,000 if you're michael and janet jackson (hey!, did you know there's a wiki of most expensive music videos ever made?? and that madonna made like most of them??)
pope and i always tried to work within that. things often went over. pope would call the label and explain. they'd get angry. people would yell. the label would call ME and yell. i would offer to pay for the extra editing time out of my own pocket, usually. it was always a shitshow.
……………..
now things are different.
now, i have 15,000 patrons and you all are just trusting us to make art that we think is worth making.
i've been trying to keep my average "cost" of a project around $10-20k, but that also means nothing. a podcast can cost $2k, a video can cost $100k.
but that's because that's what a podcast can cost and a video can cost.
it's weird, right? this is the shit i find myself sitting around thinking about all day.
……………
one of the things i've decided to do is basically make a documentary of every video we put out, especially if it's a larger production (and BOY do i wish i'd had the forethought to make a documentary of "mr. weinstein will see you now".
this attack serves three, maybe even four purposes.
first of all: making music videos is a huge and sprawling and beautiful process and most of it doesn't even wind up in the cut. the sets, the costumes, the huge crews, the builds, the trials and tribulations are often a story in themselves (as you'll see when you watch this one). so filming that shit and sharing those stories is just downright FUN.
second of all: making a documentary, which costs money but not ridiculous sums of money, is a great way of offsetting the huge costs of the videos so we can still at least break even (if not make a profit) from the video itself. so hooray.
third: i like the fact that my collaborators get more credit for their work. when you watch a huge video like "Drowning in the Sound", you can imagine the crew that stands behind it, but you can't really meet them. you are, you understand, funding all of their work and effectively, through me, paying their salaries. i like the fact that you can actually see where your money is going. it also makes it feel like more of a family. i'm not just delivering you a shiny product. and that brings me to four:
which is the fact that the MAKING OF THE ART is, to me, at least nowadays, just as important as the end-product of video, song, animation, podcast itself. art doesn't have clear boundaries. it begins with an idea and then it runs a long course through the winding woods of process, discussion, experimenting, failure, laughter, and at the very end of the marathon…some kind of artifact to prove we went on the ride. but the artifact isn't the whole art, it's the tip of the art iceberg.
this is why this patreon is so incredible. you're not "buying" art here, or even funding me, a single artist. you're funding HUNDREDS of people to do HUNDREDS of jobs…from making costumes to lighting sets to taking photos to making sure the crew is fed.
it takes a village to make a great video.
……..
that all said: i really hope you enjoy this documentary, which feels almost as powerful as the video itself, and i'd like to say a special thanks to james holland, a long-time collaborator of me and pope's for doing such a spectacular job on the whole thing.
……
all these behind the scenes still photos below were taken by krys fox, except for the screen caps from the doc…..
this is james, who filmed and edited the doc.
zee POOL.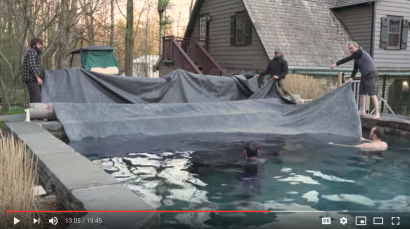 and then…JAMES IN THE POOL.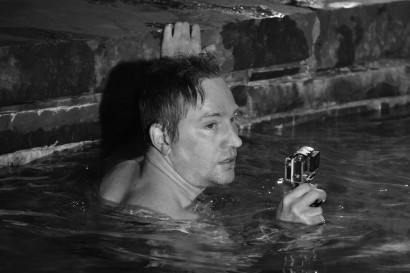 james' bio:
James Holland is an artist and filmmaker living in Newburgh, New York. A graduate of Rhode Island School of Design, he has directed music videos for Regina Spektor, Only Son, and Arms among others. He has also worked in post production on feature films including Unlocking the Cage, One Big Home, In My Father's House, and Three Days Two Nights.
and some words from james himself….
"I first met Amanda while helping on the crew for Coin-Operated Boy, directed by Michael Pope. Since then, I have assisted in various roles from shooting to editing on many videos for The Dresden Dolls, and later for Amanda's solo work. On a personal level, it's been fun for me to know Amanda for many years now, and to see her music and life evolve over that span. We were both living in Boston when we met, and through chance or circumstances, have both settled in the Hudson Valley, so I've been fortunate to be able to just keep working on projects with her all along the way.
On the Drowning In the Sound music video, I was brought in at the end of post production to do some additional editing as well as set extension and special effects work. I'm also producing the behind the scenes documentary about the music video, so I have been participating in the production from rehearsals, through the music video shoot, and now in the post production phase…."

james jumped into the pool to film behind the scenes footage of the underwater scenes using a gopro camera and a waterproof casing. while he was in the pool, additional footage for the doc was filmed by hayley rosenblum, so you can actually see james as part of the behind the scenes process in the water with pope and crew during the night time pool set.
so amazing: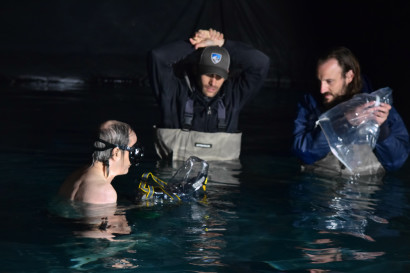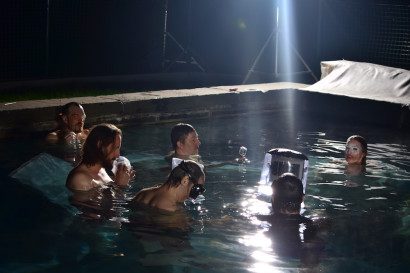 i mean….caption contest.
here are a few more stills from the doc.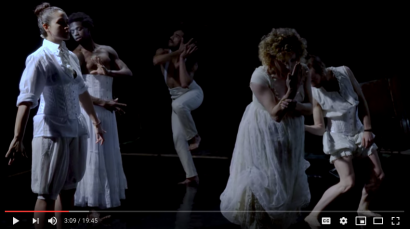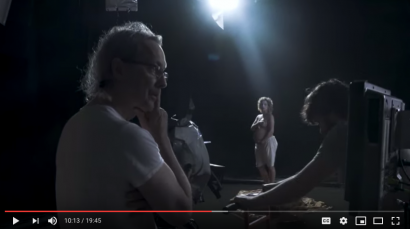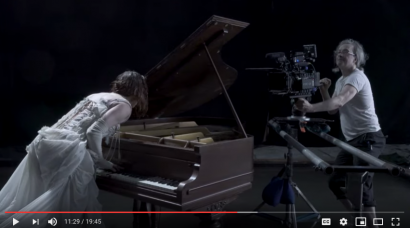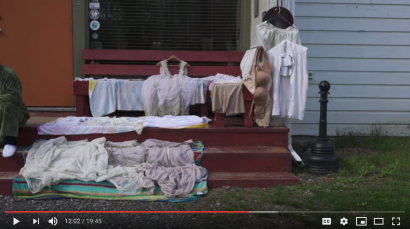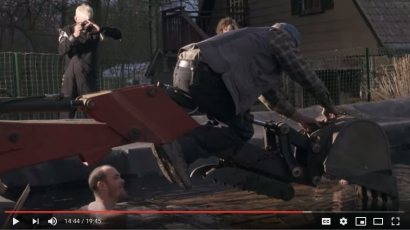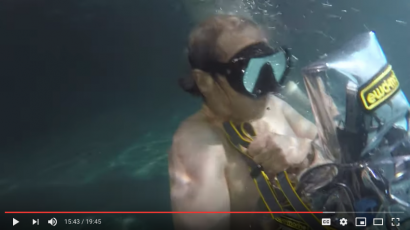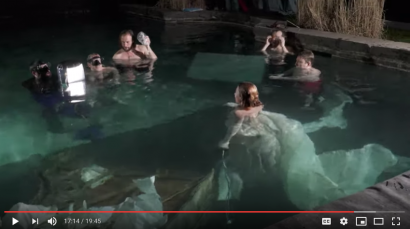 again, you can watch it here
https://www.youtube.com/watch?v=hOxNCRGxOUI&feature=youtu.be
CREDITS:

Produced by The Media Darlings
Directed, Photographed and Edited by James Holland
Additional Photography by Hayley Rosenblum
thank you all for making all of our work possible.
i love you all.
xx.
AFP
——THE NEVER-ENDING AS ALWAYS———
1. if you're a patron, please click through to comment on this post. at the very least, if you've read it, indicate that by using the heart symbol.
2. see All the Things i've made so far on patreon: http://amandapalmer.net/patreon-things
3. join the official AFP-patron facebook group: https://www.facebook.com/groups/afpland
4. new to my music and TOTALLY OVERWHELMED? TAKE A WALK THROUGH AMANDALANDA….we made a basic list of my greatest hits n stuff (at least up until a few years ago, this desperately needs updating) on this lovely page: http://amandalanda.amandapalmer.net/
5. general AFP/patreon-related questions? ask away, someone will answer: patronhelp@amandapalmer.net