October 23, 2009
dying to china, "sleep no more" footage
hola hola
in the last throes of packing & getting ready for a 10-day trip to china with neil, trying to wrap up everything to be mac-less over there.
i decided to go sleepless for tonight and crash on the upcoming 3-leg, 24-hour plane & airport extravaganza.
even on trips like this, i have to say…i love to fly.
i actually love feeling trapped in a plane.
people who fear flying have massive control issues. i have massive control issues in many areas (just ask anyone who's ever tried to help me with oh, ANYTHING), but i love the fact that i get to submit to the craziness of being in a metal sky-ship during flight.
nothing puts me at ease like the moment a plane detaches from the ground. most times (when i remember) i play the "are you ready to die" game.
i love this game. i ask myself if i'm ready to die. then i have to get to the point where i can honestly answer yes. i always can. or i lose. i can't lose. so i make it there somehow.
thus swaddled in my fleeting mortality and achieved liberation, i gleefully enjoy every honey-roasted peanut package as if it's my own personal Last Supper.
the first gig in singapore (info up at singaporewritersfestival.com) is springing for my flight, and before that we'll be in chengdu & shanghai and i'll basically be a tagging-along-with-neil-gaiman-girlfriend, wandering aimlessly amidst the chinese and trying not get completely lost or eaten by (rare) carnivorous pandabears.
will report back.
in the obnoxious "i fucking love twitter" department of the week, i twittered for on-the-way-to-china recommendations on a walk to the harvard bookstore yesterday and so many people raved about "wild swans" that i grabbed a copy. i love that the whole process of finding that book through trusted sources took under 5 minutes.
i also ran into blake (aka @electroblake aka yes THAT blake) in harvard square.
he was on a break from doing his angel statue: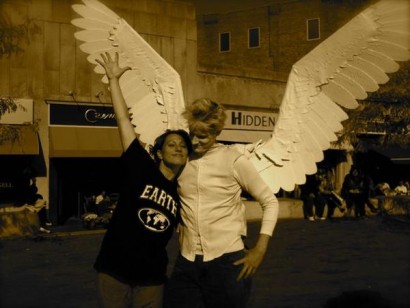 he's made a new shirt, and he gave me one, and i'm wearing it above.
you can buy them (he screens them himself, when he's not standing still with angel wings on, collecting dollars from passers-by) at http://www.etsy.com/shop.php?user_id=5554564
all of you who have drooled over the awesome "hipsters ruin everything" shirt…it's up there, too.
for some reason, blake seems to wind up in all the best pictures ever taken anywhere, and the other day was no exception.
maybe it's because he hangs around wearing white-face and angel wings. could be.
i love this one. he's like the shadow of the angel of death….and the shoes MAKE it, honey.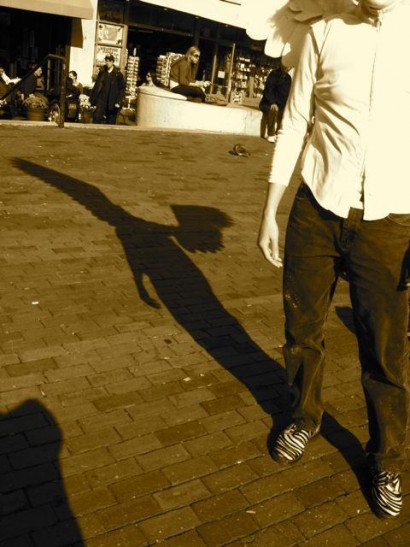 ………………………….
SLEEP NO MORE
some of you may have already read about this…(and some is re-pasted from theshadowbox.net).
this past sunday, i played a gig that i announced ONLY on twitter (with a link to the forum).
a week before, i went into a huge 4-story schoolhouse that was filled with art, actors, story and confusion. to call it a "play" would do it a disservice. to call it an "art installation" isn't quite right either.
whatever it is, it's theater, but it is not an ordinary piece of theater by a LONG SHOT.
what i know: a london company called PunchDrunk was invited over to Boston by the American Repertory Theater to create a site-specific piece.
they took over this huge unused old school building (must be at least 40 rooms) in brookline and made a show called "Sleep No More".
imagine "the shining" meets "macbeth" meets "twin peaks".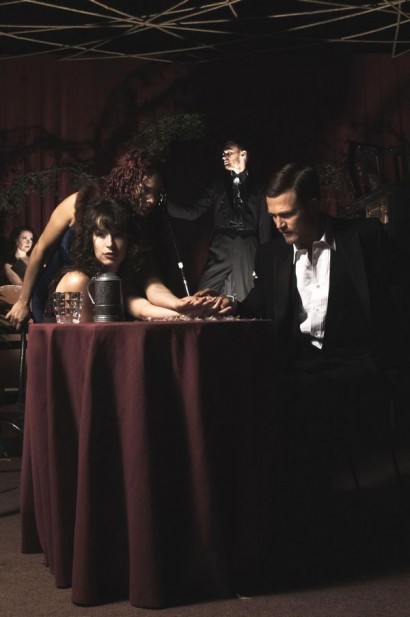 you don't sit and watch actors. you wander around the space, alone (and wearing a mask) and you create your own experience.
actors come and go, events unfold. you can follow actors if you wish (they generally ignore you, but they will make contact occasionally),
or you can sit alone in a beautiful room filled with christmas trees until someone walks by you.
you can discover rooms nobody else is in and rifle through dusty papers and books.
there are rooms in asylums filled with bathtubs. there are fully landscaped gardens, there are rooms filled with dirt.
there is full nudity. there are lots of tuxedos and ballgowns. there is insanity. there is sexiness.
there is murder. there are moments where everyone winds up together and moments where you can watch the most intimate scenes play out between characters.
i am so, so happy to be seeing theater like this exist. this sort of immediate, visceral, risky shit is the reason i fell in love with theater and the reason that i want to puke when i see safe, boring, paint-by-numbers theater. this is, for those who followed the drama a few years ago, much closer to what i had hoped the experience of "the onion cellar" would have been like.
if you're in boston or new york or can GET to boston, GO. it runs til january 2 and possibly later.
link to the show: http://www.americanrepertorytheater.org/events/show/sleep-no-more
anyway, this past sunday, i hooked up a ticket deal for a few hundred people and played a gig alongside the house band at the very end of the night…
we had a blast. here's hoping they get their liquor license back, that part blew.
if you were THERE: the discussion keeps going re: this play at THESHADOWBOX.NET forum: http://www.theshadowbox.net/forum/index.php?topic=9934.0
some photos…

by @artdesi, who also did the fabulous fucking hair and make-up…
these photos by the wonderful ron nordin…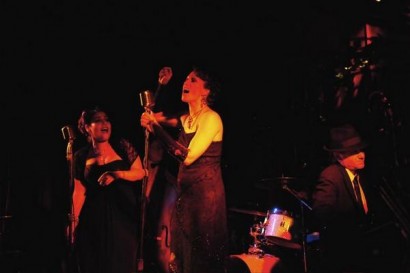 singing "all of me" with annie, the on-duty house singer (who SHREDS)…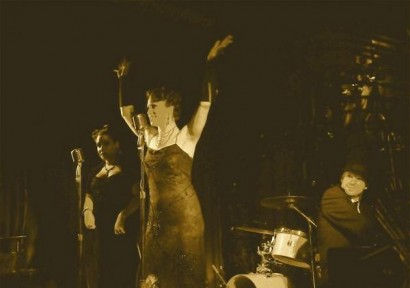 …..and here's a clip of me singing "my funny valentine" to the lost-in-china neil gaiman, shot by lee barron.
neil indeed DID get on the internet eventually 🙂
he saw and loved it.
he especially liked how you could hear somebody say "and pandas" in the background.
next stop, VEGAS BABY.
love.
AFP
p.s. there will be a few blogs posted in my absence….one will be my long-lost open letter to robert smith, one will be a bunch of tour news, etc, and ALSO the new #LOFNOTC shirt will get pimped (we got enough orders to make them!!! yay).
p.s.s. also…this just in…..the a.r.t. needs stewards/volunteers to guide people through the dark during the production of sleep no more. click on "sign up" on the right of http://www.americanrepertorytheater.org/events/show/sleep-no-more
the minimum age for volunteering is 18.