April 4, 2011
exterior dickorating. and much more random information you must have.
hola dear comrades….
i'm about to make a BIG-ASS announcement of something VERY AWESOME that will be taking place ALL OVER THE INTERNET on the afternoon and night of monday, april 25th.
it MIGHT involve me, neil gaiman, ben folds, and damian kulash all doing something awesome together. but it might not.
but it might. 
mark your calendars, because from 4pm-midnight EST there's gonna be an overload of non-stop awesome. more i cannot say.
today i learned about vajazzling for men,which is called manjazzling, penazzling,  pezazzling, scrodazzling, depending who you ask.
i decided to call it "EXTERIOR DICKORATING".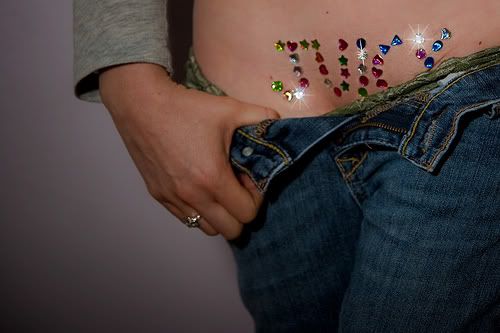 runner up:
vajizzling.
in the "wtf" department, we on twitter asked the important question:
what happens when a vajazzled chick and a exteriorly dickorated guy ACTUALLY HAVE SEX?
sweaty sex? sex that involves real rubbing?
ow.
we may never know, but if you hold the answer, for chrissakes tell us. we're dying to hear.
i also saw one of my favorite tweets of all time, which was simple, but important.
i tweeted a quote from  bob lefsetz's letter of the day about charlie sheen (who was booed at the opening night "i'm-gonna-sit-on-stage-and-rant" tour, in detroit): "You're no longer at the mercy of the critics, you're at the mercy of the public"
and somebody (@AkesComics) on my feed answered:
"yeah, the sound of those boos was the sound of shit getting real."
it really is wonderful. like, fuck yeah detroit. 
crowds SHOULD be taking back the night.
i've always wondered what kind of times we live in where people do vapidly take what is dished out to them and don't voice their opinions or displeasure when something truly blows.
i mean, "rite of spring", by  fucking STRAVINSKY, was BOOED! booed! loudly!!! when first premiered in paris. what balls! i love it! people had a voice.
who cares whether we agree with them NOW. ironically, NOW people sit like they're at a fucking FUNERAL at a Stravinsky – or any classical –  recital. but NOT THEN. then they weren't afraid to make noise. 
people nowadays are so accustomed to watching TV and shutting up, since it's a one-way conversation, that they forget. 
we're going to watch that change in our lifetime. 
indeed, shit IS getting real and we're all along for the fucking ride. 
hoorah.
………………………
i spent a wild and ripping week in new york, which left me with a nasty cold which i've decided to import up to boston.
first of all, i'm VERY proud to say that while i still haven't recorded my truck-stop hooker version of "friday", i DID use the melody to sing a "most amusing tweets of the year" song composed in honor of the shorty awards.
here's the video, it's pretty hilarious. 
@kanyewest and @50cent win HANDS DOWN:
i'm going to be splitting my time between the two cities for the next while. my best friends in NYC, josh knobe (an awesome philosopher) & alina simone (an awesome singer and writer) just had their first baby. like, JUST. little baby zoë is only 9 days old and looks like a happy little purple peanut with blurry vision. well, not so little. she came out at 9 pounds and alina is only 5'2. hefty load. 
josh and alina are both only children, so have no siblings to descend on them, and i've been staying with them in new york for years. when i saw that alina was due to give birth the exact day i returned from tour, i took it as a sign from above and decided to pretty plant myself in their living space and play auntie amanda for a while. which i like. no photos; i feel like iphone paparazzi for a peanut that young is probably too soul-sucking. 
meanwhile, the nightlife beckons. the night after that duran duran show, i went to see LCD soundsystem at terminal 5. did the new yorkers win back their reputation as an appreciative audience?
oh HELL YEAH.
it was beyond black and white. it was like…chamomile tea and tiger blood. the crowd at LCD soundsystem was OUT OF FUCKING CONTROL.
LCD just wrapped up their existence as a band (or so they say), so these shows had a special never-again energy…they'd added this run of terminal 5 shows before hitting madison square garden saturday night (which sold out quicker than they expected; watch it HERE). and the crowd CARED. 3,000 people were screaming and shouting and jumping up and down for THREE HOURS. people in the BATHROOM were dancing. i was up on the second balcony and we started a BALCONY MOSH PIT. that is a rock show. notable event: micro-slam-dancing with reggie watts (who appeared like magic on stage and sang with LCD soundsystem unannounced), nick from the yeah yeah yeahs, and eleanor from the fiery furnaces…a new york rock collision of epic proportions. 
if only duran duran had been there.
the next night i headed to see the new york edition of punchdrunk's production "sleep no more", which i blogged about HERE when it was playing in boston.
instead of taking over a schoolhouse like they did in boston, they took over a HUGE old hotel on west 27th (the McKittrick, built in 1939 and felt it) and expanded the set to include (i heard) 100 rooms to explore (and get lost in).
just go. it's a beautiful piece of fierce choose-your-own adventure theater that is part gallery, part horror movie, part voyeur-gasm….beyond that i can only describe it as an unmissable event for those who love weird theater, surprise experiences, out-of-place beauty, shakespeare, hitchcock, or art.
just go. and you may have a nice surprise one night and see someone who looks like me singing jazz standards in their fictional bar…
i think it's sold out for a while but some tickets open up last-minute. the word on the street is it's going to stay put in it's current digs for a while, just don't miss it.
ticket info HERE, with lots more about the show at sleepnomorenyc.com 
here are some press images from the show…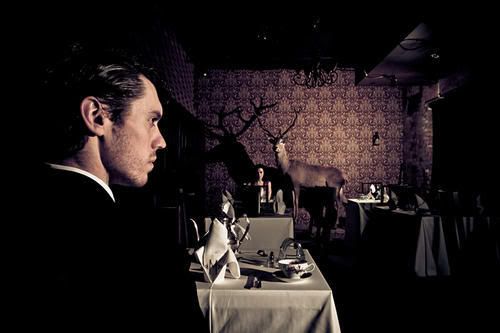 ………………..
earlier that night i also saw a video screening of a tour documentary by a great band called The Best Thing Ever.
you may know them if you know my pal emilyn brodsky (who put out a wonderful CD – that mr. brian viglione produced – called "Greatest Tits")…she used to play with them.
their singer/leader, noah britton, is autistic, hilarious, and generally a bad-ass with a heart the size – unpredictability and frightening velocity – of an exploding planet.
The Best Thing Ever, in this incarnation, was a three-piece, traveling across america in their car on a SURPRISE TOUR. playing shows for…anyone and everyone.
they hit everything from the mall of america to the barded wire museum in kansas to some terrible frat bars and ice-cream shops, and playing unofficially outside lollapalooza impersonating the actual lollapalooza acts.
they either lied their way into gigs or convinced people to just let them play. they were taking ninja gigs to a WHOLE NEW LEVEL.
this is a picture of them from their LAST tour, called "the bathroom tour".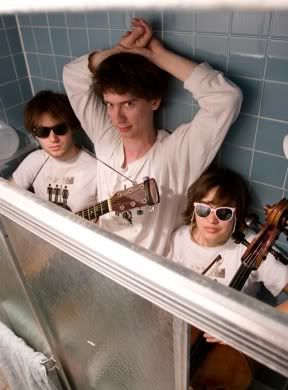 yes, they only played bathrooms. shit, they were doing that bathroom shit MONTHS before me & kim boekbinder.
we're, like, posers. but actually, jason webley was doing it, like, years ago. all hail the original.
they are fucking brilliant. the film could have used a fiercer edit, but it was wonderful. here's a really good song by them, NINJA-ing for one of their friends at about 8am some morning. i wish i knew the title of this song. it's such a beautiful song.
…………………………………
meanwhile, from the fundage-for-awesome-projects department:
kim boekbinder, molly crabapple, and jim batt (yes, jim who made the beautiful "in my mind video") are working on a very ambitious animated short film, using kim's song "the organ donor's march"….
here's me in melbourne, peeking into the BEAUTIFULLY drawn set (created using molly's art) that jim had set up in his loft:
since they smashed their original personal goal so quickly, they've juiced up the rewards for supporters and are trying to get to $14,000 in fundage. so far, they're at just over $9k, so get in on that shit, folks. they have lots of fun bundles, and while it's surely going to be great, it'll be even greater – for you – to know you helped to make it happen.
donate HERE on kickstarter and follow the progress/find out more at ihaveyourheart.com…
……………………………………
and in related news, another old dolls-pal, anna vogelzang, has a kickstarter album she's trying to fund and it's at the VERY tail end, last chance to order!
she's hit her goal of $5k but you can still get in on the action…the chance to help ends at 11:59pm EST, tonight (monday the 4th). donate before it's too late at http://www.kickstarter.com/projects/302884240/anna-vogelzangs-canary-in-a-coal-mine
……………………………………..
and in other news-related news:
some of you have noticed the postwartrade.com site – where i sell my shirts/CDs/merch from – is down.
it's not a mistake, it's on purpose. we're doing a huge merchandise overhaul and spring cleaning.
more details on that later, but if you need a shirt this month…make one yourself and send me a picture: art@amandapalmer.net.
it's better that way.
if anyone has QUESTIONS regarding a shirt/record/bundle etc order you've already placed, the email to hit is springbreak@amandapalmer.net
we'll let everyone know when the store's back up, but until then: thank you for your patience and support on all of this…
………………………………………
i'm back in my boston apartment, beginning the Great Purge 2010.
and songs are coming back into my head.
finally.
gotta write them down.
these ones are good.
x
AFP