February 20, 2020
FORTY-FIVE DEGREES: a bushfire charity flash record {official Thing}
(public post)
hallo loves.
IT'S OUT!
fastest record in the west.
when the earth catches fire, the artists catch fire just as fast.
this whole album was conceived, arranged, recorded, mixed and mastered in about two weeks – in response to the bushfires raging in australia, and the government's lack of action regarding the climate crisis.
in the flurry…don't forget to listen to the music. the songs and lyrics themselves have amazing power. some of the songs are not easy listening, and require some emotional stamina ("the drover's boy" and "suck it up, buttercup" especially – be warned).
…….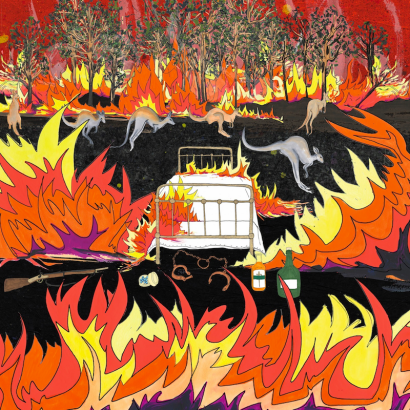 HERE WE GO.
this whole record happened because patrons all over the place encouraged, requested and clamored for some kind of australian relief project. i never knew it would get this huge.
if you're a patron, you can get your download codes for this whole record HERE: 
………..
whether or not you're a patron, you can download it NOW on bandcamp pay what you want, for  minimum of $5.
this is the bandcamp link if the hyperlink isn't working for some reason:
ALL, ALL, ALL of the profits – from patreon, and from any internet sales on any platform (you can also get it on spotify, iTunes, etc)  – are going to FIRESTICKS ALLIANCE, an indigenous led charity, more on them below.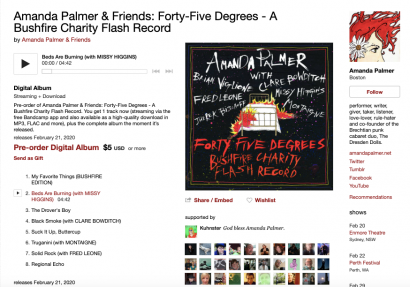 THE OFFICIAL ALBUM DROP is 12am friday, february 21st local time.
so aussies get it first, followed by the rest of the world because…timezones. so if you happen to be in the US and you're wondering why it's not on iTunes….you can listen on bandcamp. it's up!….iTunes, etc. will follow soon.
here's the back of the record 🙂
…………..
a few words.
all the artists involved are incredibly proud of the work we've done – my phone is covered in texts dripping with excitement. i kinda cannot believe we pulled off a record that sounds THIS powerful THIS fast. i just got off the phone with a journalist who was like: "holy shit, this record is actually really amazing." and i was like: YEAH IT IS. do not underestimate the power of fast art.
on january 28th, less than a month ago, i wrote on patreon asking for last requests of songs to cover for this project….and then things keep tumbling into more and more songs and more guests. this is a bad habit of mine, but sometimes it pays off in gold, and this is one of those times.
my original plan was just to release and record midnight oil's "beds are burning"….but then i added truganini because i went down a research hole while in tasmania working on the MONA FOMA confessional project. "truganini", and the story behind it (i'll tell the whole story in a post next week) led me directly to the lyrics of my new song, "suck it up, buttercup".
so first, thanks to midnight oil.
thanks to neil for reminding me about drover's boy, as i was sitting at our kitchen table. i'd forgetten that i covered that song back on the "down under tour".
thanks to xanthea o'connor here on patreon for suggesting "regional echo" by jen cloher…oh my god, what a way to close the album.
thanks to steph leppard and all the other patrons who suggested "solid rock" by goanna – i really didn't want to cover it. it seemed impossible on the piano. i managed it. and then brian's drums and fred leone's didjeridoo brought it to life.
and thanks to nat, who suggested "black smoke" by emily wurramara. when i invited clare bowditch to sing on it, it turned out she'd actually toured with emily. the australian music family is a tiny one.
thank you DEEPLY to sarah beetson for rush-jobbing this incredible artwork.
thank you to xanthea o'conner, who was like the hidden ninja of this record. she suggested songs, acted as a sounding board, brought coffee and food to the musicians, TUNED THE AUTOHARP (?) and helped make the whole thing exciting. xanthea, you've got a job anytime you want.
thank you to every musician who dropped everything to sing on this record: missy higgins and clare bowditch for coming into the studio in melbourne…and montaigne, who, despite being in the midst of winning the eurovision slot for australia (!), amde time to record a stunning vocal from sydney. jehrek bischoff is one of my favorite and fast collaborators and every instrument he added to this record was exactly what was needed. jherel, you are a psychic swiss-army knife of musical love.
and thank you, profoundly, to my drummer-brother-dresden-doll-in-arms. brian viglione: my heart grew five sizes when i heard your drumming tracks on this record. i can't wait to make more. this is a perfect way to get back in the dresden dolls saddle. your drums say more than life itself, sometimes, and i'm so lucky to know you.
thanks beyond words: anna laverty, the engineer of this album, was – hands down – the reason it grew. i asked if she was free to record one more day, and then one more, and would she mind….and she just kept saying yes. with a four year old and a new baby at home. then she MIXED THE ENTIRE RECORD IN ONE DAY. anna, you were the secret-est weapon of this album. thank you. thank you. thank you. thank you, anna.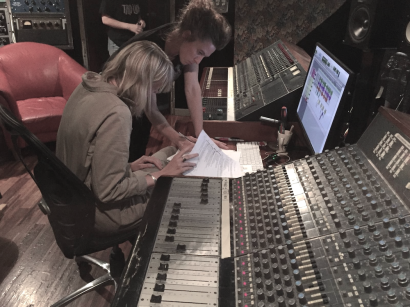 most of all: thank you to my team….to hayley,. michael, jordan, emily my publicist, and nick and braxton back in the states…everyone worked SO HARD to get this one together. i'm so proud of us.
……
ABOUT THE CHARITY:
all the profits from this record go to Firesticks Alliance; An Indigenous led network re-invigorating and teaching cultural burning and land management. so many people cut us a break on this process: even the recording studio gave us a cut rate when the learned the nature of this project.

here's me with amos from firesticks. his tribal name is banjarrawarri) – we met up and marched together in melbourne on invasion day: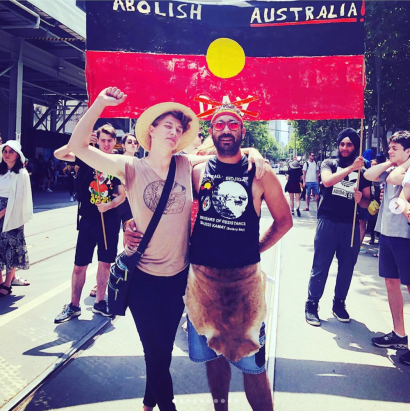 some words from firesticks alliance…
We are immensely grateful to Amanda and everyone that has contributed to the album. We hope that when people listen to this album, they can share in the love and hope that we feel flows from it. These generous contributions will support Firesticks and First Nations Custodians to continue to maintain and restore their Cultural Fire Practices and Connections to Country.
if you want to donate to their campaign directly, you can do so, HERE:
https://chuffed.org/project/firesticks-alliance
LONG GAME, PEOPLE.
LONG GAME.
…..
here's more info and words from the other musicians….
drums on "beds are burning", "truganini", "solid rock" and "regional echo"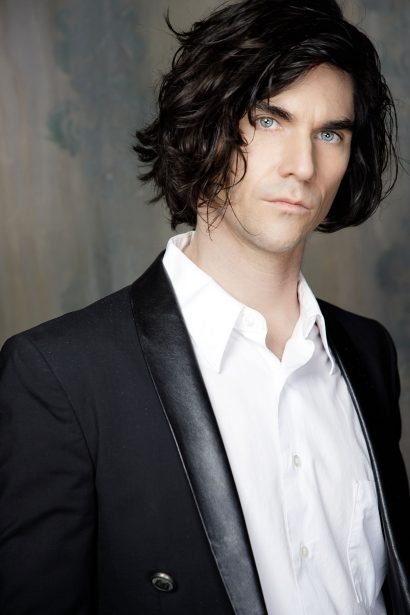 ABOUT BRIAN….
Brian Viglione is an American drummer best known for his work with The Dresden Dolls, Nine Inch Nails, and Violent Femmes. He was also a prominent member of New York City's cabaret-punk orchestra, The World/Inferno Friendship Society. Known for his energetic and expressive drumming style, Viglione has often aligned himself with groups who incorporate eclectic musical styles and theatrical elements. A multi- instrumentalist, Viglione also plays guitar, bass, percussion, and sings in several of his collaborations, as well as having done producing work.  He starred in the American Repertory Theater's 2007 production of "The Onion Cellar" with The Dresden Dolls, performed in Addicted To Bad Ideas: Peter Lorre's 20th Century with The World/Inferno Friendship Society in 2008, and appeared in multiple productions from 2011 – 2013 with Botanica at Theater Dortmund in Germany. Viglione also played drums on the Nine Inch Nails album "Ghosts I-IV" in 2008 on a drum kit he built on site out of scrap metal and found objects. Brian also offers drum lessons to help students develop personal creativity on the instrument and has lectured at Harvard University, RISD, The Boston Day and Evening Academy. He lives in Los Angeles, CA.
photo by kahari mays
words from brian:
Feeling very grateful to be one small part of the relief effort and to support Firesticks and First Nations Custodians, and further gratitude in my heart for incredible courage of all the volunteer firefighters and numerous animal rescue and care centers who stepped forward through this crisis.  My enthusiasm to be involved in this project when Amanda asked me to play drums on it was magnified by the sense of purpose to help and hopefully spread some light through music.  
Personally, the recording of drums for this was a very profound and moving one, as I had not recorded music with Amanda in about twelve years, and it had been coming on two years since our last shows in London.  Yet, some magic portal seems to open up whenever I enter the realm of The Dresden Dolls, and I found myself bodily enveloped in the sound of Amanda's piano and voice, like some musical out-of-body experience. 
I'd heard all of 15 seconds of Solid Rock before I jumped in and recorded the whole take completely on the fly, not even having heard the song yet, just riding on pure connection and intuition. To have shared this recording with our old friend and Dresden Dolls sound-engineer, Jaron Luksa, was an added joy.   I'm no politician, and I'm not particularly clever with words, I just hope the music on this album brings some help and healing to those it reaches, and further inspires us all to take the action needed for a safe future. 
'Sing for the animals…'
– Brian Viglione
……
electric bass and guitar on "beds are burning" and "regional echo"
upright bass on "black smoke" and "solid rock"
electric and upright bass on "truganini"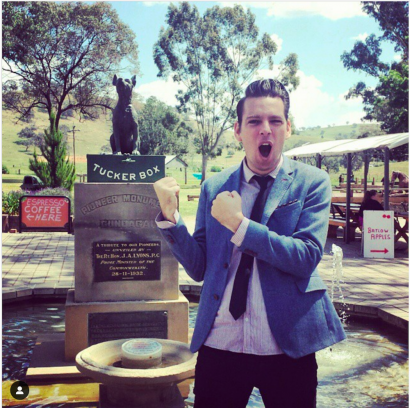 photo by mayumi heider
ABOUT JHEREK
Jherek Bischoff is a composer, arranger, producer, and multi-instrumental performer. His critically-acclaimed albums include Cistern, Composed and a co-release with Amanda Palmer, Strung Out In Heaven: A Bowie String Quartet Tribute. Bischoff has collaborated with the likes of Kronos Quartet, David Byrne, Neil Gaiman, and Robert Wilson. He has performed in prestigious venues including Carnegie Hall and Royal Albert Hall, and renowned ensembles and orchestras around the globe have performed his work. Bischoff recently premiered his first symphony and opera. He is currently scoring for theater, film, and television and releasing new music via Patreon.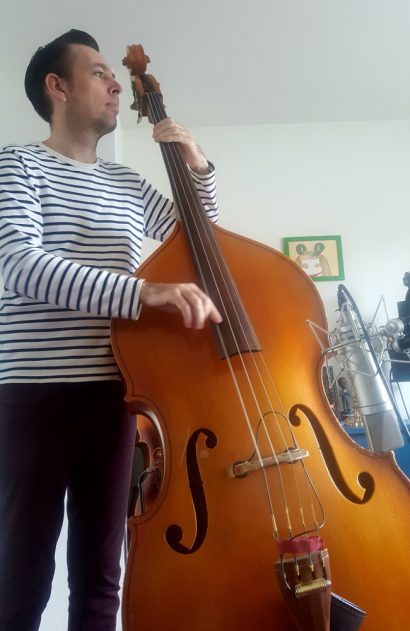 some words from jherek:
I have spent a lot of time in Australia over the years. I've recorded a few records in Australia, done some touring with Amanda and Meow Meow, have played some of my own shows and even recorded a few music videos there. I also got to do a really special tour with Missy Higgins promoting her album Oz, which I produced, and we hit nearly every populated area in every corner of the country. It was wonderful to get to see so much of Australia. Here I am at the Dog on a Tucker Box statue in Gundagai in 2014. It has been absolutely heartbreaking seeing these fires rage and to read about the horrible devastation. I can empathize a bit because I live in LA and we have been hit hard the last couple of years. It's so hard on the community and the earth and the recovery, especially on the scale of destruction Australia has seen, can be daunting. I am so thankful that Amanda has put this record together and that I could lend a hand in making something to send some relief. I send my love to all who have been affected.
……
vocals on "beds are burning"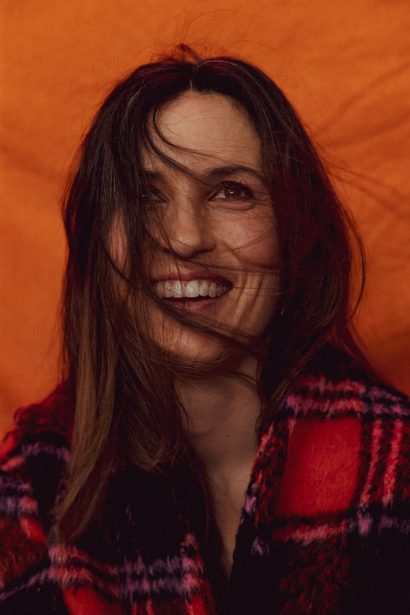 photo by cybele malinowski
ABOUT MISSY
Australian singer/songwriter Missy Higgins has enjoyed phenomenal success with her irresistible melodies and 'arrow through the heart' lyrics, delivered by a striking voice that clearly means it.
After touring the globe with her undeniable songs and unforgettable live performances, Missy's highly acclaimed  'The Sound Of White' (ARIA Album Of The Year featuring the hits 'Scar', 'Ten Days' and 'The Special Two'), 'On A Clear Night' (featuring North American top 20 airplay hit 'Where I Stood' plus Australian #1 single 'Steer') and 'The Ol' Razzle Dazzle' (featuring 'Everyone's Waiting' and 'Hello Hello') have sold over two millions copies globally.
Missy appeared twice on the cover of Australia's Rolling Stone magazine. She is a five-time chart topper and nine-time ARIA Award winner (Australia's Grammys).
After seven years of touring and recording, Missy quietly took a break from music for several years from 2009 to pursue other interests including a course in Indigenous Studies, as well as making her acting debut in Australian film 'Bran Nue Dae'.
In September 2014, Missy released a unique book/covers album called 'OZ' to rave reviews. In recent years she has also struck a chord with standalone singles 'Oh Canada' (2016), inspired by the tragic images of infant Syrian refugee Alan Kurdi and 'Torchlight' (2017), a powerful, emotive ballad written for Australian film 'Don't Tell'. 'Torchlight' won Best Original Song Composed for the Screen at the 2017 APRA Screen Music Awards.
In 2018, Missy announced her long awaited fifth studio album, 'Solastalgia', with its lead single 'Futon Couch' becoming her biggest radio success in a decade. Missy was also confirmed as the main support on Ed Sheeran's ÷ Tour – the largest series of concerts in Australian history with nearly 1 million tickets sold.
Missy capped off 2018 with the release of 'The Special Ones' – a Best Of Collection that is a primer to one of Australian music's strongest modern catalogues;. The album features four previously unreleased tracks including new single 'Arrows' and the previously unheard demo of 'All For Believing' that set her career in motion when she won Triple J Unearthed all those years ago. Alongside the album release, Missy was also the focus of an ABC TV special 'Missy & Friends Live' – a celebration of her career with special guests including Peter Garrett and Kasey Chambers as part of Ausmusic Month.
In 2019 Missy embarked on the Coming Home Tour, a national co-headlining tour of Australia with John Butler Trio+ at venues including Sidney Myer Music Bowl in Melbourne, as well as two sold-out shows at the Sydney Opera House forecourt. She also wrote a number of original songs for the acclaimed ABC TV show 'Total Control'. The show became the highest rated new Australian TV drama of the year.
Missy began 2020 by releasing new single 'Carry You', written by Tim Minchin for his TV show 'Upright'.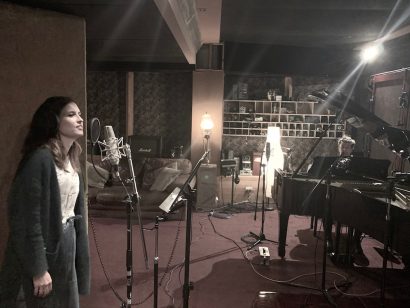 photo by xanthea o'connor
some words from missy:
Right now feels a bit like a fork in the road of history, we get to choose which path to take depending on how honest we want to be with ourselves. Many people feel like this is the first big sign that Climate Change is indeed bloody real and on our doorstep, it's not just theory anymore. But there are so many great things happening in communities all across the world and in our own backyard. People who are inspired and pro-active and taking steps to ensure we protect the future for our kids. 
The Firesticks Alliance is educating Aboriginal and non-Aboriginal people to help protect our natural landscapes through traditional burning-off techniques, which makes a hell of a lot of sense to me, so I'm really happy to be supporting them through this album. It was fun channeling all the messy feelings of the moment into this performance, singing with Amanda and creating an original version of this iconic song that holds particular poignance right now.
…..
vocals on truganini

ABOUT MONTAIGNE
The voice of the new generation, Sydney based artist Montaigne (born Jess Cerro) at only 23 has become a major name in Aussie indie music. The past few years have seen her recognised for her work with multiple spots on the triple j's Hottest 100, an ARIA award for 'Best Breakthrough Artist' and a further nomination for 'Best Female Artist' in 2016, plus J-Award nominations. Her debut album 'Glorious Heights' (produced by Tony Buchen) hit the charts at #4 and her sophomore album 'COMPLEX' was released in 2019 to rave reviews. Singles such as 'Ready' gained extensive commercial radio play and propelled her even further into prominence. As Craig Mathieson of the Sydney Morning Herald put it, 'Montaigne creates music that has a thrilling waywardness, baroque pomp and storm-the-stage energy.'
Currently on her third national tour, Montaigne has played notable festivals like Splendour in the Grass, Lost Paradise, Woodford Folk Festival, Groovin the Moo, Party in the Paddock, Field Day and WOMADelaide. Having opened for international acts like Cindy Lauper and Blondie, this young performer continues to garner high praise for her stunning live presence. 'Her performance will go down as one of the best concerts of the year, without a doubt," wrote The Music of her most recent Sydney show, "and we were lucky to bear witness to the chrysalis.'
Her challenging and inspiring lyrics are reminiscent of the philosopher who inspired her moniker. With melodies to get lost in, and the most energetic of live performances – Montaigne represents the next generation of artists who march to the beat of their own drum.
hot off the press – montaigne will be representing australia in this year's eurovision!!! whaaa!
way to go girl.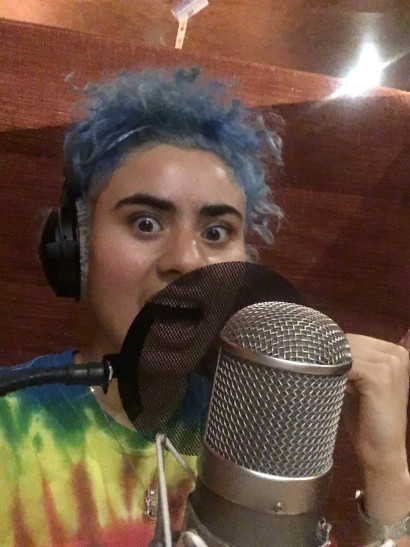 some words from montaigne:
I'm so glad to have the opportunity to contribute something palpably substantial to bushfire relief, I'm grateful to Amanda for asking me to get on board and for pulling it all together. 
It's frightening that the government isn't providing the aid and policy it ought to be to combat climate change disasters. 
When the government doesn't work for the people, artists do.
….
vocals on "black smoke"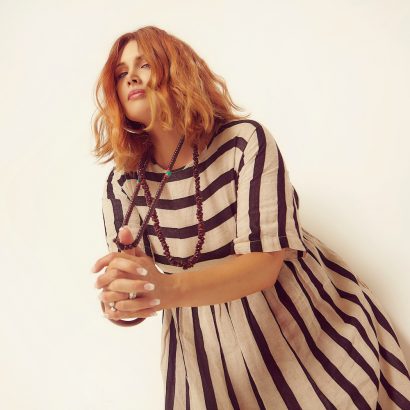 ABOUT CLAIRE
Clare Bowditch is a musician, broadcaster, sometimes actor, speaker, entrepreneur, and just recently became a top-ten, best-selling author.  Somewhat of a slashie you might say.
She has won the coveted ARIA Award for Best Female for her music, the Rolling Stone Woman of the Year Award for her contribution to Australian culture, and has been nominated for a Logie Award for her role as Rosanna on popular television show Offspring. 
Her very first book, a partial memoir entitled "Your Own Kind Of Girl" was released through Allen & Unwin in October 2019 and made an immediate splash with a top 7 placement on the Neilsen Book Charts, #1 seller for Dymocks, Readings and Booktopia and two re-printings in the first week.
In music she has toured and performed at every festival, venue and truck-stop Australia has to offer and played with the likes of Leonard Cohen, Paul Kelly, Missy Higgins, Gotye and John Butler, to name just a few. 
For two years she was a beloved broadcaster on the ABC speaking with millions of Victorians every week. She's interviewed many of the greats, including sports stars, comedians, politicians, business-leaders, and her favourite: other soccer mums and dads who are doing what they can to make a difference. 
She has been a professional speaker, M.C., and large-scaled choir leader for over a decade, having trained under mentors Fabian Dattner, and Faye White. Often focusing on her favourite topics of the importance of creativity and gaining courage. 
In 2012, suspecting the future of business lay in harnessing creative talent and cultivating empathy, she crowd-funded the enterprise Big-Hearted Business, an educational resource reminding the world of the R.O.I. of "giving a shit". 
After retiring from radio to pursue her creative projects, Bowditch has already had a very fecund 2019 with "Your Own Kind Of Girl" and releasing the songs "Woman" and "If I Could Give You".  2020 holds the release of her 6th studio album, an Audible Original piece and work on her second book.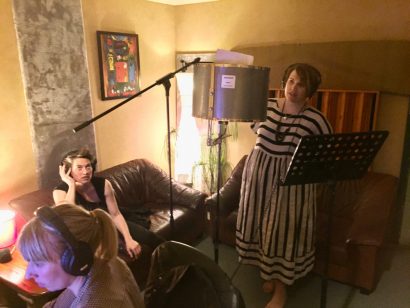 words from clare:
I know many of you know this, but it's been a straight-up devastating summer here in Australia. Just as the bushfires were leaving the news, in the week torrential rain flooded much of Sydney, Amanda asked me to sing for this album, and frankly, it was a relief to have something useful to do. When we feel our leaders and policy makers aren't listening to us, aren't hearing us, I can sometimes spiral into despair, but Amanda never seems to, and that's why she is who she is. I love the way she does this – feels feelings we're all feeling, turns those feelings into an idea – something that might be true and helpful and fun – and then just makes it happen!  So many generous people pulled together in such a short amount of time to get this rolling  – it really was a thrill to be involved.

The song Amanda and I get to sing together – Black Smoke – has a precious place in my heart. It was written by Emily Wurramurra, a young woman of whom I am an enormous fan. I had the pleasure of working with last year in Queensland after  Katie Noonan got us all together for a Women in Song event (she's a bit like Amanda in this way: she just gets stuff happening). As a performer and songwriter, Emily is generous, charming, and very talented. She's also a great deal of fun to be around. This song stuck in my head long after I'd returned back to Melbourne, and when I heard Amanda singing it on a demo track I got goosebumps.
…….
fred leone
digeridoo on "solid rock"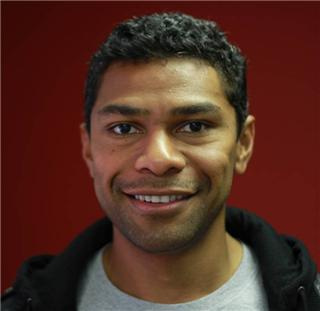 ABOUT FRED
Fred Leone is one of the three Butchulla Song men, the Butchulla tribe through his Grand Mothers line covers Kgari (Fraser Island), Hervey Bay, Maryborough and the surrounding areas of the Fraser Coast. He is also Garawa on his Grand Fathers line Garawa is on the Coastline across the Queensland /Northern Territory border. He also has Tongan and South Sea Islander heritage.
Committed to, social change and social justice, particularly applying his skills and knowledge to support the strength, status and development of Indigenous Culture. Through his music, language & dance, and body of work Fred is also focused on enriching the lives of young people in the areas of positive leadership, self-expression, self-confidence, self-pride and pride in communities and culture.  Fred was the recipient of a JB Seed Grant in 2007 which helped kick start his career. 
In recent years Fred has Indigenous Cultural input into the following major public and internationally broadcast events. Including Australia vs Great Britain and Irish Lions, G20 World Leaders Summit Welcome to Country, G20 Cultural Program Opening, Commonwealth Games Torch Relay.  He was also the Artistic Director of Black Arm Band's renowned stage show DIRTSONG and toured internationally to the U.K. U.S, Brazil, Singapore, Taiwan, Canada & Malaysia. In 2016 Fred toured his first play "Gunyal *Scar to Glasgow funded by the National Theatre of Scotland.
In 2020 Fred began touring his talk and panel discussion "Subversive Sovereignty in Four Acts".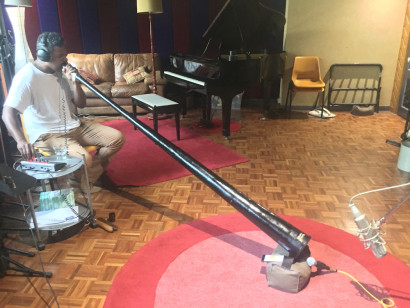 words from fred….
Thanks to everyone that has bought the album to support such an amazing cause. This project acknowledges the need for traditional fire methods, Indigenous knowledges and the voices of those who hold that knowledge to be heard.
Indigenous land and fire knowledge in Australia stretches back to the dawn of time. This knowledge is drawn from thousands of years of observation, experimentation and expertise, so I applaud the efforts of Amanda and her team to raise funds for the Fire Sticks Alliance and the tremendous work in putting this amazing project together in an incredibly short amount of time. I'm honoured and very proud to be part of it.
…..
artist, album artwork….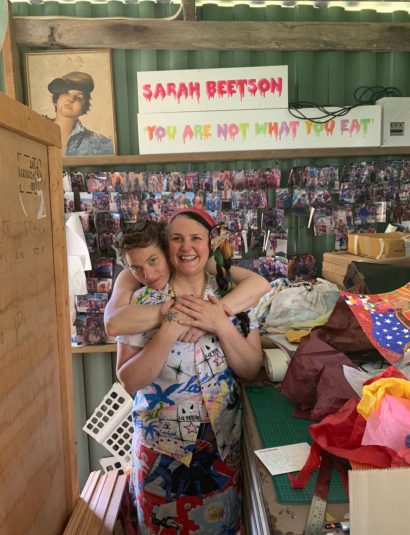 ABOUT SARAH:
Rainbow Crusader. Nomadic British-Australian Illustrator & Artist living in Australia, travelling frequently, creating and exhibiting at home and on the road with mini easel, travelling scanner and suitcase full of art materials, leaving a rainbow trail of art in her wake.
here's some shots from sarah's artwork in progress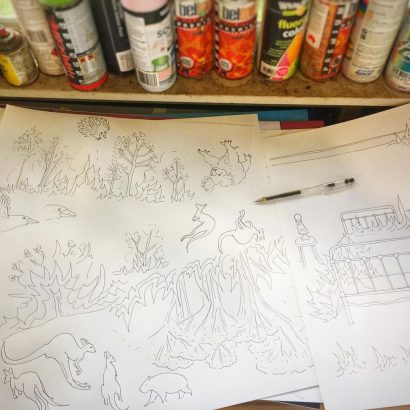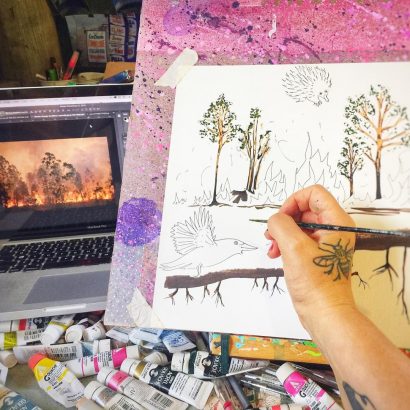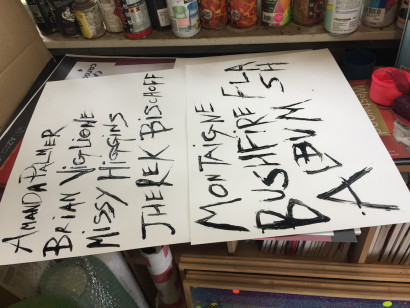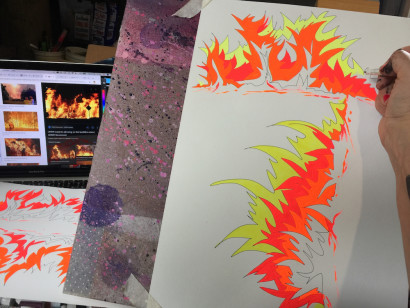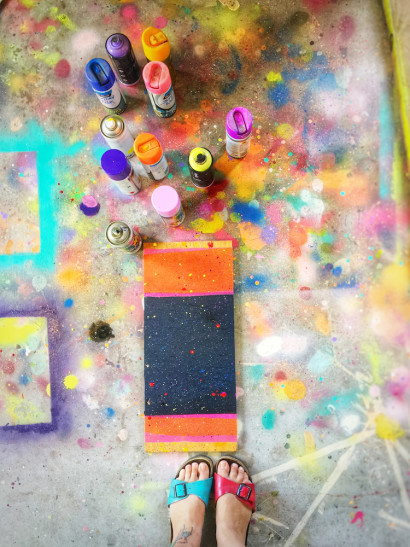 some words from sarah:
When Amanda called me to ask about creating art for a bushfire charity record, I absolutely jumped. I had been feeling so powerless. On New Years Eve, my boyfriend and I sat around our good friends table, watching the news of the thousands trapped on the beach at Mallacoota, fires burning up to the sand, red sky above. Our friends, rangers for the national parks, were 'on call' via mobile for connecting reports of fire to the appropriate first responders. Several calls came in to be connected during the evening. The start of 2020 felt utterly apocalyptic. 
I had spent the previous 6 months or so attending school strikes for climate in Australia and the UK (I am a dual British-Australian citizen), photographing school children with their protest signs, many of them containing facts I hadn't been fully aware of, educating us all of the stats we are up against if we are to save the planet from total climate breakdown. I had been working on a series of portraits of these kids, sombre faced, staring down a harsh and uncertain future in an increasingly hostile climate. Chad and I drove these artworks down to Sydney last October (I'm, trying hard to cut back on flying wherever possible) to exhibit them. We drove back through thick smoke across the state of New South Wales, speed restrictions, a realisation of the scale of it all and the fact that it was still only spring. 
In November there were fires just 16km from our farm, and smoke filled our valley for several weeks, a constant reminder to be on our toes – especially when what was left in our water tanks began to taste like scotch from the smoke, and our creeks ran dry for the first time in living memory. Desperately wanting to do something more for those affected by the fires, I got out some older artworks I'd created in response to the 2009 Black Saturday fires, made prints, asked for people to make donations to the firefighters and animal shelters in exchange for them. Last week, ironically we had a month's rainfall in just over a day, and the creeks turned to rivers, burst their banks and flooded the roads. After drought comes the flood – but it is so welcome here. Our animals are happy and the paddocks are finally green.
So when Amanda called me and told me she was doing a charity record for the bushfires, and would I do the art, I jumped. I listened on repeat to her demo for the new song, to Midnight Oil and Emily Wurramara, got out my sketchbooks and pulled up reference to draw from. The experience of creating the art was cathartic. A lot of the emotions that had been sitting heavily for months flowed out as I began to draw. I hadn't cried since the week with Lewis the koala. Art is in so many ways therapy. 
My working process is that I create a ton of individual drawings, and a separate painted background, then colour everything in – all the elements are made by hand with a plethora of mixed media. Then it all gets scanned and the composition gets put together digitally, so we can collaborate on edits, add new things, add the artists who were joining the musical collaboration. I really enjoyed creating the scratchy lettering of the musicians names and titles with some old paint and the end of a paintbrush. 
Seeing the beautiful designs Andrew created using my art for the single, the record, the posters, come together is so rewarding for me. I feel like at least some of the anxiety is relieved. I am so grateful to Amanda and the artists involved for giving their time and talents to this cause. It feels like the world is with Australia, and that more and more people are realising the urgency of the climate catastrophe we all face.
……
\
emily wurramara, who wrote "BLACK SMOKE" had this to say:
"I'm so honoured that Amanda has chosen to cover my song "Black Smoke", and with the amazing Clare Bowditch as well!  
This is an amazing project for such an important cause and I can only add that as we continue to see these kinds of disasters, I hope that our government takes more responsibility and action in allowing for indigenous peoples to aid with our thousands of years of knowledge about land care management – thank you Amanda xo"

….
extra funs….
here is the sketch i made explaining to sarah what i saw for the cover….
we did the whole conversation over TEXT….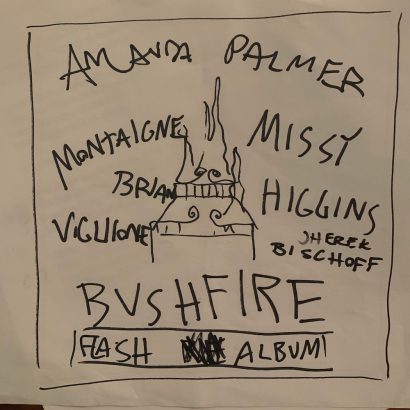 and here are some more behind the scenes photos from sing sing studios in melbourne where most of the record was recorded. photos below by xanthea o'connor….
recording zee piano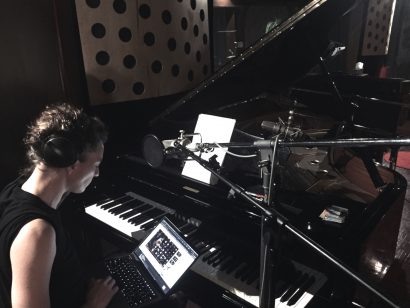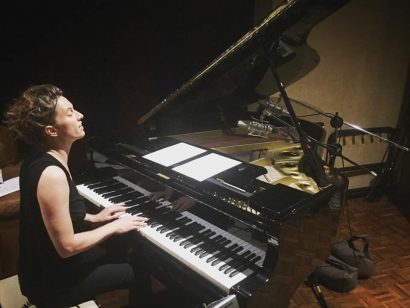 at the mixing board with our engineer, anna….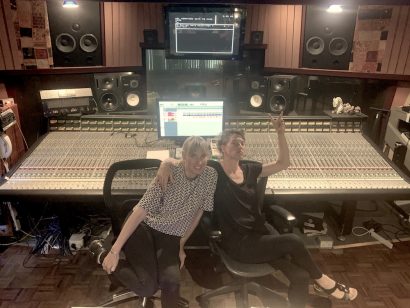 recording autoharp….for beds are burning….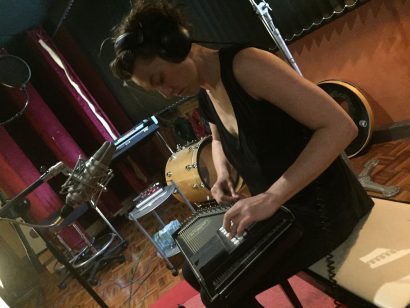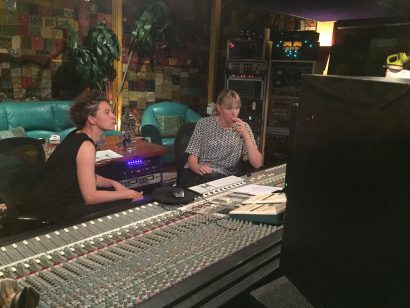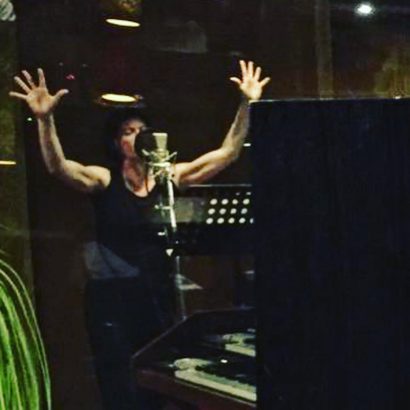 selfie with anna and xanthea….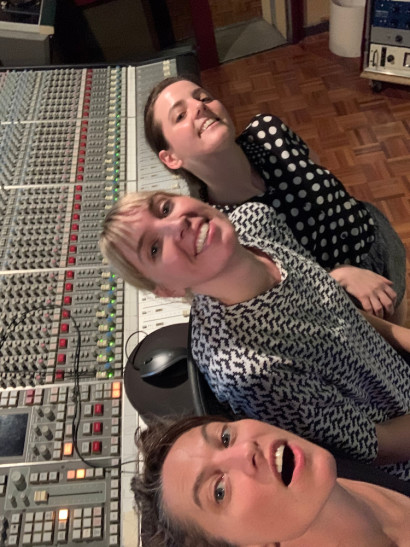 here are the full ALBUM CREDITS:
AMANDA PALMER & FRIENDS present:
FORTY-FIVE DEGREES: A BUSHFIRE CHARITY FLASH RECORD 
this whole album was made possible with support from 15,000 patrons funding me at patreon.com/amandapalmer. i would not have had the ability to do this without them.
all profits from this album go to Firesticks Alliance; an Indigenous led network re-invigorating and teaching cultural land burning and management.
featuring BRIAN VIGLIONE of THE DRESDEN DOLLS on drums
and JHEREK BISCHOFF on bass & guitar
covering:
MY FAVORITE THINGS (BUSHFIRE EDITION)
originally by RODGERS & HAMMERSTEIN II
additional lyrics written by amanda palmer
amanda palmer – piano & vocals
BEDS ARE BURNING (with MISSY HIGGINS)
originally by MIDNIGHT OIL
missy higgins – vocals
amanda palmer – piano, vocals & autoharp
brian viglione – drums
jherek bischoff – electric bass & guitar
THE DROVER'S BOY
originally by TED EGAN
amanda palmer – piano, vocals & drums
BLACK SMOKE (with CLARE BOWDITCH)
originally by EMILY WURRAMARA
clare bowditch – vocals
amanda palmer – piano & vocals
jherek bischoff – upright bass
SUCK IT UP, BUTTERCUP
a new song by amanda, for launceston
amanda palmer – piano & vocals
TRUGANINI (with MONTAIGNE)  
originally by MIDNIGHT OIL
montaigne – vocals
amanda palmer – piano & vocals
brian viglione – drums
jherek bischoff – electric & upright bass
SOLID ROCK (with FRED LEONE)  
originally by GOANNA
fred leone – didjeridoo
amanda palmer – piano & vocals
brian viglione – drums
jherek bischoff – upright bass
REGIONAL ECHO
originally by JEN CLOHER
amanda palmer – piano & vocals
brian vilglione – drums & tambourine
jherek bischoff – electric bass & guitar
artwork by sarah beetson
album layout designed by andrew nelson at down in the valley, kingston, NY
engineered, co-produced and mixed by anna laverty at sing sing studios in melbourne, australia
assisted by gabby crump and james taplin
drums engineered by jaron luksa at the rattle room in burbank, CA
assisted by rylan sunseri, nathaniel sellin, and kahari mays
bass and guitar engineered by jherek bischoff at sweethaven in los angeles, CA
mastered by ross cockle at sing sing studios
xanthea o'connor – guest A&R/advisor/co-producer/lizard
thanks for the autoharp loan, mic hubbard !!!!!
and again…..all my love and thanks to all the patrons who suggested songs for this collection, kaj and judy at sing sing, jordan verzar, michael mccomiskey, hayley rosenblum, neil gaiman, nick, braxton and allison at fame house, emily and amy at death proof PR, brian ritchie and mona foma, bek berger, cooking vinyl australia, the orchard and bandcamp.
LOVE TO ALL.
xx
a
——THE NEVER-ENDING AS ALWAYS———
1. if you're a patron, please click through to comment on this post. at the very least, if you've read it, indicate that by using the heart symbol.
2. see All the Things i've made so far on patreon: http://amandapalmer.net/patreon-things
3. join the official AFP-patron facebook group: https://www.facebook.com/groups/afpland
4. new to my music and TOTALLY OVERWHELMED? TAKE A WALK THROUGH AMANDALANDA….we made a basic list of my greatest hits n stuff (at least up until a few years ago, this desperately needs updating) on this lovely page: http://amandalanda.amandapalmer.net/
5. general AFP/patreon-related questions? ask away, someone will answer: patronhelp@amandapalmer.net
UPCOMING SHOWS:
Sat. Feb 22 – PERTH, WA – Perth Concert Hall, Perth Festival
Sat. Feb 29 – DARWIN, NT – Darwin Entertainment Centre
Sun. Mar 8th – MELBOURNE, VIC – Forum – Neil Gaiman & Amanda Palmer present a Bushfire Recovery Event {NEWLY ADDED}
Thurs. Mar 12 — Fri. Mar 13 – AUCKLAND, NZ – Auckland Arts Festival: Hollywood Avondale
Sat. March 14th – CHRISTCHURCH, NZ – The Piano
Mon. March 16th – WELLINGTON, NZ – St Peters Church, Wellington Fringe
ALL TICKETS: https://nointermission.amandapalmer.net