July 13, 2010
i don't belong here (UkuleleHead countdown, Part I)
HOla comrades.
your feedback on
t

he harvard talk
was kind of beyond awesome….once again, you make me better.
there's so much fodder there and so many things to talk about – i want us all in one room.
one of the main things being discussed in a certain thread was the fact that all this shit is easy for me to say, since it's working for me.
i always forget to leave one key part out, but i think that's because it goes without saying.
i'll say it anyway:
if you want to take part in the cosmic-web-4.0-uber-progressive-exchange-of-love-and-money, your art has to be GOOD.
and we all know good art doesn't exist. nor does bad art. but at least a couple people out there are going to have to think your art is good, or you're screwed.
i mean, seriously, you're just fucked. nobody can help you if the world isn't interested in your content.
the internet cannot help you, facebook cannot help you, twitter cannot help you, major labels and millions of dollars of promotion cannot help you (well…maybe they can, but you'll wind up fucked in the long run when the cocaine hangover wears off and you're faced with the reality of your autotuned hollow existence).
there's a LOT of audience out there. chances are if your shit is good, people somewhere will be excited. and people love being excited, and they love sharing shit they are excited about with their friends.
so i refuse to believe that your shit is amazing if you tell me you're putting out tons of content and nobody cares about it. all you need is 5 friends to tell their friends about how amazing your fucking song is. the rest does itself; we live in a viral world.
speech over.
…………………
now to the exciting part, this betch: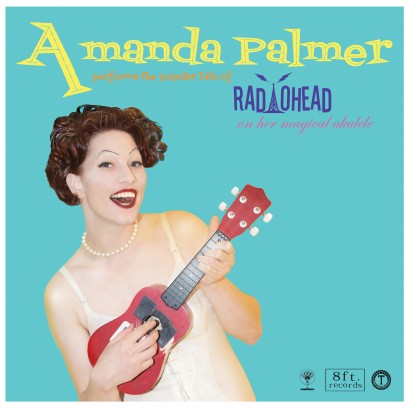 why yes, it's my new record, Amanda Palmer Performs the Popular Hits of Radiohead On Her Magical Ukulele (APPTPHOROHMU – it sounds very….lovecraft?) due out in a WEEK!
i'm going to post about a blog-a-day for the next week as we continue the countdown to JULY 20, when this bitch will finally be available for download and for sale as a hard-copy vinyl. (btw: as of right now, the plan is to release the digital version on
bandcamp
at around midnightish…those of you wanting to get the physical product/awesome bundles, best
sign up for the mailing list
, because we're gonna tell all y'all FIRST when everything will be up to buy…so
sign up.
really.)
lots of people have been asking me why we're not putting it out on CD.
because. CDs are over. next question.
……………………………
i'm going to give you the short history of how this record came together over the course of these blogs, instead of doing what i did on the
Who Killed Amanda Palmer
record, which was sort of the reverse…
for WKAP, i posted a whole long spiel about the making of the record and threw it up on it's own mini-website (
here
). i may conglomerate these blogs and keep them somewhere special later, so that people interested in the record can have somewhere to go to read about it, but for now, on the blog the truth shall live.
and the truth is this:
i bought a ukukele at daddy's junky music, on massachusetts avenue in boston, because i had a vision.
and it was a stupid vision. it was a vision of myself playing "creep" on the ukulele while standing on the bar of the middle east nightclub.
my friend bri olson (
http://www.lovevolution.org
) was holding a benefit for an iranian rock band/to fund her own trip over to iran to get them some love, and she'd asked me to play.
i'd played the joint a dozen times and knew it inside and out…it's the same room where the dresden dolls historically won the local rock and roll rumble, launching us into boston fame.
so i had this vision…well, let's call it an IDEA, because vision is somewhat grandiose…of myself playing "creep" on the ukulele while standing on the bar, if the bartender would let me (he did).
(*at this moment i should point out that my idea was definitely cribbed from the aussie comedienne
ali mcgregor
. i saw her play "creep" on an autoharp at the spiegeltent in edinburgh a few years before and it struck me as the perfect song for a minimally-instrmentalized cover. i made sure to thank her the last time i saw her in oz. i couldn't find footage of her in the tent, but here's her playing it in another venue:
http://www.youtube.com/watch?v=5EncMIxgsEc
).
now all i had to do was learn how to play this little guitar-looking thing. simple.
so the day before the gig, i traipsed down to daddy's and purchased a hilo plastic-fretboard ukulele for $19.95 plus tax.
new, it looked like this: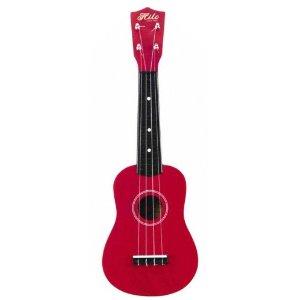 and as i walked the five blocks home, i figured out two chords and started playing them over and over, and people in the street started looking at me, and smiling, and my little head started to explode as i realized i was walking and playing music outside.
you see, i play piano.
pianos are never played outside. they're heavy and extremely awkward to carry.
even the fake pianos are heavy. and you have to plug those in.
pain in the ass fucking instrument.
in that moment, i was a happy enlightened little AFP, because i felt the dawning realization that i could play this instrument ANYWHERE. holy shit.
i got home, googled "ukulele chords", learned the four chords for "creep", and practiced all night (ask my poor housemates).
the next day, i got to the benefit and was very excited about my new toy. here is the footage that lee took.
it became one of my most-wacthed youtube clips for a while:
vital moments:
2:28 – the dude saying "…details". i love him.
4:06 – len tower's famous beard.
4:43 –  the random dude i'm singing with at the end is
cormac bride
, one the best songwriters and singers you've never heard of (he really needs to get off his ass and put his record out, hint). anyway. i didn't even know he was at the show, and when i ran into him in the audience (i knew he was a huge radiohead fan) and he started singing, i just stayed there with him. it's really obvious that we have no plan and no idea what the fuck we're doing or singing, but that's kind of why it's beautiful.
and it was good.
and i thought, that night, that i would probably never play the ukulele again.
this is now the state of that same ukulele: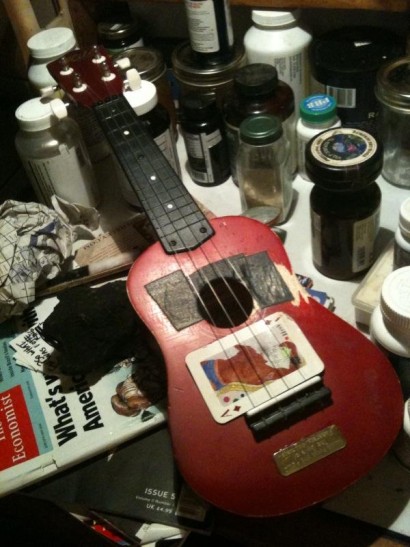 i was wrong.
stay tuned for part II.
love & good night
AFP