October 11, 2016
i'm heading down under!! new australian tour dates
as usual, THE PATRONS GET THE FIRST CRACK AT *ALL* TICKETS.
all patrons will get the tickets / pre-sale codes first tomorrow, once they're available. the pre-sale will begin at 12pm, wednesday, october 12. you can snap up tickets before the lot go on sale to the general public. if you want to try your luck, the public on sale is at 9am Sydney time on Friday. If you're not already a patron, you can join for as little as $1 and get access to the pre-sale at https://www.patreon.com/amandapalmer.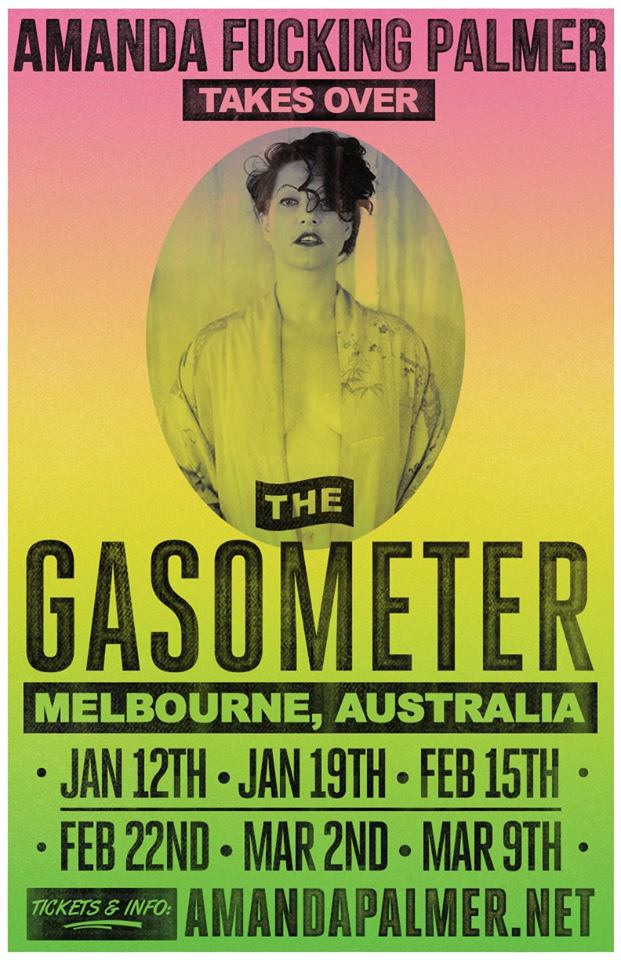 THIS IS MY FIRST TIME APPEARING AT WOODFORD! i'll be doing a regular piano set AND a conversation about babies, over wine.
December 30/31 – Woodford Folk Festival – Woodford – Tickets / Info
January 12 – The Gasometer: Collingwood – Melbourne
January 19 – The Gasometer: Collingwood – Melbourne
January 21 – Sydney Opera House – Sydney
February 3/4 – Melt Festival – Brisbane Powerhouse – Brisbane
February 10/11 – Museum of Old and New Art – Hobart, Tasmania
February 15 – The Gasometer: Collingwood – Melbourne
February 22 – The Gasometer: Collingwood – Melbourne
February 24/25 – Her Majesty's Theatre – Adelaide

March 2 – The Gasometer: Collingwood – Melbourne
March 4 – Playhouse Theatre – Canberra
March 9 – The Gasometer: Collingwood – Melbourne
March 10 – National Gallery of Victoria – Melbourne