May 31, 2019
A LEGITIMATE ADVENTURE IN D.C.! a podcast/audio-diary….with laurie penny! {official Thing}
(public post)
hola comrades!!!!
–meep meep meep–
–we interrupt this tour of missouri to bring you a long, fun, thing-listen!!!–
IT'S…….THING TIME!
the "state of althings" will again come at the beginning of next month instead of the end of the month so we can have a little more breathing room. it's already MASSIVE. we've done so so so many things this month. i'm so proud of this damn community right now, and being on the road is nailing it all together. we are really changing the world a little.
speaking of which!!!!!
remember when i went to washington DC (with laurie penny as my date?) for the white house correspondents dinner? and the "NOT the white house correspondents dinner with samantha bee" the night before?
(here's the original blog: https://www.patreon.com/posts/wave-from-dc-and-26402770)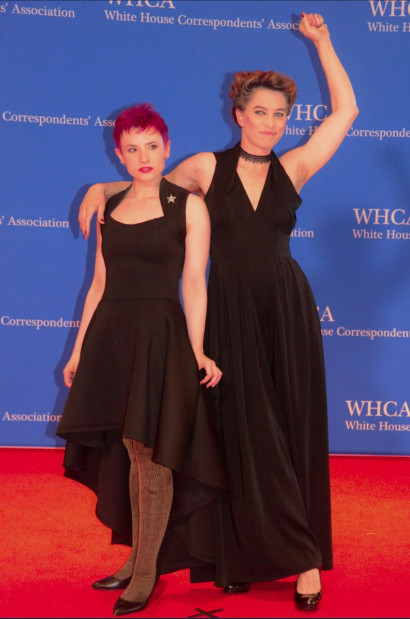 REMEMBER HOW I TOLD YOU THAT WE WERE GOING TO MAKE AN AUDIO-DIARY/PODCAST OUT OF IT!
well……WE DID!!!!!!
it's taken us over a month to cut it together….sorry about that….but i've been on the road and piecing it together has been done on the fly.
it's all just a relevant as ever.
and i am proud that we can start playing around with this format and bring you this kind of unabashedly open, funny, honest political/personal content WITH NO ADS.
since this is being made on patreon, 'tis sponsor-free.
i hope you will agree: the production is AWESOME! all those etxra sounds and cuts and edits and songs and bells and whistles take a tone of time to create, and fannie cohen (FannieCo), my podcast producer, really brought it.
we still haven't launched my "official" podcast channel, i think we're gong to do that in september, but this is TOO TIMELY to hang onto until then.
so this should give you a taste of what we are up to, and what the podcast could be if i decide to keep doing things along the lines of "audio diary" as opposed to straight-up interviews *which will also be fantastic….the interviews i've been doing lately have been changing my life, and will hopefully change yours when i get to edit them together and share them.)
meanwhile: THIS AUDIO DIARY/PODCAST is NOT PATRON-ONLY, i want everyone in the world to be able to hear it. so this one is free to stream on soundcloud for anyone who wants to listen and download.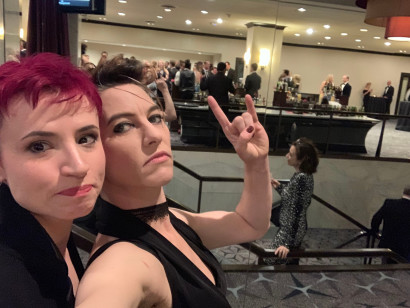 and here's the contents of the podcast, beat by beat:
1:45 – AFP at the airport after landing in Washington DC!
2:30 – AFP in a cab on the way to the hotel!
4:30 – Laurie and Amanda meet up. Laurie recounts being at the Trump inauguration and getting one of her "death metal periods"….
6:45 Amanda recalls being present for President Obama's inauguration with dresden dolls….
7:45 – AFP and Laurie getting ready for the "Not The White House Correspondents Dinner"
8:25 – Laurie talks about who she is and what she does….
11:00 – In the cab on the way to Samantha Bee's "Not The White House Correspondents Dinner" Laurie talks about UK vs. US and being a journalist….
15:00 – In the cab after the dinner, Laurie and AFP reflect on the "work party" vibe …
17:00 – Sam Bee's event was star-studded group therapy with people like Sigourney Weaver ….
18:10 – AFP + Laurie answer questions from Patrons and get distracted….
19:00 – "the racist did racism that was racist"!
20:15 – Amanda invents a new word, "solidarify".
20:30 – Laurie speaks about free press being under fire …
25:20 – Laurie references Jay Rosen on "the availability fallacy"….
26:30 – AFP on being labeled "extreme".
30:15 – Laurie: "people are quicker to assume inauthenticity in women"….
34:00 – AFP discusses the Rumi quote about "the three gates"….
40:30 – Laurie speaks about "holding the line" to fight against misinformation and fake news….
45:00 – AFP discusses how we as mammals are motivated either by threat or opportunity
46:30 – Laurie discusses "Everything is Possible, Nothing is True" about Putin's Russia
56:00 – AFP + Laurie head to the Official WHCD aka "Nerd Prom"….
57:00 – AFP recalls the speech by Ron Chernow…
58:30 – Excerpt from Ron Chernow's speech….
59:30 – AFP wakes Laurie up the next morning to talk life, politics, and feminism…
1:00:00 – "The breast pump and the circumstance"…
1:02:30 – Nationalism in US vs. UK…
1:11:30 – "Go back to bed, Laurie"!!!
1:12:00 – AFP lands in Albany, NY and reflects on the weekend and where we go from here
THE END
……..
OK!!!!
READY??…..
listen here, on soundcloud
……..
$3+ download tier patrons, standby, your download is coming shortly.
here are some fun pictures from our trip…..
me on the way to the airport, very tired: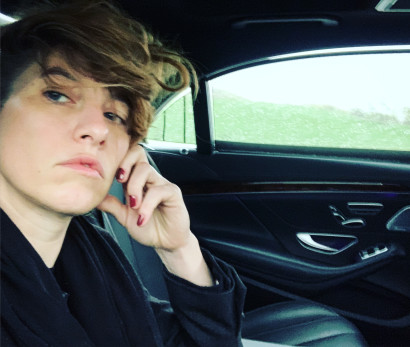 me & laurie on the red carpet at the "not" dinner: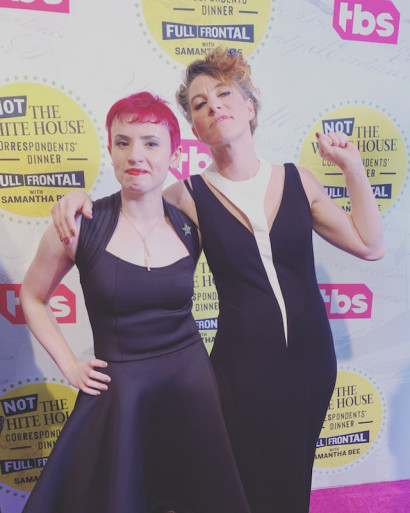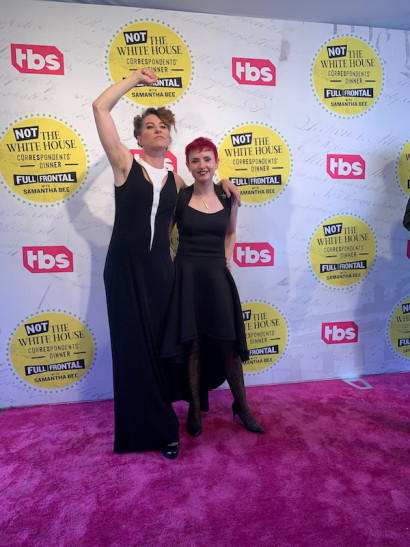 our not dinner!: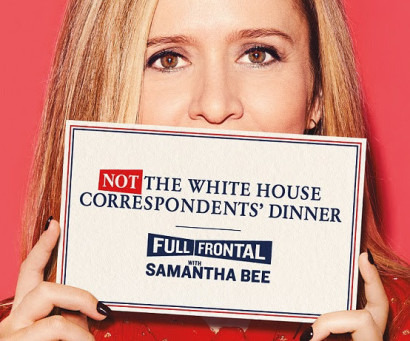 me and laurie recording in the washington hilton: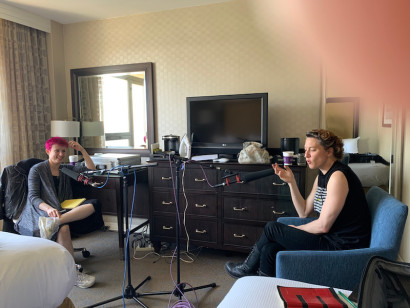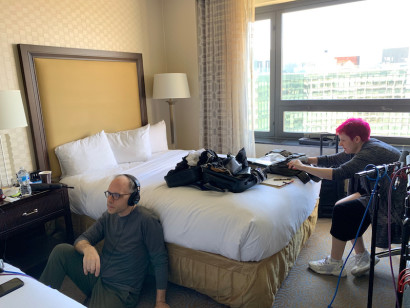 our engineer, archie moore: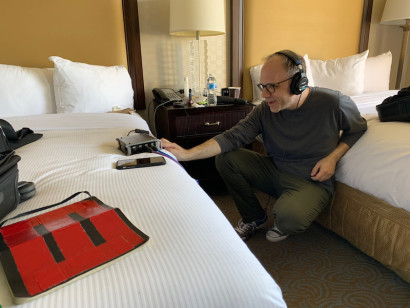 laurie, outside the hotel looking fancy: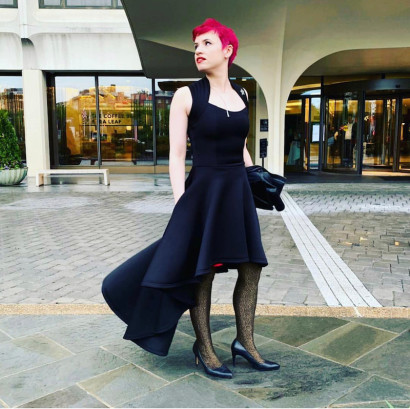 me stalking samantha bee for a picture: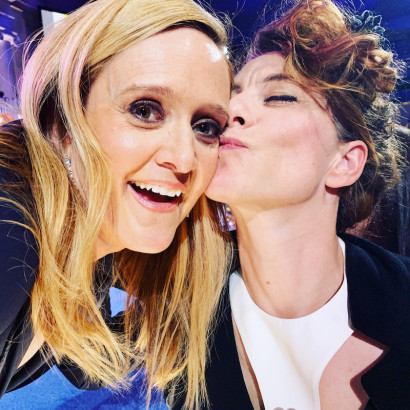 me at the podium at the WHCD…LOOK AT THE BAND!!!!!!!!!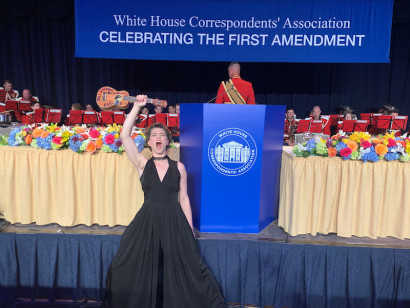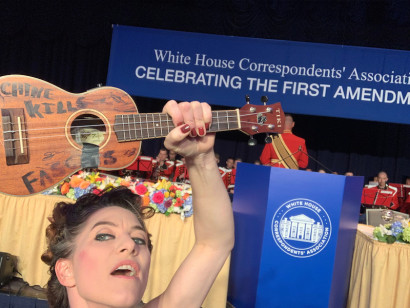 i made the news!
yay.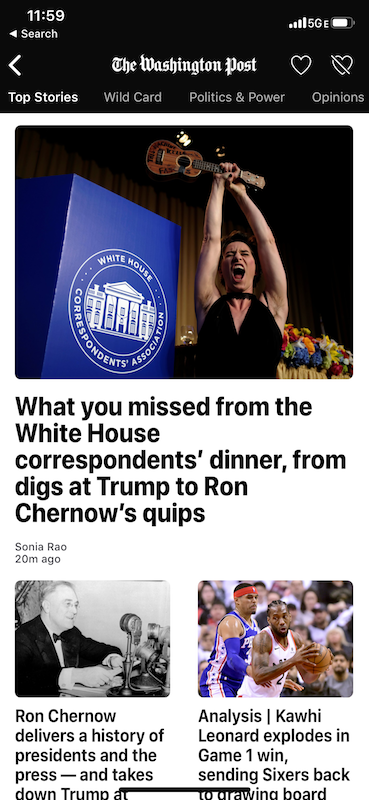 ……..
more?
ok.
me with martha bárcena, the first female mexican ambassador to the US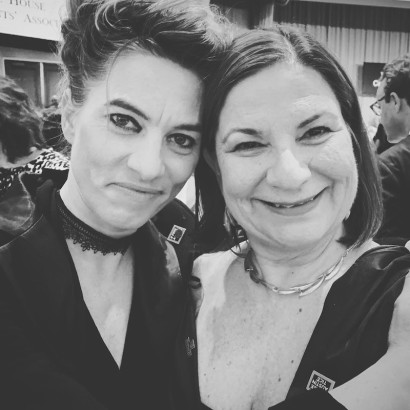 …..with jane boon and norm pearlstine – our hosts – from the LA times.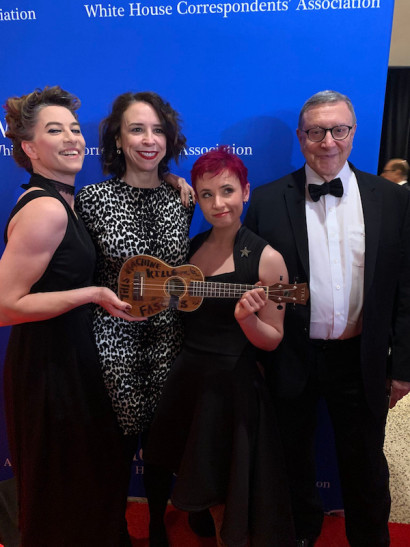 phew.
……………….
LAURIE PENNY'S BIO
Laurie Penny is a journalist, screenwriter and Award-winning author of incredible books including Bitch Doctrine, Unspeakable Things and Everything Belongs To The Future. As a journalist, her work ranges from politics and social justice to feminism, pop culture, technology and mental health. Her word have been featured in The Guardian, Time Magazine, Buzzfeed, The New York Times and Vice.
PLEASE, support Laurie's endeavors on Patreon, i do….and SHE IS AWESOME.
https://www.patreon.com/lauriepenny
(screenshot of laurie's patreon)
………..
READING  LIST/BOOKS  WE MENTION!!!
Laurie Penny/ALL HER BOOKS:

 https://www.amazon.com/Laurie-Penny/e/B007O2X0YU/ref=dp_byline_cont_book_1
……………………………..
Ron Chernow's, author or "hamilton", the historian who spoke at the dinner (amazon page)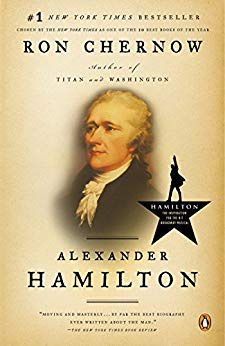 https://www.amazon.com/s?k=Ron+Chernow&ref=dp_byline_sr_all_1
……………………………..
Jay Rosen, "what are journalists for?"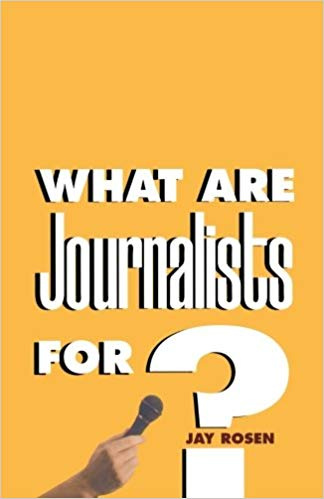 https://www.amazon.com/What-Are-Journalists-Jay-Rosen/dp/0300089074
……………………………..
Howard Zinn, "a people's history of the unites states"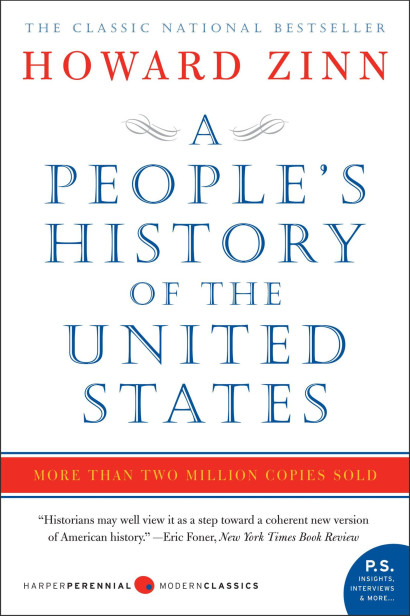 https://www.amazon.com/gp/product/0062397346/ref=dbs_a_def_rwt_bibl_vppi_i0
……………………………..
Peter Pomerantsev, "Everything is Possible, Nothing is True"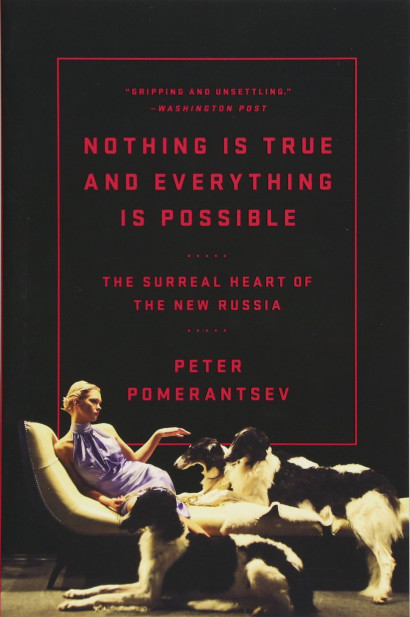 https://www.amazon.com/Nothing-True-Everything-Possible-Surreal/dp/1610396006
……………………………..
and just cos….
hey, er i wrote a book once! it's called THE ART OF ASKING and you should read it if you haven't.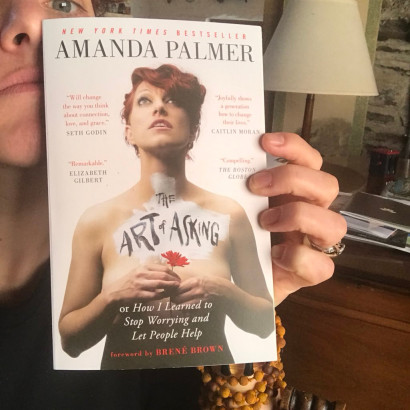 you can find all about it here:
http://amandapalmer.net/theartofasking/
……………………………….
AND….
EXTRA-CURRICULAR VIDEO GOODNESS  !!!!!!!!!!!!!!!
…………………………
here's us at the International Literature Festival Dublin: Amanda Palmer & Laurie Penny
it's a little lo-fi and on periscope….but it's awesome. THIS WAS RIGHT AFTER THE DUBLIN REFERENDUM. WE WERE HIGH ON LIFE: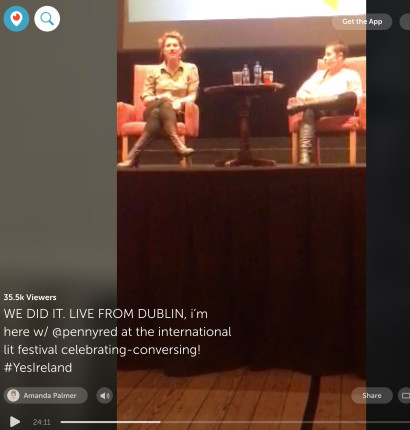 https://www.pscp.tv/w/1jMKgqmrjPgJL
…………….
Not the White House Correspondence Dinner – video clips! https://www.youtube.com/channel/UC18vz5hUUqxbGvym9ghtX_w
………………
GRAB A BOTTLE OF … SOMETHING!
IT'S KINDA BORING, BUT…..the 2019 White House Correspondents' Dinner on C-SPAN!!!!!!
https://www.c-span.org/video/?459869-1/2019-white-house-correspondents-dinner
…………….
and now…..if you're feeling inspired….
DONATE TO SOMETHING!!!!!!!!!!!!!!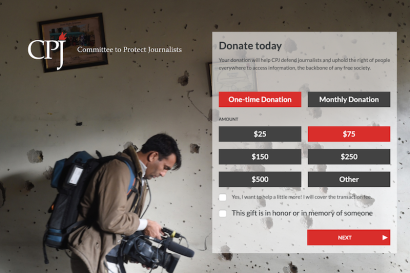 The Committee to Protect Journalists. https://donate.cpj.org/page/28608/donate/1
……………………………..
PEN AMERICA: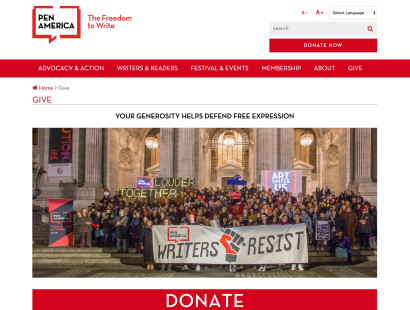 …………..
last notes! the graphic for the podcast/audio diary is by andrew nelson.
many thanks to fannie and hayley for helping me get this post together while i was on the road!
STAY TUNED, STAY BRAVE.
I LOVE YOU ALL.
gotta get to soundcheck in kansas city.
there will be no intermission.
x
a
——THE NEVER-ENDING AS ALWAYS———
1. if you're a patron, please click through to comment on this post. at the very least, if you've read it, indicate that by using the heart symbol.
2. see All the Things i've made so far on patreon: http://amandapalmer.net/patreon-things
3. join the official AFP-patron facebook group: https://www.facebook.com/groups/afpland
4. new to my music and TOTALLY OVERWHELMED? TAKE A WALK THROUGH AMANDALANDA….we made a basic list of my greatest hits n stuff on this lovely page: http://amandalanda.amandapalmer.net/
5. general AFP/patreon-related questions? ask away, someone will answer: patronhelp@amandapalmer.net

TOUR DATES!
Fri May 31 – Kansas City – Arvest Bank Theatre at The Midland
Sat Jun 1 – Denver – Paramount Theatre
Thu Jun 6 – Vancouver – Chan Centre
Fri Jun 7 – Seattle – Paramount Theater (ALMOST SOLD OUT)
Sat Jun 8 – Portland – Crystal Ballroom (SOLD OUT)
Sun Jun 9 – Portland – Crystal Ballroom (ALMOST SOLD OUT)
Wed Sep 4 – Netherlands – Amsterdam – Meervaart
Fri Sep 6 – Germany – Berlin – Admiralspalast
Wed Sep 11 – Germany – Munich – Kongressaal
Fri Sep 13 – Germany – Offenbach – Capitol
Sat Sep 14 – Austria – Vienna – Konzerthaus
Sun Sep 15 – Austria – Graz – Stefaniensaal
Wed Sep 18 – Germany – Stuttgart – Theaterhaus
Thu Sep 19 – Germany – Essen – Colosseum
Fri Sep 20 – Belgium – Antwerp – De Roma
Tue Sep 24 – Germany – Hamburg – Laeiszhalle
We Sep 25 – Germany – Leipzig – Haus Auensee
Thu Sep 26 – Czech Republic – Prague – Hybernia
Fri Sep 27 – Luxembourg  – Luxembourg – Conservatoire
Sat Sep 28 – France – Paris – Bataclan
Fri Oct 11 – Denmark – Copenhagen – Bremen Teater
Sat Oct 12 – Sweden – Stockholm – Södra Teatern (SOLD OUT)
Wed Oct 16 – UK – Bexhill – De La Warr Pavilion
Sat Oct 19 – UK – Cardiff – St David's Hall
Sun Oct 20 – UK – Cambridge – Corn Exchange
Wed Oct 23 – Ireland – Cork – Opera House
Thu Oct 24 – Ireland – Dublin – National Concert Hall
Sat Oct 26 – Ireland – Belfast – Ulster Hall
Sun Oct 27 – Ireland – Limerick – Univeristy Hall
Frin Nov 1 – UK – Dunfermline – Carnegie Hall
Sat Nov 2 – UK – Glasgow – City Halls
Sun Nov 3 – UK – Manchester – Albert Hall
Mon Nov 4 – UK – York – Opera House
Thu Nov 7 – UK – Newcastle – Tyne Theatre
Sun Nov 24 – Portugal – Braga – Theatro Circo
Thu Dec 5 – UK – London – Union Chapel (SOLD OUT)
Fri Dec 6 – UK – London – Union Chapel (SOLD Out)
Fri Dec 13th – UK – London Union Chapel (JUST ADDED)