November 26, 2019
"the mushroom hunters" – a neil gaiman poem animation {official Thing}
(public post)
hallo my loves!
thank you for being in this intersection of time, life and art. i so appreciate all your beautiful feedback from yesterday's new song.
yes, i've had a hard darn week, but i won't let it ruin the long-anticipated JOY of this release….i've been looking forward to putting this video out forALMOST A YEAR, and the artists who have worked on it have logged hundreds (literally) of hours to make it happen.
we thought that thanksgiving would be a good time to land this in your laps. 🙂
i cannot wait for you to see this thing. it's just….stunning.
there is so much going on in the world right now.
so much hatred, so much anger.
so much confusion. so much resistance and so much fragility.
you know. i know. we know.
i think it's a good time for this poem and this piece of animation that gave it even more life.
i said on stage at the BBC symphony gig the other day that neil gaiman is a pretty good writer and a pretty good feminist…but he's no doubt a GREAT feminist writer. he really is.
he talked at the event about how he wrote this poem with a tiny ash in his arms. it's all full circle lately.
there is no doubt: maria popova, who runs brainpickings.org, is the reason this project exists. she's the reason this poem came to be born…..because sometimes we writers don't write unless we are given a kick in the ass and a prompt. neil wrote this poem the night before it was due. 🙂 it went on to win first prize in the long poem category at the 2018 rhysling awards. who says cramming is out of style…..FAST ART. i remember the chaos of our life back then. crying baby. insane sleep schedule. total fragility.
maria sent me a text earlier today:
When Brain Pickings turned 10 a few years ago, I wrote about the 10 most important things I learned about writing and life from that first decade. One of them was a counterpart to Maya Angelou's famous dictum "When people tell you who they are, believe them." This is what I wrote:
"Just as important, however, when people try to tell you who YOU are, don't believe them. You are the only custodian of your own integrity, and the assumptions made by those that misunderstand who you are and what you stand for reveal a great deal about them and absolutely nothing about you."
(that post is here: https://www.brainpickings.org/2019/10/23/13-learnings-13-years)
……
amen.
so this whole project started out as "just a poem", written by neil and read by me for maria popova's "The Universe in Verse" event two years ago – a night of poetry about science.
you can read about it and watch a video from the event on maria's site:
https://www.brainpickings.org/2017/04/26/the-mushroom-hunters-neil-gaiman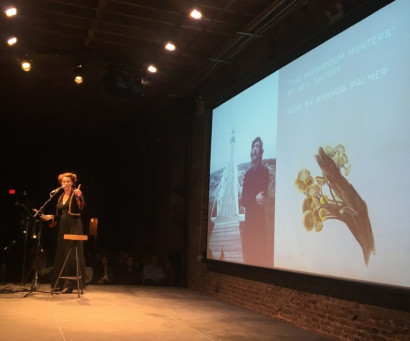 i  loved reading the poem. it made me cry.
it was only on the second or third reading of the poem that i fully pieced it together and understood every part of it. i recommend multiple watchings.
neil gaiman is tricky and weird
i'd been thinking about doing more animation projects for the patreon, and i thought this might be the perfect one to try, given how visual the subject was.
and i knew just the right women….
oh boy, did i.
after working with this wonderful animation team called Creative Connection on an excerpt of the art of asking audio book (watch the beautiful animation that we made, titled "sometimes up on the box").
the two main women on the team – alexandra and caroline – had new tiny babies, like me.
they'd done such a beautiful job animating the book passage. so i asked them if they'd be up for a poem, and we embarked on this project, knowing it would take months and months of work. animation takes FOREVER.
all told, the whole thing took almost a year.
we went through drafts and drafts of ideas.
neil weighed in with his opinion, storyboards were considered…making a film that really reflected the meaning of the poem was challenging, and i kept being blown away by the imagination of the animation team and where their heads would go when it came to visualizing different words and ideas.
animation is not like live-action film. if you film a whole scene and it doesn't quite fit, it doesn't take an hour to re-shoot. it takes AGES. WEEKS. we cut at least a few scenes in this animation that just weren't working, that didn't fit, and started from scratch. the team was relentless in their pursuit of perfection.
meanwhile, there had to be music.
i commissioned jherek bischoff to write a score to go along with it and complete the project. if you try watching it without the music, you'll see how much magic he brought to the animation.
he recorded a live ensemble to create the beautiful sounds you hear, using a live bass, percussion, vibraphone, piano, cello, violin and viola. (all the engineering and musician credits are below).
i want to remind you that this is where you patron money goes….to pay this whole, huge team of animators, artists, filmmakers, musicians and engineers.
it's such a beautiful thing. thank you.
what you're doing matters.
OKAY….so here, without further ado….
THE LINK!!!!!
https://www.youtube.com/watch?v=ak6sdSAcNkw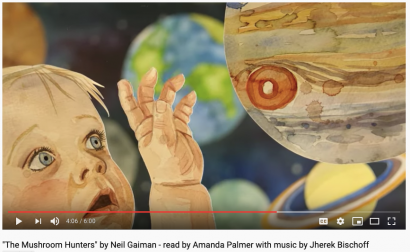 THE MUSHROOM HUNTERS
by neil gaiman.
Science, as you know, my little one, is the study
of the nature and behaviour of the universe.
It's based on observation, on experiment, and measurement,
and the formulation of laws to describe the facts revealed.
In the old times, they say, the men came already fitted with brains
designed to follow flesh-beasts at a run,
to hurdle blindly into the unknown,
and then to find their way back home when lost
with a slain antelope to carry between them.
Or, on bad hunting days, nothing.
The women, who did not need to run down prey,
had brains that spotted landmarks and made paths between them
left at the thorn bush and across the scree
and look down in the bole of the half-fallen tree,
because sometimes there are mushrooms.
Before the flint club, or flint butcher's tools,
The first tool of all was a sling for the baby
to keep our hands free
and something to put the berries and the mushrooms in,
the roots and the good leaves, the seeds and the crawlers.
Then a flint pestle to smash, to crush, to grind or break.
And sometimes men chased the beasts
into the deep woods,
and never came back.
Some mushrooms will kill you,
while some will show you gods
and some will feed the hunger in our bellies. Identify.
Others will kill us if we eat them raw,
and kill us again if we cook them once,
but if we boil them up in spring water, and pour the water away,
and then boil them once more, and pour the water away,
only then can we eat them safely. Observe.
Observe childbirth, measure the swell of bellies and the shape of breasts,
and through experience discover how to bring babies safely into the world.
Observe everything.
And the mushroom hunters walk the ways they walk
and watch the world, and see what they observe.
And some of them would thrive and lick their lips,
While others clutched their stomachs and expired.
So laws are made and handed down on what is safe. Formulate.
The tools we make to build our lives:
our clothes, our food, our path home…
all these things we base on observation,
on experiment, on measurement, on truth.
And science, you remember, is the study
of the nature and behaviour of the universe,
based on observation, experiment, and measurement,
and the formulation of laws to describe these facts.
The race continues. An early scientist
drew beasts upon the walls of caves
to show her children, now all fat on mushrooms
and on berries, what would be safe to hunt.
The men go running on after beasts.
The scientists walk more slowly, over to the brow of the hill
and down to the water's edge and past the place where the red clay runs.
They are carrying their babies in the slings they made,
freeing their hands to pick the mushrooms.
……………
some words from creative connection:
Who we are; A small but plucky band of artists based in the West Country of the UK. Individually we are Caroline Rudge, Dann Casswell and Alexandra Casswell Becker, and together we work under the mantle of Creative Connection Animation studio and Rose Willow Productions to make animations. 
Last time I spoke to you, dear Patreon readers, we had just completed work on 'Somewhere up on the box' an animated extract from Amanda's audio book 'The art of Asking' – a project that was birthed alongside Caroline's baby Oriana, with a maternity break in the middle. The overwhelmingly positive response to that film in the Patreon comments alone was such a wonderful experience for us. As animators we usually receive feedback from our clients, but not from the wider audience that sees the work, and this community is as lovely an audience as any artist could hope for.
So when we got an email from Amanda entitled 'Another one?' we jumped at the chance and when she explained she wanted to make an animation for Neil's poem 'The Mushroom Hunters' we were even more excited. This was a pure art project like nothing before. While we have our own personal artistic practices most of our animation work for clients is explainer videos – these can be hugely rewarding when the message is an important one, but generally requires a more literal and less creative approach. The Mushroom Hunters was Poetry…. Feminist Poetry! It gave us so much scope to try new things, to take time and take risks – all of which Amanda fully supported us in. 
Caroline instantly started making plans to build a whole new filming rig; A multi-tiered construction with layers of glass that allows her to animate stop motion watercolours with a depth of field that literally adds new layers to her artwork. (It's the kind Walt Disney himself used, although as Caroline is quick to point out, we think his may have been a little slicker than ours)
In the past 8 months Caroline has painted over 300 individual watercolour elements and spent over 470 hours on creating and animating the art for this film. Dann, as editor, has climbed inside the footage to tweak and merge and polish the timings until they hit the beats just so…And I, In my self-appointed role as 'additional mushroom' artist painted the same 99 white spots on the top of a fly agaric mushroom five separate times for the opening titles…. (Opening titles which required Caroline to paint 16 versions of the hands that open and cup) 
My father, who is also an artist, always says that 'As an artist it is your job to know about everything' By which he means, as an artist you will learn about whatever it is you take as your subject – you will study its tiny details, live with it up close and personal, eat and sleep and drink it. 
In the space of this production we have learnt a lot about the growth and structure of mushrooms, we have learnt that a baby who can move about makes studio time much trickier, that you can't do any painting at all with a two year old around unless you want her to do the painting for you, that you have to paint the back of your work black to stop it reflecting on this new filming rig, that dust is NO-BODY's friend, black tack is a thing and it's brilliant….. and what a pre-historic sippy-cup looks like (clue – it appears in the 'tools we make' section of the film) We have learnt to push ourselves and our ideas
This new project has taken to its feet as our toddlers now explore the world.  Much of this project has been made during naptimes, in the evenings and when childcare and the support of our loved ones allows. 'The first tool was a sling…' We have used the tools at our disposal to free our hands to make this work. 
Thank you so much for supporting Amanda to let us make it.
here are some behind the scenes photos of alex, caroline, dann and their team hard at work: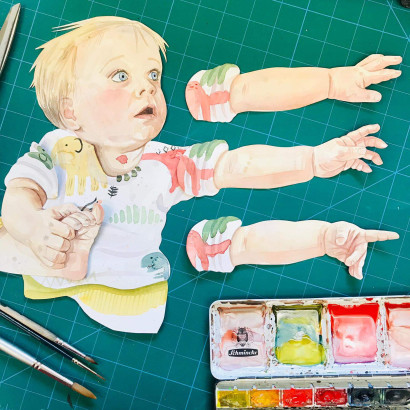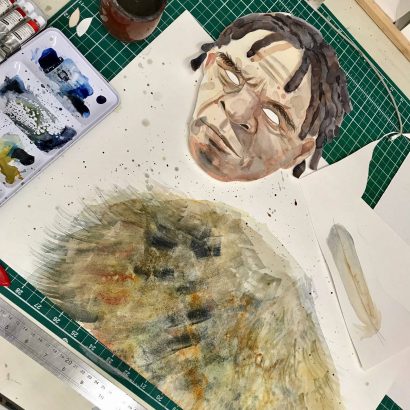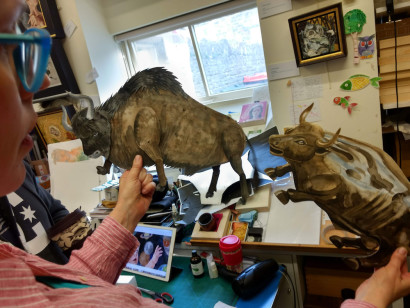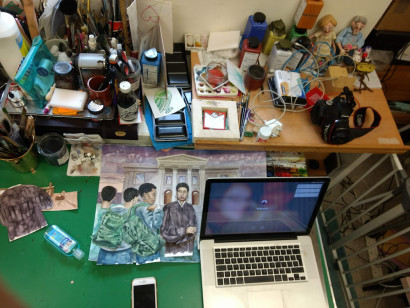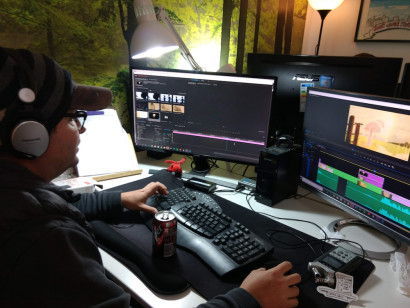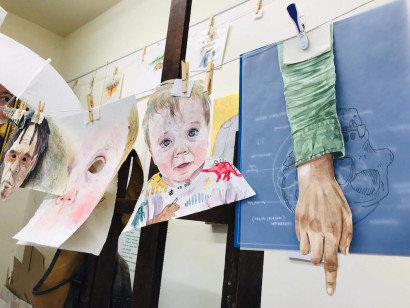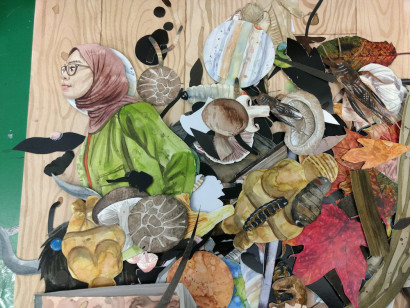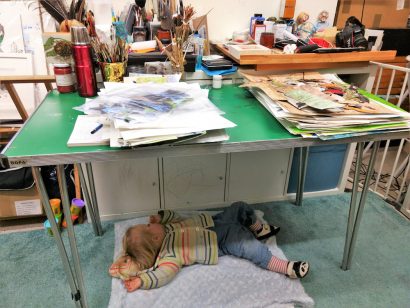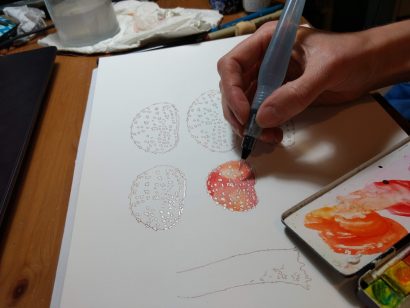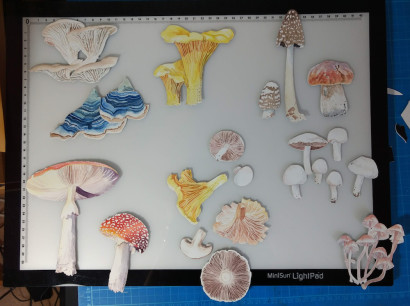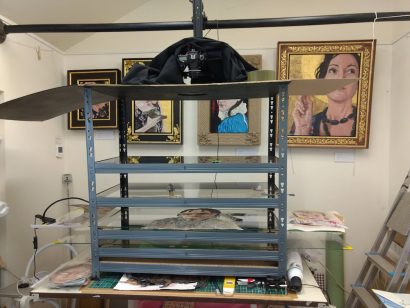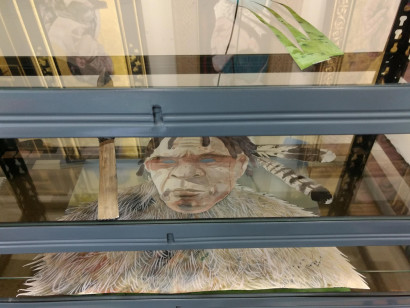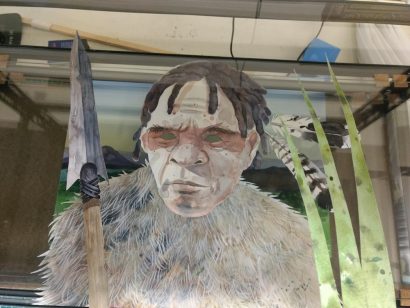 …..
CREDITS:
The Mushroom Hunters
Original poem by Neil Gaiman
Read by Amanda Palmer
Bass, Percussion, Vibraphone, Piano and Original Score by Jherek Bischoff
Cello: Aniela Marie Perry
Violin: Paris Hurley
Viola: Marta Sofia Honer
Recorded, Mixed and Mastered by Jherek Bischoff at Sweethaven
A RoseWillow production for
Creative Connection Animation Studio
ccanimationstudio.com
Caroline Rudge: Artwork, Animation, Direction and Storyboard
Alexandra Casswell Becker: Production, Storyboard and Additional Mushrooms
Dann Casswell: Editing and Special Effects
Tom Barter: Additional Editorial Support
……
LOVE, LOVE AND MORE LOVE
TO EVERY SINGLE ONE OF YOU WHO HELPED MAKE THIS HAPPEN.
onwards we go, off to the pick the mushrooms.
xxx
afp
——THE NEVER-ENDING AS ALWAYS———
1. if you're a patron, please click through to comment on this post. at the very least, if you've read it, indicate that by using the heart symbol.
2. see All the Things i've made so far on patreon: http://amandapalmer.net/patreon-things
3. join the official AFP-patron facebook group: https://www.facebook.com/groups/afpland
4. new to my music and TOTALLY OVERWHELMED? TAKE A WALK THROUGH AMANDALANDA….we made a basic list of my greatest hits n stuff (at least up until a few years ago, this desperately needs updating) on this lovely page: http://amandalanda.amandapalmer.net/
5. general AFP/patreon-related questions? ask away, someone will answer: patronhelp@amandapalmer.net
UPCOMING SHOWS:
Thu Dec 5 – UK – London – Union Chapel (SOLD OUT)
Fri Dec 6 – UK – London – Union Chapel (SOLD OUT)
Fri Dec 13th – UK – London – Union Chapel (SOLD OUT)
Sat Dec 14th – UK – London – Union Chapel (SOLD OUT)
THEN DOWN UNDER:
Mon. Dec 30 — Wed.. Jan 1 – WOODFORD, QLD – Woodford Folk Festival
Thurs. Jan 16 — Sat. Jan 18 – LAUNCESTON, TAS – Mona Foma Confessional
Mon. Jan 20 – LAUNCESTON, TAS – Princess Theatre, Mona Foma
Wed. Jan 22 – MELBOURNE, VIC – Hamer Hall
Fri. Jan 31 – BRISBANE, QLD – Brisbane Powerhouse
Sat. Feb 1 – BRISBANE, QLD – Brisbane Powerhouse
Fri. Feb 7 – CANBERRA, ACT – Canberra Theatre
Sat. Feb 8 – SPRINGWOOD, NSW – Blue Mountains Theatre
Fri. Feb 14 — Sat. Feb 15 – ADELAIDE, SA – Bonython Hall, Adelaide Fringe
Thurs. Feb 20 – SYDNEY, NSW – Enmore Theatre
Sat. Feb 22 – PERTH, WA – Perth Concert Hall, Perth Festival
Sat. Feb 29 – DARWIN, NT – Darwin Entertainment Centre
Thurs. Mar 12 — Fri. Mar 13 – AUCKLAND, NZ – Auckland Arts Festival: Hollywood Avondale
ALL TICKETS: https://nointermission.amandapalmer.net