June 1, 2011
my new evil plans..+..tour dates in states, UK & europe!
hola my dears.
i'm back from a few days with neil, and i've never felt more in love with the man.
as my life's come deliberately undone lately, due to off time and planned soul-and-desk clearing, i find myself desperately craving alone-time and neil-time, simultaneously.
meanwhile, the questions and answers that i wrestle with in my mind – on my own – seem to come into focus.
love can confuse, but it can also clarify. i've been on both sides of that.
lately, neil seems to clarify me. it's one of the reasons i love him so much.
and also, he armed me with SMALL collected editions of "sandman" that don't weigh 30 pounds each and are takable to bed.
i've been waiting a long time to sit and devour the whole thing.
we also got to watch his episode of Dr. Who together, since i hadn't seen it in its finished, fully-edited entirety.
it's brilliant. he's brilliant. i'm so proud of him. i love having enough time to be proud of him and love him as much as he deserves.
often i just get too busy to love him as much as i want to.
here is a picture of cabal, neil's dog, having gotten action.
i swear to god that isn't my lipstick. or lorraine's.
i do not wear pink lipstick. i don't think lorraine does either.
it's daisy's.
and he just wandered over this way: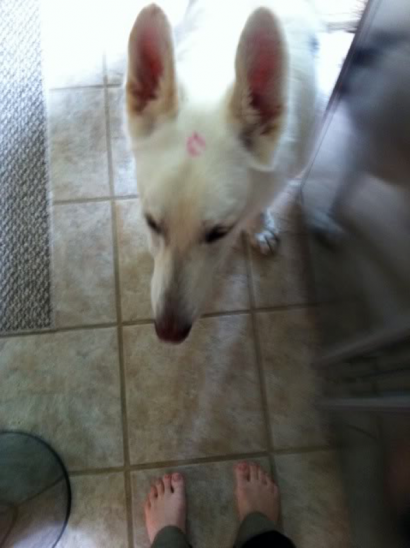 and now, she coughed, back to regularly scheduled evil plans.
i've been working on a handful of new songs for about two or three years now.
i've gotten rather blindsided with lots of things in my life lately.
marriage, for one. that was good.
and side projects that i always dreamt about. cabaret. working with jason webley, one of my best freinds. radiohead and ukulele.
getting jiggy with australia and new zealand. getting a staff together who can replace a single manager, run a business, and deal with the traveling circus of amanda palmer and her many comrades.
it's all finally falling into place.
meanwhile i've had a pile of songs brewing in my head and on the side of the piano that have finally started to take the shape of what will ultimately be released as the next record.
i've tested a few of them out live (especially the solo piano ones) at my weird little shows in the past year, but the majority of them have stayed locked up since they needed time to percolate (well, maybe that's bullshit, but i convinced myself of that) and bigger arrangements.
i'm still in what i'm calling "off-time," but part of my off-time was to fiddle and tweak these songs and start thinking about how to arrange them, so when the opportunity came up to jam with a few people and start bunsen-burnering and looking like a mad professor with a handful of sheet music, i jumped at the idea. so i'm going to do it.
i called my agent, matt hickey at high road touring, and told him i wanted to play a few venues that were absolutely teeny and perfect in new york, where i'll be tweaking, and we landed a night at maxwell's on the 22nd (where i've played a bunch of times – it's PERFECT – it only holds about 200 people) and at the bell house in brooklyn on the 23rd, which is right down the street from where i've been staying lately with my best friends who just had a baby. life's working out splendidy. then we're going to play those two small shows with little fanfare, then hop up to boston on the 25th and do a going away party for a friend where we're hoping to invite about 50 contest winners to join us (for free – it's a totally private space) to send off his loft space in extreme style.
the line-up, just for these three shows, is going to be a trio:
me on keyboards and synths. i've been missing my synthesizers since 11th grade.
michael mcquilken on drums and synths and maybe guitar. michael's a great friend of mine who most of you know from jason webley's band, or maybe from the play he performed on the double bill with me in boston, "a day dig nation"…and who also played the shaking boyfriend in the "oasis" video.
and
chad raines on guitar, bass, synths and horns. chad's a crazy-talented multi-insturmentalist who just went through the yale grad drama program with michael….and all i need to say about chad is that his email handle is RadChains. please. i say no more.
we're a trio of theater dorks with synthesizers, basically. what could possibly go wrong?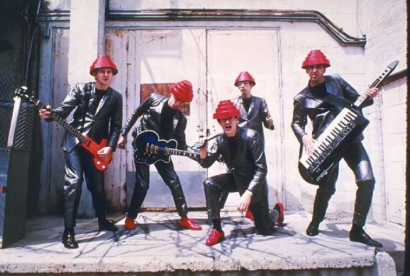 JUNE 22nd
HOBOKEN, NJ @ MAXWELL'S
w/ Sarah Borello, and Lady Lamb the Beekeeper
DOORS: 8PM | AGES: ALL | TIX: $20
TICKETS | RSVP
JUNE 23rd
BROOKLYN, NY @ THE BELL HOUSE
w/ Sarah Borello, and Lady Lamb the Beekeeper
DOORS: 8PM | AGES: 21+ | TIX: $20
TICKETS | RSVP

JUNE 25th
(the suburbs of) BOSTON, MA @ a surprise location
*SPECIAL CONTEST-WINNER-ONLY SHOW*
RSVP, follow the twitter, and watch the blog for details
on how you can be a part of this special night
the openers for BOTH these show are two incredibly talented gals i've had my eye on lately….
one is
lady lamb the beekeeper

is a powerhouse performer i first heard about from becca darling (who else?) and got to see live a few times this winter in boston. the girl is KILLER.
and sarah borrello,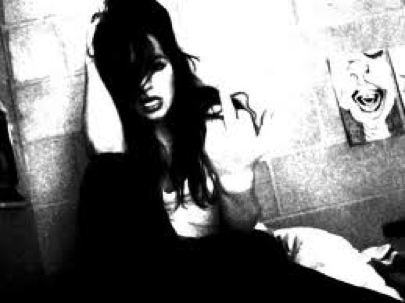 was a treasure-find from my artist-in-residency at Mass College of Art. damn girl is on fire, she's got the songwriting chops of fiona apple and the pipes of christina aguillera.
i highly suggest getting tickets the miute they go onsale, these shows will sell out pretty instantly. and get there ON TIME to see the bad-ass openers.
after that, i'm going to take july off.
then i'm going to hit edinburgh with neil and the beautiful holly gaiman (and the beautiful maddy, we hope, for a week of it).
we're going to kick up a weirdo-little-family storm of awesomeness, and i'm going to try to devour a few plays a day.
then jason and i have decided it's high time for the TWINS to try their hand at a true-grit theater festival run, so we've booked them FIVE WHOLE SHOWS in a teeny theater space.
they're practicing already. jason has ordered a bulk-box of twix, and they're very excited to get back to the UK, as they have fond memories of how nice and kind the audience in london was.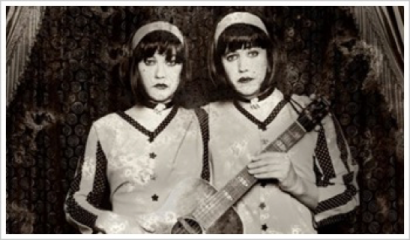 tickets for all of these shows with the twins go on sale THURSDAY JUNE 9th, here on their site.
WED. AUGUST 17th
EDINBURGH @ ASSEMBLY GEORGE SQUARE TWO
DOORS: 9PM | AGES: 16+ | TIX: £12-£13
TICKETS | RSVP
THURS. AUGUST 18th
EDINBURGH @ ASSEMBLY GEORGE SQUARE TWO
DOORS: 9PM | AGES: 16+ | TIX: £12-£13
TICKETS | RSVP
FRI. AUGUST 19th
EDINBURGH @ ASSEMBLY GEORGE SQUARE TWO
DOORS: 9PM | AGES: 16+ | TIX: £12-£13
TICKETS | RSVP
SAT. AUGUST 20th
EDINBURGH @ ASSEMBLY GEORGE SQUARE TWO
DOORS: 9PM | AGES: 16+ | TIX: £12-£13
TICKETS | RSVP
SUN. AUGUST 21st
EDINBURGH @ ASSEMBLY GEORGE SQUARE TWO
DOORS: 9PM | AGES: 16+ | TIX: £12-£13
TICKETS | RSVP
then i'm going to do one huge AFP show in edinburgh and a few dates in europe for good measure. all of the shows will be epic and i'll be announcing the openers as they confirm.
the amsterdam show should be particularly incredible as i'm teaming up with the AMSTERDAM FRINGE (http://www.amsterdamfringefestival.nl/) to create a wild space
with some crazy openers. we will, of course, invite the entire police force.
especially this guy: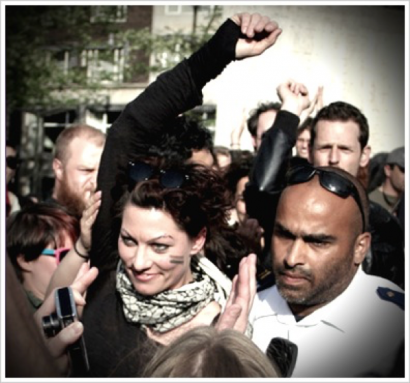 there's a secret couple of shows that neil and i have planned in london, but i have to keep those hush-y for a while. just save september 4 & 5th (in london) for something extraordinary special and…literary.
here's a hint: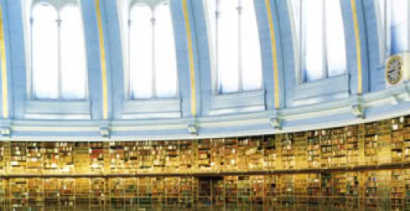 here's info on everything:
THURS. AUGUST 25th
EDINBURGH @ HMV PICTURE HOUSE
DOORS: 9PM | AGES: 14+ | TIX: £14
TICKETS | RSVP
FRI. AUGUST 26th
GLASGOW @ THE ARCHES
DOORS: TBA | AGES: 18+ | TIX: £14
TICKETS (on sale 6/9 at 9am) | RSVP

THURS. SEPTEMBER 1st
BRIGHTON @ CONCORDE 2
DOORS: 7PM | AGES: 14+ | TIX: £14.50
TICKETS (on sale TBA) | RSVP
(under 16s with adults over 18)

FRI. SEPTEMBER 2nd
LONDON @ HEAVEN
DOORS: 7PM | AGES: 14+ | TIX: £16.50
TICKETS (on sale TBA) | RSVP
(under 16s with adults over 18)

MON. SEPTEMBER 5th
LONDON @ ???
SAVE THE DATE (and the night before)
secret-mystery-gig info coming soon! RSVP for info

TUES. SEPTEMBER 6th
VIENNA, AUSTRIA @ ARENA
DOORS: 7PM | AGES: ALL | TIX :€25
TICKETS (on sale 6/10) | RSVP

WED SEPTEMBER 7th
AMSTERDAM, NL @ MELKWEG (Old Hall)
DOORS: TBA | AGES: ALL | TIX: :€16.50
Tickets on sale 6/10 | RSVP
and with that began the summer.
FUCK PLAN B.
LOVE,
Afp.