June 4, 2012
PHOTOSHOOTS GALORE & ONE WEEK TIL TOUR! (it rhymes. it rhymes! it rhymes some more!)
hola comrades!!!!
ONWARDS WE PLOUGH
sleep is in low supply.
i'm going to cross-post this one as a backer-update and a blog. i'll be reading comments in both spots.
if you guys are at all annoyed by this, let me know, i think for updates like this, it's the best way.
SO
wall street journal ran a piece yesterday: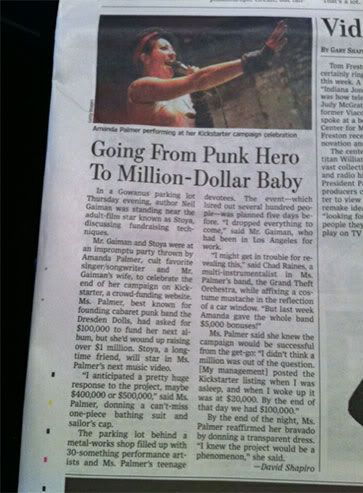 UND
this week is REHEARSAL week in new york city. 
spending time making music. 
seems like such a strange and novel idea.
we've busted out TWO EPIC photoshoots lately, and now that we're done jumping up and down writing your names in a phonebook and reeling from the effects of the kickstarter, it's a good time to show you what the hell we're doing back here. 
SO, our first shoot was with the amazing Kyle Cassidy, who many of you guys know as a longtime AFP/Neil/Dolls go-to photographic genius.
he also has an awesome widely-read blog and a great twitter feed…i recommend. 
ryan anas (@estrellamar) was our jesus-like photo assistant, and the makeup was done by christine geiger.
for this shoot, our loft hostess and costume coordinator (she basically loaned us her ENTIRE CLOSTER for the shoot) was larisa fuchs aka @gemini_scorpio of geminiandscorpio.com
sound familiar? mais oui, it's the same brooklyn loft we held the countdown party in.
here's us, raising her up in all her beautiful glory, just after kyle shot us in her loft….
 

larisa is a handy, handy gal and in addition to letting us rifle through her entire head-dress and kimono collection she ALSO hooked us up with the amazing shoot location, right down the street from her house, an INCREDIBLE warehouse called Film Biz Recycling (@FilmBizRecyclin)
it was started in 2008 by eva radke because she wanted to stop the waste created in many of the tv and film productions in the area. since then, the company has diverted 263 tons from nearly 1000 productions of unwanted building materials, set dressing & wardrobe from a ghastly fate – dumpster to landfill. as you can imagine, i wanted to basically move in. it was A WAREHOUSE OF PROP CHAOS!!! they had an entire shelf devoted to fax machines from the eighties!!! it was a super-friendly joint, the staff loved having us, and the shots were brilliant….here's one: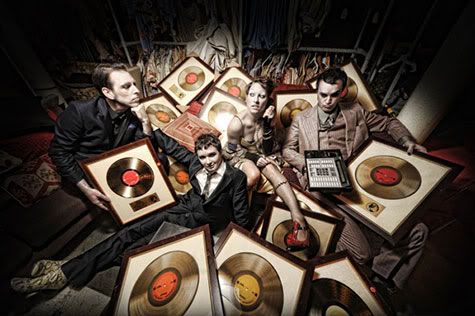 those gold records were literally stacked up in a pile in the corner and i yelled WE HAVE TO USE THESE!!!!
the funniest thing about them is that they're NOT EVEN REAL records…those are color paper print-outs of gold records, in real frames.
hilarious on so many levels i can't even start.
i love michael's face.
i think kate took this….it's almost the exact moment of kyle's shot….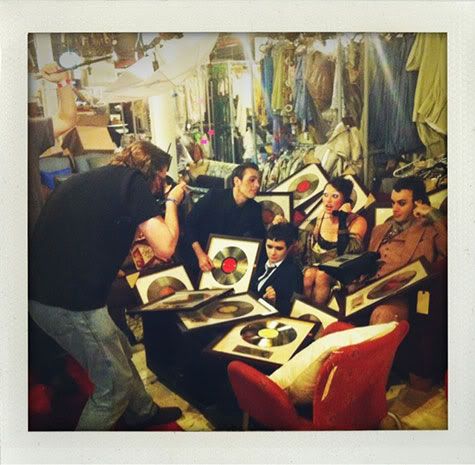 …………………………………..
YESTERDAY/SATURDAY we did a MARATHON 14-hour shoot at an almost impossible-to-describe spot in new york called The Black Apartment.
i found it through twitter when i was asking around if anybody had any good shoot spaces, and someone put me in touch with @cindygallop, who created it (and LIVES in it, like a magical ballerina in her own black-lacquered chinese music box). i googled the place and saw THESE and couldn't believe my eyes. it's clearly called the Black Apartment for a reason. (photos via behance.net)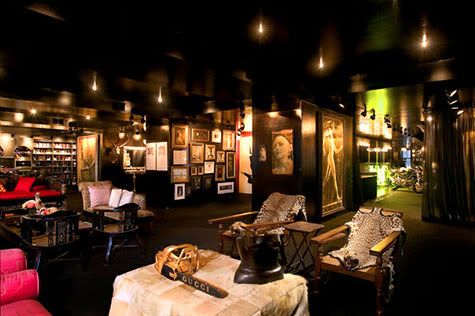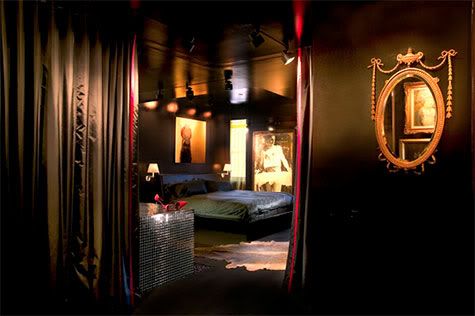 bonus factoid: it was used for a NOTORIOUS BIG video shoot (for "nasty girl").
Cindy Herself is a work of art of a human being…and we didn't get nearly enough time to talk.
over dinner she explained her MAKE LOVE NOT PORN web concept to us, which is absolutely brilliant…a fresh antidote to the way porn has been skewing the way people are educated (or mis-educated) about sex.
pretty amazing stuff, pretty amazing woman.
she's british, and it's a really refreshing to hear a british person sit around a dinner table discussing cum, sex habits, and saying wonderful things like "i fuck 22 years olds. i know what i'm talking about."
makelovenotporn.com: i suggest you check it out, and i may or may not have promised to give her some real-life amanda sex tapes. (neil gaiman would like the assembled backer and blog readers to know that these tapes will NOT include him. nor should they. our sex life is ours and intimate and is not for public consumption. however, my sex life with, say, pole-dancing alt-porn stars is entirely available to the public).
i won't spoil the surprise….but we took HELLO photos and here's some behind the scenes shots of the band.
the photographer was shervin lainez/@ohshervin (and his lovely assistant, kristen winter/@kristenbillie).
we got a stylist named rich aybar to scare up a bunch of amazing dresses and suits and stuff to dance around in…
though the boys wore most of their own stuff and i brought a huge bag of my own clothes. plus….naked. of course.
superkate and our awesome publicists sarah and dana ran around helping us organize crocodiles made of gold and dripping fake jewelry and martini glasses and made sure everybody ATE.
chad got the TROOPER OF THE DAY award and shaved his pits. amazing….
photo by @_superkate_: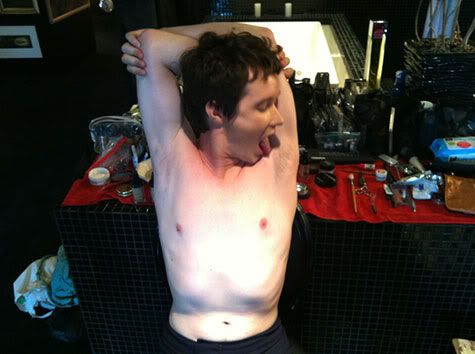 all the make-up was done by daniella shachter/@makeupwithdani (and lots of great doc shots were done by sophia/@lilsingram)…
here's jherek (@jherekbischoff) getting DONE UP (i took this):
 

the hair was done by erica zimmerman/@d2kclothing:
 

here's chad (@radchaines) not only trying on his new gold tour pants (care of @jessdaly) but TRYING ON CINDY GALLOP'S PRICELESS MARBLE CHINESE DILDO!
WHERE'S WALDO?
shervin shooting me…
 

here's an awesome thing…..my new tour corset (jess took this photo):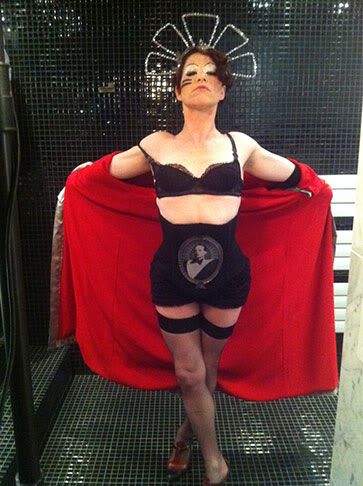 yes, you have it right. 
THAT'S KLAUS NOMI. 
those who don't know….GOOGLE. he is A God. and perfect to be our spirit animal on this fucking tour.
the corset was created by louise black (@louiseblack) especially for us, "cameo corsets" are her specialty, and she and i were really excited to finally collaborate on something, along with jess, whose magnificent tour costumes you'll need to WAIT TO SEE….but the headdress i'm in and the kimono whose living you see on view here are merely the beginning..
…………………………………..
 
i've been slaving away this whole while to get the ART BOOK, CD, and LP off to the printers.
we wanted to wait until this shoot was over to make sure there were no photos left UNUSED!!!
and it's looking fucking fabulous.
i can't wait for you guys to get this shit in your mailboxes in a few months. i hope you all SCREAM with delight.
…………………………………..
and now – TO THE MUSIC.
our first show is in berlin in about ten days. 
this was the band, today, in our rehearsal space in midtown….
trying to decide WHAT SIZE GONG WE SHOULD BRING ON TOUR THIS FALL.
I SAY TEN FEET.
i twittered this, and it was discussed whether a ten foot bong was more appropriate.
or a ten foot dong.
i'm thinking: if we bring all THREE, we can get super stoned and then hit the ten foot gong with the ten foot dong.
the sound will make us see GOD.
xxx
AFP
p.s. here are the lyrics to WANT IT BACK, since you all asked.
don't ask me. some of this shit doesn't even make sense to ME, it just….came out that way.
i'm glad you all love the song. there won't be much more music released until the album comes out, so ENJOY.
WANT IT BACK
hearts on a string like an older-fashioned phone can
BANG ringy ring and you think you're gonna get some
thing you can bring to a party at your wake not
thinking of the thing that you pay back when you take it
take it
like rats in a cage pushed the button got the
shock
trick
snickers in your bag
had your number but i lost it
bets are all off you're a lily-livered giver indie
in the hidden costs you're a sucker and you win
it doesn't matter if you want it back
you've given it away
you've given it away
it doesn't matter if you want it back
you've given it away
away away away away away oh
he's already on the outskirts
i'm still pulling at his sweatshirt
he says fate is not a factor
i'm in love with every actor
so
once when your gone and i wanna do it backwards
just like the song we're addicted to the L-word
up past your head down your back around your ankles
ready for attack you're upstaged and then you're strangled
cringe like you're cursed with your wrecking ball-y necklace
i saw it first and i crushed it with my hamfist
high for the contest who's the better
not see
eye to eye to eye and now you're blind and you can't
catch me
catch me
if you can
(he's already on the outskirts)
if you can
(i'm still pulling on his sweatshirt)
if you can
(he says fate is not a factor)
if you can
(i'm in love with every actor)
it doesn't matter if you want it back you've given it away
you've given it away
it doesn't matter if you want it back you've given it away
you've given it away…
he's already on the outskirts
i'm still pulling at his sweatshirt
he says fate is not a factor
i'm in love with every actor…
i will let you go if you will let some
i will let you go if you will let somebody
i will let you go if you will let somebody love you
i will let you go if you will let somebody love you like
i will let you go if you will let somebody love you like i do…