October 27, 2011
presenting UKULELE ANTHEM: a prescription for living (recorded version coming soon).
UPDATE 11/08/11: "Ukulele Anthem" is available NOW at Bandcamp for free+donation!
<a href="http://music.amandapalmer.net/track/ukulele-anthem" _mce_href="http://music.amandapalmer.net/track/ukulele-anthem">Ukulele Anthem by Amanda Palmer</a>
You can also find it:
• HERE on AmazonMP3
and
• HERE on iTunes
As well as
• Various other digital-music-shops and services the world over such as eMusic, Spotify, etc)…
_______________________________________
hola comrades!
i'm in san diego, practicing in a hotel room in the middle of a strange science fiction/fantasy conference. sometimes my life is so weird. sometimes i forget that i married neil gaiman and that he wrote a bunch of famous shit and that people think he's a god.but then i see him in his underwear, trying to figure out how to plug in a kettle and get on the internet, and it's like that episode of "the brady bunch" when marcia had to get her driver's license and….oh, nevermind.
we're about to start our tour….i'm in san diego tomorrow, and then with jason webley in LA friday, then neil and i start our first-ever tour together on monday. almost all the shows are sold out, except tomorrow night (which is CLOSE) and LA on halloween (which still has a few hundred tickets). seattle is REALLY close to sold out (call 1-877-784-4849 to reserve tickets by phone as their website might not be pulling up the last few for sale), and we just got word there are, like, a COUPLE of tickets for saturday in LA with jason webley. you can get the last of the tickets for these shows HERE. while you're there, and if you're the facebook-type, please also RSVP for the shows you're going to…
SO…
i have a new song for you…i played it at #occupy wall st and #occupy boston (and tried it out, still unfinished, on the crowd in london last month for the poor sods who came to the british library gig, sorry guys…but it's DONE!).
here's a clip (and here it is on vimeo) of me playing it at wall st, thanks to jan havlik:
it's called "ukulele anthem." i started writing it last spring…some of you may remember a night last march/april, when i twittered from amsterdam looking for lyrics.i asked about an empowering three-syllable object that you weren't allowed to take to work. things got OUT OF HAND, and as you can see…i ended up incorporating way too many of the suggestions into the song. i'd originally just wanted to have the lyric "flask of jack"/"etch-a-sketch"/and….a third thing. but the suggesitons were so good i was like….why not just fucking end the song with a long-ass list? it's the first time twitter has actually gravely altered the direction of a song i was writing, and given the nature of the song…let's just say, it was a proud moment. i am happy to finally share it with y'all.
i'm going to try to go back on twitter and credit all the people who wrote in, but there were a lot of doubles (i think more than one person suggested etch-a-sketch, for instance)…so i started a thread HERE on the shadowbox to keep track. if your suggestion is on there, post to the box. if you can link to your original tweet (or cut and paste it as an image, even better), i'll love you. i'd love to get credit to all the people who tossed in ideas.
i went into the studio the other day ….
and recorded it.
i'm working on releasing this song now, fast, soon, and i wanted to make a strong image to go along with it.the artist who designed it is going to be a SURPRISE (you will freak), but i wanted to add a slogan on the image….something that would speak to the song and to the AWESOMENESS AND POWER OF THE UKULELE.
after many twitter suggestions, we collectively voted on a wordplay stolen from woody guthrie's famous guitar:

….and the result was our slogan:
"THIS MACHINE KILLS THE MACHINE."
before we even voted, this awesome chick hilary (@Iwanttheinsides) had already decorated her ukulele: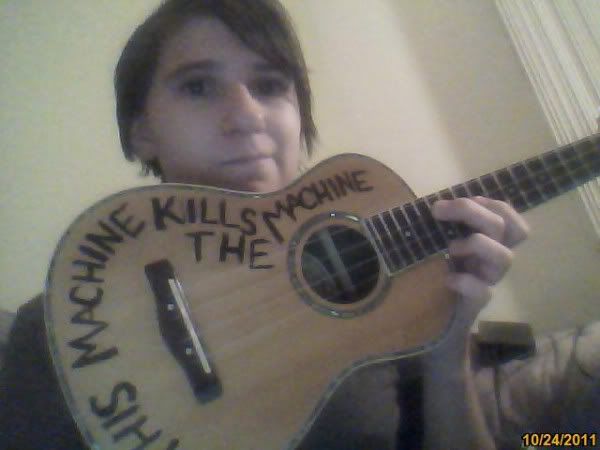 how awesome is that?
….although i'm sort of sad that 
"THIS MACHINE KILLS DESPAIR"
and
"FOUR STRINGS GOOD, SIX STRINGS BAD"
lost out.
maybe "FOUR STRINGS GOOD, SIX STRINGS BAD" can just be something we shout aloud when we all march on the rock and roll hall of fame together, flaming ukuleles in hand.
ANYWAY…
expect the song soon (follow @AFPwire which'll surely announce when it goes up), with awesome artwork to match…and
PLAY YOUR UKULELE.
love
AFP
p.s.
here are the song lyrics:
sid vicious played a four-string fender bass guitar and couldn't sing 
and everybody hated him except the ones who loved him 
a ukulele has four strings, but sid did did not play ukulele 
he did smack and probably killed his girlfriend nancy spungen
 
if only sid had had a ukulele, maybe he could have been happy 
maybe he would not have suffered such a sad end 
he maybe would have not done all that heroin instead 
he maybe would've sat around just singing nice songs to his girlfriend
 
so play your favorite cover song, especially if the words are wrong 
'cos even if your grades are bad, it doesn't mean you're failing 
do your homework with a fork
and eat your fruit loops in the dark
and bring your etch-a-sketch to work
and play your ukulele
 
ukulele small and forceful 
brave and peaceful
you can play the ukulele too it is painfully simple
play your ukulele badly, play your ukulele loudly 
ukulele banish evil
ukulele save the people 
ukulele gleaming golden on the top of every steeple
 
lizzie borden took an axe, and gave her father forty whacks 
then gave her mother forty-one, and left a tragic puzzle 
if only they had given her an instrument, those puritans 
had lost the plot completely
see what happens when you muzzle
a person's creativity
and do not let them sing and scream 
and nowadays it's worse 'cause kids have automatic handguns 
it takes about an hour to learn how to play the ukulele 
about same to teach someone to build a standard pipe bomb
YOU DO THE MATH
 
so play your favorite cover song, especially if the words are wrong 
'cos even if your grades are bad, it doesn't mean you're failing 
do your homework with a fork
and eat your fruit loops in the dark
and bring your flask of jack to work
and play your ukulele
 
ukulele, thing of wonder 
ukulele, wand of thunder 
you can play the ukulele, too
in london and down under 
play joan jett, and play jacques brel
and eminem and neutral milk hotel 
the children crush the hatred 
play your ukulele naked
and if anybody tries to steal your ukulele, let them take it
 
imagine there's no music, imagine there are no songs 
imagine that john lennon wasn't shot in front of his apartment 
imagine if john lennon had composed "imagine" on the ukulele
maybe folks would have more clearly got the message
 
you may think my approach is simple-minded and naïve 
like if you want to save the world then why not quit and feed the hungry 
but people for millennia have needed music to survive 
and that's why i've promised john that i will not feel guilty
 
so play your favorite beatles' song 
and make the subway fall in love
they're only $19.95, that's not a lot of money 
play until the sun comes up
and play until your fingers suffer 
play LCD soundsystem songs on your ukulele
quit the bitching on your blog 
and stop pretending art is hard 
just limit yourself to three chords 
and do not practice daily 
you'll minimize some stranger's sadness 
with a piece of wood and plastic 
holy fuck it's so fantastic, playing ukulele
eat your homework wit
h a fork
and do your fruit loops in the dark
bring your etch-a-sketch to work 
your flask of jack 
your vibrator 
your fear of heights 
your nikon lens 
your mom and dad 
your disco stick 
your soundtrack from "karate kid" 
your ginsu knives 
your rosary 
your new rebecca black CD 
your favorite room 
your bowie knife 
your stuffed giraffe 
your new glass eye 
your sousaphone 
your breakfast tea 
your nick drake tapes 
your giving tree 
your ice cream truck 
your missing wife 
your will to live 
your urge to cry 
remember we're all going to die 
so PLAY YOUR UKULELE