February 5, 2016
"Strung Out In Heaven" Release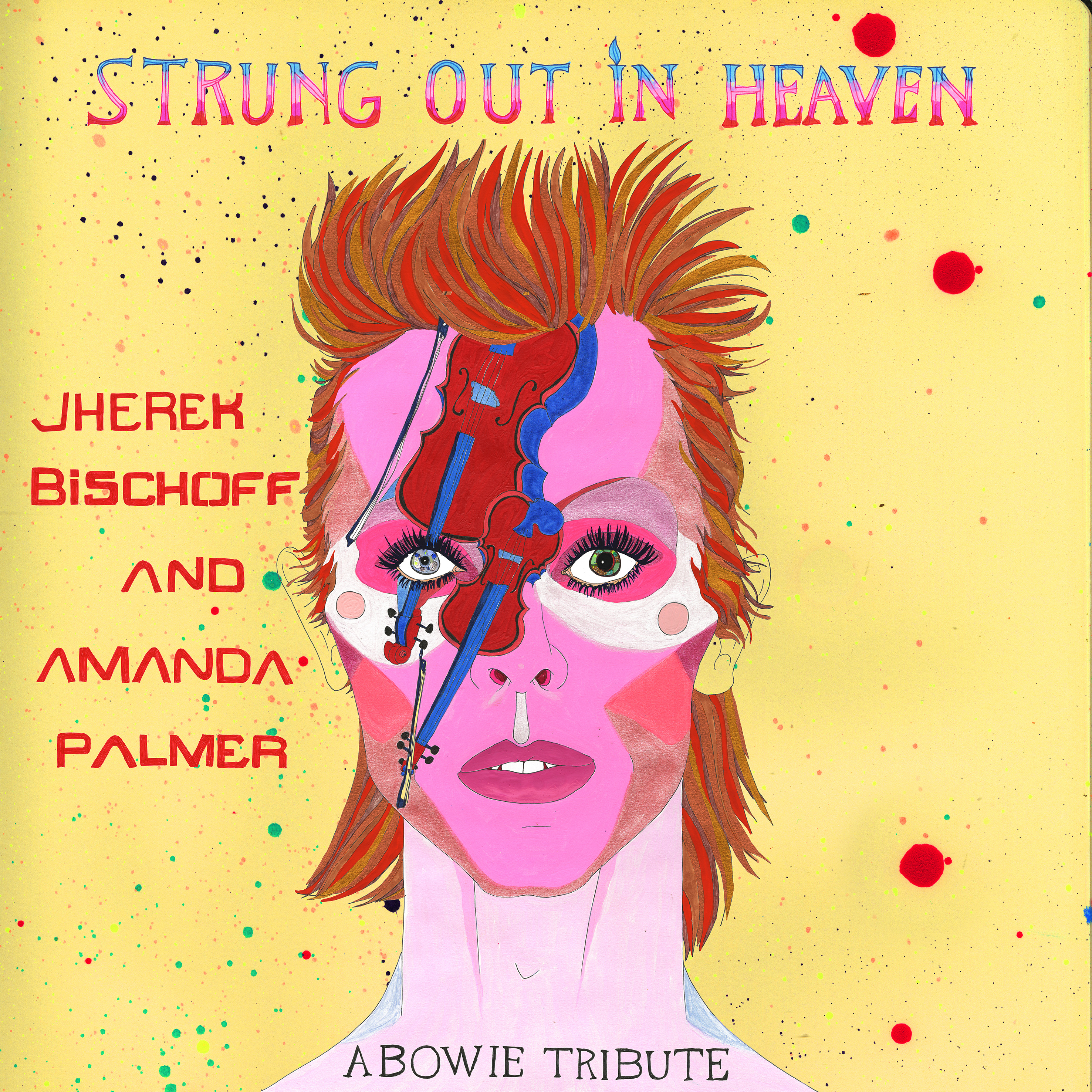 (cover art by Sarah Beetson)
feb 4th, 2016 –
i released STRUNG OUT IN HEAVEN: A BOWIE STRING QUARTET TRIBUTE with my brother jherek bischoff!! listen / read the whole back story for the EP on the official project page/home: http://bit.ly/strungoutinheaven

THE MUSICIANS:
Amanda Palmer – Vocals
Jherek Bischoff – Double Bass/Arrangements/Conducting
Serena McKinney​ – Violin​ 1
Alyssa Park​ – Violin 2
Ben Ullery​ – Viola
Jacob Braun – Cello
Anna Calvi – Vocals/Guitar (Blackstar)
Jono Manson – Amanda's Engineer (The Kitchen Sink)
Alex Thomas – Anna Calvi's Engineer (Bruce Grove Studio)
Chris Fogel – Jherek/Strings Engineer (Hyperion Sound / ELBO Studios)
Bryan Carrigan – Jherek/Strings Asst. Engineer (Hyperion Sound / ELBO Studios)
John Cameron Mitchell – Vocals (Heroes and Helden)

THE BACKSTAGE CREDITS:
Jherek recorded the strings in LA at Hyperion Sound / ELBO studios engineered by Chris Fogel (engineer) and Bryan Carrigan (Asst. engineer).
Anna Calvi (guest vocal and guitar on Blackstar) recorded in London at Bruce Grove Studios engineered by Alex Thomas.
I recorded vocals in Santa Fe, NM, at The Kitchen Sink, engineered by Jono Manson. Jono added the acoustic guitar on "Space Oddity".
John Cameron Mitchell sang his back-ups in his apartment in New York into his iPhone.
Jherek mixed and mastered the entire record at home in LA.

THE ARTISTS AND ARTWORK:
Cassandra Long (United States) – Blackstar
David Mack (United States) – Ashes to Ashes
Sarah Beetson (United Kingdom) – EP cover (shown above) and Space Oddity
Félix Marqués (Spain) – Life on Mars and Ashes to Ashes
HA-HA (Australia) – Helden (German Version)
Bill Sienkiewicz (United States) – Heroes (English Version)

This entire project was financed by the supporters at patreon.com/amandapalmer. The minimum price is $1 – $.54 of which will go to Bowie's publisher for the use of the songs. The remaining proceeds from the first month of sales (until March 5th) will go to the cancer research wing of Tufts Medical Center, in memory of David Bowie.