March 10, 2011
this friday in LA: benefit podcast for planned parenthood from SModcastle w/ guest KIM AIRS!!! (+ "red state")
this friday in LA: benefit podcast for planned parenthood from SModcastle w/ guest KIM AIRS!!! (+ "red state")
hola comrades!
still working on the last of the australia blogs (and the infamous wedding blog). jetlagged as shit.
but…
**quick news flash**
if you haven't been hip to what's going on with planned parenthood, shit's been scary while i was down under. the good news is that senate just defeated one of the sketchy resolutions that was up for a vote, but there are numerous budget negotiations going down, and some of the more conservative members of congress are pushing to bar PP from getting any federal funding. furthermore, there's a really nasty smear campaign which is attempting to scare people with all sorts of misinformation about what the organization actually does…
wanna see how it all breaks down? here's a great chart showing what kind of awesomeness they do for women, state by state:


click it and take a look at the stats. how could anyone think it's a good idea to shut down someone helping to offer STD tests, breast exams, etc.
i'm in los angeles for other secret little reasons i can reveal soon, but i figured WHILE I'M HERE, i'm going to hold a PODCAST benefit THIS FRIDAY at our trusty filmmaker pal kevin smith's SMODCASTLE….
i'm a huge fan of planned parenthood – i've been a recipient of their services several times, myself – and it's obviously critical we all try to raise awareness about this effed up issue and support their cause as much as we can.
as we threw together this last-minute podcast extravaganza, i found myself thinking…who should i ask to come and guest?
i wanted this podcast to be more of a q&a, a share-your-shit, ask-amanda-meets-the–view style.
so….who do i know in LA is awesome and will come talk to me about the true profundity of sex, sexy issues women and all the shit that nobody else in the world would EVER talk about? i emailed her, and i LANDED her: welcome to the circus, ladies and gents, MISS KIM AIRS.
hopefully we'll talk about a variety of issues, i'll uke it up, and kim promised she would bring a variety of sex toys because they "sound funny on radio."
awesome.
soon after, we're hoping to have the podcast available for download at music.amandapalmer.net (and maybe smodcast.bandcamp.com which is where the episode of "starfucking" that neil & i did in november lives). all money received in donation will benefit planned parenthood.
kim airs is an old hero of mine from back in the day in boston.
she was a local sex-positive goddess who ran boston's only women-centric sex toy store/sexuality boutique called, wait for it…"grand opening."
tons of my friends worked there and kim was a pillar of the gay and sex-worker community. then she moved to LA. and moved her business to the web: grandopening.com
more about kim from her bio: she now she teaches sex ed classes nationally and internationally, has been featured on HBO about the locally made, amateur adult film festival she started (i was IN that festival, starring in my first porn, "voodoo dykes"…i now KNOW that my mother is going to tune into this podcast). she is a member of AASECT (Am. Assoc. of Sexuality Educator, Counselors, andTherapists) and of ISSWSH (Int'l Soc. for the Study of Women's Sexual Health). she is featured in the just released documentary, Orgasm Inc. about big pharma's interest to find the Viagra for women.
this is kim with the dresden dolls, july 8th 2005, testing out a VIBRATOR THAT ATTACHED TO YOUR iPOD, called the audi-oh.
oh, you crazy kids.
kim's in the middle:


photo by bill t. miller
as i said, we're holding this podcast at the world's first podcast theater, kevin smith's SModcastle. the place only fits about 50 people, so we're makin' the tickets kinda pricey. $30 – and 100% of the profit from the show will go to support planned parenthood
tickets are available NOW, HERE at my bandcamp (or by clicking the image below).

date: Friday March 11th
time: 5PM
cost: $30 (100% goes to Planned Parenthood)
address: 6468 Santa Monica Blvd, Los Angeles, California 90038 (GoogleMaps-that-shit)
so, speaking of kevin smith, i mentioned a while ago that i was lucky enough to see his movie, "red state", when neil & i were in LA for "starfucking."
the film is ABSOLUTELY incredible. and i hate most movies. this one is worth seeing. it's funny, deep, fucked-up, and very important – i think – for america at this time and place. if all you know about kevin smith is "clerks", this will blow your fucking mind.
here's the trailer:
from vimeo…you can also find a "new version" with an intro from kevin, here at apple.com…
even more incredible (but not surprising, given kevin's a clever dude) is the way he's promoting and releasing the film.
he's basically pioneering the film industry the way a lot of us in the music industry have been going: he's GOING ROGUE, and releasing the flick independently without the help of the huge hollywood machine and relying on PEOPLE and NETWORKING to spread the word about it. he's blogging about the whole process, too.
he's hit NYC, boston, chicago, and minneapolis so far, but if it hasn't hit your town yet, i HIGHLY recommend you go see it.
it's intense and very graphic/violent, but it's not gratuitous: if that sort of thing makes you uneasy, i warned you.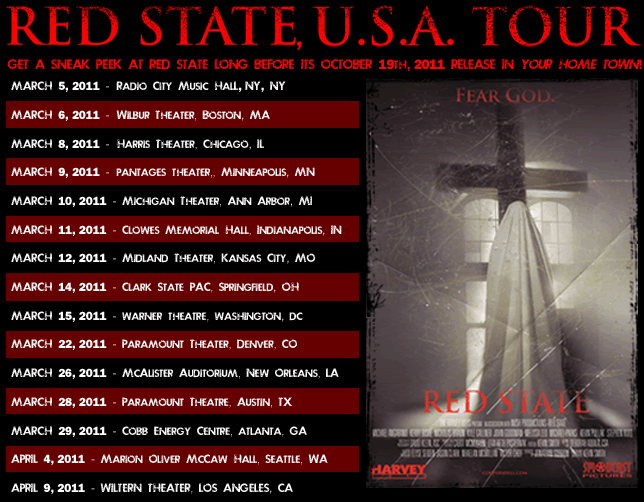 more info at coopersdell.com
the "red state" facebook: facebook.com/coopersdell
kev on twitter: twitter.com/thatkevinsmith
kevin's blog all about "red state" and what he's doing with it: theredstatements.com
if you go, tell him the art chick said hi.
LOVE,
AFP