May 7, 2011
WAKEY WAKE, MY SPRING CHICKENS!
i'm in the netherlands, staying with my sister who i've spent almost no time with since i became a touring musician.
i've caught her for a MEAL every time i charge through amsterdam, and we've caught up on family holidays, but we haven't spent much quality time together.
so, seeing as i'm on Epic Break 2011, i got my ass over here and i'm going to spend two weeks with her to make up for the past 10 years. i've missed her.
i'll be in utrecht and amsterdam for the next week (til friday) catching up on work while sipping dutch coffees and beers and taken advantage of my sister's cat & internet.
i'm staying in her old apartment because she's SHACKED UP WITH A DUTCH GUY. traitor. oh wait…i married a brit. right.
anyway, i have her joint to myself. kidding aside, her new fiance, cees, is awesome and owns an art gallery down the street, the dutch are high on the fumes of spring and racing their flower-festooned
bicycles through the street, and i'm feeling a massive wave of happy closure to be here … like i'm truly on break for the first time since leaving oz.
that said, there is still much, much information to impart to yo' asses.
starting with the mad, fiery, beautiful wake of 8in8.
WAKEY WAKE!
it really was a fucking sprint-art-prcoess…i keep saying to journalists that making/writing/recording/mixing a record in 12 hours felt like the ultimate musician exam.
i think we passed. people are loving (and sharing) the record.
everything i've ever learned about recording and collaborating was put to the test.
how to follow a first thought and not look back.
how to know when to push for an idea or let someone else take the lead.
how to sing with abandon and emotion with control, knowing you only get one chance.
how to let go.
me, ben, neil, and damian have all been in this business for long enough to know the perfect balance between caring and letting go…
i think that's the magic ingredient/balance that made this WORK.
we've also all made enough stuff that we LOVE and we think is CLOSE TO PERFECT. once you put out enough, you get less precious, i think, about what you give the world…because you've proven yourself. you're allowed to have more fun.
how to bend, how to stiffen, how to come up with something fast and not kill it with instant self-criticism.
these are things i only realize i know how to do when i'm actually in the studio with a gun to my head.
i get so used to doing what i do every day that i forget i'm actually kind of good at it. sometimes i forget that i've made five or six full studio records, and that i've LEARNED something.
also
i just turned 35. i think i'm really happy about that.
when i turned 30, i felt the same way. i was terrified i would hit 30 and feel lost. i didn't. i was touring with the dolls, on the rampage.
now i'm taking a break from the rampage, and it feels perfectly timed.
so….more 8in8.
the most exciting news: we donated the first week of sales – over $22,000!!!!! – to berkleecitymusicnetwork.org – a charity which provides kids with every opportunity to see their musical potential. from all of us, THANK YOU. your donations will help musically-inclined kids who don't have a ton of money to develop their talent, and that makes us all really happy and helps everyone. more music = more love = better world.
by the time i'm done blogging about this one-day project i may very well have more blogs about 8in8 than actual songs by the band (read 'em HERE, HERE, HERE, and HERE).
but not my fault, sort of….what YOU all have been doing since we left the recording studio makes the whole thing an internet-collaborative-lovefest which i just gotta share (if you missed it…a few days after we released the record, someone suggested on twitter that we challenge our collective fans to make quickie videos for the songs, and me and neil both put the word out the twitter, and i blogged. the results keep rolling in and they're FECKING AWESOME. see more on that below.)
it seemed a little odd to have an internet-bred project without any sort of actual web presence (and because it seemed weird to house everything on MY sites, since there were three other gentlemen coconspirators), we bring you: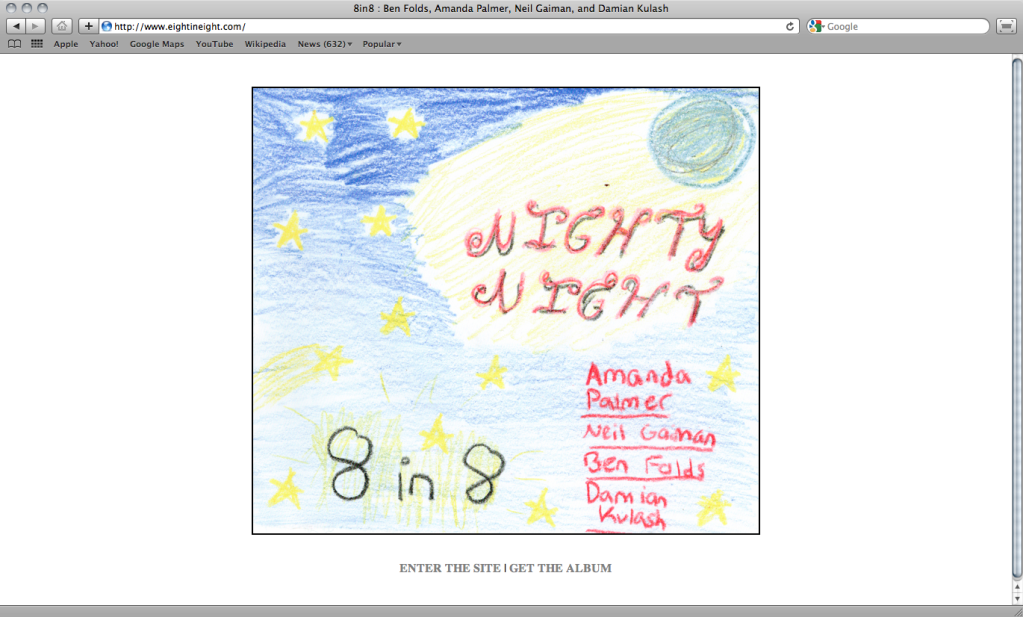 the official 8in8 website!
you can find it at eightineight.com (or by clicking the image above)
that drawing on the splash page for the website, was drawn by a 7-yr old named gavin…i think he may be my youngest follower on twitter.
a promising young artist, if i do say so myself!!!
SO, on said site, you can find:
* some of the notable press and blogs about the band
* a "video" section which is housing two of the rethink music conferences (ALSO: a request for someone to step forward and help us with a recording of the recording studio webcast; youtube is STILL compressing our version but you all are pretty tech savvy and we are hoping that some of you were grabbing the stream. if you did, e-mail us, and we will reward you handsomely. and love you.)
and
of course
* all of the amazing videos and fan art that's been created
so much beautiful (as well as funny, and smart) artwork has come in in fact, that we've been up to our eyes and ears admiring it. we're looking and listening to it ALL, and it makes picking favorites that much harder.
neil blogged about two of the videos he liked the most (both of which were for the song he sang on…he can deny he has a good voice all he wants, but c'mon):
and
one of our collective favorites was also for "the problem with saints":
rounding out the rest of the record, some other favorites…
TWELVE LINE SONG:
ONE TINY THING:
and this one which makes me so happy it's spring: vimeo.com/23037755
BECAUSE THE ORIGAMI:
a lot of people made videos for this song. here are two other favorites: youtu.be/djRsGdy3stI & youtu.be/bOFLcaGC4Hc
I'LL BE MY MIRROR:
there's also this one WITH A REAL LIVE SNAKE: youtu.be/PrTGwsEnkik
and last but not least, per our request, people finally made some "nikola tesla" videos. here's one of them. mustachioed girls FTW:
we also got a lot of non-moving art, a la:


("because the origami" by talia thomas)
and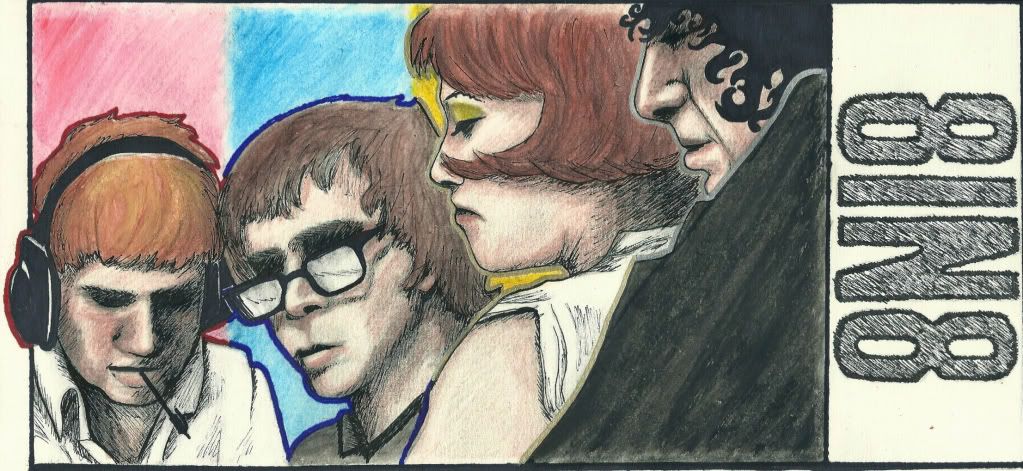 (by our very own art intern, ashleigh aka @AFPart. fuck yeah)
if you were any of those people listed above, send an e-mail over to art@eightineight.com – we want to send you a little thank-you surprise for all of your hard work. and to everyone else, the record is creative commons BY-NC so KEEP ON MAKING STUFF.
to see all the rest of the videos, cover songs (IN OTHER LANGUAGES, EVEN), and more (or get instructions on how to submit your own), visit eightineight.com/fanart.html
if you haven't gotten the record yet, you can get it on bandcamp at bit.ly/get8in8
from here on out, we're going to keep the price at just a buck, and whatever donations come in will be split between the four of us. i've had my eye on a pony for a couple of months. only YOU can help make a girl's wishes come true.
and now, i'm off to work on a mailer about the whole 8in8 project, which will be going out in the next few days. if you're reading this blog, some of it's going to be stuff you already know about, but i promise a very tasty surprise at the end of it, so READ IT. and if you're not on my mailing list, yet?
FIX DAT SHIT, YO!!!! i really do encourage and beg everyone to be on the direct mailing list, it's my only sure-fire way to reach you when big projects are released.
sign up here: bit.ly/AFPemail
more soon.
time to blog some real life i think.
i also need to tell you about all the naked twitpics that got posted on my behalf recently.
but that's for another blog (i always say that don't i)
xxx
AFP & bacco.