June 21, 2009
wasn't this supposed to be my fucking week off?
eeer, yes. but who gives a fuck.
oh, oh, oh, it has been an exciting week of non-stop drama and fun.
i have learned this about myself: i do indeed abhor a vacuum.
my idea of time off is calling up random friends and running around in parks and drawing on each other and videotaping that and calling it art.
but hell. i remember two years ago when i was supposed to take a week off in bordeaux. i booked a place to stay with no internet.
i brought books and DVDs and blank paper and a rented a piano and was all set in my little villa to create and consume art.
i went totally crazy after two days of reading and drinking wine and eating chevre salads and riding my bike around.
i made friends with the guy at the bar down the street, booked a show for the upcoming friday, and spent the remainder of my week off promoting the show and practicing for it.
poor rock star, very confused without purpose, she is.
so many wonderful things have happened this past week….and many perilous things. i will tell.
but first off, some bidness:
……………………………………………..
TICKETS FOR BOTH THE UK SHOWS (london! edinburgh!) ARE ON SALE!!!!
i'm going to be traveling jack-kerouac-style through europe with neil this summer and only playing 2-3 shows (possibly adding one in germany, stayed tuned)
and that's it. it's very possible that in edinburgh i'll be twittering last minute gigs and gathering, so once again (broken record: make sure you're following me and signed up for the e-mail list)
August 22nd in EDINBURGH!!!!
at the HMV Picture House, with The Indelicates (who are awesome). buy tickets HERE.
it's prettttty: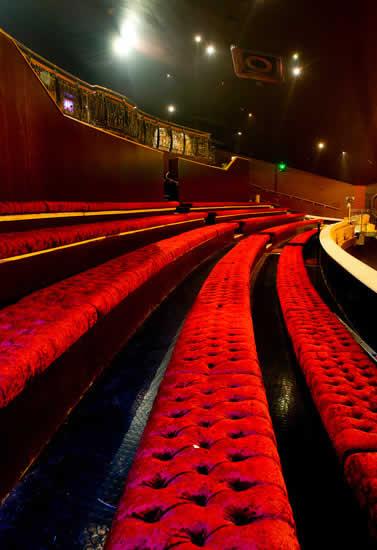 September 12th in LONDON!!!!
at union chapel, with Polly Scattergood (who is also amazing). buy tickets HERE.
it's VERY VERY VERY pretty: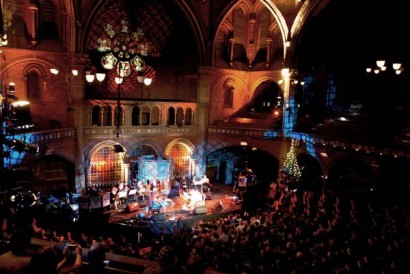 please, please, please, please for the love of god…..
buy tickets in advance so that you are not sad when show day comes and they are gone.
esp. london, the venue is quite small (only fits 800).
other upcoming stuffs:
i'm playing on JULY 3rd with jason and a bunch of our freinds for his special 11th year anniversary.
tickets are ALMOST gone, but give it a shot: advance tickets

…..
the san diego show with Vermillion Lies isn't sold out yet (i don't think)….
and it's for a great cause: it's benefitting the comic book legal defense fund.
get tickets HERE.
i'll have copies of the book at the show. i will be signing SOMEWHERE at comic con but not sure where yet….
if you haven't pre-ordered it yet and want a copy, some are still available HERE. you should get it, it's pretty:


speaking of which….
the NEIL GAIMAN/WhoKilledAmandaPalmer BOOKS are – LITERALLY – on their way to american on a slow boat from china. hot. i just got a brand new package of apology/photo cards for those who got ass-fucked in the pre-order and received xerox copies. we are working on getting them on their way to you. i hope and pray that we're almost out of the book woods.
…………………………..
life?
underneath it all, the stability of being in love (and not hiding it from the world anymore) has anchored me in a way i've never felt before.
i've been in love a few times, but this one feels different, in a gross, delicious, very adult sort of way….it feels stabler. done-er. invitabler.
time will tell. it's very nice to see all the well-wishing for me and neil coming in from the world of the internet and in person at my show last week.
it's also sort of convenient (i now realize) to have a boyfriend who you don't really need to introduce to lots of people, since lots of people already know him.
for the people who don't know him, i get to say "he's a writer" and watch people's sympathetic reactions.
we had dinner with some old friends of mine in new york. they didn't know who neil was (at all, he was just getting dragged along as the amanda-boyfriend) and they smiled and nodded throughout our whole meal tolerantly as he explained that he actually was able to make a decent living writing books and touring around reading from them out loud in front of groups of strangers.
what are you supposed to say in moments like that? ("jane, meet me me in the bathroom so i can give you the real low-down on this guy. i swear he's not lying.")
though neil is deft, and wise. he, graceful man, can work "i am on the new york times bestseller list, and therefore real" casually into dinner conversation without sounding at all like a wanker.
by the time dinner was over, they'd obviously decided i wasn't dating a jobless homeless man with dreams of grandeur.
………………………….
two friday nights ago i was home alone trying to catch up on work and went on twitter to find that i'd forgotten that there were still #LOFNOTC (my trusty club of Losers Of Friday Night On Their Computers) hold-outs waiting for the party to start again.
i was certainly very exciting about not working and fucking off instead.
and perhaps starting another internet party…but i didn't want to repeat myself.
so i decided to try to communicate my thoughts through body-markering: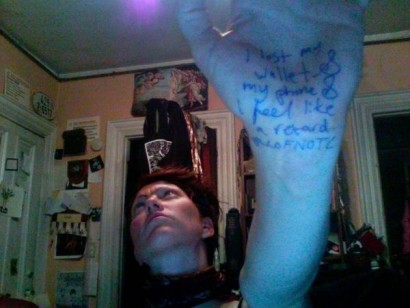 this, however, devolved into a Q&A session conducted via body-marker and twitter that became quite fun……
@nitonale twitpics: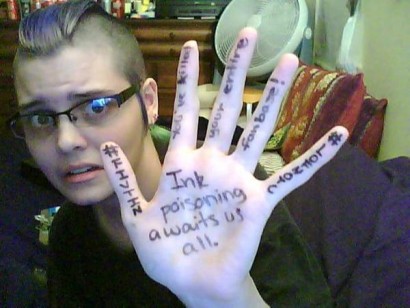 AFP responds….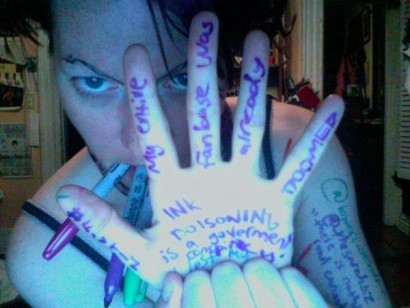 @alykathleen twitpics: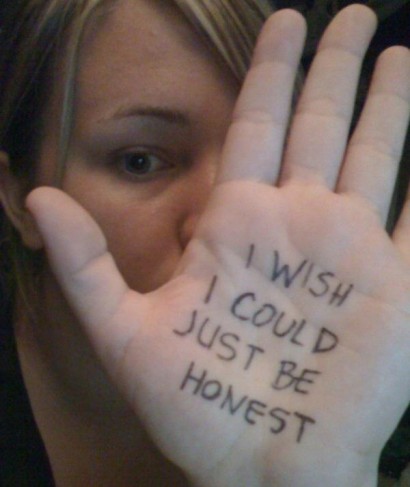 AFP responds….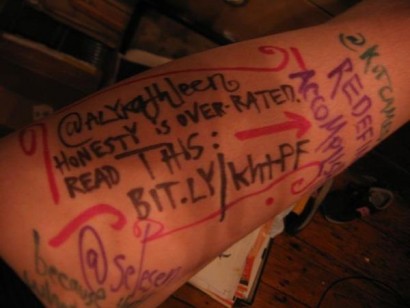 @kaylaconspiracy twitpics: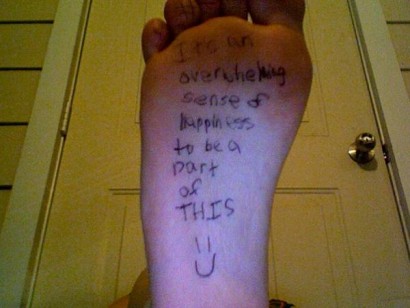 AFP responds….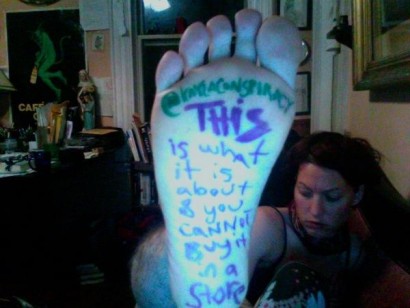 …..and by the end of the night things had gotten quite out of control….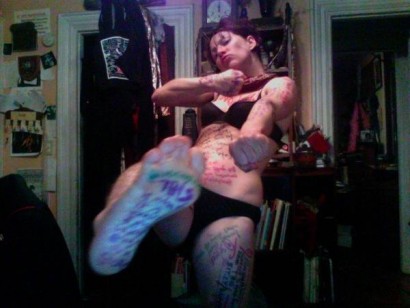 if you want to see the full-on naked one of the finished product, go HERE. i dare you. just barely work safe. depends where you work.
it was quite popular on the internetz: http://twitpic.com/79p29
ALL HAIL #LOFNOTC!
by the by, the SHIRTS that were developed in the original #LOFNOTC mayhem arrived and look awesome.
they're all sold out, but the 400+ people who bought them will now always feel special: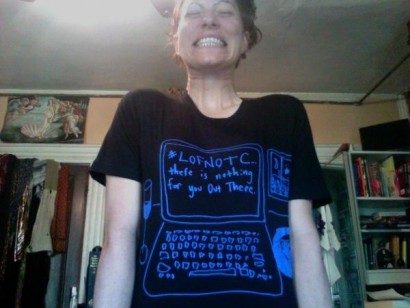 the world is just getting stranger and stranger.
and better.
a few nights later i played the secret little show at my friend owen's brand new recording studio (http://www.thebridgesoundstage.com). for those old school boston folks here, this is the old fort apache (one of them, it moved a few times).
it was stiflingly hot in there, but a fantastic time was had by all…..the openers (walter sickert and the army of broken toys) entertained with gusto and a little 4-year old girl helped me decorate my keyboard and also loaned her interpretive dance/ninja skills to the first few songs. in the photo below, she is simply hiding – cleverly – behind the piano seat….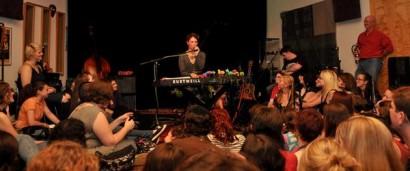 (photo: justin moore)
i played mostly just requests and a few new songs – setlist was:
lua (bright eyes cover)
dear old house
ampersand
trout heart replica
oasis
australia
guitar hero
strength through music
i goooogle you
the bed song (a new one, i asked it not be video'd)
girl anachronism (thanks to theshadowbox.net for always providing me my setlists, which i never keep fucking track of, i love you guys)
i gave away about 200 tickets, totally for free, via twitter. there was no other way to obtain them.
we could have technically charged for the show, through paypal or something, but i wanted to do a little experiment and see what would happen if we just passed the hat.
people generally donated about $10, some gave more, some not at all.
i didn't give my impassioned "this is your one and only chance this year to directly pay my rent" speech, which might have made a difference.
this stuff just fascinates me.
i truly believe that we're heading into a musical economy that will rely on more of this kind of model: fans being directly called upon to support their artists.
fanagement.
more on this later in the Epic Music Business blog i keep promising.
meanwhile, the gears of the musica business tuirned freaky as i deciced to use my web powers for good?/evil? and hold a webcast auction, with wine, and beth, and beth's girlfriend kayla, in my kitchen.
we had NO FUCKING idea if or how this would really work but basically we used beth's computer to take bids over gmail and then had people pay using paypal immediately.
everybody was honest and after a few glitchy moment with the stream at the beginning, it was one of the most surreal and satisfying experiences of my life.
3.5 hours of complete clown-gasm. we ended up auctioning items by request, like my wineglass and the bottle we emptied, and a song request (won by marci, for $500)….which i played in my bedroom, pretty nakedly (it was hot!!!) on my piano…quite tired/drunkenly, but pretty well i gotta say for a girl who didn't know she was going to wake up in staggering pain the next day with a kidney infection – note, ladies: always pee after sex.
so….we did it like this:
i would introduce an item, give the backstory, display/model/chew on it, and set a starting bid. then beth would update the viewers about how the auction was going while i sang ukulele songs and answered random questions via twitter.
about 2000 people tuned in.
all the items were signed by moi and hand-packed by beth and kayla.
the items and highest bidders were as follows:
hilary, ukulele used on the european tour: $640
jake, "guitar hero" plastic guitar controller used in album promo shoot: $250
lary b, copy neo2 magazine, plus two post-war trade slap-bracelets & a crime-photo set: $230
devi, glass dildo, with subtley-sordid backstory: $560
liz b., "hipsters ruin everything" t-shirt, made by blake (get your very own here!!!!): $155.55
shannon m., my bill bryson book, a short history of neary everything: $280
nikki, huge metal "the establishment" sign, used at rothbury for the circus tent: $450
j.r., purple velvet "A" dress used in the coin-operated boy video shoot: $400
jessie & alan: who killed amanda palmer vinyl: $100
nikki: ninja wine bottle $320
shannon w., torn-to-shit vintage stockings used in the who killed amanda palmer pope video series: $200
jodi, school-note-book break-up letter, written to amanda from jonas woolverton in 7th grade (i still haven't emailed him about that….): $250
daryl, THE wine bottle: $320
and…………..
reto emailed, having barely missed the wine bottle, and asked us to send him "something funny" for $129.99. we sent a heath ledger statuette.
here are some screen-shots:
OM NOM NOMming the guitar hero controller….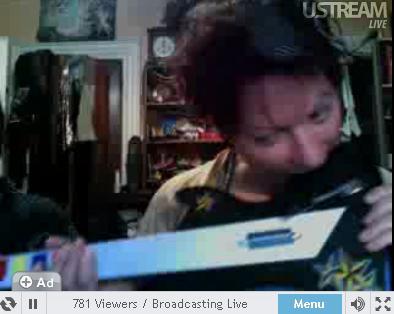 OM NOM NOMming the bill bryson book….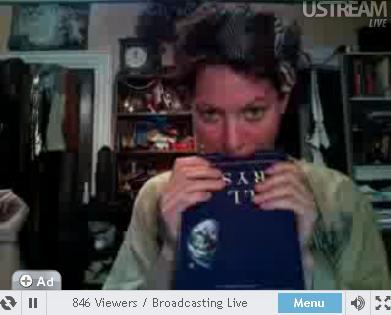 OM NOM NOMming (ok, deep-throating) the glass dildo…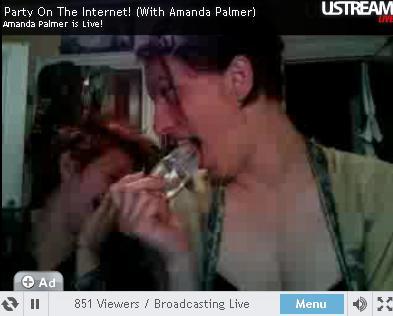 showing off my gams with the torn-to-shit-stockings….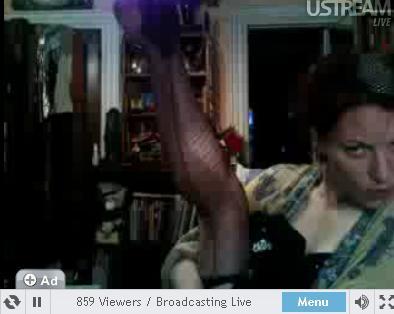 reading the very very very sad 7th-grade break-up letter.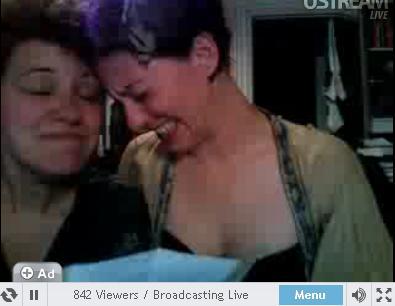 (thanks to angryinch on theshadowbox.net for throwing these up)
we also sent signed postcards, which we chewed and planted lipstick kisses on, and mailed, for $20 a pop. i finally have my rent paid off. i was wicked behind.
then i spent all of this past week catching up with old friends and taking care of business. going to yoga. cleaning house. tidying up the ins and outs and ups and downs of my life.
and dealing with a very unpleasant urinary tract infection that turned into a kidney infection (i keep telling you, you have NO idea what you're missing on the hourly twitter updates).
those pills that turn your pee orange…they're fascinating. i was actually be glad to be put on the antibiotics because it gave me a 100% foolproof excuse not to drink at night and therefore spend until 2 am frenetically emailing.
does this make me
a) an alcoholic?
b) a workaholic?
or
c) an undisciplined idiot?
there are viable arguments to be made for all these things.
another friday night rolled along and i was pretty much OVER the #LOFNOTC thing (#LOFNOTC was like SO two weeks ago) but i wound up sitting upstairs with pope and lee, just chattering and doing some work and thinking about going to bed and some poor girl twittered (jokingly, possibly, but god it seemed earnest) that she had put her make-up on JUST for #LOFNOTC time.
this got me thinking.
so i suggested we do as losers do….and put on make-up for no reason. and then sit around being lovely. and lonely. on our computers. and take pictures.
got some lovely pictures in from the twitterverse: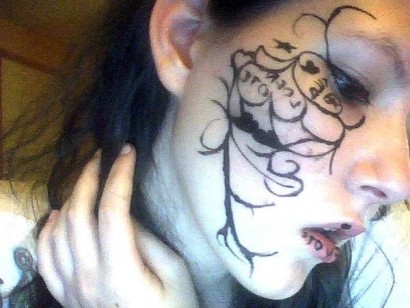 @jinx81558
and i gave a time-lapse, step-by-step tutorial of fucked-up-amanda makeup (which you can see if you just go to my twitpic site, there's too many to post here)….
here's a couple leeetle ones: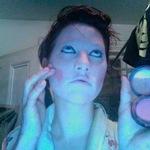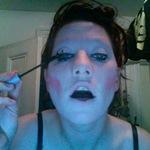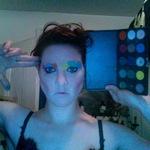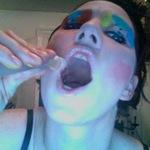 and VOILA!!!!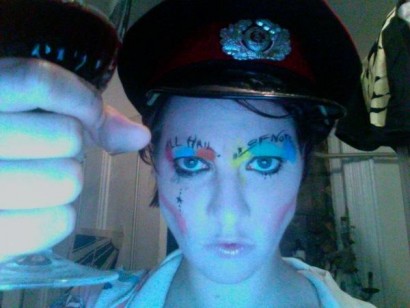 we all toasted and went to bed (at least i did. well, sort of).
i think the internet and us undisciplined exhibitionist workaholics were simply made for each other.
i'm heading out to LA tomorrow, to hang with my family, spend time with neil, play the troubadour (sold out!) and i do plan to do another secret show, this time open to all and on the beach (probably near hermosa).
i will twitter it.
bring ukuleles, and marshmallows. and love.
and if you want things SIGNED, i probably won't be signing after the troubadour show (for good reasons, i promise), so bring stuff to the beach. then you can get things signed AND go swimming and get all salty. which is always good.
see you out there
and i love you,
Afp
p.s. i made a ridiculous video today with cassandra long and her sister crane…to regina spektor's new song "eet", but will have to blog about that later because i need to pack and collapse.