February 29, 2016
#NINJATED 2016 BLOG: The Sights! The Smells! The Astronauts! The Mythbusters! The Kites! …The BEST.
hola comrades…
greetings from Austin, where we are getting ready to drop a brand new, full-blown original song tomorrow!! if you haven't joined the Patreon, now's a good time: https://www.patreon.com/amandapalmer
THE WHOLE WEBCAST IS NOW VIEWABLE HERE: https://huzza.io/amandapalmer/live-stream/amanda-palmer-ninjated/live/replay
here's the round-up of the #ninjaTED madness from last week…and madness it was.
for starters, we raised $16,825 for the greater vancouver food bank!!!
the great part is that with their purchasing power, the food bank is able to get $3 of value for ever $1 donated, so in fact the value of #ninjaTED's fundraising comes out to $50,475.
THAT IS AMAZING and thank you thank you to everyone from vancouver who came out and made the party a fuckin epic one.
and HUGE thanks to sarah shandl, once again, for kicking my ass into gear this year.
it all started out with me not really wanting to do this gig, because baby.
i was headed to TED and already wondering what it was going to be to attend a conference that goes from 8:30 am to 7 pm with a lunch break.
we'd invited cassandra long (my housemate from boston) to come watch ash during the day and take him on long walks and paint on his face and stuff, but i still had no idea how it would feel, and no idea what my energy level would be, and i remember last year feeling insane and overwhelming, because i was 3 months pregnant and trying to do all this shit at once. so, yeah i thought about it and made up my mind not to do it. and then sarah shandl emailed. she's the one i met the night before the FIRST #ninjaTED who volunteered her services as a helped via twitter without knowing who i was. and i was like: yeah. no. i'm pretty sure not gonna do it. baby. and then someone from the vancouver food bank emailed, wondering if i was going to Do The Thing again, and i was like, no. baby. and then sarah emailed again a week later, and i was like, yeah…i'm not gonna do it. baby. and then she texted me a few days before TED and was like: are you sure? i'm hanging out with some people from the vogue theater right now and they're asking.
and i was like: fuck.
YES I'LL DO IT.
i must have been feeling particularly energetic that night.
anyway, i did it.
the whole concept behind the original ninjaTED was this (and it hasn't changed): use the fact that all these amazing TED people are in town and get them to the people of vancouver, who can't afford the crazy-expensive tickets to TED. that's all. maria popova said, in her blog about it, that it's like a form of robin-hooding. i'm a robin hood with a ukulele. i'll take that. awesome.
i knew maria popova would be at TED, so i asked her, and then i found out sarah kay would be at TED, so i asked her, and then….well, needless to say…it all came together. by the time i hit stage about a week later, i had the canadian national yo-yo champion, the canadian national kite-flying champion, adam savage from mythbusters, one of the most iconic dancers of our century, and, yes, an astronaut.
go figure.
the luckiest part of this year's #ninjaTED was that we got to WEBCAST IT!!!!!! the guys from huzza.io, the new platform for webcasting i've been using, are BASED in vancouver and busted ass to film the entire show and run a wonderful webcast. the ENTIRE webcast is now online HERE (it's like four hours….grab a bottle), but for your pleasure below, we've included (yes, we, billh is helping me compile this mammoth blog, thank you bill) TIMESTAMPS so you can skip to the spot in the webcast where that performer is introduced.first… I introduced everyone to the baby. it was this time last year…I played the last #ninjaTED the day I announced it. full circle shit, people.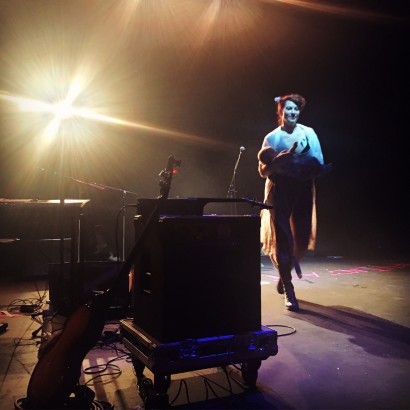 ​(photo by maria popova)
here's the setlist (in sarah's handwriting)…which we kinda/mostly stuck to (rhiannon was missing, and so was bill t jones, because he came on last-last-minute):
​(photo by taylor roades)
here are some incredible shots of the night by a handful of primo photographers..
here's the vogue theater, all lit up and ready to go:​​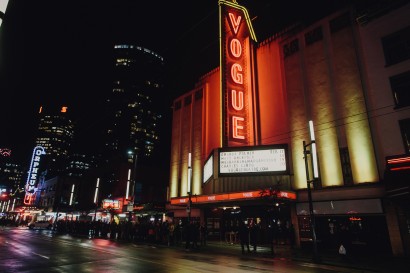 ​​(photo by
taylor roades
)
chris hadfield (!) and me backstage before the show, signing the epic ukulele that would later be auctioned for $3,000 (!!)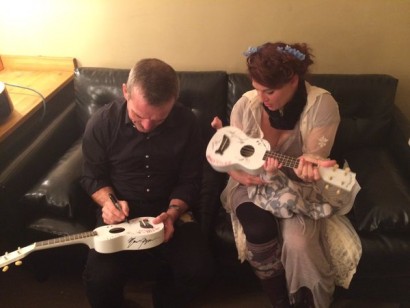 ​
(Photo
by
VANweloveyou
)
here's orkestar slivovica. they showed up like magic the night of the first ninja TED and have been back like clockwork every year.
they continue to be AMAZING. this year we actually pulled off a few songs together….starting with
LEEDS UNITED
at the top of the set, after i played "
in my mind
" on ukulele: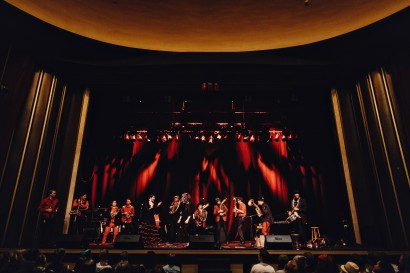 ​​(photo by taylor roades)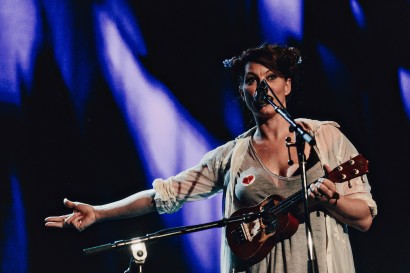 ​​(photo by taylor roades)
then
jason played
….he was nice enough to come up from seattle after our epic week together….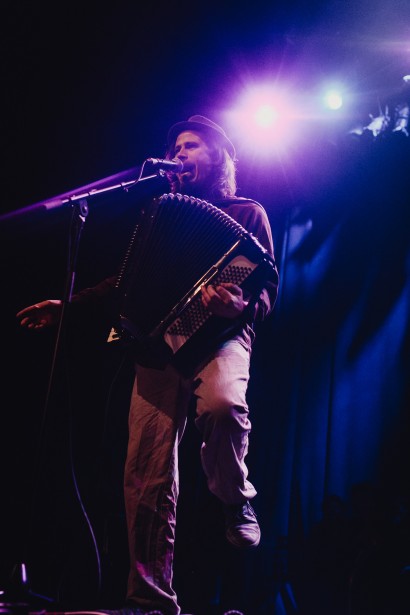 ​​(photo by taylor roades)
​
and then
sarah shandl
came out and allowed me to love her publicly (not pubicly! get your minds out of the gutter!)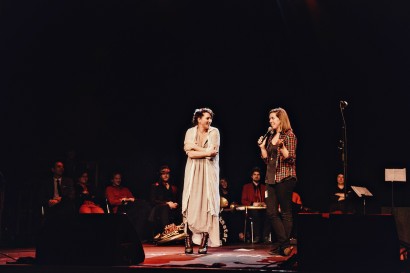 ​​(photo by taylor roades)
then
tristan underwood
, canadian national kite champion, took the stage (he came via sarah, who met him at a recent event she was helping with)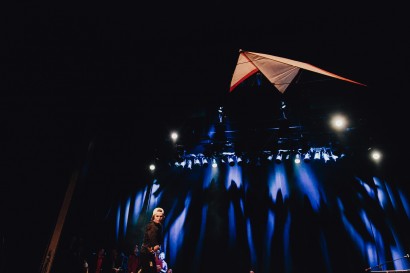 ​​(photo by taylor roades)
then
maria popova
took the stage and talked about alice in wonderland (thus her blog
HERE
), and i played "white rabbit" with the orkestar: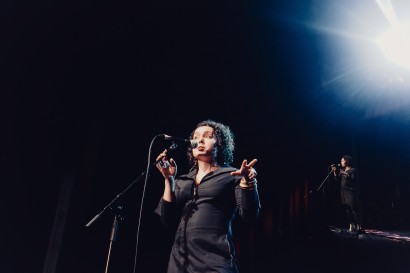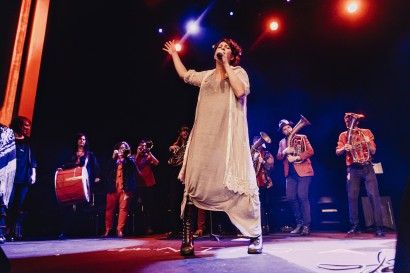 ​​(photos by taylor roades)
then
jill sobule
, who i know from all over the feckin place, and who was attending TED, played a couple amazing tunes, and got the audience to sing fuck: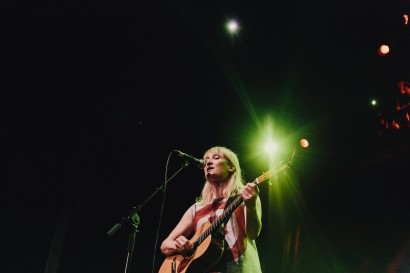 ​​(photo by taylor roades)
then
sarah kay
, another TED attendee, spit out some amazing poetry. she did last year's ninjaTED and she's one of my heroes:
 ​​(photo by taylor roades)
(and meanwhile casey was holding ash and he was sleeping for most of the show but sometimes i grabbed him and put him on my boob so he could eat.
here's casey holding him):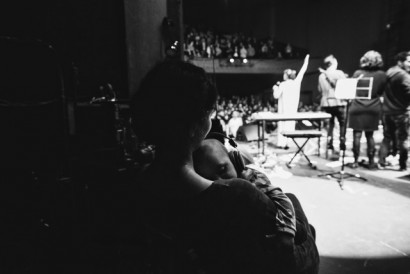 ​​(photo by taylor roades)
then vancouver local
geoff berner
played a song, taking advantage of the brass!!!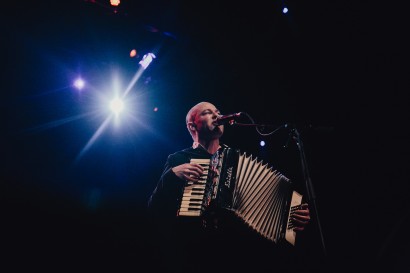 ​​(photo by taylor roades)
then
david kwong
, a magician attending TED who spoke last year, awed the audience with his magical skills: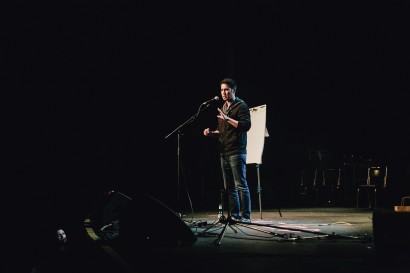 ​​(photo by taylor roades)
and then the aart schuurman vancouver food bank CEO came up and thanked everybody and gave me some beautiful rainboots for ash…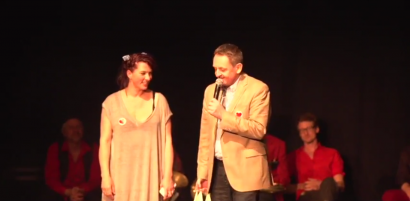 and then jherek played an amazing solo bass song (he was in town for the TED surprise of us doing "space oddity")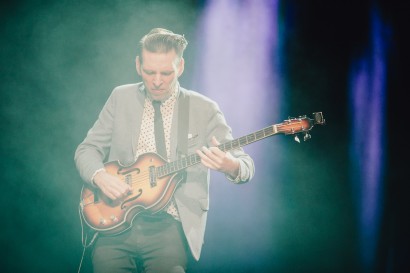 and then jason and i auctioned off the fateful ukulele….
​​(photo by taylor roades)
then
jason and i played
the almost 11-minute-song song i wrote like 6 days before and had just recorded with him in seattle in his houseboat (just released on patreon!!)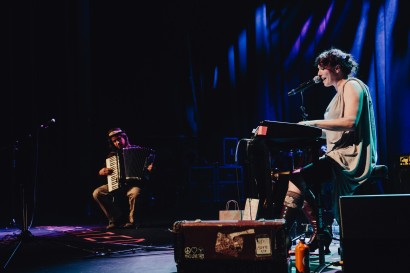 ​​(photo by taylor roades)
and then
harrison lee
, national canadian yo-yo champion, left us all gobsmacked (he came through sarah, too)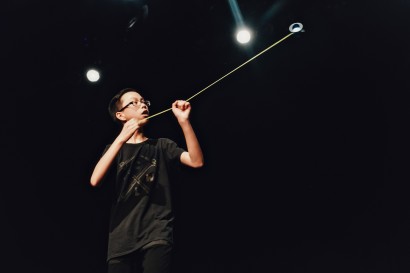 ​​(photo by taylor roades)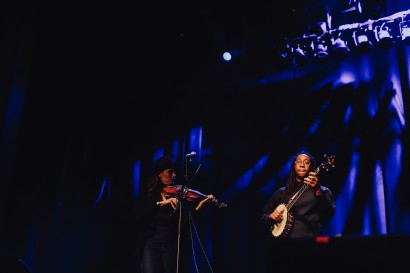 ​​(photo by taylor roades)
AND THEN
ADAM SAVAGE
(WHO I STOLE FROM TED) GAVE A FAKE TED TALK!!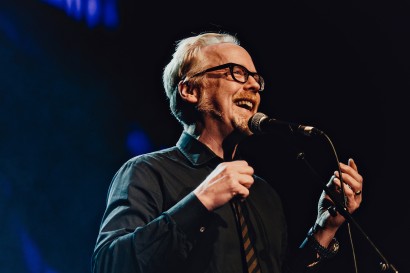 ​​(photo by taylor roades)
AND THEN
BILL T JONES
TOOK THE STAGE AND DID A TOTAL AMAZEBALLS IMPROV WITH ME AND JHEREK AND RHIANNON….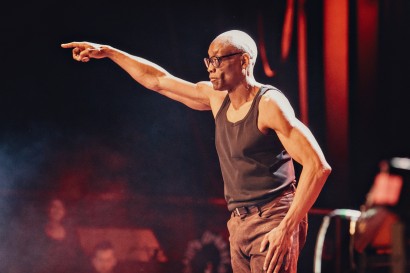 ​​(photo by taylor roades)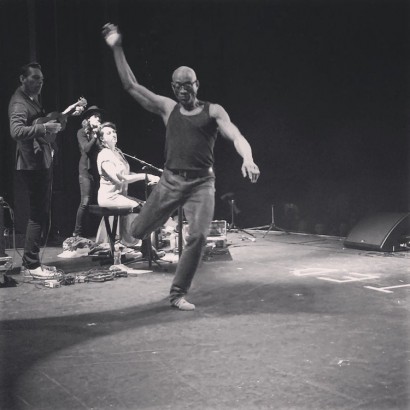 (photo by backstagerider)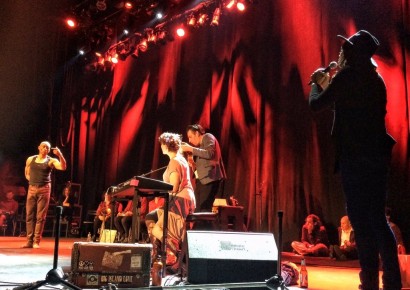 (photo by backstagerider)
AND THEN MY HEAD EXPLODED
AND THEN
CHRIS HADFIELD
THE ASTRONAUT TOOK THE STAGE AND SANG GOODBYE TO DAVID BOWIE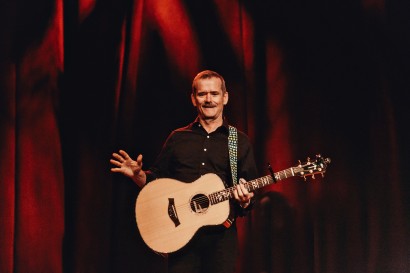 ​​(photo by taylor roades)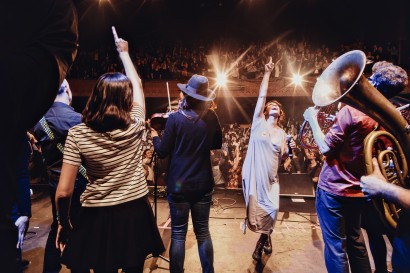 ​​(photo by taylor roades)
and then we took a group photo…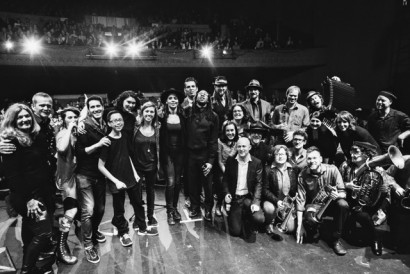 ​​(photo by taylor roades)
….and collapsed.
i'm tired even writing this blog.
i love you all.
xxx
AFP
p.s. if you want to donate to the vancouver food bank, it's not too late! they always need cash, volunteers, and FOOD:
https://www.foodbank.bc.ca/