July 10, 2018
10 things i learned from seeing bruce springsteen on broadway
(public post)
hallo dears
i mentioned in the State of All Things post last week that i've been thinking deeply n' philosophically about the epic live show that i'll tour globally in 2019 (and possibly into 2020). i'll be solo…solo truly. just me and a piano. and probably a poor ukulele.
this isn't going to be your average amanda show. not that any of my shows have been "average", but y'know.
i'm going to try to do something i've never done before. i'm going to try to try. try to try harder. i'm going to try to do more than just sit at a piano and bang it out. usually, when i have solo shows, i mentally prepare a vague setlist and often don't decide what i'm going to play until about 30 minutes before taking stage. i certainly don't plan what i'm going to talk about. i just riff. and the more wine i drink, the longer the shows are and the funnier i think i am.
the album that i'm working on right now is basically a diary of the last seven years (it's going to have "the ride", "thing about things", "bigger on the inside" and things you haven't heard yet), and i want to tell the stories. but i don't want the show to stretch into a 24-hour durational marathon.
not all of you have seen me solo…or have you? i'm actually curious, and if so, when…and where? and HOW WAS IT? tell me in the comments. it'll be a really good information to know how many of you patrons have actually been to a show, and what grabbed you.
i've been doing this live performance thing for twenty years, and i still feel like a rookie sometimes.
from my first humble tape-a-flyer-to-a-lampost piano shows in college (there were only a few, and i was scared shitless)….and to answer your question, YES, i have been naked since the dawn of time….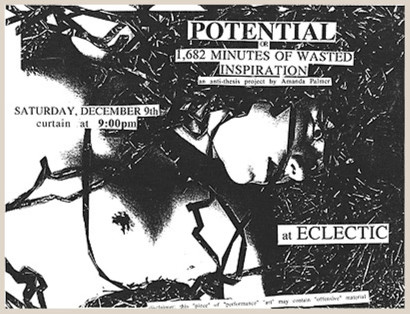 (1998 – wesleyan university)
….to my slow evolution playing open mic nights and bars and galleries in boston as a still-very-scared piano songwriter in the late nineties to the explosion of confidence that came in the form of a drummer named brian viglione and the formation of the dresden dolls, and THEN through yet more permutations as the band hit a wall in 2007 and i decided to go "solo" again.
but not really SOLO-solo.
that's when thing got weird…i simply did NOT like being alone on stage. but i didn't want a band, either, so i slutted around with various musicians and friends and performers but more or less avoided just showing up at any given show alone.
you may find it hard to believe, but i have played VERY few "just me and a piano" shows in the last ten years. and i've never done a full global tour that's actually "solo".
these past few months have got me meditating really deeply on what i want to accomplish with this next record and tour. i'm already in the booking stage – talking with all of my agents about where i'll be playing every night of every week in the spring, summer, and fall of 2019. it feels like a long way away, but it isn't, not if i want to plan ahead, not if i want to record the album while really thinking about the tour (that's a first, for me) and not if i want to actually REALLY REALLY rehearse my show instead of just bopping up there and spending most of my stage time winging it with wine in between mostly-rehearsed songs.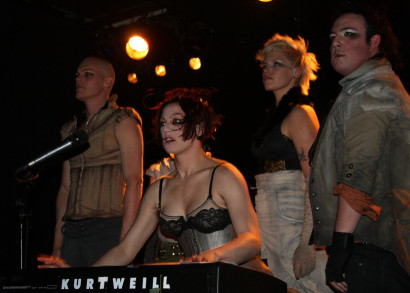 (with the danger ensemble in 2009….somewhere in the world)
my first big global "solo"-ish tour was with the danger ensemble (four australian performance artists) and two string players (lyndon chester on violin and zoe keating on cello). we had a relatively "set" set-list, and we did a week of rehearsals in dublin before the tour began, there were props. costumes were made and worn. there were silly back-up tracks for "guitar hero" and our half-live version of "umbrella" by rihanna. there was a plan there was also the fact that i broke my foot in nine places on the second day of tour in belfast (a car ran over it) and that stymied a lot of our choreography plans. we worked around it. the tour wore on, and by the very end of it, most of the personnel had dropped off and by the time i toured new zealand and tasmania (that was actually the bar show where i wrote "map of tasmania") at the very eleventh hour, we were out of money, so i just headed there with a ukulele and rented a keyboard. it was fine. but there wasn't much of a plan besides me, a potential batch of songs and a bottle of wine.
and i was tired. all the time.
the period between 2009 (when that tour wrapped up) and 2012 was a strange one…i was writing Theatre is Evil and trying to find a band to come with me on the long rock road….and i went on a few experimental tours with different fully-formed bands to see if i could find a fit. aberdeen city from boston was one. estradasphere from seattle was another…..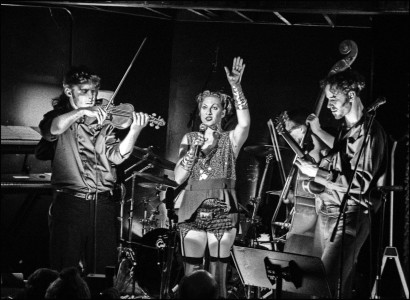 (photo by JessiQua)
and nervous cabaret from NYC yet another…..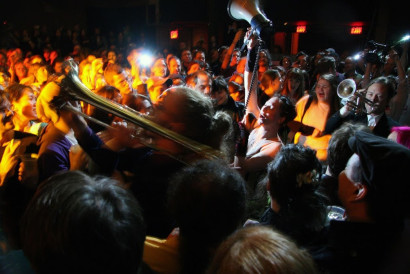 i actually made recordings with ALL these bands over the years (some of which i hope to finally release on patreon when i get them cleaned up, there's some great material there).
nothing stuck, though.
meanwhile i created my very fun and silly conjoined-twin record with jason webley and we did a tour in 2010…as twins. we wrote as twins, we played as twins. and we both played little solo sets "opening up" for the eveyln sisters (i was the right evelyn, jason was the left evelyn). i started dating neil, too. that was weird in itself.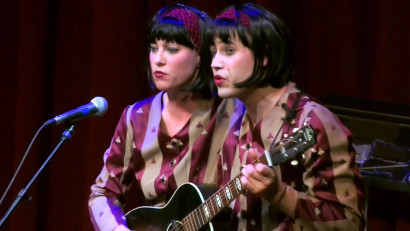 i foundered along.
all of the songs that would wind up on Theatre is Evil were fermenting around this time….want it back, the bed song, massachusetts avenue, melody dean, the killing type, lost, trout heart replica, and on and on. i knew from the feel and sound of the songs that i'd need a BAND on stage with me, slowly, mostly with the help of jason (who brought me jherek and michael mcquilken, both of whom used to be in his touring band) i put the grand theft orchestra together. chad raines joined on guitar.
here we are on stage in australia…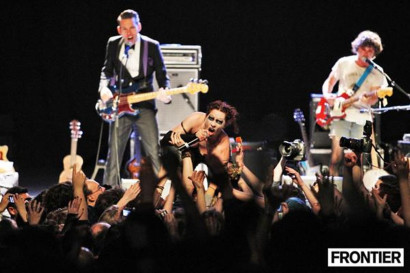 and at a kickstarter-backer party:
and at NPR's tiny desk concert series…
we rehearsed the songs (a lot), and we were overambitious about the stage show that we built…we spent a lot of time on costumes and props and fun technological theater-tricks (….can we talk about that amazing crowdsurfing dress from "bottomfeeder", where i floated, slow-crowd-surfed atop the whole audience for a song, it was really beautiful? that whole concept was michael mcquilken's, the GTO drummer who helped dream up the stage show….)

(photo: backstagerider)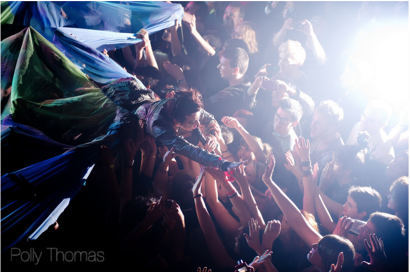 (photo: polly thomas)
and?
i stood by my usual habits of just chatting spontaneously between songs. i also started hitting the same wall with a band that i remembered hitting with brian: a band doesn't want to sit and wait around while you talk about something (anything) for 15 minutes. it's boring for the band. i remember brian once throwing a drumstick at me when i talked too long. i get it.
but on the grand theft tour….i was also changing as a person.
i had more that i wanted to say. i knew what my music could say, but i also knew i was finding my voice as a human being and i had things that i could say through music, and i had things i could say through blogging, and i had things i could say through a TED talk, and i had things i could collide and smash and do all at once on a stage with my community there to bear witness.
this is where i'm at now. i think i've finally figured out what i can do.and i need to be alone on a stage to do it. i have things to say.
this record that i'm about to record has some of my best songwriting to date on it, and it's also the most harrowing, deep, personal shit i've ever written.
this is a fact: the last seven years have been really hard. i want to get on stage and thread it all together. the songs will do a lot of the work for me, but without context, it's not going to be nearly as powerful. and i think i have to say goodbye to the days when i just figure it out on the road. if my TED talk taught me anything, it's that improvising, off-the-cuff storytelling isn't nearly as effective as tightly-scripted, super-economical, every-word-counts storytelling. and a few things that i've seen this year have kept hammering that point home.
which gets me to bruce springsteen, who i saw a few nights ago….on broadway.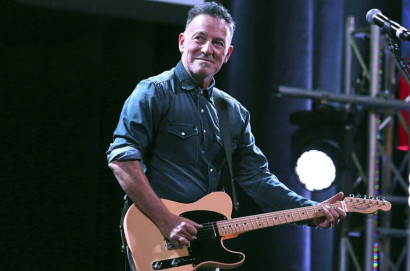 for whatever reason, bruce springsteen, aka THE BOSS, decided to do a long broadway run. the theater fits 960 people, and it's been extended again and again and again. here's how tiny the theater is: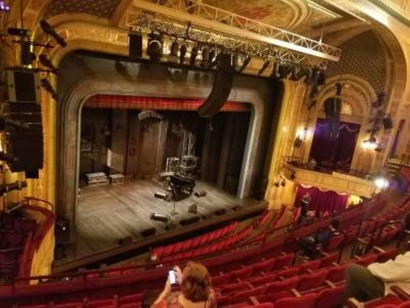 this means bruce springsteen literally has (as he jokes in the show) a fucking 9-to-5 for the first time in his life (though it's probably more like a 6-11 in his case – though i imagine the commute to his house in new jersey from manhattan takes an hour in either direction.
i wasn't the world's biggest springsteen fan growing up, in fact, i wasn't NOT a fan…i just had no opinion about him at all, really. i lumped him in with van halen, rod stewart, bon jovi, guns n roses, def leppard, zz top, and all that other "dude music i've vaguely seen on MTV and sort of liked kind of but it's not for me because i can't relate to it and it's just clearly for other people". i liked the "i'm on fire" video where bruce plays a car mechanic. but i hated the cover for "Born in the USA". like many kids/girls my age, i mistakenly thought it was a rah-rah 'murca signal, and i turned my back in disgust. i wanted no part of this rah-rah 'murca shit. i was a goth-in-training. i spent my time on prince, duran duran, yaz, madonna and the other people wearing make-up.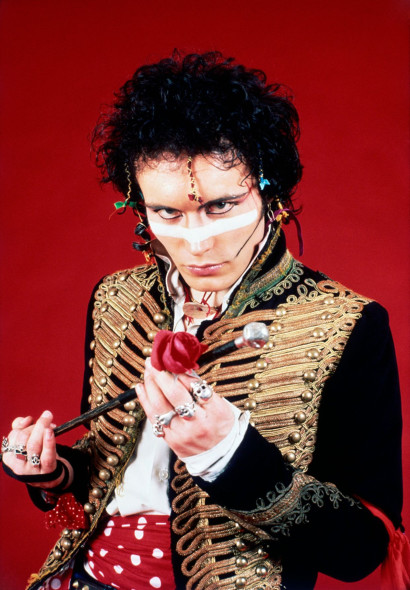 that all changed when i got offered free tickets to see him in melbourne in 2013 while i was working on my book. i took the tickets, because, hey free tickets to a show in an enormodome, i always learn something. i went and finally understood. he wasn't a preening cock-rocker of the eighties. he was a totally authentic, connected performer. why did nobody tell me? anyway. i blogged about it here, if you wanna read.
so when i found out bruce was playing broadway, and the word slowly trickled down to me that the show was powerful (i never read any of the reviews), i figured it was worth a shot to try to get tickets. i called every manager and agent i knew, but nobody had an in. these tickets disappeared within seconds of going on sale, many of them to a fan lottery. then salvation came in the form of holly cara price, a journalist i've known for a long time. she must have sensed my psychic vibes, because she reached out over email and asked if i wanted a chance to buy tickets. i leapt.
………………….
over the past year or so, i feel like i've been gravitationally pulled to the shows that i need to see, or maybe the universe has been puling me there – same difference.
i went to see tori amos play alone at a piano in boston. note: glasses.

i went to see ben folds play alone on a piano in london.
both of them titans of the nineties….touring on a piano.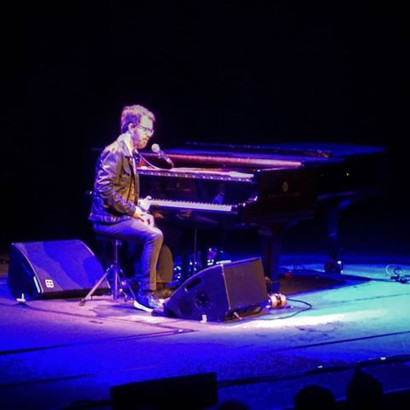 i'd seen them both before, and both shows made me think. especially the way tori just winged it (wanged it? wunged it?) and brought all of her stage notes and lyrics out with her and just went for it without apology – reading what she needed, and the way ben had no notes and told very scripted yet sorta-off-the-cuff deliberately-chosen stories before each song. he talked about "brick" but didn't play it. he had a fabulous moment of theatrical drum-playing. more mental notes.
but then i saw something that actually blew my little head open…and something new started to manifest.
neil and i got a strong (and i mean strong) recommendation from our friend kelly fogerty, who works at the soho theater in london, to go see a show called "nanette".
it was a one-woman show by a tasmanian (yes, tasmanian) comedian named hannah gadsby.
i went in not knowing what to expect at all.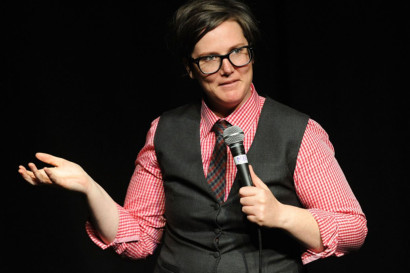 my brain was blown. since then, the show's been to new york (i recommended it up and down on social media) and it got picked up by netflix. so you should watch it, and see what i mean. i won't spoil anything for you, just go see it.
it changed things, for me, seeing hannah.
it reminded me that stage has no rules. that you are allowed to say what you want, when you want, how you want, fuck convention. just fuck it right up the ass.
and the way hannah told her story: completely honestly; completely authentically; completely SCRIPTED.
it made me stop. and think more.
……………
then i spent a week with jason webley (in march, was it) seeing a bunch of pieces of theater. we saw a handful of musicals (some in development, some that were about to go on to sweep the tonys). we saw some plays. and we saw a magic show that defied wonder ("in an of itself"). and maybe most relevant: we saw penny arcade, the balls-out feminist punk NYC-scene one-woman performance artist get a pint of water thrown in her face in the middle of her show at joe's pub because a woman didn't like the way she was talking about rape in her mostly-scripted, kinda-funny, kinda-not rant about society.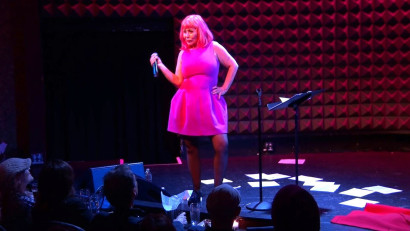 and i sat there at the bar next to jason and jonas (one of our actors) and jonas's girlfriend, watching as this semi-intellectual brawl broke out in joe's pub, and it reminded me again. convention. rules. reactions. people. theater. is real.
a few nights ago, i went to see alan cumming in that same space. i'm old friends with lance horne, his pianist and arranger, and i often stay at lance's house (aka The Kibbutz) when i'm in manhattan.
alan was doing a show in the style of liza: that is, west-end broadway chanteuse style. theater, but human, scripted, but with room to chat and banter, all the music and the vamps arranged to work to support alan taking you on a little journey through broadway-and-otherwise tunes. nobody threw anything at him. (he and lance and his band were also doing TWO shows a night…one uptown in a fancier-shmancier joint for the upper west side rich people and one downtown for the artsier-fartsier types like me).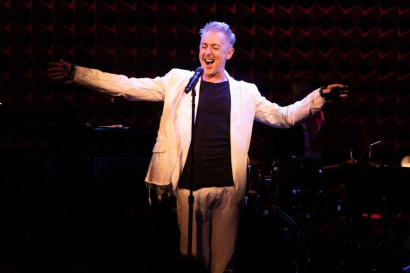 (photo – JK clark)
it left me thinking thinking thinking …. all of it.
i saw alan backstage before the show and i asked whether he was regretting the choice to do the mad-as-fuck two-shows-a-night run-all-over-manhattan-and-start-a-show-at-midnight thing.
he looked at me and said "never do this."
…………………
and then…bruce.
i sat there for two hours, realizing that this was basically a master class in threading together storytelling and songwriting.
it wasn't a piece of theater, yet it was. it was bruce, a piano, a guitar (with incredible sound), and he sauntered between the two. telling stories that he had scripted down to the last adjective, down to the minute, but none of it felt inauthentic.
like a good TED talk – he had a limited amount of time and he whittled it down to the essentials. what he felt like as a child. how immense his father loomed in his life. his father's death. his mother. how she loved to dance. her current dementia. how she still dances. how insecure he felt, because he was a kid from new jersey singing about working class factory people and he'd never worked a factory job in his life. he talked about the magic trick of music.
he was, in a world, real. he went off mic at just the right times, and the theater was the perfect size to be able to contain his speaking voice, unamplified, to the back of the house.
he delivered a completely authentic solo concert…and it was completely scripted.
he has been doing this show five nights a week for a year. he doesn't need to. he's bruce springsteen. he could be doing ANYTHING. but he's doing it. he's turned into an actor, enacting the story of his own life, again and again and again, every night for an audience of about 1,000 people in new york city. he starts at 8pm. he stops at 10:15pm. there is no intermission.
i checked my watch the first time i cried (and i'm pretty sure most of the audience was with me). it was 8:32pm. he went there THAT FAST. i was like: damn. okay. we can do this.
i'll tell you one of my favorite things about the show.
before the lights went down, as everyone was just sitting, waiting giddily with their hard-won tickets (i managed to get mine for $500 through a lucky connection, and many tickets are sold by lottery, and some tickets are going on the net for $8,500 for fucks sake) there existed a phenomenon that i've never seen before in a broadway house.
EVERYBODY was talking to EVERYBODY. strangers sitting next to each other were all chatting. where are you from? have you seen the show before? how far did you travel? how many times have you seen the boss? the guy next to me introduced himself and we bonded for the whole show.
he was 6'7″ and from jersey. he runs a restaurant. he loves the boss. i told him that i was a piano-playing songwriter and i was here to study the ways of The Master. i told him that i was hoping to understand new levels of authentic performing. he googled my TED talk while we sat there. "whee-yah, amanda! check out how many people have seen your TED talk! goddamn, i gotta look you up when i get home!" yes, steve. do it.
somewhere through the show, after bruce wrapped up a long monologue that had everyone in tears again (i think it was the one about the tree in his hometown getting hacked down by asshole town planners), steve leaned over to me and said: "how about that for authentic".
and i was like: yep.
it occurred to me that the first recorded draft of my TED talk, which i simply recorded into my iphone after typing out the main points of my talk, was FORTY FIVE MINUTES LONG. i remember getting to the end of it and checking the clock and thinking: HOW. THE. FUCK. AM. I GOING. TO. MAKE. THIS. TWELVE MINUTES. there is no way. but i managed. i just trimmed and trimmed and trimmed and trimmed until there was nothing left but the essentials.
my shows this year have been running four hours. it's not because they need to be that long. it's because i never really know what i'm going to do or say. i make it up.
when i was in gateshead, playing my proto-proto-version of this show two months ago, a few people left because the show was "too sad". they bought a ton of merch, and apologized. but they couldn't take it.
i don't mind.
i'm going there. and i'm going further.
i warned you.
ten things that bruce's show taught me/reminded me:
1. for true storytelling: less people on stage is more.
2. don't forget to tell the audience that it's totally possible you're making everything up. you get paid to lie for a living. just remind everybody.
3. choose a room where you can go off mic. people forget you're real when you're constantly amplified. speak with your voice, and remind people you're real.
4. not every song needs an introduction/story. let the audience work. also, you don't have to play songs start to finish. interrupting yourself can be powerful.
5. LIGHTS SHOULD ILLUMINATE INVISIBLY. the lighting was so so so so good, and i bet nobody outside the live-theater-arts-dorks like me were paying much attention. so subtle. so awesome. and so un-noticable.
6. good instrument sound = IS = EVERYTHING. that guitar blew our heads off. me and steven turned to each other and said "is there a hidden bass player back stage?" – that's how good the guitar sound was. get an excellent crew and spend weeks soundchecking and making sure you're using the best mics possible.
7. there will be no intermission. fuck it. start, middle, end. life has no intermission. make your show like life. i think i'm gonna call my fucking album THERE WILL BE NO INTERMISSION. dead serious.
8. you don't need to warm up the audience. they came ready to feel. 8:32pm, bitches. 8:32pm.
9. when it's time to sing along, tell people. (bonus points: take your hit and fuck it up so nobody dares to sing along. classy.)
10. when in doubt, talk about your parents. everybody can relate.
one don't for my personal collection.
road metaphors, NOT A THING. DO NOT USE. THERE ARE TOO MANY. THE UNIVERSE HAS USED THEM UP. NO NO NO.
……………..
it also occurred to me, even as i was sitting there having nice little ugly-cries in a comfy broadway chair at bruce's stories, that bruce can only do what bruce can do. he can go places that are challenging to this boradway-via-jersey audience. but there was a line that never got crossed. there were risks that never got taken. there was a lifetime of personal pain that you'll never know about. and that's fine. that's him. that's the way he does it.
i am going to do more.
that is the way i do it.
………………….
now i just have to….do it.
the UK taught me a lot. but these next four versions of the show – august 9,10, 17 and 18th in edinburgh are going to be True Rough Drafts. the tour itself isn't going to start until march 2019 (with a few warm-up shows possible in-between, and i may just do warm up shows for PATRONS, yeeeeeeeeee).
it's all happening. i'll let you know how it goes. and here's hoping you'll be able to come to see how it all goes.
i want this show to change people's lives. i want it to change MY life. i want it to become a box that takes all the pain and experience and truth of the last seven years and clean it all off like a power-car-wash, redistributing it as glitter in the dark to those who need it.
i want it to be powerful.
i can already feel it.
it will be.
and i want you all to come.
the sketch right now has me starting in the US in march, with a few possible warm-up shows somewhere in or near new york (for patrons only, probably).
a reminder: if you're reading this and you're not already part of my patreon, please join. tickets will go to patrons first. if you don't want to join the patreon, at least get on the mailing list: http://amandapalmer.net/emaillist
and a last reminder: the only four shows i have coming up before this tour starts are the dolls shows (oct 30 & 31 in london, SUPER sold out) and the four edinburgh shows.
love, love, and
love,
AFP
p.s. i'm at a photoshoot for the next two days for LONG-LEAD ALBUM ARTWORK. it's going to be fucking fabulous. i'll post back-stage pictures. meanwhile i'm posting a ton of little snippets on twitter, instagram and facebook (@amandapalmer). go peek.
——THE NEVER-ENDING AS ALWAYS———
1. if you're a patron, please click through to comment on this post. at the very least, if you've read it, indicate that by using the heart symbol.
2. see All the Things i've made so far on patreon: http://amandapalmer.net/patreon-things
3. join the official AFP-patron facebook group: https://www.facebook.com/groups/afpland
4. new to my music and TOTALLY OVERWHELMED? TAKE A WALK THROUGH AMANDALANDA….we made a basic list of my greatest hits n stuff on this lovely page: http://amandalanda.amandapalmer.net/
5. general AFP/patreon-related questions? ask away, someone will answer: patronhelp@amandapalmer.net