December 3, 2007
fuck packing
This blog was originally posted to The Dresden Dolls Diary.
---
it's officially winter and it's cold and it is 4 am and i have not
started packing for australia. obviously i must blog.
i still don't know where i'm going to stay. that is, we've picked a
joint in melbourne with some freak types who sound right up our
alley, but we've got no address.
so i think i may land in melbourne many hours from now, suitcase in
each hand, and look forlornly at upside-down street signs while
dingos eat my baby.
actually i plan to take a cab straight to the spiegeltent and hug it.
i've missed it so since edinburgh.
i didn't pack because a string of people happened tonight….andrew
called and said there was a jazz band at a place in cambridge, so i
went there, thinking i'd have time to pack after, then geeta was next
door and i haven't seen her much lately and i shared a bottle of
lambic with her, thinking i'd have time to pack after, then my old
friend from elementary school, fred, came to visit nick at around 1
am downstairs and started telling us about converting to judaism and
the three branches of judaism, and i needed to absorb myself in that
for a while, thinking i'd have time to pack after, then i needed to
talk to katie kay about post-war trade and she's on LA time, so we
talked for a while (we're making POST-WAR TRADE UKULELES….i'm so
happy), thinking i'd have time to pack after, then i started cutting
my fingernails. and took some self-portraits with my furry cat hat.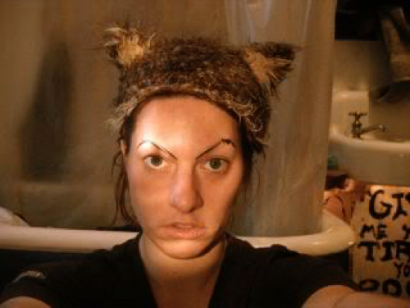 i am so excited to go back to ozland. everyone there is magic,
there's a friendly syrup in the air. i am so excited to see steven
and the other performers in the danger ensemble. i am excited to
drive the aussie coast with them as we groove tunes and talk butoh
and plans for our bizarro stage antics. i am even excited to have a
10-day slumber art party with them on somebody's floor.
i am also very very more than psyched for the upcoming dolls tour.
brian and i have been practicing and it's soul food to play with each
other again. we had the traditional every-song-we-could-think-of-on-
the-violent-femmes-first-record jam, this time with brian on guitar
and me on drums. meg white watch out. and i have better sex tapes
too. oh wait.
film recommendation:
the lives of others. we watched it the other night after rehearsal.
german. recent. long. starts a little slow. but GOOD GOD it's fine.
can't do much more justice than to say holy shit, perfect movie.
best reply from the last blog:
a web of safety benefits only a spider. all rewards come from risk.
i sat next to a man in the cafe pamplona tonight (yes, thinking i
would pack later) and he was translating papers.
he made a phone call and to the other person on the line he said:
"oh, just sitting her, working on papers and having some coffee. and
happy to be alive."
he told me he'd been coming to the cafe pamplona since 1959.
it started snowing today in big fat gorgeous chunks. it's still
coming down.
i think this calls for a picture, let's outside.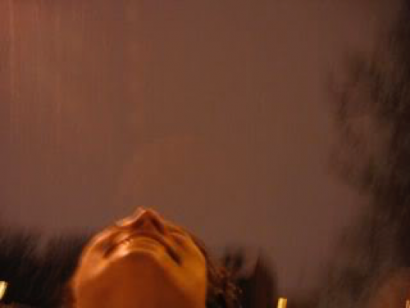 post-script: 6:52 am: completed packing mission, compacted vitamin collection, created many fingerless gloves. snow switched to rain, sun has risen.