March 7, 2013
The Epic TED Blog, part one: It Takes a Village to Write a TED Talk.
hola comrades!
if you somehow missed it on the internetz, my TED talk is finally UP.
i delivered it in a fit of zen-nerves on wednesday morning and they rushed to post it on friday morning.
it's already past 1,000,000 views between the TED site and YouTube.
holy FUCK.
here it is on the TED site… the comments are deeply intelligent, which i love. i suggest you all pitch in your own two cents, there's a ton of great dialogue. i assume the TED team goes in and zaps the troll comments, and it's refreshing to see hundreds of intelligent people debating instead of the usual youtube shit-storm…so many good minds, it's a breath of fresh air. watch it if you haven't, then read the thanks (below), so that everything makes sense:

Click HERE to watch on TED.com or HERE to watch on YouTube
there's been a crash of things and people coming my way, most good, some bad.
i wound up in a fit of weeping a few days ago when my old piano teacher and mentor from college posted on the TED website that i was a manipulative piece of shit.
i cried for a good 10 minutes. i went to twitter for comfort….and someone sent me a link to the local newspaper article explaining that she'd had a stroke and couldn't play piano for a while. and i started weeping all over again.
what a world, i tell you. up down down up across and all over the place.
i have so many more stories…SO MUCH to say….i feel like i've lived a year in the past 6 days. but before we dig deep into the content of the talk, what TED is, why i wrote the talk, the deeper stories behind it, and WHY it seems to be resonating not just with artists and musicians but with CEOs, financial investors, non-profit runners, theaters, mothers, and REPUBLICANS (!?!) all over the globe, this is a good time to express deep, deep gratitude for the people who helped me MAKE the talk.
it may look like i'm up on that fancy-ass stage (how rad is the swiss family robinson ship-tree-fort?) just chatting away, but as a lot of you who follow the blog and the twitter feed know, i SLAVED over the talk…writing and writing and re-writing and timing and re-timing and tweaking and trying to fit the perfect sets of information into 12 short minutes. there were so many good bits i had to cut, and all the cuts were agonizing (i'll share a lot of stuff that i cut here on the blog, HOORAY), but what you may not be able to see directly is the number of PEOPLE who helped me. i had a TON of people listen, critique, fix, edit, and tweak along with me.
reading acknowledgements in books is often really fucking boring. i'm going to make this not boring. the stories are actually pretty good.
the VERY first person i called on the telephone (the telephone!) when i got invited to TED (a few months ago) and sat down in earnest to write my first draft was the musician THOMAS DOLBY. yes, "SCIENCE!" thomas dolby.


he was the original link to TED…when we played in london a few years ago and he mentioned he was helping TED with their music programming and i was all
"ZOMG TED! CAN YOU GET ME TO TED? I WANNA DO A TED TALK!"
and he was like
"calm down, amanda. i can send them your info…have you ever done a talk?"
and i thought about that and was like:
"no. i haven't. BUT I BET I COULD."
and he said
"…do a talk. anywhere. film it. i'll send it to them."
so i asked my pals at the AMERICAN REPERTORY THEATER if i could borrow their mainstage and do a free ninja talk, just so i could film myself and send it to TED.
that proto-talk is HERE, as you can see, a very very rough draft of what would become the polished TED talk. pretty much all the info is there. so thanks to the ART and all the people who showed up for that original talk. that was the reason i got in the door at TED and invited to do the talk.
thomas gave me some good advice. he said "people at TED are getting sad that the talks are becoming stock, formulaic. don't do that. just be totally authentic. people nowadays get invited to TED in september and spend between september and february working with speaker coaches. don't do that. just do your thing."
thanks thomas.
then i blogged, and a SHIT ton of you answered my question: what should i do for my TED talk? and i read every single one of those comments and let them wish-wash around in my brain. mostly i'm grateful to those of you who sent me your favorite TED clips…i went down the rabbit hole every night, watching all your favorite talks and looking at the stage thinking…"i'll be on that stage. what do i REALLY want to say on it?" but also, you guys made me feel invincible. you gave me so much courage and i felt like i had a massive internet cheerleading squad behind me. so all of you out there in blog-land, you were the fucking wind bette-midler-hold-that-note beneath my TED-wings. thank you. if you don't regularly read the blog but are new here from twitter: you guys helped me just as much. i threw out questions: you answered. you made me think. you sent me links to photos of paintings and stadiums. you helped me make this talk. thank you all.
the first people i READ my talk aloud to were invaluable, they sat there and reacted and nodded and looked bored and i watched every reaction, trying to figure out what was hitting people and where i was losing them. one of the first people i called upon was STEVEN BOGART, my old theater director/mentor from high school and now adult collaborator…he directed me in "cabaret" a few years ago and knows me really, really well. he gave me good, brutal feedback on the early draft, at our house over a cup of tea, when he was putting on three other productions (at my last count) and barely had the time. he told me a great story about a pottery/sculpture teacher looking at a student's work, asking "how much is this" and when the student answered…"um, $10?", the teacher handed the student a $10 bill, picked up the pottery, and dropped it on the floor. the message, i asked bogart? we weren't even sure. for making the time: thanks bogart.
it's all a blur so in no particular order…
SETH GODIN, author of "tribes" and social-media-and-internet guru took the train all the way to new york just to have lunch with me, and talked to me about my talk over the phone while i paced outside the porter books cafe in cambridge.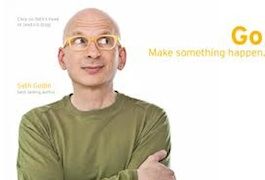 he told me to stay vulnerable. thanks seth. to the girl who tweeted "omg i just passed @amandapalmer talking on her phone but felt too weird about going up and asking for a hug", thanks for not interrupting. i owe you a hug.
JOAN ANDERMAN came over to my house, watched me freak out about other stressful shit going on, sat and was the first woman to listen to my talk. she made empathetic woman-noises while listening to the stories, and i knew things i'd never known before reading the talk to a bunch of silent dudes. thanks, lady. then we went to poetry reading at the harvard bookstore by NICK FLYNN and the poetry and companionship around the table afterwards was brilliant. thanks, nick.
NICHOLAS NEGROPONTE, a very very smart MIT dude and long-time TED speaker/attendee, graciously invited me and neil over for dinner one night with his wife and a few other super-cool people/artists/tech folk. everybody at the table sympathized with my TED-writing HEAD and insecurities and nicolas said he had one piece of advice to lay on me after having attended a million TEDs: don't…talk….too….fast. i listened and tried not to talk too fast. thanks nicholas.
MICHAEL HAWLEY, another very smart dude from MIT-land who was introduced to through a friend, had me over for coffee and had no idea who i was, really. i asked him for TED advice and he gave it to me, then he let me play one of his two grand pianos. thanks, michael.
JASON WEBLEY talked to me on the phone about life and its craziness and has influenced just about everything i know about art, money and asking. he's my true soul-sister-brother-from-another-mother. thanks, jason.
another class-act musician, BEN FOLDS, wound up on the phone with me for an entirely un-TED reason but we wound up talking about labels and fanbases and growing and not growing and how it all works. we have a lot in common, it really helped me. thanks, ben.
the ladies at TATTY DEVINE, who were supposed to just meet with me about making jewelry and doing a cool art project together, wound up being TEDified a little over the table as we drank tea out of beer mugs at a restaurant called the roebling tea room.
RON NORDIN, my long-time friend, photographer, art-patron and now business mentor was, as usual, a calm guide, especially one very accidental blizzard-bound night at my house when he, lee, pope, anthony, TRISTAN ALLEN and my neighbor STEVEN COIT came over for drinks (steve brought home-cooked pizza) and they all got assaulted with my talk. watching these guys GO AT IT was more entertaining than i can possibly say. we were all drinking. tristan: "MORE ART!!!!", lee: "MORE TRUTH!!!!", pope: "MORE ART AND TRUTH!!!!", steve coit and ron: "hm, yes….we think it's probably necessary that we look at this particular situation from a different angle….". ROOM OF AWESOME. i love all you guys. thank you.
after chatting with him about what i might write and getting his advice, i emailed my talk over to BOB LEFSETZ, a blogger who has strong opinions about the music industry. and strong opinions about me. he sent over his approval. it meant a lot to me.
ALINA SIMONE (a great writer in her own right)


…and JOSHUA KNOBE, two of my oldest friends, l, and their little daughter ZOE let me couchsurf at their pad in brooklyn and be a stress case in their midst. they are always a huge emotional homebase for me and, i think, take first prize for most-nights-accommodating couch-surfing rock stars in their digs…they were the ur-originals, letting me and brian crash with them COUNTLESS nights while we recorded the Dresden Dolls first record back in 2003. My gratitude to them is deep on every level. thanks guys, and little zo-bot.
LESLIE SALMON JONES, the amazing warrior yoga/dance/life goddess who's now an ongoing friend and helpful voice, listened to the talk twice: once at the beginning and once towards the end and gave me typical leslie-style warrior encouragement. thanks, leslie.
i had a dinner party for my whole cloud club household, and they gave me some feedback about WHAT to talk about in the early days of the creating the talk. LEE BARRON (who also gave me invaluable support, space, tea, bananas and love and thought-food at home while i hunkered and wrote wrote wrote), NATE GREENSLIT, nate's three daughters [EMILY (12), ELLIE (11), and MIRIAM (6)], VESS STOYANOVA, MICHAEL POPE, MALI SASTRI, tristan allen and possibly others were there. they beat ideas in and out of my brain. i really appreciate all of them being there that night. i was in the throes about "what kind of performance to do"….and pope kept saying "amanda, every time you even remotely TALK about what you WANT TO TALK ABOUT, you sound amazing and get really excited, and when you start talking about doing a performance, you trail off and don't sound convinced: so shut the fuck up and just do a talk. and here have some wine." magic words, thanks pope. then we all gathered around somebody's iphone and showed the three girls sinead o'connor's performance of "war" on saturday night live, when she ripped up the picture of the pope. the girls had never heard of her and we'd been discussing it…they wanted to see. it reminded me to be brave. thanks, SINEAD. the girls thought you sang like a warrior. and everybody at that table: thank you.
my step-daughter HOLLY GAIMAN was on the phone with me right around that time…and i was still juggling around the idea of doing a piece of performance art instead of a proper talk. we came up with the concept of me taking stage wearing a LOT of clothes, starting with a meat dress, stripping to a gold pointy bra, stripping down to a naughtily-revealed nipple ring, and ending the whole show with me ripping up a picture of the pope. fun times. holly gaiman, you really make me laugh and i love you girl.
my kickstarter-era band – the grand theft orchestra (that'd be you JHEREK BISCHOFF, CHAD RAINES, and MICHAEL MCQUILKEN) and my other band, the dresden dolls (that'd be you, BRIAN VIGLIONE)….you were all with me up there, in image and in spirit. i am honored to play with such musicians. you're all pretty much better than me but i have tits. thanks, guys – without the music i am nothing. you all helped me more than you know.
MATT REISER, the wine director at upstairs on the square, grabbed me a few months ago when i took my dad, neil and little half-brother alex in for a drink. he was a heartfelt fan and sat down, poured us some amazing wine, and told us hilarious stories about his boyfriend's OCD habits with sticky notes. he invited me to come back anytime and i took full advantage, showing up late nights when i just couldn't work at home. i dragged my notebooks and computers into dark corners of the restaurant and he brought tea, SO PAINFUL for a wine expert, because i was trying not to drink in the month leading up to TED. he babysat me as i sat there and wrote and thought and wrote. one day, i went up to the bar and sat down next to a girl who was all alone. "can i tell you a story?" i asked her. "sure!" she said. and i told her, in the words i'd just written more or less, the stories of couch-surfing and staying at the house of jacky, the girl with the immigrant family from honduras. she loved the stories. then i told her about my talk. then we talked about her problems and why she was living in boston. she showed me her art. she's an excellent artist. her name is ALEX. thanks matt, and thanks alex.
speaking of JACKY, i didn't want her family to get in trouble in case they were still undocumented, so i tracked her down over email and she gave me permission to use her story, and reminded me of some details that i'd forgotten. her family are all legal now! fuck yeah. thank you jacky, i still want to send you a bunch of shit, and i will.
(edit: since writing the first draft of this blog, jacky emailed me and said the talk made her cry…and that she loves her mom so much. goddam, world.)
and when i say "i" tracked her down, that's actually bullshit. it was my team, and my team helped me A LOT. HAYLEY ROSENBLUM, who is known and loved by a lot of the fanbase, tracked down her name when i told her the anecdote, and my tour manager JARON tracked down her number and email. hayley also pulled, organized, and compiled ALL the photos that you see in the talk, and made sure they were correctly credited. even at the ELEVENTH hour (text from amanda two days before TED: "HAYLEY HELP I NEED A PICTURE OF THE BRIGADE PERFORMING OUTSIDE OF A SHOW, ANYTHING!!", she was sharp as a tack and knew exactly where to go to get what. girl is priceless. priceless. thanks, hayhay. hayhay can be seen in THIS photo, actually used in the TED talk. she is sporting a moustache: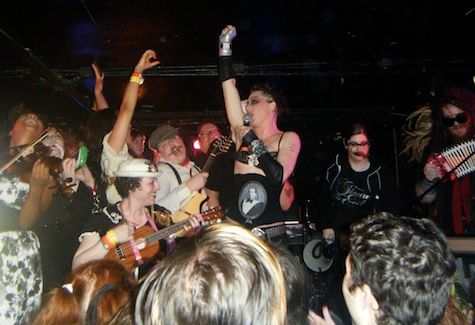 and to ALL the people who mailed in photos that we didn't use….THANK YOU. they may find second lives on the blog as i talk more and more about this stuff.
the rest of my team, also priceless: SEAN FRANCIS held down the internetz. SUPERKATE SLEPICKA, my bad-ass assistant, built a fortress around my email for a week so i could concentrate on TED only, and my managers VICKIE, ERIC, KEVIN and FELICE at girlie action manned the phones and kept business flowing like a dream while i did my amanda palmer thing. i am so grateful for these guys. not only did they help with the talk, but they helped create my kickstarter and are the engine behind what seems so effortless. they arrange the shows, they mail the packages, they MAKE THE THING GO. endless thanks to all of them.
PAUL TRAINOR was the magical dude who actually put my powerpoint together. we didn't know exactly how long it would take or how much work it would be, and i didn't pay him in money, i took him out to a fancy-ass dinner instead (to matt reiser's restaurant, to keep things full circle, of course). he was right there with me making changes right up until the day before TED when i added that picture of CHRIS PERLEY (the "dude from newport beach") and his twitter-sourced milk crate and hat. huge, huge thanks, PAUL. you killed it. and thanks, of course, to chris perley himself, for volunteering to drop off the milk crate and hat – and taking an amazing photo of himself in the process.
which reminds me: i was actually given TWO milk crates and hats, one by chris, and one donated by FLOR SAN ROMAN, who also brought over a bottle of wine (which promptly vanished into my body the night the talk was over). flor didn't get the public glory of being in the talk, but it wound up being INCREDIBLY useful to have a crate over at the TED stage and one in my hotel room so i could practice the talk using the box. every little bit helped. here's me and flor the day she dropped the box off. she's a consummate stage manager and awesome person. thanks, flor.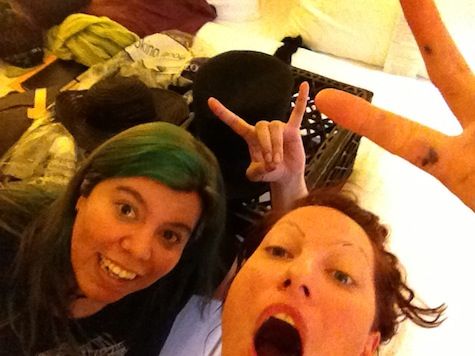 my old friend & housemate, artist ZEA BARKER, traipsed all around new york with me one freeeeeeezing afternoon and we looked for ADULT CLOTHES for me to wear to TED-week. in the end i decided to wear very amanda-palmer-everyday outfit on stage, but MAN i looked killer for the rest of the week, and zea was a great friend as we went from used shop to new shop in a flurry of blazers and blouses, going "IS THIS AMANDA PALMER? THIS IS NOT AMANDA PALMER. THIS IS AMANDA PALMER." zea, you are 1000% zea fucking barker. thanks for doing that, it was freezing and i love you for freezing along with me.
while i was in new york, i couch-surfed over the MARIA DAHVANA HEADLEY. she is a smart smart smart woman and gave me some of her goddess energy while i prepped to write. and let me hang out with a cat, always important. thanks, maria.
the weekend before my talk, neil and i threw a party so i could practice in front of a group of people and field feedback.
almost ALL of these people had some little input into the talk, they grilled me, challenged me, emailed me, and helped me.
right down to the little detail of noah telling me that he'd used the phrase "illegal immigrant" in one of his stand-up acts and someone pointed out that "undocumented" is a way better way of saying what we mean without being an asshole. i'd never thought of that.
this was the list of who-is-who at the party that i emailed out to all the guests the day before…there may be 2 or 3 missing.
STEVEN BOGART – my old high school drama director, beckett expert, overly sarcastic mensch
LEN TOWER – MIT alum, spiritual internet advisor, bearded presence
RYAN ANAS – helper of all people everywhere, jesus, basically
LESLIE BARRON – founder of the cloud club foundation, my south end digs
NIVI NAGIEL – literary aid, writer, chain-smoker, brooding woman-about-town
MICHELLE VAUGHAN & FELIX SALMON – michelle = artist, felix = financial blogger for reuters…both of them, couchsurf providers, coffee connoisseurs
JUDITH FAGIN – neil's cousin judith, currently a mature student attending harvard, bad ass
ROBIN YOUNG – from NPR's "here and now", brilliant lady and deep, too
NICOLAS DESPO – musician, wonderer, wanderer, maker of things, fixer of things
ANTHONY MARTIGNETTI & LAURA SANFORD – my best pals from lexington/next door neighbors…anthony: writer/frisbeeite, laura: lawyer/lover
VESSELA STOYANOVA & nate greenslit – housemates of mine from cloud club, marimbist and drummer, respectively
KATHY MOCKETT & JOHN OBERTEUFFER – famous for raising me in lexington, massachusetts (ie, my parents)
PAUL TRAINOR – AV specialist and wise irishman
MALI SASTRI – piano-slayer, singer, housemate at cloud club
STEVE MARTIN – techwizard, masterchef, housemate at cloud club
YOCHAI BENKLER – scholar at the berkman center for internet studies @ harvard
LEIGH NEDDLEMAN & ANDREW FRISHMAN – newly-found neighbors & young parents / grad students, living around the corner / wesleyan alums
MELISSA AUF DE MAUR (& baby river eve!) – rock star / mother / venue den-mother in hudson, NY (used to play bass in smashing pumpkins, hole)
SANDY CHARRON – cambridge ur-scenster and long-time friend from the deep music scene, longtime WZBC dj
KIM AIRS – sex toy expert, now living in LA, used to run "grand opening" in brookline
ROB CHALFEN – harvard square expert, hep cat, reader of all books and listener to all musics, out-jazz programmer
ANDREW ANSELMO – engine room right-hand man to the universe, engineer, rotator of solids
PILAR CASO – yoga teacher at baptiste, escaper of darkness
EMILY SHEA – another yoga teacher at baptiste, plus her daughter maggie
RON NORDIN – venture art capitalist, photographer, sage
LISA GORDON – connector of people, long-time boston party pal, knower of all things
JOAN ANDERMAN – ex boston globe-pop-music-writer, current book-writer
CASEY LONG – artist, maker, housemate at cloud club and general weirdo
NOAH BRITTON – musician, songwriter, psychology professor
GLEN CUNNINGHAM – yoga teacher at sadhana, lover of excellent fucking music, very smart dude
NEIL GAIMAN – excellent cook, also writes stuff
here we are:


and here's the food you all brought, pot-luck-style, so that me and neil didn't have to cook for 30 people, since we were both losing our minds: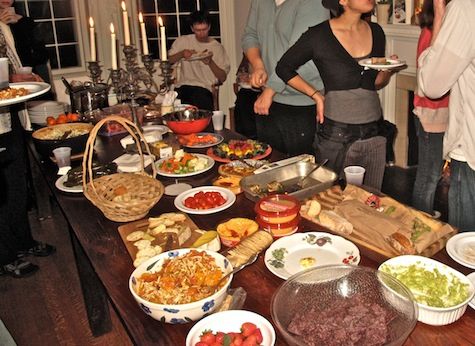 (both photos by lee barron)
to every single one of you…..THANK YOU. thank you so much. that party was a really important turning point in the talk.
(and HERE's the NPR story that robin did, it's beautiful, and YOU CAN HEAR MELISSA'S BABY, river, gurgling and squeaking in the background, which i love. and i got to email melissa the really stupid pun that we'd put river on the map).
i also delivered the talk, a few days later, to a totally different group…a bunch of students at the boston museum of fine arts school. this teacher, NADEEM MAZEN, had invited me, unrelated to TED, to give a talk to his class of young/college-age artists. the class was called "creative futures: business essentials for artists" and is informally known as "monetizing passion". nadeem thought i might have something to share, and i was like CAN I GIVE THEM MY TED TALK?? and he was like HELL YEAH!!! so i told them all to turn off their cameras and i gave them my still not-quite-finished talk. it was different than giving it to a bunch of people over 30. this was like…the real, true, deep audience for my talk. these were the brains i was actually hoping to reach with my talk: young artists trying to figure shit out. i plunged in and gave them my talk, and timed it (it was still 3 minutes over, FUCK) and when i finished i looked at them and asked: "did you get it?" and they said: "THAT WAS AMAZING." and in THAT moment, i felt a sense of accomplishment i can't explain. and they all asked me this really intelligent questions. how do you get over being scared? what happens if this and that? and we sat there talking for about an hour. everyone was so honest and helpful and i was lucky to land the gig. thanks nadeem, and the whole class. i hope you guys all make money from your ART.
and then, the day before i left for TED, i went to the land of the berkman center for internet and society. what the fuck is that? exactly. it's this: cyber.law.harvard.edu
basically, it's a building at harvard where people study our internet habits around the clock. and the people who work there are AWESOME.
i've made friends with them through living in boston, and their views of reality match up with mine beautifully….they understand me and why i do things the way i do.
i emailed my downboys over there: ALLEN BARGFREDE, AMAR ASHAR, and yochai benkler, and they set up a PARTY. i showed up with paul trainor so we could test my slides, and i used A POWERPOINT CLICKER FOR THE FIRST TIME (i jumped up and down saying "an adult! i look like an adult! look AT MY CLICKER!!!"), and showed my talk to about 20 guys and gals in the berkman center conference room, complete with powerpoint. they gave me INVALUABLE feedback: how to phrase things, where they lost me, what wasn't clear. we got into a debate about whether the painting i was using to represent "artists back in the day being PART of the community" was actually working. it was THIS, "dance of the haymakers"…a painting by william sidney mount that @just1again on twitter had pointed me towards:


they were like: it's not…it just isn't clear what's happening. someone hit google on the spot and found an image of pete seeger by joseph a. horne playing in a tight group of people, and BAM, on the spot we swapped the slide out:


my original ideas for these were to actually have someone DRAW something, so i asked my awesome housemate cassandra long if she's take a stab at it.
even though i didn't wind up using them (i decided having all-photos would be less distracting) her sketches were awesome and now i get to share them…
my literal back-of-the-envelope sketch to casey: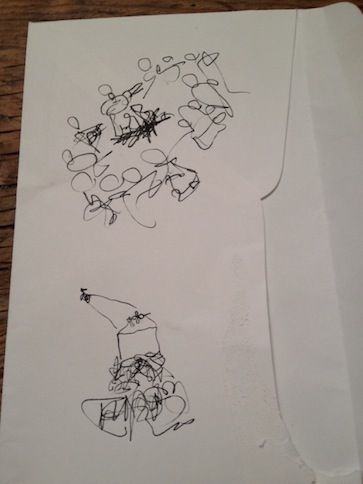 casey's first draft back to me….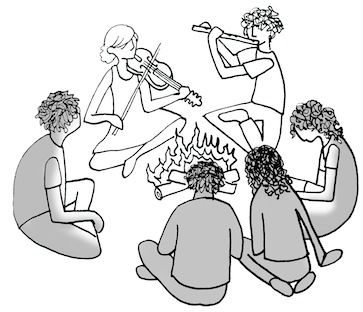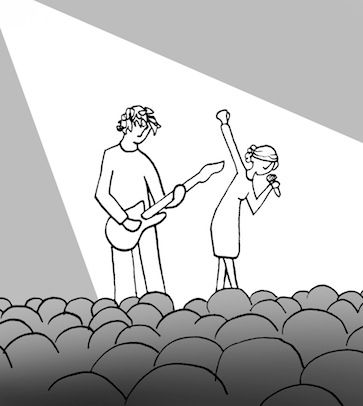 thanks, casey.
when i was working on my talk one day in a cafe in cambridge, two girls walked in. i'd met them before, they were fans.
they were being very respectful, they could see i was working and they knew what i was working on. we were the only three people in the cafe.
i invited them over to my table and asked them if i could give them my whole talk, so i could time it and see how they reacted. their names were NANCY and JACKIE.
they said yes, brought over their tea, and i drew all the images (since i didn't have my computer with me) on little index cards so i could time when i would use the clicker on the slides. it was so intense, giving the talk at cafe-volume to two people at a teeny little table with their heads 9 inches from mine.
i took a breathe in, times it, and let it rip. nancy said it almost made her cry. we talked a lot about help, about madonna, about celebrity, about music, about life.
then i gave them the index cards and jetted. you guys: thank you for being my most intimate audience. you helped me lower my voice, in general.
i wanted to thank two slightly weird ones…here goes.
there's a book i read last summer that really helped me, too.
it's this:


i've plugged it before, it's a brilliant book, but for my talk, which was REALLY HARD TO MEMORIZE – i'm not an actor – i actually have a REALLY HARD TIME memorizing things.
so one day, about three days before i gave my talk, i did what JOSHUA FOER talks about in his book – i drew a mental picture of the whole talk.
and after i'd drawn together a story in my head (like a movie, my talk takes place starting at the police station of downtown lexington center and ends at the minuteman statue on the town green) i went back to the hotel and drew it on a long, long piece of paper: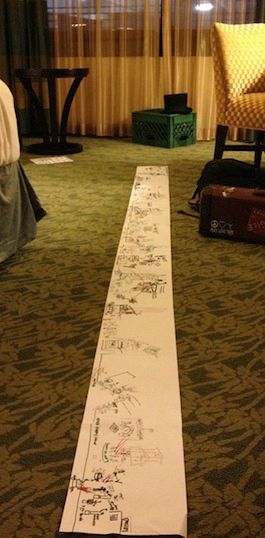 …it absolutely helped me memorize the talk. i am spatial.
thanks, joshua.
i want to thank QUENTIN TARANTINO.
i'm not a die-hard fan, but i wound up, through a series of coincidences, seeing "django unchained" in new york when i was drafting my first versions of the TED talk.


usually, violence and shit in films really turns me off.
maybe i was just in the right mood.
i'd also read a little about the controversy surrounding the film – people telling tarantino that he wasn't "allowed to make" a film about slavery, because he was white.
and as i watched my brain screamed YES YES YES YES YES YES YES the whole time.
it was so fucking funny, and so bold, and so very I CAN MAKE WHATEVER THE FUCK KIND OF ART I WANT TO MAKE, FUCK YOU.
and i left the theater around midnight, thinking THAT'S WHAT I WANT MY TED TALK TO FEEL LIKE. if he can make a movie like that, i can make a TED talk like that.
not that there was tons of blood in my TED talk. but it just…i don't know. it reminded me to be an artist. to be unapologetic. to DO WHAT I WANTED.
thanks, quentin.
this random guy DAN PALLOTTA sat next to me on the plane from boston to TED in los angeles.
after we took off, i pulled out my little TED "who's who at TED" booklet with a listing of 1700 names and faces and he asked:
"are you going to TED?"
and i was like
"i'm speaking at TED."
and he was like
"NO way!!! me too. I'M speaking at TED."
and i was like,
"wait a second let me look you up in this giant book.."
and there we were, pictures right next to each other in the same configuration that we were sitting on the plane, palmer and pallotta:


what were the CHANCES.
his talk wound up resonating with mine A LOT. he talked about non-profits being vilified and shut down because of having "too much overhead", and he explained that even non-profits need to pay their bills and do clever marketing, just like for-profit companies.
he's gay, the father of triplets, and founded the AIDS ride, which has raised hundreds of millions of dollars. i warned him that i wasn't schizophrenic, just practicing my talk to myself for the entire plane ride. he laughed and allowed me all the crazy gesticulating a normal seat-mate might have balked at. thanks, dan. let's keep helping each other.
GIDEON LESTER, my old friend from the american rep theater who's now running the theater department at bard, texted me randomly one night….and i asked if he'd listen to the talk over skype, while i timed it. i took a deep breathe and delivered it, feeling freaked, because gideon is a director. the talk was sixteen minutes, because….i….kept…..pausing………very…………….dramatically. he gave me, of course, fantastic feedback and we talked about life and stage and problems. gideon, you're a great friend. thank you.
CHRIS ANDERSON, mr. TED himself, spent time on the phone and skype with me at various points of the talk. the TED team saw the talk twice before i did it on stage, once on skype and once on stage for the dress rehearsal. chris: your advice was perfect and simple and focused and your whole event is a fucking fantastic melting pot of insane beauty. thank you for inviting me, thank you for helping me, and please say thank you to your whole crew. they were über-professional and made me feel totally at home.
BILL BRAGIN, the man in charge of many musical things at TED itself, was a total ally on the ground and really helped me feel like i had a one-man cheerleading squad. bill and i go way back to other events in new york, so i felt like i was with family. bill, you are so awesome. thank you and i forgive you for staying up drinking til 3 am and therefore not attending my 6:30 am rehearsal. fuck that shit.
anthony (martignetti, now known as my Famous Friend With Cancer) helped me a SHIT ton…we took long drives and walks and spent a whole few nights just bouncing the talk back and forth. i sat in his study one night and we just went through the talk, line by line by line, and he helped me clean and explain things. for those who are following that plot – he's hanging in there. he was one of the first people i called when the talk was over. he really taught me to see people. i owe him a lot. thanks, anthony.
the person who clocked the greatest number of man-hours on the phone with me, going over the talk again and again, sending back drafts with BRUTAL feedback ("too much fucking ego here!!!" "is this really what you want to say?" "don't overstate yourself!" etc…) was JAMY IAN SWISS, a new friend of mine who had just the right set of knowledge and experience to walk me through the fire of writing a conference talk. he's a magician in real life, and in this particular case, he worked fucking magic on those twelve minutes of worlds. thanks, jamy.
no joke, and not just because it's expected: the biggest thanks go to mr. neil gaiman, who sort of lost his wife for a few weeks. he wrote a beautiful blog about it HERE. god, i adore this man so much it's hard to explain. this talk taught me a lot of things about a lot of things, but it was also, like so many other big projects, a rung in the ladder of our marriage. (i don't know where the ladder is headed. the moon?) neil was REALLY really busy during most of the days i was hard at work on the talk. he was reading drafts, writing stories for his blackberry project, running off to be filmed, doing all his own fancy shit. and even with all that, he made time for me when he could, gave me his feedback, listened. he was busy, he's neil gaiman. and he needed as much support as i did and i was often way too wrapped up in my head to be a half-decent partner. we kept turning to each other and forgiving each other. and that, i think, is what makes a good marriage. the ability to let each other dig, fly, crash and take space without freaking out. he gave me space….even physical space. but i had to ask. he helps me learn to ask – at a whole new level. we slept apart for the night that he had a really bad cold and were both worried i'd catch it and have to do the talk with a sniffle. we slept apart the night before the talk so i could go over it again and again and again without any small talk in my head. the fact that he's able to give me that space is a testament to how much he loves me. and: writing this talk gave me a whole new perspective and respect for writers, and how they have to be concurrently present and very, very far away. neil: if you're reading this…i'm back. hi. i see you. i see you and i love you so, so much. thanks for letting me ask.
so, as you see…it takes a village to write a TED talk.
i'm sure i missed people. but this is a pretty decent snapshot of my village.
if i'd done this alone it probably would not have been a good talk.
all these people, all of you reading, you made it a brilliant talk.
to everyone who supported my kickstarter, to anyone who's ever given me a couch to sleep on, to anyone who's ever answered a question on twitter, bought a ticket, held me aloft with your hands at a show, posted a comment to my blog, opened up for me live, let my band open up for you, told someone about my music, shared a link to a video, paid what you want for a song….we were all up on that stage together. i held you all with me and tried to let you out.
i am so fucking lucky.
thank you so much, everyone.


(photo by Jurvetson, via flickr)
now: everybody go ask without shame for a cuddle or something.
xxx
AFP
p.s. here are all the final images we used in the TED talk with all the background info and credits and such…
me as the eight foot bride in jackson square, new orleans, around fall of 1998 (photo by my mum, kathy mockett):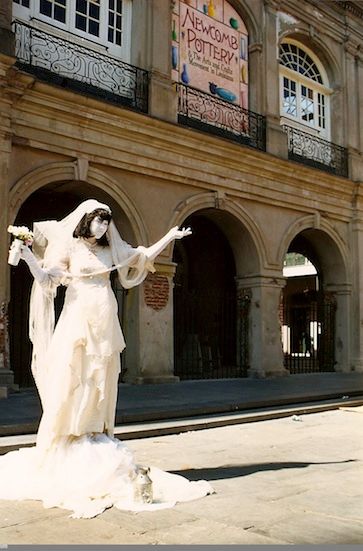 me doing me eight foot bride thang in harvard square in cambridge, ma 1999 (photo by ANDY IHNATKO):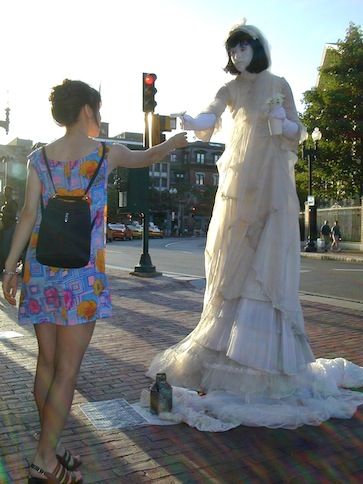 my first band, the mothertruckin' dresden dolls. me and and drum-god brian viglione live in st. louis, mo, January 2008 (photos by TODD OWYOUNG):


post-show kissing (this dude's tattoo of my moxy's death character)…from tristan's album release show at the berklee performance center in boston, ma on December 12, 2010 (photo by hayley rosenblum):


THE BRIGADE outside the orpheum theatre for the dolls' "yes, virginia" CD release show on April 21, 2006 (photo by SHERI HAUSEY):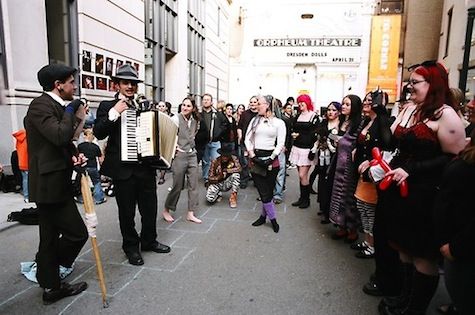 amidst organized chaos during one of the boston GTO shows last summer. at the end of our set, support musicians including walter sickert & the army of broken toys, hayley, and others joined me to ROCK at the middle east, cambridge, ma on August 1, 2012 (photo by MELLA CAHILL):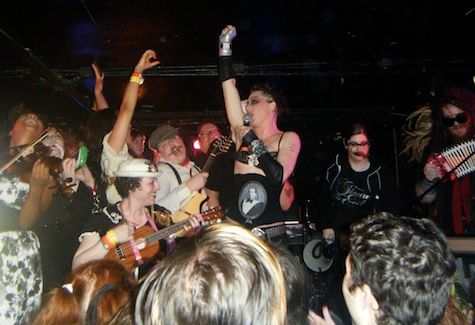 finding a practice space in the UK. i tweeted i needed a piano to practice before a performance on the BBC, and @chris_heasman offered his friend TOM LEE's place (read the #PianoSurfing tumblr post HERE) in october 2012 (photo by me):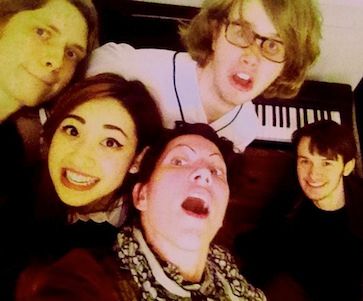 HALLELUJAH!!! FAN-MADE FOOD!!! david and his wife CAROL prepared food for me, jason webley, and crew at the seattle town hall for jason's show July 3, 2009 (photo by DAVID PETERMAN):


auckland city library ukulele ninja-gig (setup by @corinh/corinhaines.com) before the dolls in auckland, new zealand on january 27, 2012 (photo by MARTIN CLYDE):


when i got to long beach, ca i tweeted that i was seeking a top hat and a milk crate to use as props for my TED talk. in addition to providing the props, chris and christy sent TED their greetings (photo by CHRIS PERLEY & CHRISTY BURRIS):


on march 8, 2012 i tweeted asking where i could find a netti pot in melbourne, australia. right away, someone offered to bring one and a connection was made (screenshot via twitter.com / HERE is the original tweet):


couch-surfing? almost. this is the ONE photo that i consider "lip-syncing". i couldn't find an actual one….because, thankfully, none of my couch surfing hosts have actually photo-stalked me in the night. and if they have, they haven't told me about it. but i needed this photo to make my couchsurfing/crowdsurfing comparison visually….so we set it up at home. yep, it's fake. fake it til you make it, baby, it's ART. (and bonus? photo by neil gaiman, helpful husband, two days before i left for TED):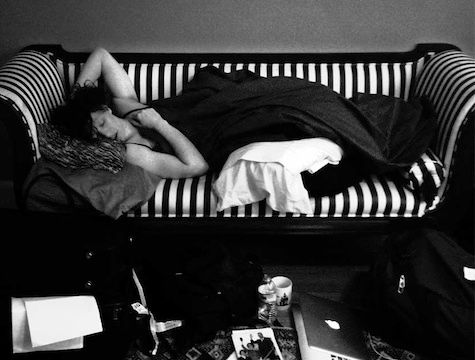 and crowd-surfing. this one is decidedly not fake. taken during coachella in indio, ca on april 18, 2009 (photo by LINDSEY BYRNES). i love that ONE little smiling face peeking out, it's my favorite part of the photo: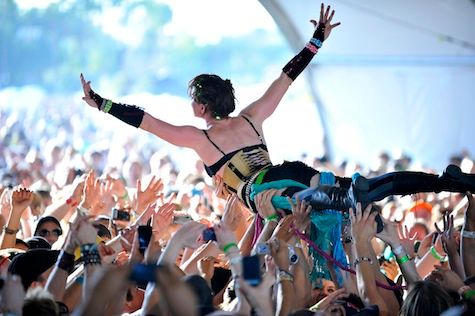 more crowd-surfing. taken during our "theatre is evil" album release show at webster hall in new york, ny on september 11, 2012 (photo by EMILY PAN PHOTOGRAPHY):


kris handed me a dollar after downloading my first independently released single ("do you swear to tell the truth the whole truth and nothing but the truth so help your black ass") for free at bandcamp. this picture was taken at the evelyn evelyn show in antwerp, belgium on may 4, 2010 (photo by KRIS VAN DE SANDE). this photo barely shows up (i don't think) in the filmed edit. but the slide was up there: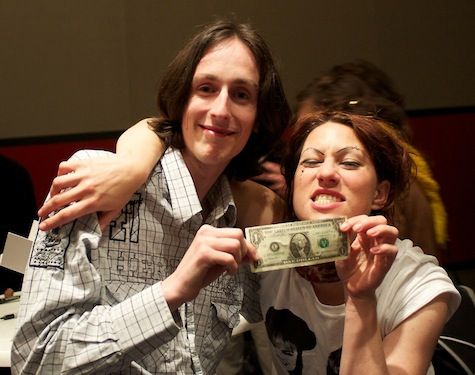 me and the boys of THE GRAND THEFT ORCHESTRA. with @CindyGallop's gucci chainsaw in a shower (photo by SHERVIN LAINEZ):


OUR "theatre is evil" kickstarter (via kickstarter.com):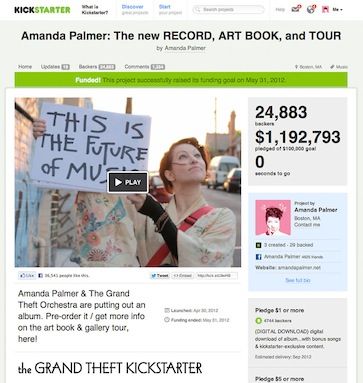 "caveat donor". yes, this shit hurt and it still hurts a little every time i see it. it was a doctored image alongside a gawker article that critiqued what was happening during the musician kerfuffle (graphic created by JIM COOKE for Gawker / HERE is what they posted):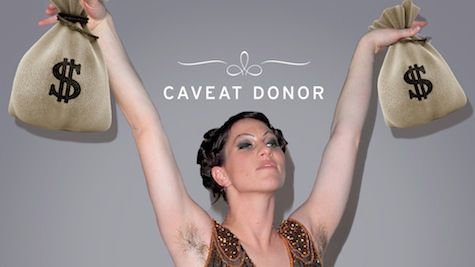 trust. taken after the kickstarter backer art gallery performance and party at PLATOON KUNSTHALLE in berlin, germany on june 12, 2012 (photo by LUIS PEDRO DE CASTRO):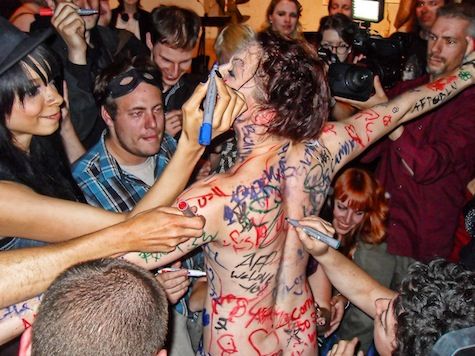 this is an image from the library of congress. folk-singer pete seeger performing at the opening of the washington d.c. labor canteen. see if you can spot eleanor roosevelt!! taken on february 13, 1944 (photo by JOSEPH A. HORNE):


hayley sourced this image after i sent her the following plea:
changing route….and changed wording,
so back to a GIANT image – but this one doesn't HAVE to be michael jackson, it can be any enormo-dome.
i need an image of a giant stage with a teeny ant-sized rock star on it – taken from nosebleed seat distance.
jumbotrons a plus….
kinda like this.
i tried googling for "stadium rock"/"arena rock"/"nosebleed seats" but looking at actual giant stadium artists might help….
queen/madonna/muse/whatever……
she sent me a bunch of options, and i picked the one we went with because it depicted a large-scale stage production in front of a massively sized crowd. when i chose it, i didn't have any idea that the band playing was actually OASIS. ha. this photo was taken at wembley stadium in london, england on july 11, 2009 (photo by MARK HILLARY):


(hayley notes: "When I contacted the photographer, he assumed that the reason I was asking for permission to use his picture was because of the song, "Oasis" – turns out a random picture taker is actually a fan of Amanda's. THE ODDS!")
the eight foot bride in harvard square, 1999 (used again, and still by andy ihnatko):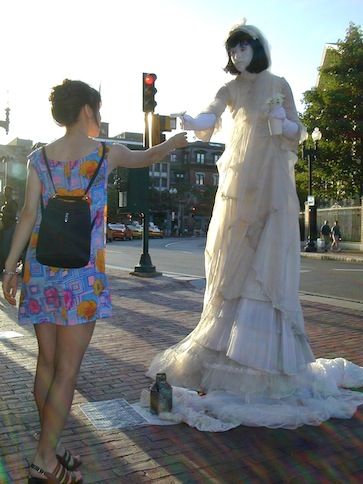 TED-da! you have reached the end. thank you for reading and looking at all of this. i know it was a LOT.
one big, huge, giant thanks is in order….sean francis. for helping me put this whole blog together. he remains one of the great unsung heroes of my internet-life,
and i love him very much. thanks, sean.
xxx
a