January 16, 2008
us tour: finale
This blog was originally posted to The Dresden Dolls Diary.
---
we're home.
i slept 14 hours last night.
brian and i are going into the studio tomorrow to record some old dolls songs and get the shit out of our system and off my brain.
for those who have been asking or conjecturing on new recordings, since there hasn't been an official release:
we have a collection of songs from yes, virginia that weren't used on the album but that i deemed too GOOD to be relegated as "b-sides".
so they were never released.
these include The Kill, Boston & Gardener (we thought we recorded glass slipper, but now i can't seem to find it. hm.)
we also have some rarer stuff and with these new recordings, we're currently trying to decide how we want to package and release this stuff.
we might put it out on one whole album, make things available gradual-like online, or put out two EPs.
seeing as you are the audience, mofos, if you have thoughts please hit me. i'm clueless, (in dumb-ass italian voice, with glare) i just make-a-da-music.
"who killed amanda palmer" is going to most likely be released in september.
i am going to take a general apartment-and-life-and-relationship-cleaning-and-feeding break from now til june, when i will come back in full force and start doing record promo for WKAP all over the states and europa. then in september i'll be doing a full world tour (some dates with danger ensemble and hopefully some dates with estradaspehre, and some dates pure solo AP).
thank you for all the venue ideas for this spring. we'll see what i get to. it's hard. i want to go everywhere. play everywhere. i heard recently that we have a huge fanbase in kluj,
"Evelyn Evelyn: the full score musical extravaganza (or whatever they decide to call it)" is going to be finished in march (the reason i am planning a few west coast solo shows is to be in seattle with jason to finish the record with them) and we have NO IDEA when it will be released. but i'm hoping we won't have to wait too long. the twins are frail and impatient, they don't understand all this waiting around shit and i am tired of explaining things like releases schedules and promo. they want to post everything to myspace the day we record it and i'm like NO NO NO. anyway.
after WKAP my next solo record (due for relase 2011) is going to feature an all-star cast of feist, 50 cent, neil young, conor oberst, kenny g, britney spears, the klaxons, avril lavigne and peaches and the working title is
"I WAS YOUNG I NEEDED THE MONEY".
…………………………..
more tour media……….
favorite moment of tour:
when brian invited everyone to join us onstage for "fight for your right (to party)" at the vic in chicago and the entire pit climbed onto stage and rocked out….
the club workers shit a brick, but nothing got broken (i don't think).
some clever person (iris in iowa aka PlacesParallel) captured it and edited it down for youtube…..

great new years shot….grand ballroom in NYC: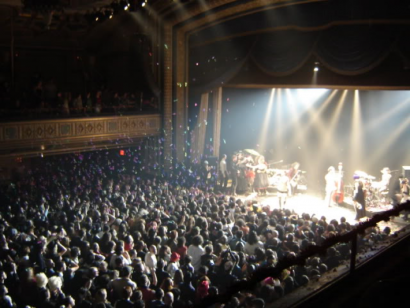 photo by Lisette M. Voytko
amanda holding the mic for Care Failure of Die Mannequin (in toronto):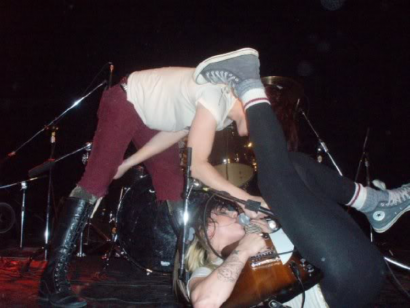 photo by Brandy Alexander.
dolls, our bad-ass crew and two ton boa backstage at the norva in virginia….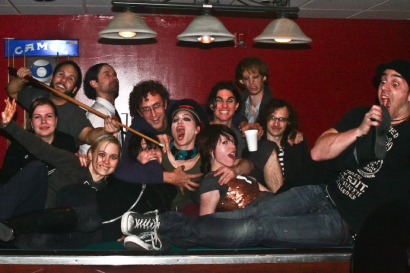 (photo by lauren goldberg)
………………………..
from comments:
steph g:
"I sometimes wonder if you find your fans offputting. The screams of 'I love you Amanda!'. Isn't there an important distinction between loving the work and loving the person? Does it get freaky that people declare their love for you over and over when they don't know you? Or, in doing things like self-promotion and blogging are you deliberately tearing down that wall, becoming more human and letting people know you, and so soaking in the love-fest? Don't misunderstand–I love the fans, or most of them. But the occasional one seems so rabid and insistent that I wonder if it gets creepy."
this is an excellent question.
i grapple with it a lot. i am trying to suck everybody in. i'm a performer. i need you to love me. that's how this works, to a certain extent. but love comes in all shapes and sizes. you need me to love you. for the most part, i do. really do. however…no, i never like hearing screams of "i love you amanda" when i'm trying to actually play a song. especially a quiet one. it's annoying. i think i talked about this some while back on another blog. anu difranco used to have the most irritating fans at her shows (brian and i went to several together, she's amazing live). i mean, real psychos who would just scream I LOOOOOOOOOOVVVVVVE YOUUUUUUUUUUUUUUUUUU ANNNNNNNIIIIIIIIIIIIIIIIIIIIIII again and again and not shut up. that is not love. that is something else. what do you do? she ignored it.
i usually hope that the crowd takes care of those people. a good crowd can be very effective at self-policing. when people drink it becomes more difficult, because they stop giving a shit what anyone is yelling back at them. different venues effect it. when we play sit down theater shows the crowd sometimes drops to a complete silence. there were moments on this tour, during "glass slipper", where not a single person was talking. in a crowd of almost 2000 people, you could hear a pin drop. i am amazed by that, proud of that. sometimes you know its a losing battle, especially if there's a bar in the club. forget it. sometimes it can get quiet and stay too quiet. it's a weird artform, that noise thing.
this very distracting and disturbing thing happened on the last night of tour at the norva in virginia. i was among the crowd, singing from my wireless microphone, on the balcony facing the crowd beneath during "the gardener". someone came up behind me and literally grabbed my ass, with two hands, and didn't let go. i kept singing and tried to ignore it, thinking it was a quick prank. then the person (mind you, i couldn't see them, so i had no idea what i was dealing with, man or woman, football player or fairy?) grabbed my right tit. i sort of donkey-kicked them with my boot, hoping to get them to lay off. and i kept singing. i turned around and in that moment, i saw this person and i just couldn't be angry. i was just confused. it was a girl, maybe in her twenties. i just left, kept singing, used it, felt a little violated, let the song bring me close to tears. i was emotional anyway, it was our last night of tour.
the thing about moments like this, and they are few and far between, is that it breaks this implicit faith that i have in our audience…that i'm always totally safe out there, that i can crowd-surf without anybody pulling my pants off, that nobody would ever do something stupid, that i don't need security (sometimes the club provides it but i never ask for it)…i just feel safe. people ask me if i have any truly crazy insane stalker fans and i can proudly say no. our fans are the most loving and civilized bunch of people i've ever met. they're all amazing humans….they're artists, they're thinkers, they are intelligent, they are respectful, they are kind to one another, they love music. i don't have to believe this, i see it because i meet them and i know them. and when i come across someone not fitting that description, i feel upset. and almost guilty, like: what did we do to attract this sort of shit? no, no, no.
so this event. it preoccupied my brain for the next 3-4 songs of the set because i kept replaying it in my head and finding myself unable to let it go. i finally just got fed up and told the audience what happened and started talking a little bit about how odd it felt. you're out there and you're in a totally different context. these are the people who are supposed to respect you, be with you, on your side, and they're objectifying you and doing something they would never dare do to a total stranger (lest they get punched in the fucking face).
it made things even more difficult to find out that this person turned out to be a real fan, someone who posts on the board and is part of our community. she emailed me an apology.
things like that are easier to take if you think it's some random friend-of-a-boyfriends-sister who came to the show and was just acting like a drunk dick. i wrote back, no hard feelings. truly. i related how unpleasant it was and i feared for her safety because she's headed for a possibly very icky experience of getting smacked by someone less non-violent if she goes around doing that to other people in virginia.
what can you do other than just be with it?
that's this life. didn't tori amos get raped by some crazy fan on the way home from a show? didn't eddie vedder have some crazy chick drive her car into his living room?
i had lots of these interesting encounters when i was a living statue on the street (i really need to write a book about that someday). people would literally treat me like an object, even when they knew i was real. throw things at me. poke me. grab me. i stood still through it all, never blinking. it gave me nerves of steel. and excellent peripheral vision (both of which, i may point out, came in serious handy for my stage career with the dresden dolls). i trusted that the general public would protect me from anybody truly crazy. and a few times, they did. i was literally laying my fate down at the feet of humanity, every day. my feet literally bound, relying only on the goodwill of others to keep some random asshole from toppling my delicately constructed self. i really miss my old job sometimes.
when people ask about the stalker thing, i say: i think i don't attract actual stalkers because there is NOTHNG MYSTERIOUS about me, and nothing to find out. i air out my dirty laundry with a frequency that makes it impossible for someone to want to root through my garbage. what are you going to find that you can't find out anyway? not very much.
does that make sense? it's just a theory. i think that people who actually cultivate mystique (whether deliberately or not) are easier to target.
i feel like i'm really cursing myself here, maybe it's time to shut up.
so we're done, for a while. brian is off to tour with other bands and i am off to get my life together and start work on this new solo record.
we talked a lot on this tour about how wonderful these last years have been despite the hardships.
our community, our slowly built land of punks, thespians, nerds, jocks, geeks, moms, kids, queers and whatever else you can imagine is a testament to the worthwhileness of all of it.
to see all these people actually in a room together, rocking out, getting it, loving each other, loving the experience.
you can't buy that in a store, you cannot download it from the internet, you cannot feel it unless you are there.
it's simple, it's REAL, and it's why live music will never die, ever.
the final hug ( rock love ).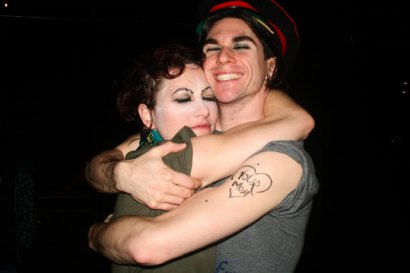 (photo by lauren goldberg)
love (your mom),
amanda
p.s. mad props to the awesome person who brought me this shirt on the
last night of tour, excellent touch with the blackberry.
(self-portait with nice new shirt, 2:43 am. january 16, 2008)